Luxe Recess contributor Samantha took her two children, 11 and 8, to Amsterdam for a three-night adventure. What follows is a most impressive itinerary of learning and fun that indicates a budding family travel advisor. Raise 'em right.
While researching the best family hotels in Amsterdam, she allowed her 11-year old son to plan the entire trip.
Things to Do In Amsterdam With Kids
Planned and written by a kid
Amsterdam might not be what first comes to mind when you think of a kid-friendly city, but it can be a fantastic place for families.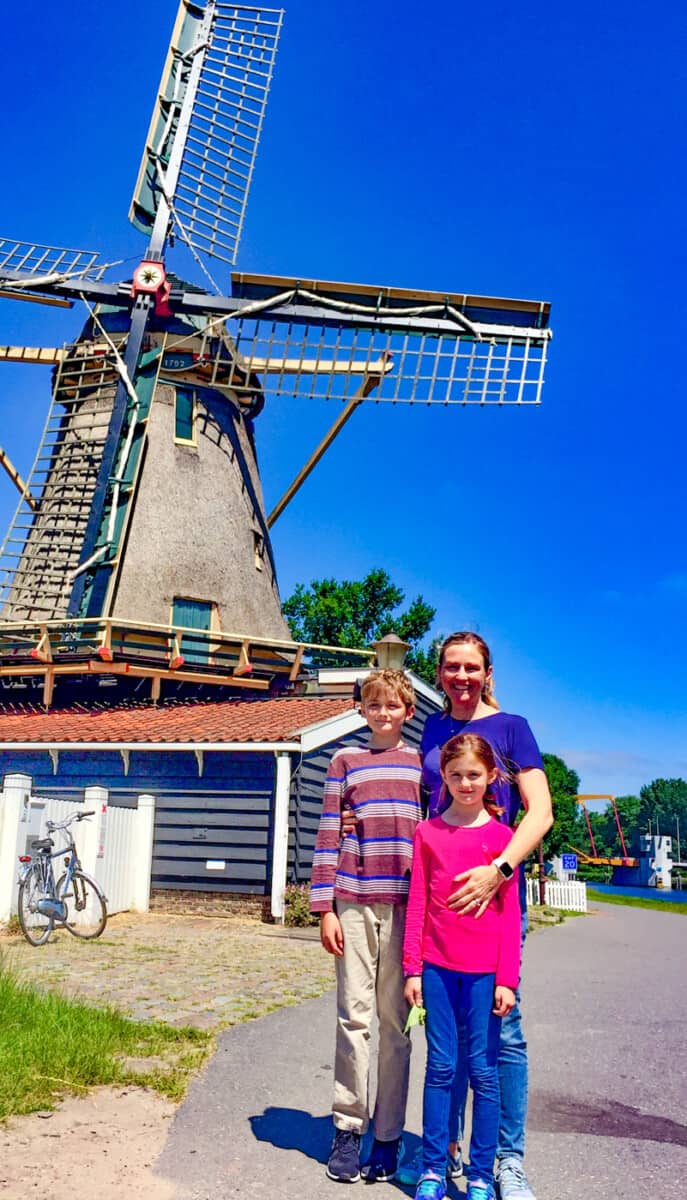 Here's a trip diary of our experience to inspire your next adventures.
We hopped off the easy train from London, and we felt ready to explore the city, the country, and the best museums in Amsterdam for kids.
Mom Tip:
The Eurostar train runs service from London to Amsterdam in four hours to travel to the city center.
Get a tram ticket for the total amount of days you'll stay in Amsterdam, as it connects almost all major landmarks, Amsterdam canals, and train stations. It's super easy to hop off and on.
The Anne Frank House
The Anne Frank House sits on a picturesque canal, and while watching many little boats cruised by, we hopped in line. If your kids are 12 or above, I recommend they read Anne's actual diary before the trip, whereas a "Who was Anne Frank?" book is more suitable for younger kids
Mom tip:
Get tickets for Anne Frank house months in advance. For young or sensitive children, the museum recommends skipping the video shown when you first enter due to graphic content.
After the first video, you are presented with a dim, yet exquisite museum featuring everything from Anne's life. One room has photos adorning the walls in a manner similar to Anne's actual bedroom. There are ladders and secret compartments, and most notably, the famed bookshelf. You can look at it while passing through it into their hideout.
Paint Like Van Gogh. Really.
The next day was time for one of the most unique experiences of our trip— our private Van Gogh painting class. We hopped on the tram that would take us just blocks from the artist's studio. Minerva welcomed us into a small apartment, with a huge façade of windows overlooking the canal. Easels were set up with canvas, and a selection of paints were waiting.
Minerva showed us a copy of the original Van Gogh chair painting, then helped us trace it out onto our own canvas. She was great with us, asking questions and helping mix our paints. The best part was, she wanted us to make the painting our own.
Where Van Gogh had pipe on his chair, I painted mine with a stack of books, and my sister chose a mouse. We used new colors, new flowers, so that while the viewer might recognize the original artwork on which it was based, it included our personalization.
We formed a great bond during our class, and we were so happy when we got back to US (Minerva had shipped them) as we hung them prominently on the dining room wall.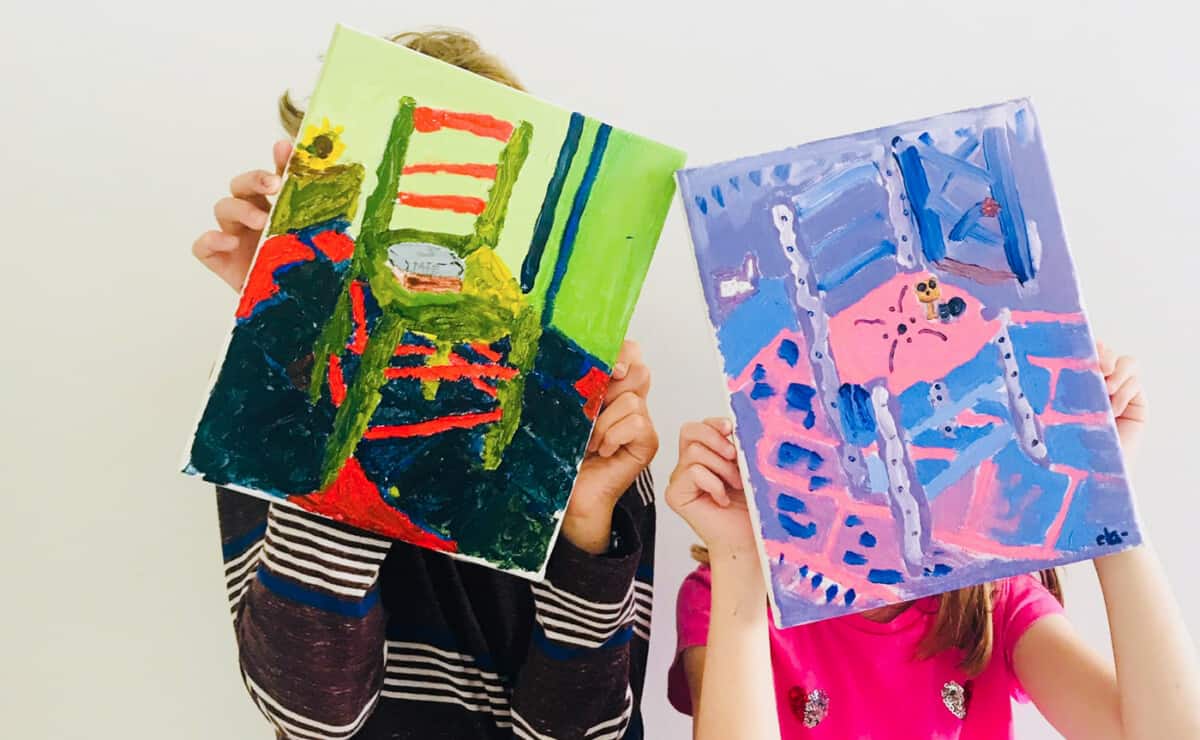 Mom tip:
I highly recommend this experience with Amsterdam Canal Painting. Meeting the artist and owner Minerva was a highlight of the trip. Her studio on one of Amsterdam's beautiful canals was the perfect backdrop to this once-in-an-lifetime painting class.
She is amazing with kids. She also offers tours of the Van Gogh museum in conjunction with her art lessons. We did the tour with her the next day and my kids were absolutely captivated with the Van Gogh story for two hours. She is so passionate about Van Gogh and that, in itself, was incredible for the kids to witness.
If you decide to tour the Van Gogh museum on your own, buy tickets months in advance.
The Van Gogh Museum
The Van Gogh Museum was sleek and modern, and one of my favorite things was the attention to detail.
When he was painting in the dark, gloomy countryside, the lights of that exhibit were gray and dull. When he moved to Paris, and painted with color, and pop, the lights were bright, and the room was airy, with windows.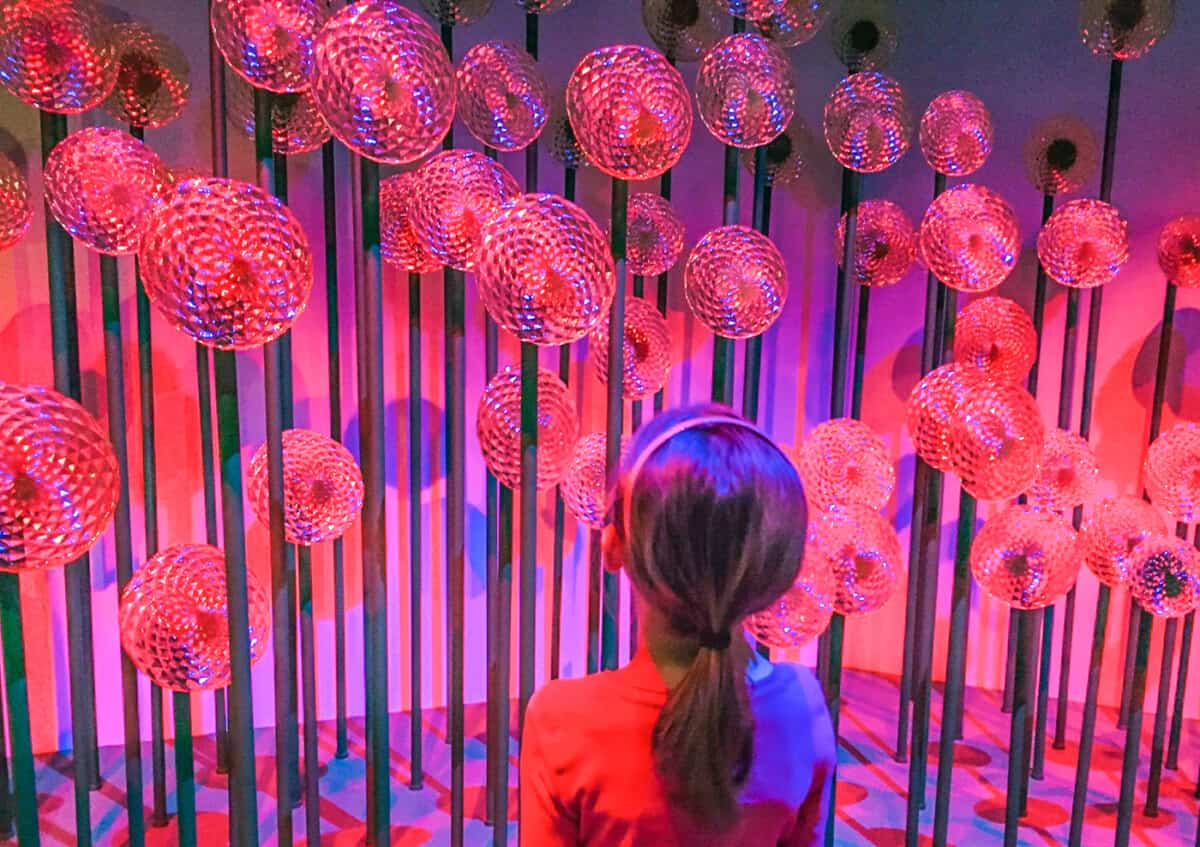 He painted in the style of Chinese artists, cut off his ear, and did so many paintings, it can be hard to take them all in. The newest exhibit, Van Gogh's mind, is a masterpiece of glass, flashing lights, and mirrors. It reflects some of his masterpieces, like the sunflowers, and some other, darker points of his life.
Seeing the museum with Minvera made all the difference. I know she was able to make it so much more interesting for children.
A Family Bike Tour
The next day's adventure was a four-hour bike tour of the countryside…a must do! We hopped on the bikes and quickly boarded a ferry with them that would take us from the hustle and bustle of Amsterdam city, to the still, surreal serenity of the Dutch countryside.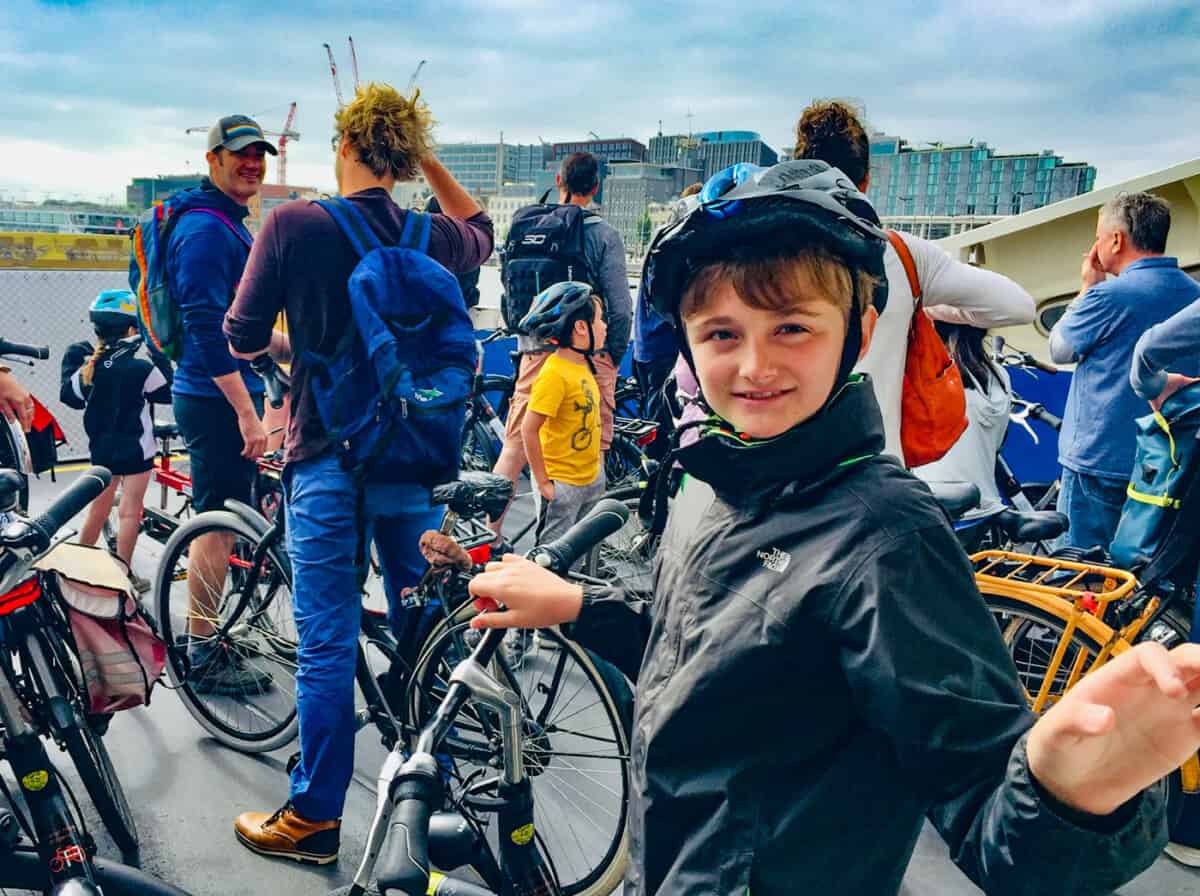 The best part of this whole experience was that it provided a backdrop to Amsterdam's history, culture, and food. The bike groups are small, and you realize, there's so much more to Amsterdam we associate the city with.
Mom tip:
We used We Bike Amsterdam for this tour and our tour guide Anna was a college student studying history at the University of Amsterdam. She was amazing! She offered to take my daughter with her on a tandem bike to make this even more child friendly.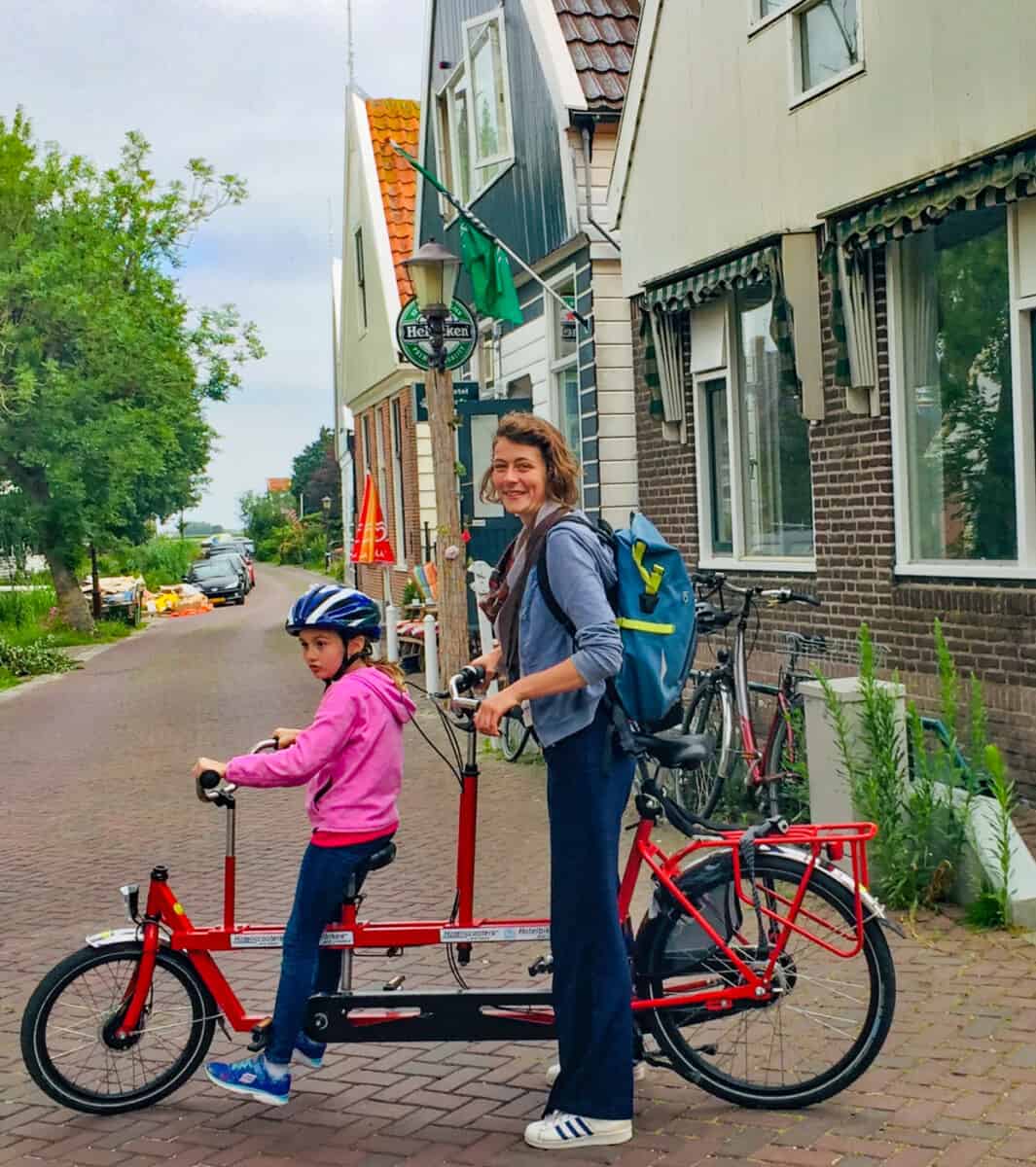 My daughter was thrilled to be at the front of the group the whole time and there were no complaints about being tired. I would highly recommend this experience to appreciate the beauty of the Netherlands beyond Amsterdam.
The winding country lanes, the rivers that flow through the fields with animals grazing, it's all just so much to take in, and yet so peaceful and quiet.
Kids, if your mom says you need to share a piece of Dutch apple pie, you can get your own by saying "Mom, we are only in the countryside outside of Amsterdam once, eating at a traditional restaurant, and I will get my own piece of apple pie!"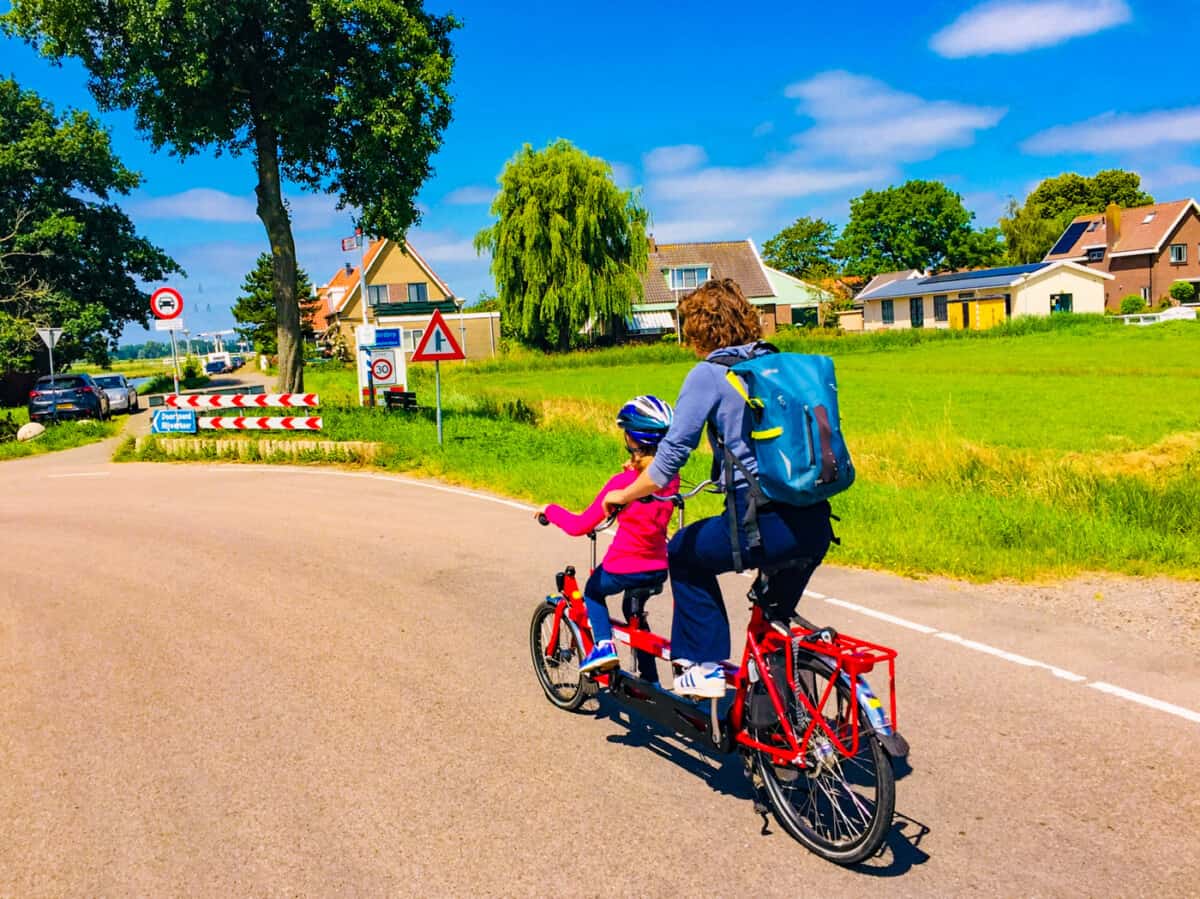 Mom tip:
The apple pie is so good…let everyone indulge in their own piece. I regret sharing mine.
The NEMO Science Museum
My sister, our budding scientist, had to check out the NEMO Science Museum. The museum has three floors with an upper deck, with a view of Amsterdam and a café.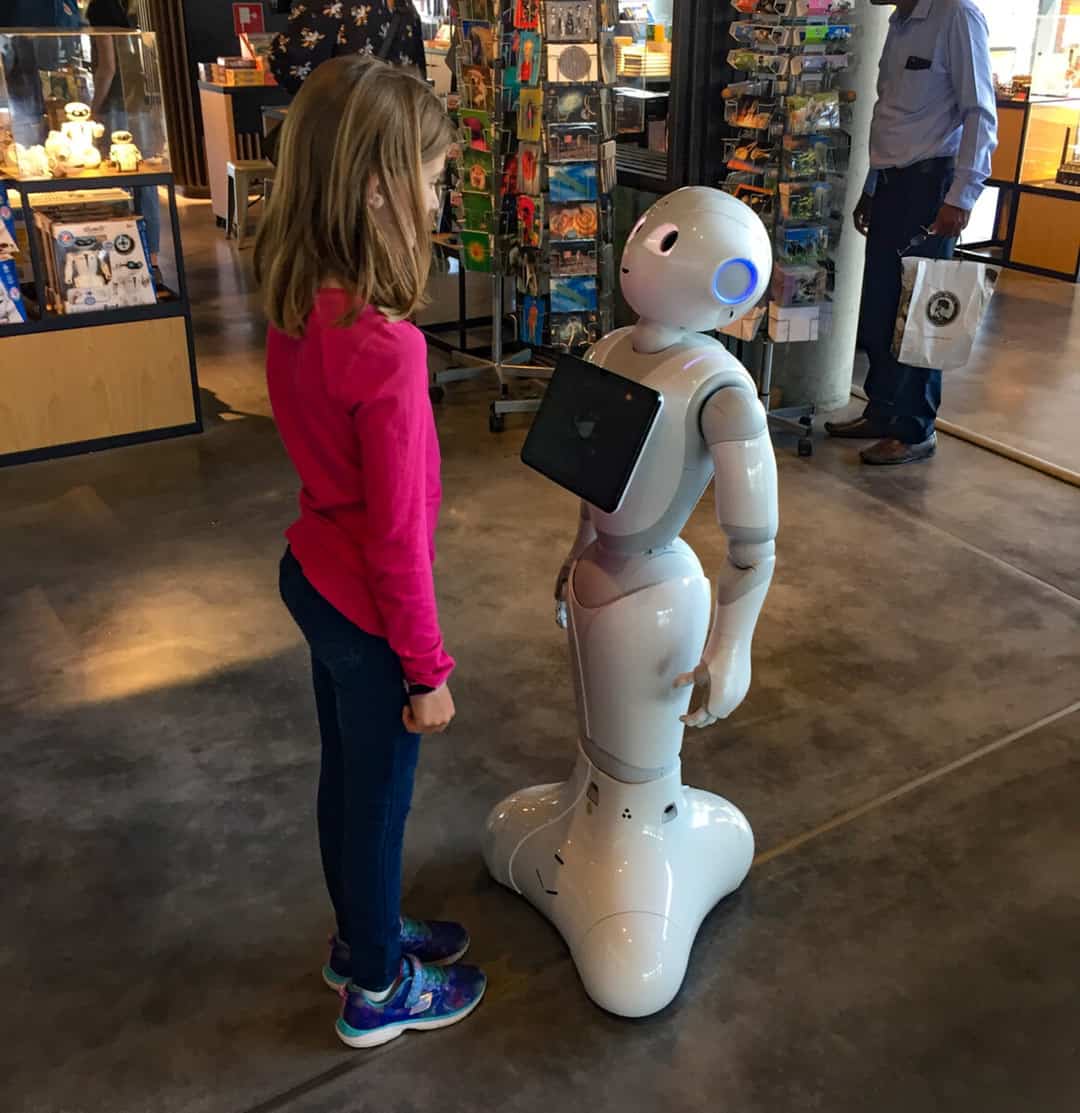 It turns out that Amsterdam has a slightly higher level of caliber of children's' museums than what I've seen in the US.
The second floor blew my mind. Your kids will love it, too. A full-blown science lab, it featured lab coats, vials, and experiment options.
Example trials included "Why does a cabbage turn pink?" and "How does a rocket work?" I dunked my vials in the heating machine, my sister figured out how you can use everyday household materials to build rockets
I loved the museum! The science lab was awesome, and we both loved using vials and real scientific gear.
A Giant French Kissing Machine
After the science lab, we headed to the third level, where mom had been intrigued by an exhibition for curious teenagers. We pushed open the glass doors, and I am, according to mom, too young to explain. She can tell you about it.
Mom tip:
This museum is amazing with fun interactive displays. What sets it apart is the lab where museum staff work with the kids one-on-one to complete their experiments. Kids are given clipboards and told to write down their observations and conclusions.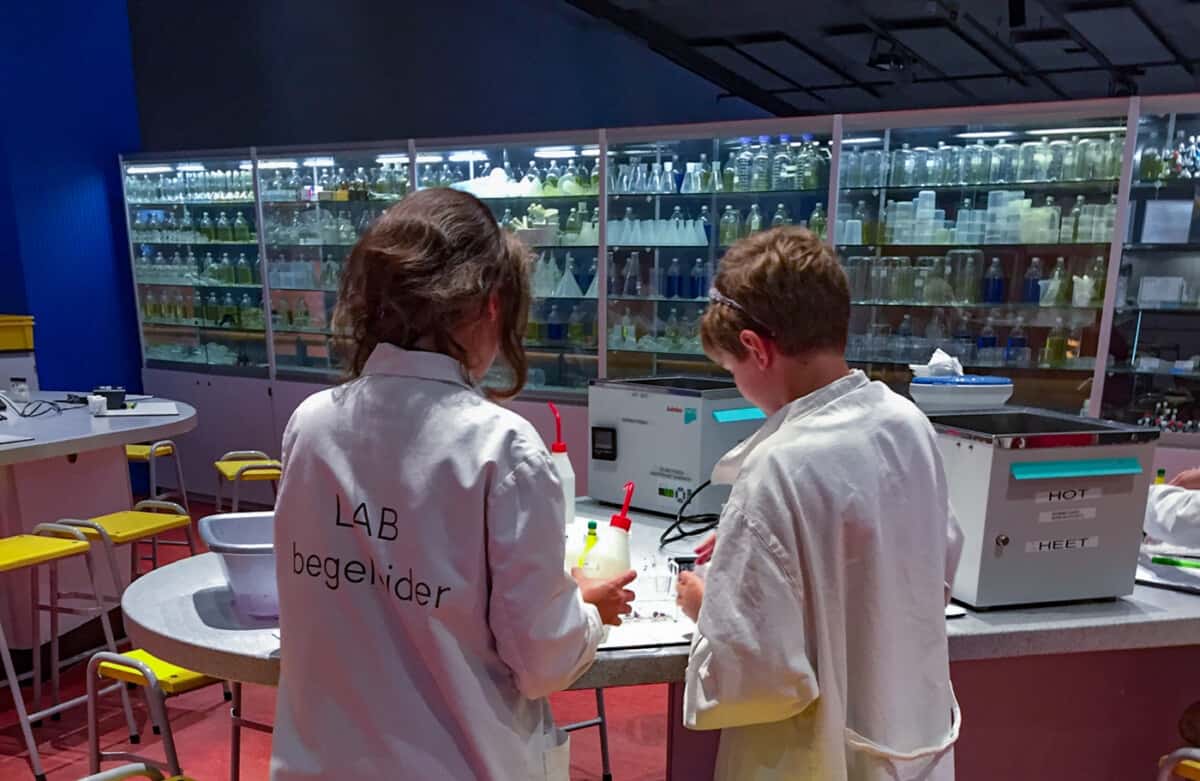 Mom tip:
For those parents who know of Amsterdam's Red Light District, this museum offers a teen version. The Dutch are actually known for very progressive sex education (and some of the lowest rates of teen pregnancy in the world.)
Their exhibit which will leave no question unanswered. Within the exhibit is a room requiring your year of birth…anything older than age 12 gets you in.
Wow. That's all I can say. And this kids' museum serves alcohol.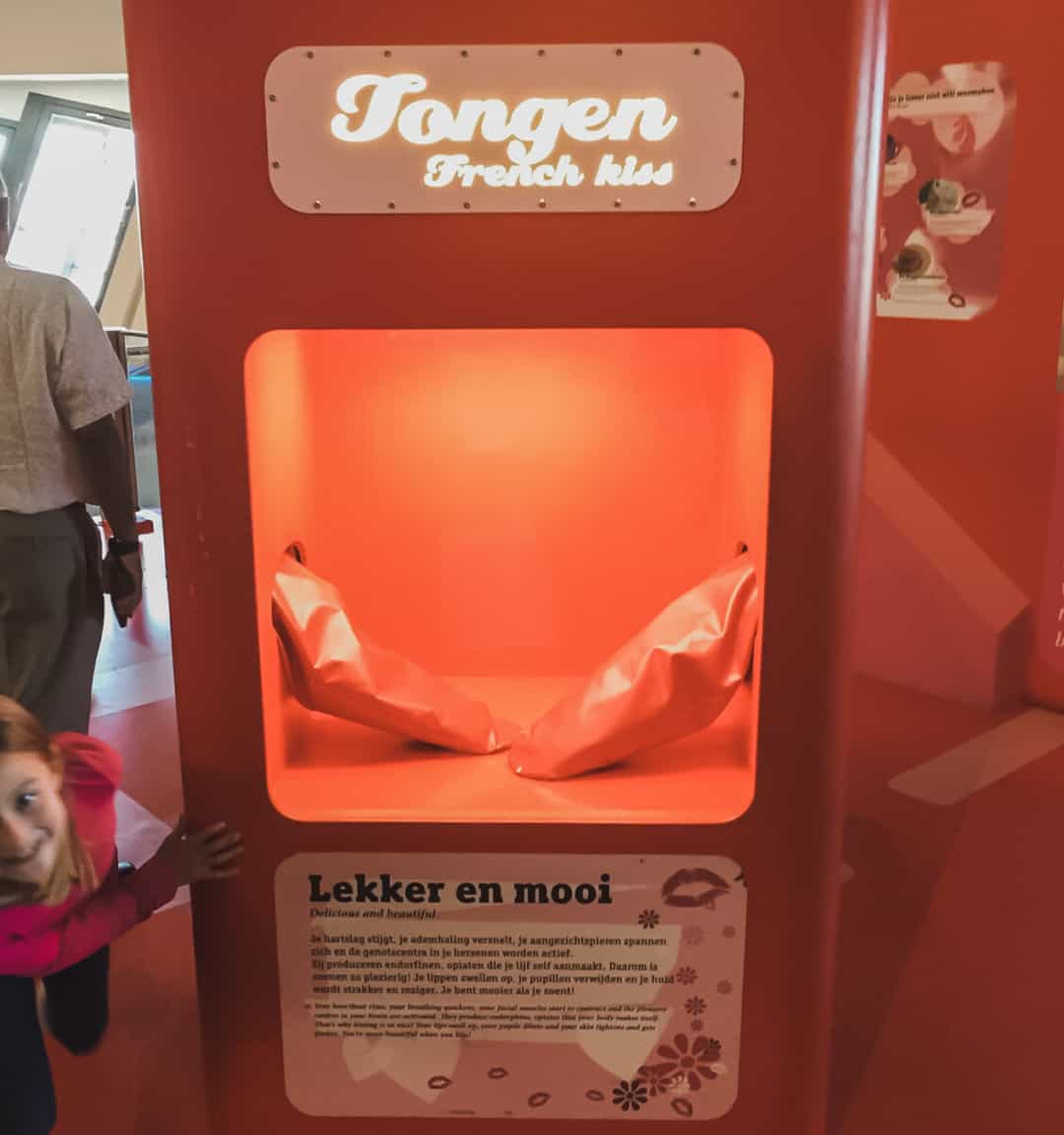 Outside that room, the French kissing interactive display had my kids in hysterics as they flapped the giant plastic tongues at each other like an octopus in spasm. This memory will eclipse all authentic Dutch cultural moments once home.
The I Amsterdam Card
Amsterdam is filled with great museums and tours for families. If you purchase an I Amsterdam Card, the majority of your sites, tours, and transportation will be covered.
The card includes public transport, canal tours, and entrance to the The Van Gogh Museum, the Science Museum, the zoo, and the Rijksmuseum.
---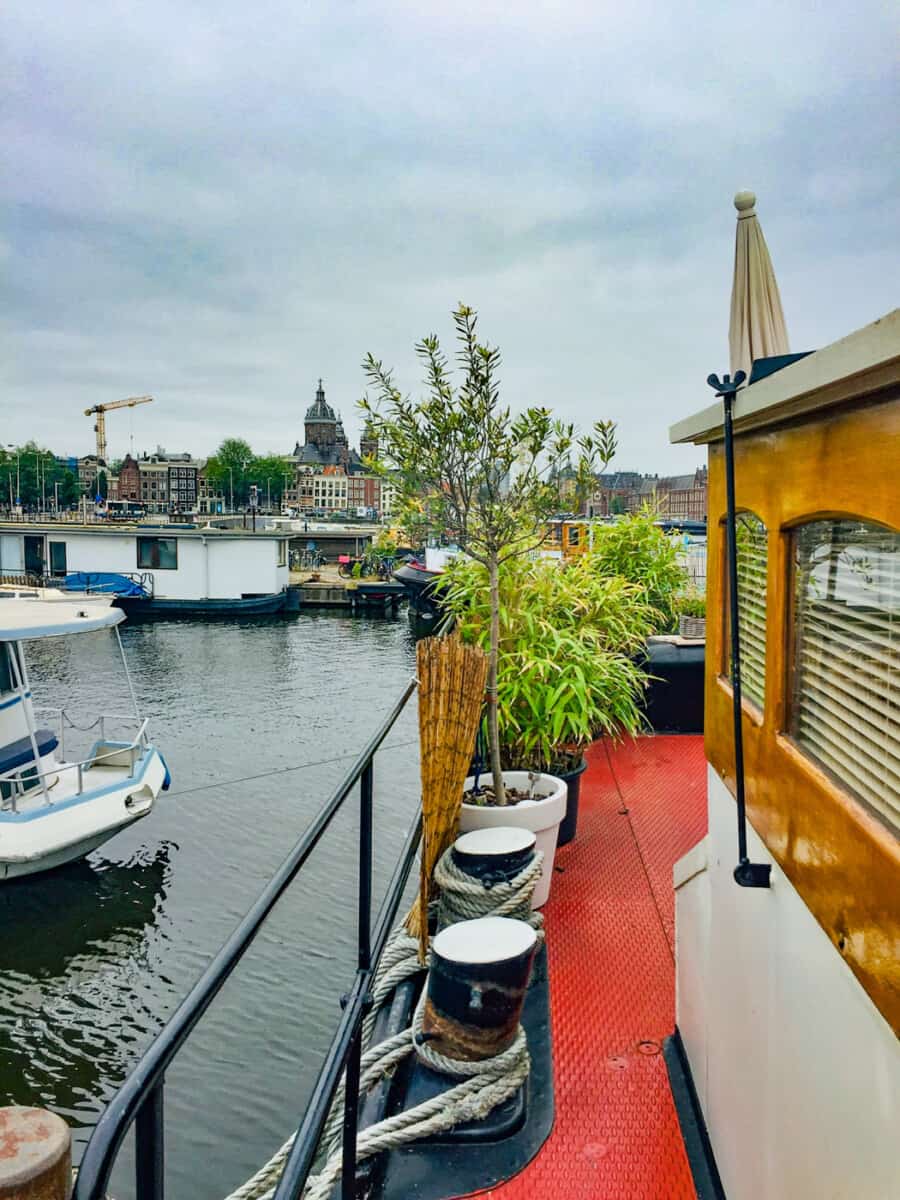 Best Family Hotels in Amsterdam
For an authentic experience while staying in Amsterdam, we chose a two-bedroom houseboat with lots of extra beds. While the kids loved the experience, I would opt for a hotel next trip if it's a short stay like ours to enjoy the convenience of room service and the hotel restaurant's breakfast options.
But for an extended stay, the best family hotels in Amsterdam may be boats!
Amsterdam Hotels with Family Rooms
Here are the best family hotels in Amsterdam that offer family rooms and suites or allow a family of four to share a junior suite.
Hotel Pulitzer Amsterdam
Many recommended the Hotel Pulitzer Amsterdam to us, a Legends Preferred Hotel. The location is perfect, and this family-friendly hotel is actually more than twenty canal houses seamlessly connected.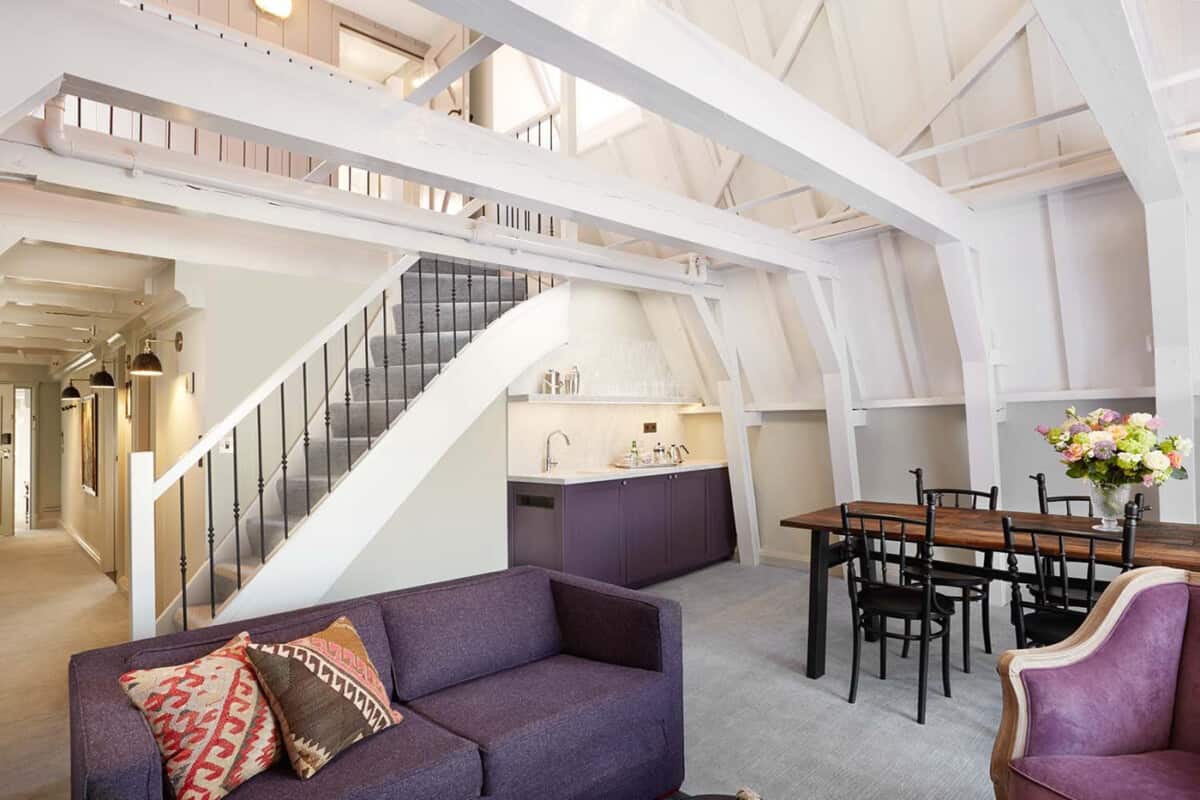 Their family rooms and suites would be the best choices for families in Amsterdam for those who want casual, stylish luxury. It has a bi-level layout with a king room and a children's room with two twin beds.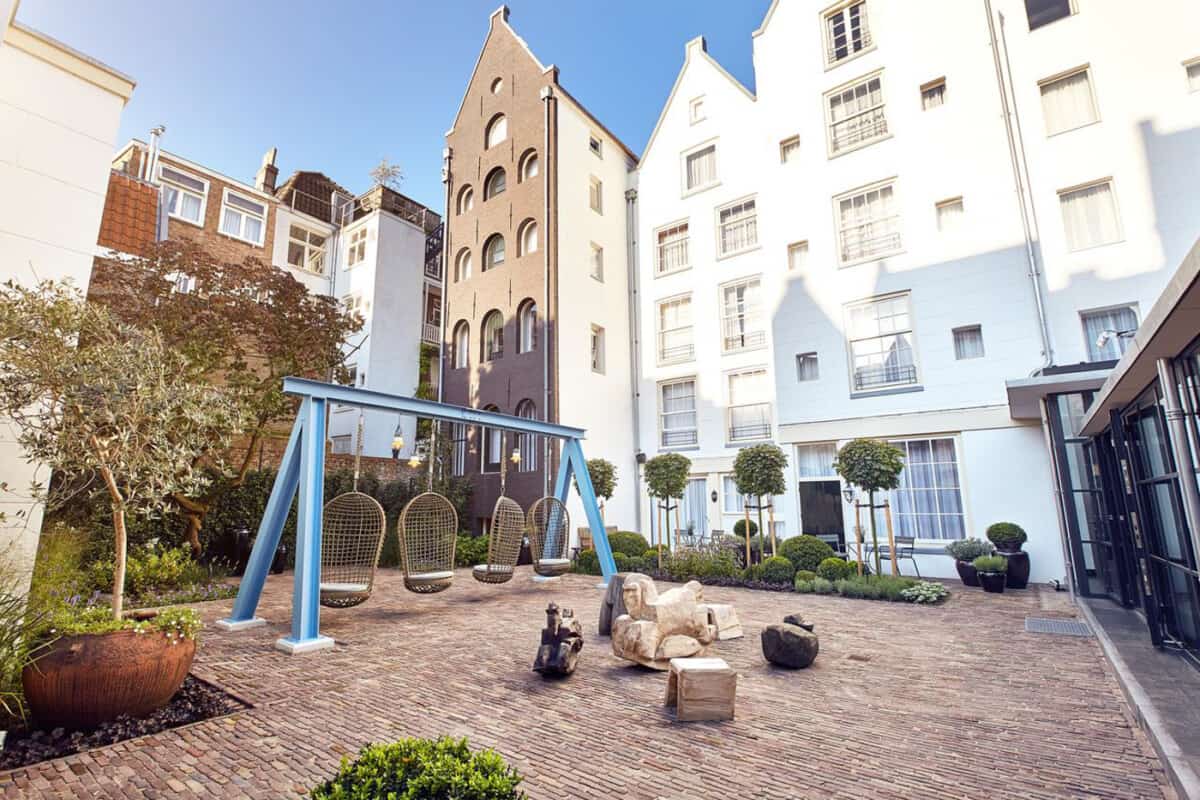 The Conservatorium Hotel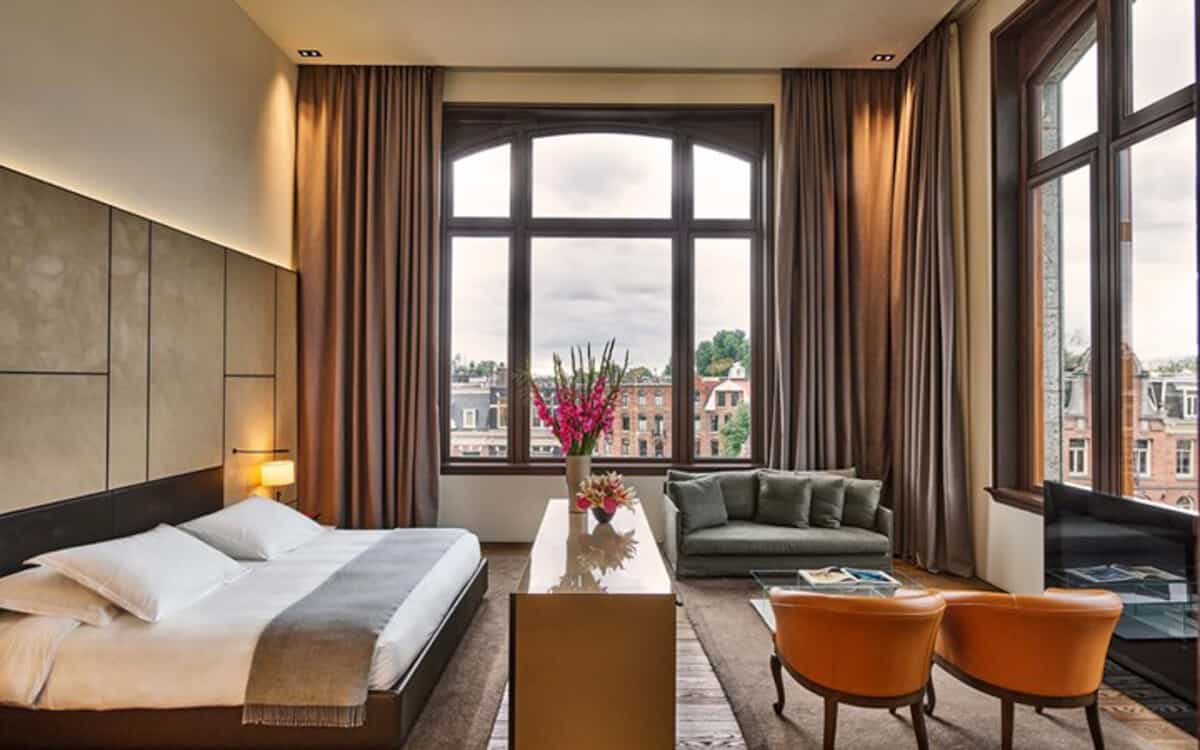 The Conservatorium Hotel is a member of The Leading Hotels of the World. Families love it for its indoor pool, babysitting services, and two-minute walk to the Van Gogh museum. Its vibe is stylish and modern, and families of four can book junior suites.
Hotel TwentySeven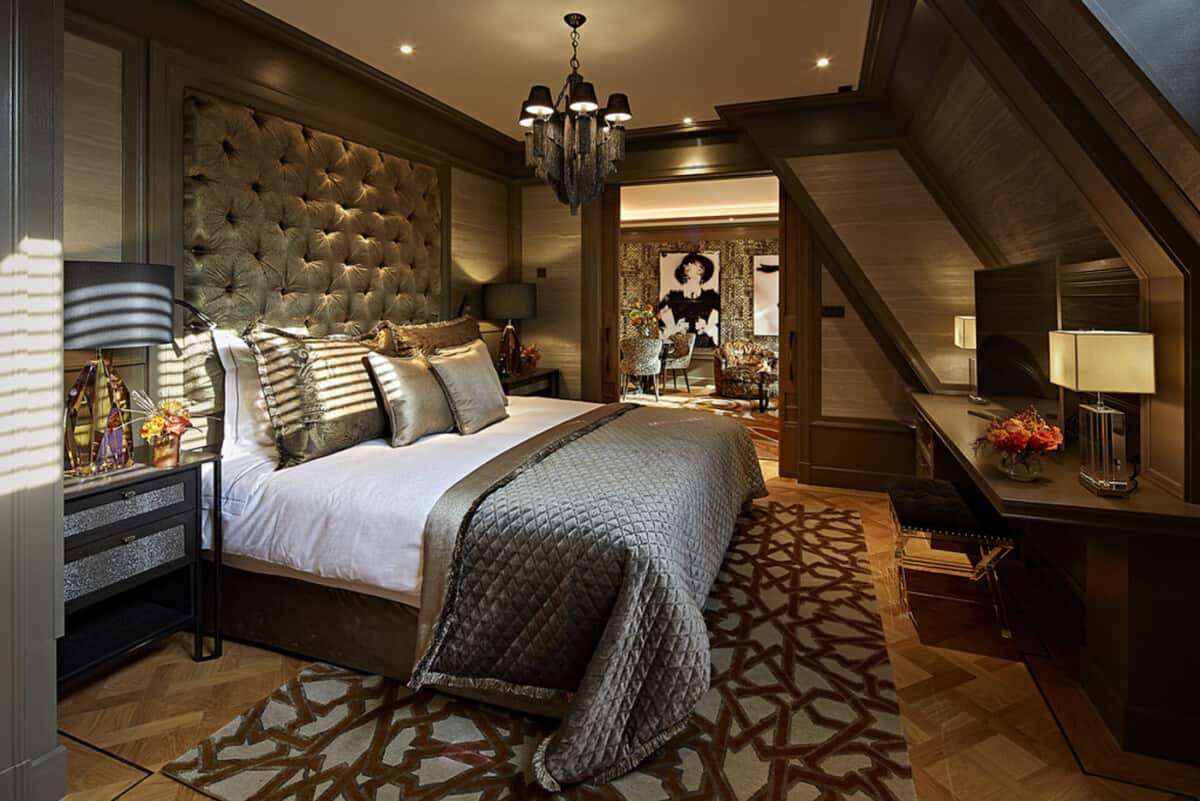 For style lovers, the two-bedroom suites at Hotel Twenty Seven will love the high design of this boutique hotel with only sixteen rooms. Their goal is offering a personalized stay with private butlers, personal assistants and shoppers, trainers, tour guides, and nanny services.
Sofitel Grand Amsterdam
This grande dame offers connecting family rooms and welcome amenities for kids.

Can we help you find the perfect hotel in Amsterdam?
We're able to add several amenities and perks to any of these luxury hotels at no extra cost to you. Let me VIP you and your family on your Amsterdam vacation!
Contact us to help you plan your vacation to take advantage of the amenities built into our rates: upgrades, breakfasts, resort credits, and more.