Kiawah Family Fun
I'd never seen the South Carolina coast. As we boated through the marshes at dusk with dolphins escorting us on either side, I soaked up the colorful landscape wondering why I had taken so long to visit Lowcountry and enjoy a Kiawah family vacation.
The Kiawah Island Golf Resort near Charleston has been a favorite destination for South Carolina families since it opened in 1976. Once New Yorkers found this paradise, expansion and development of Kiawah Island has been consistent since the '90s.
One of the more recent additions to the island is The Sanctuary at Kiawah Island, the island's first actual hotel amidst its villas, condos, and vacation homes of the bigger resort. The Sanctuary at Kiawah opened in 2004 and is a prestigious Legend property with Preferred Hotels.
Like with most new construction buildings on Kiawah Island, The Sanctuary Hotel is meant to look like it has always been there. Walking into its two-story lobby, the staircases are sweeping, as is the scale of the art and windows. There's nothing casual about it. Its design in both rooms and public spaces are to create a historic heritage it would have had were it not part of a private plantation during the ages when The Breakers, Jekyll Island, and Sea Island were developed.
Despite its luxurious amenities and steep entry fee, the Kiawah Island Golf Resort retains a casual and understated vibe. Bicycles reign here, and everyone rents this preferred mode of transportation to explore. The extensive natural assets that drew its first families continue to brings the kayaking Patagonia crowds and their kids. The clubby feel at the other famous beach resorts isn't felt as much at Kiawah because seasonal residents have a private club while the other two resorts blend residents with hotel guests.
The lobby is divided into two adjacent lounges: the masculine and feminine. The feminine side of the lobby is a beautiful destination styled for early morning coffee or afternoon tea with 19th-century portraits, chintz fabrics, tasseled pillows, and stocked cabinets showcasing collectible porcelain. The kind of room your grandmother would say, "How lovely."
In contrast, the masculine lounge showcases a bar which dominates the room, leather club tables and chairs, model sailboat stools and other elements that let you know this is where to have a cocktail or two. There are dramatically large stairwells paired with two-story murals of Lowcountry marsh scenes painted on the walls, and I loved them passing each time to our room.
Truthfully, the Sanctuary can boast the worlds' fastest elevators. It is a detail my children speak of to this day. Every time we took the elevator we laughed in disbelief at how quickly we climbed to the top floor within a few seconds of the doors closing. When we rode the elevator with other guests, they would raise their eyebrows in disbelief and mention it, too. There was no time for siblings to quibble about who pushed the elevator buttons.
---
JOIN OUR FACEBOOK GROUP LUXE FAMILY TRIPS,
WHERE WELL TRAVELED PARENTS CAN ADVISE ONE ANOTHER ON THE BEST PLACES TO STAY.
---
There is an exceptional kids' store called the Eco Boutique at the Sanctuary that can outfit your children in anything you left behind as well as an impressive selection of toys for the pool, hotel room, or dinner table. It is just past the real estate office, which is worth exploring to assist in getting a handle of size of the Kiawah Island resort, as the Sanctuary is a small part of it.
The Sanctuary Kiawah Family Rooms and Suites
The rooms are beautifully appointed with bathrooms that open to the main room, tassels hanging from wherever they can, hallways of closet space and balconies perfect for sipping wine or iced tea. They are consciously traditional.
The standard rooms are spacious enough to accommodate two queen beds and a rollaway easily. If you prefer suites when traveling as a family, be sure to select one which features walls between the bedroom and sitting area, as the entry-level suites are separated by ample space and a two-sided entertainment center.
Kiawah Family Dining
Because of the size of the resort, the dining options are plentiful on the whole island, and we certainly didn't cover all of them. At the Sanctuary, Jasmine Porch is clearly popular for breakfast, and sitting outside near its planted butterfly gardens is a serene way to start the day.
Its entrance is near Beaches & Cream, the resort's ice cream parlor that offers a small selection of take-away bites, ample snacks and candies, and, impressively, two freshly pressed fruit and vegetable juices each morning for those shunning sugar. They sell out, so don't wait.
The Atlantic Room was an incredibly memorable meal on our ten-day vacation down South. The sustainable fish they served was flawlessly prepared. Both the Atlantic Club and the Ryder Cup Bar next door were popular with families even though they are located in the Ocean Clubhouse on the far end of the island. A perk to eating at the clubhouse is the drive though the residential part of Kiawah Island to admire the elegant architecture of the community.
As we waited for entrées, the sun was setting over the ocean and golf course. It was definitely one of the sunsets of the summer, as the majority of the guests left their tables to post their own pictures to Instagram. Compared to other beach resorts on the Atlantic, Kiawah's beach does not face due east, so the sunrise and sunset happen to the left and right of you, making them both daily events.
The Ocean Room is the formal restaurant at the Sanctuary and didn't feel like the place to bring young children, but I am eager to return to try their Southern-inspired sushi lounge sourcing local seafood.
There are many other family options scattered through the different condo communities on the island, and the larger pools offer lunch and dinner. We had a particularly nice lunch at the Loggerhead Grill overlooking the Sanctuary's pool area, and I was impressed with the children's menus throughout the resort.
Kiawah Family Pools and Beach
There are several pools at the Sanctuary and within the Kiawah Island Golf Resort.  The main pool at the Sanctuary was perfectly relaxing and fun with its beautiful, tiled fountain in the center and a twelve-inch deep pool lures the swim diaper crowd.
The spa and fitness options at Kiawah are extensive, and please look for a separate article discussing its wellness features. For grown-ups, there is an indoor pool within the fitness center and an infinity-edge pool overlooking the ocean.
The highlight of our stay was the Night Heron pool complex, a very short ride by car or bicycle from the Sanctuary. This hotel can boast one of the best resort pools we've experienced. It was recently renovated yet it still feels nostalgic of the '80s childhood vacations, appealing to your inner seven-year-old. How many times did my husband and I both go down the waterslides? We'll never tell, but it takes a lot to get mommy to get her blown out hair wet.
Its genius design for families with children offers a large zero-entry area where parents dragged their pool chairs into the water where there were small slides and swings for toddlers. The pool got progressively deeper with incredible water guns, fountains, and sprays until one reached the two waterslides. It was a fantastic pool. We spent as much time there as we possibly could, and we're not really pool people.
We even went back after we checked out— on the way to the airport for an evening flight— to grab a few more hours. My children, who always travel with me, are typically great at adapting to a fast-paced schedule, yet they showed— for the first time—complete despair when I said it was time to leave. That's never happened before, and it hasn't happened since. They had found their Eden.
Kamp Kiawah and the Heron Park Nature Center
Night Heron Park, aside from the incredible family pool, houses the hub of family activity for Kiawah Island with its kids' club and nature center.
My son changed his mind about attending Kamp Kiawah, but my daughter was game to try it. It's great that the camp accepts three-year-olds, as many camps accept those four and older. As I dropped her off she was the oldest child it seemed by several years; I heard "You've Got a Friend in Me" and other preschool Disney hits playing while I filled out paperwork and signed her up for a pizza lunch. I walked away feeling a little guilty but, by the time I rounded the corner, a group of other tweens magically appeared.
By the time I collected her, she asked me if she could stay the whole day, and my son regretted his choice to miss out. Children made sand and tile mosaics, played games, ate a big pizza picnic for lunch, yet it's a mellow type of camp that reminds the children they are, in fact, on vacation to have fun.
Adjacent to the open-air Kamp Kiawah pavilion sits the nature center. This isn't a room with a few terrariums of lizards; this is a reptile collection worthy of a science museum.
Belmond Charleston Place Hotel: Suite and Civilized Charleston With Kids
The Kiawah Island Golf Resort has an ambitious Junior Naturalist Program, lasting one and a half hours each day for children aged eight to twelve, providing short hikes and instruction through the nearby marshes and ponds. The weeklong program culminates on Fridays where participants help with animal care at the nature center, whose collection includes alligators, turtles, and lots of snakes.
If your children enjoy participating in these types of activities, the Kiawah website has many things of interest to share with them like a bird checklist and a monthly newsletter from the nature program to build excitement for their vacation.
The summer offerings are extensive and offer a world-class tennis program considered one of the best in the country. The Barth Tennis Academy offers weekly and three-day packages. Golf clinics for those eight and older are also extremely popular as are paddle boarding, kayaking, and bodysurfing on the beach.
The activities are meant to keep a family staying a week or longer incredibly busy with a variety of choices. With its own annual marathons and triathlons, Kiawah Island Golf Resort is sort of the polar opposite of the Disney World Resort, where splashing log rides are traded for kayak tours of marshes. They are both great vacations, but clearly offer contrasting experiences.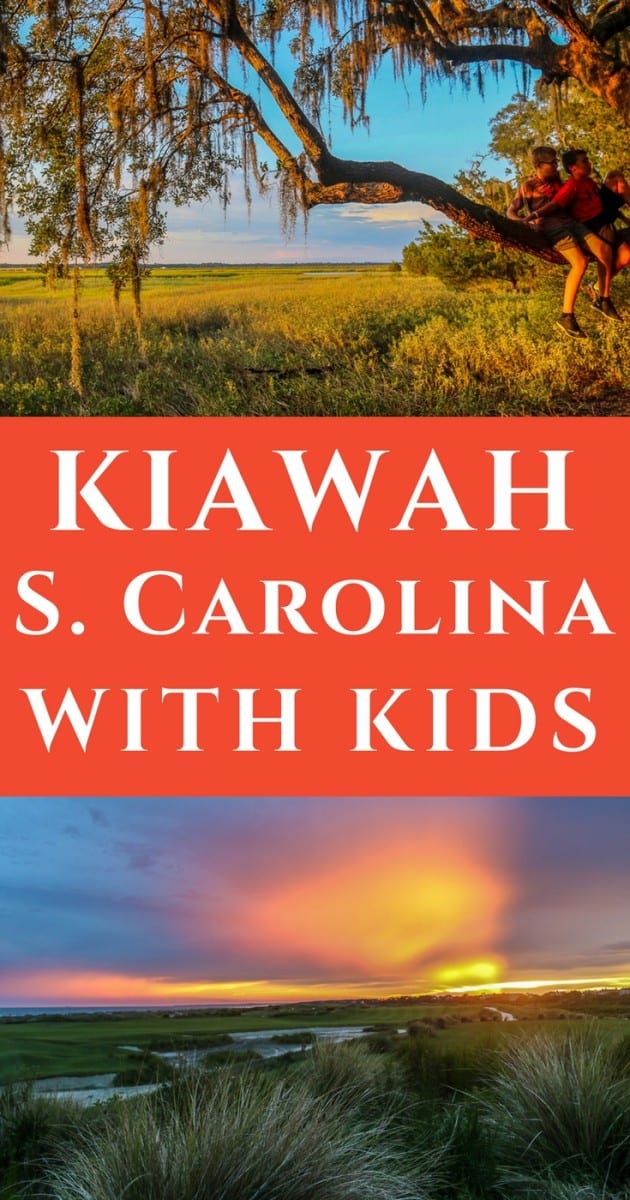 The Mingo Point Oyster Roast and Barbecue
Kiawah's longest island tradition is the Mingo Point Oyster Roast and BBQ. This sunset experience gathers large groups to enjoy a BBQ buffet, as well as, a large section of blazing ovens to roast oysters. I walked over to the area to investigate but the opening of an oyster shell by knife didn't look like an activity for newbies.
There were several activities and a live band that made it feel like an elaborate private party. Hula-hoops were waiting in front of the stage for takers of any age. Kids were given canvas backpacks at the entrance to color that served to carry their crafts and purchases when climbing trees and getting their faces painted or hair braided. The cookout schedule varies thought the year, from March through November, with summer months offering it weekly.
One of the resort's boating facilities nearby offers sunset boat tours through the marsh. We walked down a dock over large blue crabs running below. The boat ride offered an incredible palette of colors with views of vacation homes hidden amongst the trees. I was impressed that the ever-expanding development of homes on Kiawah is tasteful and well integrated with the natural landscape.
The ride was so peaceful my son fell fast asleep, missing the dolphins that were quietly splashing beside us. Marshes don't sound very appealing, but— until I had seen these coastal jewels— I simply never knew what I was missing.
The Sanctuary is a top-notch resort providing a great introduction to one of the South's most beautiful destinations. No matter how long your first visit is it won't feel long enough. The majority of the guests on the island stay a lot longer than a few days. They know something you don't.
Although we were guests of the Kiawah Island Golf Resort, these opinions are entirely my own.