The Ritz Carlton Naples resorts are the king and queen of the Paradise Coast hotels
The Ritz Carlton Naples Beach Resort is undergoing renovations that will conclude in September of 2023. I have updated this article to feature the golf resort's pool refurbishments.
As the most elegant hub of Southwest Florida, Naples celebrates a new chapter. Once the snowbird haven of Midwestern grandparents, Naples has seen huge growth in welcoming young families and professionals.
North of downtown Naples in the area of Vanderbilt Beach are two separate Ritz Carlton properties, the beachfront Ritz-Carlton Naples and the newly renamed Ritz-Carlton Tiburon Resort. They are ten minutes apart by car, and connected by an ongoing resort shuttle for guests.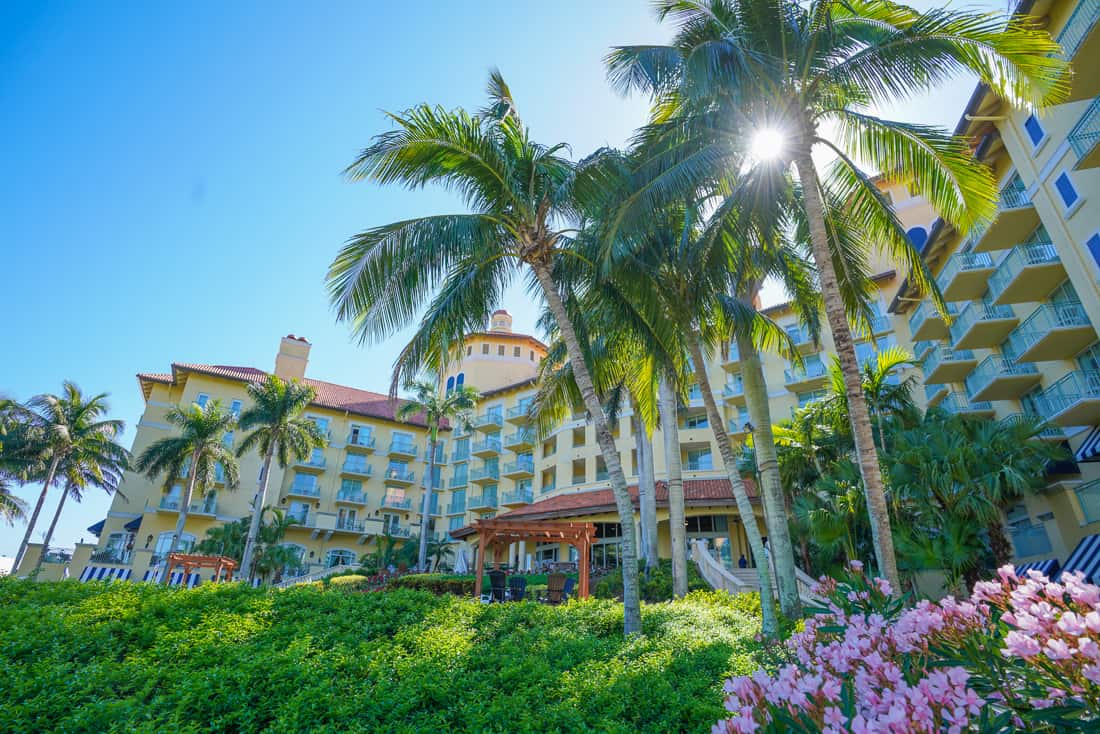 Choosing which Ritz-Carlton Naples Resort is best for you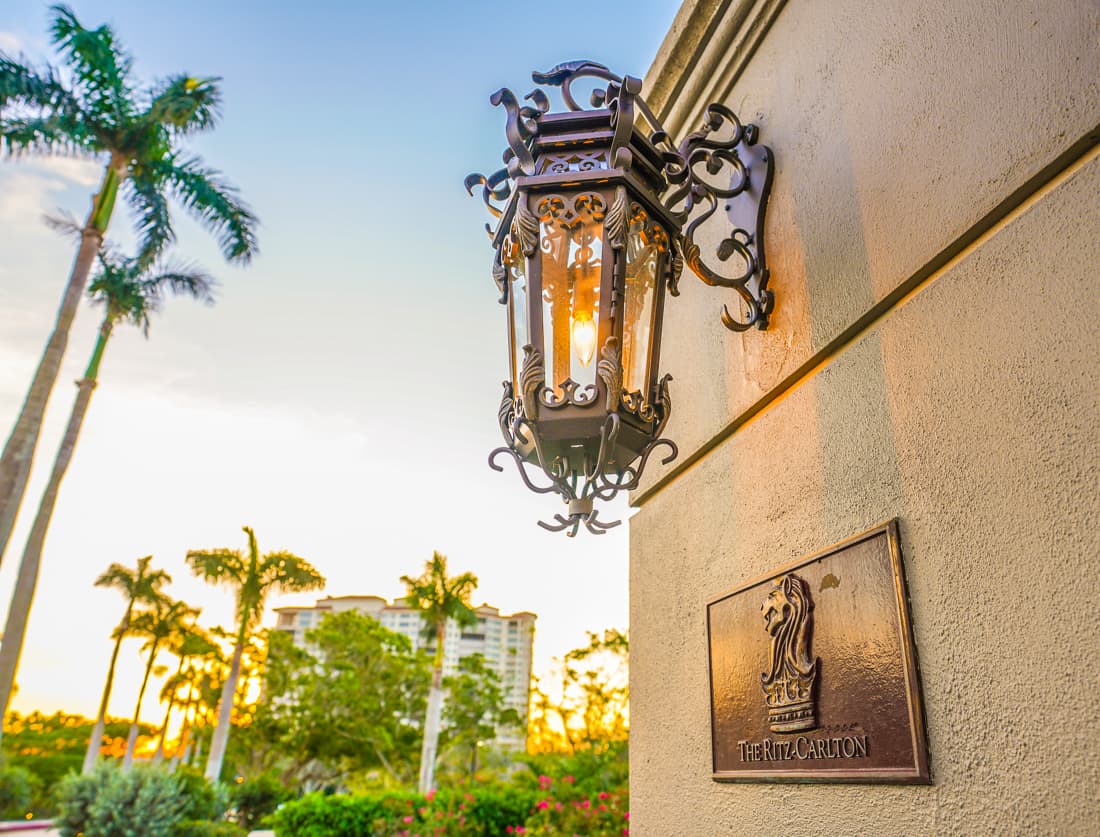 The Ritz Carlton Naples Beach vibe is unadulterated five-star grandeur that reigns in the area as its most luxurious resort. Soaring floor to ceiling windows, massive chandeliers, and traditional country club decor that identify the brand let you know you are at a Ritz property.
It is filled with families, wedding guests spilling out of the Vanderbilt Ballroom, local members of the resort spa and fitness center, and convention attendees. It has many more rooms than the golf resort, and is the hub of the area's activity.
The Ritz Carlton Tiburon, formerly the Naples Golf Resort, feels very much like a country club. The staff treat you like you are longstanding members. I saw no twenty-somethings in sight. Everybody is a kid, has a kid, or has grandkids. Guests are greeted in the lobby by a staff member with a cart of featured cocktail samples during happy hour and a gelato cart.
The ease of using the amenities at both resorts with the shuttle means that guests should choose the best option for their budget and recreation preferences.
Do you prefer dazzling views of the Gulf of Mexico from your room, proximity to the spa and fitness center with its many exercise classes, nearby access to the drop-off kids' camp? Then stay at the Beach Resort.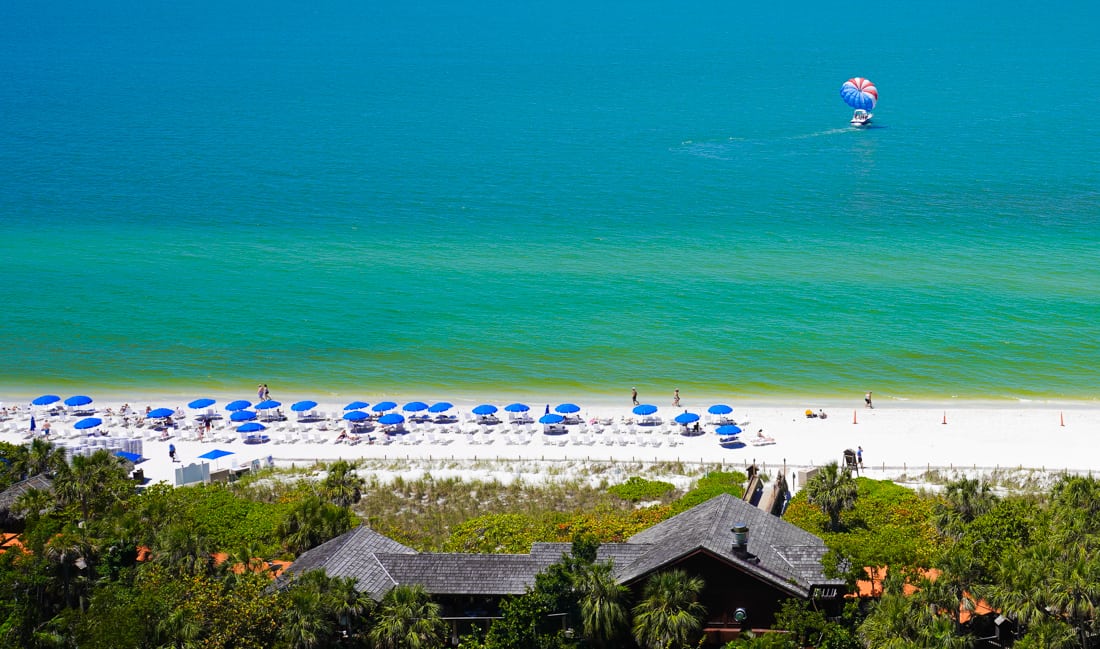 Do you want smaller crowds, more personal service, and better value? The Ritz Tiburon Golf Resort has a fraction of the guest rooms (at typically half the price) of the Ritz Carlton Naples Beach Resort and their family suites are incredibly comfortable. A large, club level suite at the Golf Resort is roughly the same in size as a guest room with two double beds at the Beach Resort.
Each resort's amenities
Fun For Your Ritz Kids
Each Ritz-Carlton hotel has a special Ritz Kids check-in station, and both Naples resorts do, too. Children can undertake a scavenger hunt at the Beach Resort, which I love doing, as it is a great activity combined with lunch when we arrive before a room is ready.
Nature's Wonder is the children's supervised kids' club at the Ritz Carlton Naples Beach Resort for those aged 5 through 12 years; programs run half and full day sessions. Learning about its reptile and aquatic residence is the scope of the kids club program, and its space is impressive with as many aquarium tanks as a small city's aquarium or science museum.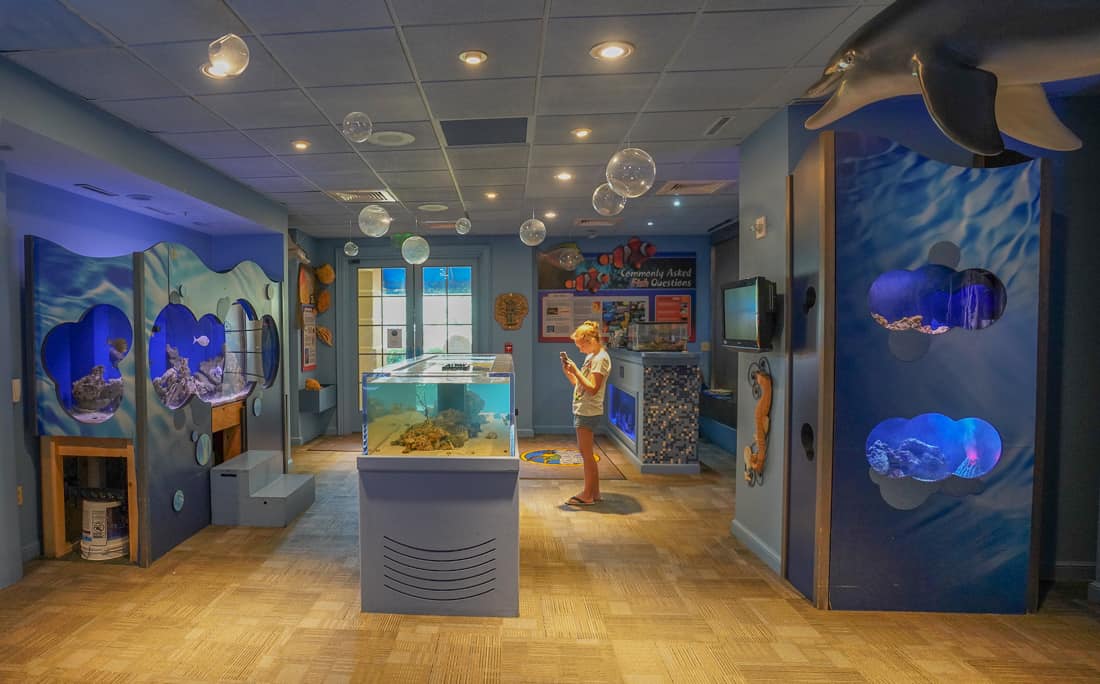 In addition to animal education that was hands on, children spread out on the floor, enjoy snacks, and create a variety of crafts to take home. Both my twelve-year-old and five-year-old found the program entertaining and interesting.
Both resorts offer ice cream parlors and game rooms while the Beach Resort has a super swanky video game room that caters to tweens and teens.
---
JOIN LUXURY HOTELS & RESORTS FOR FAMILIES,
A FACEBOOK GROUP FOR SEEKING HELP AND INSPIRATION
FOR THE BEST LUXURY FAMILY BREAKS.
---
The Golf Resort has several video game stations as well as a tiny movie theatre for scheduled films; it also offers a playground for young children.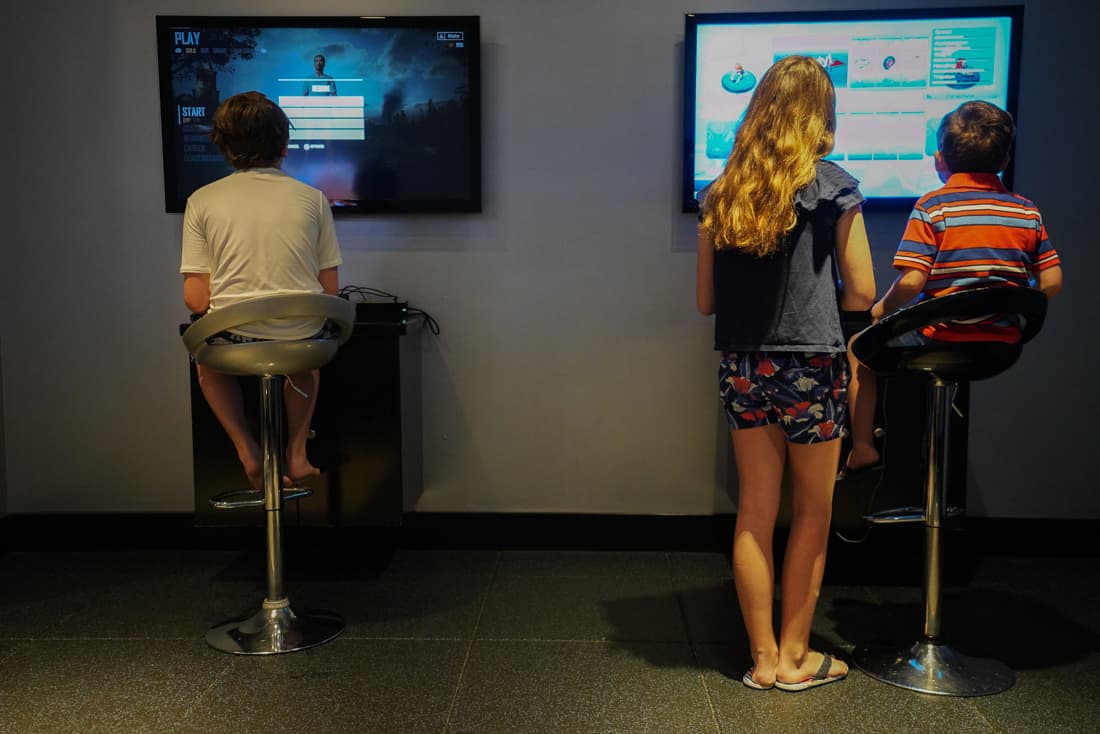 What was particularly impressive is the Golf Resort's newer, very blue play space. The padded room is filled with a modular play system for children to transform an entire area by designing and building structures. I have seen these pieces in our Boston Children's Museum.
Every time we entered, a set of siblings or friends asked to have a picture taken with their creation. It's the perfect complement to time in the adjacent video game room and theater.
Golf & Tennis
The Golf Resort is obviously a big destination for its courses, and instruction is top notch.
The hotel greeted our six-year-old boy with an adorable gift surrounding the theme of the littlest golfer. My son had been saying he wanted to play golf since he was three and this was the trip where we decided to get clubs in his hands. We booked his first golf lesson at the Impact Zone Golf Academy (located at the resort's Tiburon Course).
Ellen, who stopped touring when she discovered her passion for teaching, taught my son and also leads the kids' program at the resort's golf school. My son took to her right away and I can't wait to book more lessons with her on subsequent trips. She was very skilled and personable.
Her goal was to make golf fun, and the intro lesson was a huge success reflected in my son's ongoing enthusiasm to take golf lessons since we have been home.
The tennis center, also located at the Golf Resort, offers tennis pro instruction, clinics, and a chance for families to rent a ball machine and hit together.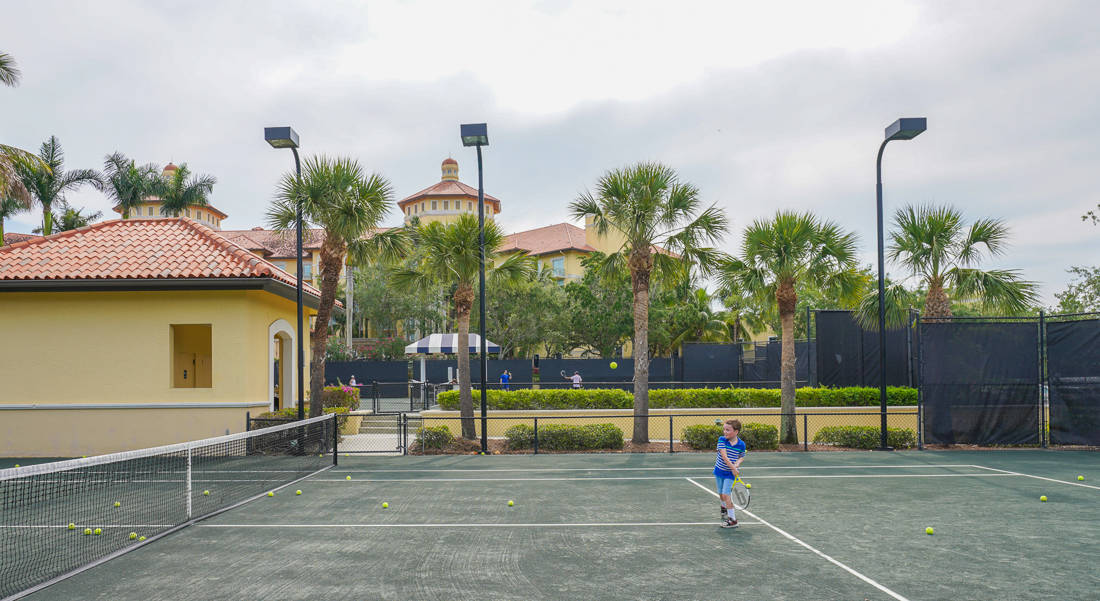 Pools & Beach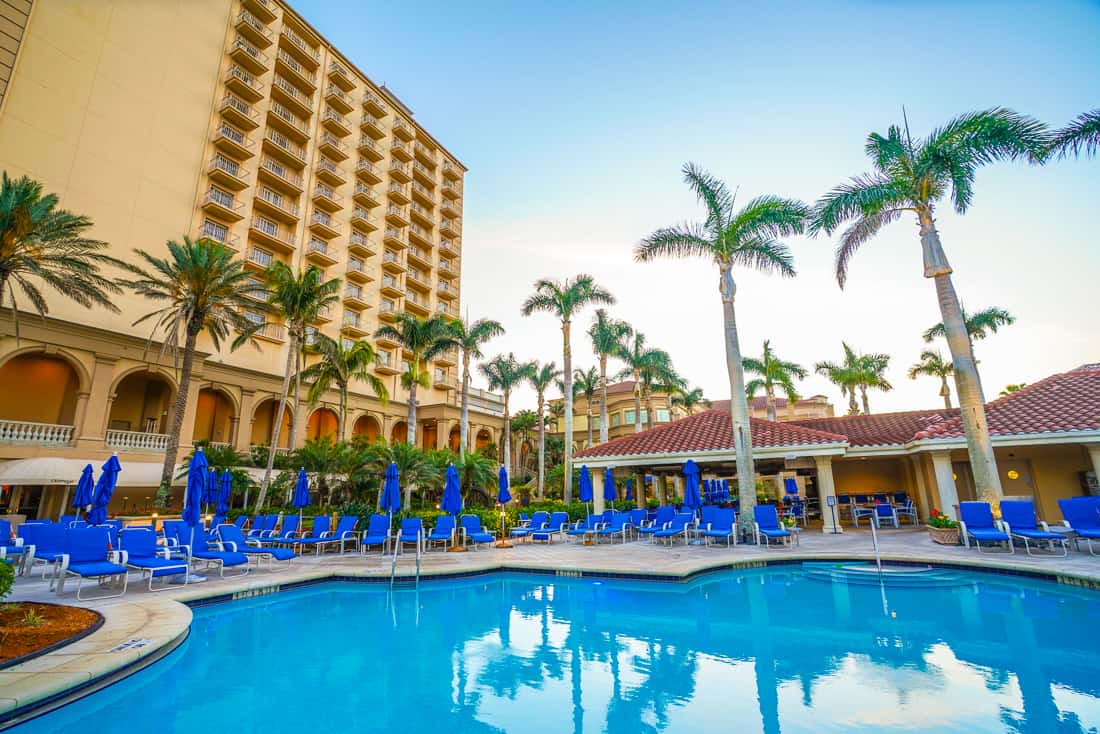 Both Ritz Carlton Naples resorts offer offer outdoor pools. The Beach Resort tends to draw a larger crowd since its hotel has many more rooms than the Golf Resort. There are plenty of families and children's pool amenities and chairs. Foosball, billiards, and ping pong tables are nearby with siblings and parents competing.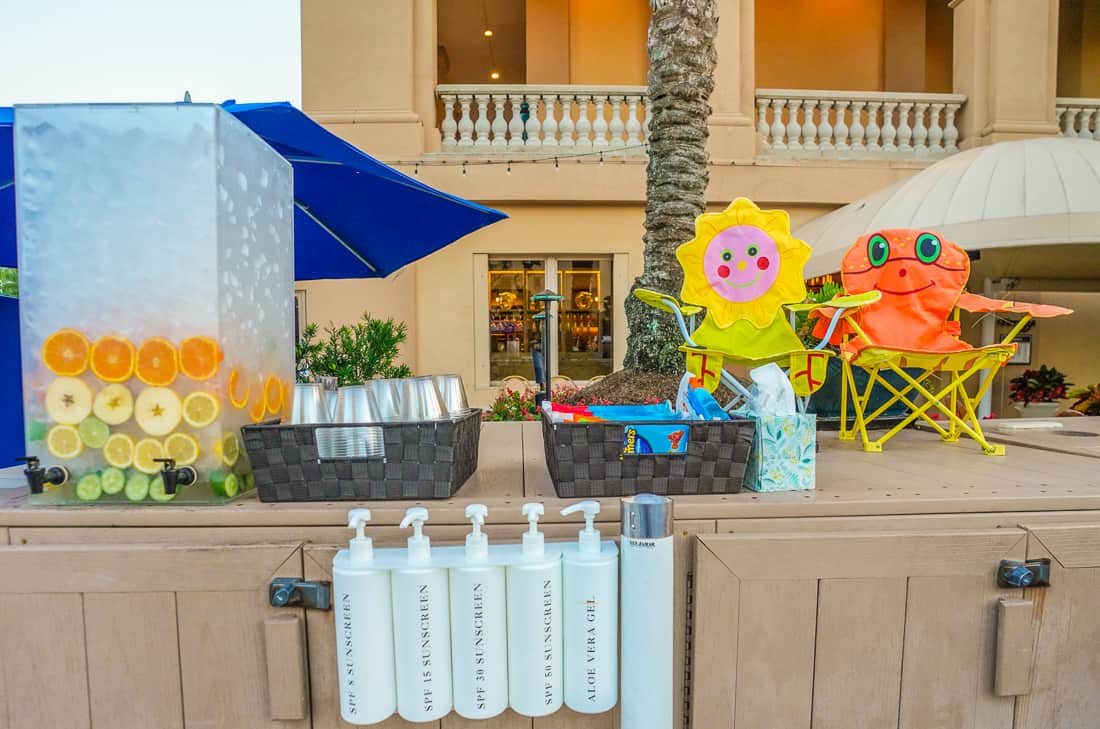 Guests walk the elevated path over the wildlife to the beach from the pool area in hopes of seeing river otters, (hopefully) small alligators, and spotted gar fish.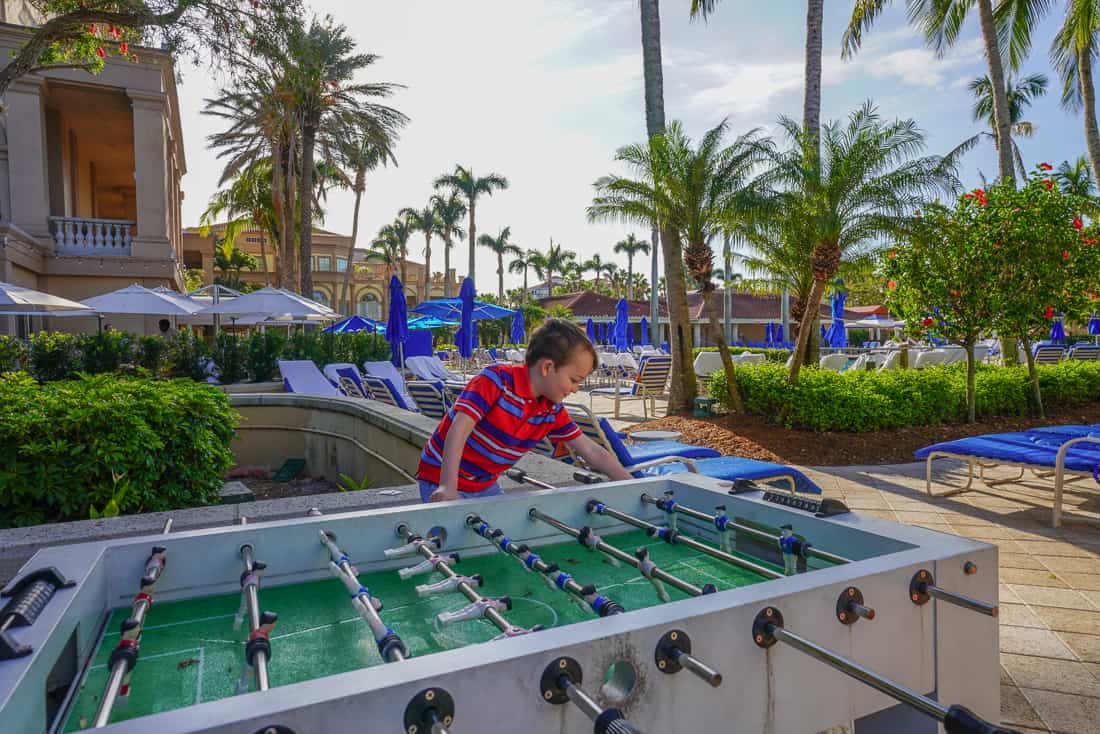 There's attentive beach service offered by the resort with a good ratio of staff-to-guests who set up chairs and take beverage orders. Beach cabanas come with a snack basket, suntan lotion, aloe vera gel, magazines an ice bucket and fruit.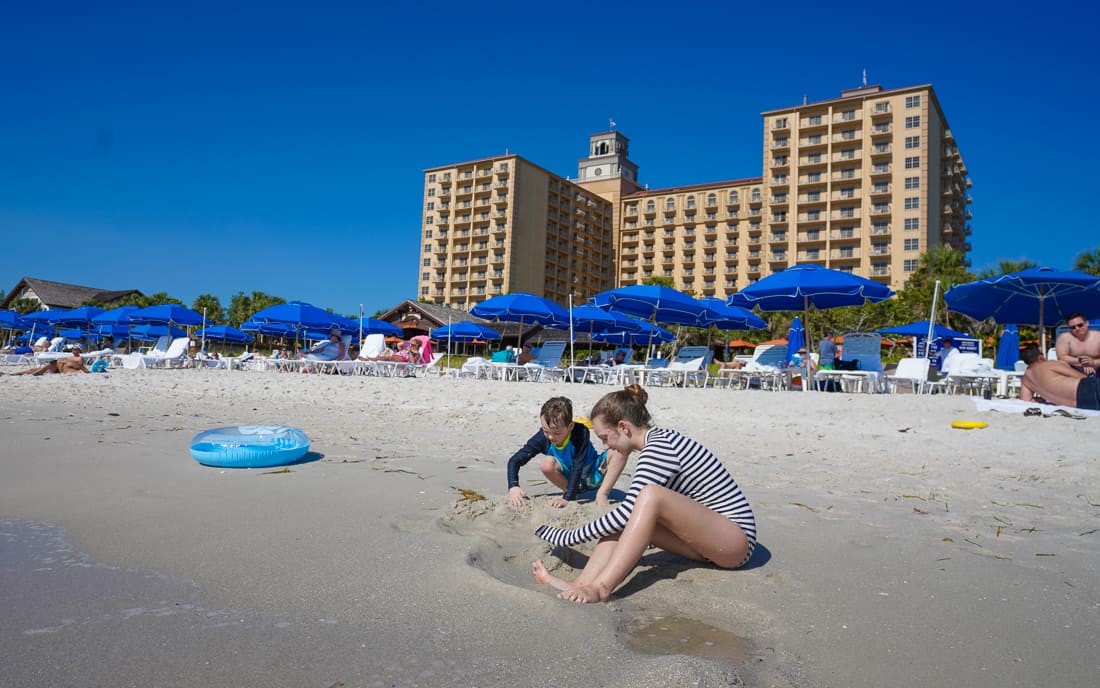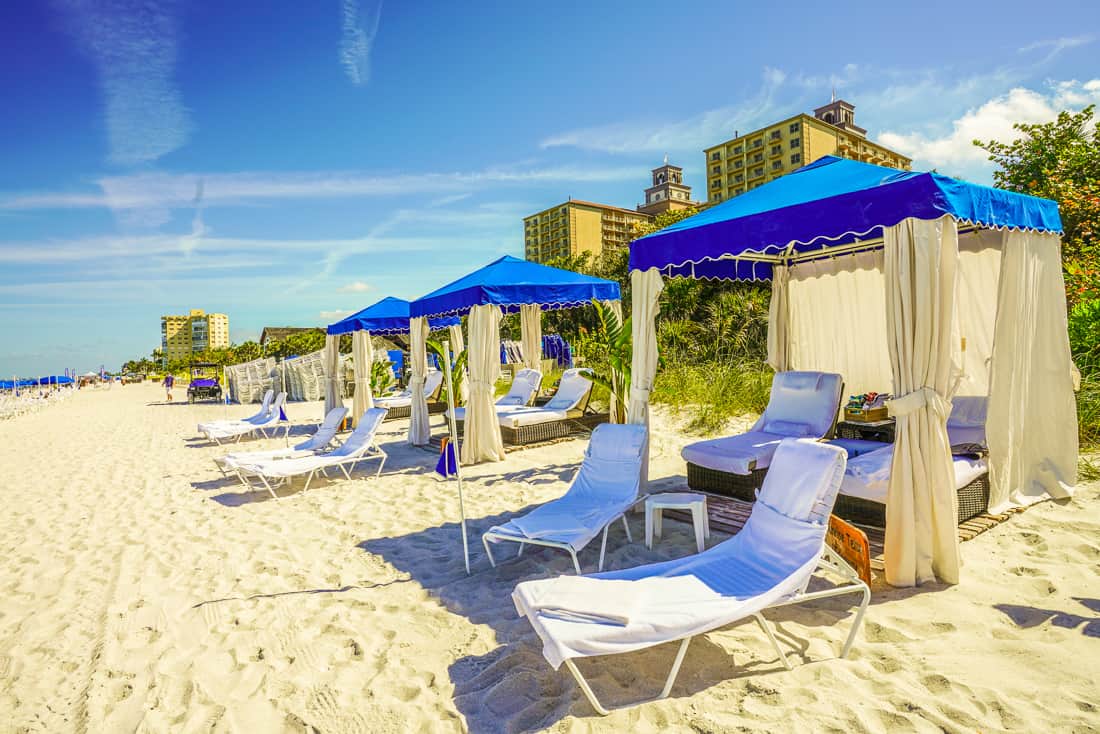 Red Tide has made many headlines lately, and the Gulf coast of Florida has been hit hard. We had light Red Tide once during our stay, but none on the other days. The conditions change quickly. There is so much to do at both resorts that it didn't slow us down for a second. Consult this Collier County website for the current status of Vanderbilt Beach.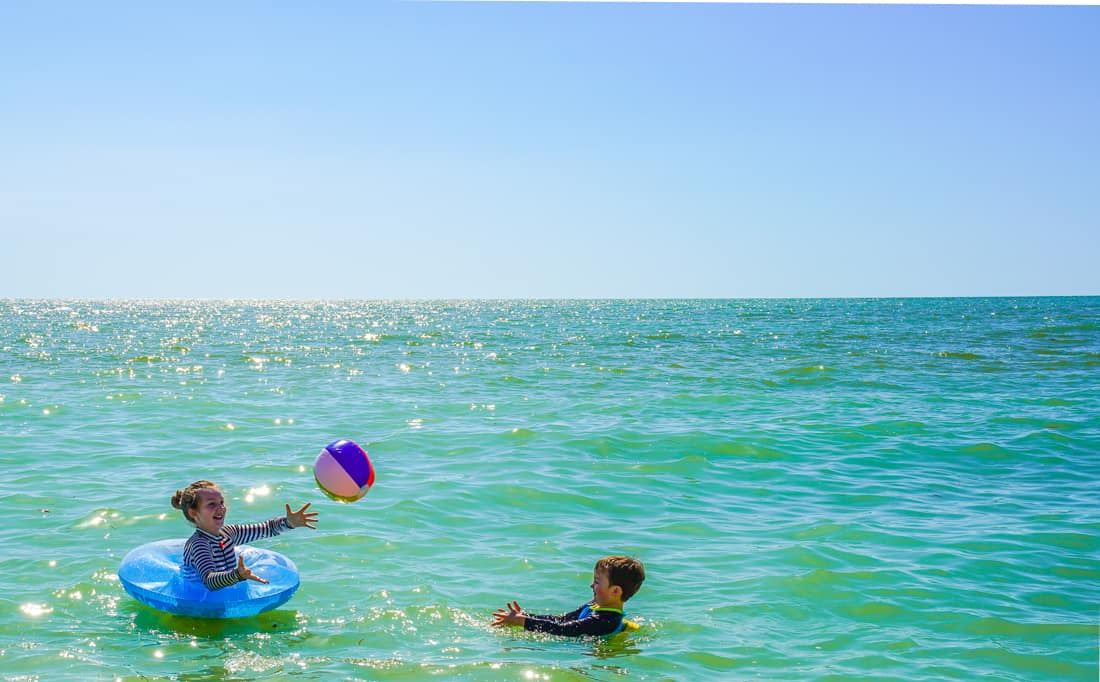 The Reserve at the Ritz Carlton Tiburon
The Golf Resort recently updated their pool area to include a lazy river, water slides, and swanky pool cabanas in what they now call The Reserve.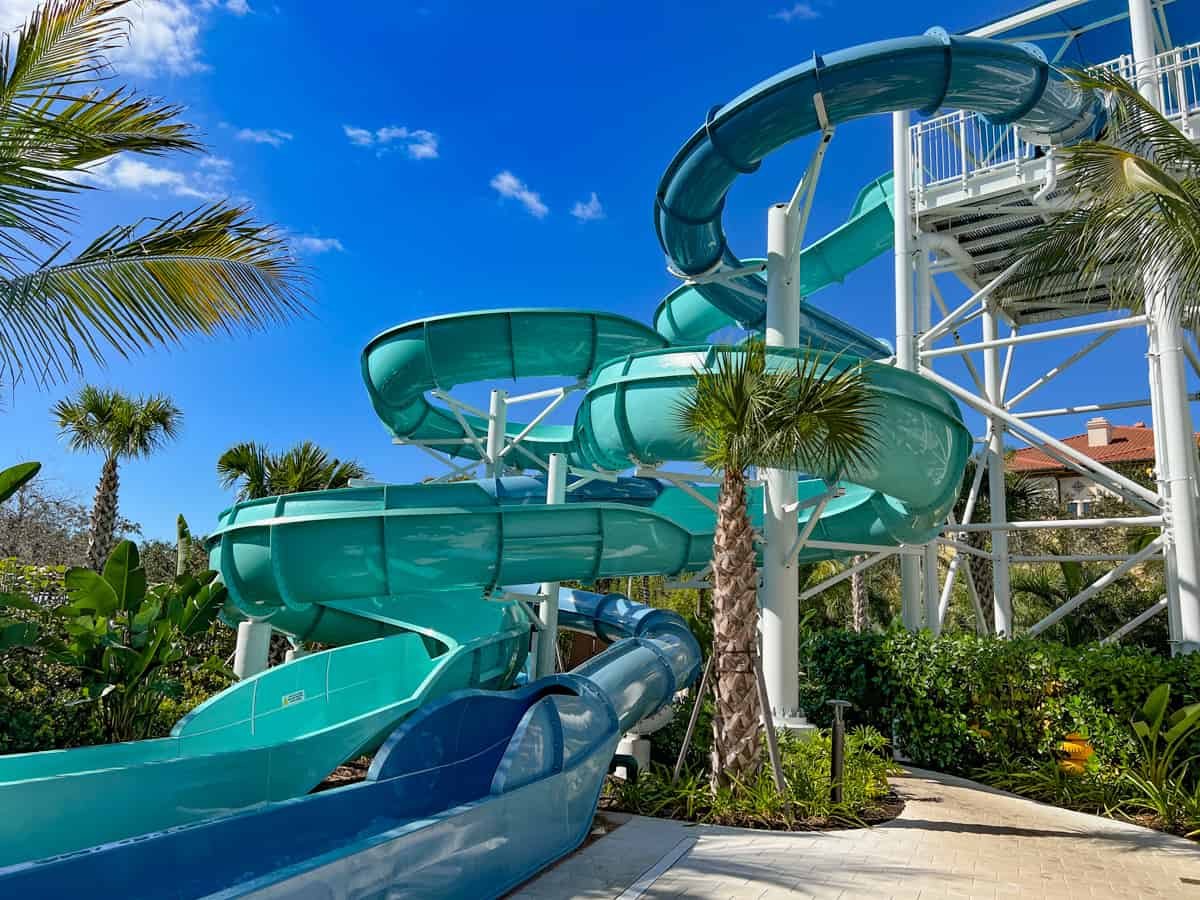 The lazy river is pleasant and truly lazy. There are no wave or splash features, and moms won't get their hair wet! The third slide was our favorite where partners go down in an inner-tube.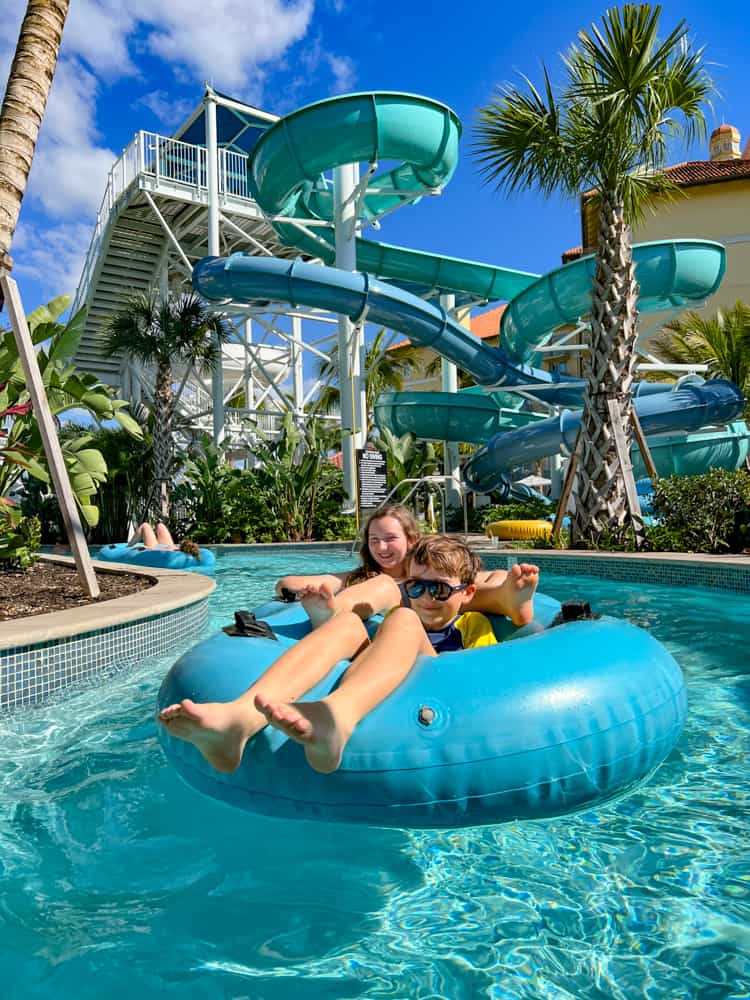 There is a fenced in splash area with smaller slides and lounge chairs perfect for families with younger kids.
We found that we had the pools to ourselves at both properties once the ice cream sandwich and cocktail service concluded for the day.
Fitness
While the Golf Resort has its own fitness room, the wellness features are concentrated at the Beach Resort. There are several fitness classes offered each day, mostly for a fee of $25. My husband and I took a Premier Pilates course on the chair, and other women in the class were mostly local members down for the season.
All of the fitness instructors whose classes I took seemed outstanding, seasoned, and passionate about teaching. There are beach classes for yoga and Pilates, as well as, studio classes making use of spinning and Pilates equipment in the fitness center. Many personal trainers were there working with guests.
A wonderful and generous policy states that there is no minimum signup requirement for the exercise classes. You may get lucky and receive a private yoga class.
The Ritz-Carlton Naples Spa
The Spa is getting a facelift after a 2018 summer closure. This building is massive, with dozens of treatment rooms, a cafe, mineral pool, terrace, and large boutique. The modern makeover of the Grande Lakes property in Orlando seems parallel.
Even if you have no time for self care on your trip, take a stroll with or without your family around the serene garden in front of the spa's entrance for a few moments of floral tranquility.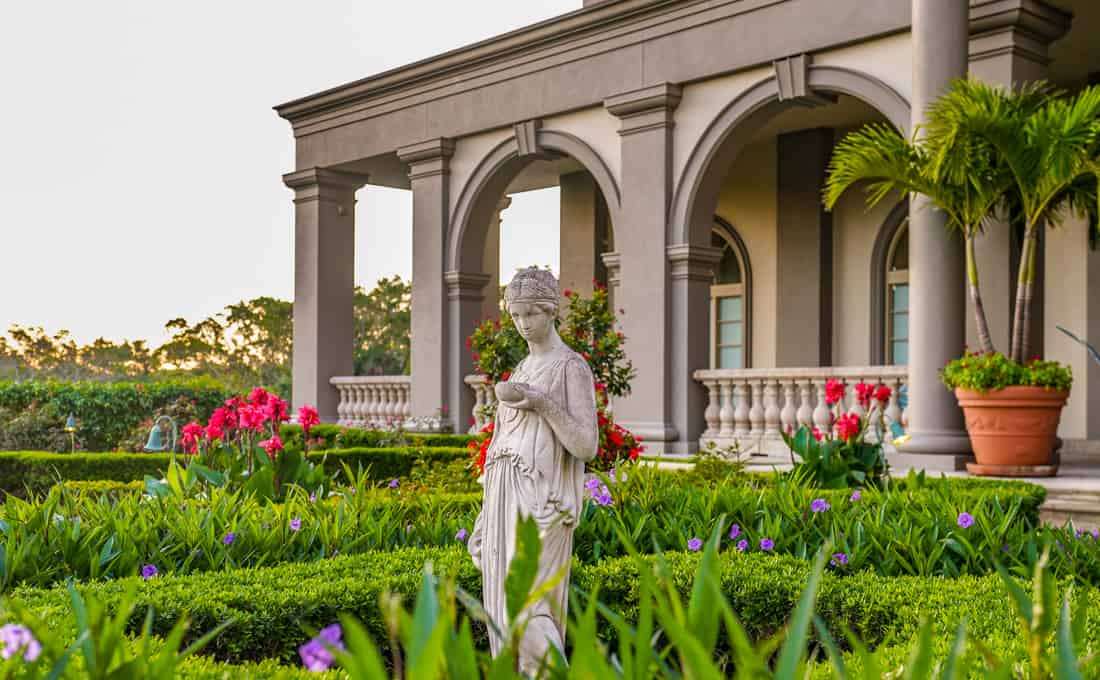 Sunrise and Sunset at Vanderbilt Beach
Sunsets are very serious business at the Ritz in Naples. As with many Gulf beachfront resorts, the west-facing location makes every evening an event. The skies turn pink, the jade water turns a pale silver, and everyone is taking that magic photo for their holiday photo card.
The spectacular sunset overlooking the Gulf of Mexico is well-attended by guests and locals alike. Those who gather wait for the ringing of the Sunset Bell.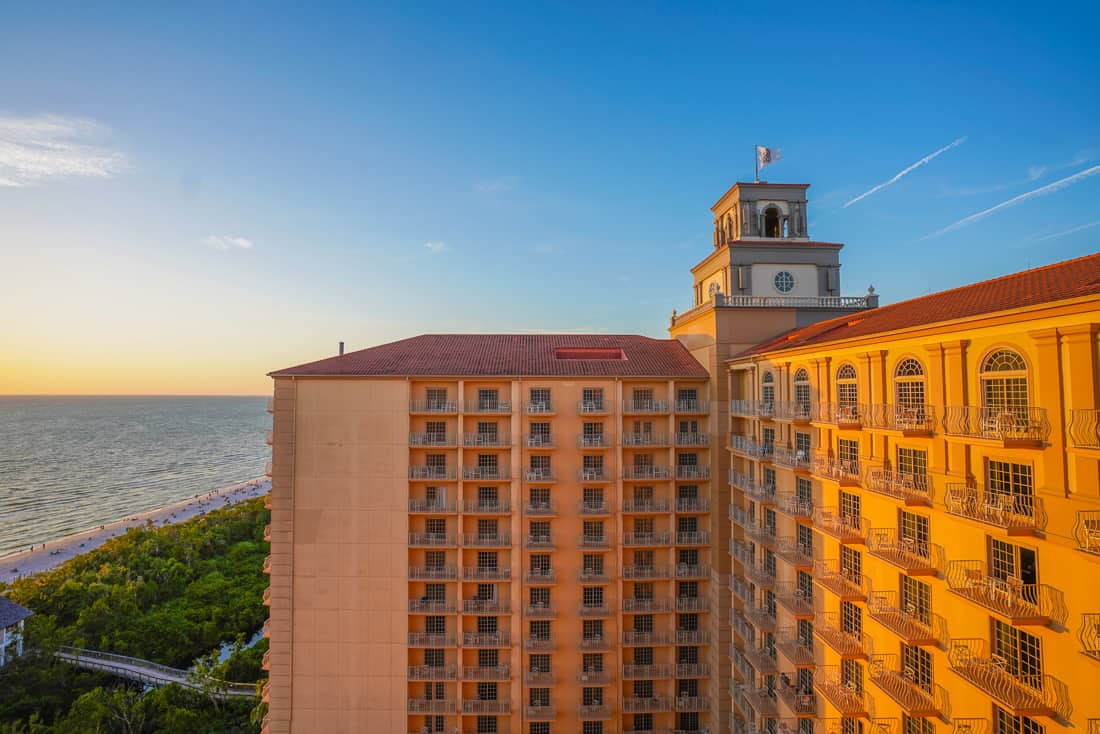 The Ritz Naples Golf Resort is not to be outdone by her sister property's famous sunsets. And for those willing to rise with the sun, they are well-rewarded with beautiful pink and purple skies from the back patio of the hotel. Guests look over the golf courses with the rainbow of colors and the smell of patio fires from the night before.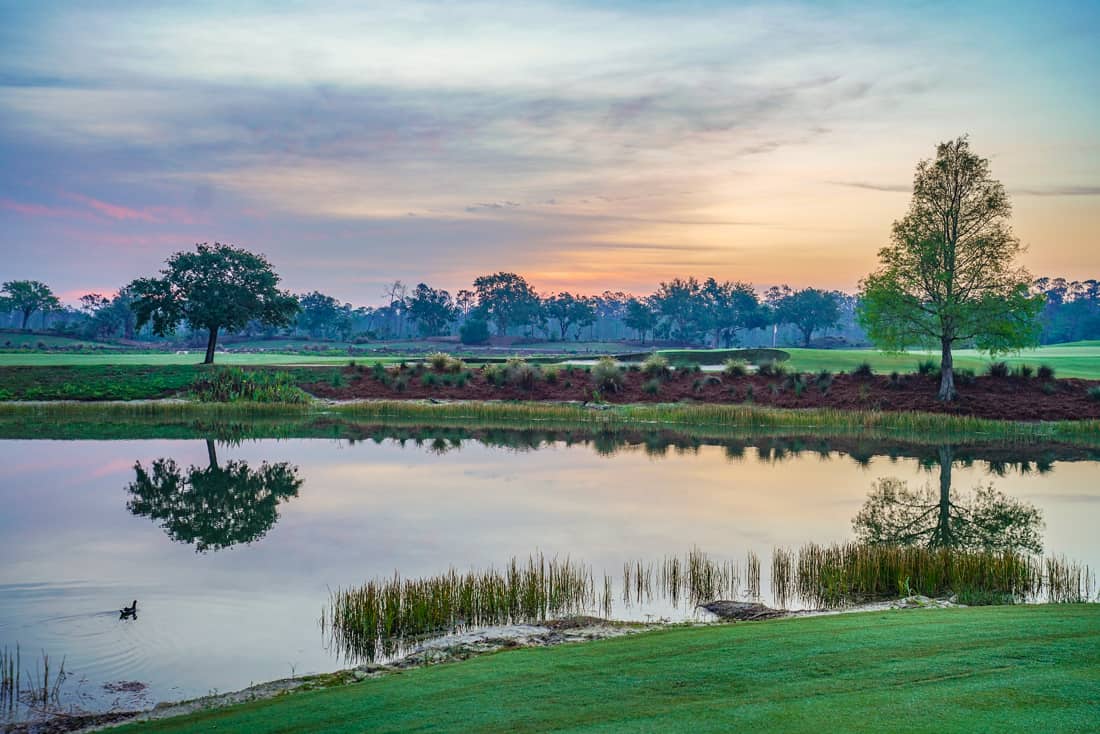 While one experience is a community event, the other is a serene solo event, except for the dozens of rabbits around you munching away. There are so many bunnies you feel like a pied piper or Disney princess that animals follow.
The Ritz Naples Guest Rooms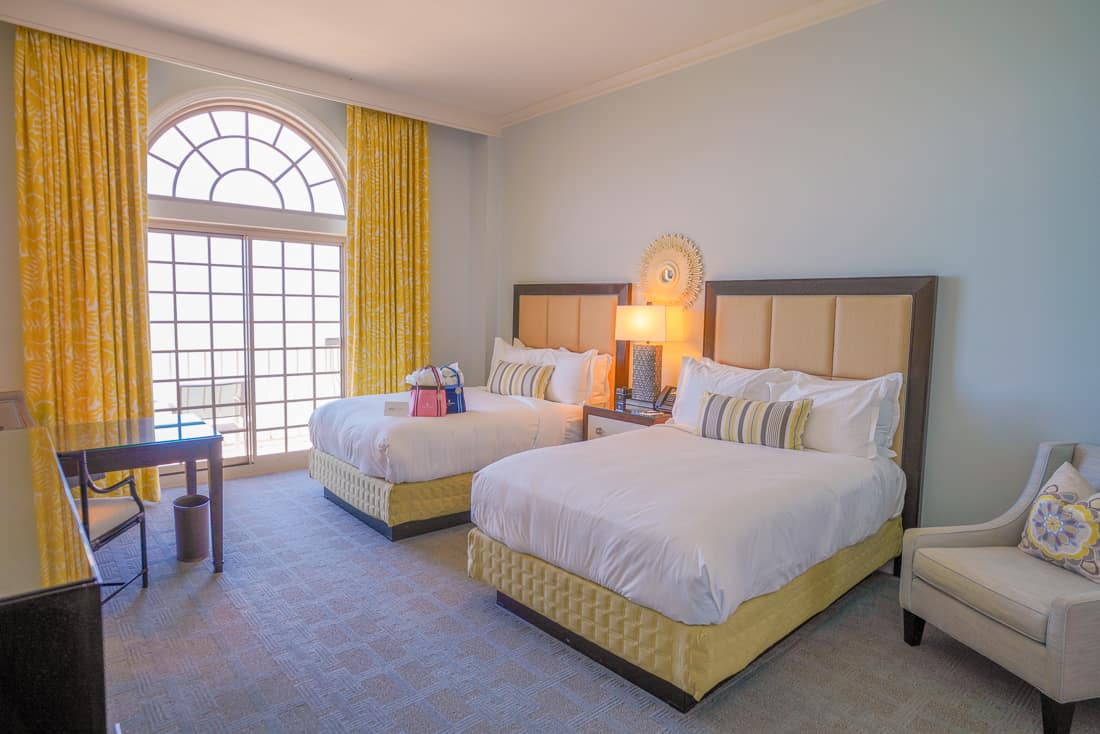 The Ritz Carlton Naples Beach Resort Rooms
The beach resort rooms were refurbished in 2013 with sunny yellow curtains, pale blue grays, and subtle metallic accents. The subtle palette takes a back seat from the turquoise views of the Gulf if you are lucky enough to book one. The intercoastal view rooms face east.
The majority of the rooms that have two beds have double beds, not queens. Our family cannot share two doubles easily, so you have been warned.
Fortunately, there are two categories of rooms with dual queen beds: "Large Coastal View" or "Large Beachfront." For families of three, the King rooms have a chaise that can become a twin bed.
If you are interested in suite accommodations, there are several sizes, including two and three bedroom options. The larger suites are often part of special family packages.
The Beach Resort Club Level and Lounge
The lounge hosts can help plan any resort or activity for you and your family. I asked the club lounge concierge if a specific gelato place in Naples still existed. Less than an hour later, the concierge had slipped an envelope with printed directions under our door.
The Ritz Carlton service philosophy has always been one I consider of gluttony and excess, which is what most people typically want on a vacation. I asked for some avocado and I received a plate of a whole avocado sliced. Ask for a banana, and you'll receive a bunch. Literally.
The club lounge offers an ample breakfast bar with three hot stations that rotate bacon, scrambled eggs, and pieces of French toast or pancakes. There's a cold buffet of smoked salmon, charcuterie, fruits and yogurt and a selection of muffins, croissants, and toasts. We also had many gluten-free options. The cappuccinos made by their fancy Nespresso machine were excellent.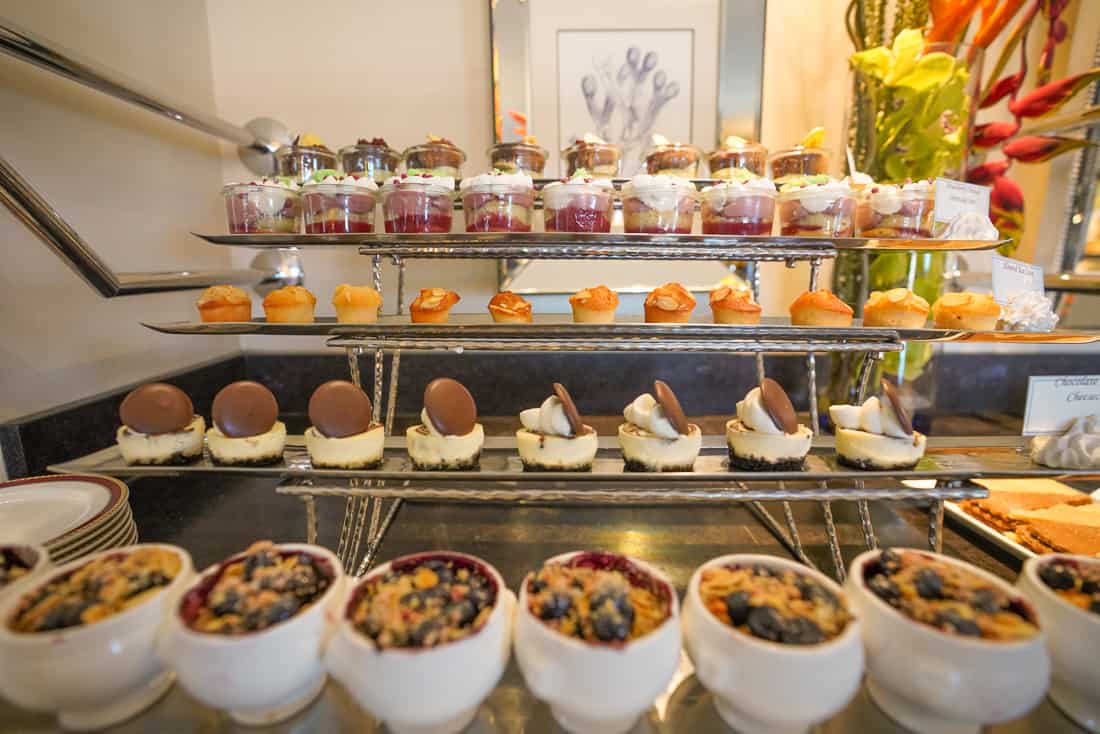 The club lounge spread could be considered a light lunch. There's bread, deli meat, and sliced cheese to make sandwiches. Additionally, there are featured wraps and finger sandwiches. There was a large display of crudités and an excellent lemon grilled chicken breast sliced to add to salad.
The club lounge champagne, available at all hours, is Pommery, one of my favorites, both in Brut and Rose. It's a more intimate lounge compared to other Ritz Carltons like the Ritz Carlton Grande Lakes in Orlando. There's a lovely wood paneled library for those seeking quiet, too.
I loved watching the sunset from the lounge on a night we didn't go to the beach.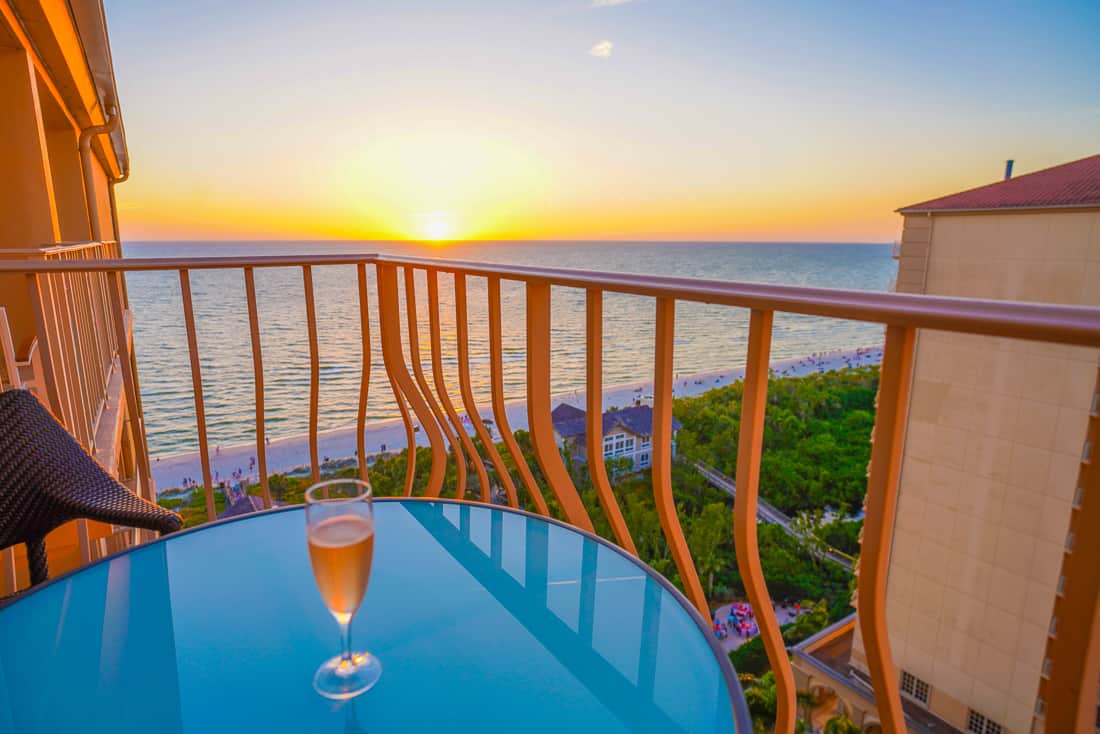 On their way out of the lounge, kids will delight in the cookie humidor filled with five different varieties; jars of candy await them behind the concierge lounge hostess.
The Ritz Carlton Tiburon Resort Rooms
If families choose the Golf Resort over the Beach Resort, they'll notice their dollar going vastly further. Not only can you book a club-level suite, you can reserve the special "Camping Out" package for your children.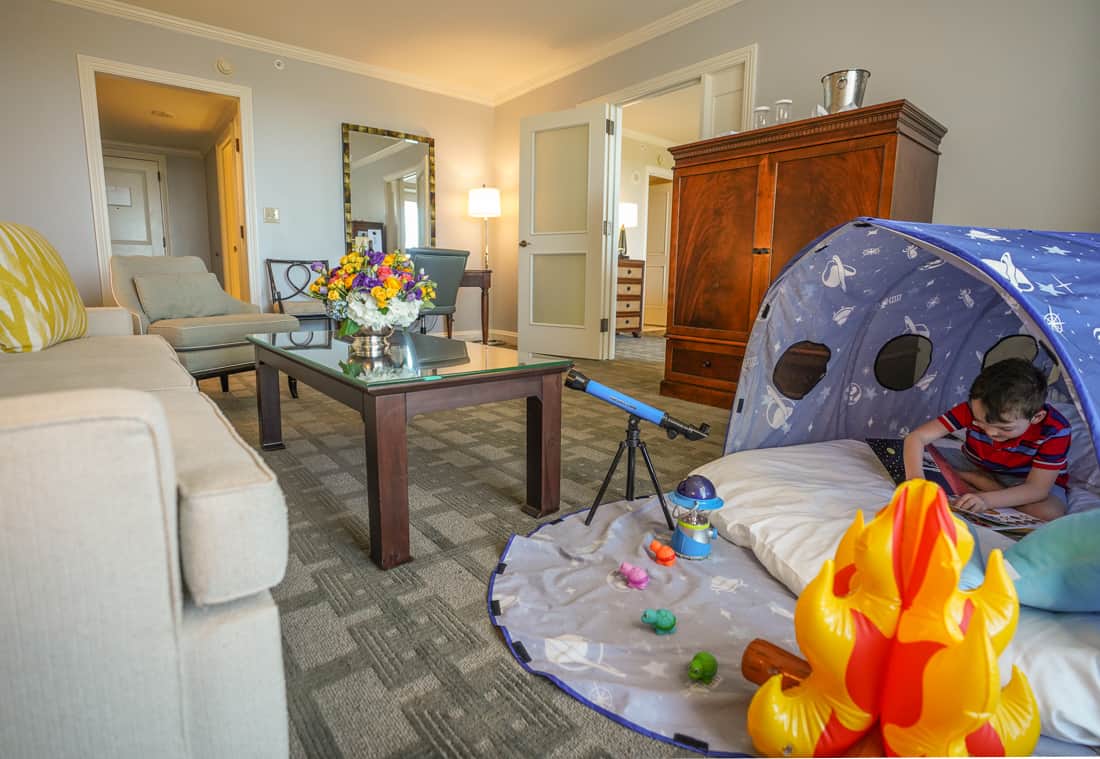 Our suite's living room was filled with a spectacular tent set up with a space book and activities, a star-producing night light, and a telescope. My son adored every second of it.
Rooms with balconies overlook the golf courses or resort grounds.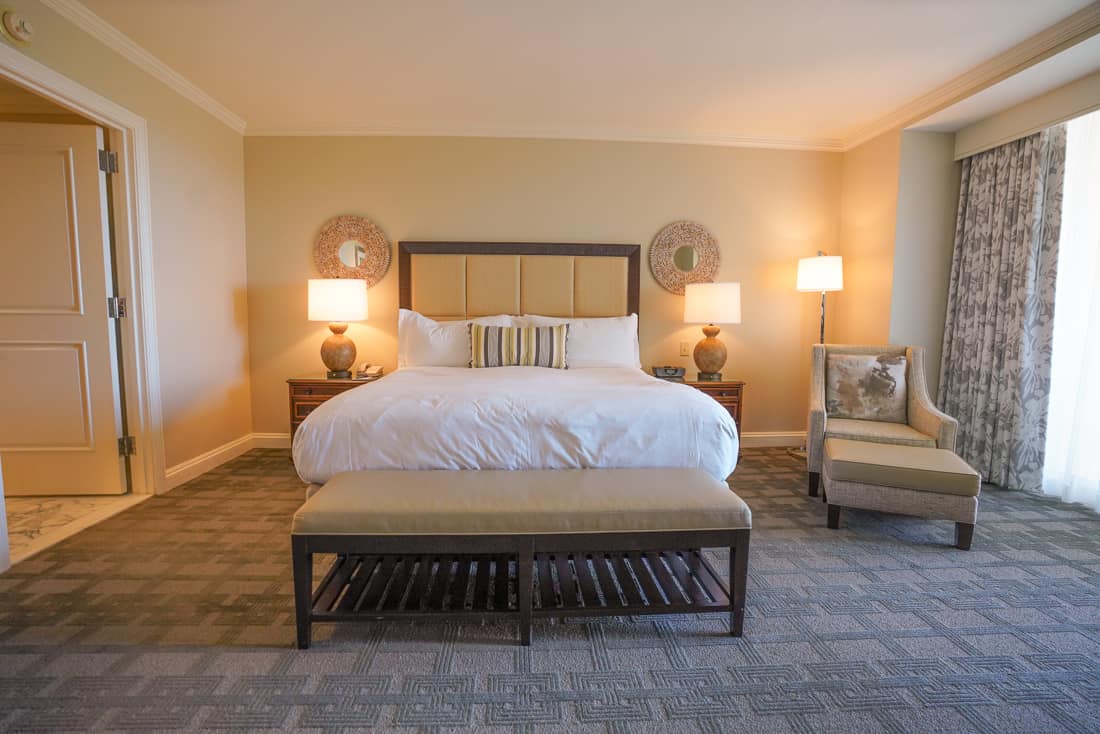 The suite's expansive comfort included a sleeper sofa, too, as well two marble bathrooms. The master bath and its walk-in closets are massive. This suite would easily fit a family of five comfortably, too.
Like its sister property, rooms with two beds have double-sized beds, not queen-sized. Reserving adjoining rooms may be better for families. King rooms contain a twin sleeper sofa for a third person.
The Ritz Golf Resort Club Lounge
There are some differences with the two club lounges at the Naples Beach and Golf Resorts. First, the club lounge at the Golf Resort is only open for high season. Check for exact dates, but it is open approximately the end of December through the end of May.
It doesn't have a fancy coffee machine, but breakfast was just as good. The hosts remember your preferences. They offered my almond milk and stevia for my coffee the following morning without asking.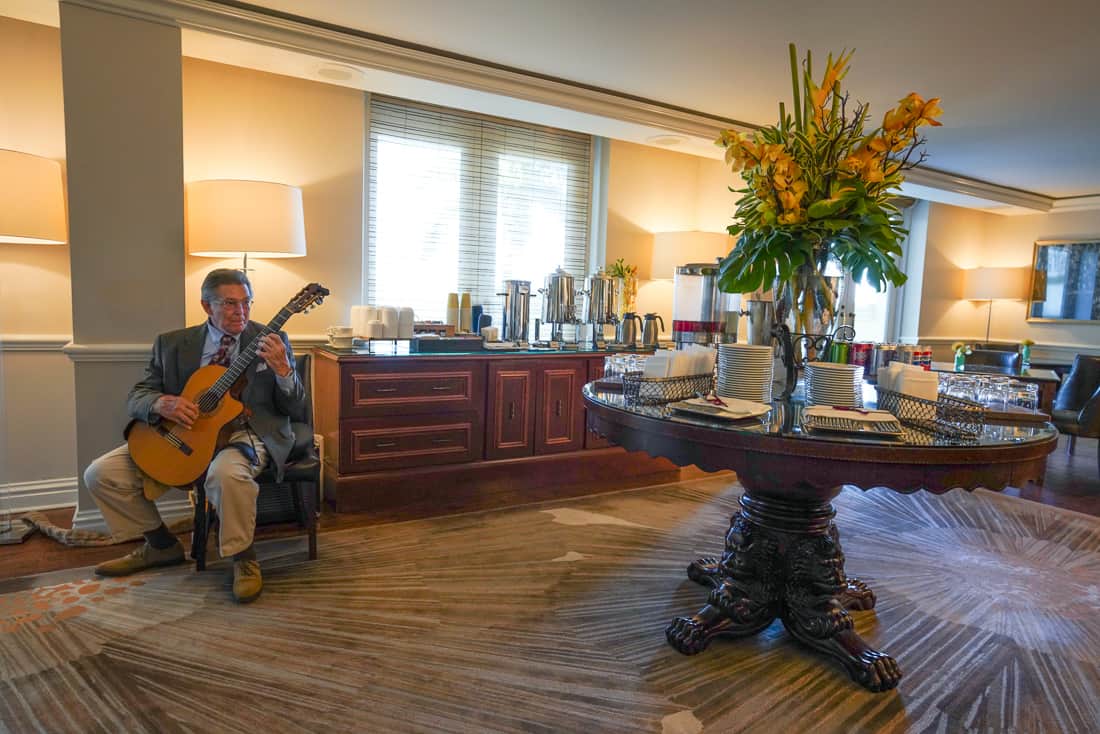 The evening spread felt more like a dinner buffet than the Ritz Naples beach club lounge. Instead of plated hors d'oeuvres, a chef prepared dishes. There are additional entrees in the buffet, and a guitarist performs. This small club feels festive and enjoyable to linger and chat with club lounge hosts.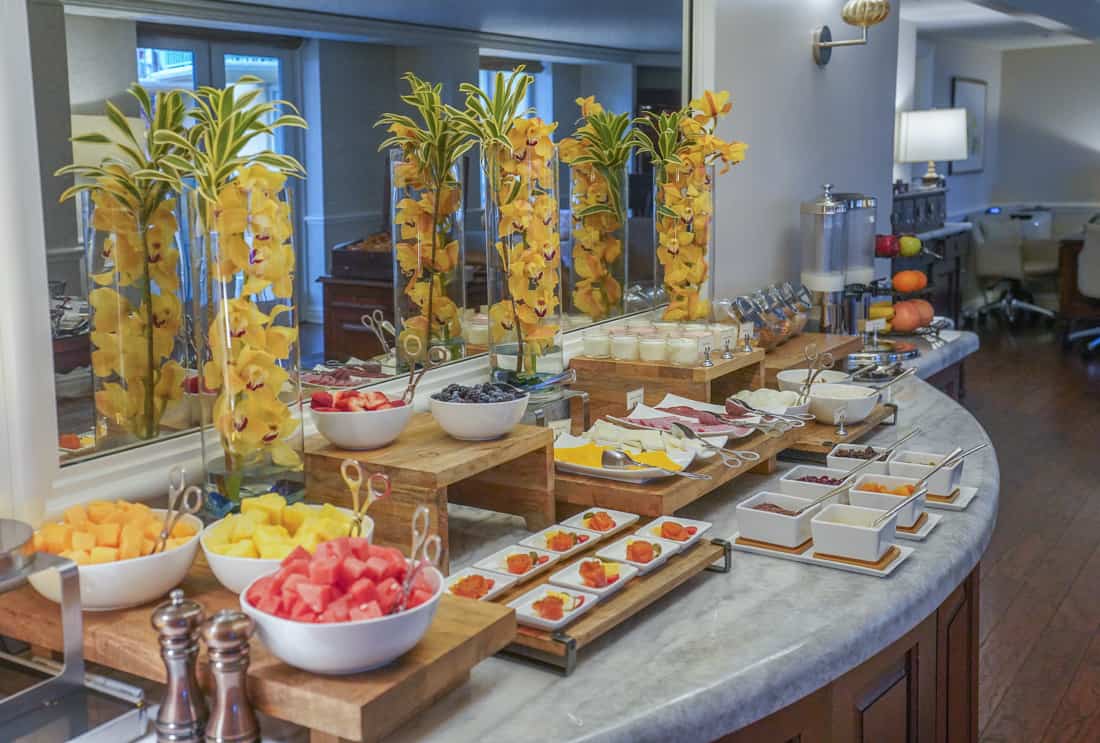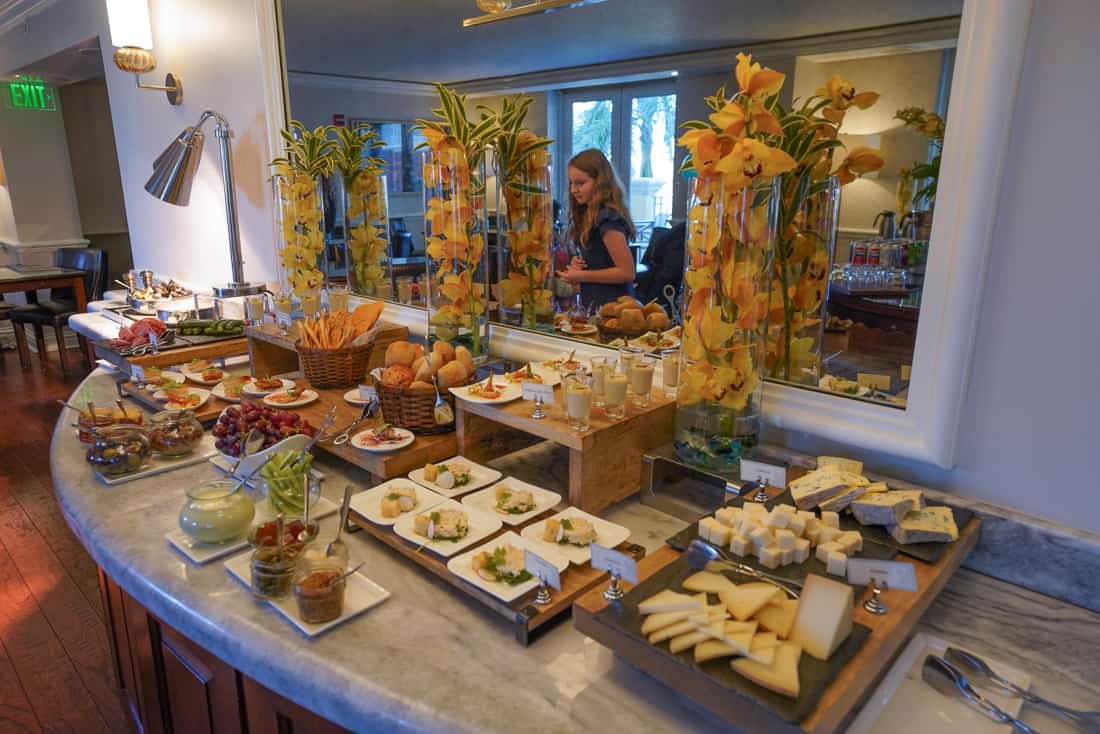 The Ritz Carlton Naples Restaurants
Gumbo Limbo
Gumbo Limbo is the most frequented restaurant at the resort. Drawing crowds every afternoon and early evening for drinks on the beach, it offers first-rate views of the sun setting on Vanderbilt Beach.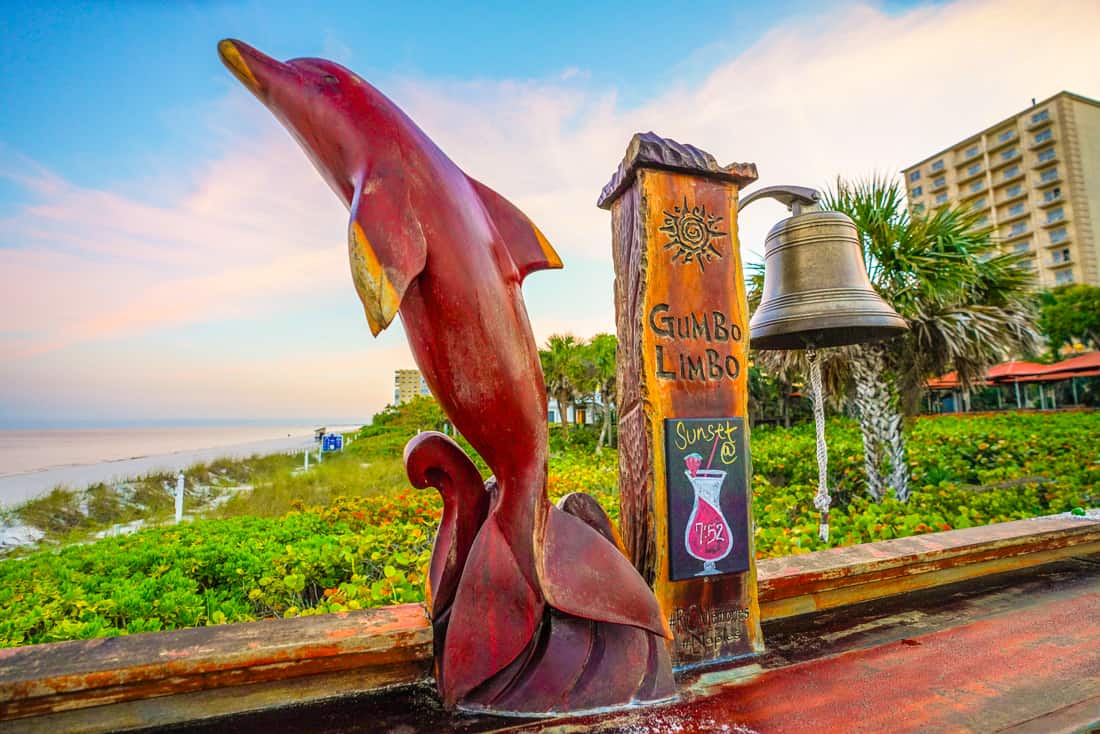 Fare is casual Florida cuisine of seafood, salads, tacos, and burgers. The restaurant is long and skinny in order to offer the greatest number of unobstructed seated views of the water. Be sure to pack sunglasses for your children who may be sensitive to the light. We learned the hard way.
At sunset, a child is selected to ring the bell at the exact moment the sun dips into the water of the horizon line.
Gumbo Limbo's consistently good service and food make this a must-do family dinner when we are in town, even if we're not staying at the resort.
Terrazzo
Terrazzo is open for three meals, and it's a casual family option serving an Italian menu at dinner. My children had their favorite meal possible from the Ritz Kids menu. They ate every bite of grilled salmon, house made spaghetti with olive oil, steamed broccoli, and strawberries in their bento style dinner.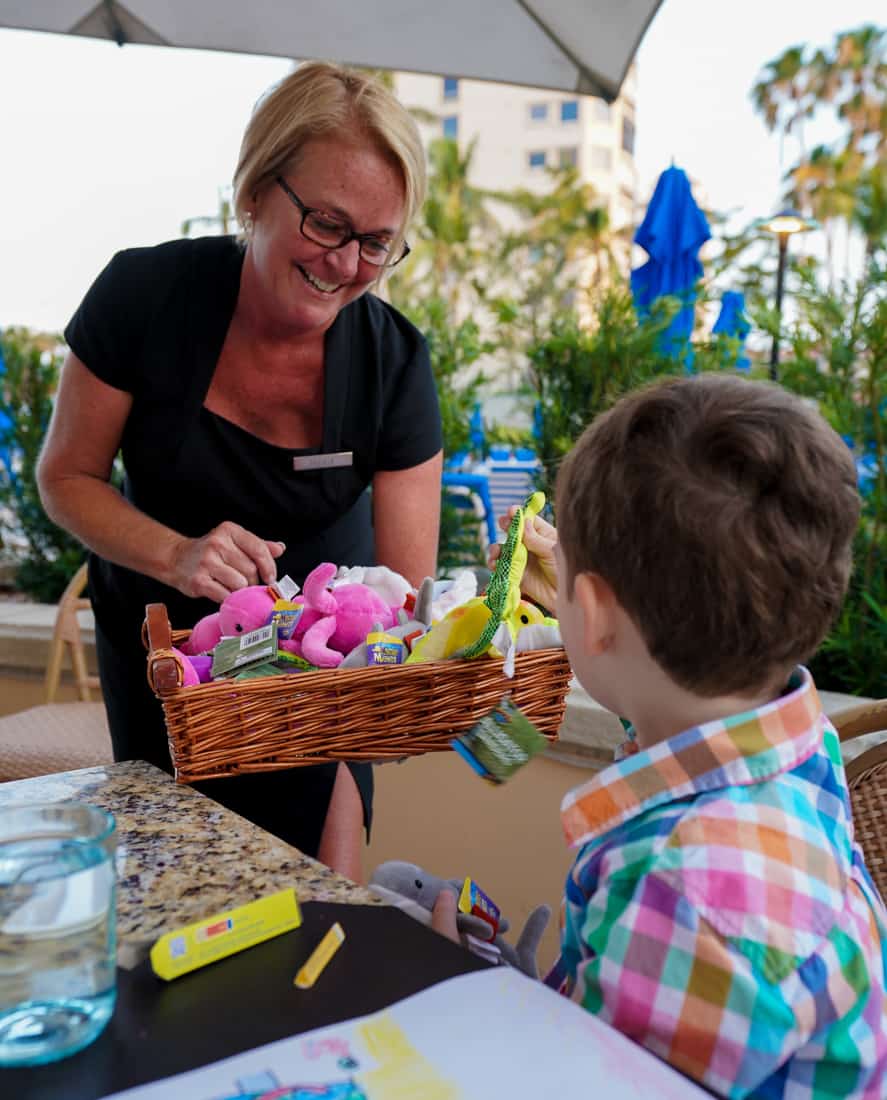 A server came over with a basket of plush toys from which my children could choose a new dinner companion. Touches like these make the Ritz-Carlton, in my view, one of the most family friendly of all the luxury hotel brands.
Mezzo
Mezzo is a Mediterranean-influenced menu at the Golf Resort that still caters well to families.
A guitarist walked through the rooms playing Spanish lounge renderings of Wham's Careless Whisper and The Girl from Ipanema. We drank the complimentary aperitifs of Shirley Temples and Campari Sunsets.
The Fatoush and lentils with rainbow cauliflower were our particular favorites from the appetizers. My husband and I shared a whole, deboned branzino served with chorizo, sautéed leeks, and sweet potatoes.
The challenge with staying Club Level for more than a few days is that one eats up to five meals by dinner time.
The Grill
The Grill, the most formal of both resorts' dining options, was actually our family's favorite. It's fun to get dressed up on the final night of vacation.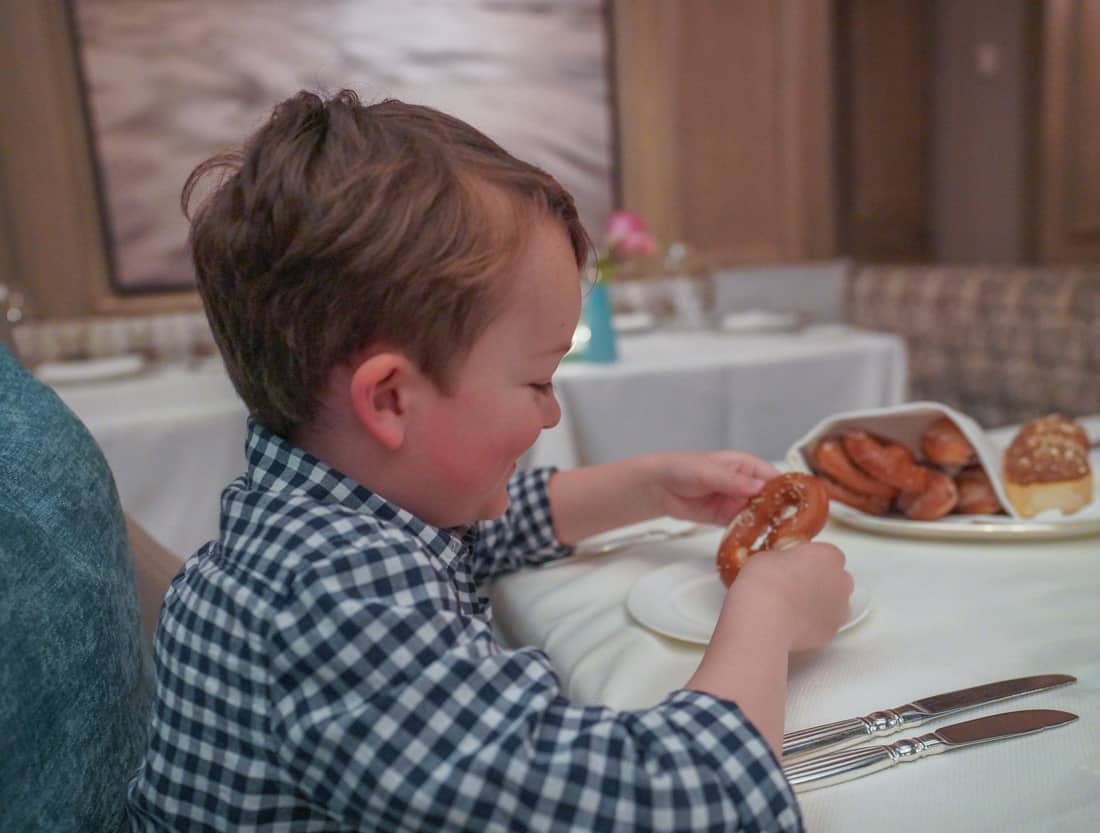 The clubby feel of the tall wingback chairs set a tone wherein my kids knew to behave. The service was so attentive (or maybe our servers were just staying close by because we were one of the few tables with children).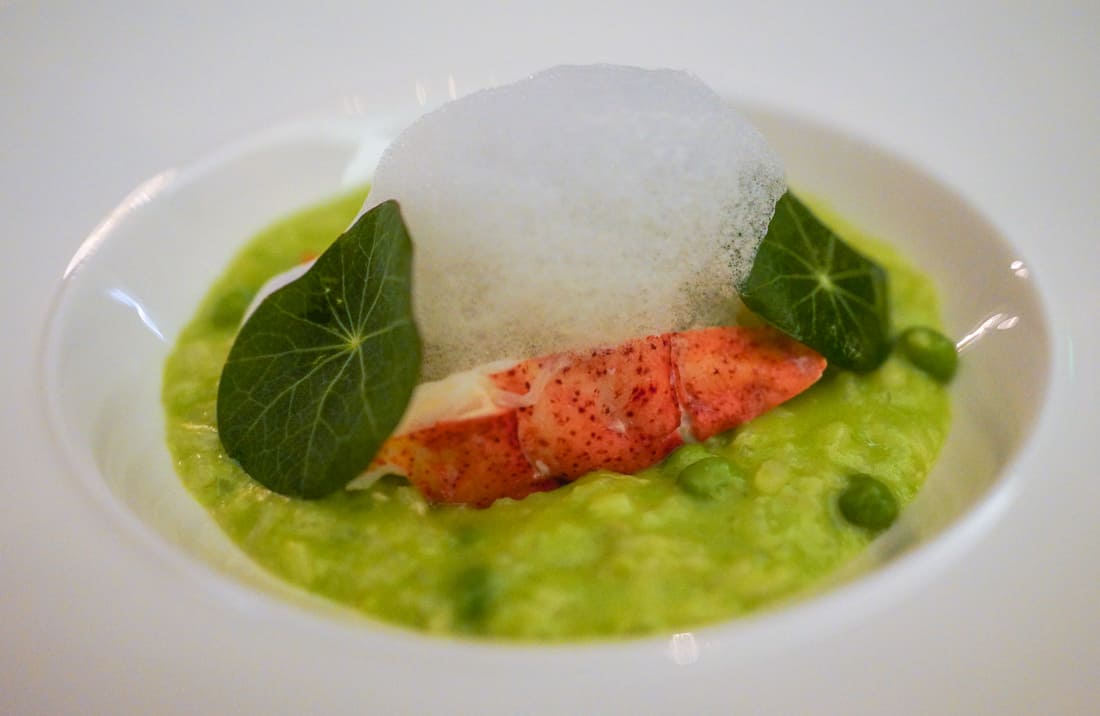 My kids were as delighted by this meal as much as my husband and I were. We enjoyed delicious spring pea risottos with lobster and Dover sole prepared tableside. Fish seared with leeks and oyster mushrooms were excellent.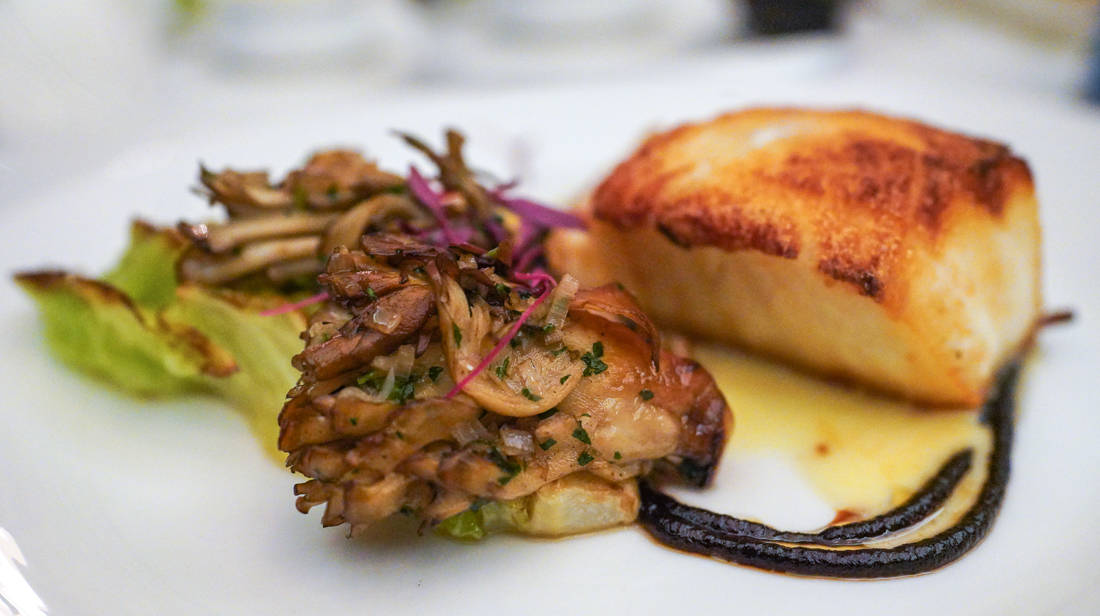 My children had a special menu to order from of steak, vegetables, and pastas. They still talk about the house-made pretzel rolls and their first chocolate soufflé.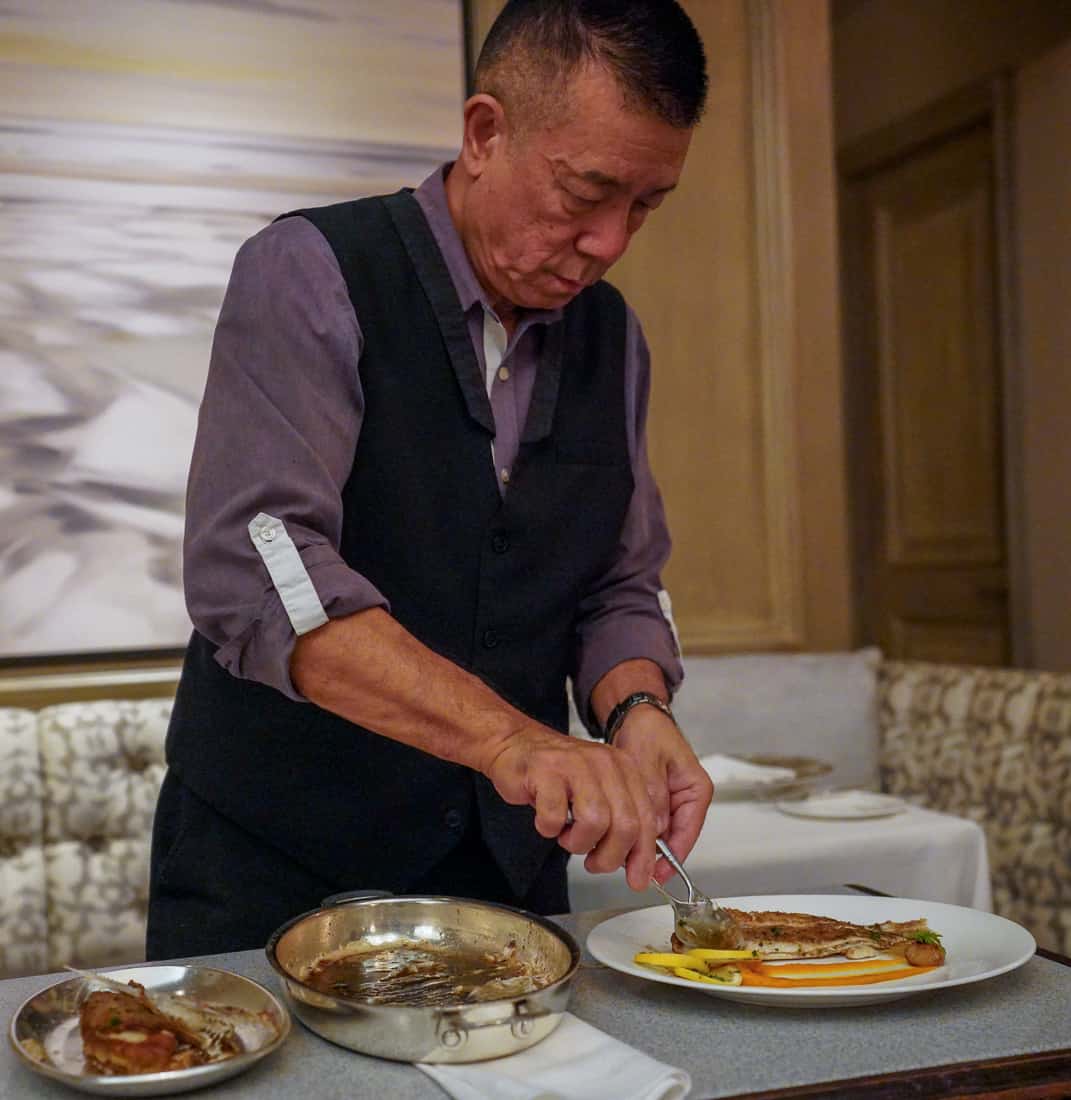 Final thoughts
We scooted out of The Grill in time for the evening's sunset. My son and husband rolled up their pants, and we went down to the water. Despite my warnings, I knew wet hemlines were imminent. But I didn't care.
None of us could stop from touching the warm waters with our feet one last time before leaving the Florida Sunshine for New England's taunting and teasing false spring.
Other families and couples, visitors and residents, everyone benefitted from the flattering, rose-colored lighting.
Completely spoiled, entertained, and indulged from the frozen grapes served to us at the outdoor pool to the children's gifts, we left longing to return. Our week at both Ritz-Carlton hotels showed us that there really isn't a better one when the Ritz-Carlton service is so accommodating.
So which resort will you choose?
HOW TO RECEIVE VIP AMENITIES AT RITZ CARLTON PROPERTIES
We love Ritz-Carlton resorts for their family friendliness and indulgent service. They are magical places for families of all ages. Luxe Recess has access to exclusive rates, complimentary room upgrades at the time of booking, a $100 spa credit, free breakfasts, and personalized welcome amenities.
You could book your trip on your own, but you'd miss out on hundreds of dollars in exclusive amenities, as well as personalized, VIP treatment by the staff in Naples.
Please get in touch to set up a vacation consultation to elevate your planning experience. Or you could book your room through this link to add these amenities to your reservation.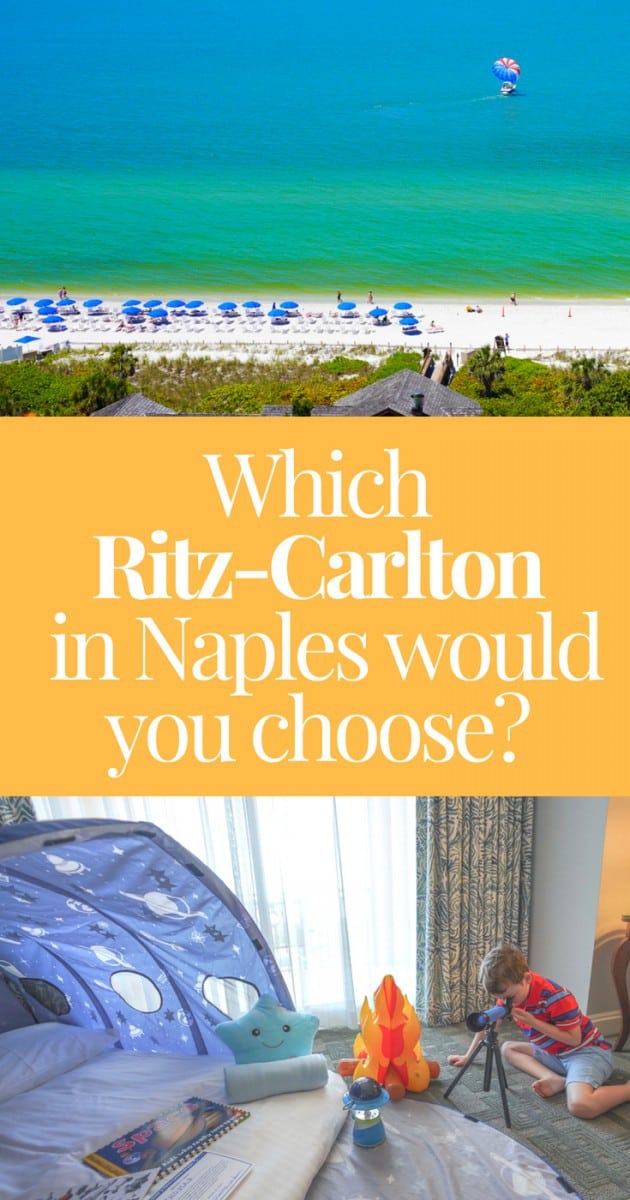 Although we were guests of the Ritz-Carlton, these opinions are entirely our own.
As a luxury travel advisor, I help ensure your vacation goes off without a hitch. From the selection of the best rooms to the VIP welcome amenities, your trip to Naples will have those little extra moments of joy.
Please get in touch to set up a consultation to elevate your vacation.