As we planned a southern California family trip for the holidays, my husband and I decided it was the perfect time to tack on a Disneyland vacation as part of the kids' Christmas celebration. My husband's parents joined us and we chose to stay at Disney's Grand Californian Hotel & Spa for its upscale feel and easy access to the park (as we were to be there for only a short stay and hoped to capitalize on our time). The Grand Californian hotel reviews claimed the location was worth its premium price for ease of park access.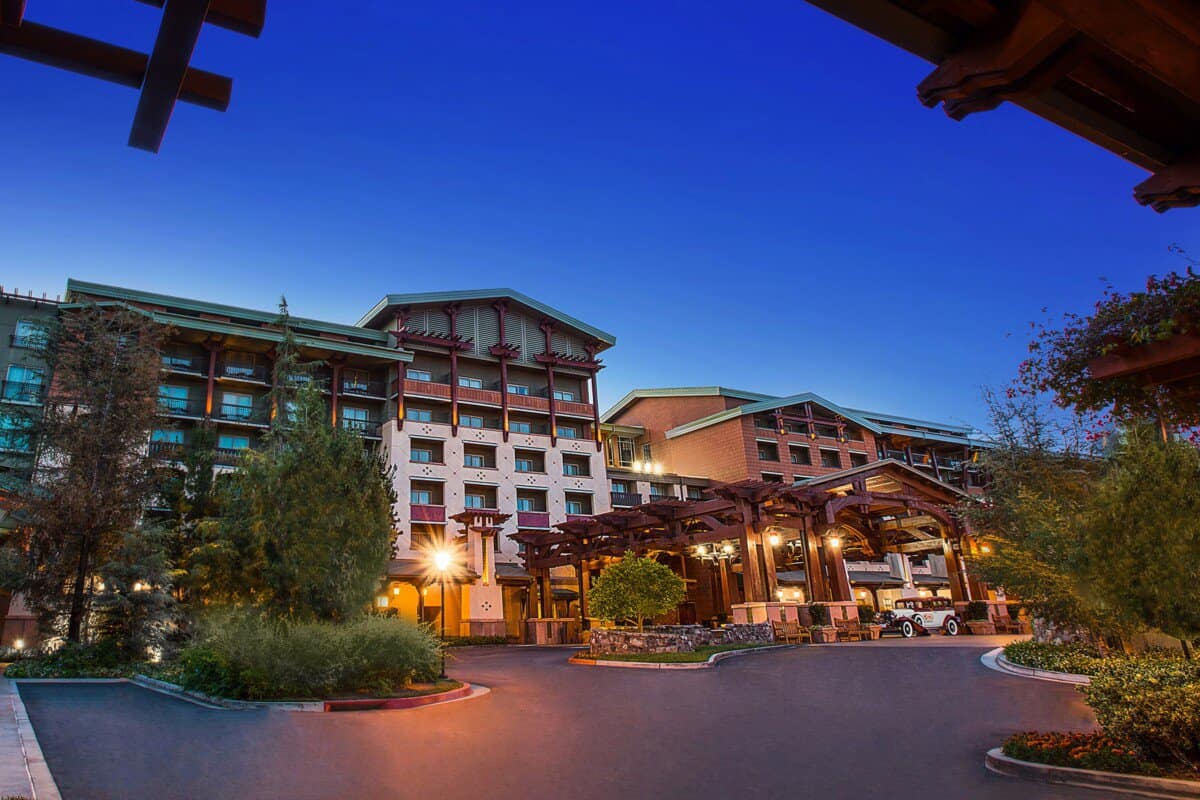 As we entered, the small details and high wooden beams soaring over the front desk and the lobby truly gave a luxury hotel feel but also felt so in place in California. My mother-in-law continually commented on the beautiful craftsman bungalow style of the entire resort.
Best Rooms For Families
As a family of five, hotel rooms can be tricky for us as we are either on top of one another or must book adjoining standard rooms. At this hotel, we loved the room option that provided two queen beds and a built-in Murphy bed allowing everyone space to spread out at night!
As at other Disneyland resort hotels, premium view rooms overlooking the pool area or those with partial or full views of the theme parks, are available at higher price points.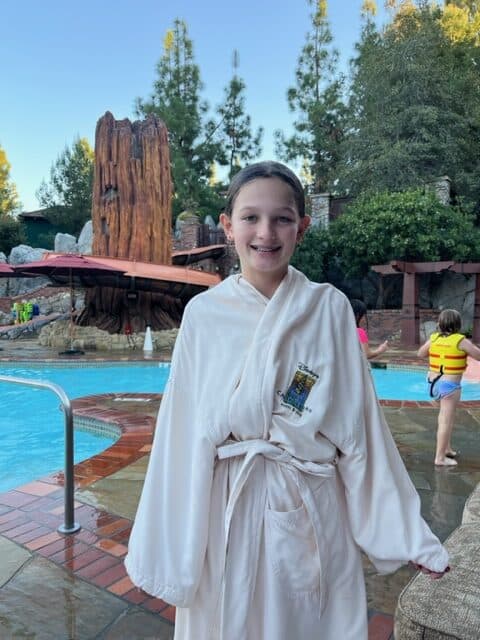 If we had wanted to splurge, guests may book one, two, or three-bedroom suites which range notably in size and can sleep from four to thirteen adults comfortably. Club Level Grand Californian rooms provide access to an included Continental breakfast, as well as, an afternoon tea, a wine & cheese reception, and cookies & desserts at evening's end. Another plus of a Club Level room is exclusive access to The Veranda which affords the perfect place to view the nightly fireworks.
Holiday Magic at Disneyland
Visiting Disney hotels at the holidays is truly a special occasion. The property was beautifully decorated and offered hot cocoa and gingerbread men. We also stumbled upon a visit from Santa which helped put the kids on their best behavior two days before the big guy was scheduled to visit!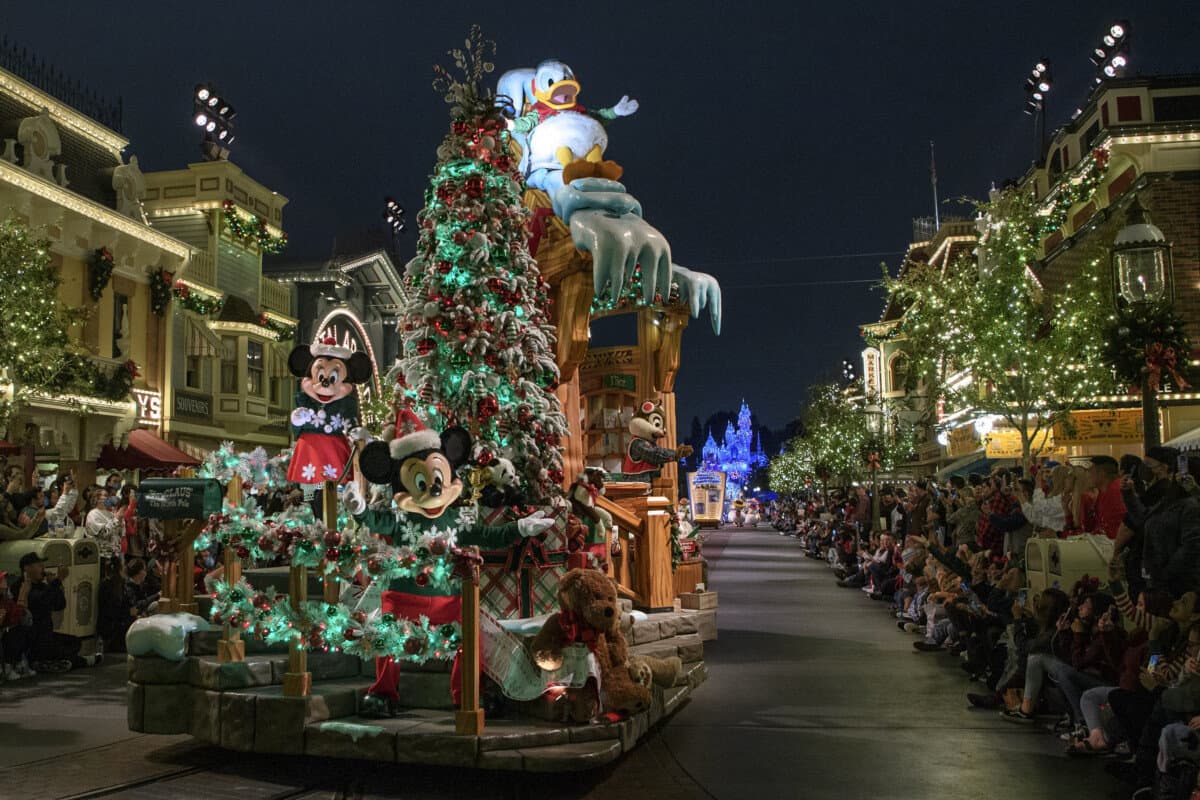 Those walking the lobby or checking in at the front desk were greeted with several caroling sessions throughout the day which certainly kept the mood festive and upbeat. Within the park there were specialty winter treats, the park featured patches of "snow," and my daughter snagged a very cute pair of plaid ears providing some nice winter vibes, even though we lucked out with temperatures in the high 60s.
The Closest Disneyland Hotel to the Parks Makes A Difference!
The main reason we booked this location, though, was the convenience to the parks. Like other Disneyland resorts, we had early direct access to the parks and took full advantage of the private entrance located right off the lobby of the hotel.
Without much hustle we left our guest rooms and were quickly passing cast members in what felt like a minute walk to Star Wars: Rise of the Resistance, enjoying two quick rides without a Genie reservation. We jammed in so many rides in the morning (including a dizzying tea cup spin) that my father-in-law needed a rest so we easily left the Disneyland park and headed back to the hotel for lunch.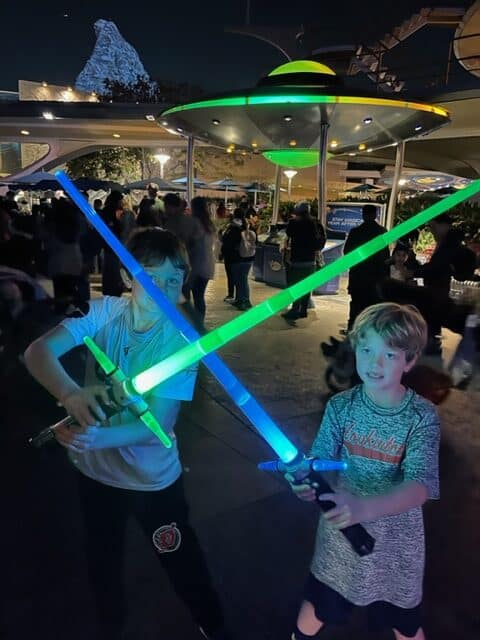 After our meal, it was back to the park, as my boys wanted desperately to create their own light sabers. I just couldn't handle the sticker shock of the deluxe saber-making experience and envisioned the difficulty of getting those back through TSA on the flight home. To my pleasant surprise, in several of the Star Wars outlets, they have an alternate saber-making section with enthusiastic helpers to assist your kids in putting together their selections… and for less than $50.00! Woo hoo!
STOP!
JOIN OUR LUXURY HOTELS & RESORTS FOR FAMILIES,
A FACEBOOK GROUP FOR SEEKING ADVICE AND INSPIRATION
FOR THE BEST LUXURY FAMILY BREAKS.
After securing their light sabers, we tackled all of the nearby rides that we could, including Splash Mountain multiple times, getting sufficiently soaked in the process by this most-famous water slide. One of the additional benefits of the direct, exclusive entrance to and from the hotel is that we were comfortably back in our room minutes later. We could have dried off, changed, and returned without having sacrificed much park time!
After our full day at the park, coupled with jet lag, the kids (and adults) were all sufficiently tired that first night so we enjoyed a poolside dinner (preceded by a short swim in the Redwood Pool plus a hot tub break!) and an early bedtime before gearing up for a full day at Adventure Park.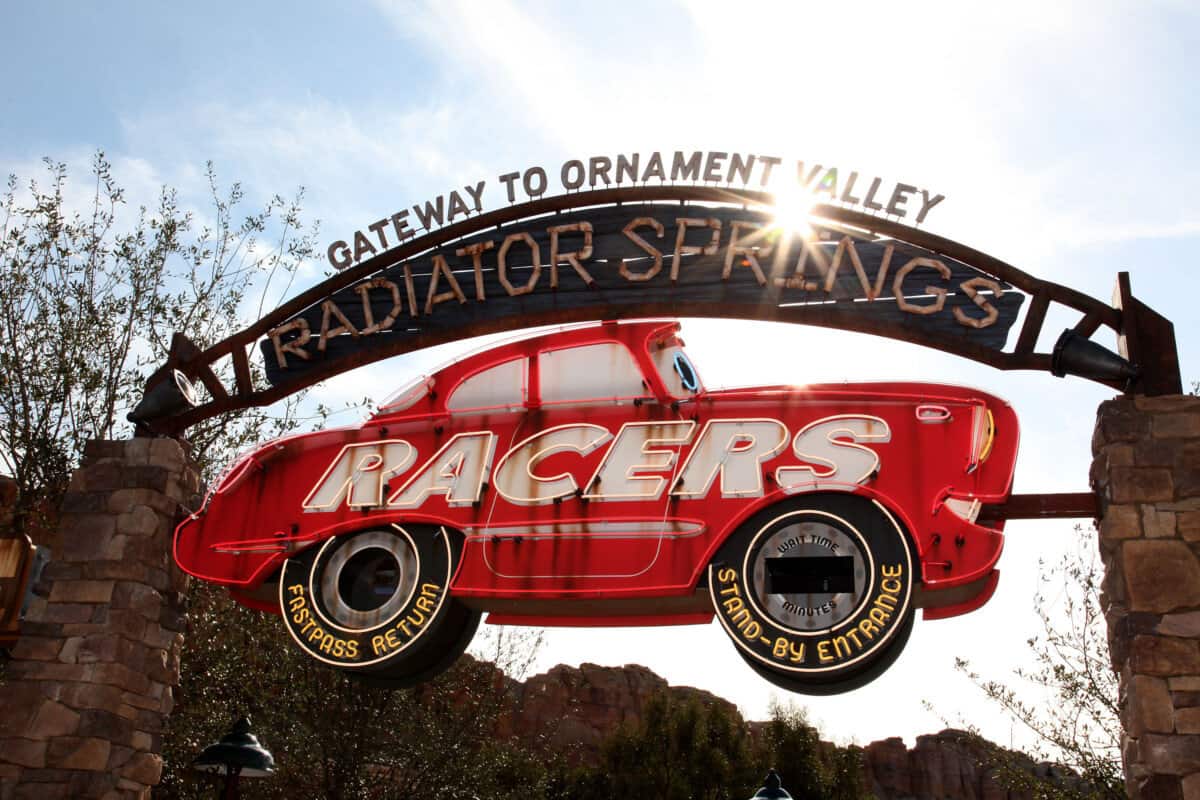 For this second (and last) day, we set an alarm to take advantage of the extra Magic Hour and headed right to Radiator Springs. We didn't have a Genie Pass for this ride but, with the early access, we were one of the first cars to race. This ride was one of the highlights of our trip!
Our youngest was psyched he just made the mark for the larger coasters and we spent the morning on the Incredicoaster before pausing to enjoy some treats and slower rides in the park.
Grand Californian Restaurants
In the parks, we ate churros, tacos, cookies and popcorn… a full day of eating to accompany the rides. But the Grand Californian has strong (and more healthy) restaurant options, too.
We booked Storytellers Café and my kids loved the massive buffet and, one of those very special Disney touches, the character dining experience.
Other dining options include the casual GCH Craftsman Grill: think breakfast burritos and breakfast sandwiches in the morning and pizzas and hot dogs for lunch and dinner, as well as, a Grab N' Go selection throughout the day.
The property's more formal restaurant is Napa Rose. This meal was our "fancy night" and the food was delicious. Pricing is on the higher side (easily $100.00 per adult for a full meal plus wine) but we enjoyed both the beautiful setting and the service that accompanied an excellent dinner.
Back at the Parks after Dinner
(Those Grand Californian Hotel Reviews Were True!)
I had read Grand Californian hotel reviews which spoke of the ease with which families could go back and forth into the parks. We continued to find it was so true. An after-dinner park adventure is perfectly easy if you aren't yet tired.
Our whole group mustered some energy to surprise the kids with a late-night Web Slingers Genie Pass and I took my older kids on several Guardians of the Galaxy plunges for a few more evening drops before bed. Seeing the park and lights at night was truly special and a part of the trip that left a lasting memory on the kids.
Overall, our recent stay at the hotel was superb. It provided a great jumping-off point for easy in-and-out access to both parks throughout our days, all while offering a luxury feel and still injecting that Disney vacation je ne sais quoi.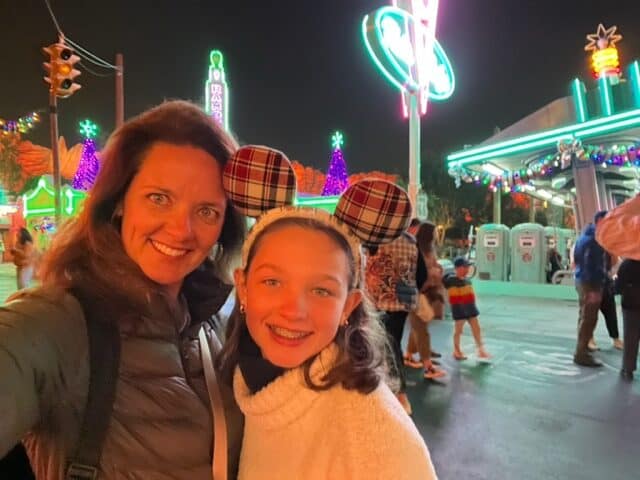 Planning Your Disneyland Break
Luxe Recess loves planning luxe theme park vacations. Disneyland pairs well with other Southern California destinations from San Diego to Los Angeles. Reach out for our expert planning, VIP tours, and a California vacation to remember. Learn more!