My son loves a Disney Cruise. Earlier in 2020, I said I had sworn off cruises. During lockdown, Disney released teaser videos about its newest ship, the Disney Wish. And with each new detail about the kids' club, the new Star Wars experiences, and the new adult dining and spa, my hesitation chipped away. I booked us a cruise that we had to wait more than a year for. Was it worth the wait?
Disney had to postpone its inaugural sail from Port Canaveral due to supply chain issues of materials to complete the ship for its maiden voyage. My initial reservation was cancelled as a result, but I grabbed a Verandah stateroom for a July sailing. My Disney Wish concierge sailing will be early 2023, so be sure to join the mailing list so you don't miss that review.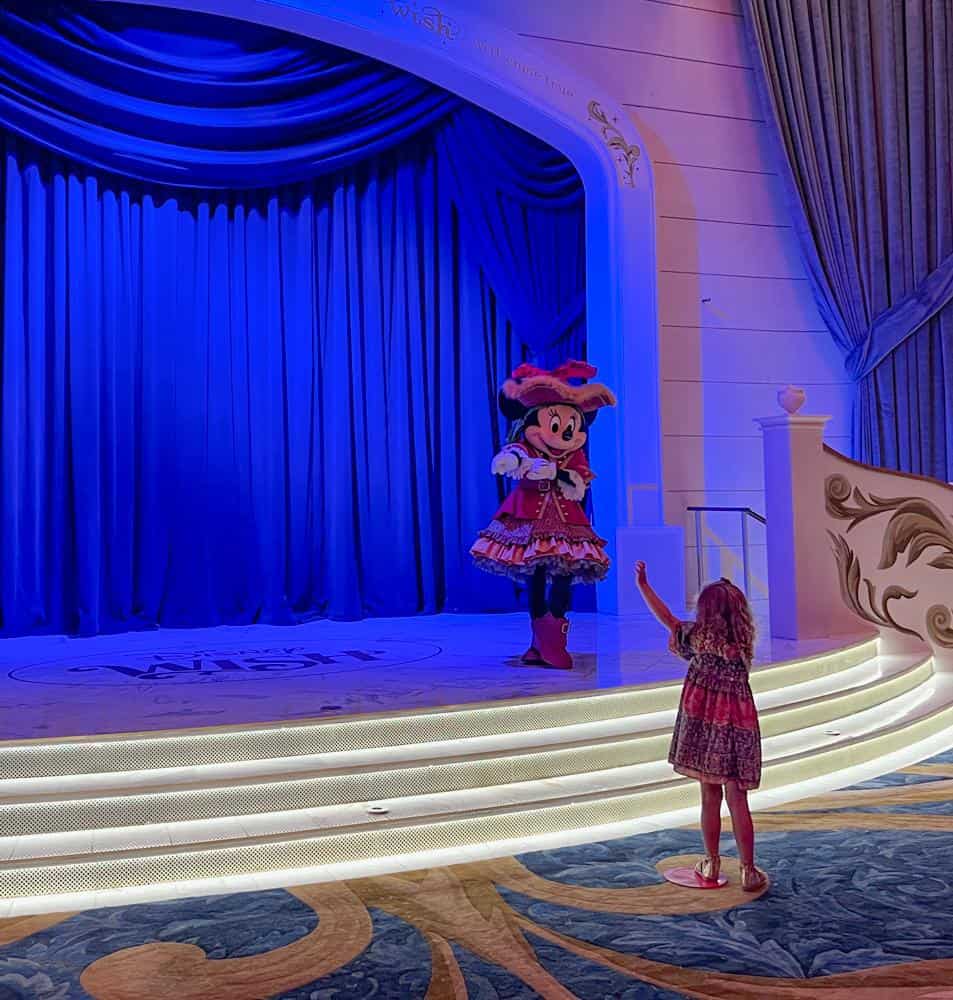 STOP!
JOIN OUR LUXURY HOTELS & RESORTS FOR FAMILIES,
A FACEBOOK GROUP FOR SEEKING ADVICE AND INSPIRATION
FOR THE BEST LUXURY FAMILY BREAKS.
Walking into the Grand Hall
This ship is different from its sister ships. The Disney Wish actually debuted to some mixed reviews if you search for feedback in certain forums. Families who have sailed many Disney cruise ships have been most critical simply because many don't embrace change. Guests who are newer to sailing or have never sailed before will likely be delighted.
A Disney cruise is a very easy family vacation for all ages. They have beautiful ships with outstanding service and continue to win industry awards in their category. I enjoy cruises more when the ship is the resort destination more so than I do as a means to see new places. If I wanted a beach vacation, I know several I would book for my family where we could escape crowds and swim in crystal clear waters by ourselves.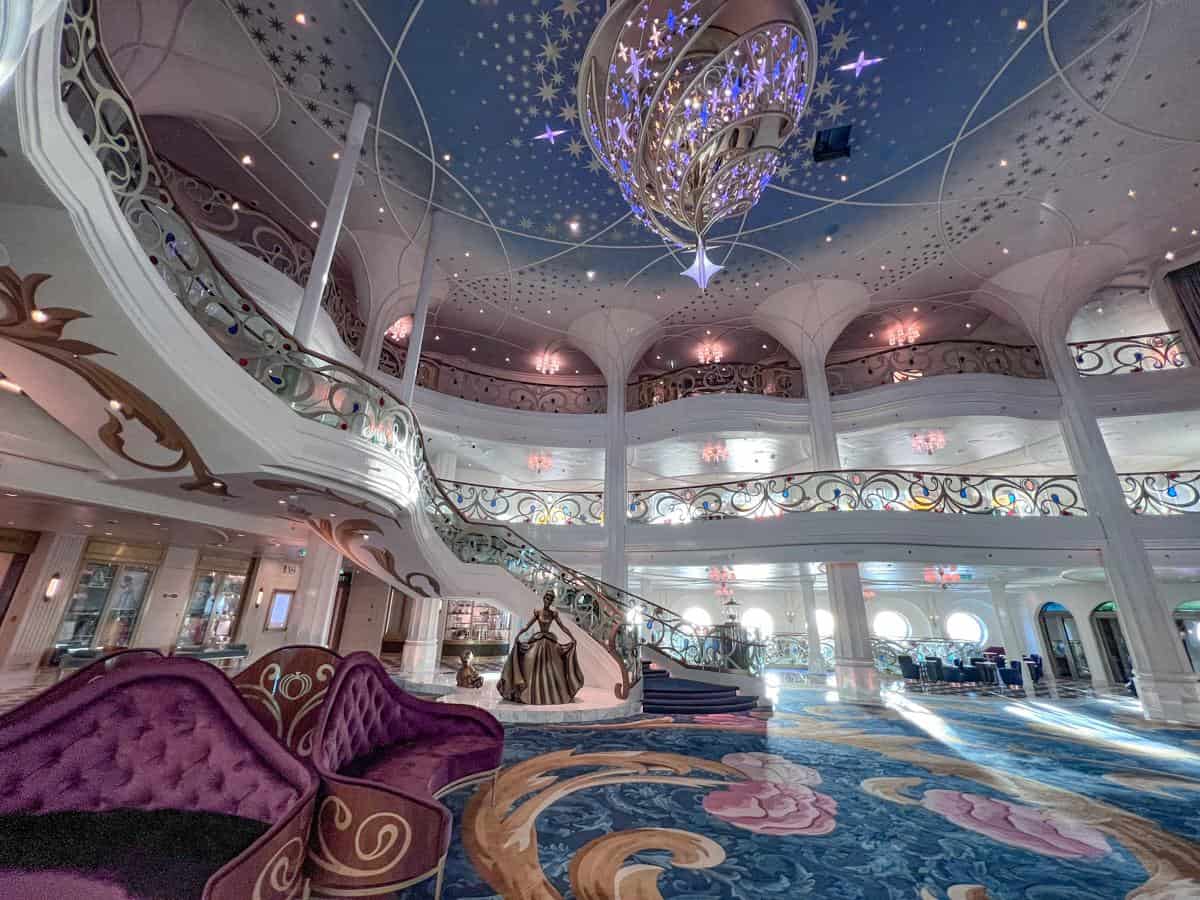 Here's what I think the Disney Wish got right, and I'll share a few weaknesses, too.
The Kids Clubs
One of the best parts of the new Wish is the incredibly impressive upgrades to the kids' club. This new space was designed to engage the whole family and has a special new entry. A slide from the grand hall puts you at the entrance, not directly inside, but it is still a great touch.
The new Oceaneer Club
The older ships' Oceaneer Club started becoming a little boring to my kids around the age of 8 even though the club is technically meant for those up to age 12. And there's nothing worse than a child refusing to go to the club during your spa appointment or adult-only dinner because they say it's boring or for younger kids.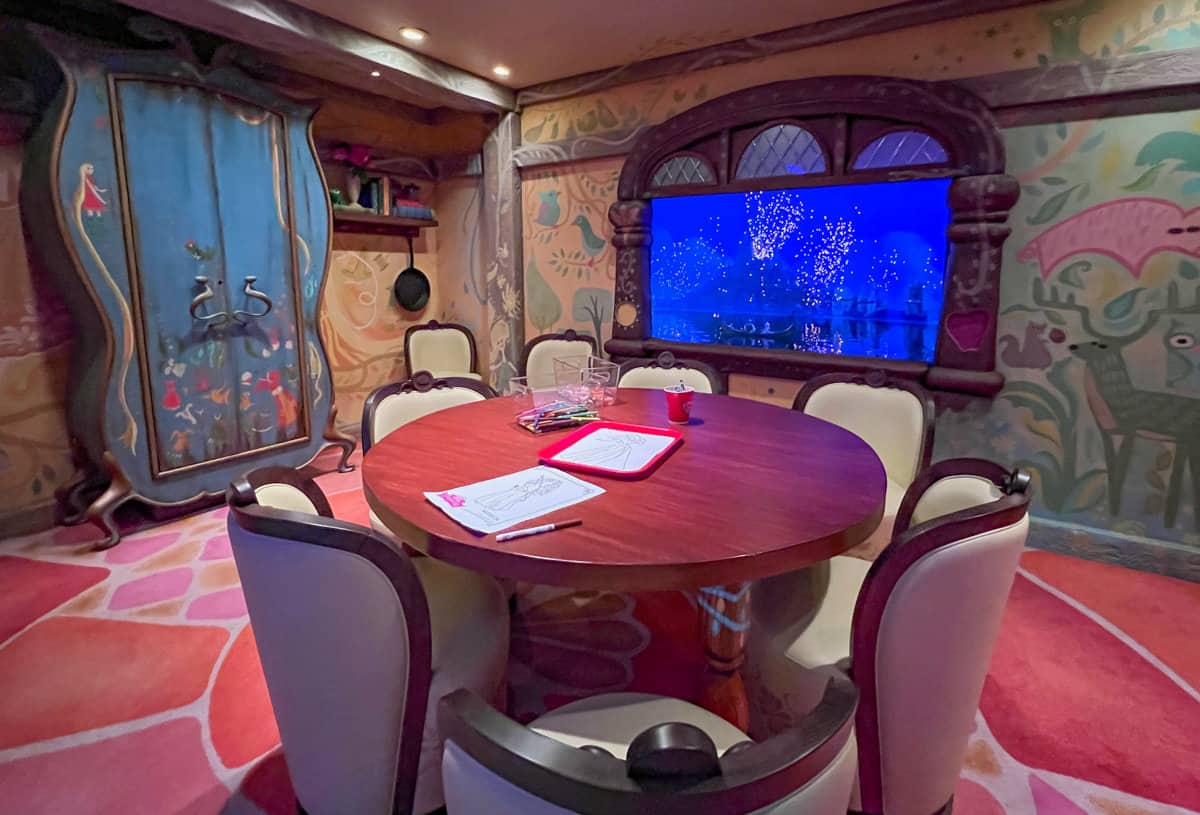 But the Wish fixed this. There are numerous themed spaces in this enormous kids club for various interests. There's a Belle story hour, a Frozen video snowball fight, and a drawing room for art featuring several Disney princesses. An Imagineer's Lab offers the chance to design your own rollercoaster, and then ride it.
The Star Wars room feels so real it's like you're on a movie set, and an Avengers room features some hi-tech games to save the world in the Marvel Super Hero Academy too.
There are several open house hours where people of all ages can visit as a family and get a picture with Chewbacca or Marvel characters. But you'll need a child's band to activate the cool games.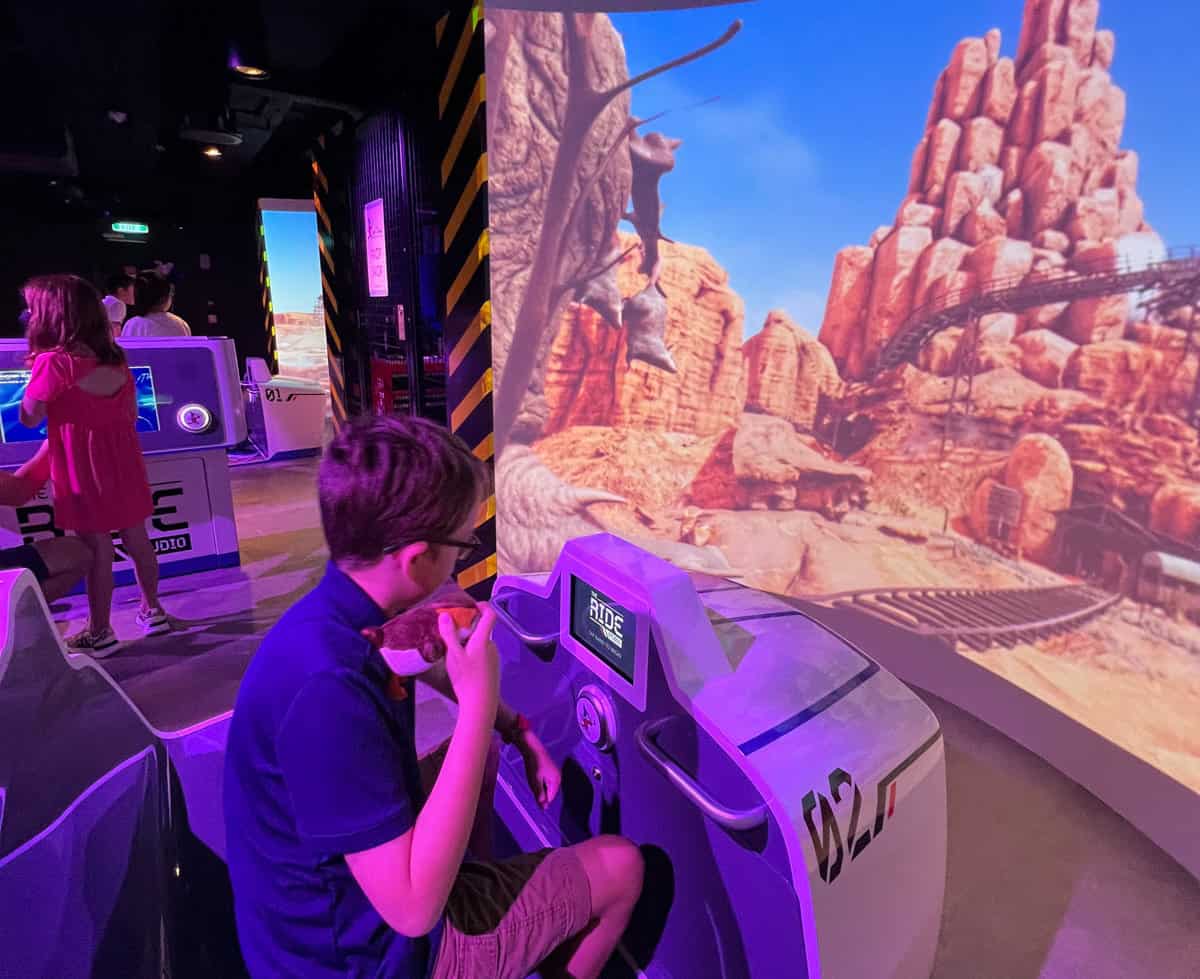 One of the best things about a Disney cruise is how easy it is for a family to enjoy activities together, so this was an excellent improvement to the kids club. Their appeal has no age limit now, and older kids will want to be there with or without you.
Let your kids design a rollercoaster for you to ride on a simulator at the Walt Disney Imagineering Lab. And yes, even adults can slide down into the kids' club with their small children. Or teens.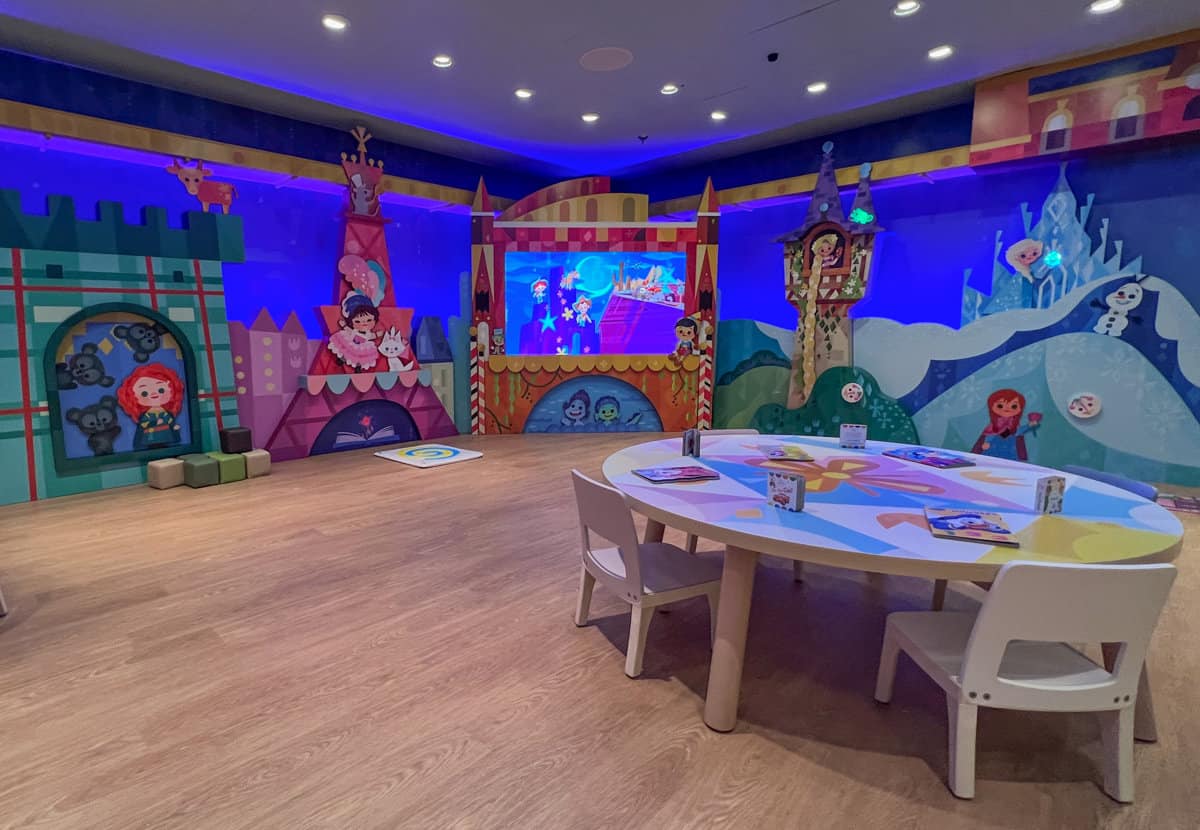 The "It's a Small World" nursery is available by appointment for little cruisers under three. Other areas for children like the Bippiti Boppiti Boo Boutique for princess makeovers are equally upgraded with a luxurious feel worthy of this new castle themed resort.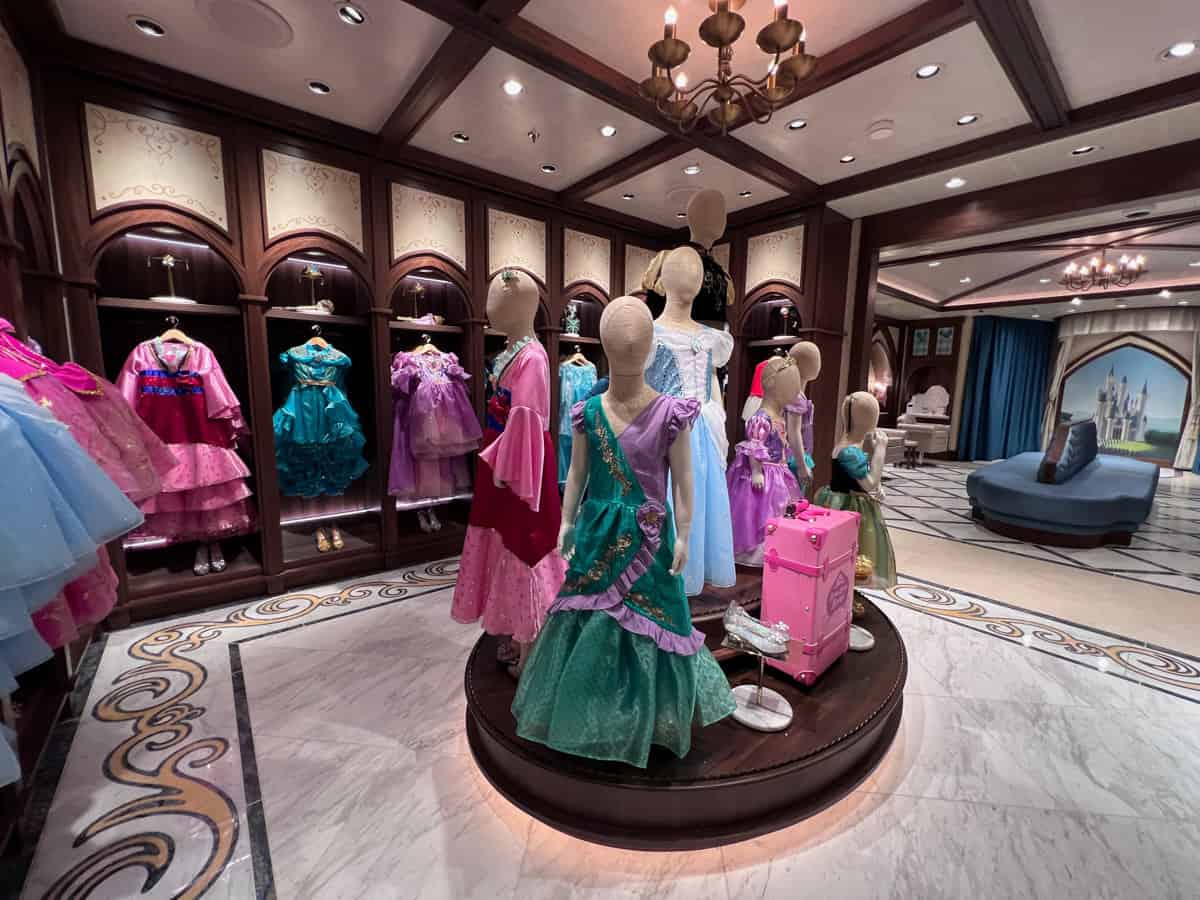 The Edge and Vibe on the Disney Wish
The Edge is the tween club for eleven to fourteen year olds, but parents can sign a waiver to allow their mature ten year olds to come and go as they please, too. The Edge's colorful décor and tv animation will appeal to tweens. Board games and art projects are scattered on tables, and of course, video games will draw kids in to play together in under five minutes. I know firsthand when I had to drag my son from the club where he had already made a new friend to play Mario Kart in under five minutes.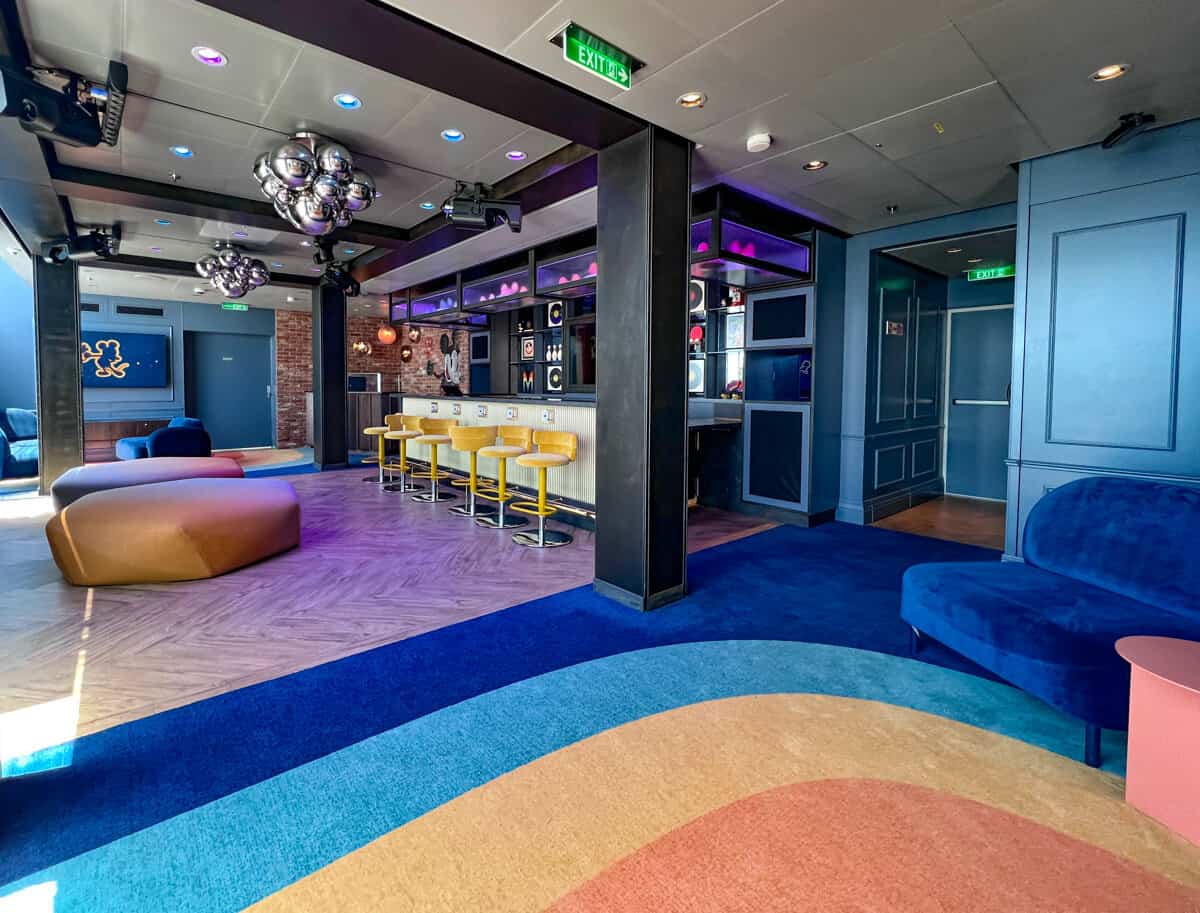 Vibe is the teen club located near the sporting complex focused more on a space to socialize. Sometimes families get their older kids to share social media channels in advance so that they can make friends more quickly once on board. (This is done through the cruise Facebook groups. I can share more when I book your cruise).
Upgrades in Our Disney Wish Stateroom
The upgraded staterooms on the new ship feature illuminated Disney-themed headboards and on-trend fixtures and lighting. The taupe leather headboards are flanked by both sconces and small reading lights. The embroidered shams have scroll work edging that looks like the cover page of a fairy tale. I prefer the more neutral palettes of these staterooms as the older ships wood paneling now feels dated.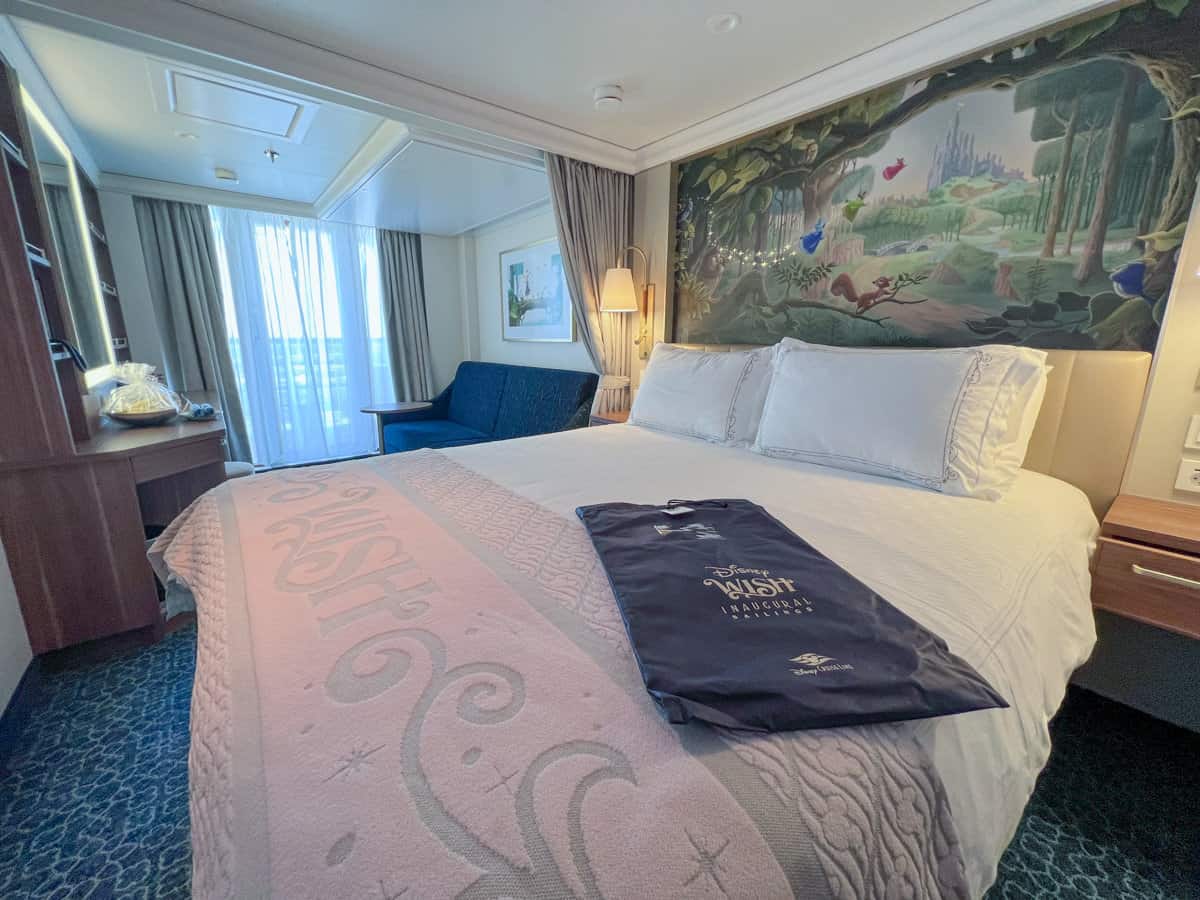 The white subway tile bathrooms feature wooden cabinetry in their classic split format. Each of the two bathrooms have a sink while one has a tub and shower combo and the other the toilet. Our ample closet space contained two bathrobes and a safe. The bed was platform style to allow storage underneath for luggage. All in all, the Disney Wish Verandah staterooms felt aligned with a luxury hotel room.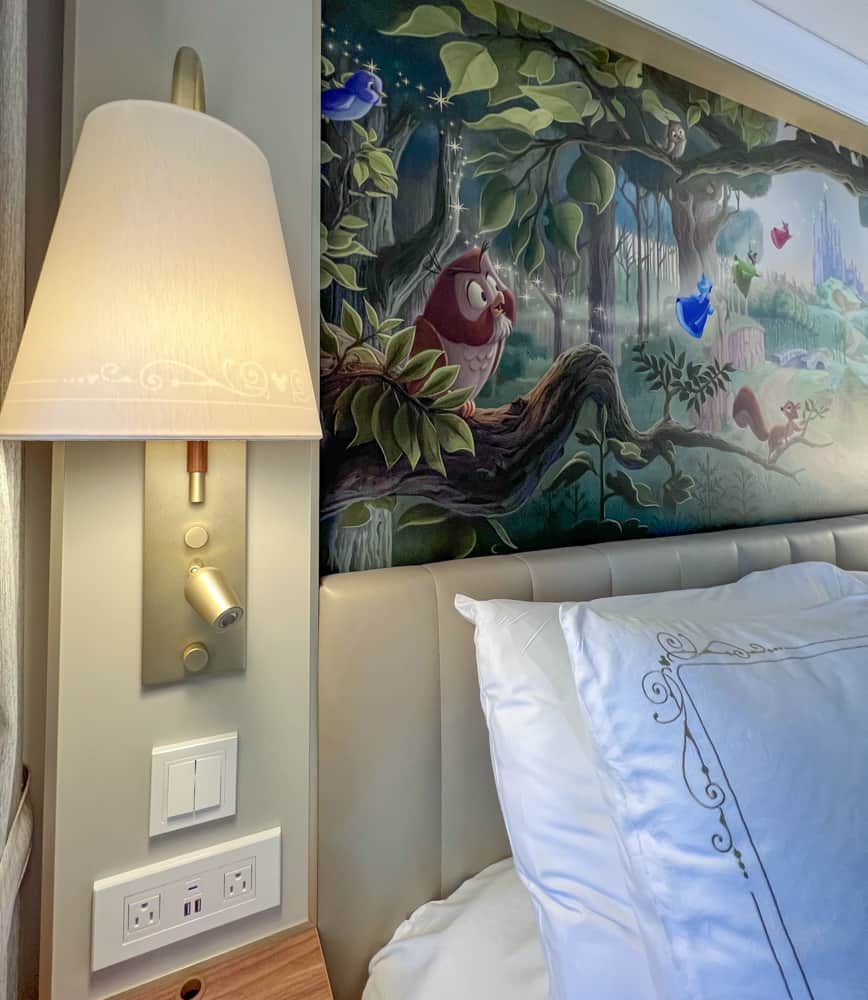 Beyond the queen bed, the kids sleep on the other side of a thick privacy curtain that creates a separate room at bedtime. Their beds pull down from the ceiling and the sofa converts to another twin mattress by your cabin steward. The Deluxe Family Verandah rooms have an additional Murphy bed to sleep five in total.
Wifi
The wifi speed works very well compared to the previous Disney ships. Go ahead and buy the unlimited package because it actually works. For those who need to log in with their laptops on their Disney vacation, they can even send work emails at a speed well beyond the dial up experience of the older Disney ships. I sailed another line's newest ship recently, and the internet speed was like dial-up in the AOL days. Yay, Disney!
Pools
At first glance the smaller pools on the upper deck might underwhelm you, but instead of offering one larger pool, there are several smaller pools. Not all of them are on the main deck.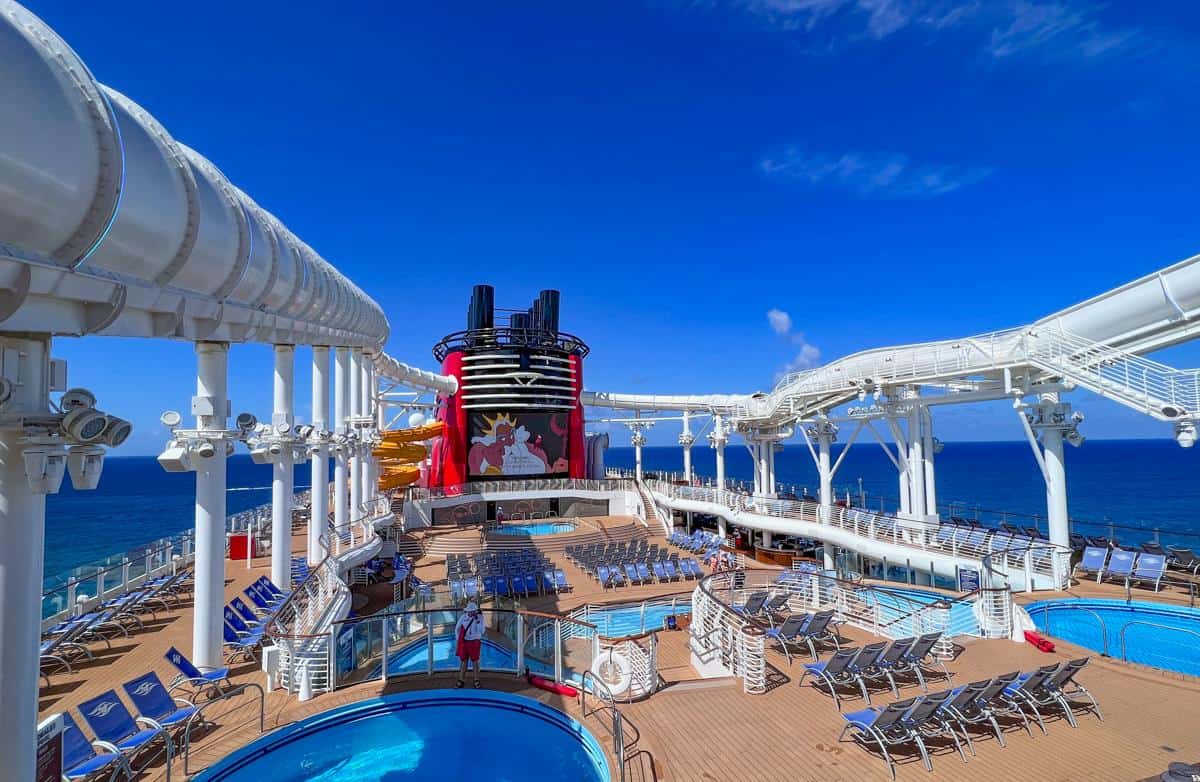 There's a Chip and Dale pool that was my favorite that was much quieter with a shaded portion. You'll have to search for it on purpose, but it is worth finding. Younger children have a lovely Toy Story splash zone area and smaller water slide with few lines.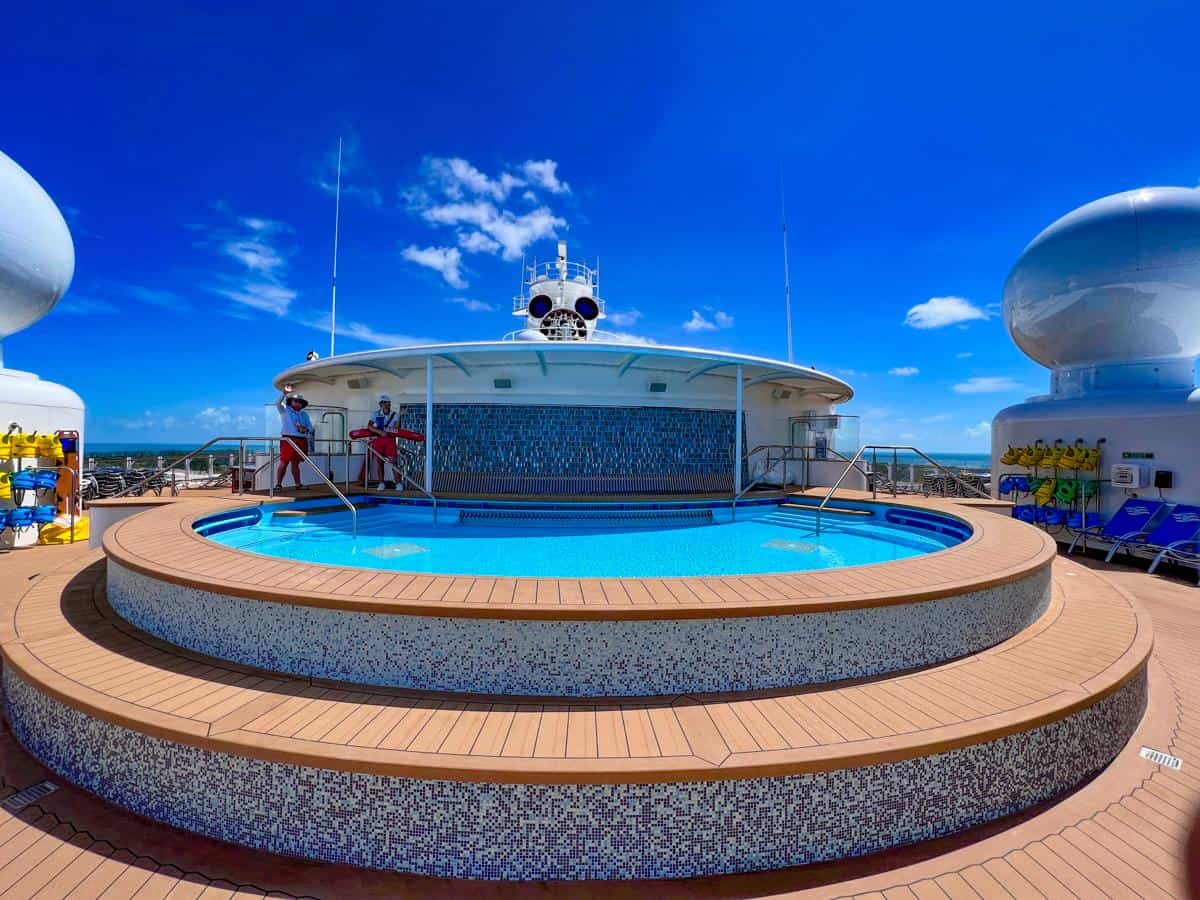 We didn't get to try the Aqua Mouse. When we finally queued for the ride, it went down for about an hour or so, so we missed the first Disney attraction on water.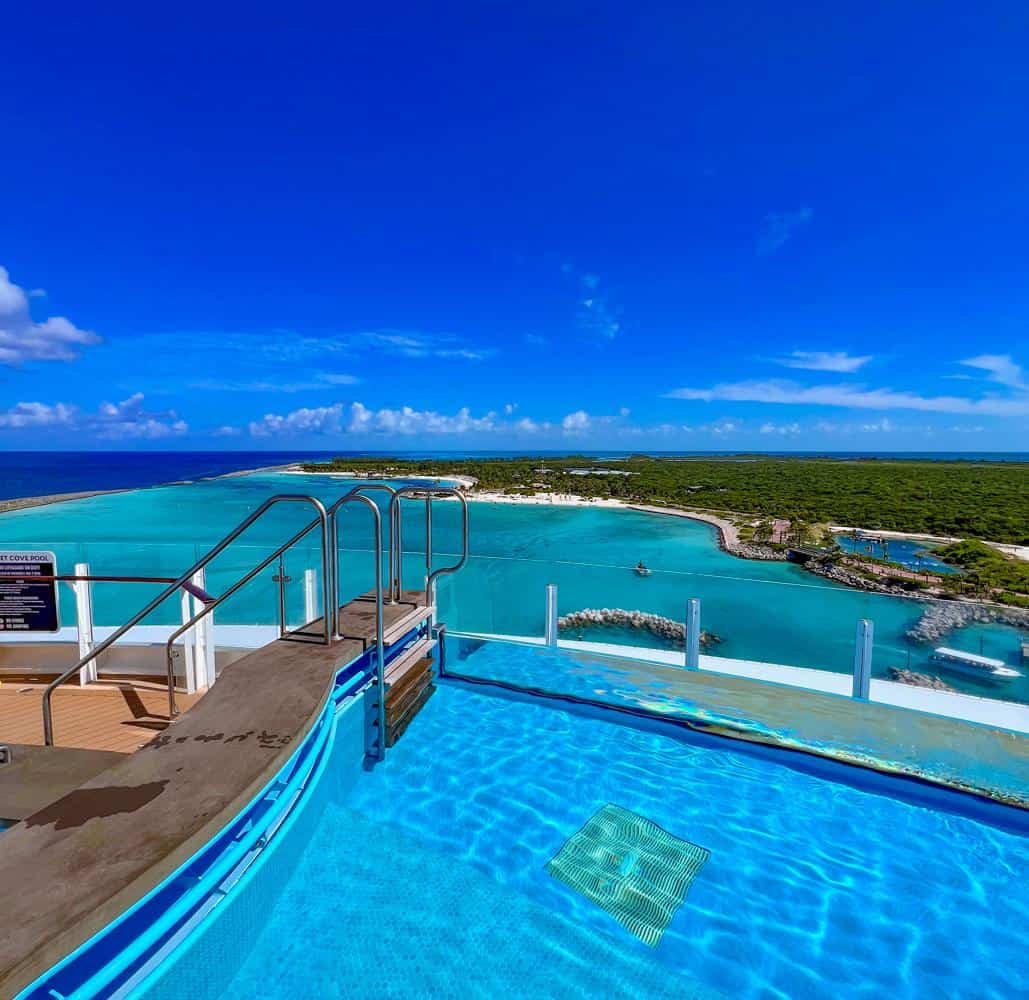 The adult-only pool area both shrank in size but has been upgraded with an infinity pool overlooking the aft of the ship. On a day docked at Castaway Cay, Disney's private island, I think this island view might be the best spot on the ship within the adult-only spaces.
Casual Dining Options on the Disney Wish Ship
The pool deck has several themed casual food stalls with much more variety—taqueria, pizza, barbeque, burgers. The food was better than I remember on the other ships limited to chicken fingers, burgers, and pizzas. My burrito bowl and barbeque meal were both nice. Marceline Market has replaced Cabana's as the buffet restaurant. It felt the same.
Guests queue for complimentary soft serve cones on the Wish, but the portions are like tiny amuse-bouche cones. Ask for two and lick fast!
The Main Dining Rooms
Rotational dining for the evening involves a lot more storytelling, singing, and character interactions than the other ships. Don't count on a lot of dinner conversation due to the entertainment.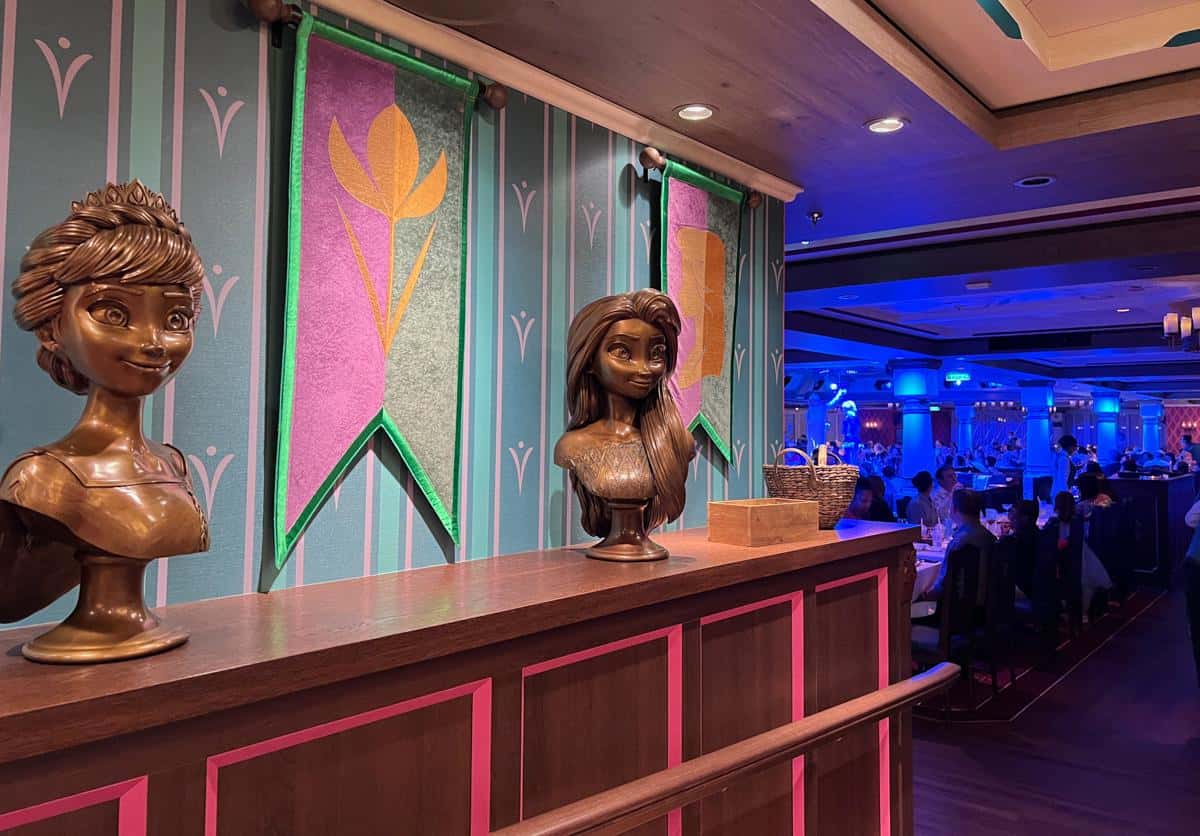 The Marvel Cinematic Universe dinner left me with an uncertain opinion. It feels very theatrical entering the space with walls covered with screens. Ant-Man and Wasp participate in an entertaining dinner theater that is all Disney wonder and magic. I won't offer spoilers of the clever show. The one drawback is that the screens continue to show Marvel highlights throughout the entire meal. There's no way to escape the screens, and many people (of all ages) will spend the dinner with their eyes glazed over fixated on them. I just wish the screens turned off between the moments of the televised show.
The Frozen Dining Adventure becomes more of a dinner theater experience with actors from Arendelle performing a variation of the songs from the movie. Again, there's no conversation at dinner here due to the volume of the singing and music throughout the meal.
The setting with several details from Frozen was charming, even including the painting collection from Anna and Elsa's castle.
Themed meals aren't the norm on the other Disney ships. If you're not all in with Disney movies, I think these dinners will not be your favorite.
Remember, it's very easy to attend these main dining seating with your children at 5:45pm and book an adult restaurant experience starting around 7:30.
Adult Dining
I eagerly booked both Palo and Enchanté because Palo and Remy have typically been my favorite experiences on the Magic and Dream.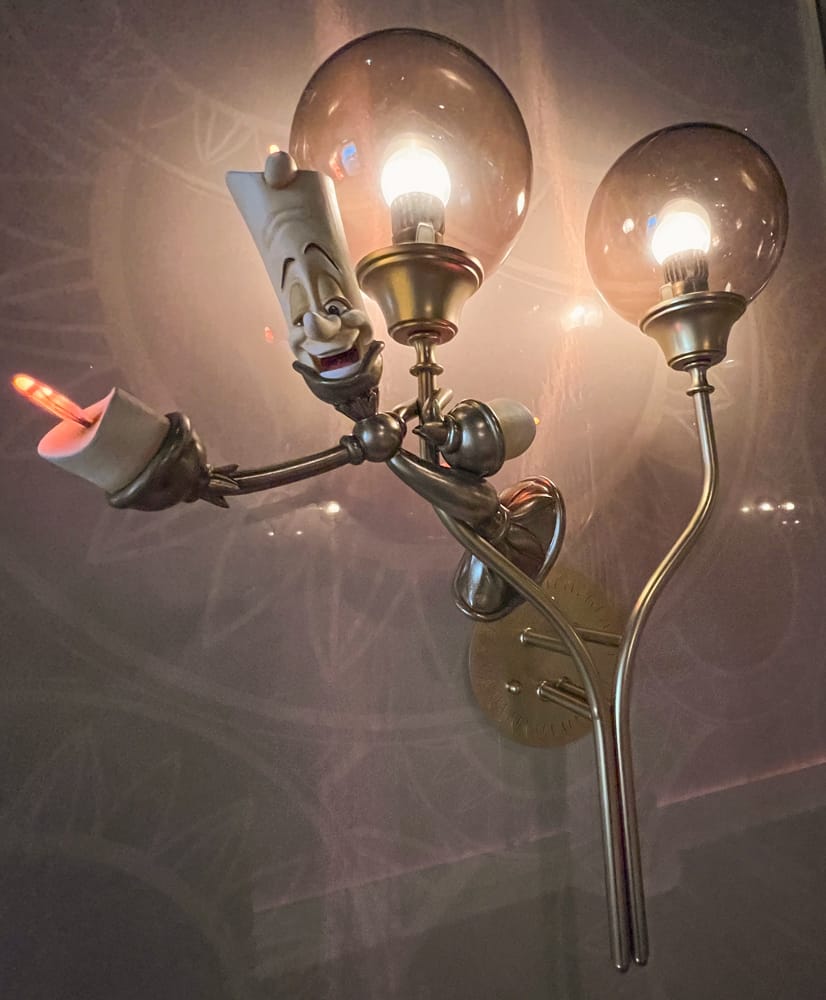 Enchanté
Enchanté has an innovative menu from Chef Arnaud Lallement with an option for a full degustation menu, a modified passion menu with five courses as well as an à la carte option. Since I was dining alone I chose the passion menu.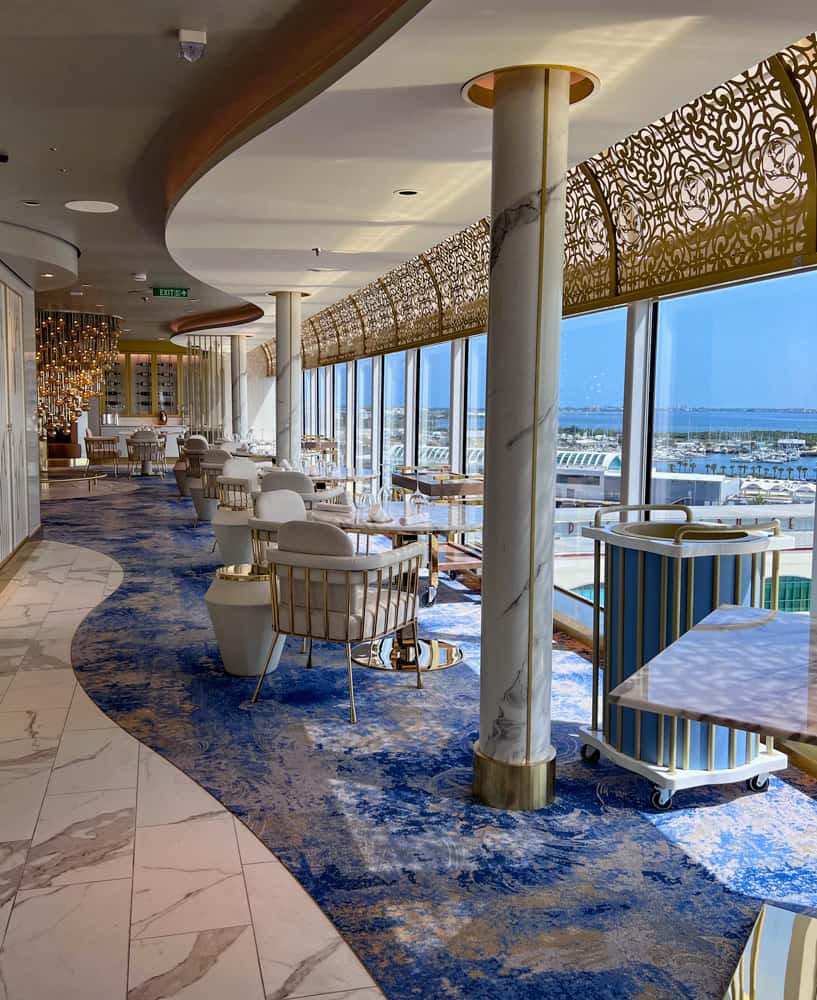 The amuse bouche were impressive, and the following course was a tomato prepared for more than 10 hours in butter and garlic. It was served with a piece of wheat focaccia, a tomato vinaigrette, and a tomato water. Anticlimactically, the tomato water was the best part— a strained clear gazpacho liquid. I longed for the summer tomatoes prepared three ways I had had at Blackberry Farm the year prior that I can still taste.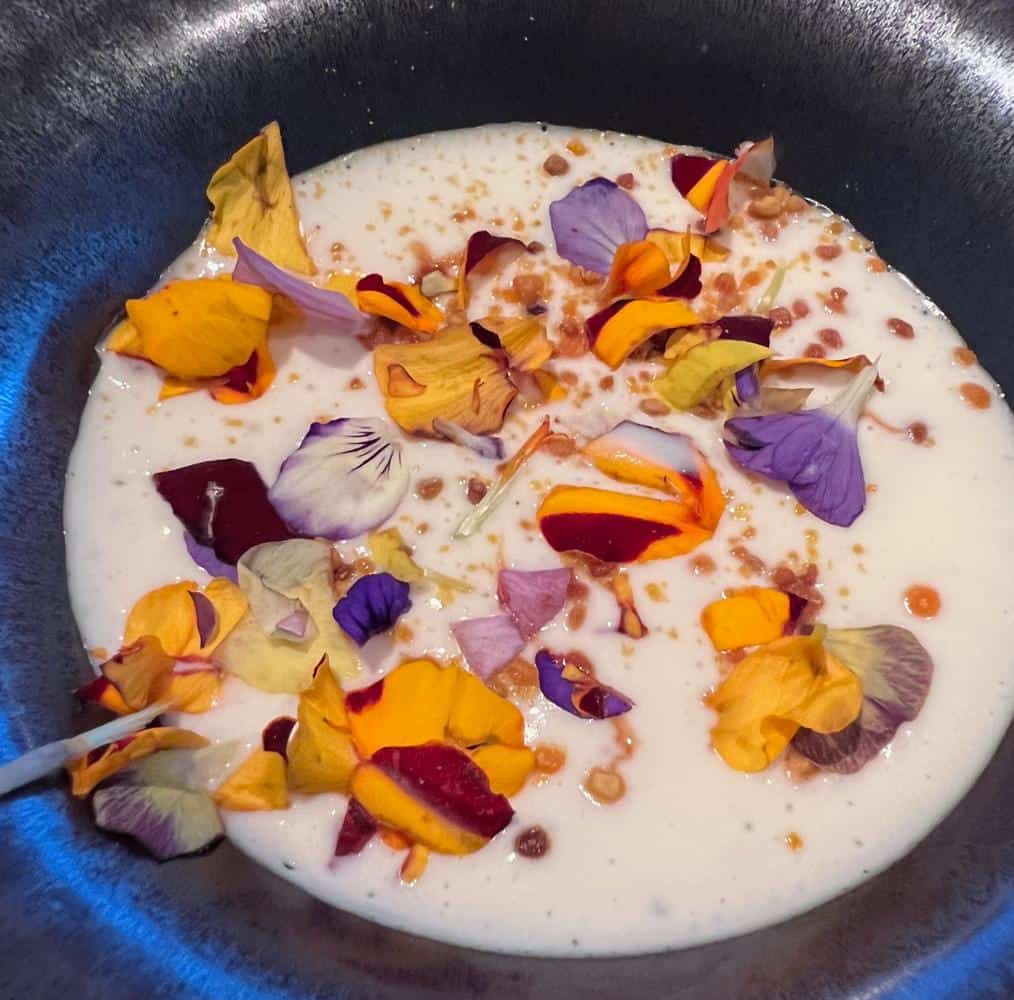 Next arrived a Jonah crab with a lobster aspic on top. I could not really taste the lobster. I didn't love this entrée either. The wild halibut served in vermouth sauce and variations of onion accompaniment improved the meal, and the final entrée was a squab pigeon served en croûte with layers of spinach, foie gras, and pancetta. It was as delicious as it was beautiful.
The dessert course is a spoil of riches. The main dessert was a chocolate bar that was incredibly decadent, but the star of the dessert was the additional chocolate ice cream served with chocolate sauce and nougatine wafers. Traditional accompaniments like chocolates and jelly fruits also included a coffee creme tart. Next to the white chocolates were lemon drops served on tiny cookies.
A Menu with Wrinkles
This is a sophisticated French menu but had some misses mixed within the hits. I mean, bring on the lobster infused aspic, because I am a foodie, but many of the courses just lacked "delight" and delivered "meh."
The service was every bit as good as Remy or any other fine dining restaurant. I am eager to try it again to see how well the menu and kitchen have marinated well together.
Palo Steakhouse
Palo is significantly less money than Enchanté. It is a no-brainer to book as many times as you can squeeze on the ship. I had an excellent yellowfin tuna tartare and the house special gnocchi and a creamy pesto sauce. For dessert I chose a selection of house-made gelatos that were all deliciously creamy. This meal came to approximately $50.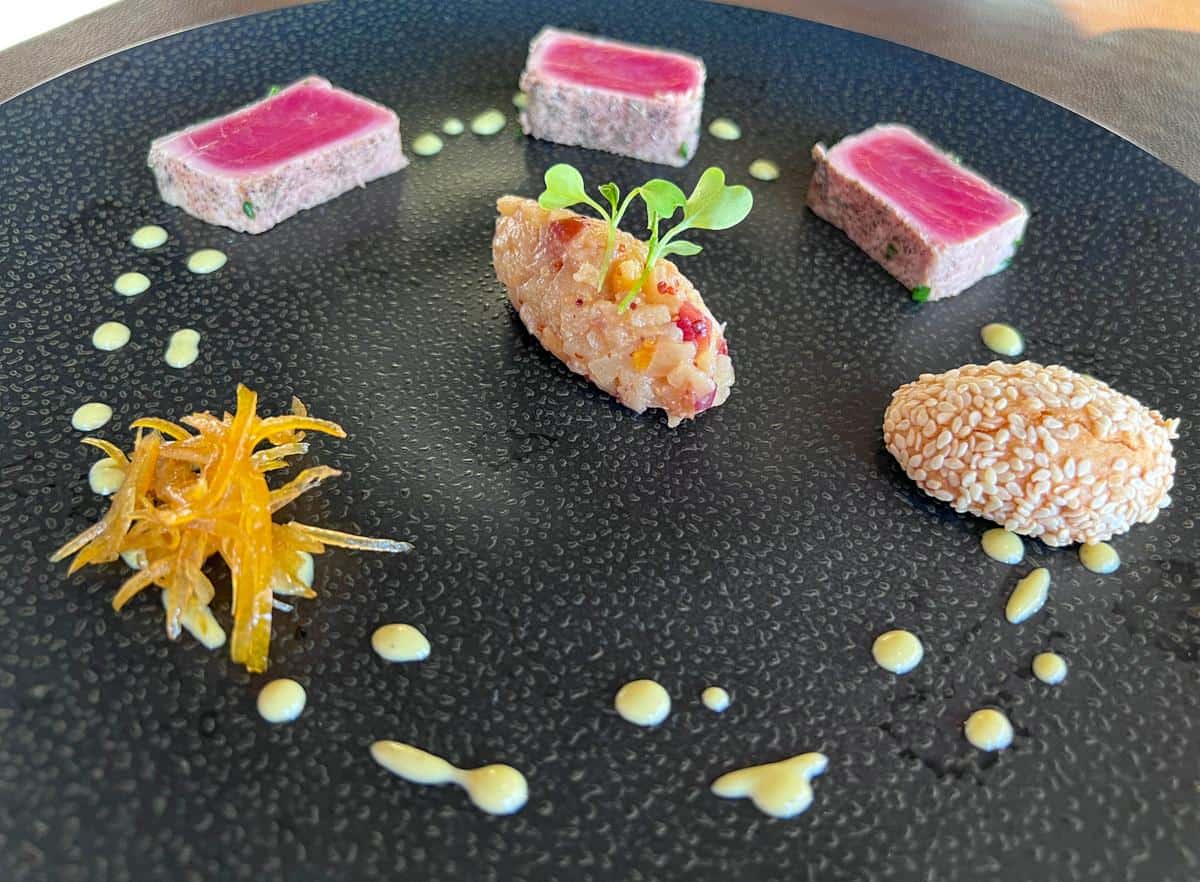 If you are not the singing type, it's well worth it to enjoy this meal compared to listening to Let It Go in the main dining room.
The Star Wars Hyperspace Lounge
Families can book free entry in the rather intimate Star Wars bar. The kids are welcome until cocktail hour which becomes adult-only. Star Wars fans like me can order inventive cocktails and mocktails while staring at the cinematic screen behind the bar that makes one feel like they are on a galactic cruiser.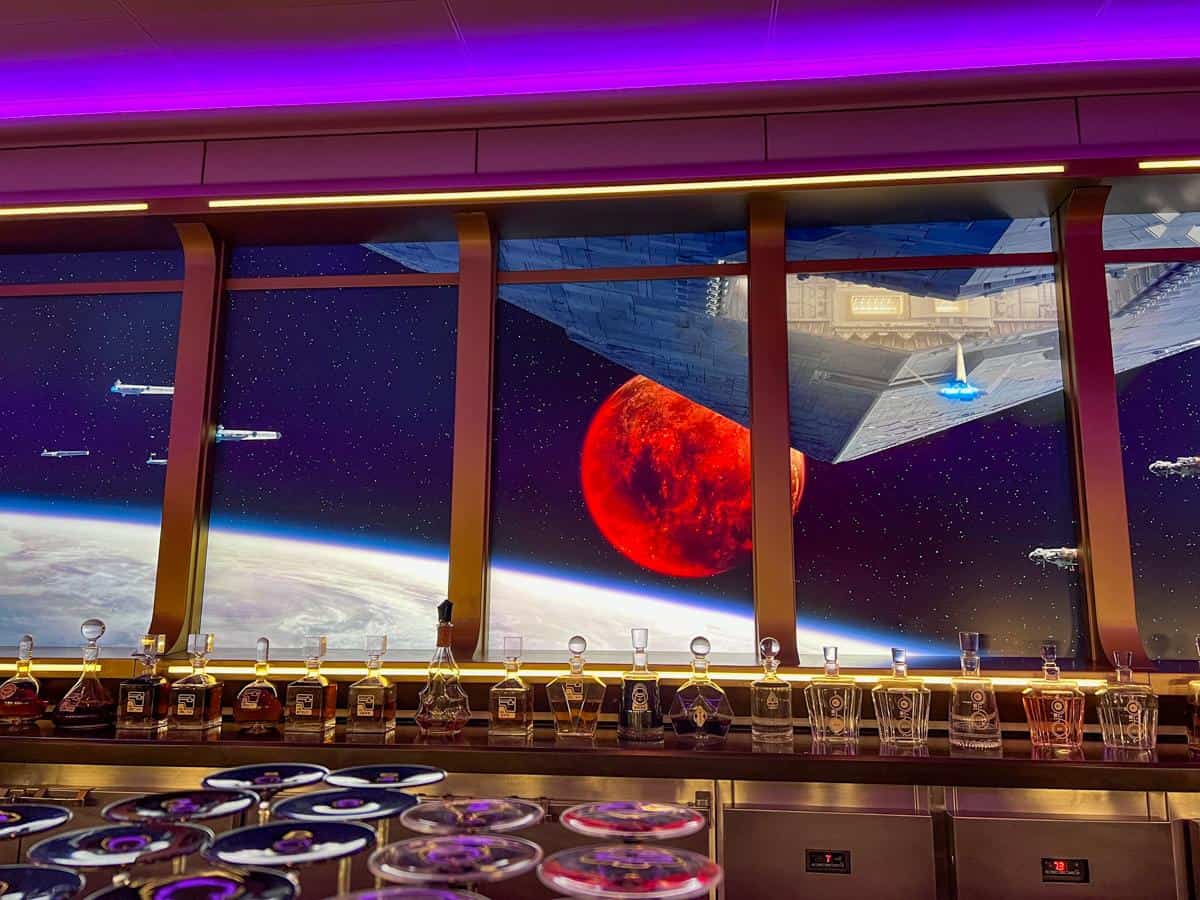 It's pretty cool for those who haven't yet stayed at the new Star Wars resort. There's a $5000 cocktail on the menu featuring extremely rare liquors. Five thousand? You could almost buy your own ship for that.
Senses Spa
I have mixed feelings on the new Senses spa. I think the existing Senses Spa on the Disney Dream and Disney Fantasy are still my favorite.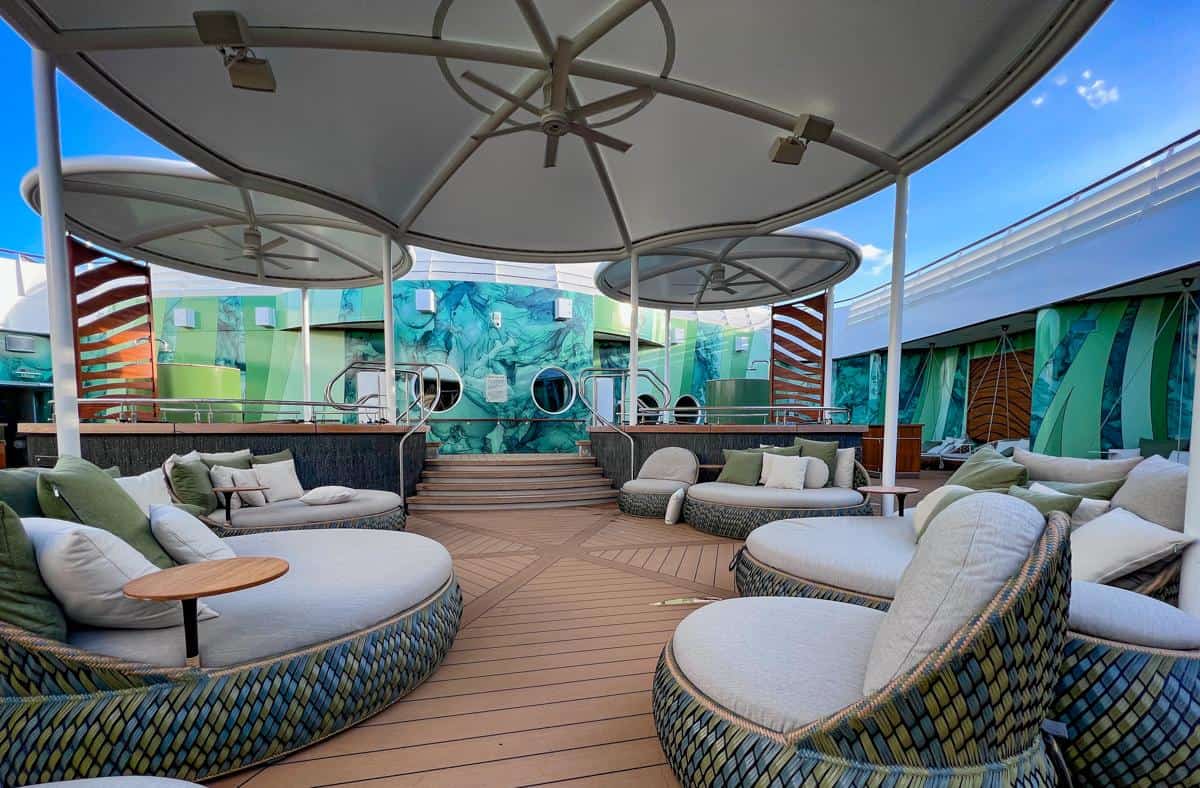 The spa is now on the fifth deck, and there are very few windows and mostly interior treatment rooms, no longer with floor-to-ceiling windows. The locker rooms have showers and a small waiting area. The Rainforest Experience has a much larger jungle-like lounge with several heated loungers, steam, and a frigidarium for cryotherapy enthusiasts.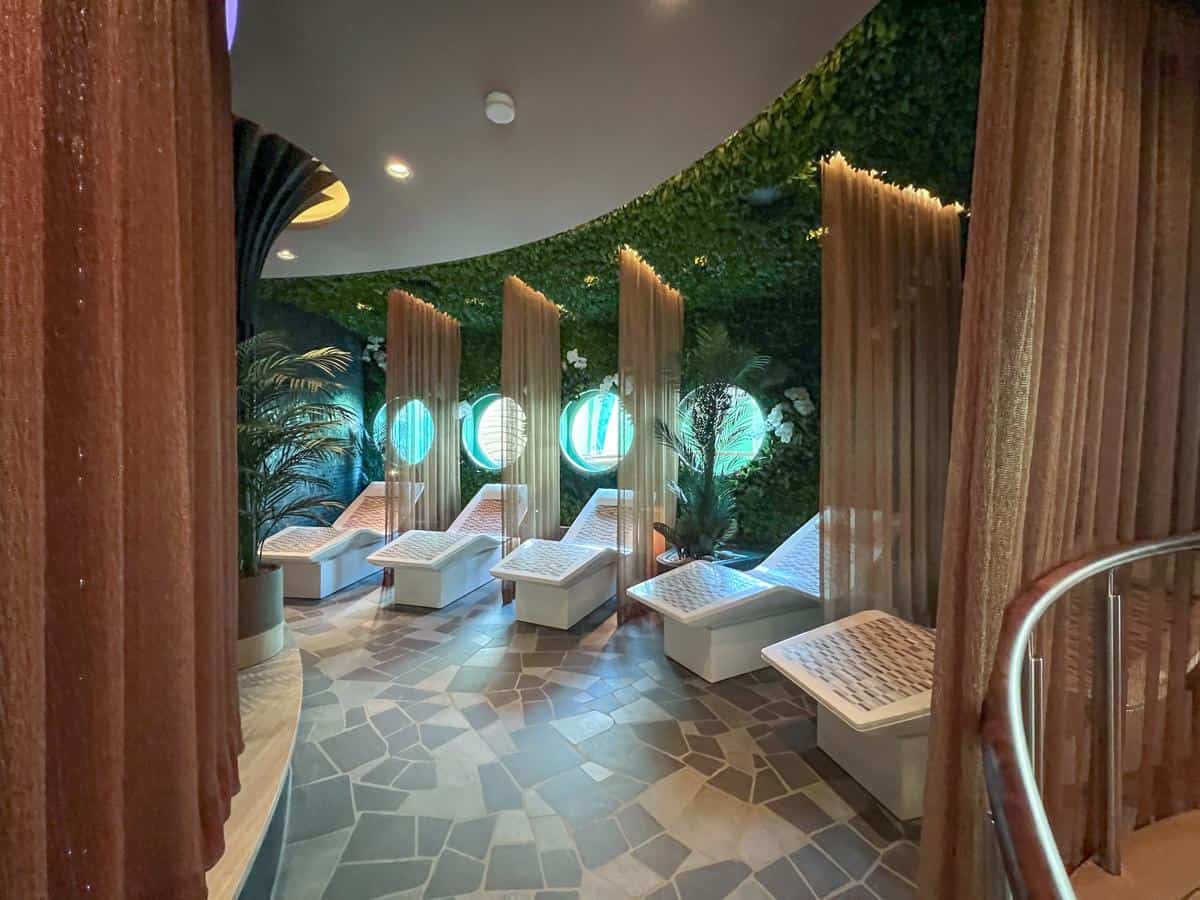 The outside deck has two hot tubs and ample lounge space. The rainforest experience on the Dream and Fantasy included breathtaking floor-to-ceiling windows overlooking the ocean or ports. On the Wish, there are no windows offering ocean views, so it is a bit of a downgrade of an experience to me.
The Tangled Salon
The Tangled Salon near the main entry offers hair, nail, and tooth-whitening appointments. The hairstylist, Eugene, (I cannot accept that was his real name) provided an excellent custom conditioning treatment and blowout.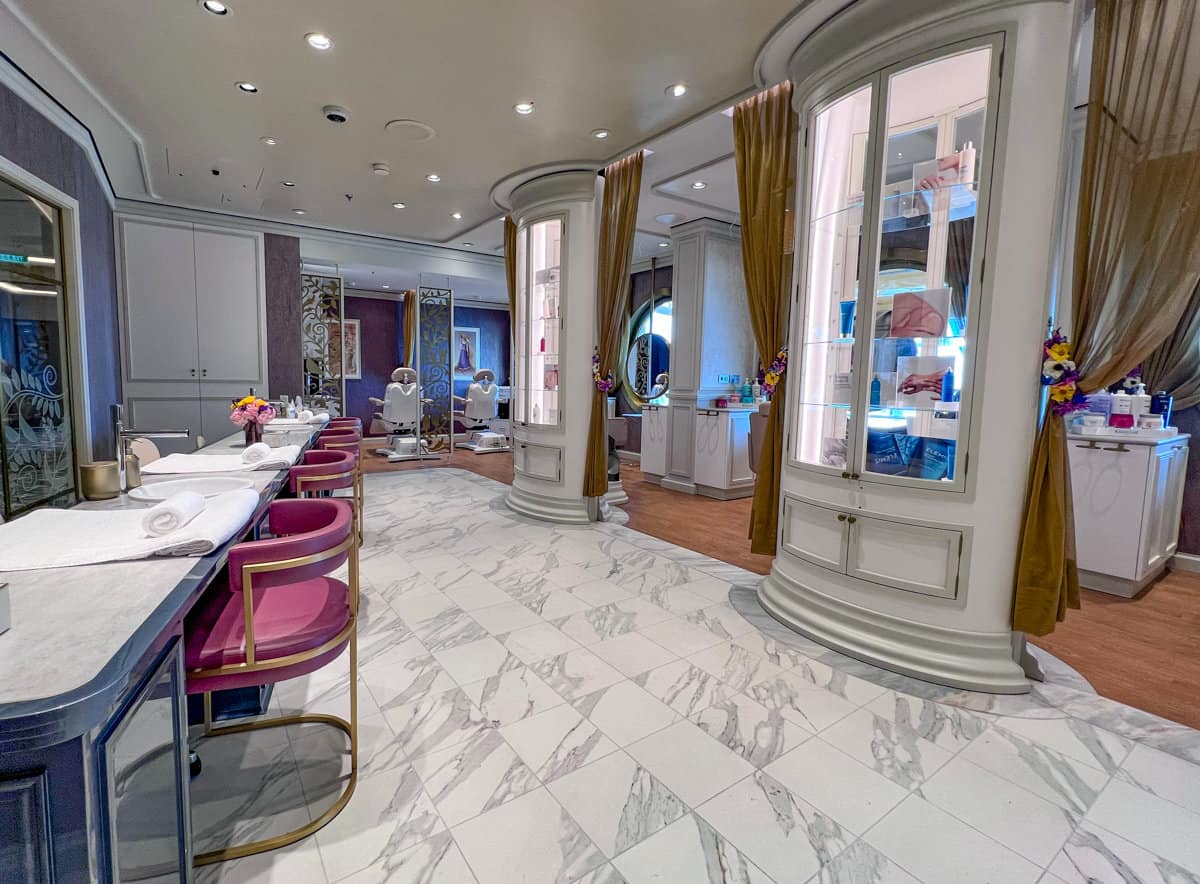 The salon uses Kerastasse products, and the pedicure stations were standard for a high end salon. There are windows to provide natural light. The salons walls are glass, so pedestrian traffic can look inside.
In Summary
We had a ball. For an early sailing there were a few issues for the crew to smooth over which I am sure they have by now.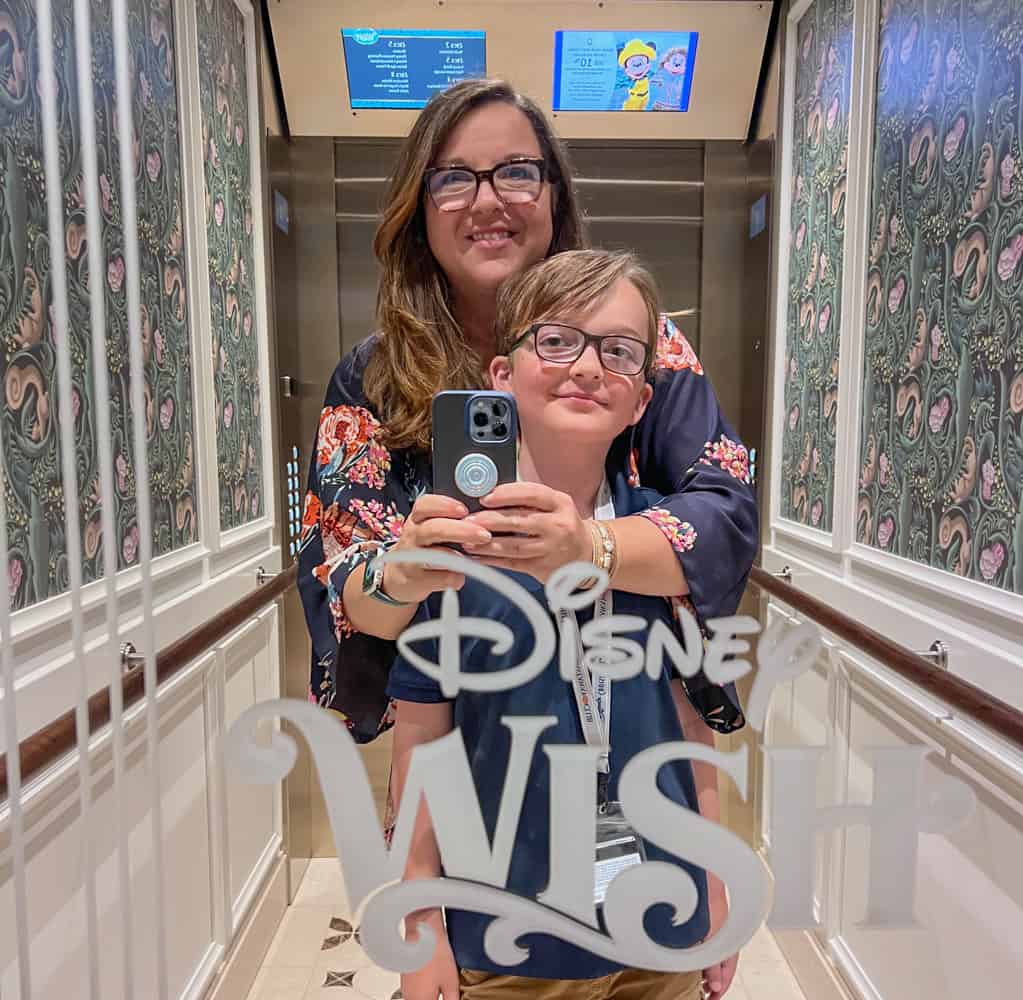 I cannot wait to sail again and try the Disney Wish Concierge Lounge and enjoy those upgraded staterooms on my next cruise in 2023. I have been waiting a really long time for that Disney Cruise vacation!
Let me help you plan your Disney cruise!