A Brand New Ship!
After ten years most things are due for an update. It will have been over a decade when Disney launches a new ship, the Wish on June 9, 2022. (Here's our overview on the best Disney Cruises) Since the Disney Fantasy set sail in 2012, a lot has changed. And the Wish reflects it from the design style to the latest innovations of Disney's imagineers.
The entire cruise industry took such a beating in 2020, many speculate if it will recover. Maybe some lines won't, but Disney was never a concern for industry insiders.
The excitement generated by the Wish shows that many families are eager to resume or try a Disney cruise. I thought I might be immune to the marketing hype of the Disney Wish. I was wrong.
Having watched all the preview videos for travel advisors, I'm hooked line and sinker ready to book for myself. Here's what got me so excited about sailing Concierge on the Disney Wish.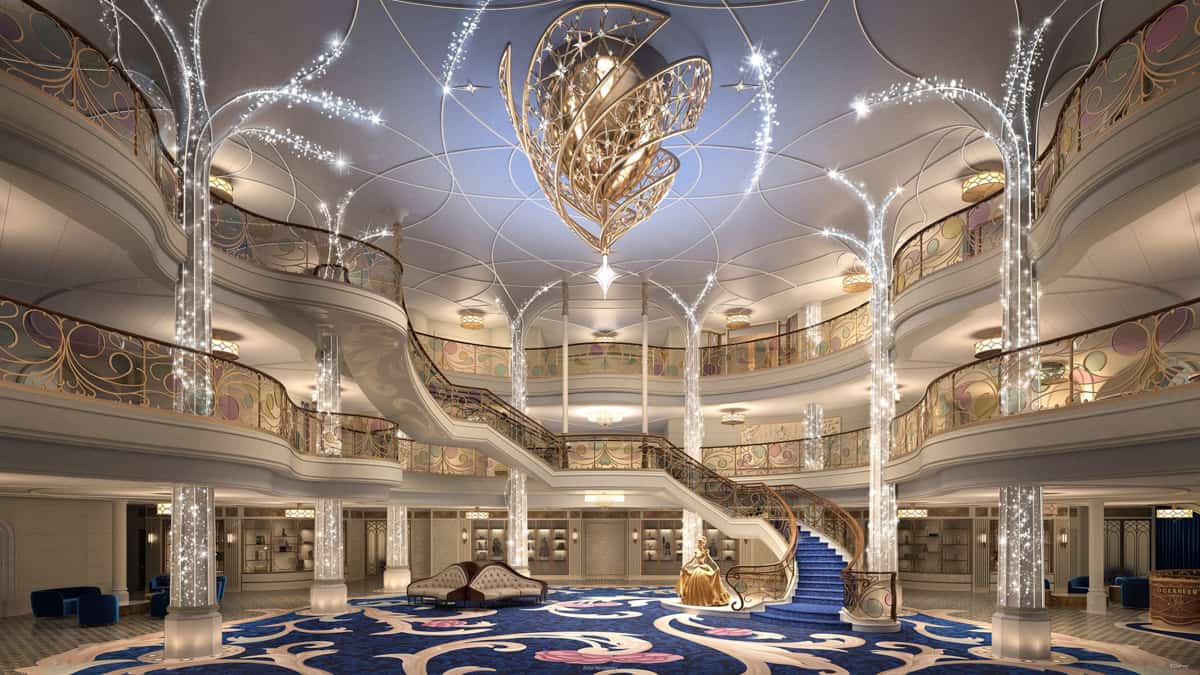 1. Disney Wish Concierge Amenities
Most of the concierge benefits will be the same as with other Disney ships. I imagine the concierge exclusive spaces like the private sun deck will be slightly upgraded. And the beloved concierge lounge will be larger with a dedicated kids' area now, which will be wonderful.
Read our feature on why the Concierge experience is worth its price tag in this article. The pillow menus, the early access to board and book cabanas on Castaway Cay, and the incredible lounge hosts are just some of the reasons why people swear by it.
---
Join the Luxury Disney Facebook group
where you can ask all of your Disney trip questions and get the advice you seek.
---
2. Disney Wish Concierge Staterooms
All of state rooms on the Wish skew to the higher-end categories with fewer inside state rooms and fewer Oceanview state rooms. The bulk of the cabins will feature verandas.
The Disney Wish Concierge state rooms feature king beds. There's even a new category: Family Concierge Oceanview staterooms that do not offer verandas, but floor-to-ceiling windows and a larger seating area.
Concierge standard state rooms with verandas include a beautiful lantern mural from Tangled. The Oceanview rooms feature the Little Mermaid. Some staterooms also offer a 5th bed that pulls down from the wall as a Murphy bed. There are 53 concierge staterooms on the Wish that are not suites.
The one-bedroom concierge suites sleep five guests. A king bed in the master adds to the pull down single in the living room and a convertible sofa. They come with two full baths, and the bathtub includes a beautiful lantern mural also inspired from Tangled.
3. The Disney Wish Royal Suites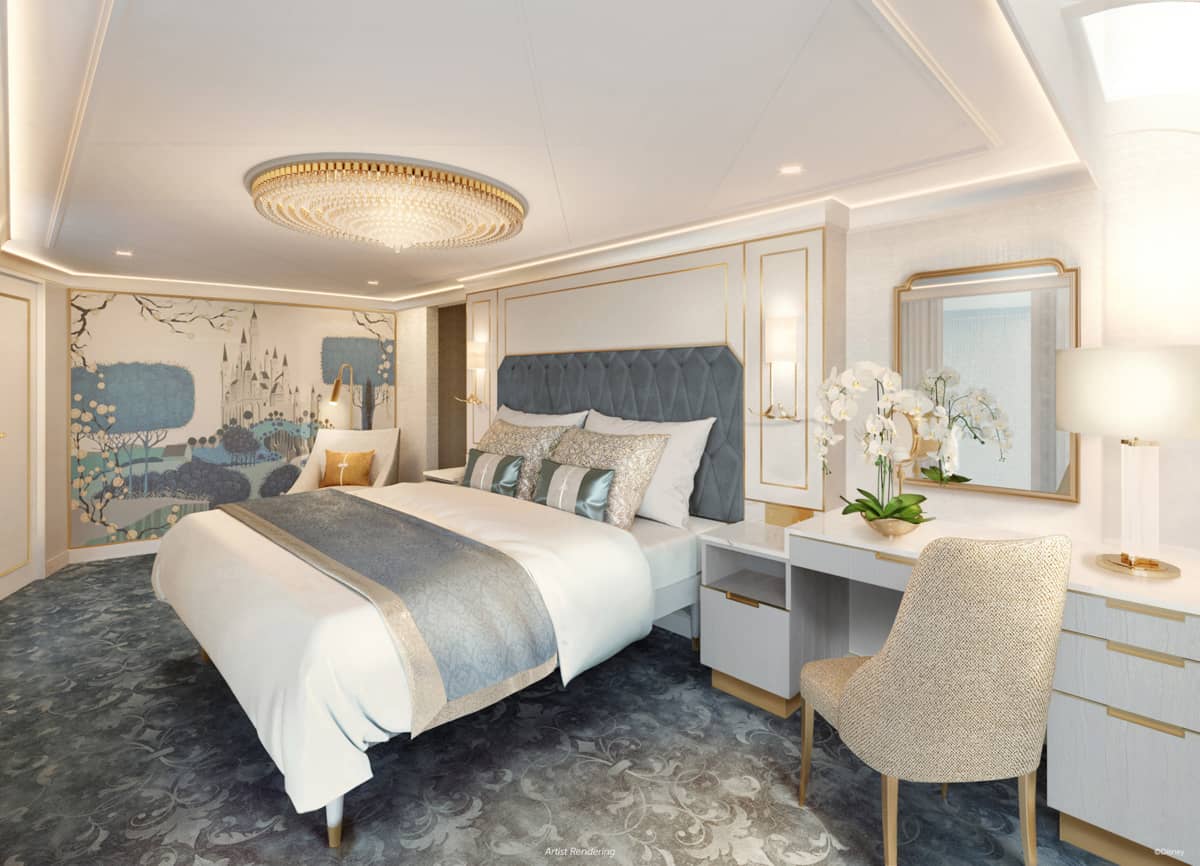 There are four Royal Suites, and two of them are two-story, a first for the Disney Cruise Line. Each Royal Suite sleeps six guests with two king bedrooms and a convertible sofa in the living area.
Sleeping Beauty's life chapters as a princess and as a forest maiden inspire two different design schemes. The deep green and purple suite connect to her time as Briar Rose while the Princess Aurora suites are decorated with blues and golds of castle life. There's a dining area to enjoy room service from any of the main dining rooms (another perk for all guests in Concierge suites).
The Disney Wish Royal Suites have 3 full bathrooms to rival any new five-star resort's fixtures. There's a private verandah with a whirlpool tub and large living room to gather.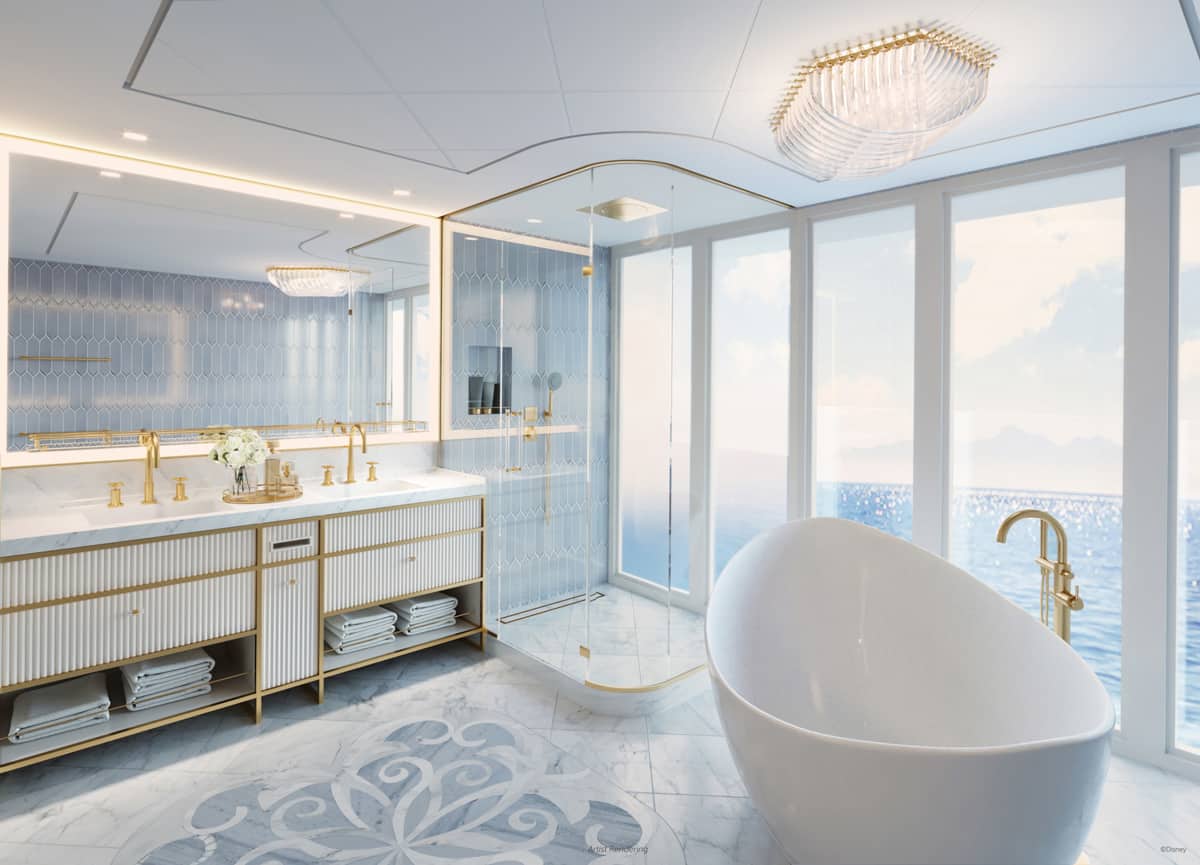 4. The Disney Wish Tower Suite
Disney has created the first-ever penthouse suite stateroom that truly is a multi-story fantasy on top of their new ship featuring artwork and materials inspired by Moana.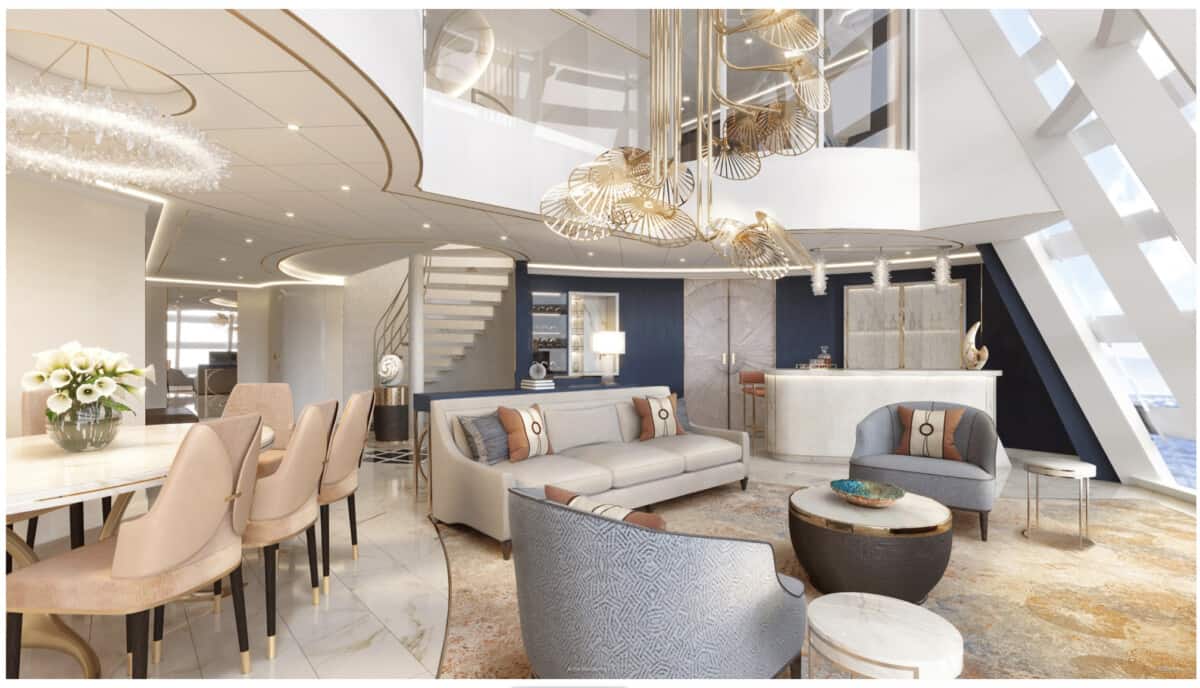 This 1,966-square-foot penthouse has roughly 2,000 square feet of living space, including a spacious upper-level loft, and sleeps up to eight guests with two main bedrooms, a children's room, a library that converts to a bedroom and four-and-a-half bathrooms.
The piece de resistance will be a hand-crafted porcelain sculpture pulsing in myriad hues of green amid soft chimes that recall the film's distinctive soundtrack, revealing itself as the heart of Te Fiti with special lighting and audio effects.
Guests in the Wish Tower Suite have access to personal concierge team, exclusive curated services and even a private elevator.
5. The Aqua Mouse and Hero Zone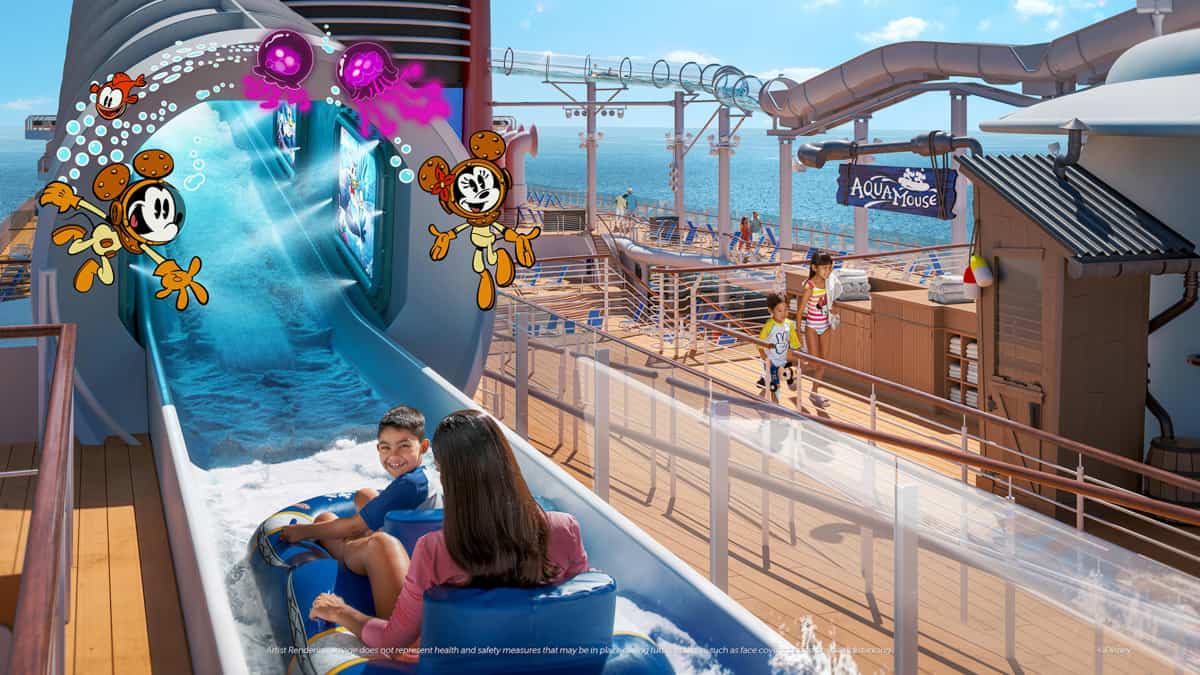 The biggest news about what to do on the Disney Wish is the Aqua Mouse. Disney is taking a waterslide to entirely new heights by fusing elements of a theme park ride with a water adventure that takes up most of the top deck. Its predecessor, theAqua Duck, is a favorite on the other ships, so savvy Concierge cruisers will go straight to the ride during their exclusive boarding window.

There will be two cinemas on the Wish, the Wonderland cinema and the Neverland cinema, to show first run movies. And then there will be a Hero Zone where families compete against each other in game show style competitions that sounds very promising. The fun part of a cruise vacation is that it gets my family fully into the trivia and Bingo activities we don't do anywhere else. It's like summer camp all over again.
6. The Disney Wish Restaurants: Enchanté

I'll be very transparent that the family dining is the part of the Disney Cruise I like least. While I appreciate the rotational dining concept and adore the magical spaces in the main restaurants, dinner for us has been about the premium options like Palo and Remy on past cruises. I remember those meals well, and loved every part of them.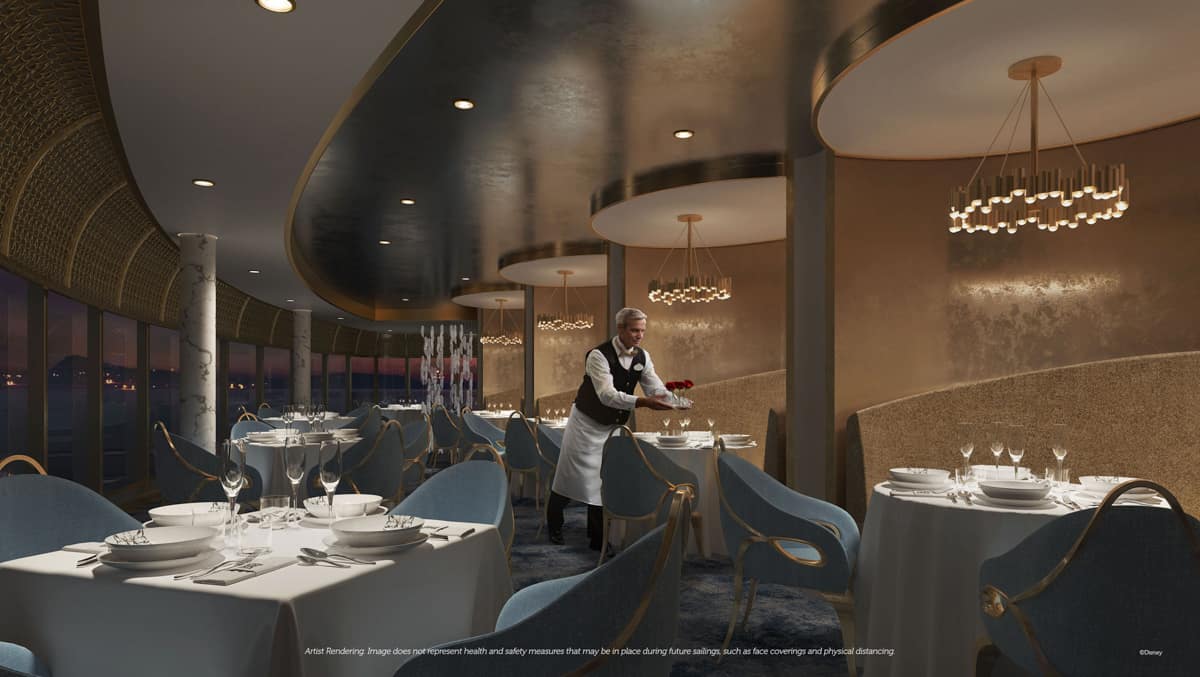 Enchanté pays homage to our favorite Beauty and the Beast candlestick, Lumiere. This premium dining option features a menu designed by Chef Arnaud Lallement. He's well known in foodie circles for his L'Assiette Champenoise, a Relais & Chateaux restaurant and hotel near Riems in the Champagne region. This three Michelin Star chef will provide a dining experience worthy of the Be Our Guest finale. I will expect Can-Can dancing forks or at least something as delightful.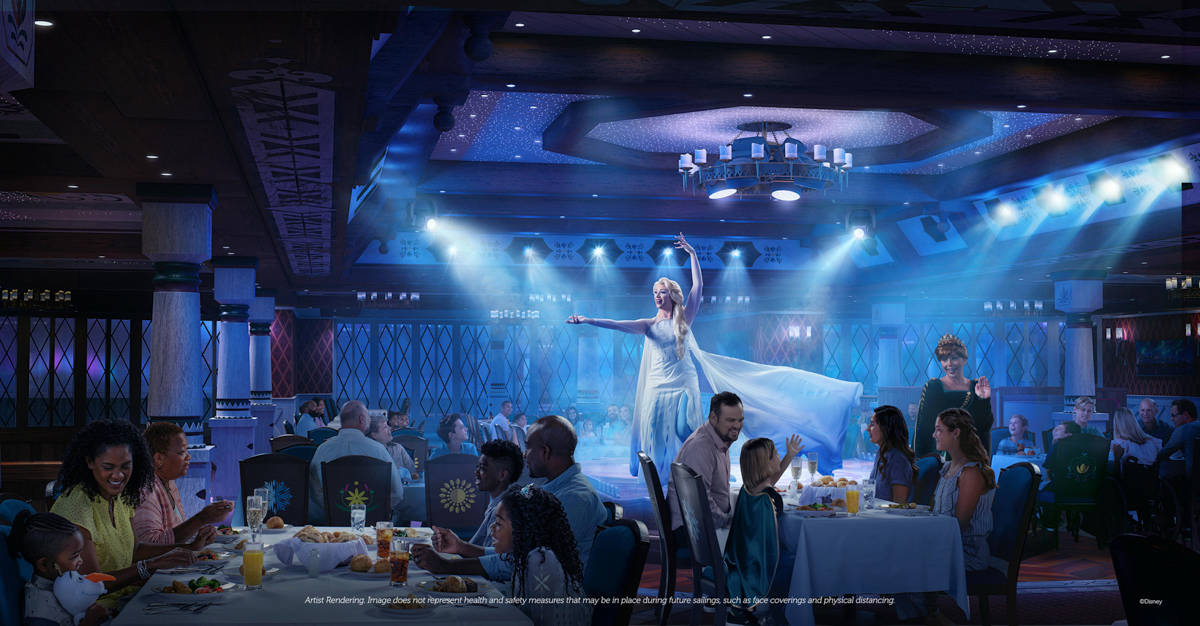 The main dining rooms do sound amazing for a family to try, so I am still excited by Arendelle, a Frozen dining adventure, and the Worlds of Marvel which Disney hasn't share much about yet. 1923 honors the year the Walt Disney Studios were founded. It's an ode to glamorous Hollywood in the 1920s with wood paneling, gold accents, and British racing green suede chairs showcasing California fusion cuisine.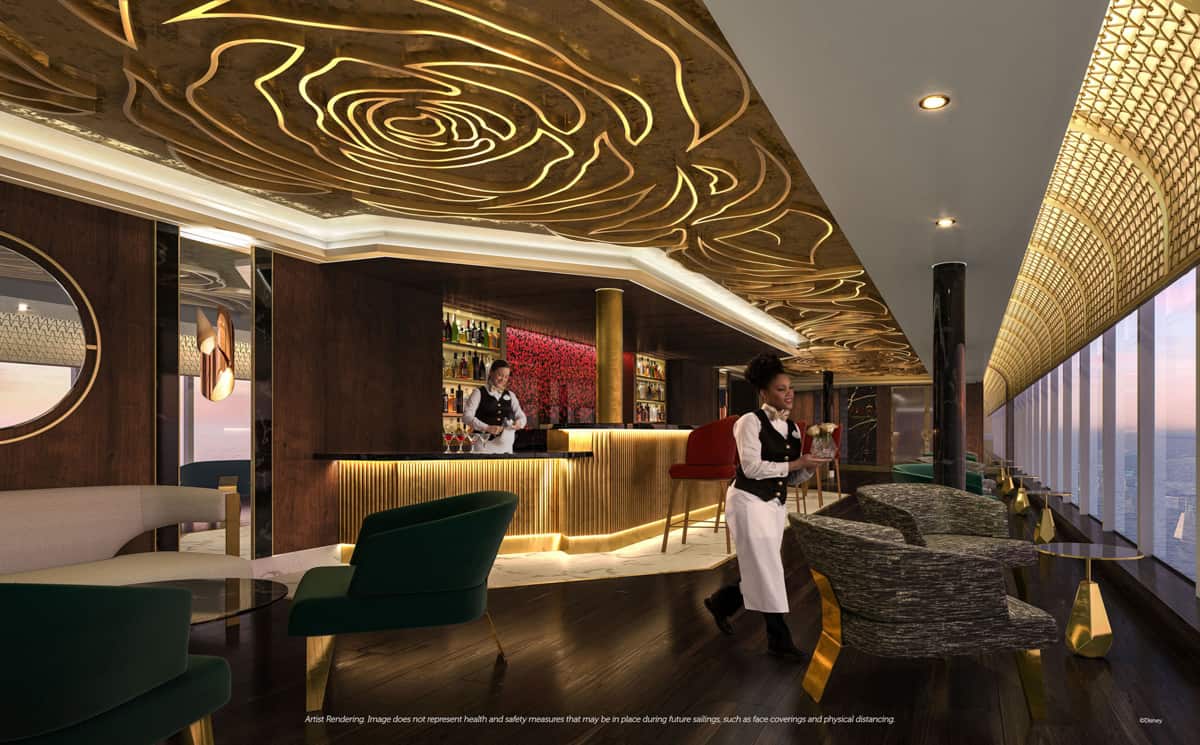 More adult-only spaces
Of these new themed experiences, I am most excited to try the Hyperspace Lounge. Clearly this will drum up excitement for the forthcoming Star Wars resort to open later in 2022. This adult bar will have screens making one feel like they are on a galactic cruiser.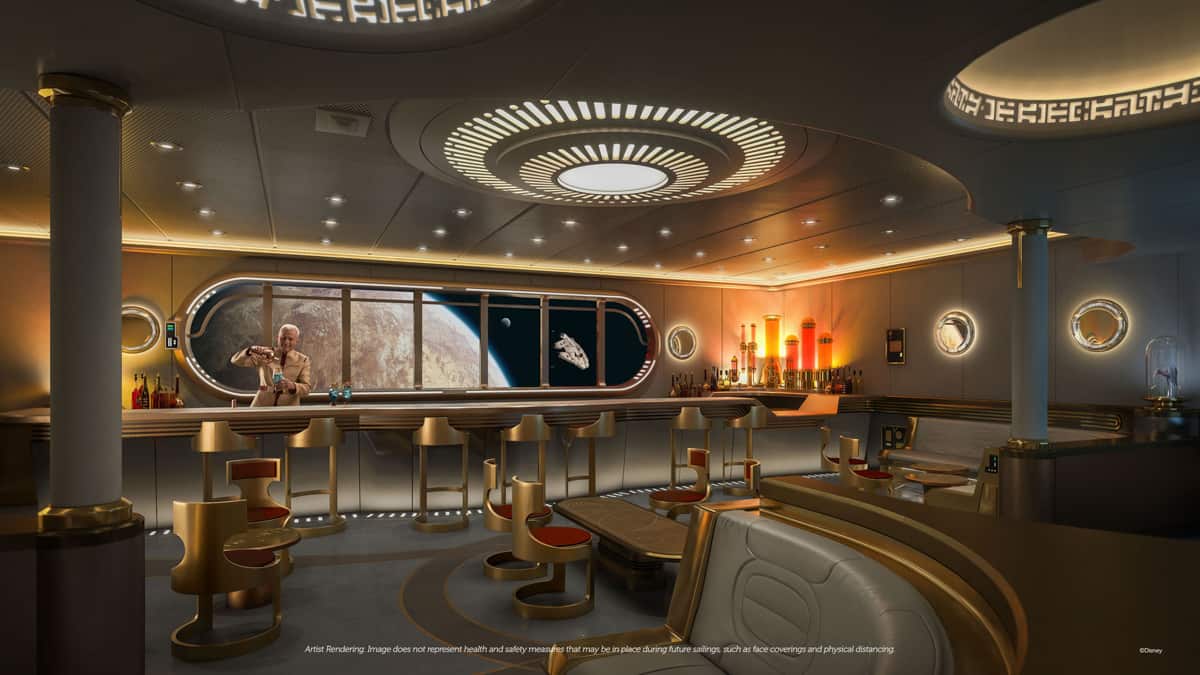 Disney Cruise Line always has exceptional adult spaces, too. The adult section on the Disney Wish takes up the entire aft of the ship with infinity pools and the bar and lounge area. And the quiet Cove Café will be Moana themed for specialty coffees and teas. Its where I always head after watching the sunrise with the others who repeat this ritual.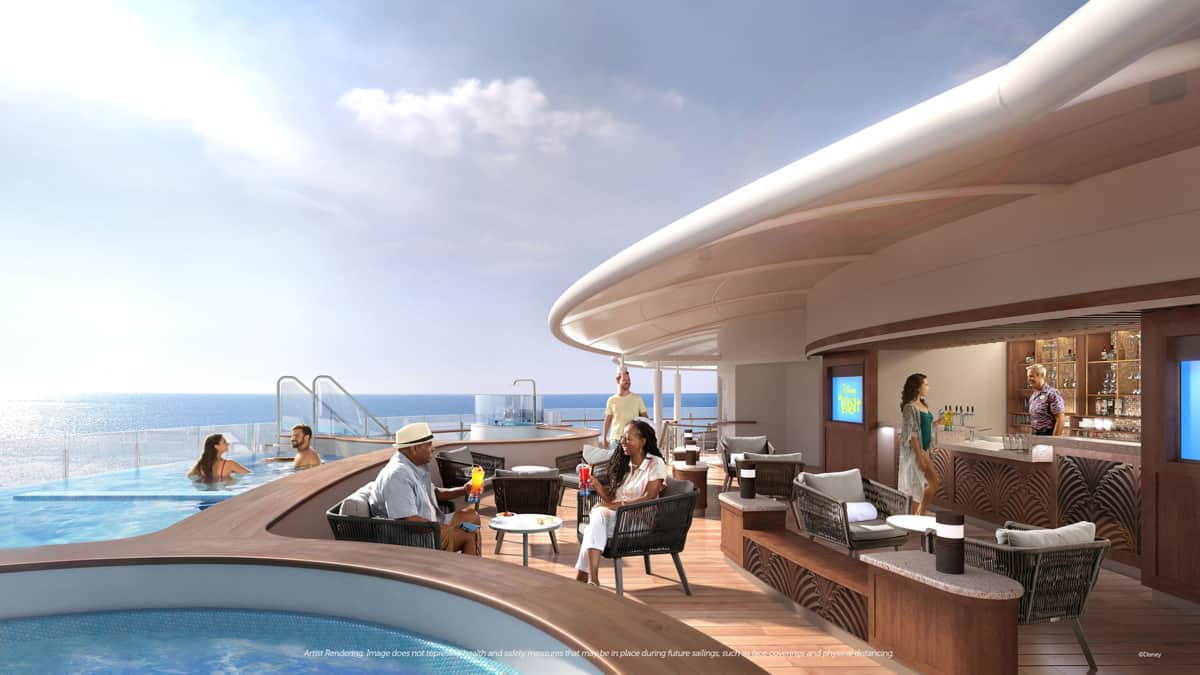 Disney Wish Itineraries
Its maiden voyage will be June 9, 2022 from Port Canaveral on a five-day cruise with two days at sea, a stop in Nassau, and a stop at Castaway Cay. Regular sailings will begin June 17, 2022, and itineraries are currently public through September for three and four night-sailings from Port Canaveral to Nassau and Castaway Cay. This similar routing mimics what the Disney Dream sailed before its new home in Miami's port. Future Wish itineraries beyond September will available after June 22, 2021. Get started by completing the form at the bottom of this page!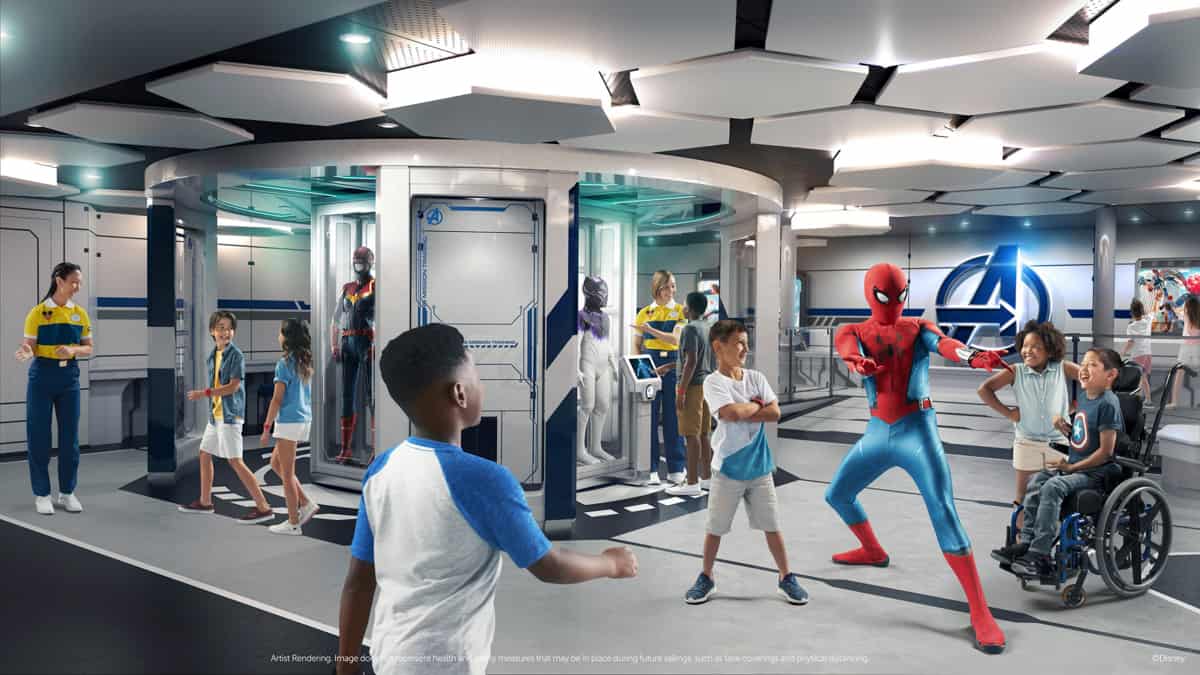 How to Book The Disney Wish
Disney is rolling out all Disney Wish bookings in a tiered system instead of one crazy day. They give priority to those who have been most frequent cruisers with Disney, the elite members of the Castaway Club.
Bookings for the inaugural season of the Wish begin Monday, May 17, 2021. Only Platinum Castaway Club members with 25 sailings or Golden Oak Residents can book that day.
On Monday, May 24 the Gold Castaway Club members who have completed five sailings can book. And on Wednesday, May 26th, the Silver Castaway Club members (who have done between one and four sailings) can book.

Disney Vacation Club members and Adventures by Disney Adventure Insiders have an opportunity for their travel advisors to book them by phone on Tuesday, May 25.
Booking the Disney Wish Maiden Voyage
Interested in the maiden voyage on June 9th? I'm sure it will be amazing, but it carries many exclusive terms that do not apply to other bookings. A 20% nonrefundable deposit is due on your booking date. Concierge final payments are due 150 days before departure, and non-concierge balances are due 120 days before departure. There are no date changes allowed so you must cancel fully and rebook your cruise.
Don't get stuck on hold
Have me stay on hold on your behalf. That's just one advantage of booking with an advisor. Reach out for assistance so we can help you experience the best in Disney cruising!
I can plan a flawless pre or post-cruise trip in Florida or Europe for your family for 2022. It's time to have a really big vacation to look forward to!
Fill this out, and I'd love to help you book your sail on the Wish! Even if you do not sail on the Disney Wish concierge level, I am determined to make your cruise vacation an elevated experienced.