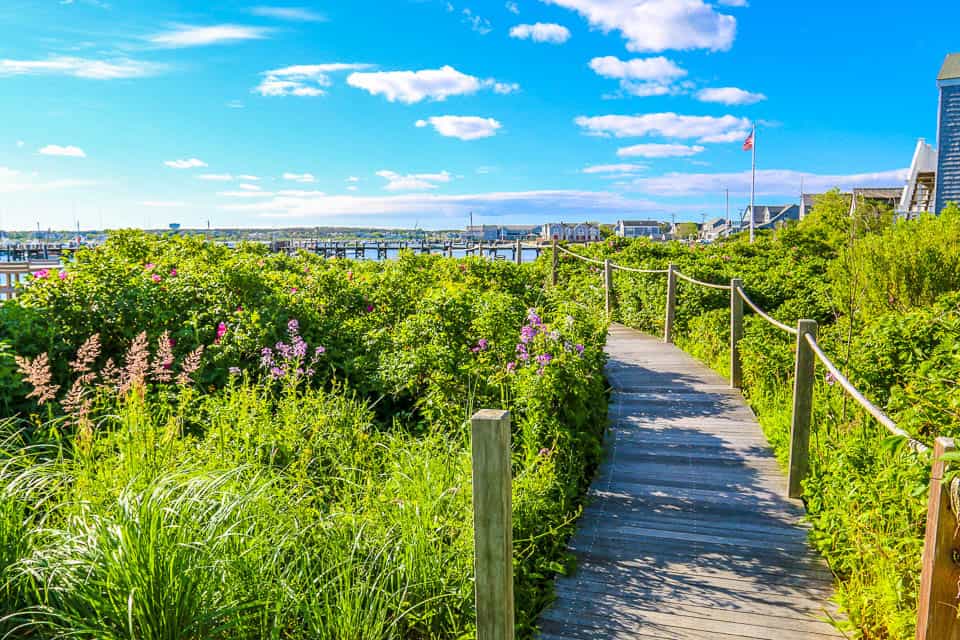 The One and Only Nantucket
Nantucket, the wild, historic island 30 miles off the coast of Cape Cod in Massachusetts, makes for the perfect, upscale family escape, especially for those who appreciate nature and history. It's small enough to bike, walk or uber around. It's full of miles of easy-going hiking and biking paths, the quaint town is full of ice cream shops and historic charm, and the many beaches that ring the island offer everything from surfing to a wave-free childrens' beach.
The altruistic islanders and second and third home set have helped to support many fascinating cultural activities (there are several excellent theater groups, art galleries and indie bookstores) that give a Nantucket vacation a bit more substance than your average beachy trip. Mom and Dad will love the great boutiques, galleries and restaurants.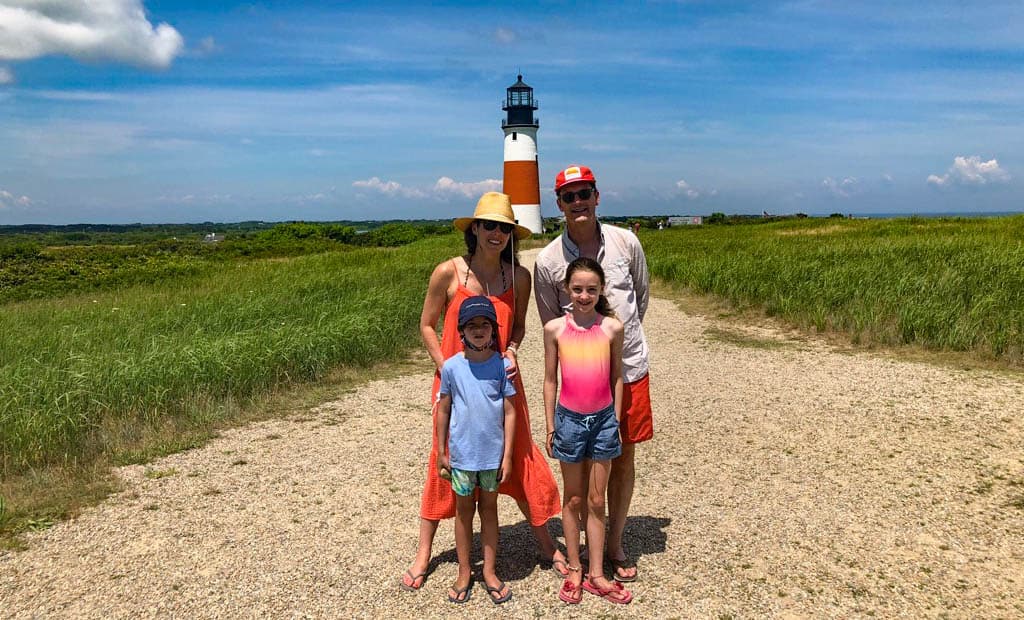 JOIN OUR LUXURY HOTELS & RESORTS FOR FAMILIES, A FACEBOOK GROUP FOR SEEKING ADVICE AND INSPIRATION FOR THE BEST LUXURY FAMILY BREAKS.
Kids will dig the lighthouses, dramatic beach paths and learn about some of the cool nautical history, like shipwrecks and whaling, driven home by the sheer awe of seeing the 46-foot sperm whale skeleton suspended overhead at the Nantucket Whaling Museum.
Nantucket: Classic American Style
I spent the last five years immersed in Nantucket and its culture for my recent book, NANTUCKET: Classic American style 30 miles out to sea, many times traveling with my husband and two elementary-school-age kids to visit the island. Unlike me, my kids have been lucky to have this magical island become a part of their early experiences, and it has shaped them.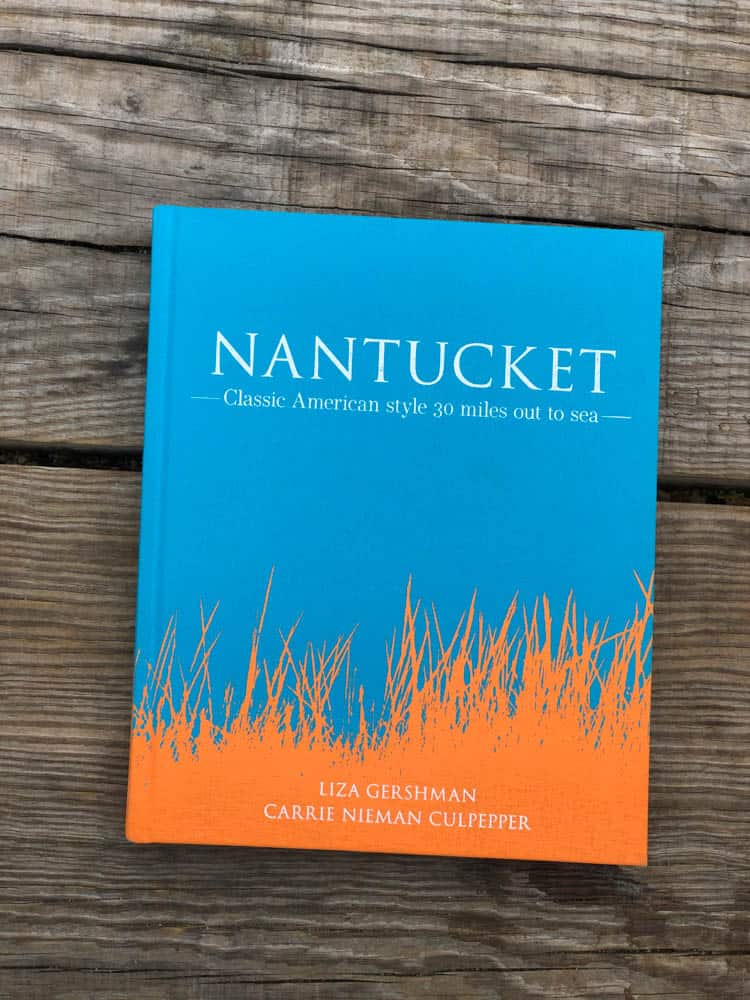 Contrary to its image, Nantucket is not simply a millionaires playground, it's a layered place filled with dreamers, risk-takers, artists, workers from all over the world, and importantly, people who work (or worked) hard to be there. It is a gift that residents work hard to hold on to, and vacationers treasure when they are there.
"Is this for real?," my husband exclaimed the first time he arrived by ferry into Straight Wharf, and each visit we all still feel that sense of awe at this jewelbox out to sea.
This tight-knit community of achievers, dreamers, and rebels has created an enviable lifestyle and aesthetic that's an amalgamation of the people, historic grey-shingle homes, and the 14-mile-long island itself, its wind, sea, and wild landscape.
Nantucket has shaped its people, and they've developed a unique life 30 miles out to sea. The look, feel, and culture that define what's classic about American style in many ways began here, and Nantucket continues to push boundaries because of influences drawn from around the world, innovative thinking, hard work, and a shared love for the beautiful life one can have here.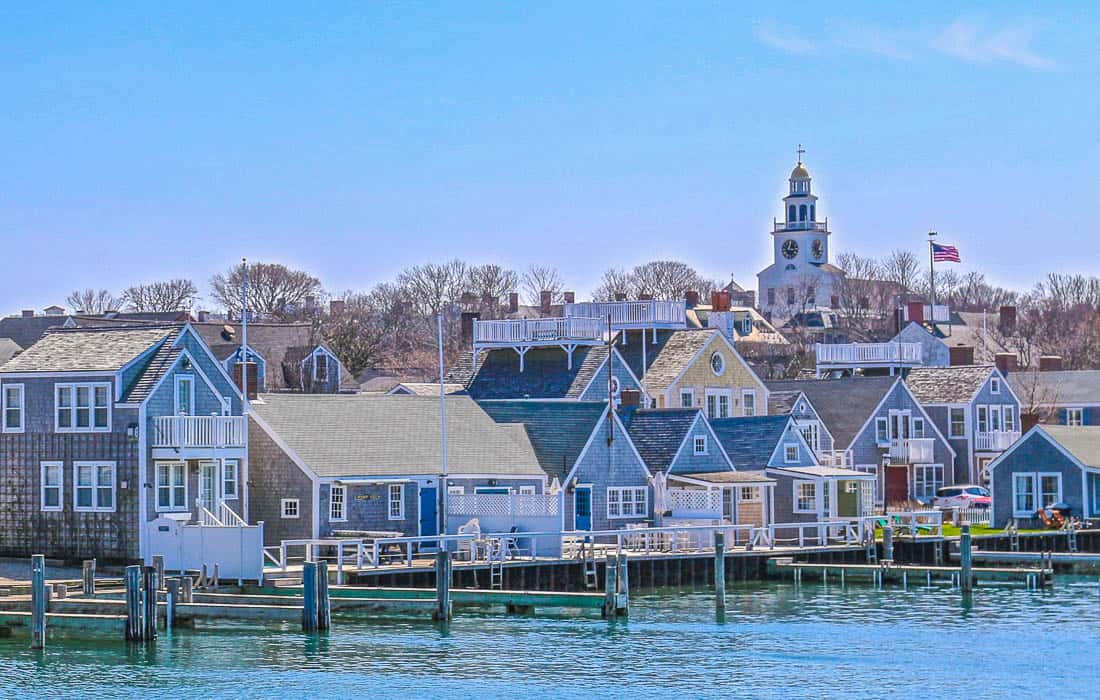 How to get to Nantucket
Nantucket means "faraway island" in the language of the Wampanoag tribe who first inhabited the land, and yes, it's not always easy to get here. Throughout its last 400 years, the boomerang-shaped island, floating 30-miles off the East Coast, has always required a healthy dose of determination, perseverance, and means, either financial or cunning, to step onto its shores. Even today it's undeniably an effort to arrive, requiring boat or plane from the mainland, and often a long-haul journey in the car before that.
The fastest ferry is still an hour from mainland Massachusetts, and flights from Hyannis (when they aren't grounded by fog) are a bumpy twenty-minute ride. But it is worth the effort to get here and settle into the scene: plentiful beaches, hundreds of species of birds, the sunsets of paintings, and a community of smart, charismatic, creative people all contribute to the magic. And that aura of intention and love for the island shows.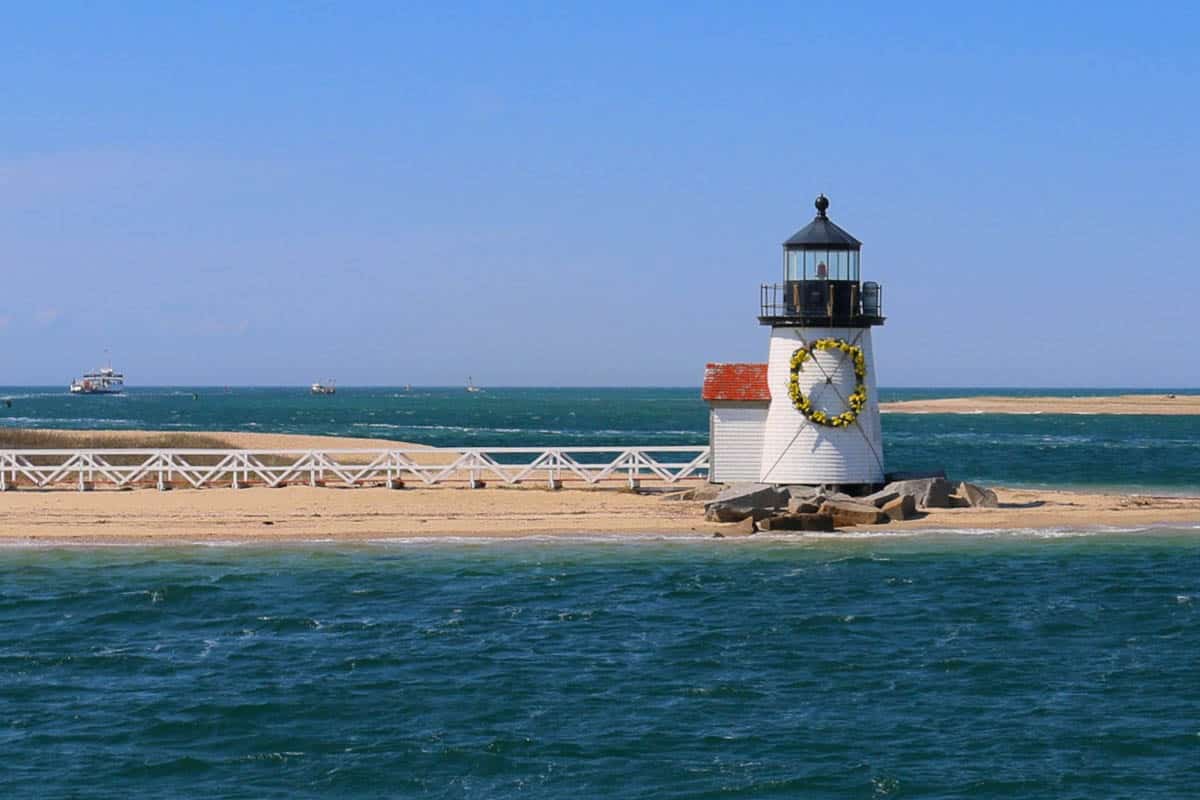 The Nantucket Ferry and Air Options
The fast ferry from Hyannis takes approximately an hour.
Hy-Line Cruises offers the "fast" ferry. Steamship Authority is the traditional, two-hour ferry, which longtime Nantucketers swear by. Be prepared for many dogs.
Duration of flights from key mainland cities for Boston is 30 minutes; New York City is an 1.5 hours; and Washington, D.C., 3 hours.
How to Get Around Nantucket
The island is enjoyable for those who wish to explore on foot, but there are several car and Jeep rental facilities dotted about the island, and bike or scooter rental options.
Ubers are available but somewhat scarce, and car rentals are a luxury, and unnecessary unless you're staying further from town in Madaket, for example.
Rent bikes in town. Try 90-year-old institution Young's Bicycle Shop, which will deliver them to your hotel.
The Wave bus is an efficient and easy way to get to some of the beaches, or out to Sconset.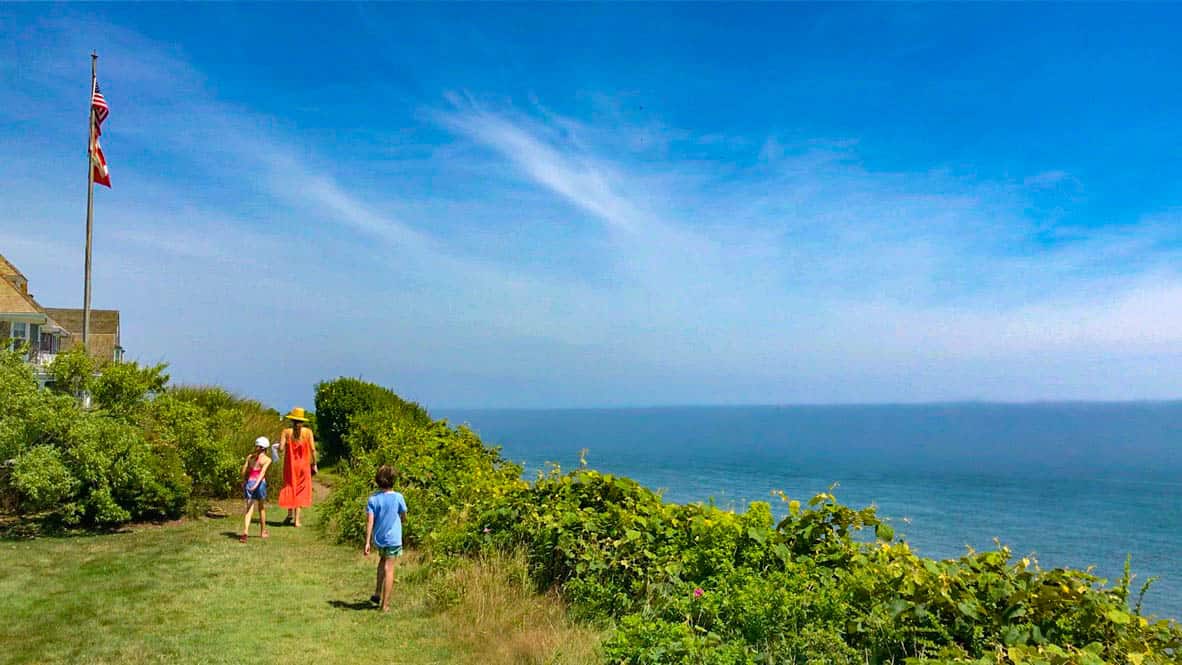 Exploring Nantucket With Kids
Nantucket has one main walkable town with shops and restaurants spread across a grid of blocks leading to the harbor. Visit the excellent Nantucket Whaling Museum, grab an ice cream at The Juice Bar, browse the boutiques and bookstores.
Most families spend some time at the beach and some time in town. Jetties is a great beach for visitors, easily accessible by The Wave shuttle and not far from town. One finds mild waves and a great restaurant, Sandbar Jetties Beach.
From town you can explore the many streets of historic homes with white wooden fences and overflowing window boxes, and will likely stumble on a few public gardens and paths maintained by the Nantucket Land Bank, one of the many organizations working to preserve public space on the island.
Closer to town, many families enjoy hiking Tupancy Links, or simply walking up Cliff Road past the historic sea captain's homes down the dramatic approach through the Rosa Rugosa patches to Steps Beach.
If you get an overcast day, catch the complimentary shuttle bus to Cisco Brewery for a fun, family friendly scene of live music, food trucks from local restaurants, and beer, wine and liquor produced on site. The frozé (frozen rosé wine) is a summer favorite for the parents.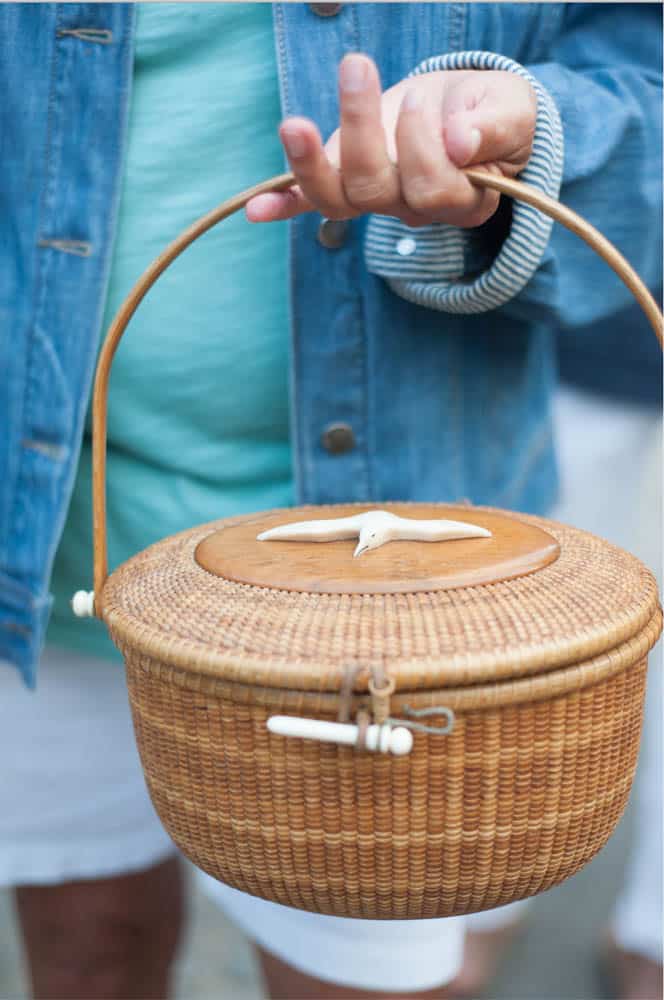 Sites Around The Island
Nearly three-quarters of the island has been preserved by groups like that and The Nantucket Conservation Foundation, whose website includes trail maps for hiking the variety of wild places around the island, from small gardens in town to large swaths of forest, swamps, bogs and pasture further out from town. It's fun to find a path and see where it takes you.
Bike the seven miles out Milestone Road to 'Sconset, a small community with meticulously maintained, rose-covered beach cottages. Once you've reached 'Sconset, grab a sandwich from Claudette's and ice cream from the Sconset Market. Then walk the few streets to take in the cottages, then head down to the beach or hike the Bluff Walk, which leads through a series of to-die-for properties along the path with dramatic views over the bluff. Another fun option is to bike (or older kids can walk the 2 miles) to the Sankaty Head Light, one of Nantucket's three lighthouses.
Things to Do in Nantucket WIth Kids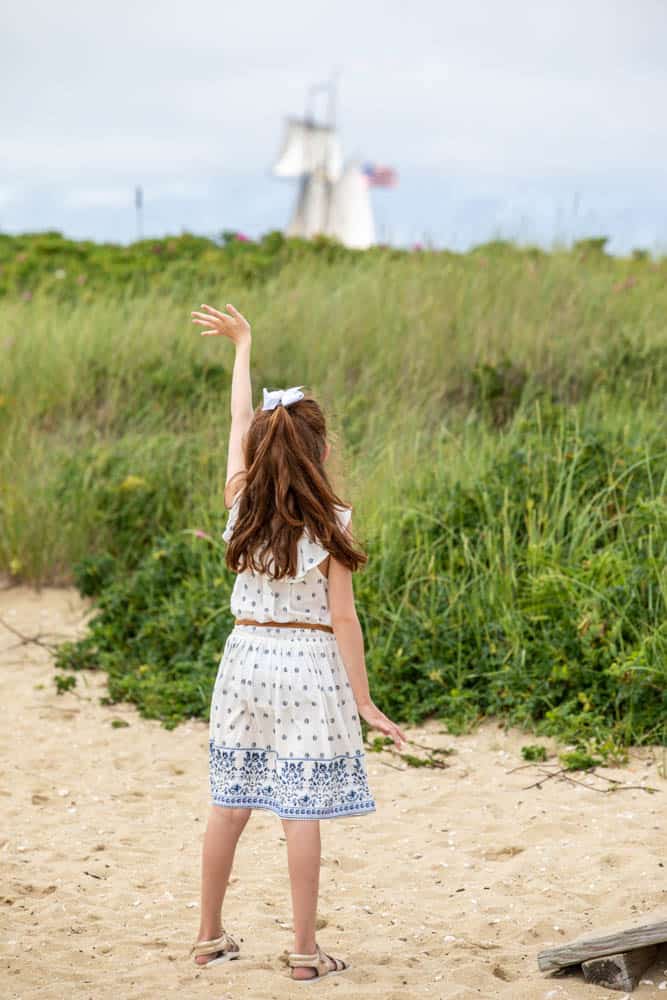 ---
Best Nantucket Hotels With Kids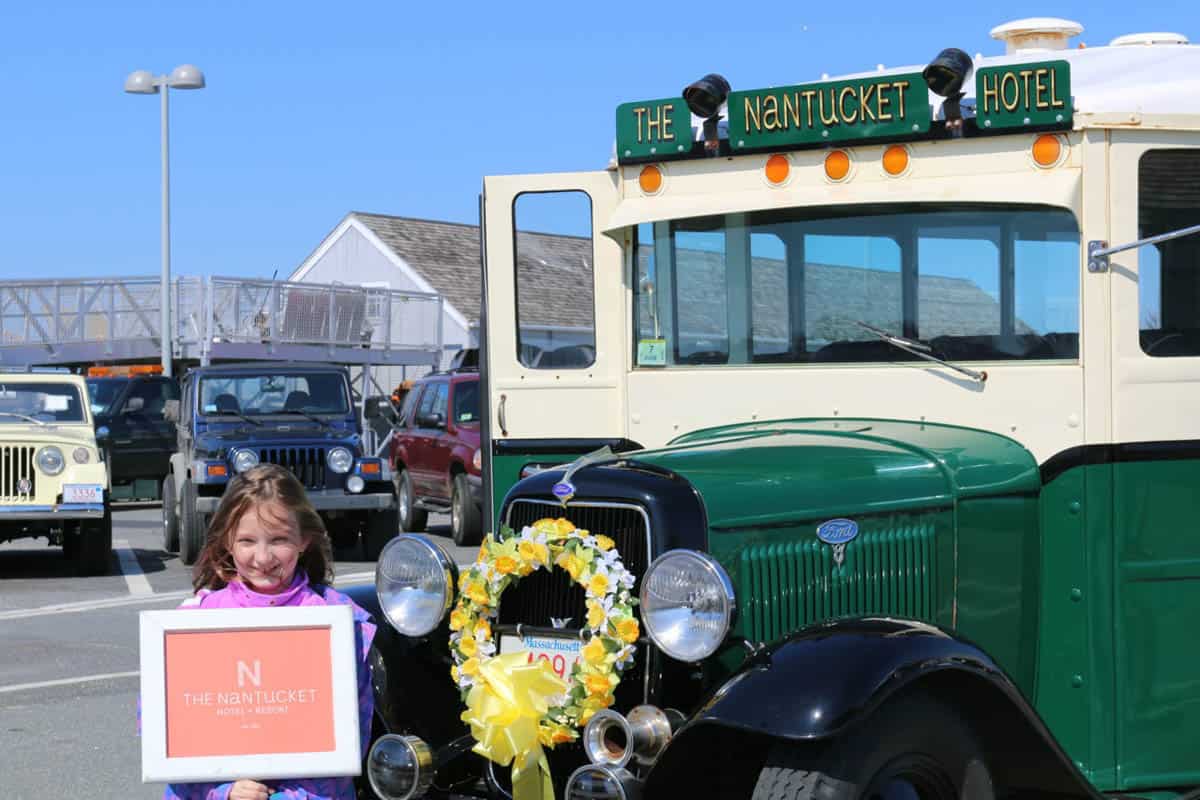 Large, classic family-friendly historic hotel lovingly brought back to life with fun details like a moving sculpture in the lobby that kids can operate at the push of a button, antique fire truck rides, and s'mores on the patio. The pool and kids' club make this a particular winner for families looking for top-notch amenities. The high-end rooms, fitness center, cocktails on the elegant porch will please Mom and Dad. Open year round but don't miss the summertime Clambake at the restaurant with all its New England bounty and charm. Read our full review!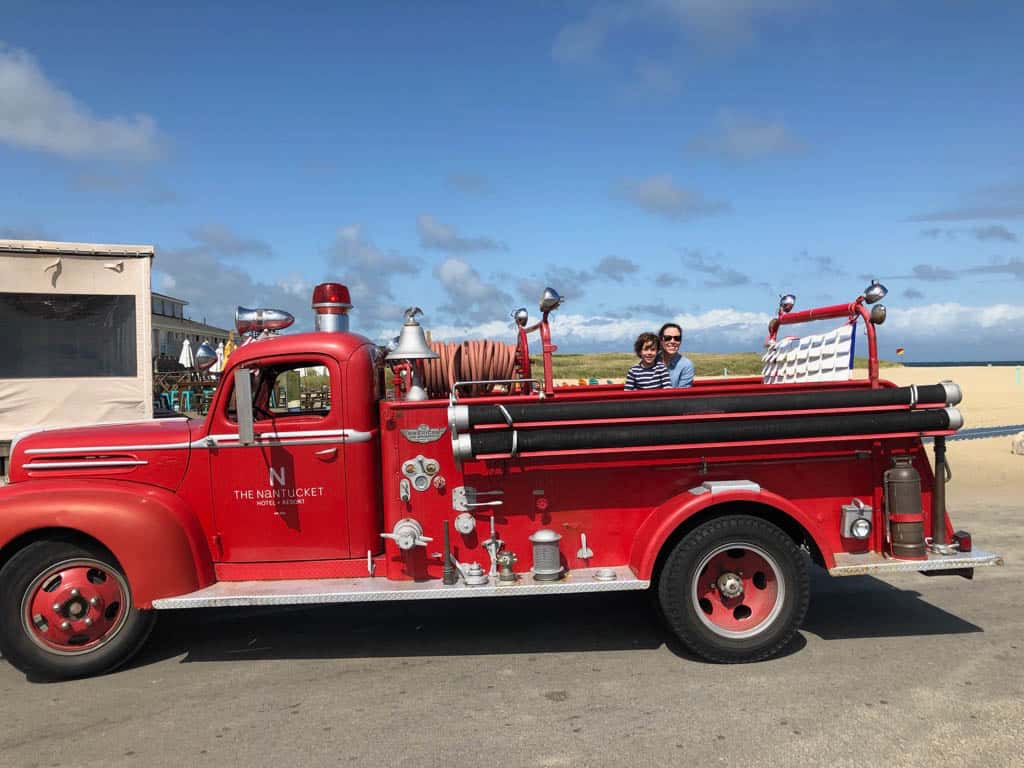 Modern boutique hotel in a historic clapboard house set right in town with loaner coolers and beach chairs. Most of the rooms will be too small for families. The two-bedroom suite with living room is perfect, and has its own entrance off the courtyard. There is no kitchen, but the many great coffee shops and restaurants of Nantucket Town are steps away.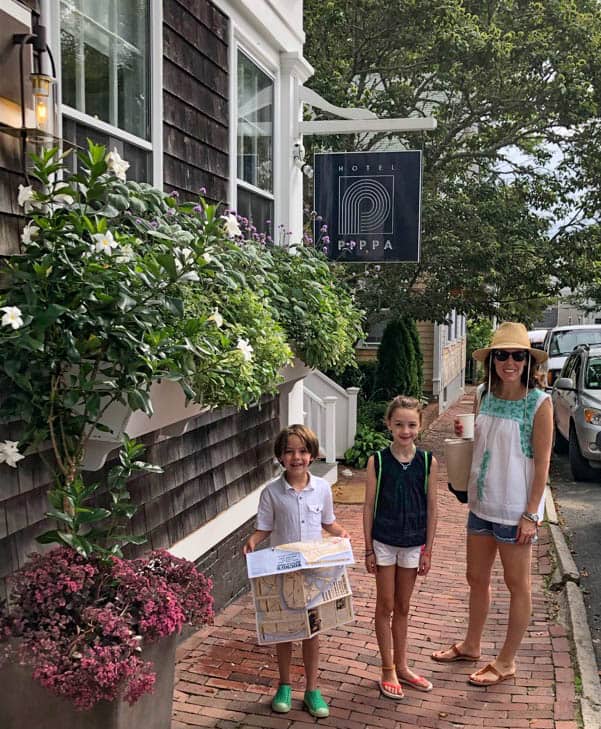 The Nantucket Resort Collection runs three inns set in 17th-century buildings in town, with modern beachy decor, and each including continental breakfast. Veranda House is a shingle Victorian with gingerbread trim and gracious double-decker porches off the back overlooking a garden with Adirondack chairs, lawn games and firepit, which makes it nice for family play or after dinner drinks. Beach chairs, towels and totes are provided, and a concierge service is available. Many guest rooms offer personal verandas and some feature Nantucket harbor views. The suites feature sitting areas and pull-out sofas to accommodate the whole family.
Popular with families and couples, this large complex of grey-shingled buildings clustered near Brant Point Lighthouse has a variety of hotel rooms and home rentals on the harbor, as well as lofts in town nearby. Known for the lovely brunch overlooking the harbor, the hotel also has a family-friendly harbor beach in front of the property and some grassy areas for kids to play. The main hotel is also adjacent to the small Children's Beach with its playground next to the harbor, ideal for families with younger kids because of its lack of waves and parade of ferries passing by. One of the largest accommodations on island.
Beachfront Nantucket Hotel Option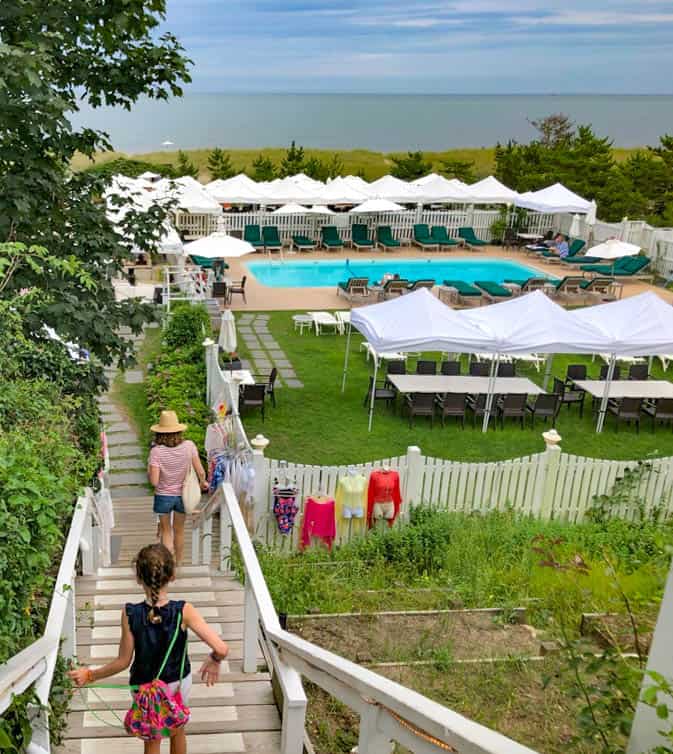 A dream of an inn dating back to the 1880s, comprising charming shabby chic cottages gathered on a bluff across from the pool, café, and beachfront in 'Sconset, the charming, rose-covered cottage-filled village on the east end of the island. The inn's European-style laidback service may not be for everyone, and the setting is better for older children as the cottages are decorated with antiques and the stairs down to the pool and beach are a steep climb, but it is dripping with charm and a throwback to the more bohemian days before the private-jet set arrived. The poolside restaurant is made for leisurely lunches and the inn's romantic indoor restaurant has a legendary pianist who takes requests into the night. The owners also run three inns in town whose guests have access to the Summer House pool and beachfront via a shuttle service.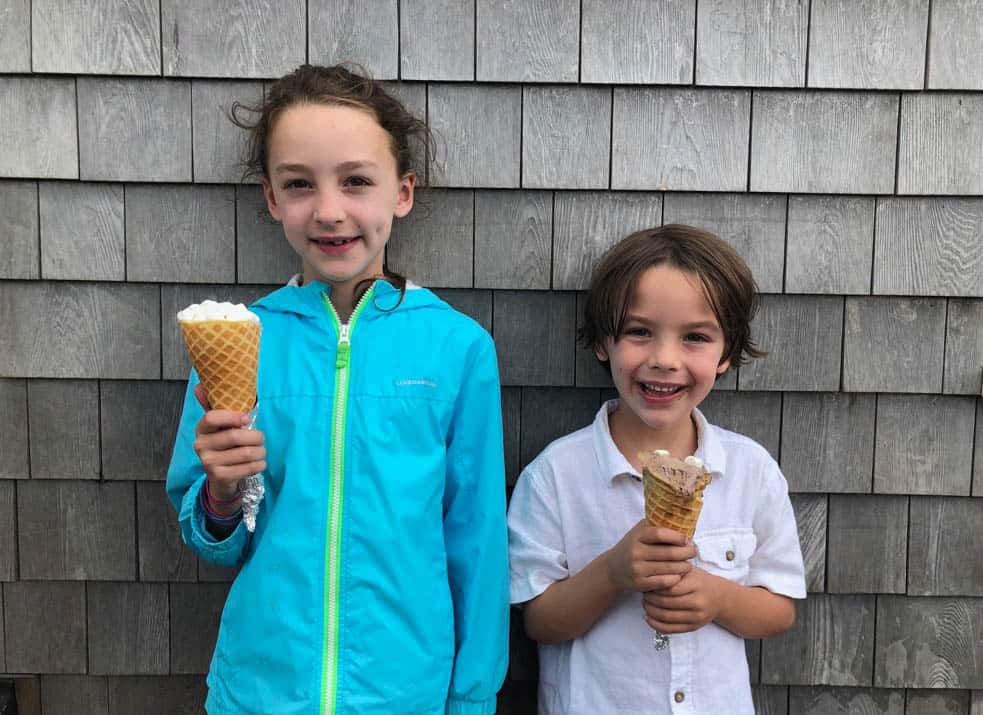 Best Restaurants In Nantucket For Families
Bartlett's Farm Gourmet market with prepared foods and fresh fruit, veggies, and flowers from the 120-acre farm, an island institution run by the Bartletts for seven generations.
Black-Eyed Susan's Wildly popular brunch and BYOB dinner in a cozy tavern setting on a side street in town. A local favorite. Cash only.
Boarding House Thirty-year institution in the center of town with an enviable patio; the menu is inspired by both local ingredients and the owners' international travels. Award-winning wine list.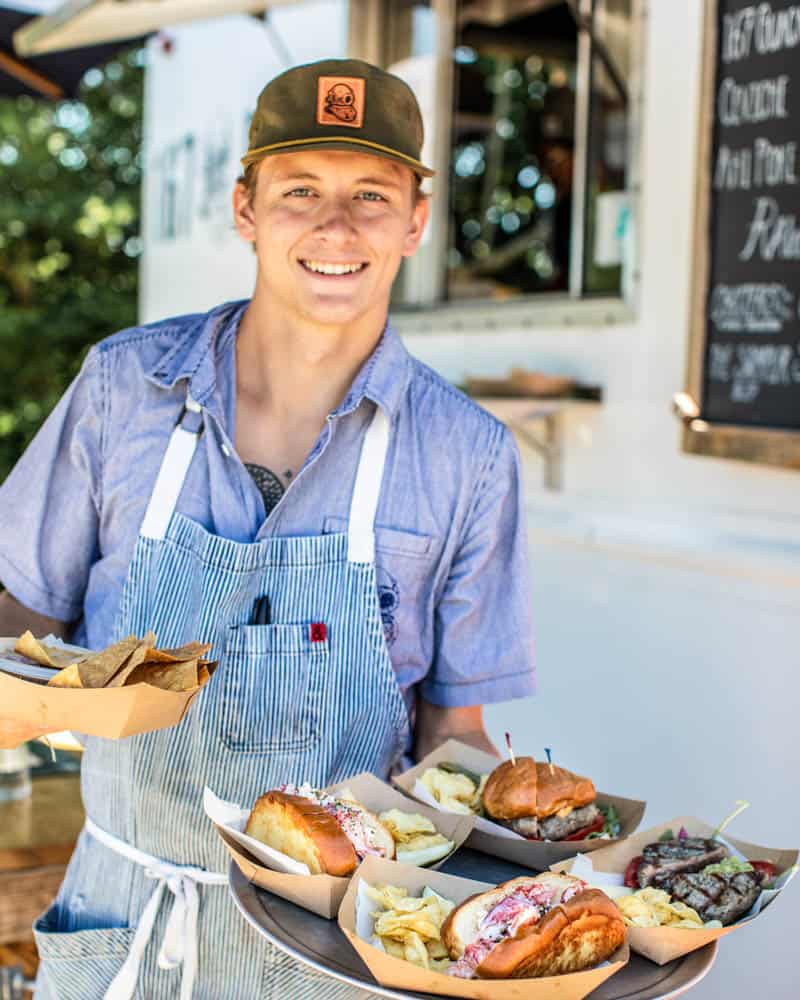 Lemon Press Healthy breakfast and lunch. A popular spot for sushi and cocktails.
Lola Burger Family-friendly spot outside of town for gourmet burgers.
Millie's Mexican fare out in Madaket. Family-friendly and a classic spot for island fun and sunsets.
The Nantucket Lobster Trap Strap on your lobster bib at this casual, family-friendly lobster and raw bar restaurant staple since the 1970s. Try the rum punch and sit on the covered patio.
The Pharmacy (center of Main Street) Throwback pharmacy with a lunch counter serving hot dogs and other simple sandwiches. Try the black-and-white milkshake.
Provisions Gourmet sandwiches and Nantucket Nectar juices to go, right off the wharf. Try the Turkey Terrific. Cash only.
Sandbar at Jetties Kid-friendly and fun. One of the few casual restaurants on the beach with tables on the deck and in the sand. Live music every afternoon.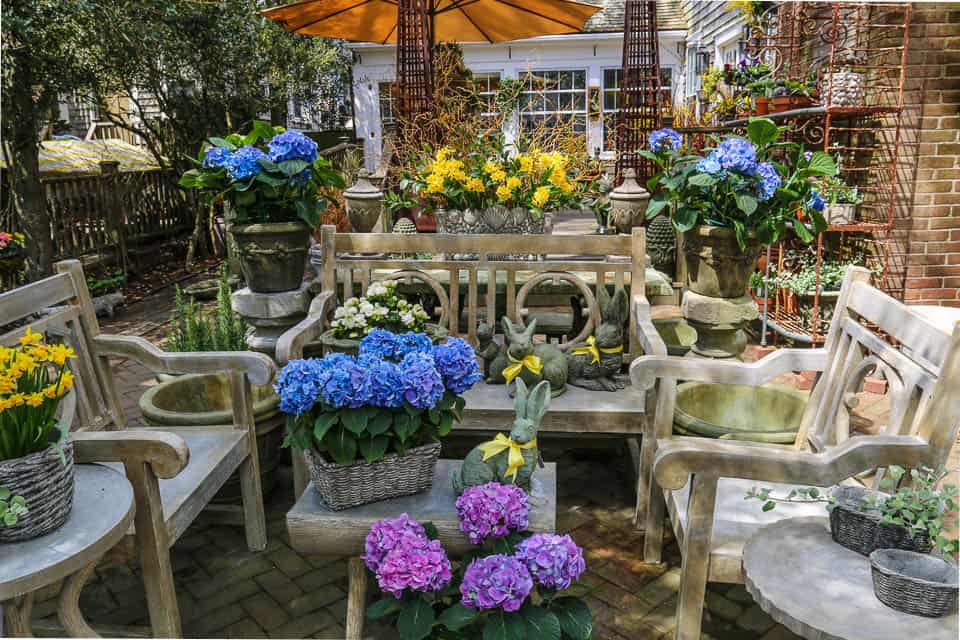 Sconset Market Convenience store with some prepared foods and ice cream. Get there in the morning for a just-baked scone.
Something Natural Sandwich shop known for its homemade Portuguese-style bread, juices and picnic tables in a parklike setting. Kids love playing in the boat perched on the lawn.
Where to Shop in Nantucket
Atlantic (16 Federal St, Nantucket) Clothing, jewelry, and housewares sourced from small designers around the world.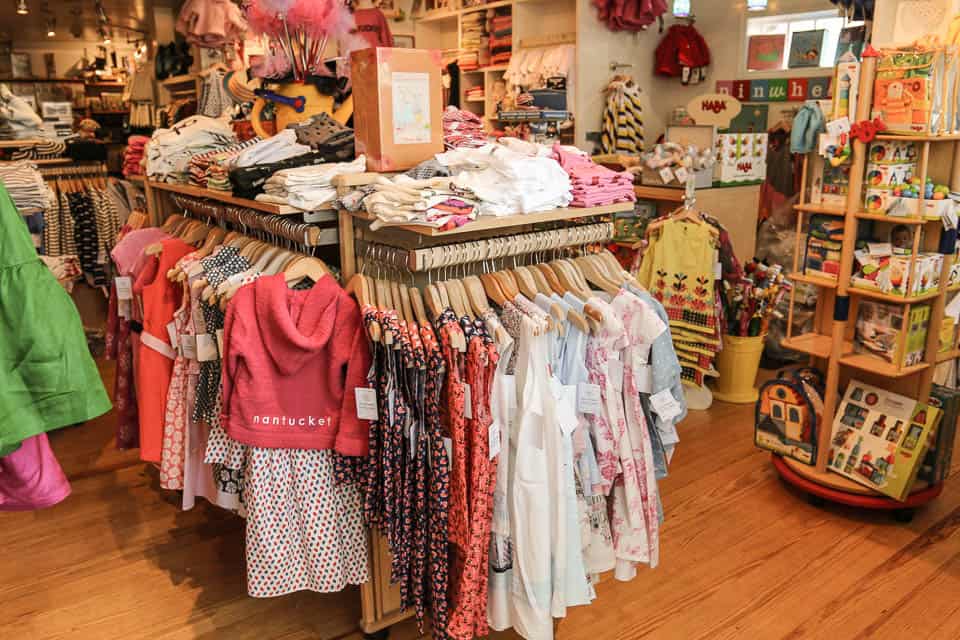 Pinwheels Clothing and toy store with contemporary brands popular at high end children's boutiques.
Bodega Rare and refined but eclectic collectables and homewares, stationery, bedding, and accessories.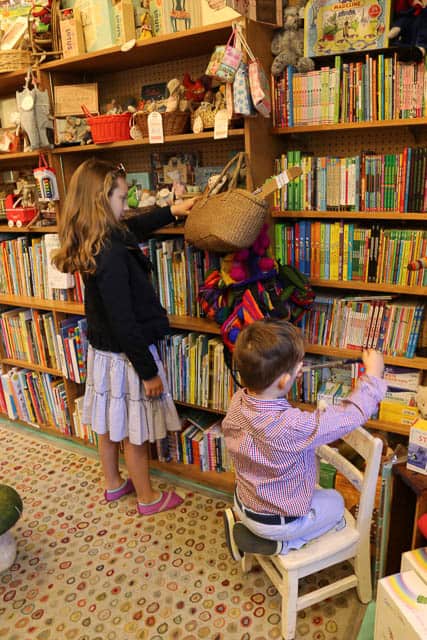 CJ Laing Boho-chic sundresses, jewelry, and cashmere sweaters at this colorful shop with locations in town and 'Sconset.
Nantucket Bookworks A welcoming bookshop with gifts and a kids' corner with events.
Mitchell's Book Corner Beloved Main Street book shop with large section of books about the island and a kids section.
Erica Wilson Founded by America's mother of needlepoint, now run by her daughter. Elevated boho chic women's and kids' clothing and accessories.
Jeanne Van Etten Nantucket artist's whimsical shop is filled with her mermaid inspired crafts and drawings.
Murray's Toggery Shop Iconic department store filled with classic preppy labels for the whole family. Murray's even has a makeup counter downstairs, and a shoe department too. Famous for inventing "Nantucket Red" chinos.
Nantucket Looms The most classic Nantucket shop, the Looms is famous around the world. Known for its fine home goods and hand-woven blankets, and a working loom.
The Sunken Ship An island favorite, this catchall has everything you need (and might have forgotten to pack). Grab a raincoat, hat, or even a toy.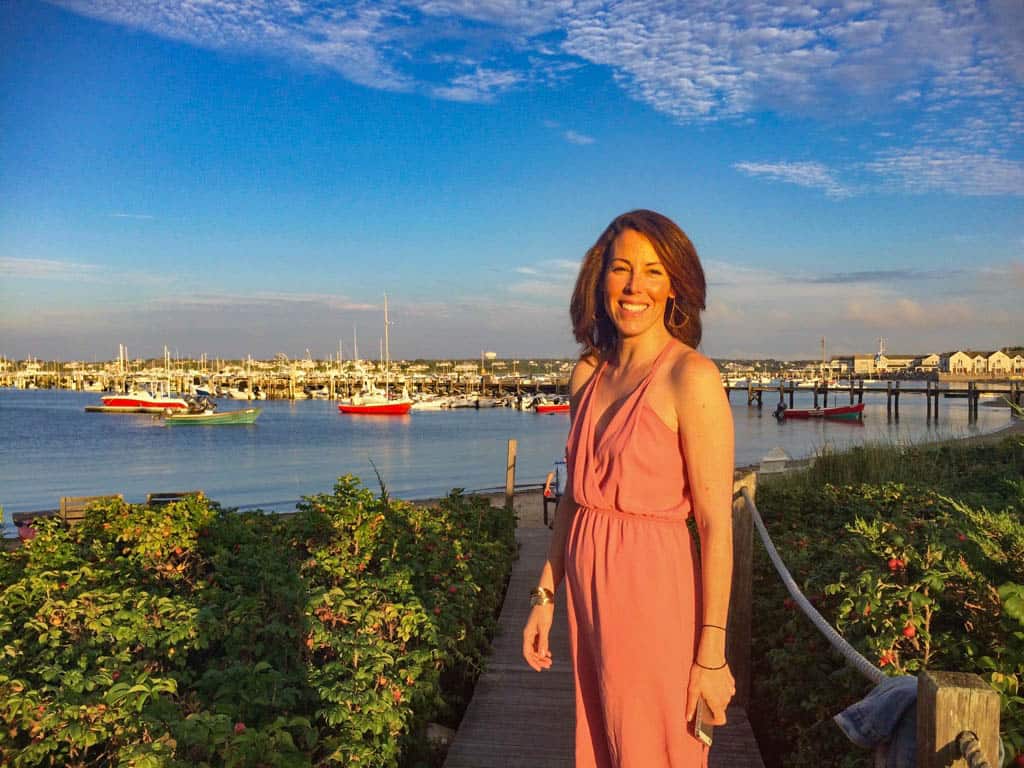 Carrie Nieman Culpepper is an author of NANTUCKET: Classic American style 30 miles out to sea.
A coffee table book published by Images Publihsing Group displays an island so full of history, character, interesting people and stunning scenery that—according to Carrie— "once you meet Nantucket, it's nearly impossible not to fall madly in love."
The book is available on Amazon, Indiebound, or your favorite local bookstore.