When most people think of Ecuador travel, they think of the Galápagos Islands.
The famed blue-footed boobies, sea lions, and giant tortoises that reside on the archipelago of volcanic islands 600 miles off its coast in the Pacific Ocean. But planning a trip focused solely on the Galapagos means missing out on an authentic Ecuadorian experience, the Amazon rainforest and its colonial cities. I set out to discover the best places to visit in Ecuador for families.
The country's ancient history, friendly people, and unique wildlife offers a culturally immersive trip perfect for kids of all ages. After three years of planning and waiting, a group of sixteen friends, family and I were headed to the Galapagos islands for a 50th birthday celebration. It was a once-in-a-lifetime trip to Latin America, but I wanted my kids to also experience Ecuador.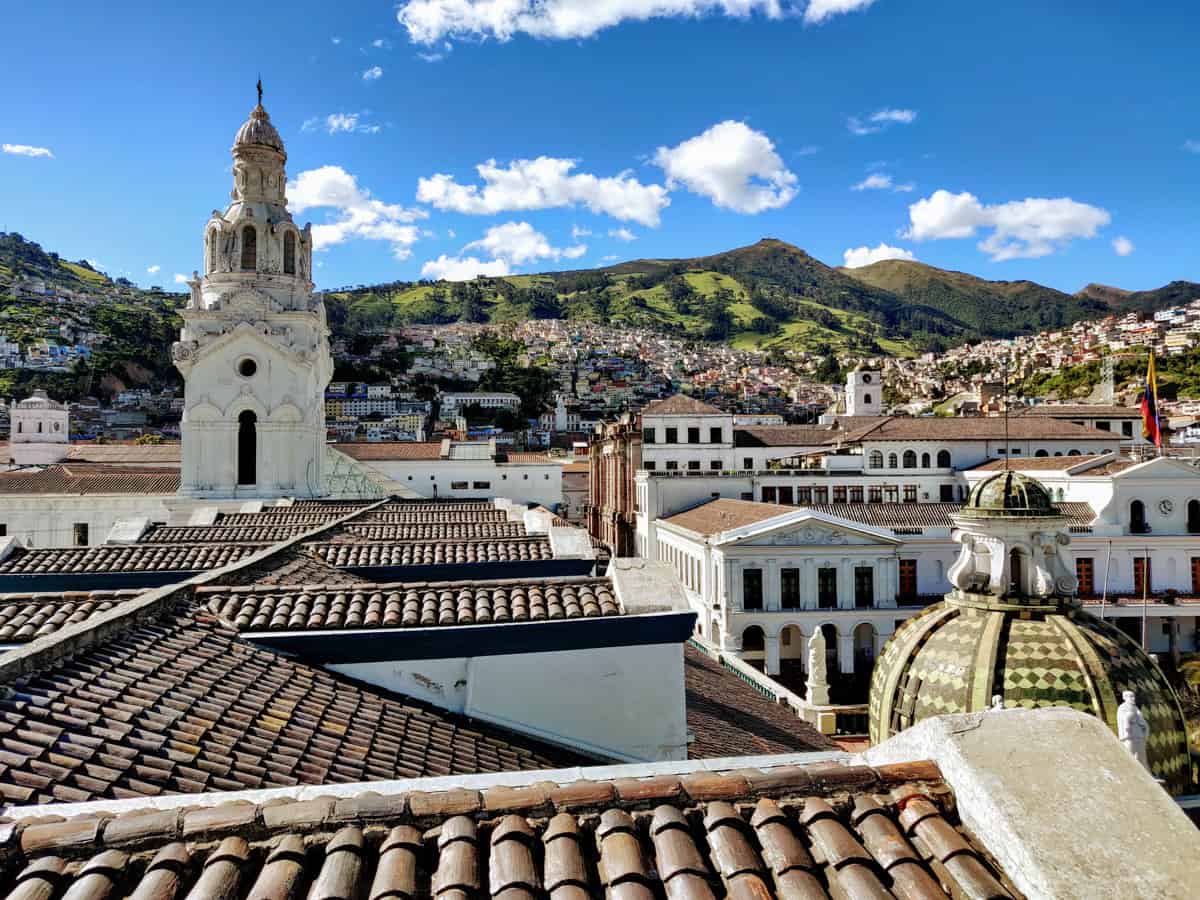 I decided to head down early with my two tweens to discover mainland Ecuador and experience everything the country has to offer culturally, historically, and geographically.
Before we ventured to the Galapagos, we spent 10 days in the cities of Quito and Otavalo, enjoying everything from waterfalls to exploring local markets in this small country on the Pacific coast.
We stayed at a historic hacienda, a five-star eco-lodge set directly in the rainforest, and a restored mansion hotel in the heart of Old Town Quito. Our time on the mainland was every bit as enriching as our time in the Galapagos and should be considered a must-do for any family traveling to the area.
Ecuador Travel Basics
Traveling to Ecuador is not as complicated as you might think. Major airlines like Delta, JetBlue, United and American offer direct flights daily from Miami, Atlanta, Ft. Lauderdale, Houston and New York.
Quito is just a four-hour flight from Miami, and a little over six hours from New York City. We flew via Miami from Boston.
Altitude Sickness in the City Among the Clouds
The capital city of Ecuador, Quito, is known as the city among the clouds with an altitude of more than 9300 feet above sea level. It is the second highest capital city in the world after La Paz, Bolivia. Acclimating to the high altitude is one of the biggest challenges of a trip to Ecuador, especially when it is your first time to experience it.
My son fell ill with altitude sickness on our second day. Fatigue, headache, and nausea set in. Our guide Raul went above and beyond to find us some coco tea and a Coca-Cola. My son felt much better. I've since learned that we can get prescription medicine for him to alleviate symptoms. We'll be traveling with this going forward.
In an effort to combat extreme altitude sickness, I'd recommend that families descend to a lower altitude as soon as they land. Experience Quito after you've had the chance to acclimatize. For some families, Otavalo, 1,000 feet lower, may be enough but as we soon found out, it was not. My son still struggled even after our descent.
JOIN OUR LUXURY HOTELS & RESORTS FOR FAMILIES,
A FACEBOOK GROUP FOR SEEKING ADVICE AND INSPIRATION
FOR THE BEST LUXURY FAMILY BREAKS.
Otavalo and Hacienda Cuisin
In Otavalo, a town famous for its markets, there are three: textiles, food, and animals.
We only had time for two markets so we chose textiles and food. I would not recommend the Otavalo market for animals for younger children. The textiles market was somewhat touristy yet sold authentic art, leather goods, and interesting trinkets. My tweens loved to browse. The food market was an education in the different presentations and types of vegetables, meat, and fruits.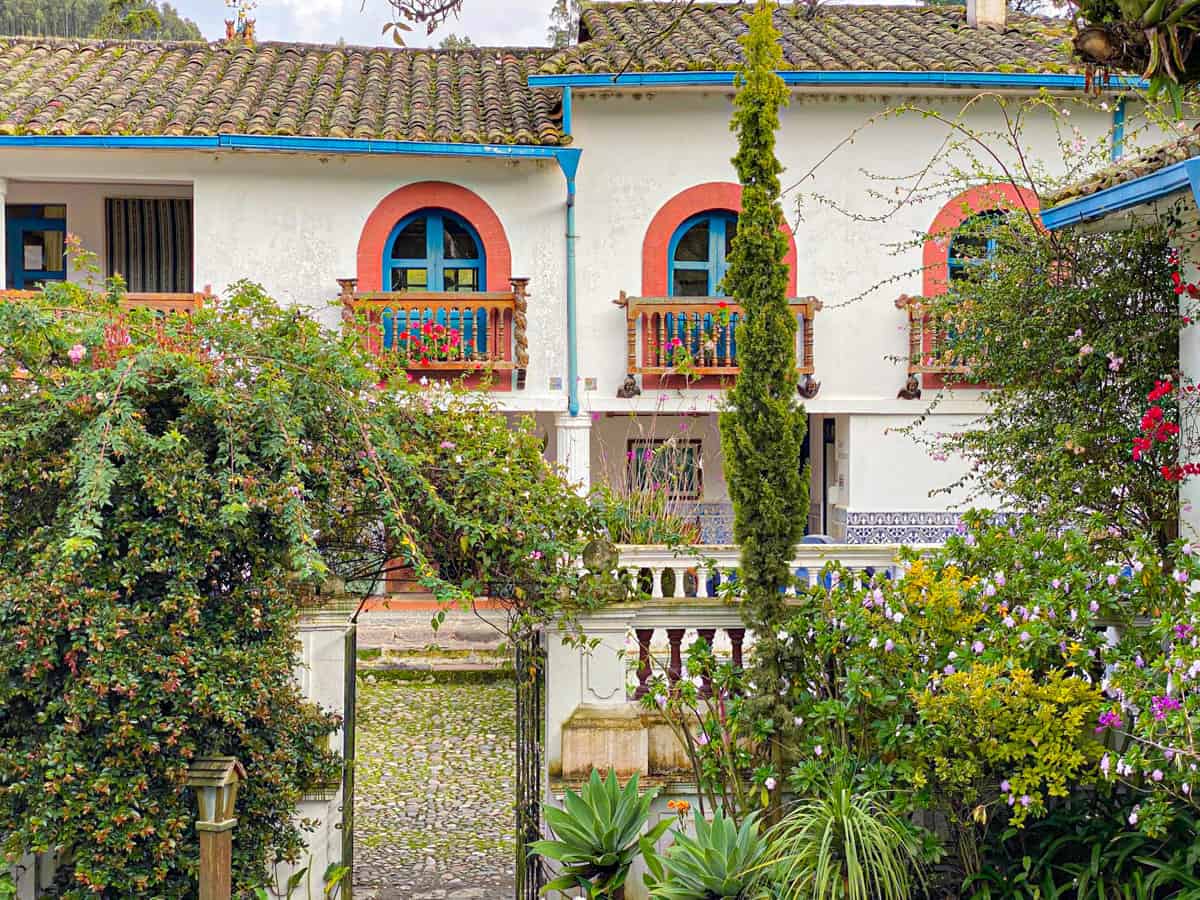 Hacienda Cuisin
For our lodging I decided against a traditional 3-star hotel in Otavalo (there are no 4- or 5-star hotels) and put a 400-year-old monastery to the test. Hacienda Cusin is twenty minutes outside of Otavalo, set among the hills of Pablo del Lago.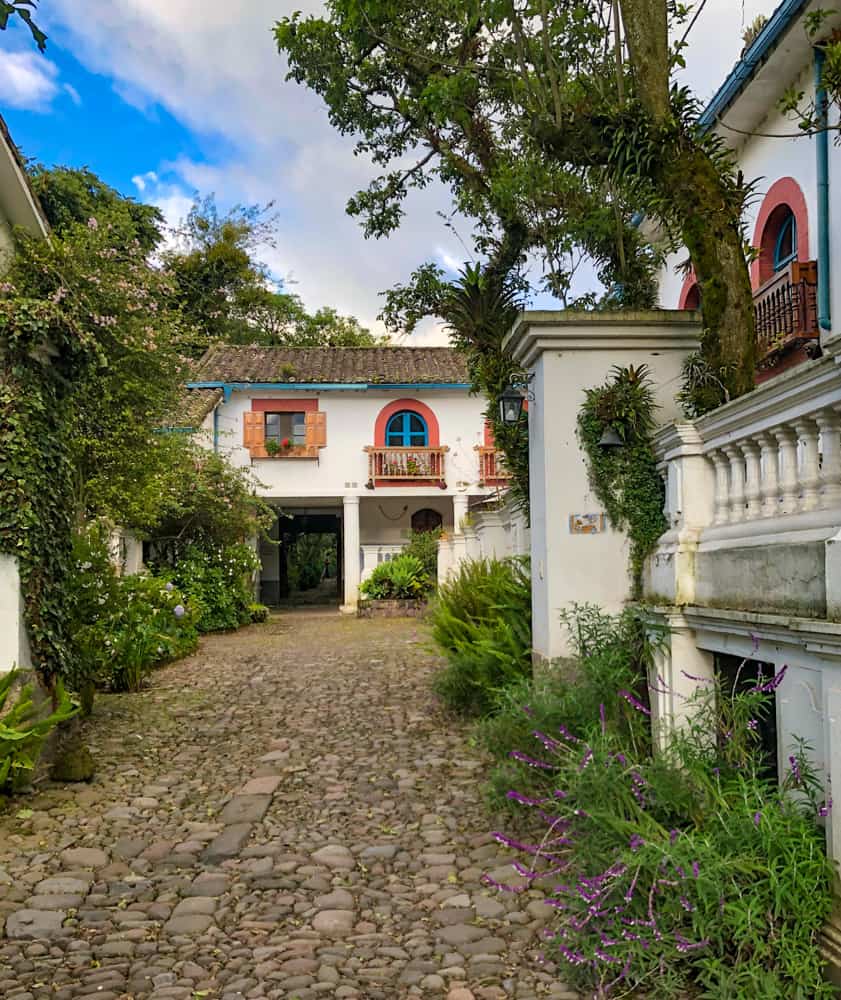 The cuisine at the hacienda is traditional Ecuadorian with a meat, fish, and vegetarian option and organic vegetables from the hacienda's gardens. Everything was fresh and delicious, and the warm, intimate atmosphere of the hacienda allowed for a more unique and immersive experience.
Amenities at the Hacienda Cusin
The hacienda has a main house and a monastery, both of which have accommodations. We stayed in a "standard" room with three single beds…perfect for a larger family with teens if parents reserved a room next door. The hacienda also has superior rooms, including the owner's personal suite, which is available upon request.
Décor at the hacienda is traditional and includes antiques, plush couches, religious relics and a comfortable common area with a roaring fireplace. Our trip took place in December, which is the rainy season, but we were prepared with waterproof shoes, jackets, and layers and appreciated the cooler temps for activities.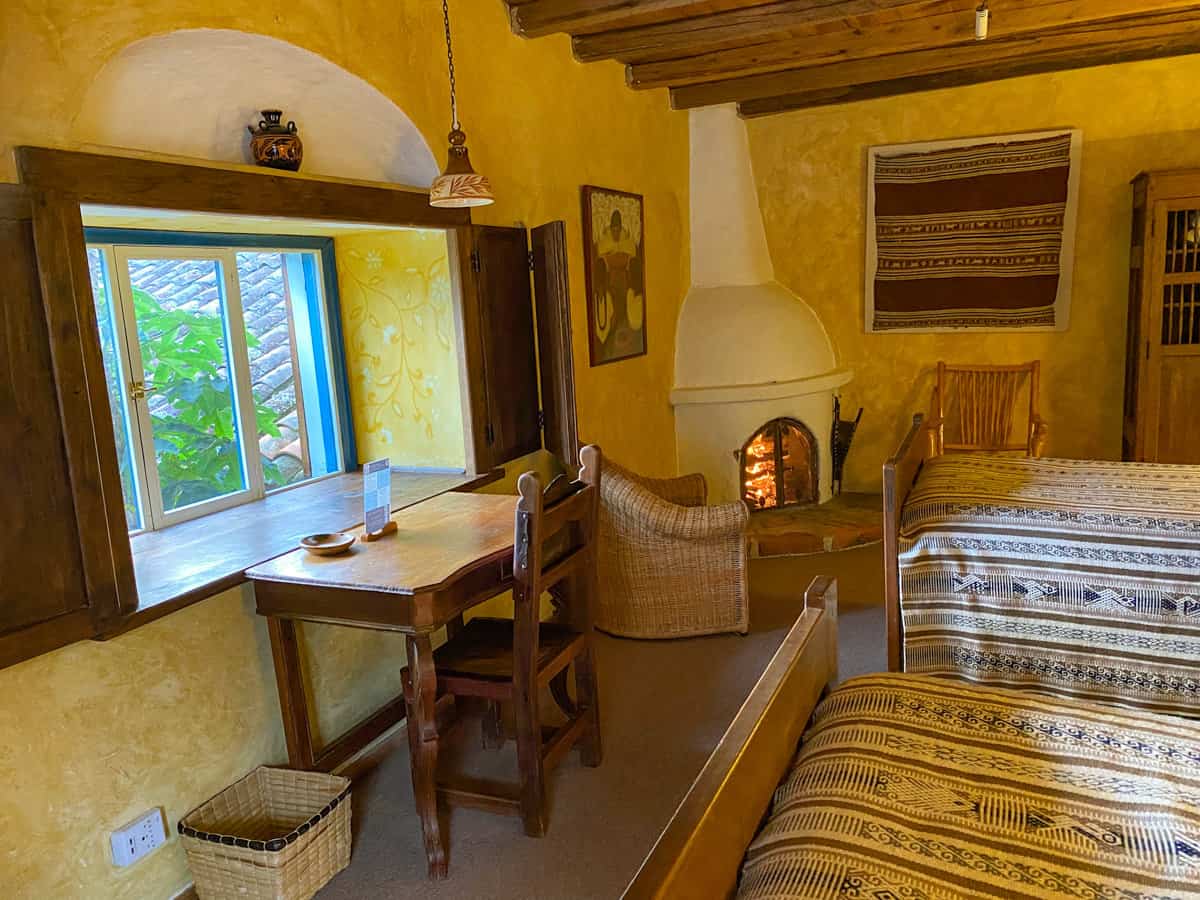 The standard rooms are typical in all aspects, from artwork and decor to plumbing and heating. Our family loved the novelty of having our fireplace lit in the evenings and hot water bottles placed in our beds, themselves very firm and comfortable with soft cotton sheets and traditional wool blankets. The cool night temperatures were not an issue, as I found myself roasting between the thick blankets and hot water bottle.
While the hacienda has its traditional quirks, these are what make the property magical. In the monastery itself is a secret door that reveals a ladder leading to a tower. And the hint for the secret door can be found in the guest review books reserved just for children.
My daughter could not conceal her excitement at finding the clue and ran to tell the British owner, himself a true character who likens himself to Basel in Faulty Towers. And the staff are wonderful, a perfect place demonstrating the truly welcoming Ecuadorian hospitality.
Exploring Otavalo
Hacienda Cuisin and its surroundings are the ideal setting for outdoor adventures and Andean exploration. We took advantage of everything the area had to offer —starting with horseback riding from the hacienda's stables.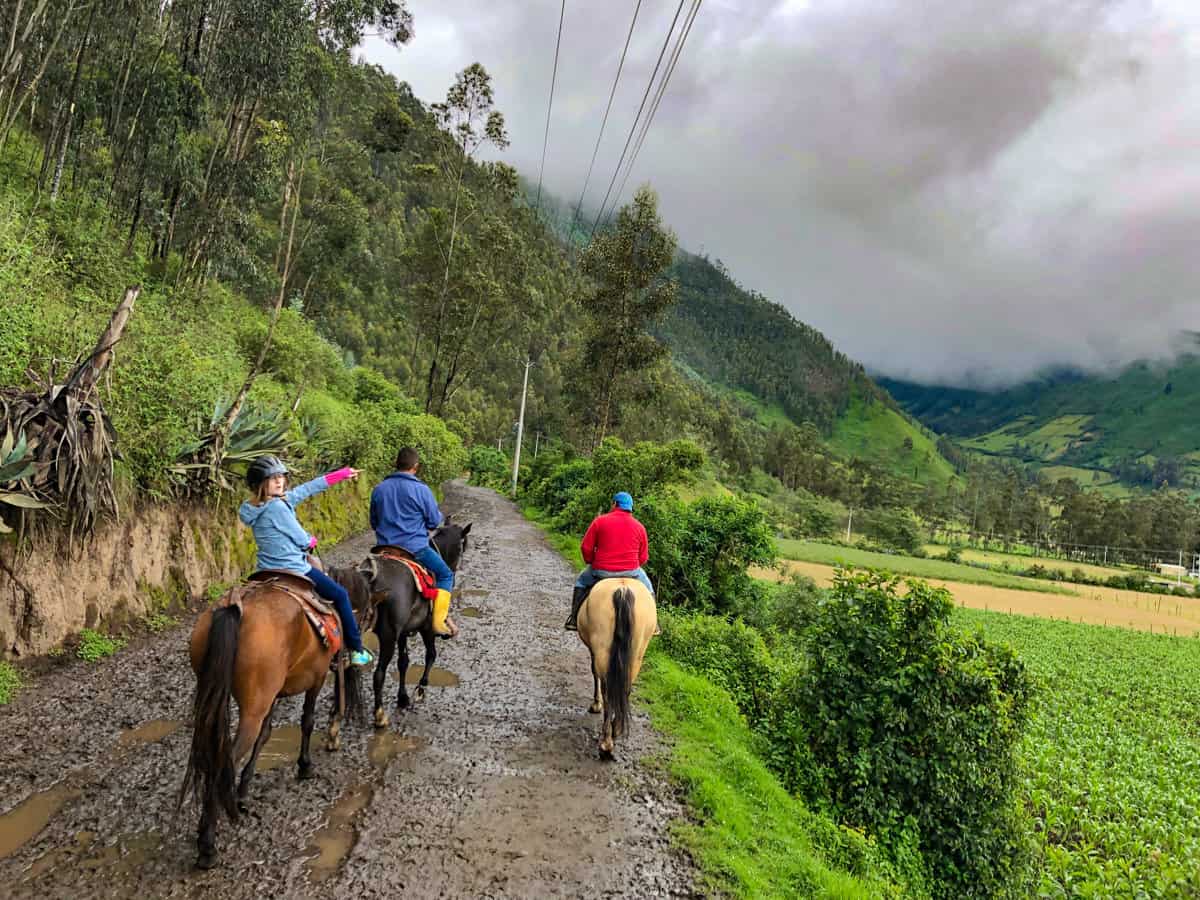 We explored the nearby valleys, Peguche waterfalls, demonstrations of South American instruments by musician Segunda Lema at his home, and the Otavalan markets (noted as the most traditional in South America). A hike to a nearby lake which sits on an active volcano and the condor park also came highly recommended.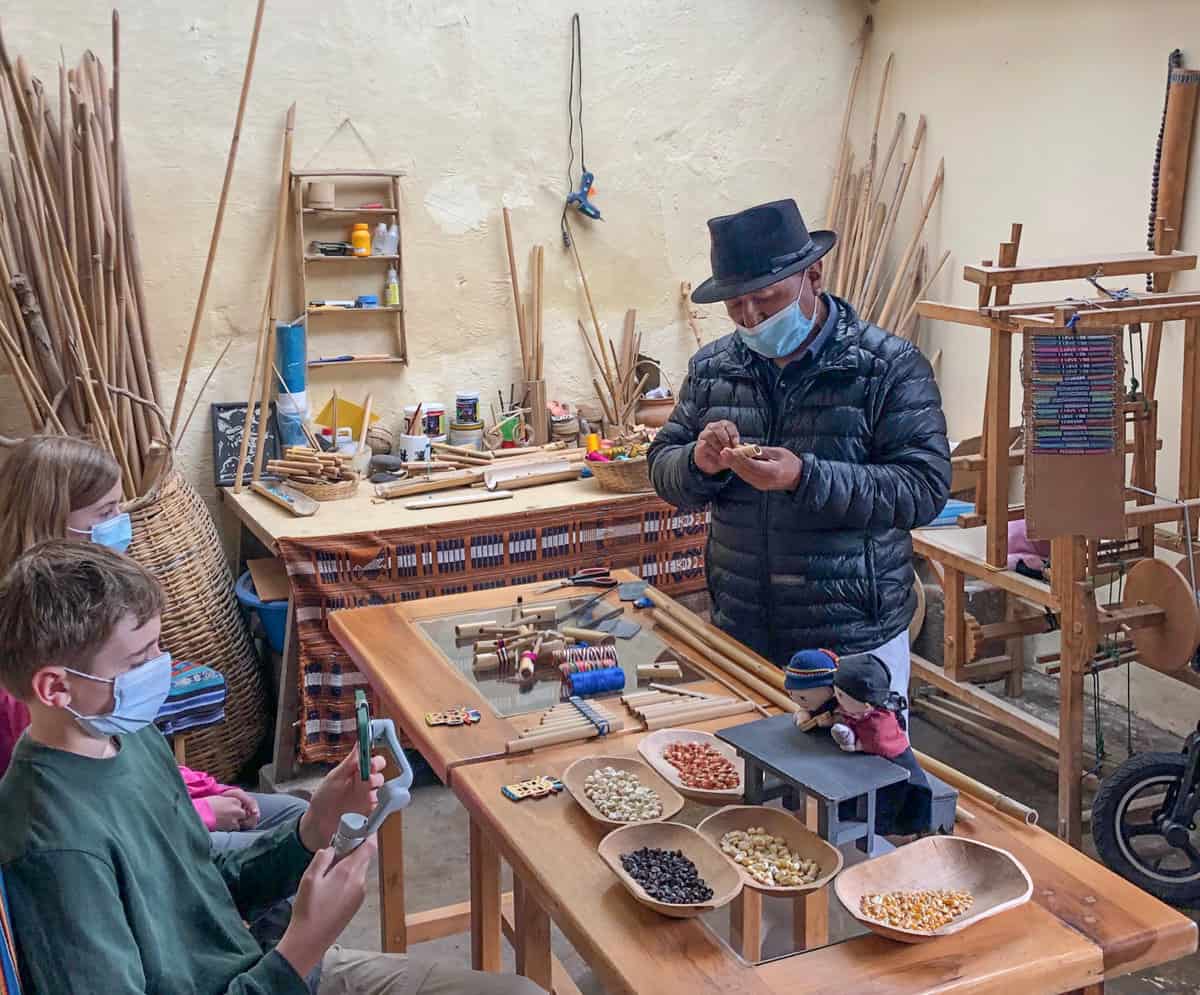 All these activities would have worked for kids and teens of all ages.
The Casa Gangotena, a Quito 5-star hotel
After learning of Ecuador's geographical formation and its eighty-four volcanoes, it was time to learn more of its history.
For this we headed back to Quito, the largest city, where we stayed at Casa Gangotena. This luxury hotel is in the heart of Quito's Old Town historic center of Ecuador's capital city. Both the basilica del voto nacional and the presidential palace were nearby.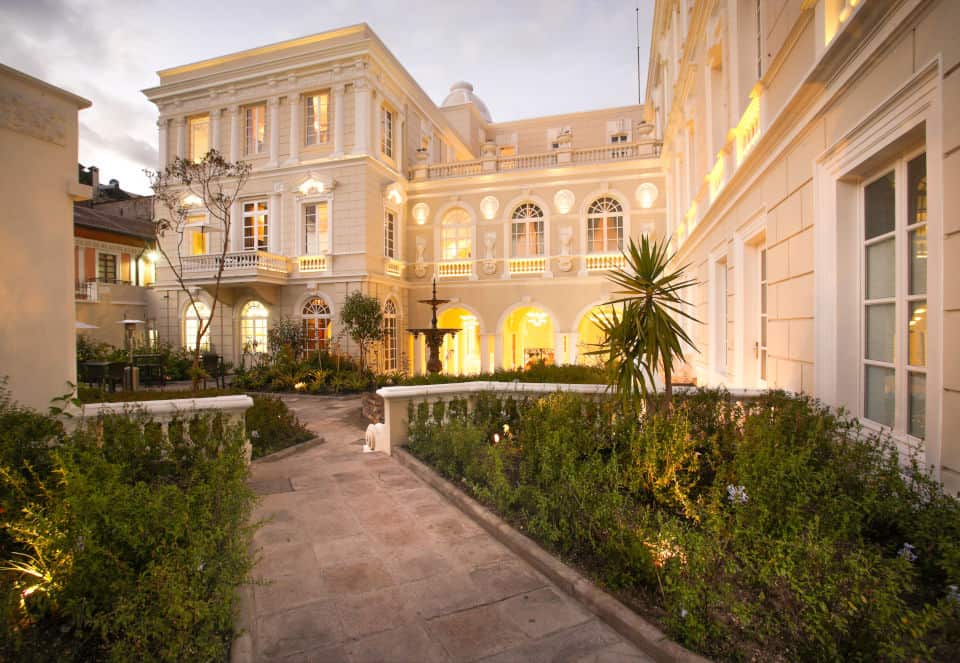 Casa Gangotena's Back Story
The hotel was built in the 1920s as the personal residence of the Gangotena family, who lived there with their three daughters and fifty staff members. The mansion remained a private residence until—according to local lore—a jealous boyfriend set the house on fire. After that it was bought and transformed into a luxury hotel.
Purchased in the early 2000s and converted to a boutique hotel, today, Casa Gangotena has 31 guest rooms. Beautifully restored architectural touches from the mansion's construction are highlighted throughout the property. Painted tin ceilings, ornate trim and wood panels, antiques, chandeliers and fresh cut roses create an elegant atmosphere.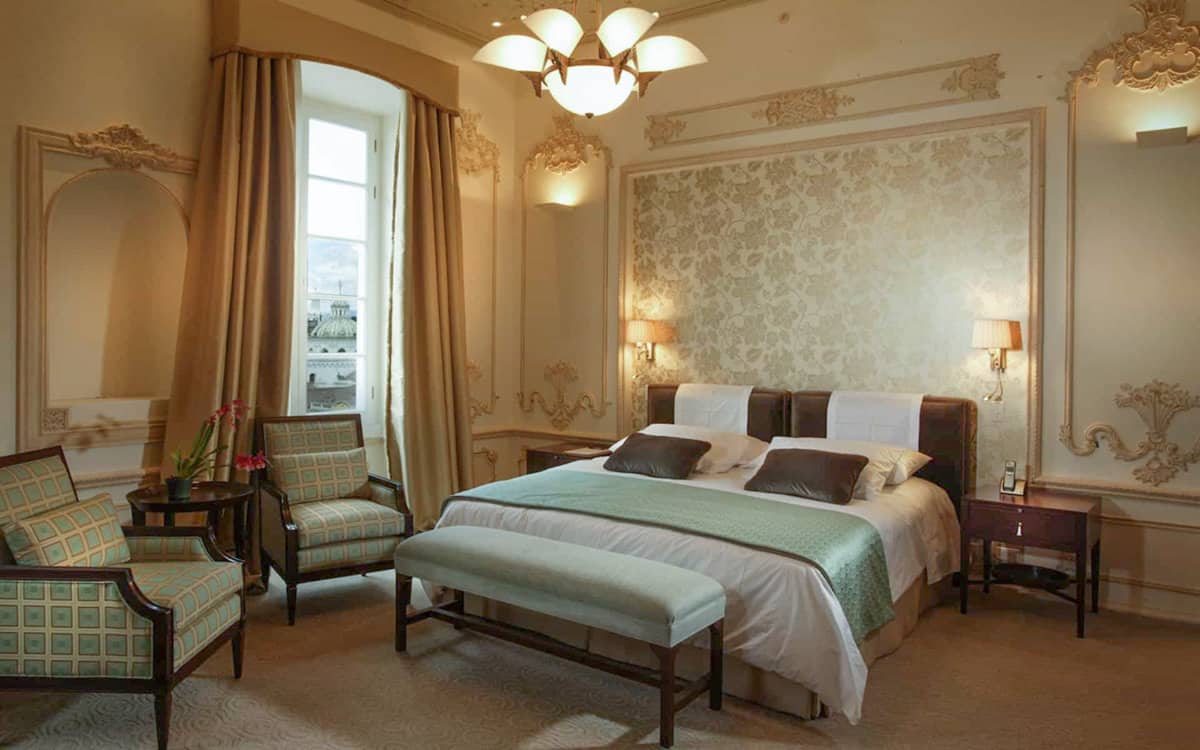 Offering both king-size beds or two full-size beds, rooms vary in size, but feel big. Tall ceilings and large windows with curtains guarantee darkness when it's time to sleep. Bathrooms, practically wrapped in white marble, are stocked with L'Occitane amenities. Most offer separate bathtubs and walk-in showers.
The Quiteño equivalent to the British "High Tea" is served every afternoon in an orchid-filled, conservatory-like patio, steps off the lobby. It's an affair that shouldn't be missed. In addition to tea, the restaurant is open for breakfast, lunch, and dinner.
A third-floor panoramic terrace offers fabulous views of the city and beyond; a stay at Casa Gangotena is a luxurious indulgence that offers a great respite in the heart of the bustling city. As our interim stop between Otavalo and the rainforest, we took full advantage of the hotel's luxury rooms to relax and recoup, including soaks in the deep tub and room service.
Exploring Quito
Our time in Quito was spent exploring the city by day. We didn't dine out at night as we were advised it wasn't safe to walk around the city in the evenings. Independence Square with the church and convent of San Francisco was right outside our door, as well as other notable sights within walking distance.
Quito is a city filled with churches, museums, and public squares in the historic city center, and though this might appeal to older children, most families can enjoy the city and its culture in just one or two days. The shops and restaurants of La Plaza Grande are not to be missed, as well as the Church and Monastery of San Francisco. We recharged before the more adventurous and outdoorsy part of our travels began.
Casa del Alabado Archaelogical Museum offers an in-depth history of Ecuador and its indigenous people. Other fun tourist attractions for kids might include a local chocolate tasting and a ride on the cable car, one of the highest in the world.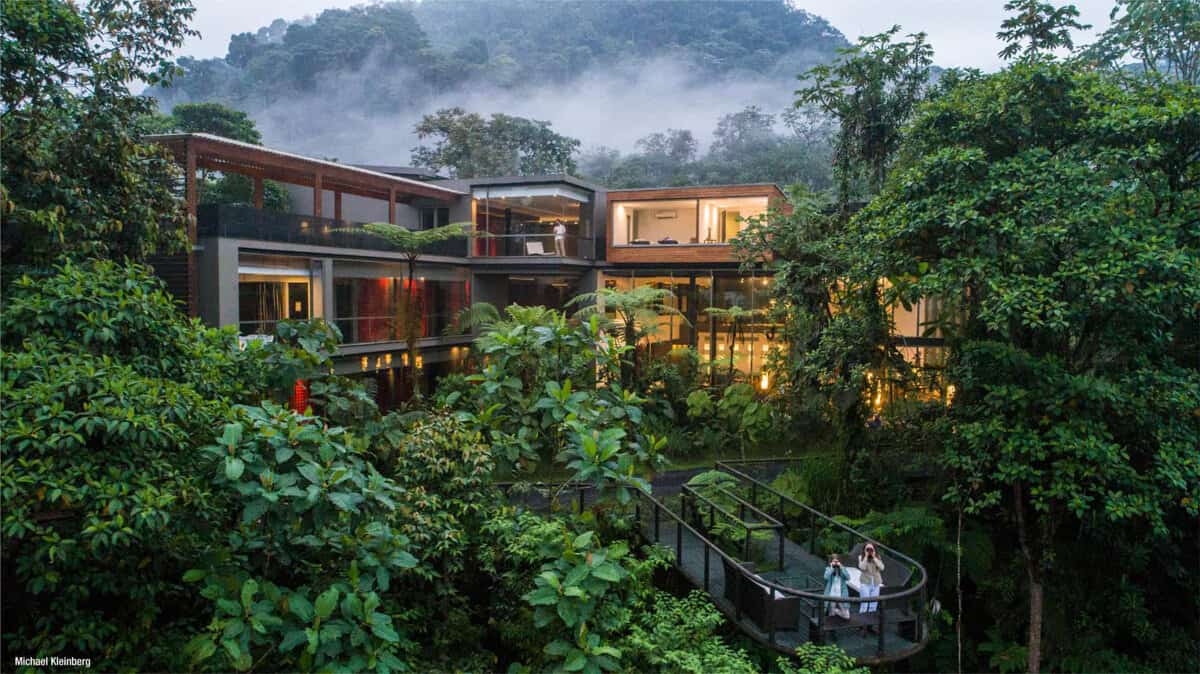 Mashpi Lodge: the Best Hotel in Ecuador
Having covered the urban Ecuador experience, we donned our mosquito nets and headed for the Choco Rainforest, divided from the Amazon by the Andes Mountains. Mashpi Lodge, a sister property of Casa Gangotena, is a five-star, award-winning eco reserve that is also a Virtuoso property. Its one of the most beautiful places I have stayed.
Built by Ecuadorian entrepreneur Roque Sevilla, Mashpi Lodge is an all-inclusive experience that hosts only 48 guests at a time. A three-hour drive from Quito along mostly unpaved roads, getting to Mashpi Lodge is an adventure. We arrived at the Mashpi Lodge's Jurassic-Park-style gates and were submerged into the property's lush tropical rainforest.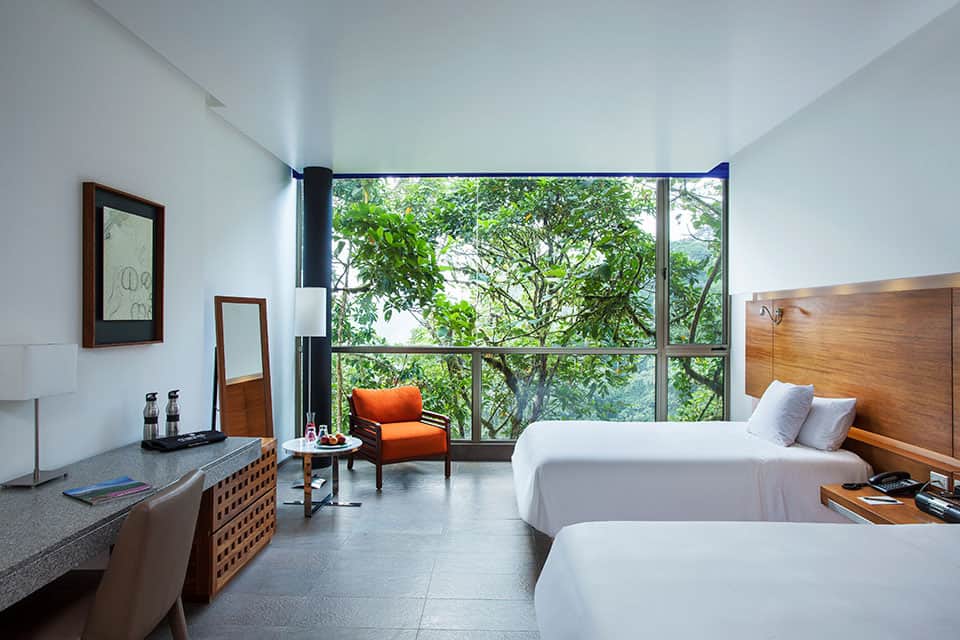 The lodge design is a marvel allowing the rainforest to flourish around it after years of area deforestation. The inside is sleek and modern with the use of enough glass for a view of nature at every corner. But it's the programs and attention to detail at Mashpi that set it apart.
Family Activities at Mashpi Lodge
At arrival, guests are assigned to a naturalist guide for the duration of their stay. They work with guests on a customized itinerary of activities.
For families, this is invaluable. Parents and kids can plan their days on their own schedule. Choose kid-friendly activities like the sky bike, dragonfly gondola, science lab, hummingbird exhibit, butterfly world, night walks, and waterfall hikes.
Dining at Mashpi Lodge
The food at Mashpi Lodge is exceptional and was the best restaurant on our trip. It focuses on organic produce, native ingredients, and local Ecuadorian flavors. The two-story dining room is a stunning, all-glass space and serves as a peaceful respite after a day spent exploring. The lodge's bar is also home to a resident mixologist who serves up a variety of handcrafted cocktails.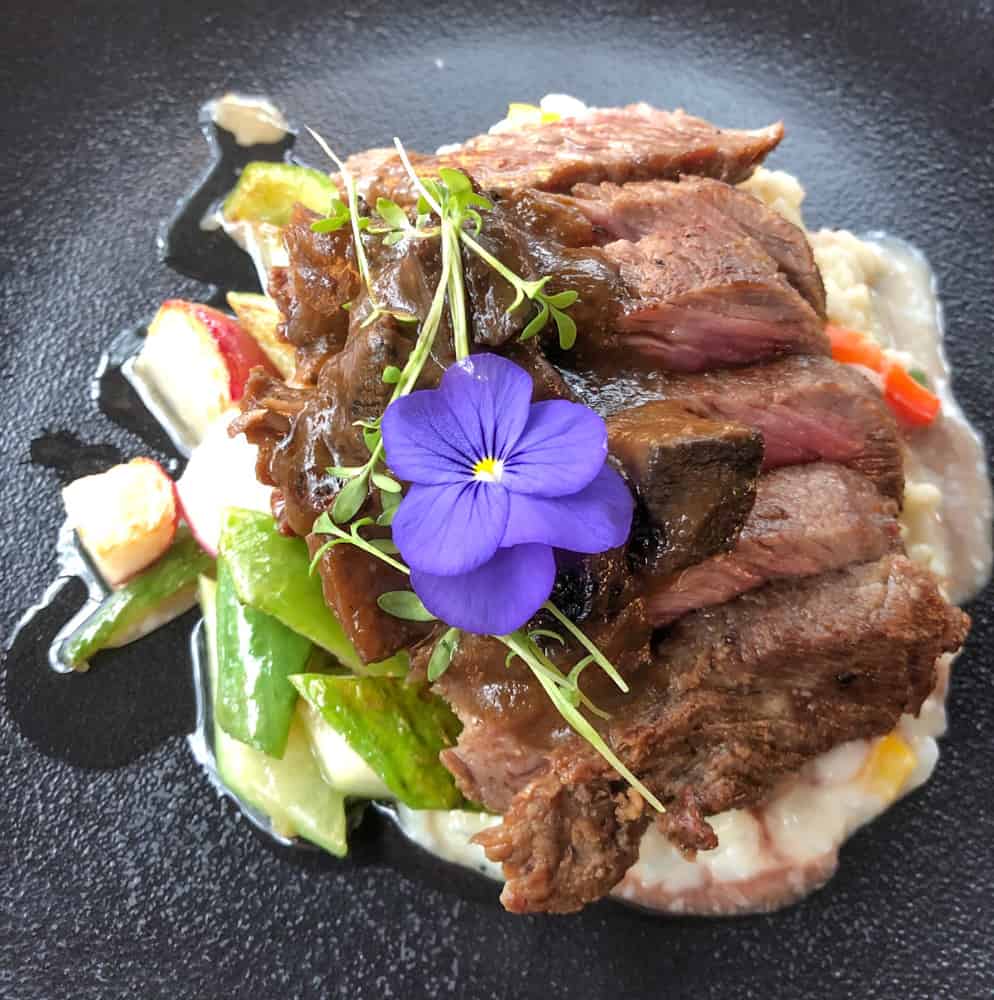 Mashpi was a luxurious retreat that allowed us to explore the rainforest with dedicated and knowledgeable guides, the best part. Each day's itinerary was carefully curated and focused on my family's interests in this unique ecosystem. It was the attention to details that really made it a standout destination. Kid-sized robes and slippers, freshly baked cookies for hikes, and complimentary clothes drying offered real luxuries.
For the full Mashpi experience, families should plan on at least a three-night stay. Try all the activities and gain a true feel for the rainforest and its surroundings.
We left feeling rested, well-fed, and ready for the next leg of our journey to the Galapagos.
What we loved about Ecuador travel
When we planned our epic Galapagos trip, I never imagined the impact that Ecuador would have on our family. Discovering the friendly Ecuadorian people, its rich history, cultural diversity, and natural wonders was an experience we won't soon forget.
We arranged for a private guide to accompany us throughout our 10 day stay in Ecuador, and this was invaluable. Traveling alone with two kids, I felt very safe from the minute Raul met us at the airport. I was able to be in the moment knowing that Raul was in charge of our itinerary.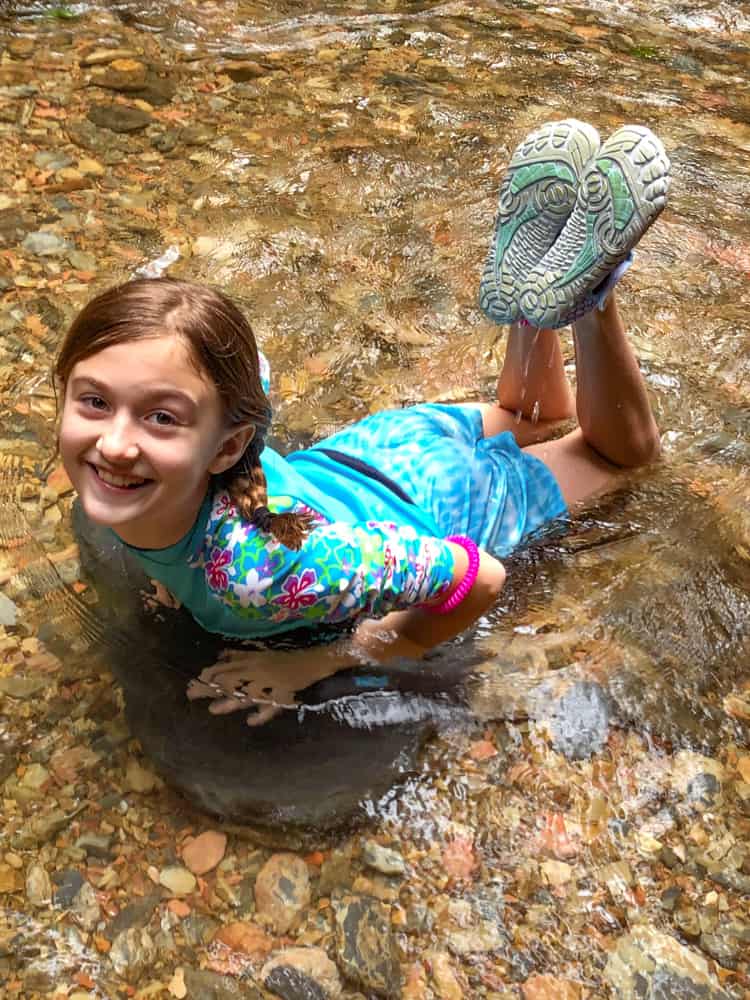 Raul was a true gem on this great trip. The car rides were a cultural lesson hearing about his family and love of Ecuador's history and his country.
Luxe Recess can arrange your family's guide, too, and plan a memorable trip in Ecuador. Consider it before or after a trip to the Galapagos Islands. Book a planning call today.
Both Casa Gangotena and Mashpi Lodge are Virtuoso properties. As a Virtuoso agency, we can bestow several VIP perks to your reservation without any cost to you. You can book them on our website or complete this form.