By Katie Riley
Nine times out of ten when a family is asked about their favorite kind of vacation, a beach is involved. My own family has been lucky enough to do all kinds of vacations: the coast of Maine, national parks, or even Europe.
But nothing can match the absolute serenity of a vacation dedicated to sea, sand, and relaxation. We were craving this kind of vacation and headed to the Caribbean for ten days of pure bliss. Our first stop: The Ritz Carlton St. Thomas in the U.S. Virgin Islands, a family-friendly resort with spectacular views of the Caribbean Sea for miles and a lively island vibe.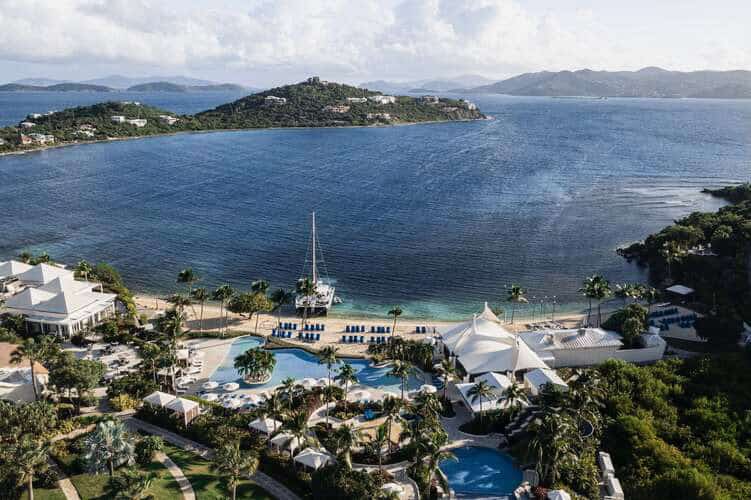 Getting There
Direct flights to St. Thomas are available from many airports along the East Coast. We took an easy four-hour flight from our nearest airport, Dulles International, just outside DC. The Cyril E. King airport at St. Thomas, is small and notorious for its inefficiency and slow wait times, so we made sure to carry on all our luggage to avoid any mishaps.
The Ritz Carlton is located on the east end of the island, about a 40-minute ride over hilly terrain. It's not worth renting a car, as taxis and Ubers are everywhere, and the 15-minute ferry to St. John is just minutes from the resort. Taxis on the island are often shared and priced per-person so beware that you may be grouped with strangers and have multiple stops if you do not pre-book. We pre-paid $100 for a private taxi from Kelly's Taxi, and they were fantastic—a minivan awaited us as we exited the airport, and our driver could not have been friendlier.
STOP!
JOIN OUR LUXURY HOTELS & RESORTS FOR FAMILIES,
A FACEBOOK GROUP FOR SEEKING ADVICE AND INSPIRATION
FOR THE BEST LUXURY FAMILY BREAKS.
The island is still recovering from the effects of Hurricane Irma in 2017, and it is apparent everywhere you look that many homes and buildings still have not been rebuilt since the devastation. The pandemic dealt another blow to the island that relies heavily on tourism, so it was refreshing to see so many travelers returning to St. Thomas.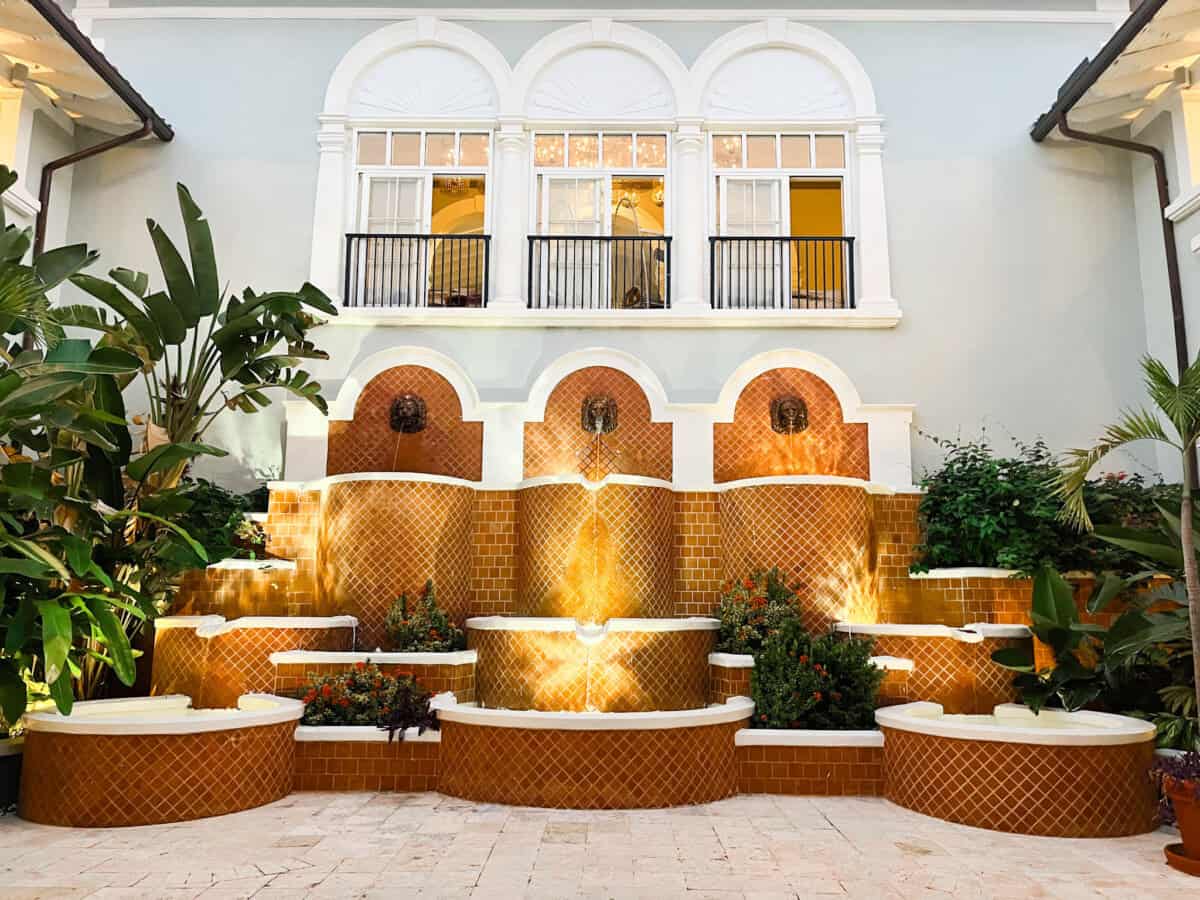 After a hair-raising ride on very narrow roads, with some spectacular scenery along the way, we arrived at the resort. The open-air reception features neutral colors, hanging woven light fixtures and a contemporary island style that I loved. We were met with cold towels and rum punch for the parents, and lemongrass iced tea for the kids, before being promptly whisked to a small side room for check-in. There is no traditional lobby and check-in was seamless. That said, as there is no traditional 'front desk', we often found it hard to locate staff when we had questions and the phone to the front desk sometimes went unanswered.
Mid-sized Luxury with Views for Miles
After extensive damage from Irma in 2017, The Ritz Carlton St. Thomas underwent a $100 million-dollar renovation before reopening in 2020. The resort has 180 guest rooms spread out across multiple buildings that face Cruz Bay, with St. John in the distance. Views from almost anywhere at the resort are spectacular and the vistas, especially from Alloro restaurant, took my breath away at times. Paved paths wind between the four-story buildings, and golf carts are available for pick up and drop off if needed. We found the resort easy to navigate and never used the golf carts, but the hillside setting might present a challenge for any family with mobility issues.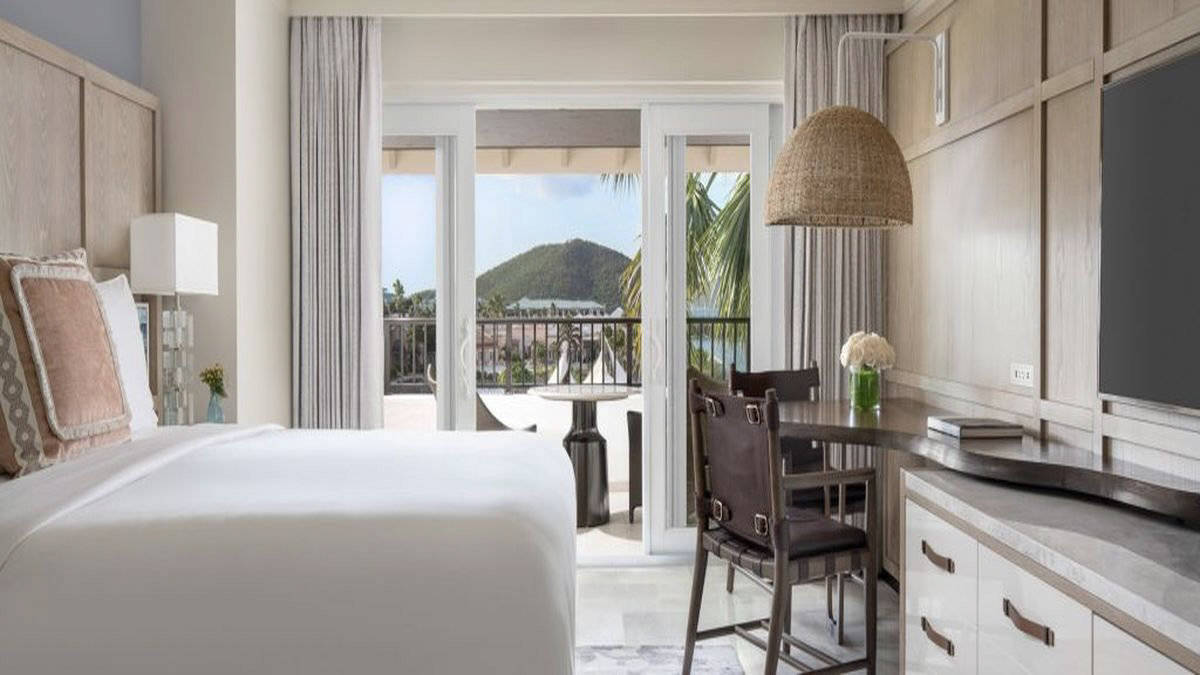 Best Rooms for Families
For our family of five, we booked two adjoining rooms, one with two queen beds and an adjoining room with a king. The décor is beachy chic, with woven light fixtures, light wood, and plush neutral bedding and seating. Everything appeared brand-new and it is obvious that few details were spared during the renovation. Both rooms had a private balcony that faced west with great sunset views (though in the future, I would request an east-facing building with ocean-view balconies of Cruz Bay and St. John.)
Rooms at the resort were clean, and ours were spacious at 450 square feet, and luxurious, but it was the full bathrooms that were most impressive. With a double sink, light grain wood vanity and massive rain shower, the bathroom was one of the nicest we have seen in a Ritz anywhere. Every bathroom has a large standalone tub, and Asprey toiletries.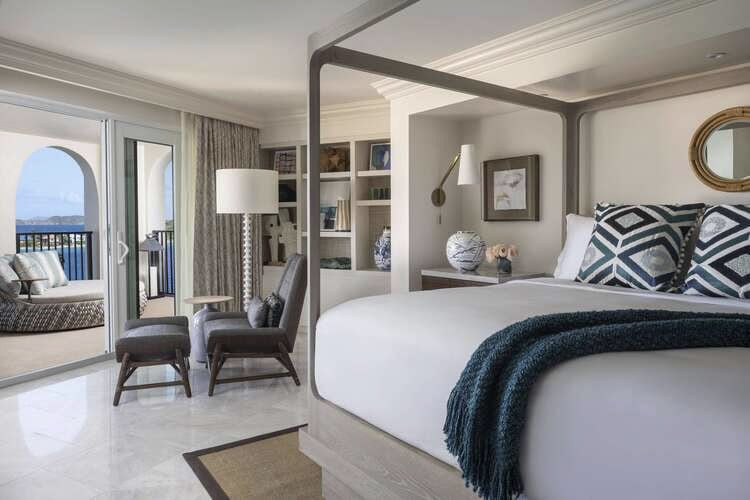 Club Level Rooms and Suites feature a dedicated concierge, and the newly-redesigned Ritz-Carlton Club Lounge hosts four food and beverage presentations each day including breakfast, a light lunch, robust hors d'oeuvres at dinner, and a dessert buffet at night. In all categories, room service is an easy option at your convenience.
The Beach and Pools
After a long morning of travel, we were anxious to get our toes in the sand and head to the beach. While the resort is beautifully situated on Cruz Bay, a calm body of water surrounded by coral reef, the beach itself is not as large or expansive as those in the Caymans or Turks and Caicos. The beach is completely private but cut off on either side by rocky outcroppings, so there is nowhere to enjoy a long leisurely beach walk. Chairs were plentiful and water sports, including kayaks, Hobie cats and snorkeling gear, are complimentary, and we took full advantage of this bounty of outdoor adventures during our stay.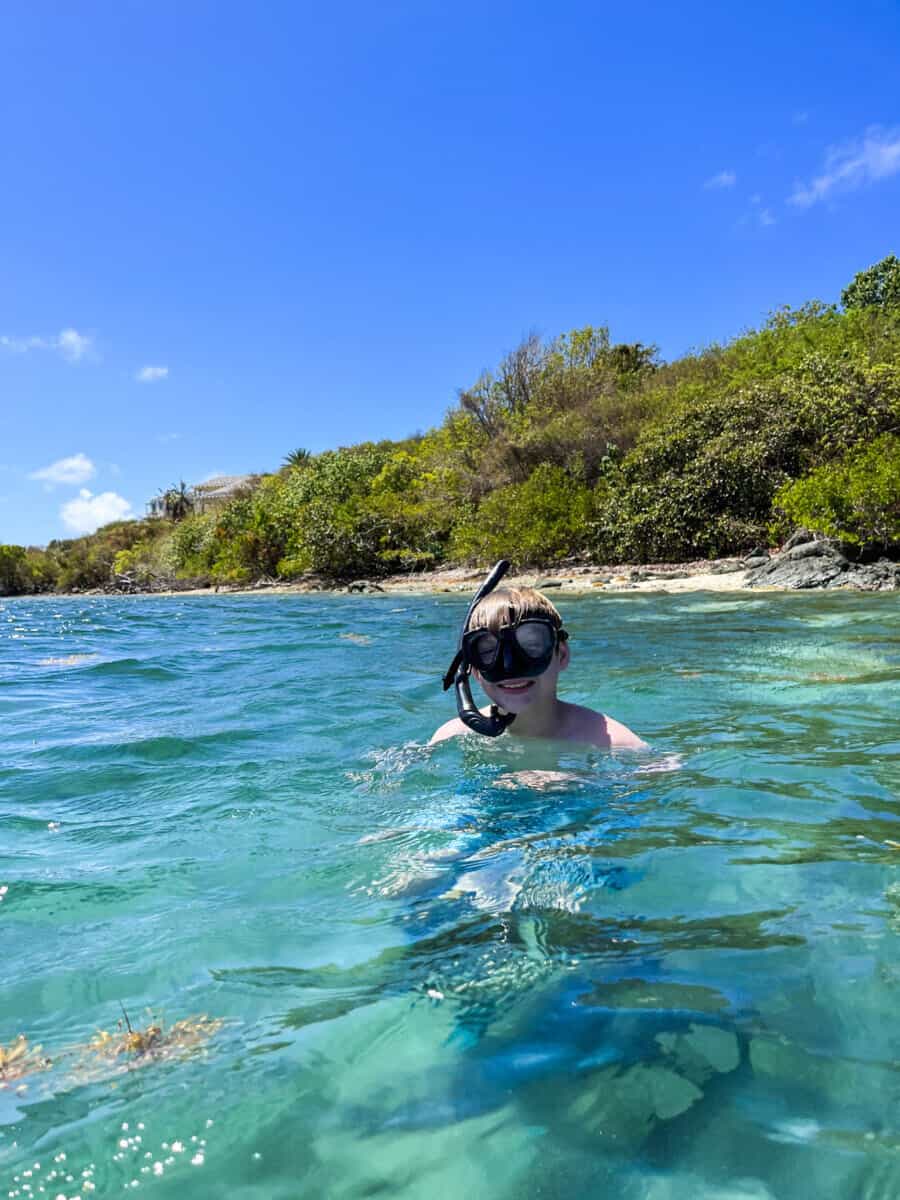 The snorkeling off the beach is fantastic, and we spotted stingrays, tropical fish and even a barracuda multiple times during our swims. The water is calm and resort staff pay close attention to any guests using the Hobie cats and kayaks. More than once I saw them race off in a motorized dinghy to help guests struggling with the winds of Cruz Bay, and it was nice to know they were paying such close attention.
The resort owns one of the region's luxury catamarans, the Lady Lynsey II, that offers snorkeling trips and sunset sails. We had booked a snorkeling excursion weeks before our visit, only to have it inexplicably cancelled two weeks before check-in. In hindsight, we didn't mind as we quickly realized that the on-site snorkeling was wonderful.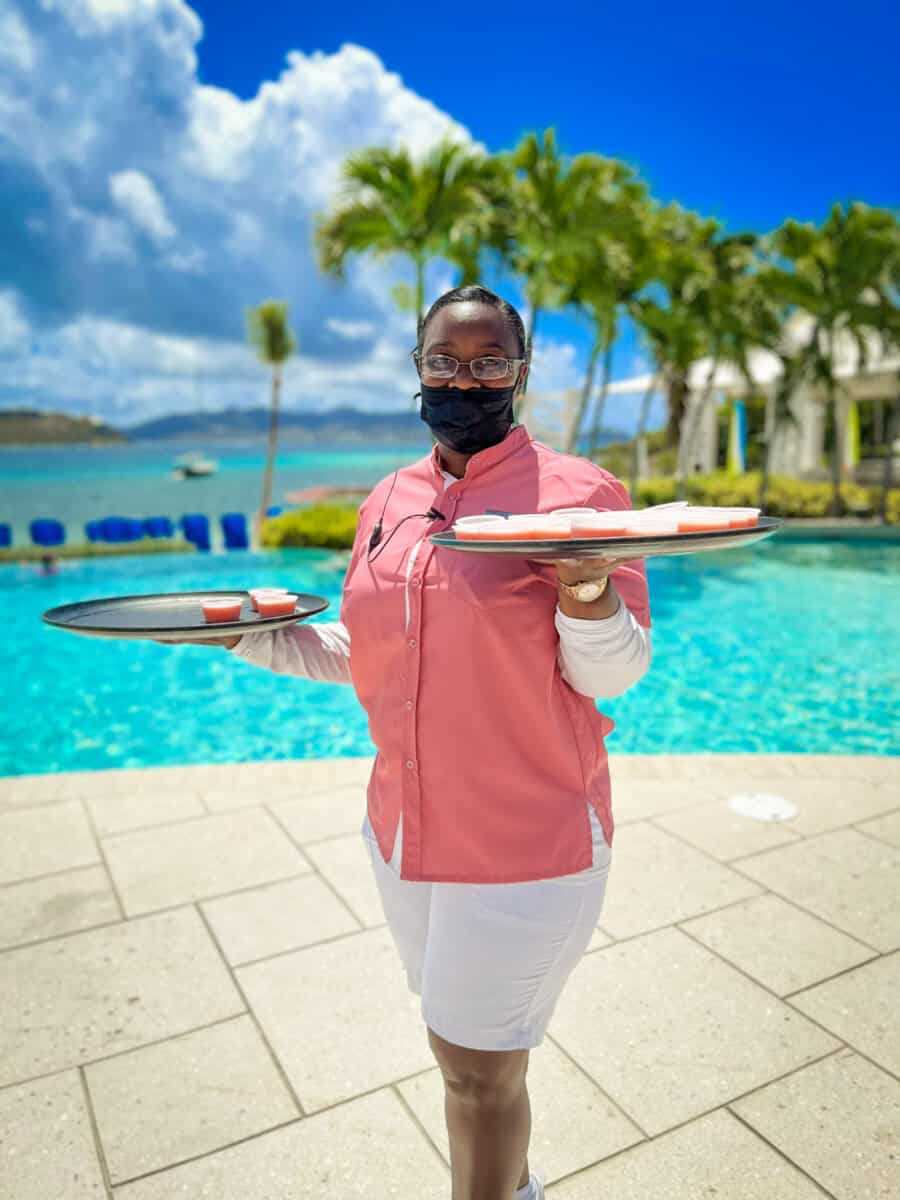 Our four-day visit did not allow time for island-hopping, but many guests we met took advantage of the public ferry that leaves every hour for St. John. The ferry leaves from Red Hook, the town closest to the resort, so it's easy to catch a ferry to St. John and explore the dozens of white-sand beaches or one of the Virgin Islands National Park locations that dot the island.
Each outdoor swimming pool at the Ritz St. Thomas has been newly-renovated and will appeal to families with kids of all ages. The newest addition of the "family pool area" features a zero-entry pool with a fun waterslide that kept my boys busy for several hours. The adjacent infinity pool is massive and is surrounded by a large deck with lounge chairs offering views across Cruz Bay and its breathtaking natural beauty.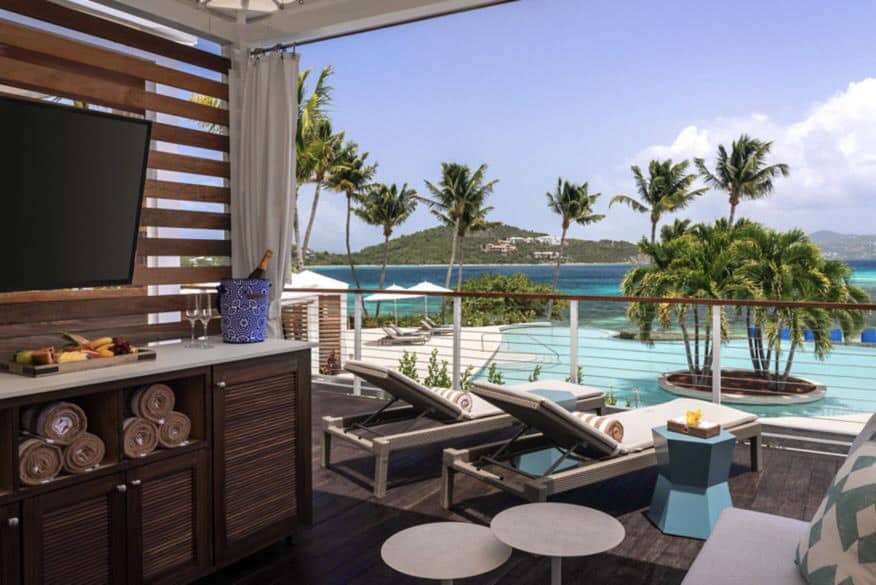 Pool cabanas have loungers and a flat-screen TV, but they did not feel especially private. We also spent time in the hot tub and main pool on Coconut Cove beach. During our stay in late June, the resort was completely sold-out, and the pool and beach were crawling with families. We loved the fact that the kids were welcomed everywhere on property and the family-friendly vibe was incredibly warm.
The Ritz Kids Club
The resort has a Ritz Kids program with planned activities for the kids daily, and an activities desk at the pool that lists daily classes, games, and crafts for families. The Ritz Kids Club was steps from the family pool and had a few small rooms with gaming consoles, puzzles, crafts, and a small aquarium. It's a smaller kids club than most and was empty the day that I visited.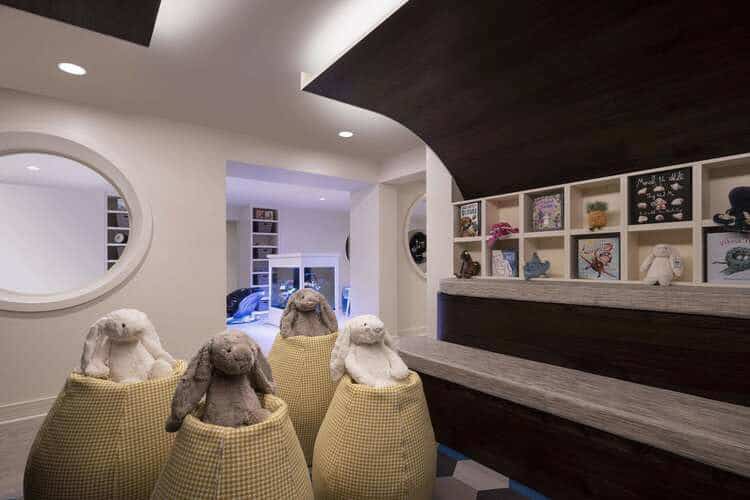 While it offers all the amenities of any Ritz Kids experience, most of the families that we saw had their children with them at the beach and pool and did not take advantage of the child care. It's a testament to the family-friendly nature of the resort—this is not a place to come for complete serenity, but it is a place to feel perfectly at ease in a luxury surrounding, while still allowing your kids to have fun.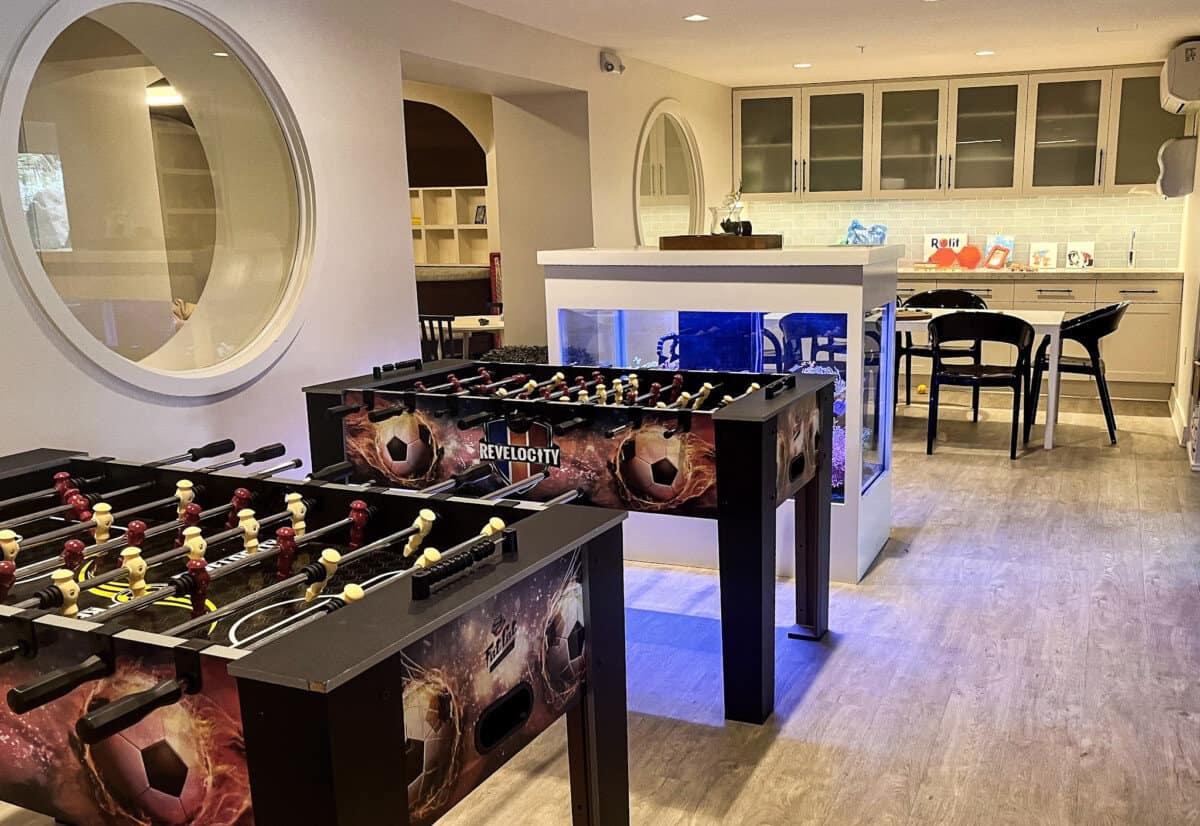 While our activities centered on the outdoors and taking advantage of a seemingly perpetually perfect climate, there is a full fitness center and a lovely spa for those inclined.
Let Luxe Recess VIP Your St. Thomas Trip
I booked the Luxe Recess exclusive Marriott Star rates, so we enjoyed a lovely welcome amenity in addition to early check in, 4PM check out, a $100 resort credit, and two breakfasts daily in the restaurant. Honestly, why would you book by yourself and leave money on the table?
Dining Hits and Misses
The Ritz Carlton St. Thomas has four restaurants on property. Sails, the casual beachfront restaurant, serves fish tacos, poke bowls, chicken sandwiches, and burgers. We had lunch at Sails restaurant on our day of arrival and, though our burgers and sandwiches were fairly standard, they did the trick after a long morning of travel. Beach and pool dining options offer a similar menu of handhelds and kid-friendly menu items.
Bleuwater, a contemporary restaurant with an international menu, is also the spot for breakfast. An extensive buffet with omelet and waffle stations, cheese and charcuterie, pastries and breakfast meats, was served every morning, in addition to an a la carte menu. (This is free every morning for two when you book with Luxe Recess) Dining is offered indoors, as well as, on an outdoor veranda overlooking Cruz Bay and St. John. Starting each morning with unobstructed ocean views like that is sublime. Coconut Cove, the resort's seafood restaurant, is located at the Ritz Residences, a short walk from the main resort.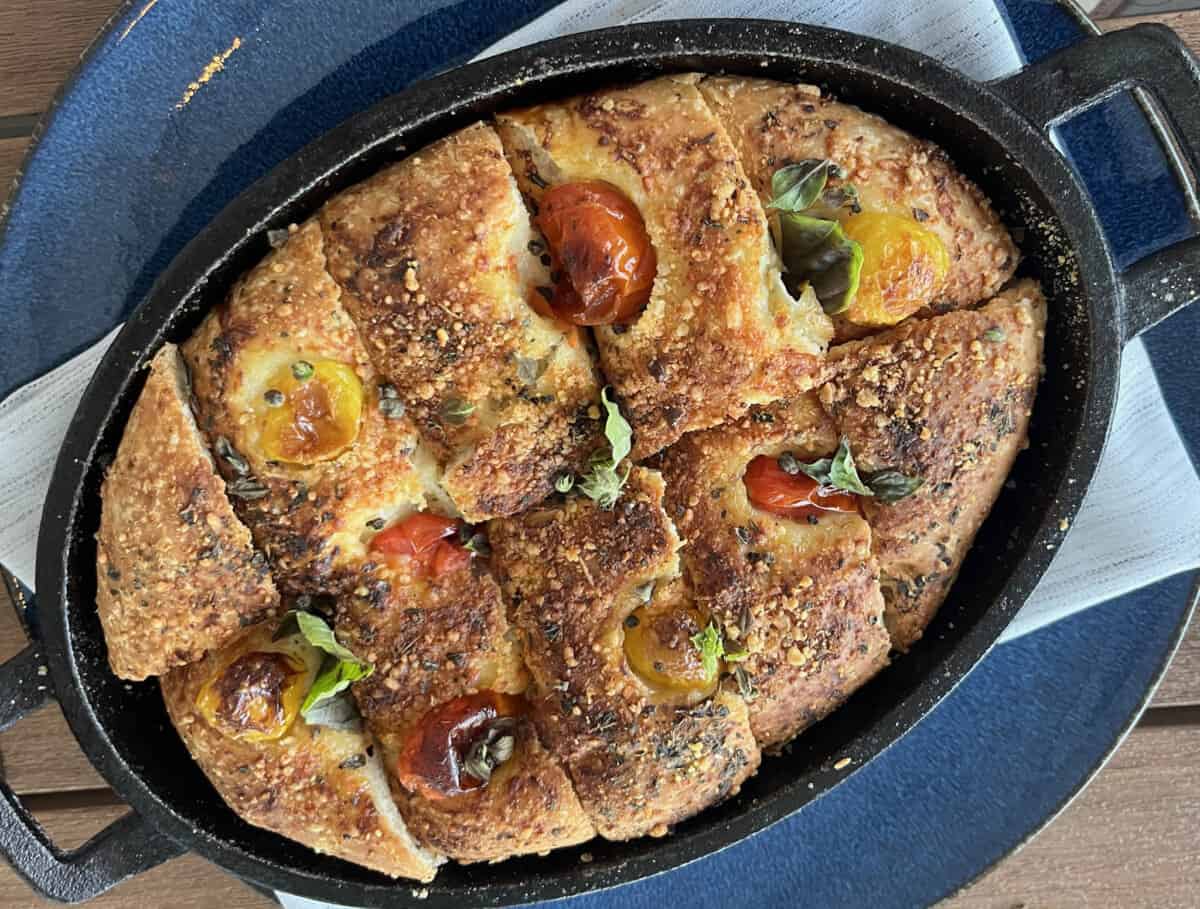 Alloro, an Italian-inspired restaurant, was a highlight of the culinary offerings at the resort. The menu features handcrafted pizzas and pasta, seafood dishes and a variety of salads. The vibe was elevated, yet relaxed—the perfect place for families who want a nicer dining experience but without the fuss of stuffy dining rooms. The house-made focaccia to start was fantastic, the freshly made burrata salad was one of the best I've had anywhere, and my husband is still dreaming of the lobster carbonara. The Ritz brand's renowned service was, as usual, friendly and impeccably timed.
The one aspect that is lacking at the resort is a proper bar and lounge. There is a bar in each restaurant, and Sails was open during the evenings with sports broadcasted on the televisions, but I was disappointed the resort did not have a proper lobby lounge or dedicated bar space for evening entertainment.
We did leave this beachfront property twice during our four-night stay. The first night we had a casual pizza dinner in Red Hook, located just ten-minutes away. Another night we walked to a resort across the road and had dinner at Caribbean Fish Market, one of the best restaurants on island. Our meal was incredible, with fresh seafood and a beautiful beachfront setting.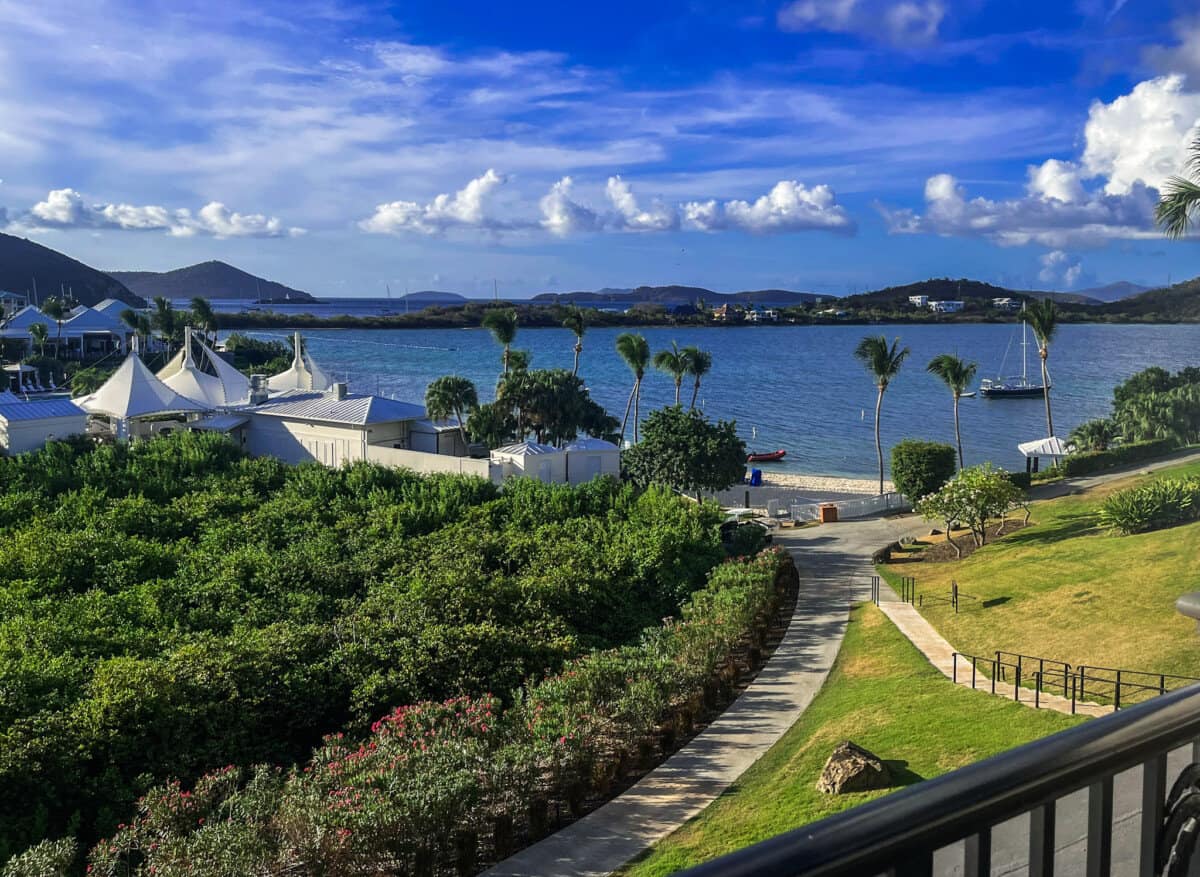 In Summary
The Ritz Carlton St. Thomas is a top-notch luxury hotel and resort with five-star accommodations. Our rooms were beautifully appointed, spacious, and very comfortable. We loved the size of the resort—large enough to offer fun amenities like multiple pools and a waterslide—but not overwhelmingly huge like a convention hotel property.
While our dining experience had some hits and misses, we loved the resort's proximity to nearby Red Hook when we wanted to leave the property. While the Ritz wasn't the most secluded or peaceful island getaway, it kicked off our Caribbean vacation with hours of fun and most important, family.
Booking Your Virgin Islands Vacation
Did you know Luxe Recess is a magazine and an exclusive Ritz-Carlton partner? What does that mean for you? It means that as both a luxury family travel magazine and travel agency, we can give our clients numerous complimentary amenities.
Our rates at the Marriott's luxury brands always include complimentary breakfasts for two and resort credits and —based on availability— upgrades and early check-in and late check-out. If you would like to add these amenities to your stay at no cost to you, please complete this hotel booking form.
Looking for more?
Be sure to read our review of Rosewood Little Dix Bay in the British Virgin Islands, too!
The property is located at 6900 Great Bay, St. Thomas, Virgin Islands (US)