Costa Rica has become a very popular travel destination in the last few years for both families and couples alike. And certain hotels like the Nayara Tented Camp generate lots of buzz. It's an amazing country full of culture, adventure and nature preserves with access to different climates, mountains, volcanos, beaches, jungle, and a pristine rainforest.
When I started researching our Costa Rica family vacation, I knew we wanted to be in the rain forrest to experience the unique flora and fauna and go on many adventures as a family. We narrowed our search down to one property that has won many travel awards and accolades in Central America. After we visited, it was very easy to see why.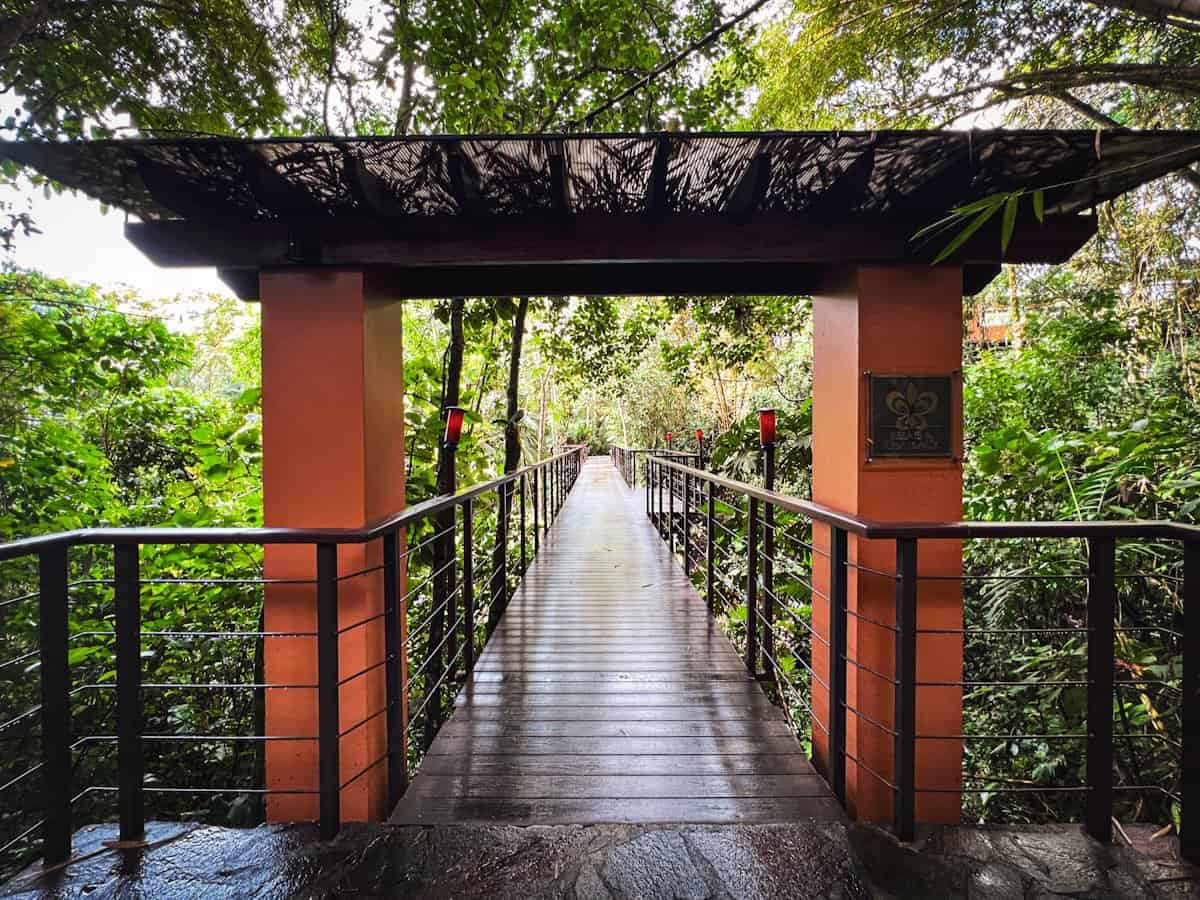 We traveled to the La Fortuna area surrounding the Arenal Volcano in the heart of Costa Rica to the Nayara Reserve, a 4,500-acre resort comprised of three distinct hotels: Nayara Gardens, Nayara Springs (the adults-only options) and Nayara Tented Camp, each with their own personalities.
STOP!
JOIN OUR LUXURY HOTELS & RESORTS FOR FAMILIES,
A FACEBOOK GROUP FOR SEEKING ADVICE AND INSPIRATION
FOR THE BEST LUXURY FAMILY BREAKS.
The resort's initial opening in 2007 was a model for luxury sustainable tourism and conservation efforts to reforest an area once depleted by cattle ranching. The nearby Arenal Volcano National Park is a destination for animal and nature lovers, and Nayara has created animal sanctuaries on the grounds for resident sloths, coati, howler monkeys and armadillos.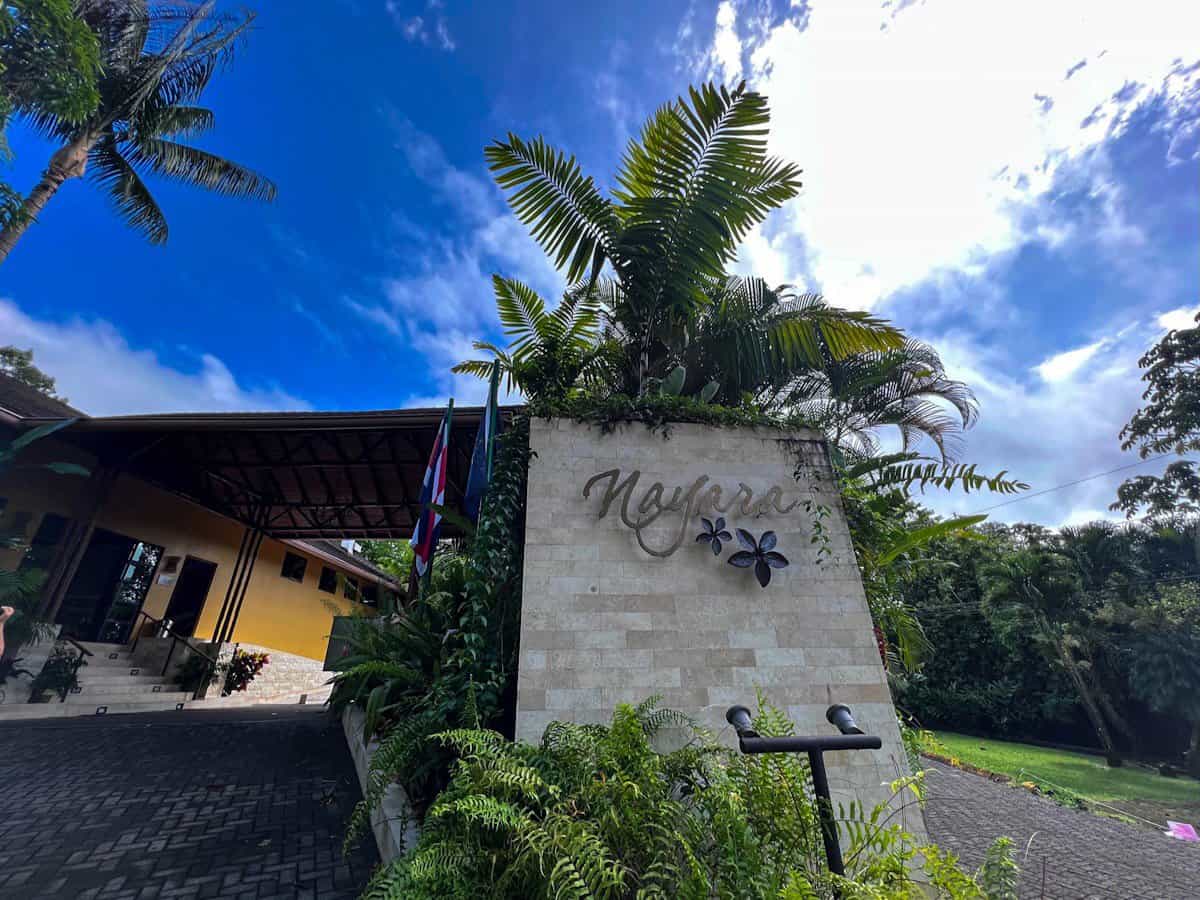 The Arenal area is centrally located to all the adventure you can imagine: picture a nature walk through the jungle via suspension bridges designed for spotting sloths and rare bird species (even to the untrained eye), night walks for frogs, canyoning, zip lining, horseback riding, natural mineral hot springs and more.
Additionally, if you drive a bit more into the surrounding area, you can find Cano Negro Wildlife Refuge and white water rafting on the Sarapiqui River. For a more in-depth review of activities in the area, and why you should bring your family here, please see my other article with our travel itinerary.
Once you are welcomed into the Nayara properties you have access to all the grounds, pools, restaurants, bars, spas and amenities that these sister properties offer (which the exception of the distinct area in the adults-only resort Nayara Springs). You can walk on jungle paths surrounded by tropical plants and orchids, over footbridges and hanging bridges, or travel via golf cart to visit different areas of each hotel.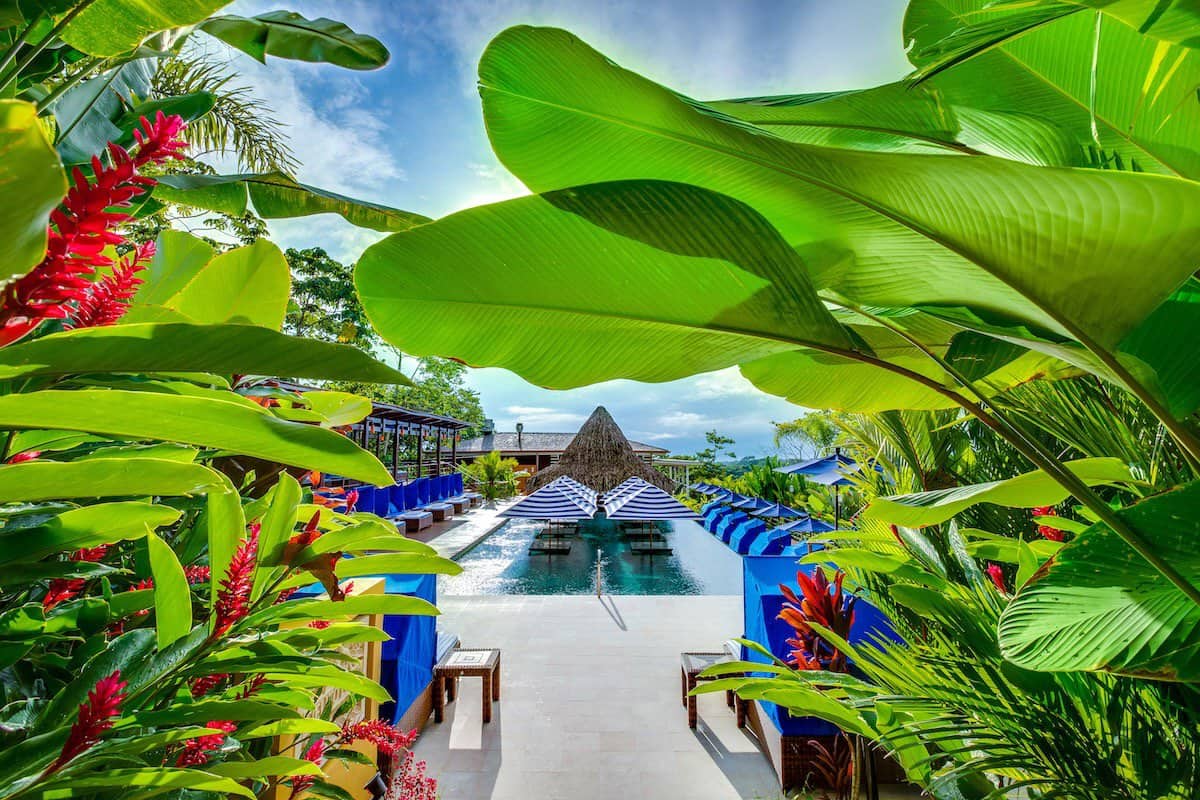 After your breakfast, the resort lobby at Nayara Gardens has a sloth finding map called the "Daily Sloth Patrol" to consult for you to go and try and see these adorable animals in the wild.
All guests can participate in complimentary daily yoga, morning bird-watching tours, nighttime frog hunts. You can participate in mixology classes, coffee tastings, soak in the nearby hot springs or get a luxurious spa treatment. Just walking the property in awe of the jungle canopy was thrilling enough for me on my first visit to a rainforest.
Given that the Nayara Reserve is divided into three differing resorts, please see below to help guide your choice for the best one fitting your party's traveling needs!
Nayara Gardens
The first of the Costa Rican Nayara Resorts, this property was built in 2007 and is a family-friendly retreat in the heart of the jungle. Fifty free-standing villas embrace the character of Costa Rica with bright tropical orange, yellow and blue accents. Free-standing entry level rooms called "casitas" are 856 square feet and have a king-sized bed or two twin beds and can sleep up to three people when the third child is under the age of 12.
Boasting indoor and outdoor showers and a private garden with jacuzzi tub, you may feel like you are having a very private jungle retreat.
The Rainforest Pool Villas are free-standing octagonal buildings that allow for natural light to enter on all sides. These room are larger at 1,135 square feet and have a wrap-around private deck with lounges, hammocks, and private plunge pools heated from thermal springs. Rooms at this resort have either a jungle canopy or Arenal Volcano view.
While every comfort is considered in the room, the rainforest locale still offers local entertainment. Short torrential rain throughout the day and night still provide soothing sights and sounds from your villa windows. One sound coming from my roof I couldn't identify throughout my stay until the end. It was a very large lizard traipsing across the roof.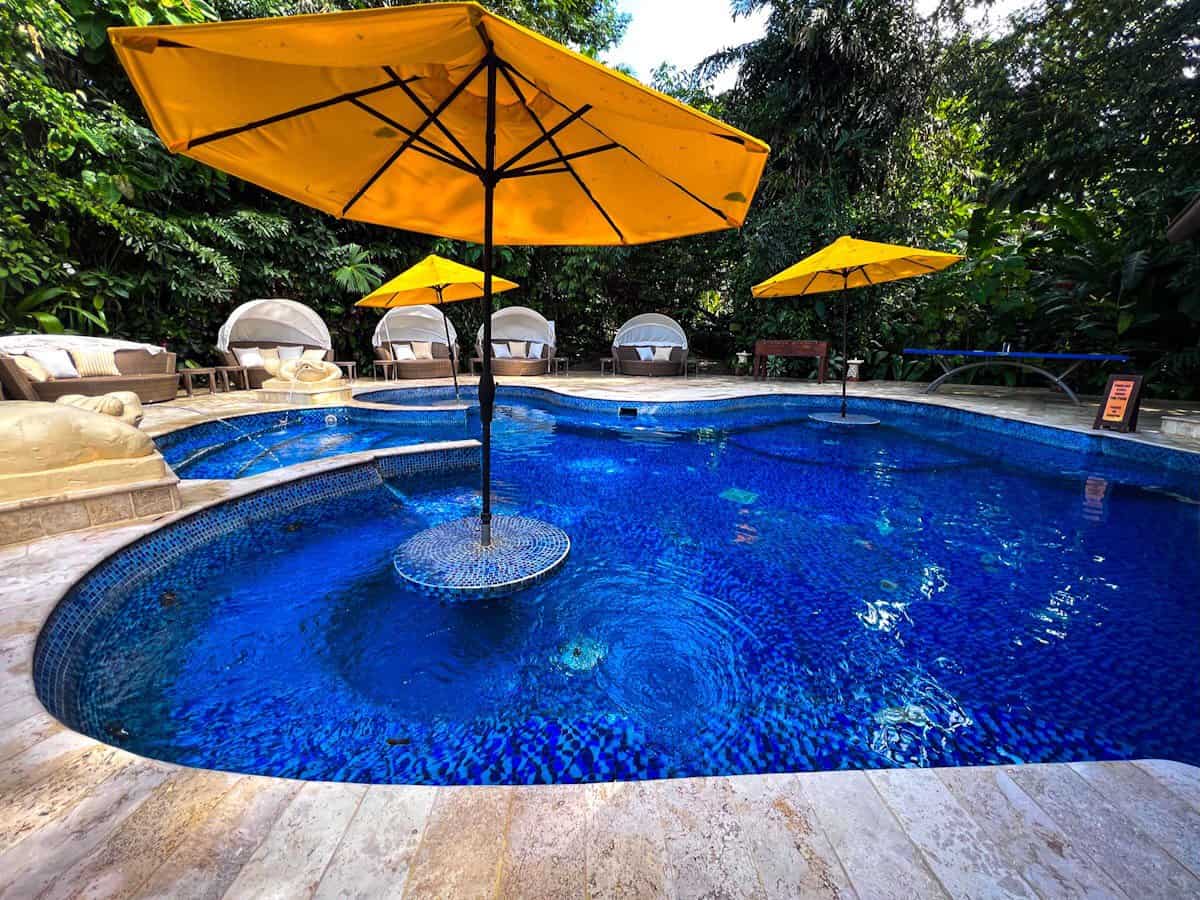 There is a great swimming pool for small children located near the jacuzzis (teenagers may find the pool slightly small especially during peak times).  There are two bars on property and a swim-up bar at the pool.  
A beautiful open air spa is also nestled within this resort allowing you to listen to the sounds of many animals and delicate rainfall while enjoying a massage. Each treatment room also has a Jacuzzi hot tub and outdoor shower.
I chose my massage at the end of the day, so my jungle view was enveloped by dusk and nightfall during the course of my treatment. The soundtrack of the jungle was transcendent, and I never felt a massage's impact so strongly. Fortunately the staff drove me by golf cart back to my villa so I didn't end up walking off the path into the jungle.
Nayara Springs
Nayara Springs, built in 2014, is an adults-only oasis looking to provide romance and relaxation. It is a Relais & Châteaux property containing 35 luxury villas that utilize wood and stone to blend in with the natural surroundings.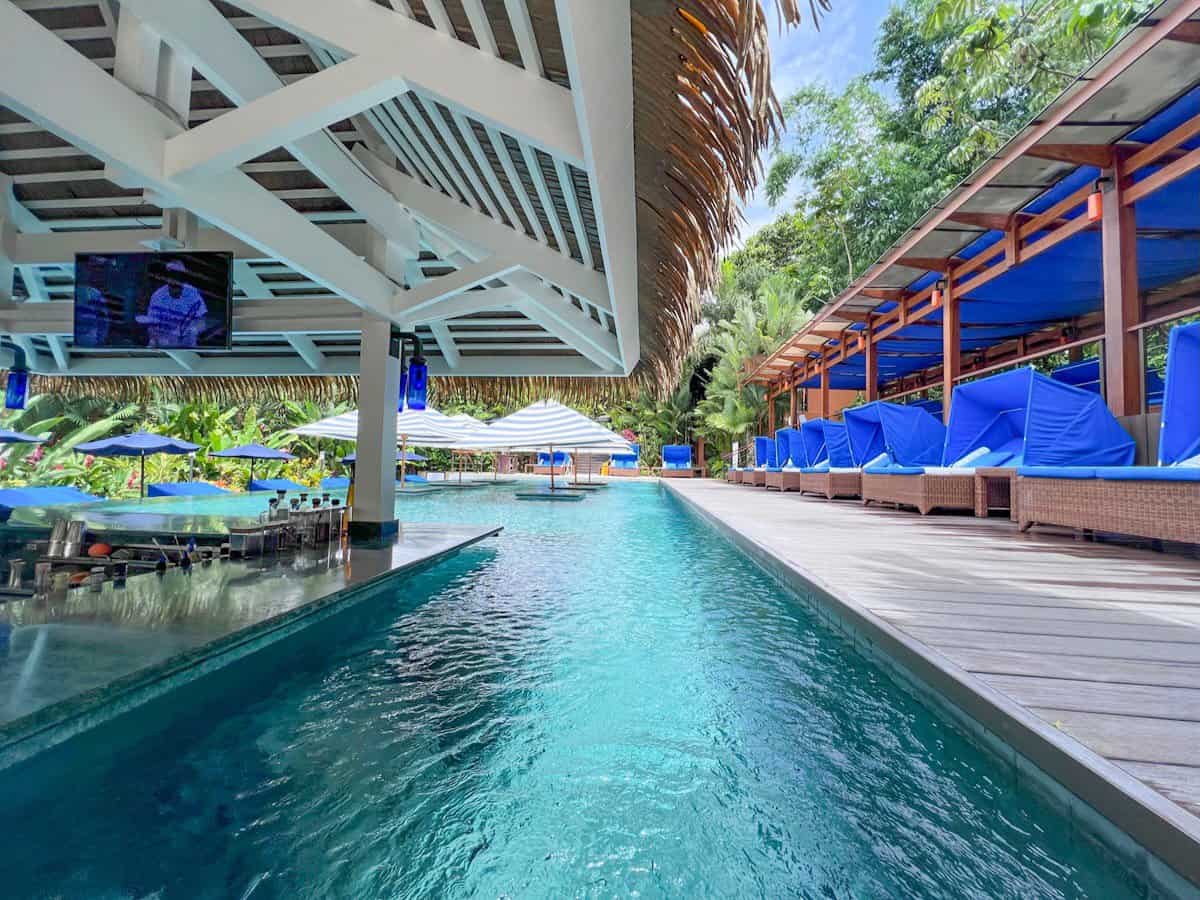 Each room is 1,500 square feet with a private terrace including a plunge pool, hammock, loungers and dining area. These rooms also contain indoor and outdoor double showers. King-sized canopy beds are draped with a soft, white mesh to evoke a stay in the jungle.
While restaurants and pools located throughout the Nayara grounds are available to all guests on the property, the pools and restaurants at Nayara Springs are reserved for adults only. (And the Nayara Springs pool is the best of the three to enjoy, too.)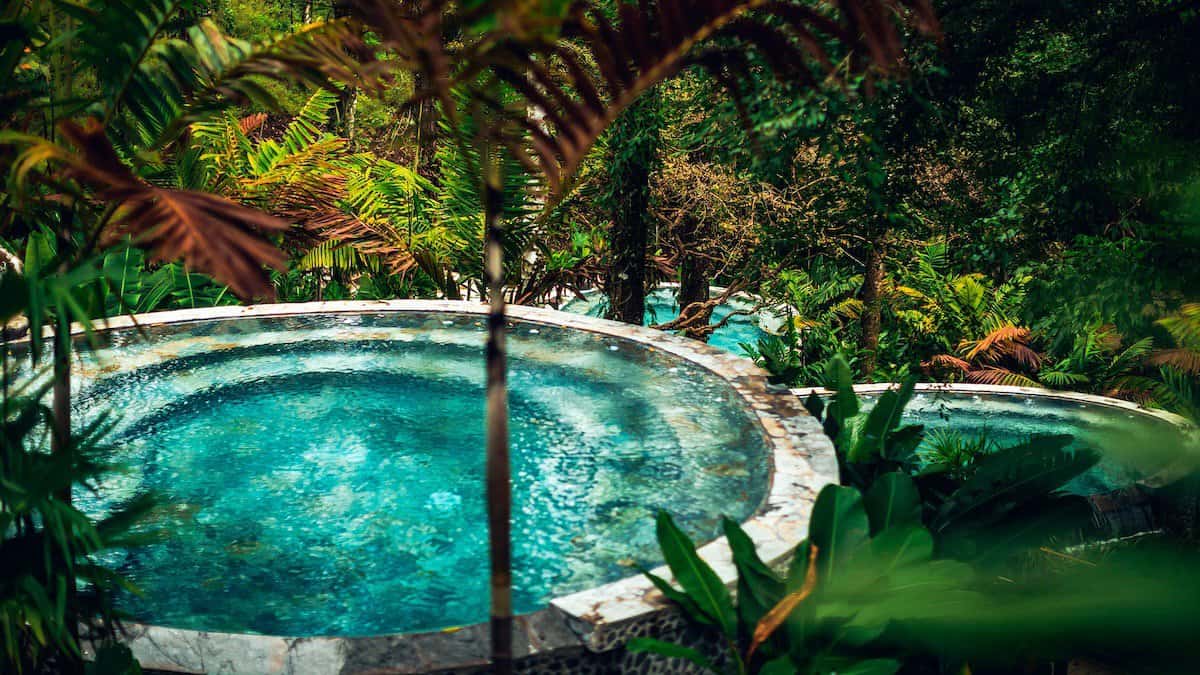 There is a lap pool, a pool with a swim-up bar, and multiple restaurants: Mis Amores (Italian), Amor Loco, a mixology bar, an espresso bar, and Besame Mucho available for an intimate dining experience.
Nayara Springs also has an open-air spa on site and each treatment room has a private plunge pool.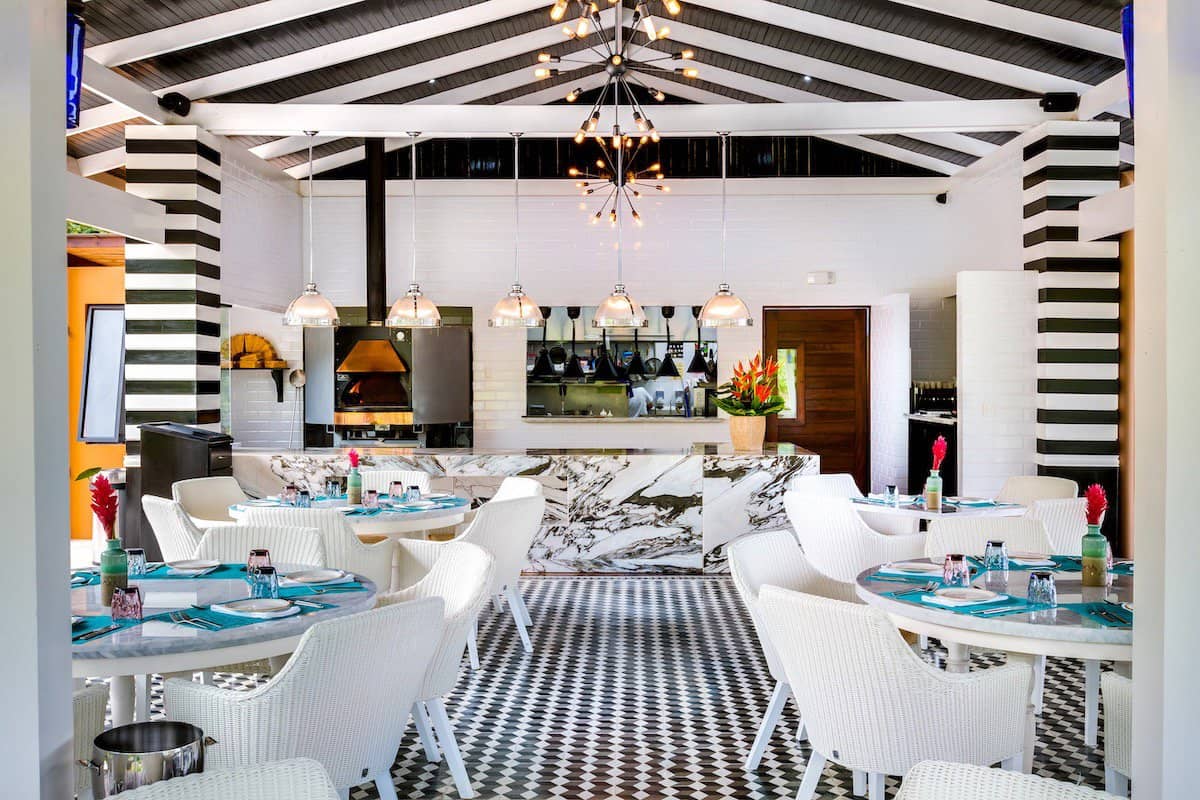 Nayara Tented Camp
The newest and most unique of the Nayara properties, the Tented Camp opened in 2019 (and added additional luxury tents in 2022) to total 39 tented rooms set on platform stilts in the jungle. Decor is serene with canvas walls, leather and white mosquito-net canopy draping the king size bed to offer the ultimate glamping feel.
Two roomy day beds are tucked on either side of the room creating individual sleeping space for two children.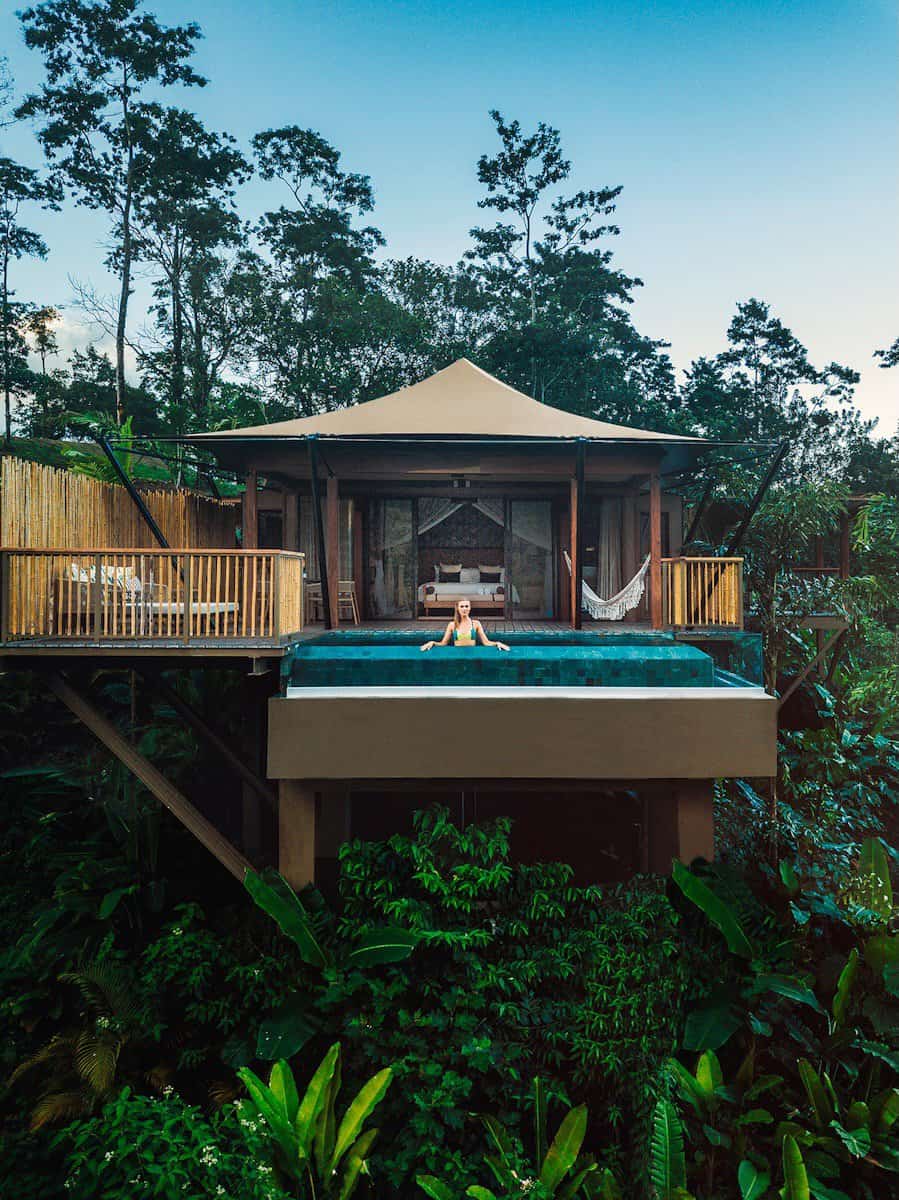 The rooms are 1,700 square feet and include an indoor and outdoor shower, a private terrace with lounger, hammock, dining table, and a private plunge pool heated by water from natural hot springs. These rooms offer a spectacular view of the Arenal Volcano on clear moments of sun in between rainforest showers.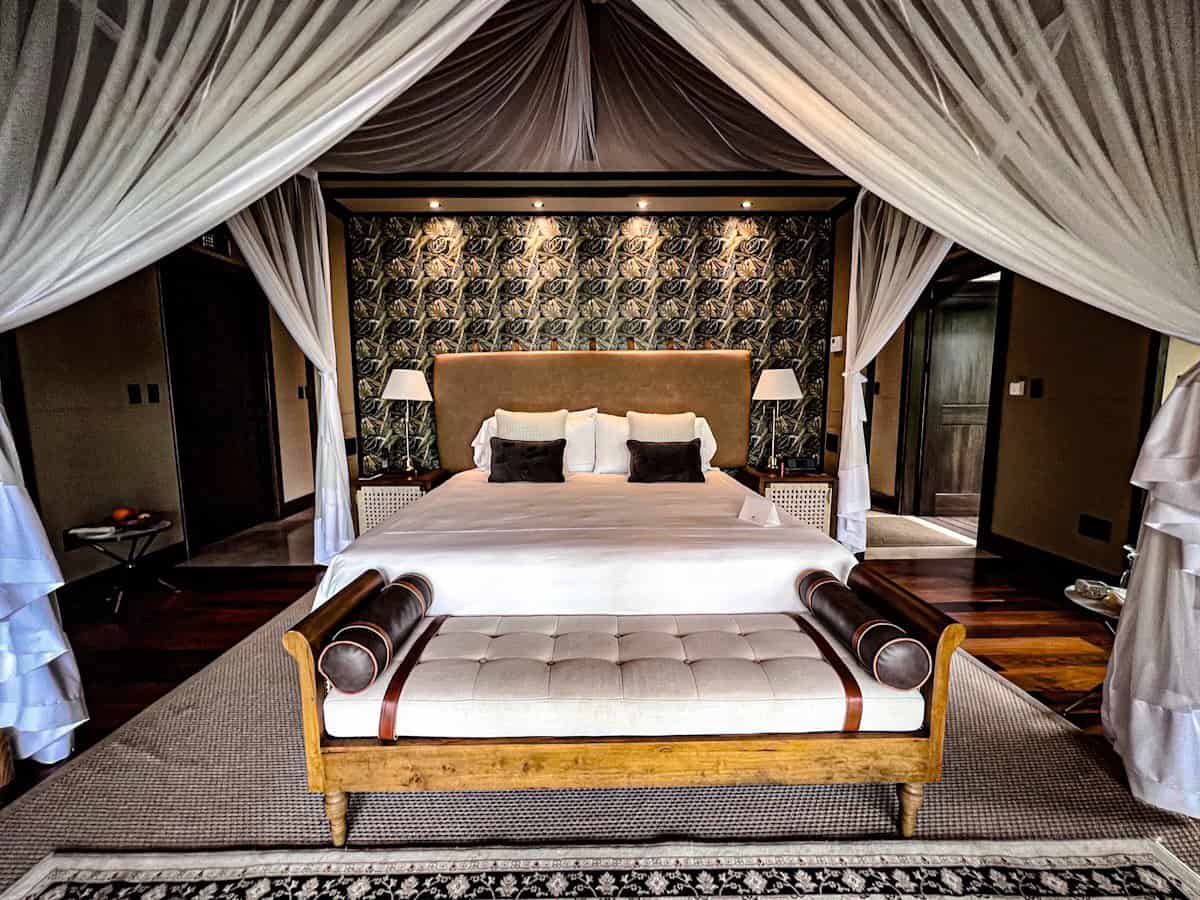 This resort can also accommodate larger families in Nayara's Family Tents: two-bedroom, two-bathroom tents that holds up to six, or, two four-bedroom options for larger groups of multigenerational travelers. These two tents are free-standing, connected by an outdoor patio, so younger kids would likely need to remain in the master bedroom tent.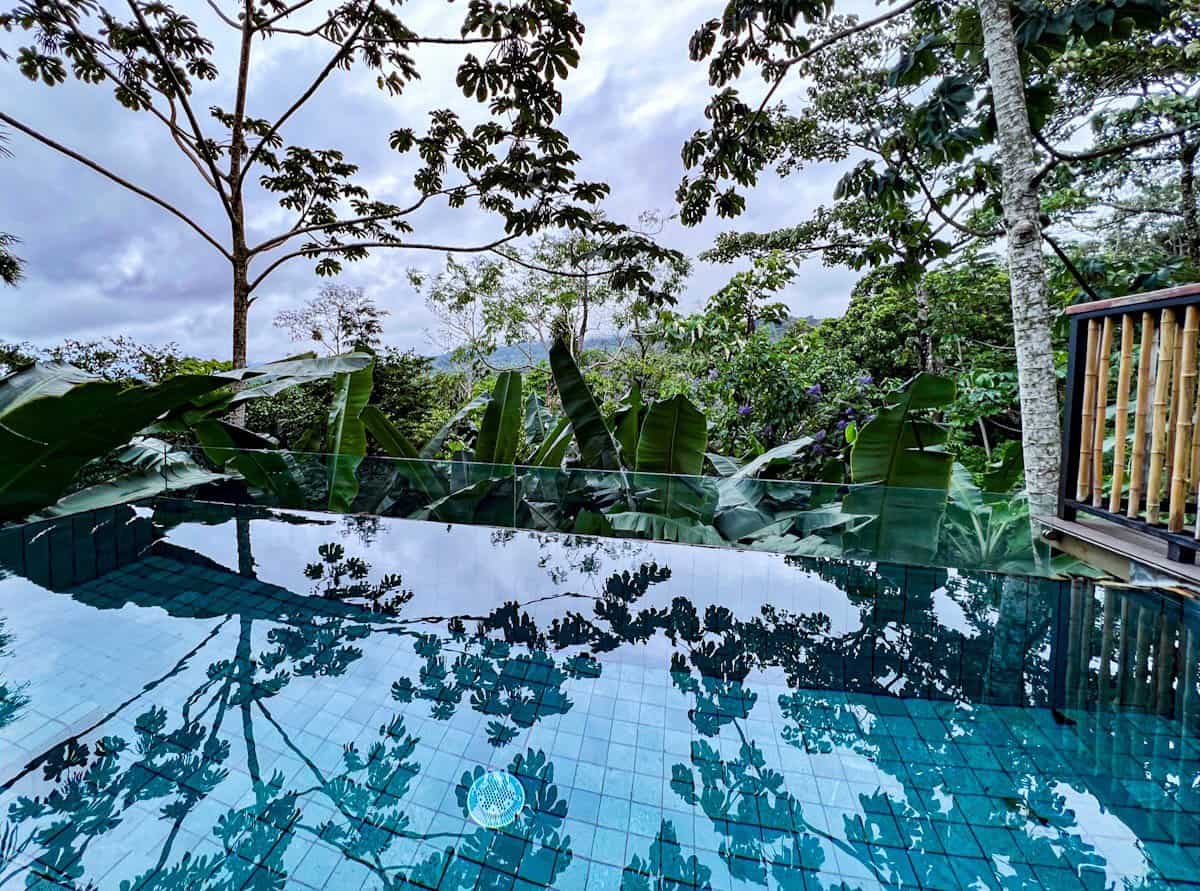 An infinity pool with swim-up bar over looks Arenal Volcano. There are also three, small hot spring pools tucked into the jungle which are perfect for families to swim in. The open-air family restaurant La Terraza del Arenal (a Costa Rican-inspired menu featuring local ingredients and seasonal produce) joins the Mediterranean-themed fine dining restaurant Ayla while Asia Luna features an outdoor terrace with inside sushi bar. An on-site spa opened in the summer of 2023.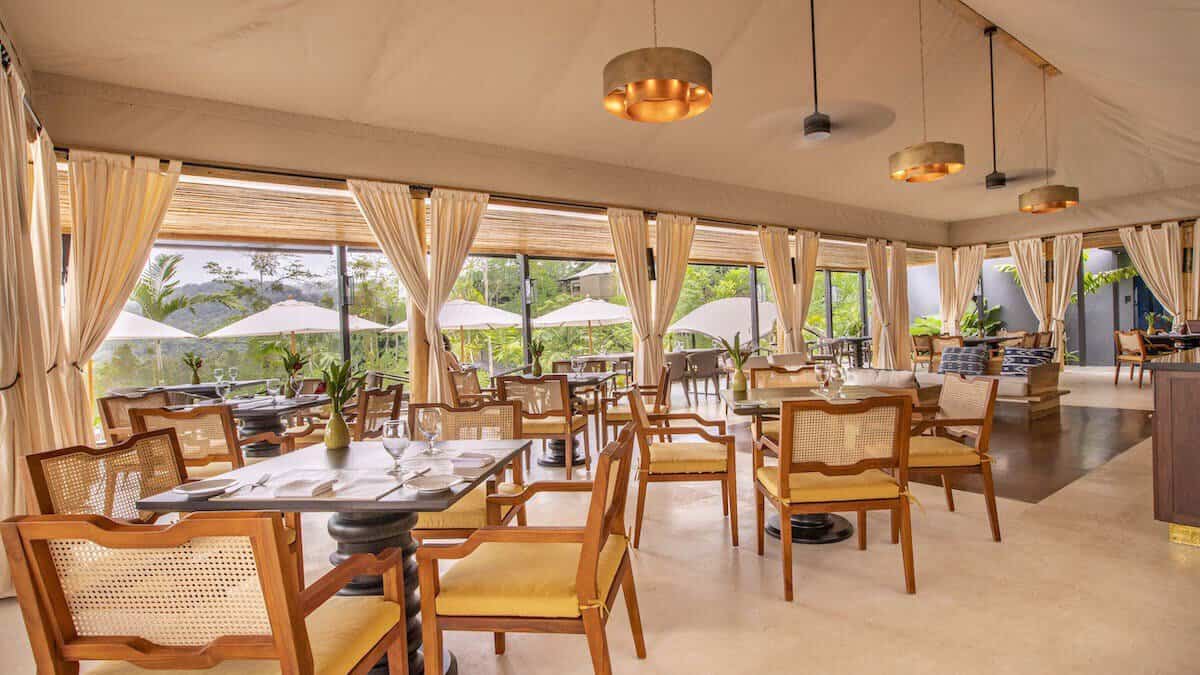 Our stay here was so spectacular, and remains one of our family's favorite vacations. Whether you are looking for an escape for your family (either large or small) or a romantic getaway, the Nayara Reserve has a resort to fit all your needs.
How to Book this Vacation
Luxe Recess can book these Nayara properties as well as the Andaz or Four Seasons with many additional perks. We can also create a complete itinerary with transfers, guides, and hotels via our on-the-ground partners for the best, most stress-free Costa Rica vacation.
Set up a consultation call today to get started planning.
Additional trip reporting provided by Robin Hutson.