How can a mega-resort with 2,200 rooms feel personal, even intimate? Does the Rosewood Baha Mar achieve the improbable? Yes.
What is the Baha Mar Resort?
There are three hotels that make the Baha Mar complex. The Grand Hyatt Baha Mar, the SLS Baha Mar, and the Rosewood Baha Mar create a u-shape facing the beach with shared pools and restaurants in the middle. The first hotel doors opened on Nassau's Cable Beach in 2017. The Rosewood opened last of the three in 2018, and finally, the Baha Bay waterpark opened in July 2021.
I tried all three resorts, and I can enthusiastically recommend the Rosewood property, while I recommend the other two with reservations.
Pulling up to the main entrance of Baha Mar mega resort, one is suddenly immersed in its casino, crowds, and roped queues for checking into the largest Grand Hyatt resort. Even the Atlantis, the nearby Paradise Island mega-resort complex, is more subtle about asking you to gamble. Their casino connects to a proper lobby.
Despite the double container offering samples of regular and spiked fruit punch in the port-cochère, you don't feel like you are on vacation anymore than you did when you were waiting in line in immigration at the Nassau airport a half hour earlier.
But the Rosewood is really different.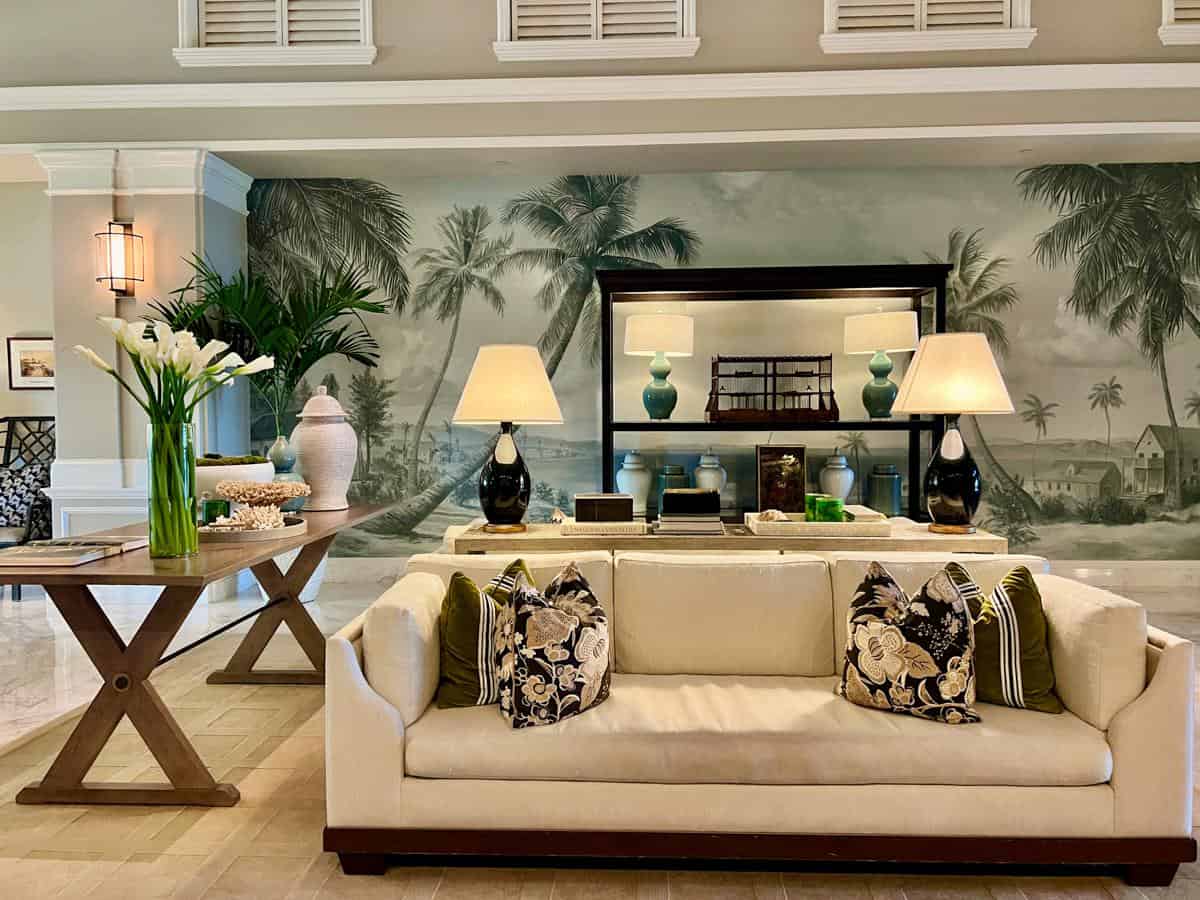 A contrast of welcomes
Rosewood Hotels talks about "the sense of place" as a leading driver in designing their hospitality experience. The formula for its exclusive and luxury at Baha Mar is that the Rosewood feels like a (very large) private home connected to a resort.
The lobby, referred to as "the living room", is scaled to feel grand, yet residential. Behind discrete, closed doors lie hallways to guest rooms and the Caribbean's largest casino.
The Rosewood shelters you from the mega-crowds and offers something exclusive and personal, like a modern Bahamian estate.
JOIN OUR LUXURY HOTELS & RESORTS FOR FAMILIES,
A FACEBOOK GROUP FOR SEEKING ADVICE AND INSPIRATION
FOR THE BEST LUXURY FAMILY BREAKS.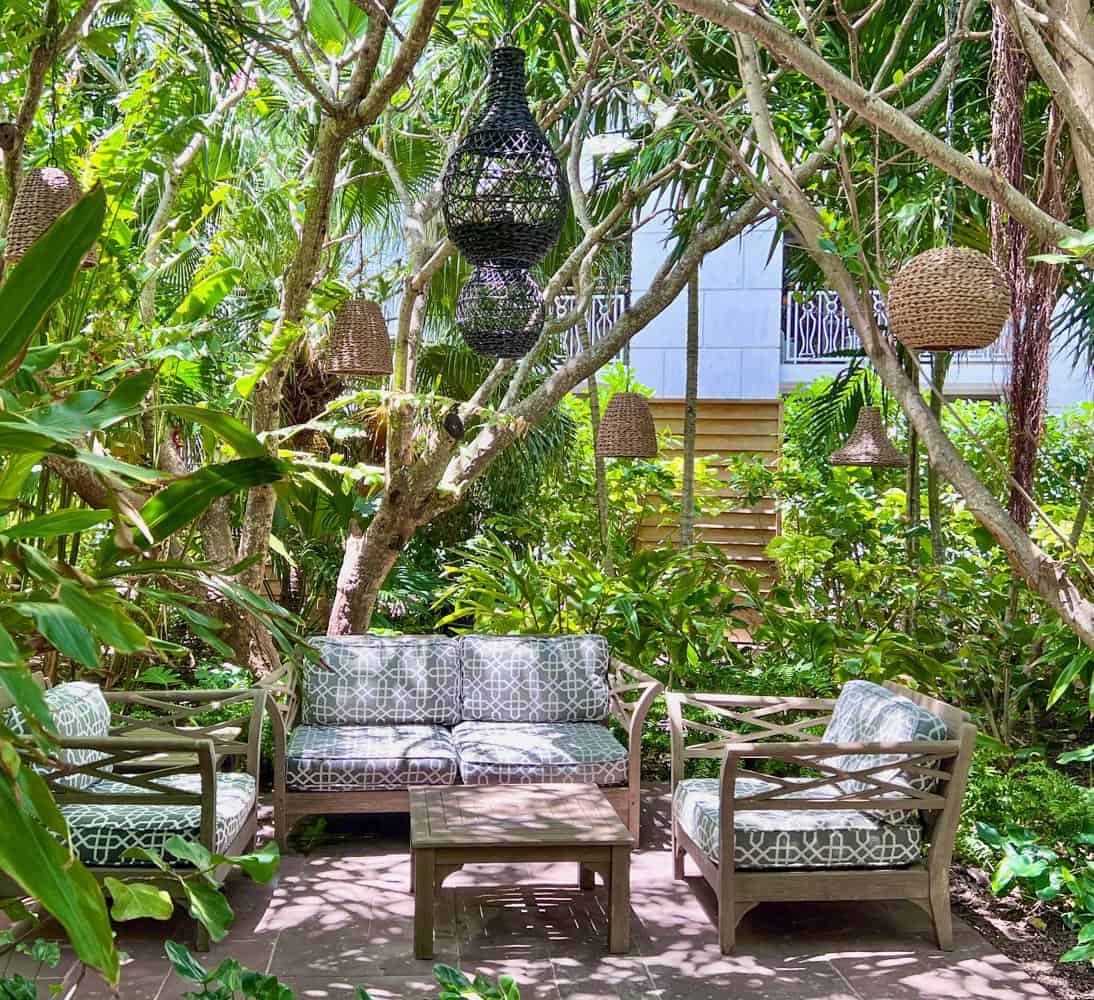 The Best Service Hands Down
The service at the Baha Mar Rosewood is at least three steps above the other two hotels. But fans of the Rosewood hotels would expect this. The other two hotels are so large that they are not capable of offering personalized service. (Though the Grand Hyatt has a hotel within a hotel called the Reserve).
I had Rosewood staff reach out to me at check in via text and email. Through texting they were ready to arrange any last-minute cabana and dining reservations on my drive to the property. They helped me with a reservation issue within Baha Bay and helped us get our rapid tests for flying home to the US (which were a breeze).
Waitstaff at the Rosewood restaurants were equally excellent, as were poolside attendants. We arrived before our rooms were ready and they escorted us to a private hospitality suite to change into our swimsuits and told us to leave our bags as they would have them waiting in our room. Everything worked like clockwork.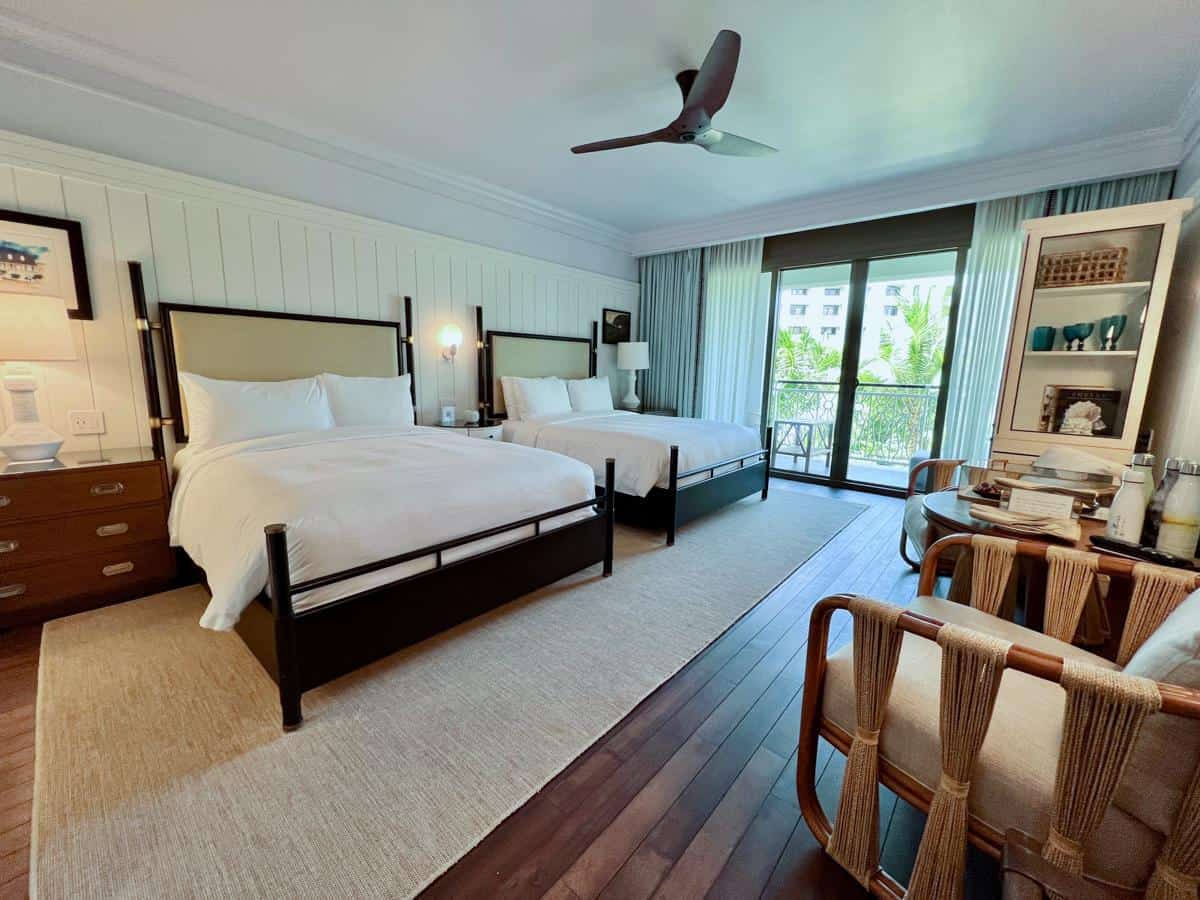 Rosewood Baha Mar Guest Rooms
Families can choose two-queen rooms, two adjoining rooms, or suites. Our two-queen room had a lovely balcony with cozy lounge furniture perfect for room service morning coffee or afternoon snacks. The furnishings were a mix of modern clean whites and neutrals with teak flooring and a ceiling fan to complement the air conditioning. The marble bathrooms have separate tub and shower, and sliding doors separate them from the bedrooms.
The resort presents guests with water bottles, and refueling stations are located around the beach and pool areas for hydration. The minibar at a Rosewood property usually goes the extra mile to promote a local cocktail recipe— in addition to a Nespresso machine and mini fridge of waters, liquors, and champagne.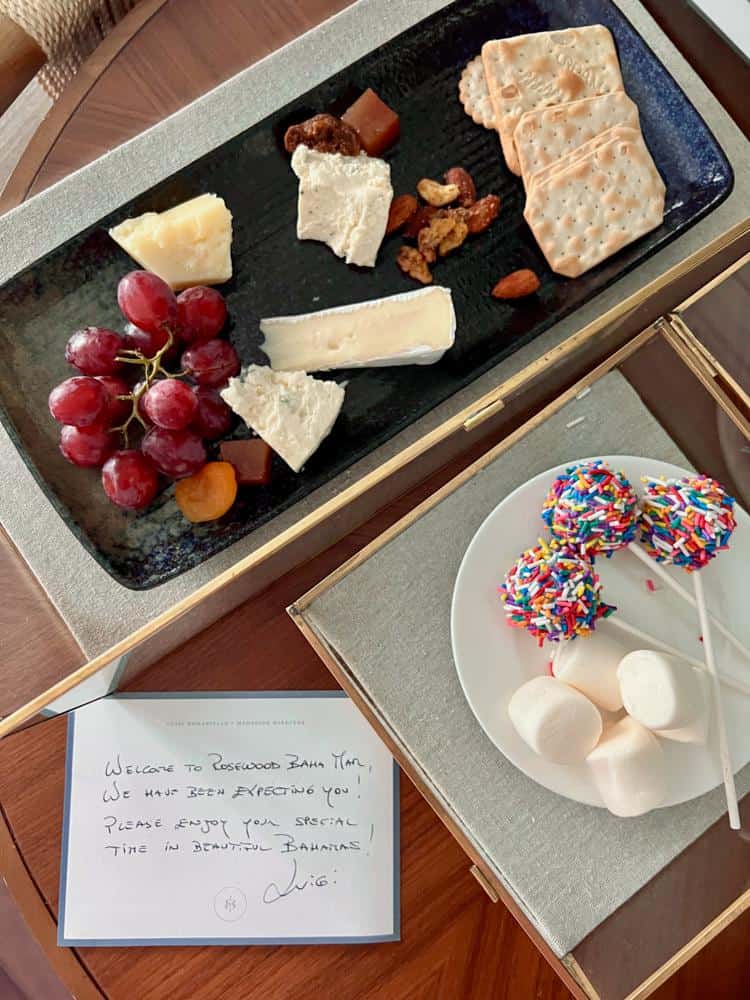 Let Luxe Recess VIP your Baha Mar trip
I booked myself as one of my own clients under my Rosewood Elite rates, so we enjoyed a lovely welcome of rainbow sprinkled cake pops and a beautiful cheese tray in addition to early check in, late check out, a $150 resort credit, and two breakfasts daily in the restaurant. Honestly, why would you book by yourself and leave money on the table? I can offer similar amenities at the Grand Hyatt and SLS Baha Mar, too.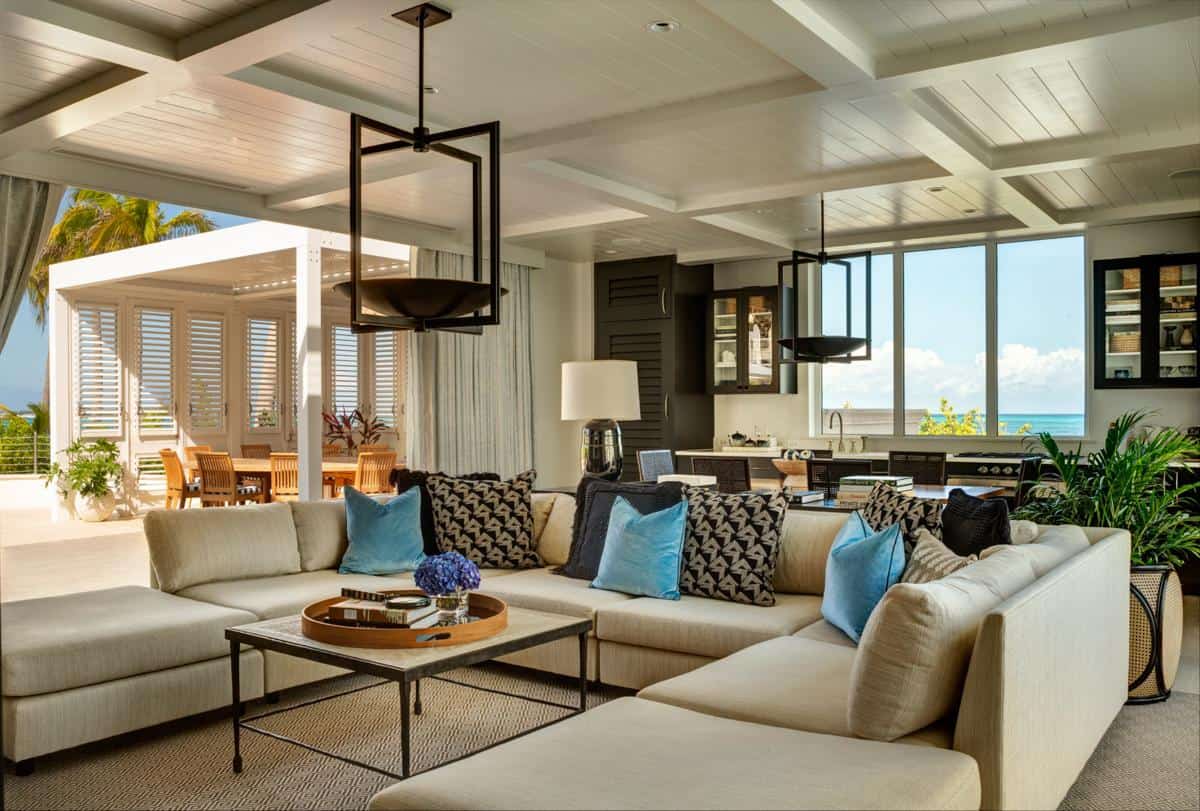 Baha Mar Rosewood Villas
Rosewood villas lie closest to the beach. They are either three-bedroom or six-bedroom villas and come with their own private pools (or a plunge pool) and butler service. The most premium option is a penthouse level six-bedroom villa with second-floor views of the ocean mere yards away.
There are additional perks staying in these beachfront villas including round-trip airport transfers for up to six people, two villa massages, floral arrangement and fruit and an opportunity for a Mezcal flight served in Costa or in the Library lounge.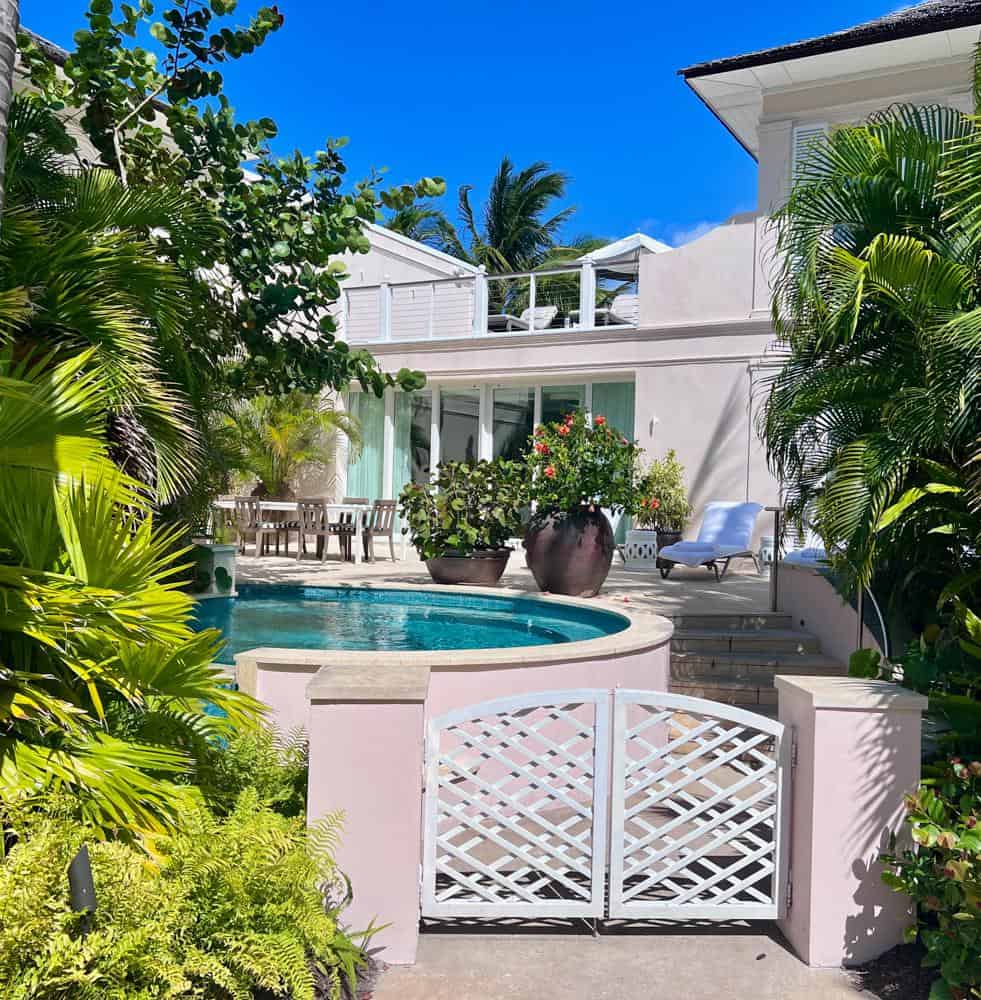 The six-bedroom is a layout that combines two three-bedroom units with two master suites. Each of the units has a Murphy bed in the third bedroom.
There's a private pool and hot tub and a lovely semi-enclosed outdoor dining area for your meals from in-room dining or that you cook in your kitchen.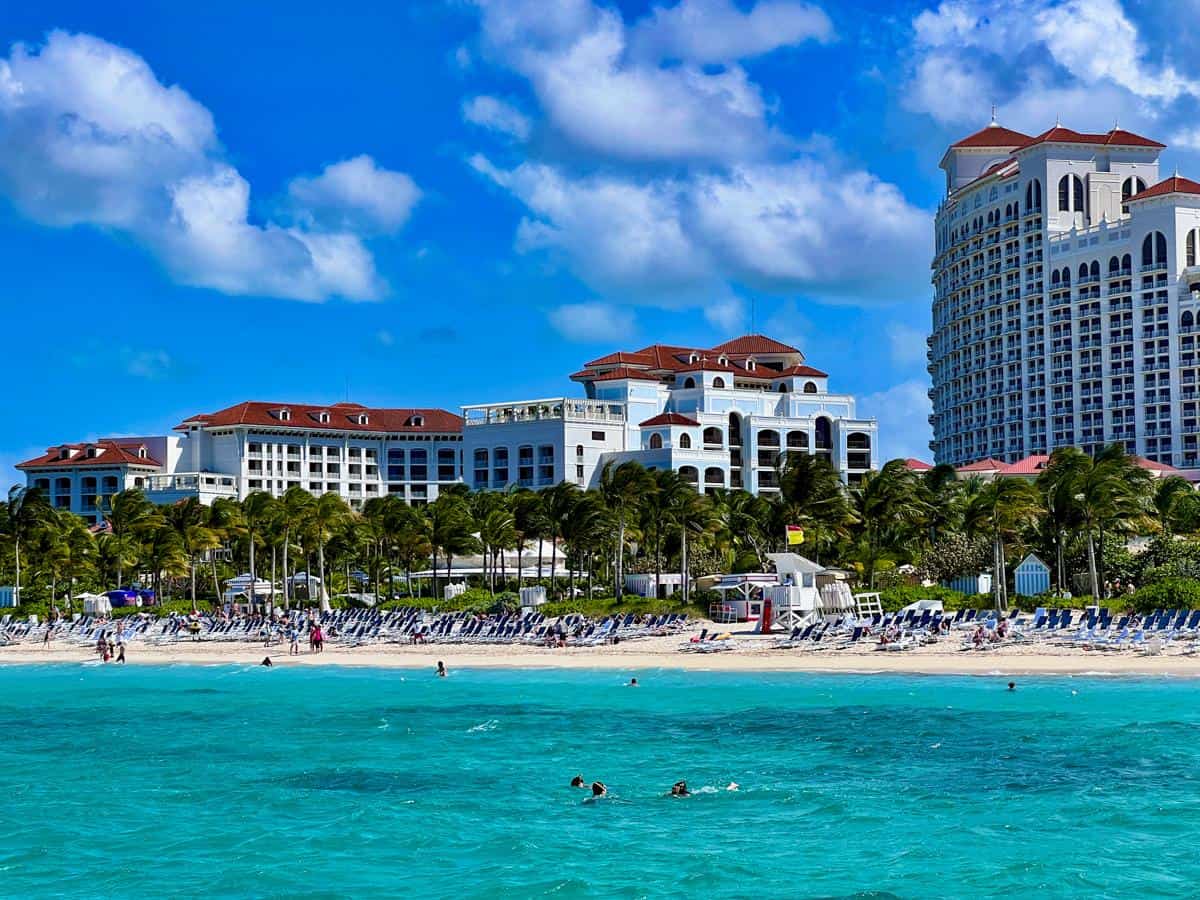 Rosewood Baha Mar Beach and Pool
Guests of this luxury resort have a private beach area separate from guests at Baha Mar's Grand Hyatt and SLS resorts picture above. There's a roped-off area that only people with Rosewood wristbands can enter. Due to the smaller crowds, Rosewood guests can count on attentive beach service and ample chairs while sunning on the white sands of Nassau.
Cable Beach's surf is relatively calm, and there are kayaks and paddleboards and other types of water sports equipment guests can borrow. The beach views are not the most picturesque in the Bahamas, but the calmer surf can be a plus.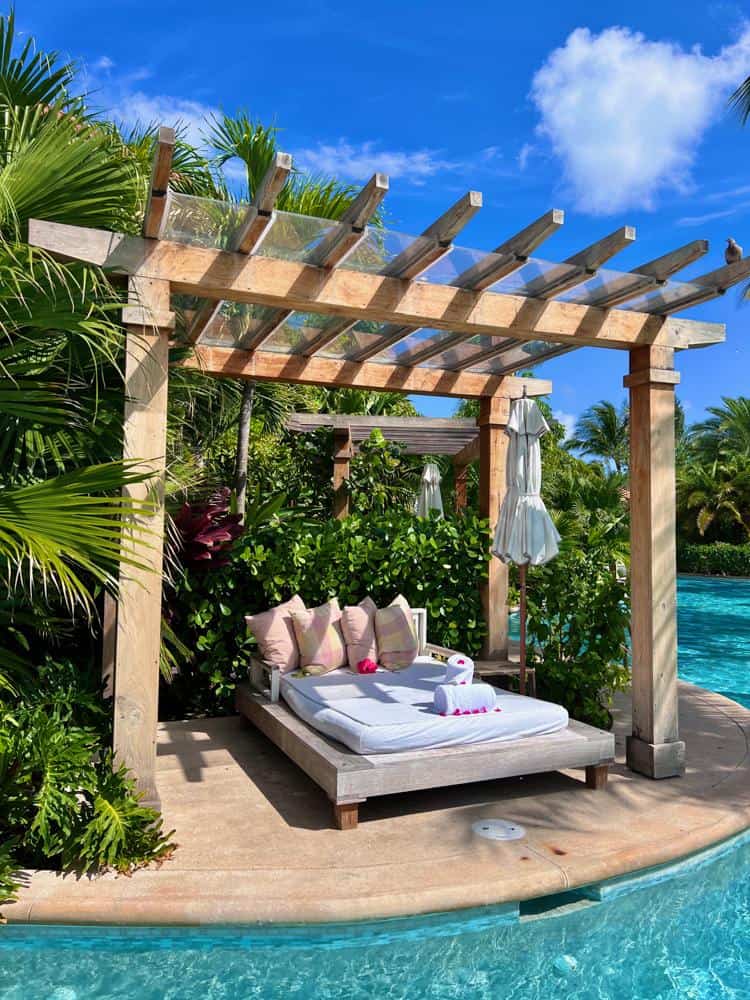 Of all the cabanas available within the Baha Mar resort, I think the cabanas at Rosewood aren't necessary to enjoy the pool. The Rosewood pool is intimate enough that the pool attendants can create a shady space with regular sun lounges and umbrellas for you. The pool has no special family features, but being steps from the beach, it is easy for a family to spend the day bouncing back and forth.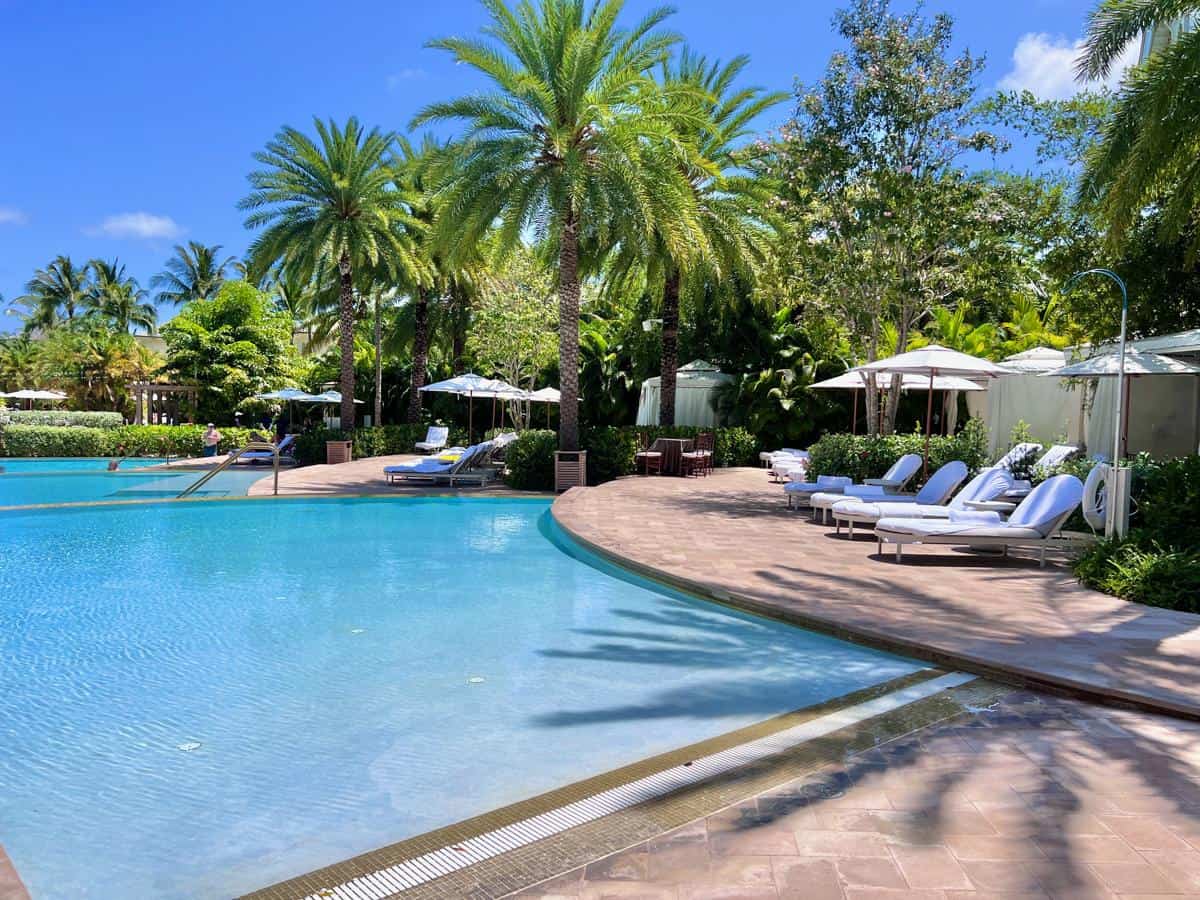 Baha Bay Water Park
Baha Bay, a water park on the resort grounds, opened July, 2021 and is included for guests staying at the three resorts at Baha Mar. It's a manageable park, small enough to not feel too overwhelming, large enough to engage you for most of the day.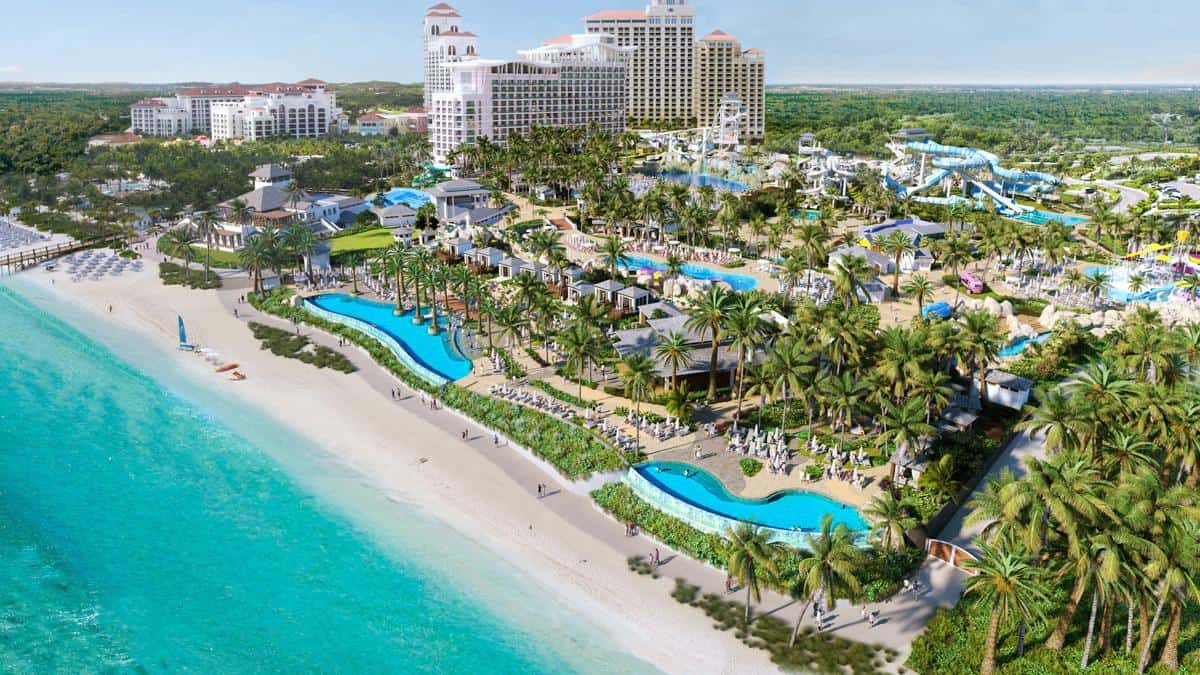 The beach club and its two infinity pools are incredibly popular, so guests reserve those cabanas first. There are more cabanas are scattered throughout the park, as are convenient lockers to store valuables and cameras.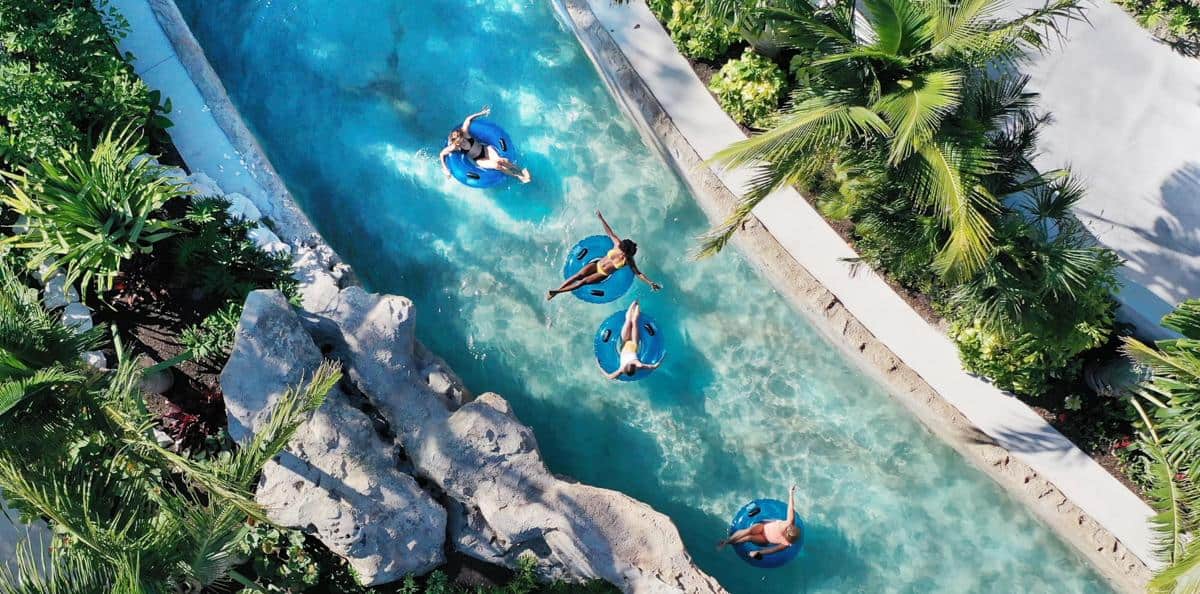 We loved the lazy river that included a little bit of a wave machine boost at the end. Some waterslides went uphill for a portion with water pressure, and then all of that pressure is showered upon you on your ride down. We didn't even get to all of the slides during the day because some were so delightful, we rode them multiple times.
Going back and forth between hotel pools and the Baha Bay area is easy as a Baha Mar guest. Just show your hotel wrist bands.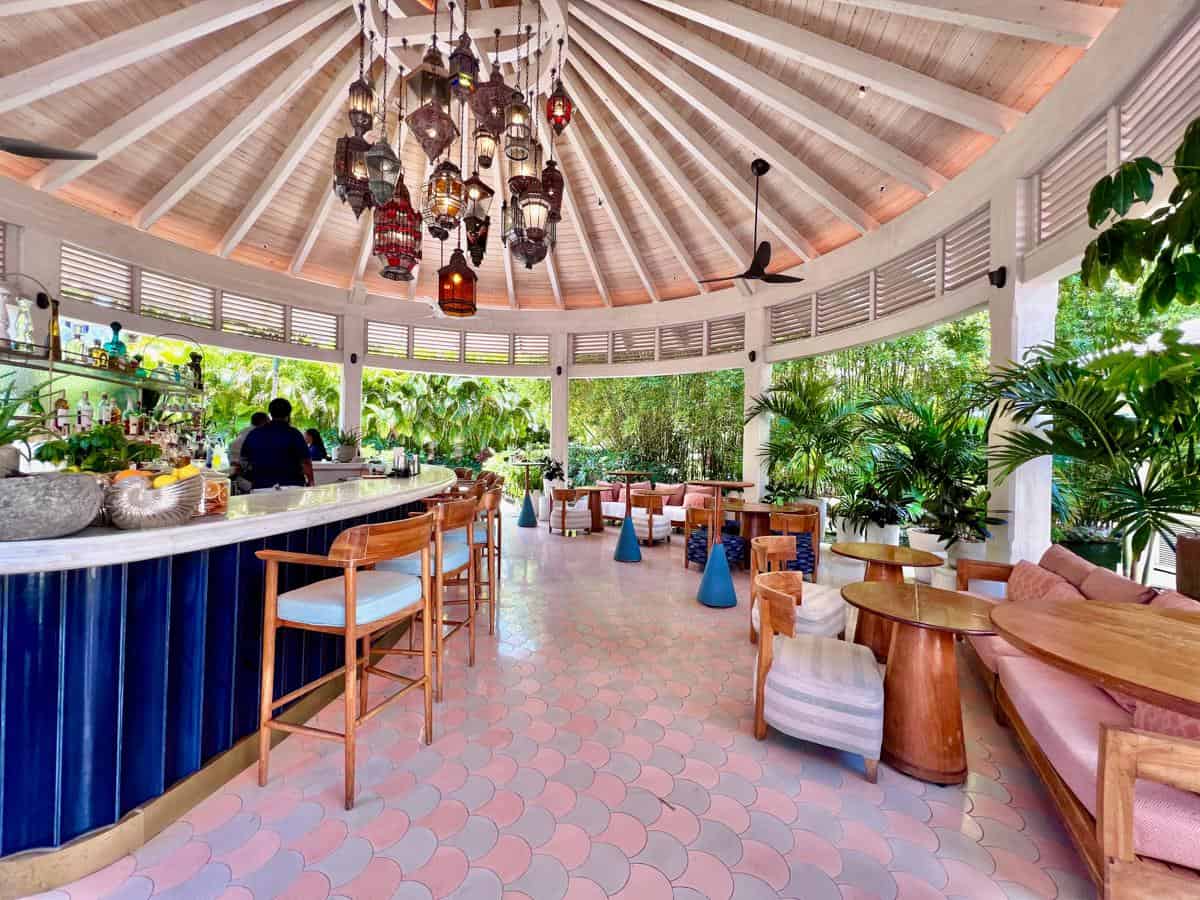 Rosewood Baha Mar Restaurants
Café Boulud
Café Boulud is the center piece of Rosewood's restaurants, serving daily breakfast and dinner. Note the Bahamian art collection adorning its walls. For dinner, I had one of the most sophisticated meals in my 40+ years of Bahamian travels.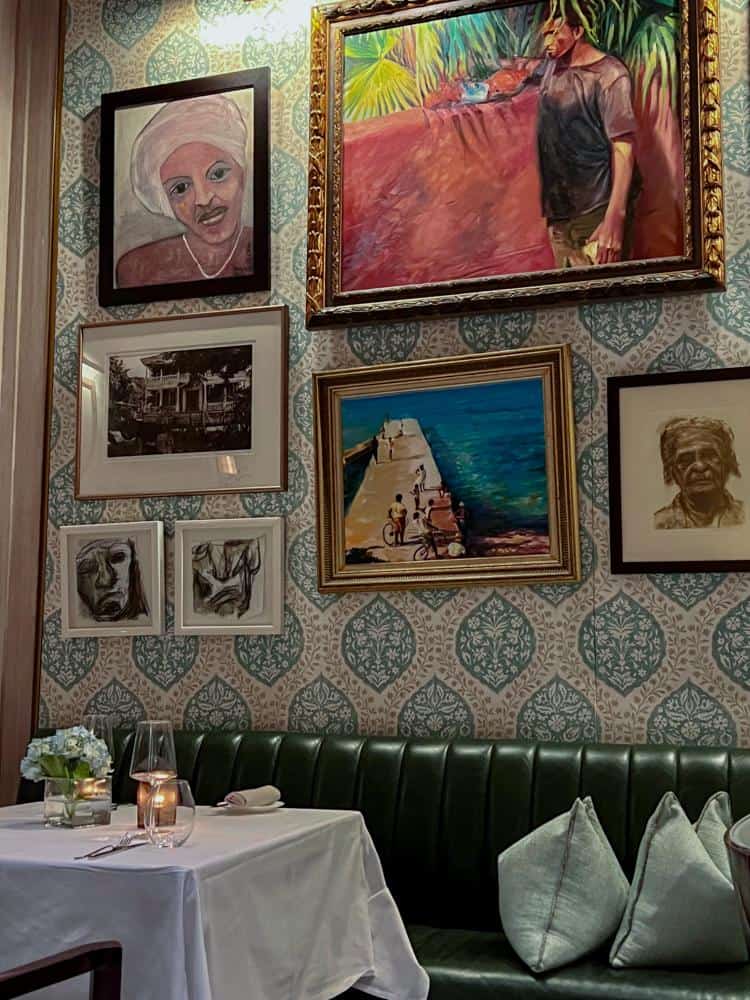 Café Boulud took chances with its dishes and delivered. The service was five-star all the way. Even if you're not staying at the Rosewood, I do recommend booking a table here in advance for a special meal on your vacation and a break from those addictive conch fritters.
A fresh burrata salad with focaccia croutons and watermelon radish was an excellent start to a verdantly green spinach and pesto ravioli. For dessert, I'll never forget the flavor of a hazelnut Baked Alaska with coffee merengue and lime sorbet. The citrusy tang transformed the dessert into something truly memorable.
The Rosewood Baha Mar breakfast is served in Café Boulud and is included for two adults per day when Luxe Recess books your stay. Breakfast features a continental buffet and a menu for custom-ordered egg and griddle dishes. I'm an omelet aficionado, and I can tell you that that is one good omelet they make. Considering Café Boulud is a French restaurant, they are omelet connoisseurs.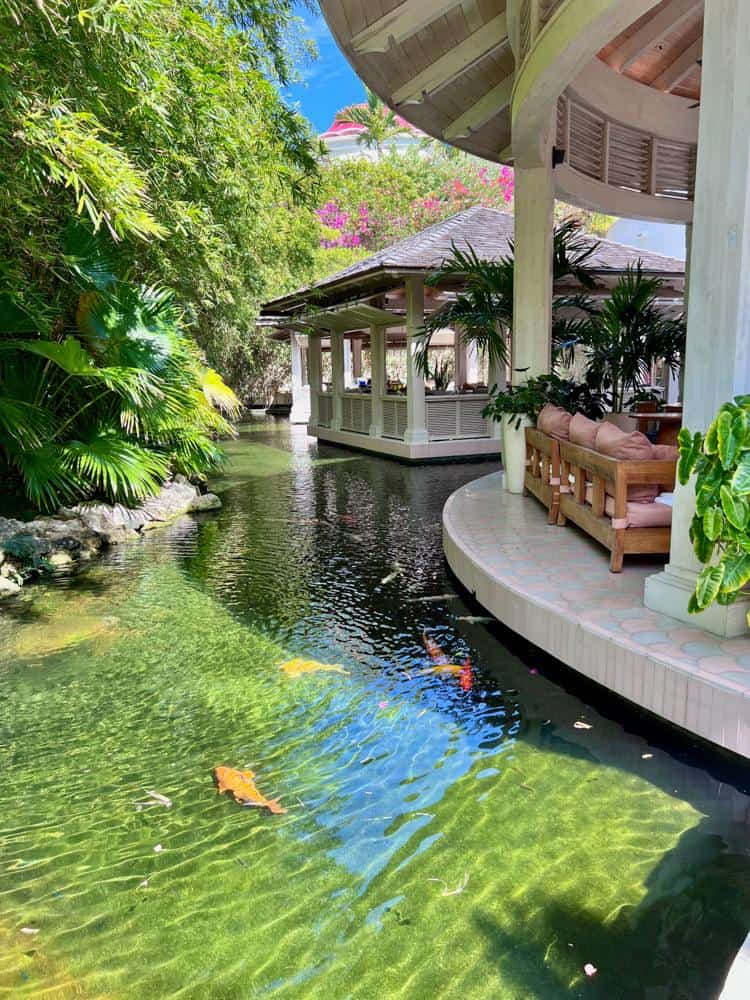 Costa at Rosewood Baha Mar
Costa is an over-the-water Mexican restaurant as the principal lunch option for resort guests. It will make fans of the Rosewood Mayakoba a little homesick. Our meal was excellent including various salads, tacos, flautas, and the kid's menu hit the spot. I highly recommend the house-made guacamole and chips as they bake their chips to order, and they were unbelievable.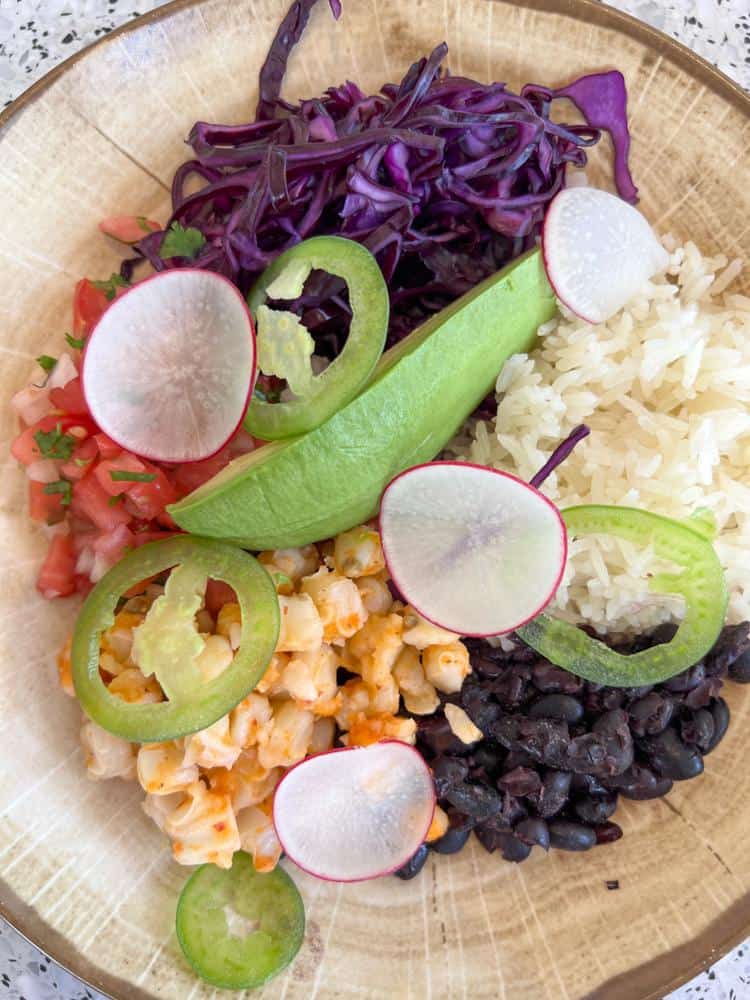 The open-air bar area of Costa is adjacent to the Rosewood swimming pool, and as you'd expect, there are outstanding collections of tequilas and mezcal and margaritas are on the menu.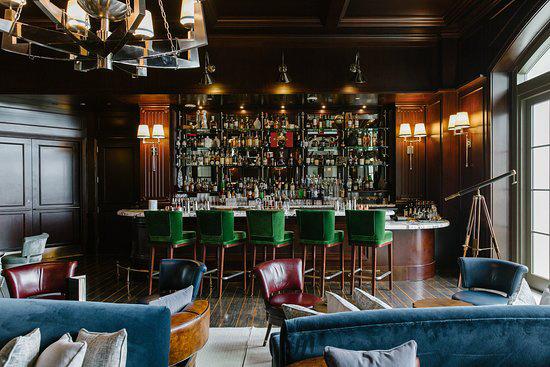 The Manor Bar & The Library Lounge
Off the lobby "living room" sits the library where guests can order afternoon tea and a champagne menu. In deep contrast across the hall, is the Manor Bar shakes cocktails withing its dark wood-clad walls. This bar gets lively in the late afternoon until evening.
Baha Mar offers many more options within the other hotels, the pool area, and beachside food trucks. It would take more than a week to try everything.
Food quality was consistently good, even the poolside poke stand.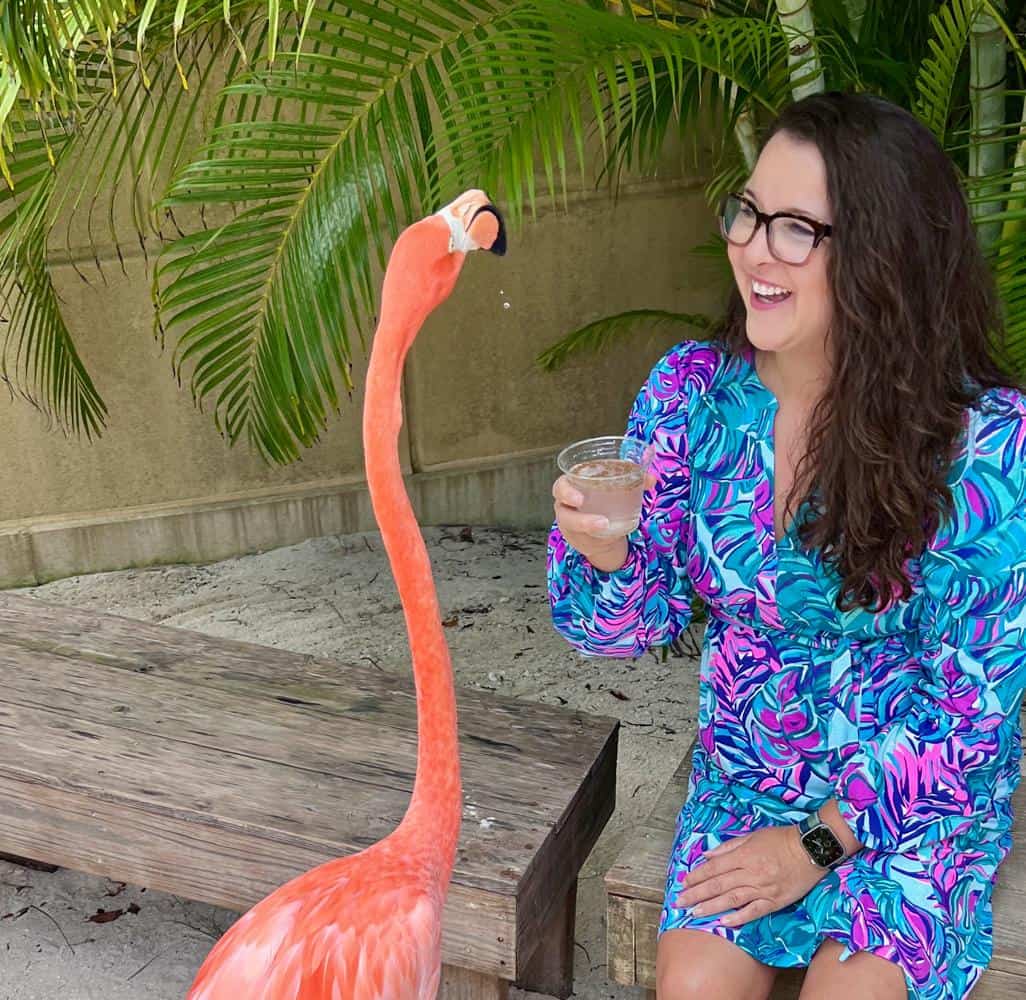 Wellness & Recreation
Beyond the pool and beautiful beaches, guests have access to tennis courts, a fitness center, and the Rosewood Sense Spa.
The spa incorporates local healing ingredients like moringa leaf and lignum vitae, and neem oil in featured treatments. And guests receive facials using the Maison Caulieres and Evidens de Beaute lines.
Children twelve and older can have a mani-pedi, facial, or massage with mom. Guests can enjoy the Espa at the Grand Hyatt as well.
The Baha Mar resort offers animal experiences with flamingos, birds, and marine life within their pool complex.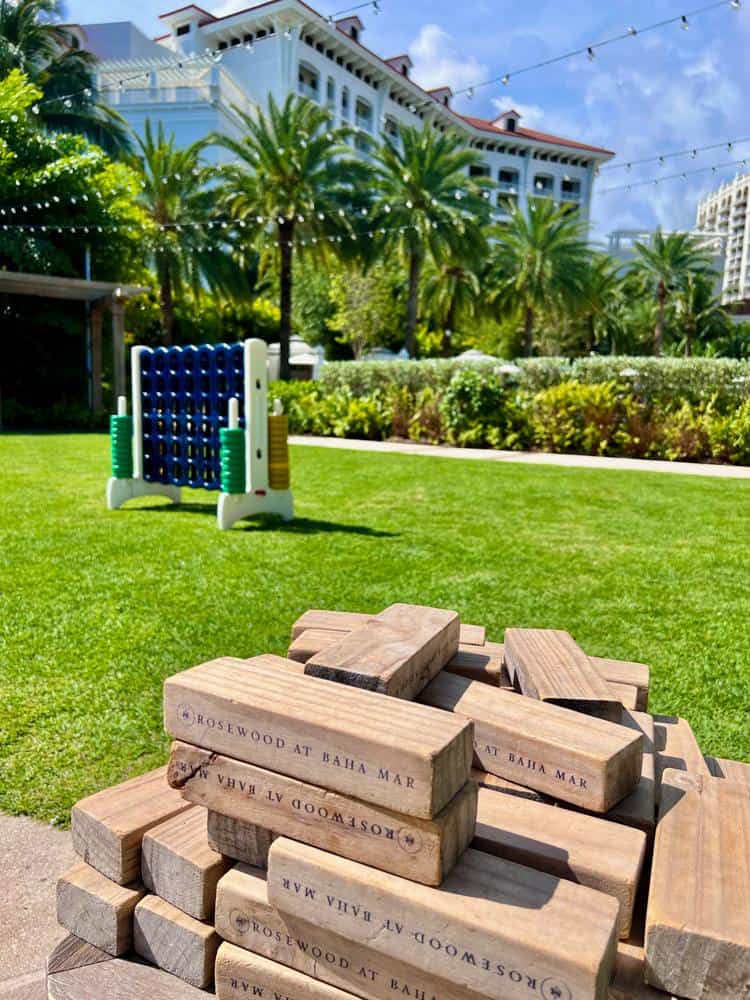 Rosewood Baha Mar Kids Club
Adjacent to the pool area, kids 4-12 can escape the sun for a bit and discover games to play inside the Rosewood Explorers Club. Morning periods are mostly indoor, but afternoon experiences include sandcastle building and kite flying on the beach. Every afternoon at 3:30, there's a little ice cream party — set your phone alarm!
Baha Mar Nexus Club
The Bahamas has become a hub for the crypto crowd due to its more lenient laws around trading. The New York based Nexus Club brings a steady stream of crypto bros to the Nassau with its members-only Bahamas resorts, clubs, and conferences.
A perk of the Rosewood Baha Mar is access to Baha Mar's Nexus Club pool (adjacent to the Rosewood pool). It's a perk if you feel like tipping the pool attendants in Bitcoin.
Final Rosewood Baha Mar Reviews
Grand Hyatt vs Rosewood Baha Mar with kids? Quite simply, if you can afford it, stay at the Rosewood over the Grand Hyatt. Rosewood offers a sense of calm, sophisticated elegance in contrast to a Las Vegas-style mega-resort with all the good and bad that entails.
Because the Rosewood separates the casino noise with a door and the beach crowds by a rope, the resort is able to deliver outstanding service and a relaxed environment among thousands of people.
I appreciate their efforts in creating a home like space. So I'm a houseguest more than willing to overstay my welcome.
Booking Your Bahamas Vacation
Did you know Luxe Recess is a magazine and an exclusive Rosewood Elite partner? What does that mean for you? It means that as both a luxury family travel magazine and travel agency, we can give our clients numerous complimentary amenities.
Our rates at the Rosewood properties always include complimentary breakfasts for two and resort credits and —based on availability— upgrades and early check-in and late check-out. If you would like to add these amenities to your stay at no cost to you, please complete this hotel booking form. You can also book on the website and receive these amenities.
I'ver personally been to the Bahamas more than two dozen of times and stayed at many hotels on many islands. I've love to show you the best! Let's talk!