There's a Miami family vacation beyond South Beach that involves great food, culture, and fabulous service.

Finding Miami Hotels that work for Families
Miami has really evolved into a vacation scene similar to Las Vegas where many of the most popular reasons to visit have nothing to do with family fun.
In a city that's increasingly rivaling Sin City for an all-out party vacation, luxury Miami hotels that are truly family friendly are hard to find.
This isn't so at the Mandarin Oriental Miami which retains an elegant, sophisticated atmosphere the brand does best- where families can feel welcome while unwinding with attentive service and serene environs.
Best Rooms for Families
Our family vacation started off with a bang when a server from in-room dining arrived with a family welcome amenity of frost-your-own cupcakes.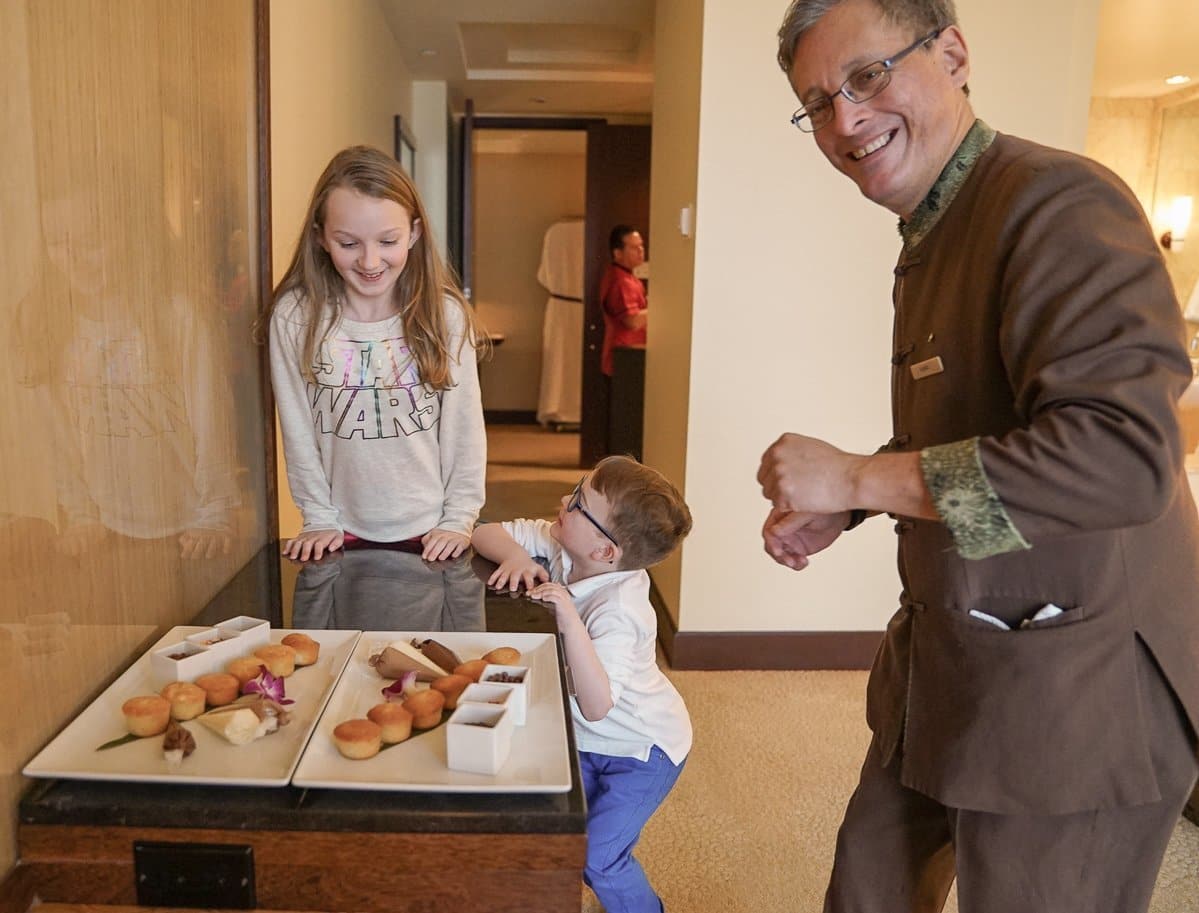 Completely unprompted, my daughter deftly created Mandarin Oriental cupcakes adorned with chocolate frosting logos. Give a kid a cupcake, and you've made a fan for life.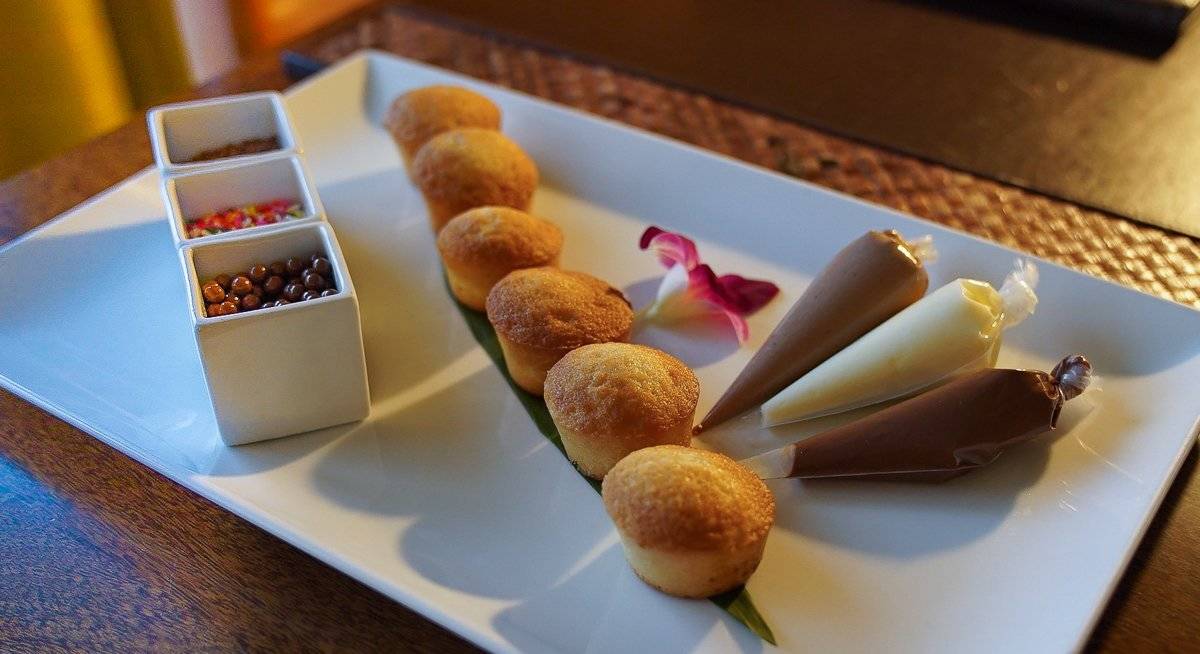 Layers of gold dominate the plushly appointed rooms with balconies that offer views of the Miami skyline or Key Biscayne Bay.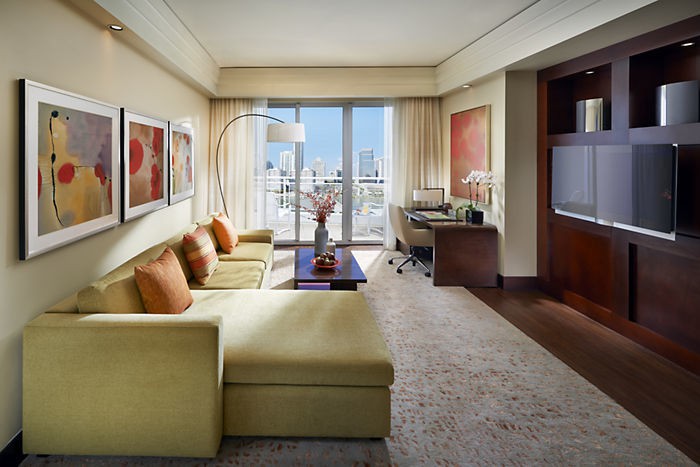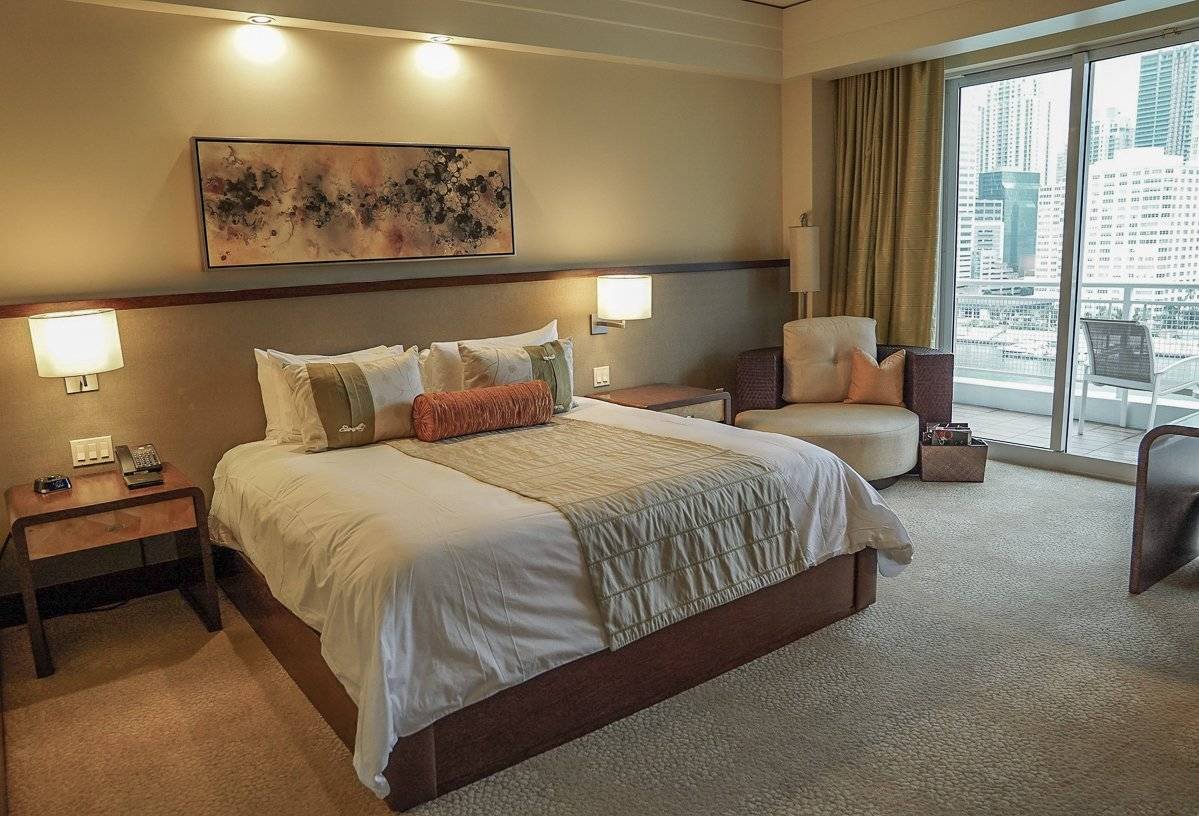 If your stay is longer than two nights, make sure to reserve at least a junior suite or larger, which is what the hotel offers in all of its family packages.
Standard rooms are tough for families larger than three, because rollaway beds are only allowed in king rooms, and double rooms have full-sized, not queen sized mattresses.
One other challenge of standard rooms is that the bathroom has an open floor plan with a cutout window between the bath and sleeping area. There is a shade that can create privacy, but not reduce noise if family members needs to get dressed and shower at different times.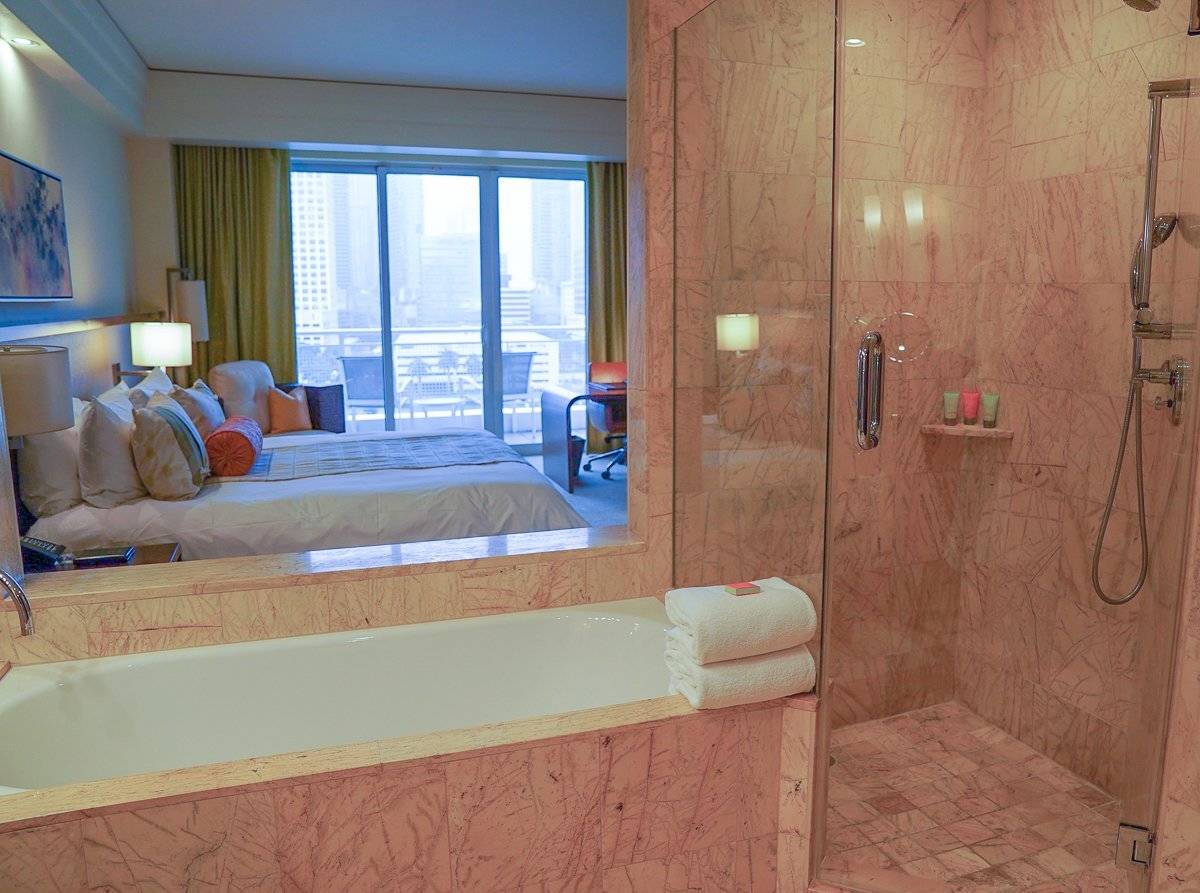 I unpacked, ordered a champagne cocktail, and sat on my balcony to reintroduce Vitamin D to my body after fasting without it in Boston this winter and bit into a delicious family designed cupcake.
The Mandarin Miami Pool
The Mandarin Oriental is not on the beach, so it's all about the pool.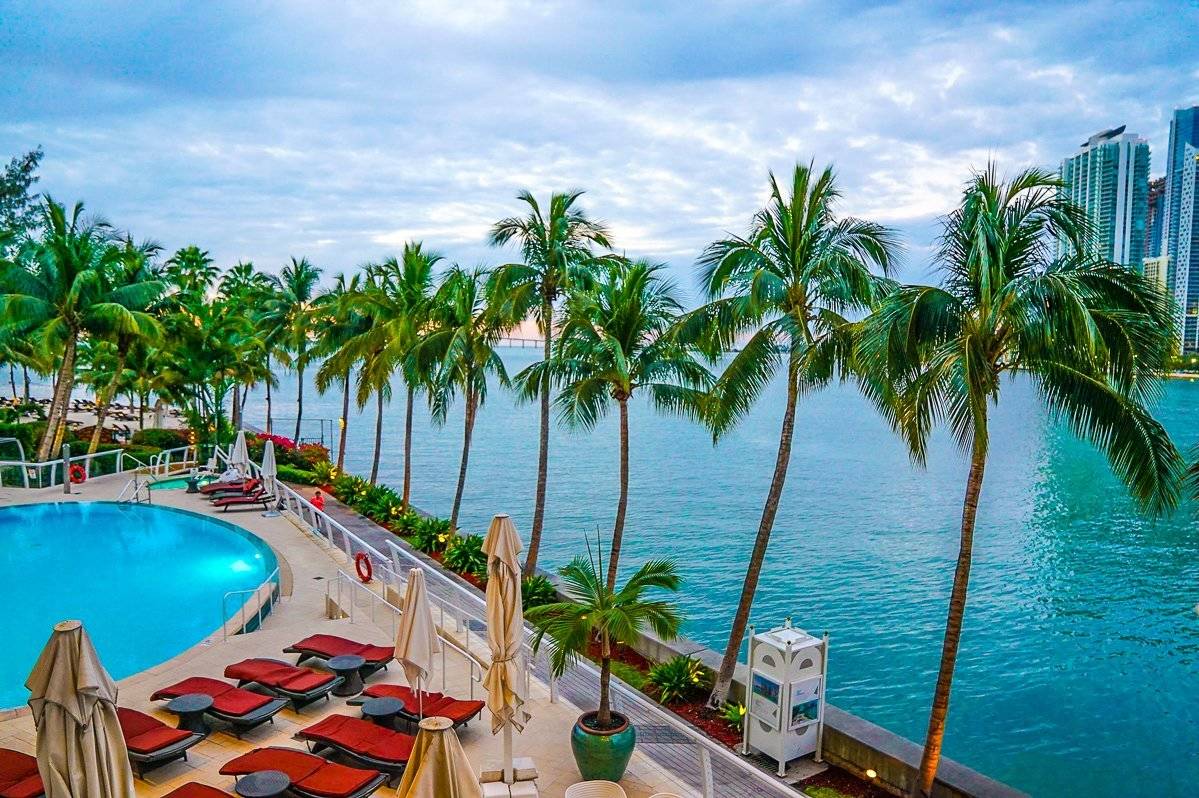 There's no fancy water slide or splash area or anything of that sort, but my children didn't seem to mind one bit while making friends and bobbing around.
They loved the fruit infused water that my son definitely helped himself to again and again (sorry if anyone else was thirsty!) and enjoyed playing pool server while rehydrating me with strawberry and lemon water.
I had heard very large lizards make regular appearances at the pool area. To the delight of all the children who aren't used to such local flora and fauna, one appeared just after my kids finished their Bento box style lunches of fruit, fries, chicken nuggets and spice cake.
Plans to expand the pool area to make it even more family friendly than it already is a great sign to show kids really are welcome here.
---
Join our Facebook Group Luxe Family Trips,
where well traveled parents can advise one another on the best places to stay.
---
Brickell Key
The Mandarin Oriental Miami boasts a unique destination on a small island connected to the Brickell area of downtown Miami appropriately called Brickell Key. Brickell Key is a high-rise community for commercial and residential towers.
Advantages of this location mean that views of downtown Miami are beautiful as well as the south-facing views towards Fischer Island, the Virginia Key bridge, and Key Biscayne.
Brickell Key Park
Brickell Key Park offers a jogging path that circumnavigates this tiny island that feels like rush hour at sunrise for the fitness motivated. There is also a beautiful little playground perfect for children who both live there and for those of us staying at the Mandarin Oriental Miami.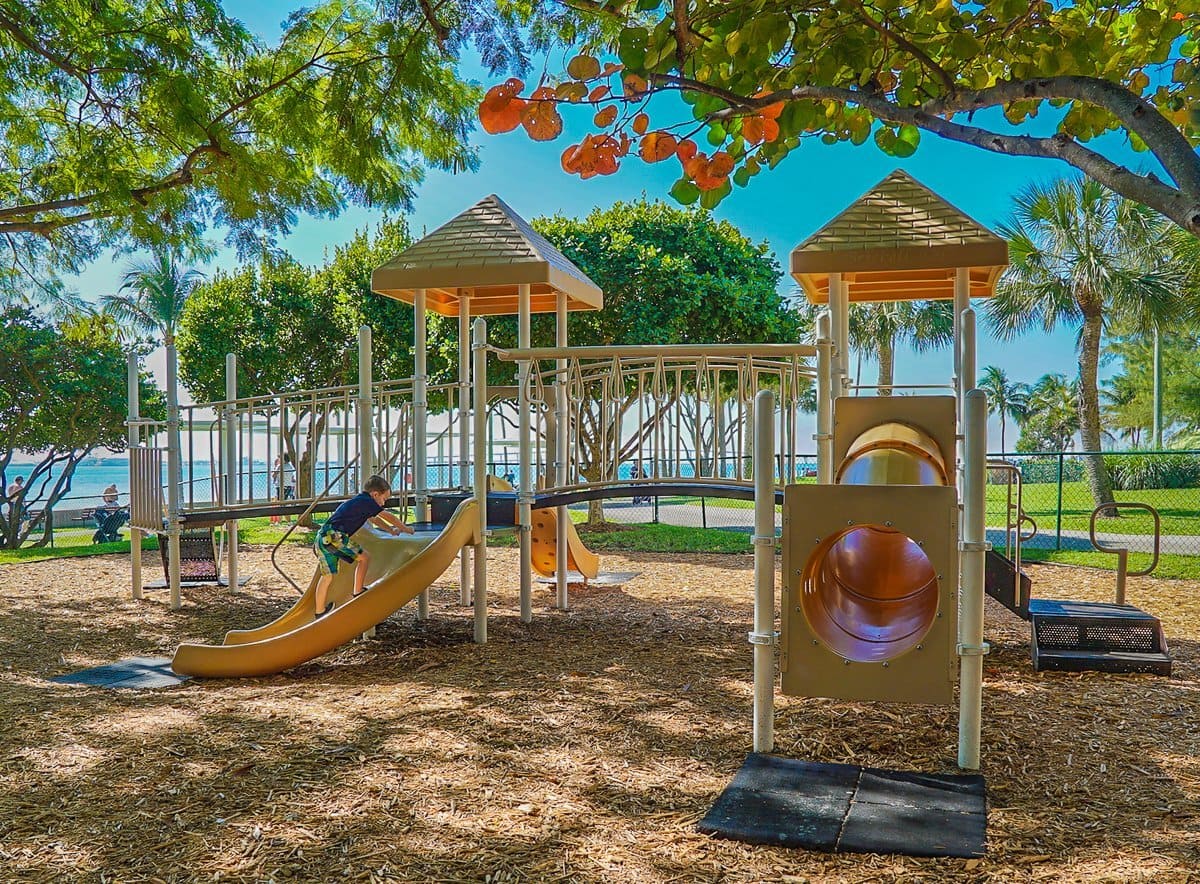 The playground is partially shaded depending on the time of day and ideal for children eight years old and younger. The views of the ocean are almost 180 degrees. You will be the only parent there. It's a nanny kind of place.
Another interesting detail of Brickell Key Park that makes the Mandarin Oriental Miami feel so suitable for families is the mother and child sculpture just outside the hotel's back gate to welcome you. Its commanding scale and location give this area a very family feel despite being a few steps from downtown's Brickell district.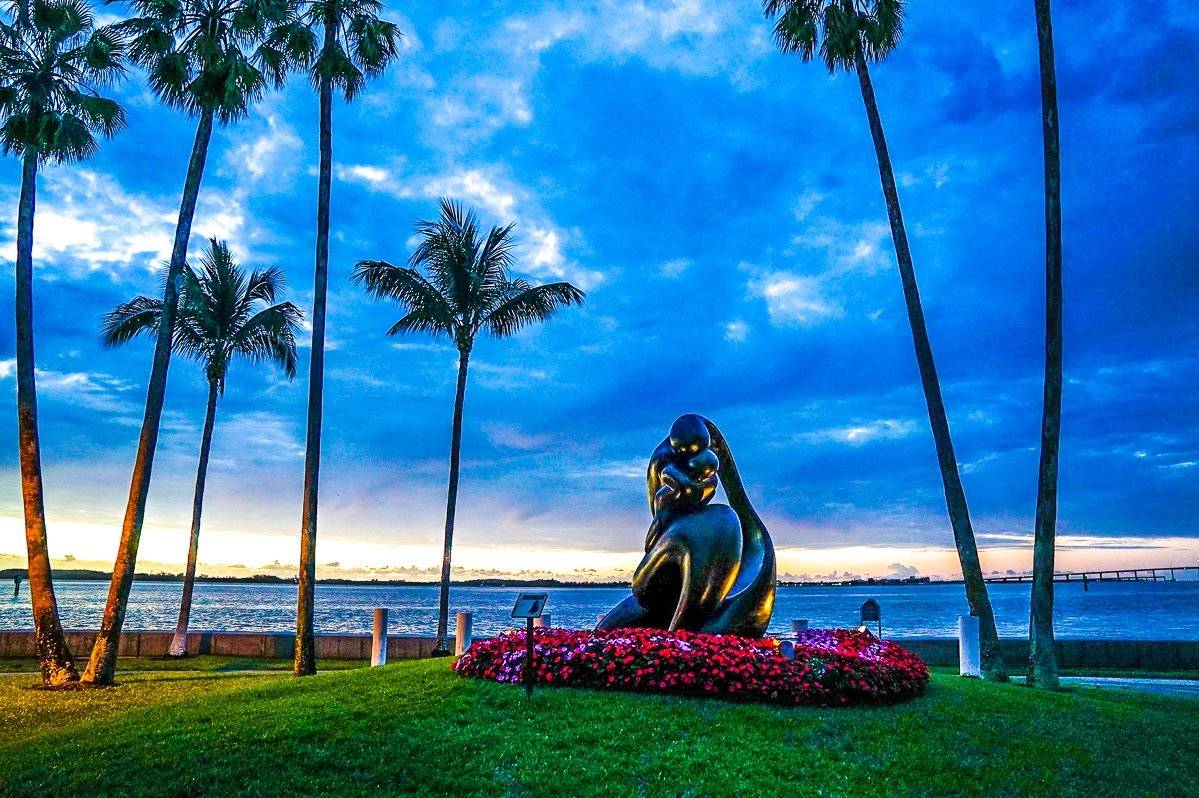 The atmosphere of the Mandarin Oriental Miami was very conducive to meeting other families. I met several other moms at this hotel chatting at breakfast over coffee or poolside. It's just small enough to promote a more intimate atmosphere, particularly when business travelers outnumber families.
The only souvenir better than some new friends might be finding yourself again after some serious spa time.
The Mandarin Oriental Miami Spa
It's no surprise that a brand whose personality creates a near spa like experience in its hotel lobbies can offer an exceptional spa break, too.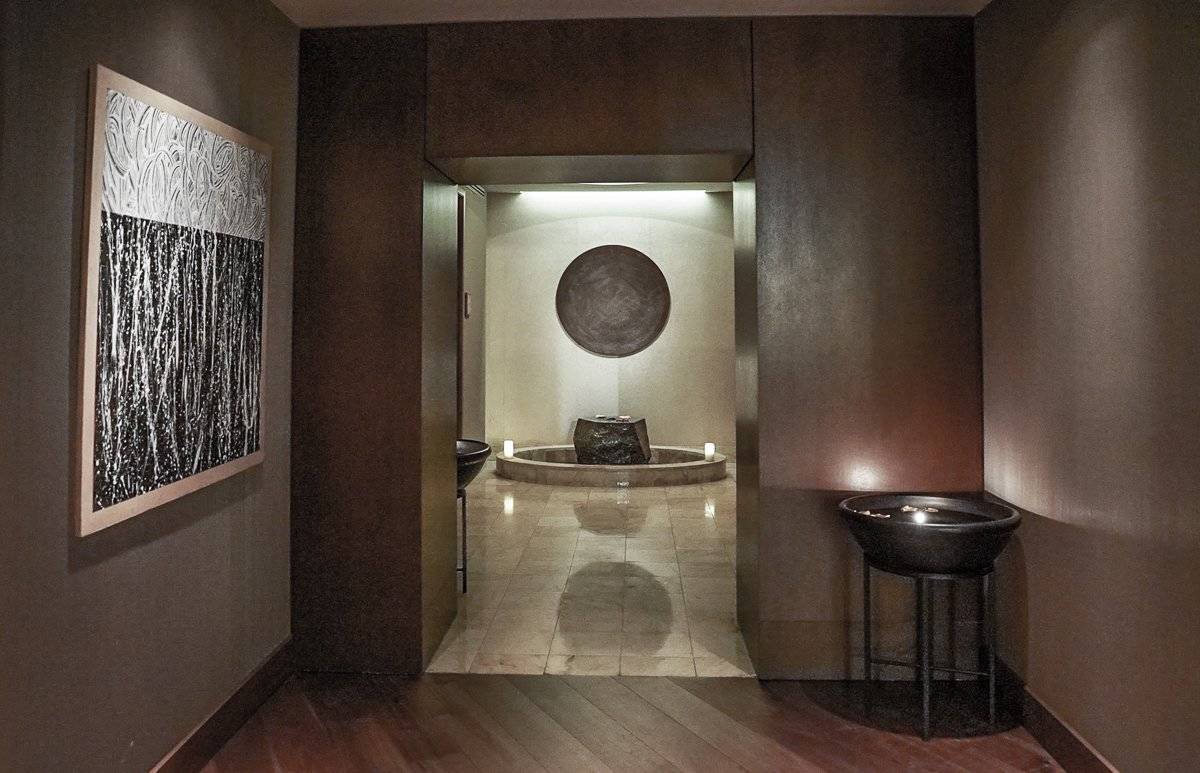 The Spa at the Mandarin Oriental Miami represents the wellness approach we've all come to love from the brand: a welcoming tea ceremony, diverse massage styles including Thai, and lots of detoxifying and balancing treatments to promote that inner calm we parents so desperately search for on a family vacation.
The spa off of the pool area is deceptively large and multi-storied. The "penthouse" level of the spa houses the specialty spa suites for couples, Thai and Shiatsu massage, and other fusion hydrotherapy treatments that involve tub soaks and showers.
Many of the treatment rooms offer walls with windows overlooking the Miami skyline, easy to enjoy while soaking in the tubs.
More intensive wellness offerings focus on diet, nutrition, and exercise, and private instruction in yoga, belly dancing, and meditation are available. The Mandarin hotel spa could easily fill a four-day spa getaway with something different every day.
I had a Time Ritual booked where the Mandarin Oriental Spa therapist customized a series of approaches based on my requests of how I was feeling at that moment. I was feeling stiff and dry from plane travel and Boston winters, and I asked for something different that I might not have had before.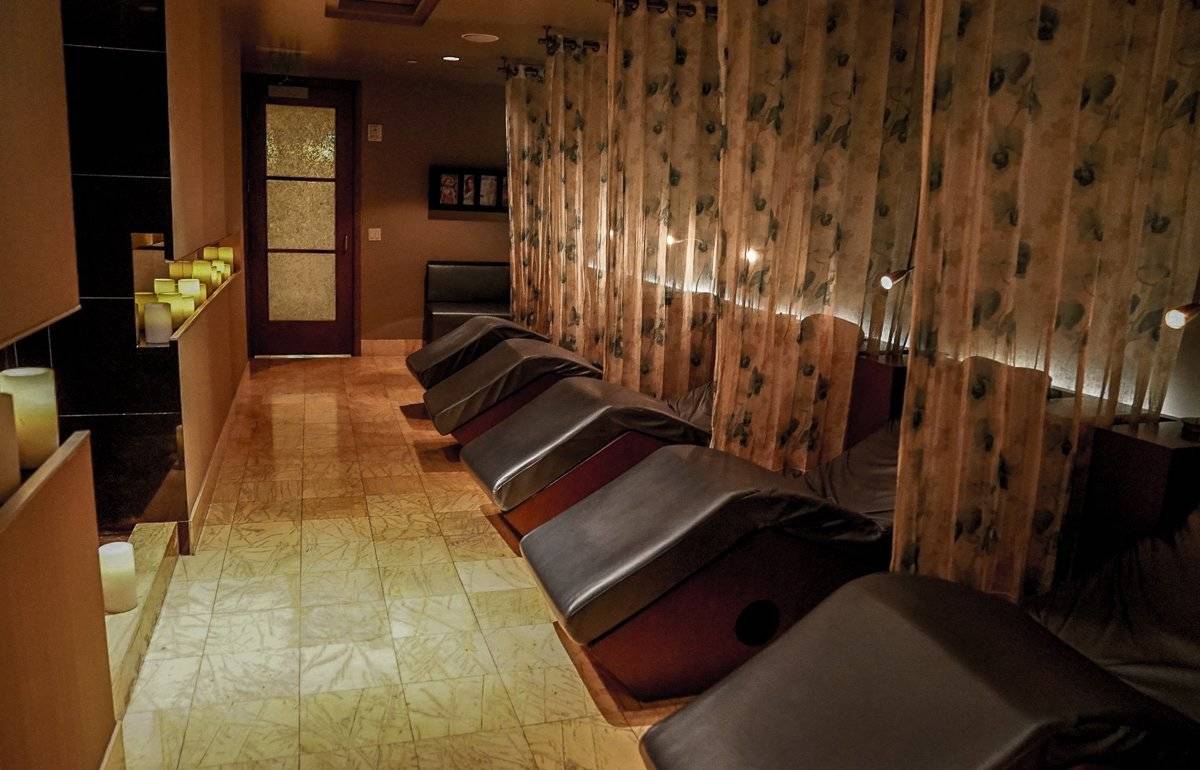 My spa therapist created a perfect series of consecutive mini treatments: a scalp and shoulder massage, an essential oil facial, and a Tibetan bowl massage.
A series of four Tibetan singing bowls were placed down my spine; they're basically mini gongs in the shape of bowls. The therapist taps them and a beautiful vibrating sound rings while spreading through the body. This ancient healing method is said to promote deeper states of relaxation and improve energy, and the experience is very calming.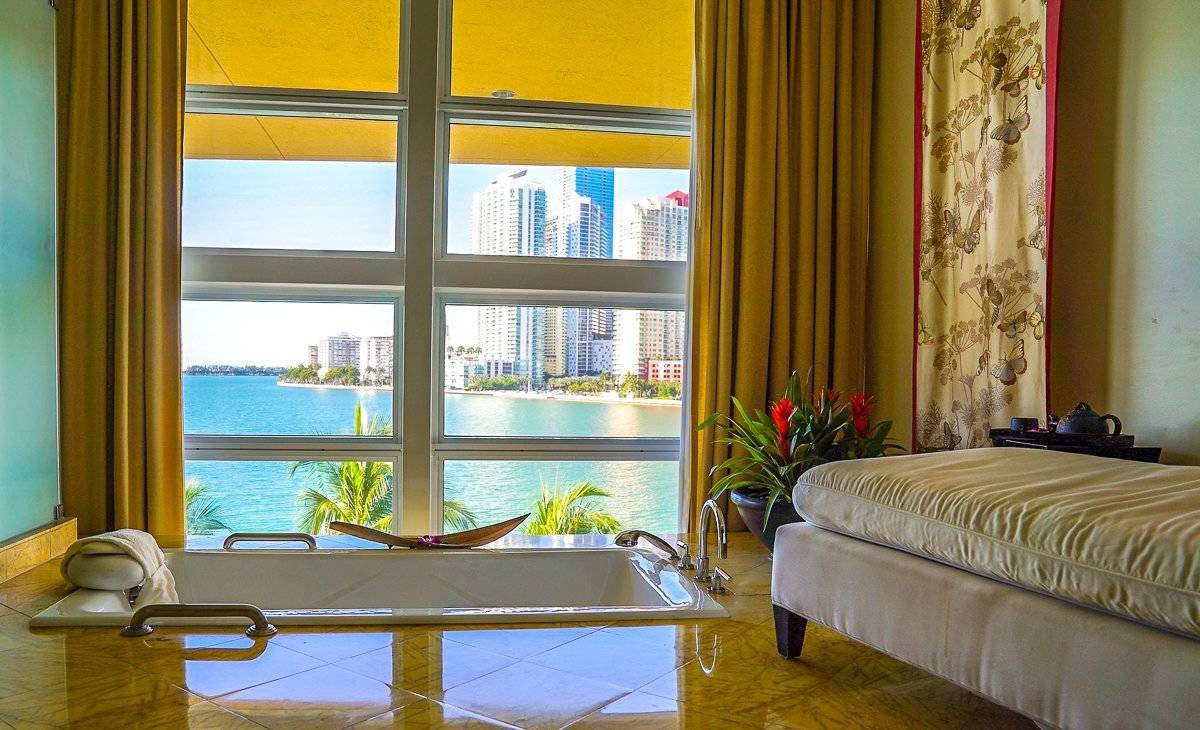 It was helpful to get a good night's sleep so I could wake for a Miami vacation ritual.
Sunrise in Miami, Mandarin Style
Sunrises are big in Miami since the eastern facing city doesn't experience sunsets like those on the West Coast. Moments before sunrise, city sidewalks are filled with joggers and walkers who make it their daily ritual to get moving with the sun.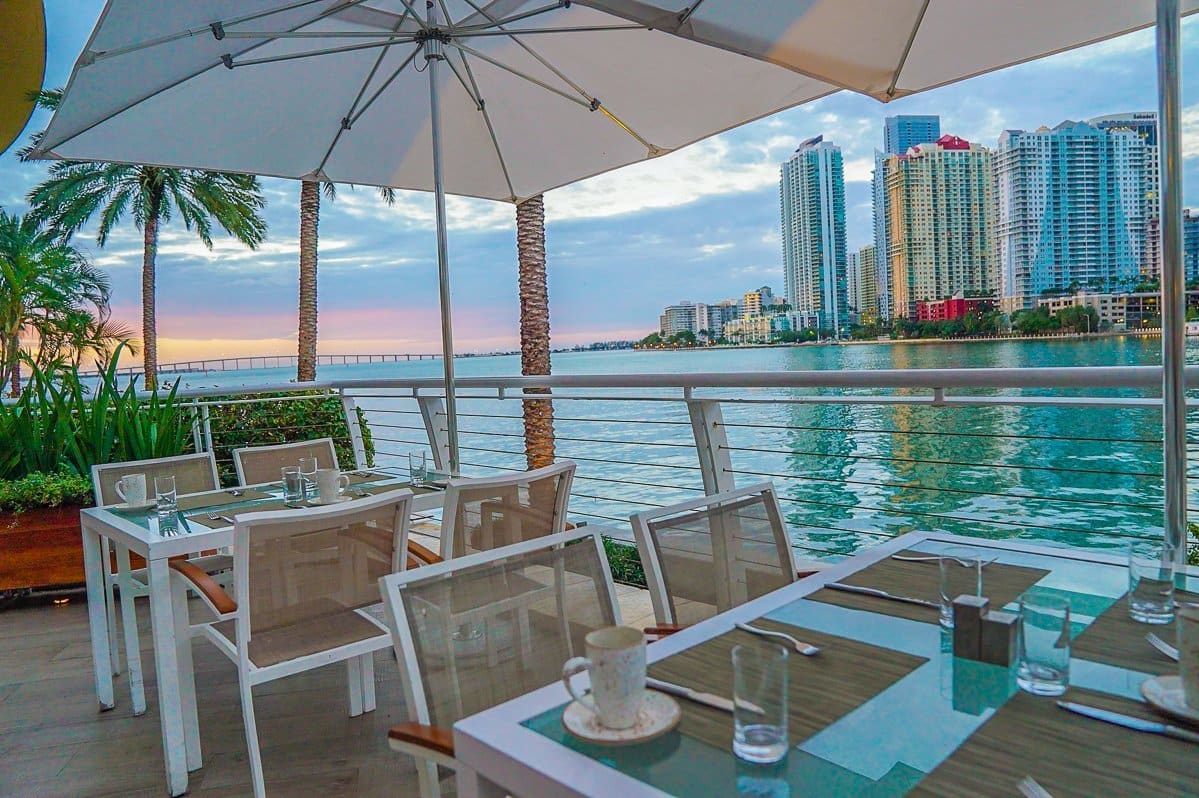 I loved having breakfast outside on La Mar's patio as I watched golden rays gradually illuminate the all white skyline of the Brickell area of Miami.
La Mar by Gastón Acurio
Gastón Acurio is Peru's most celebrated chef whose restaurants are found around the world. Peru's culinary style fuses varying influences of its Japanese, Chinese, and Italian populations with indigenous and Latin cuisines.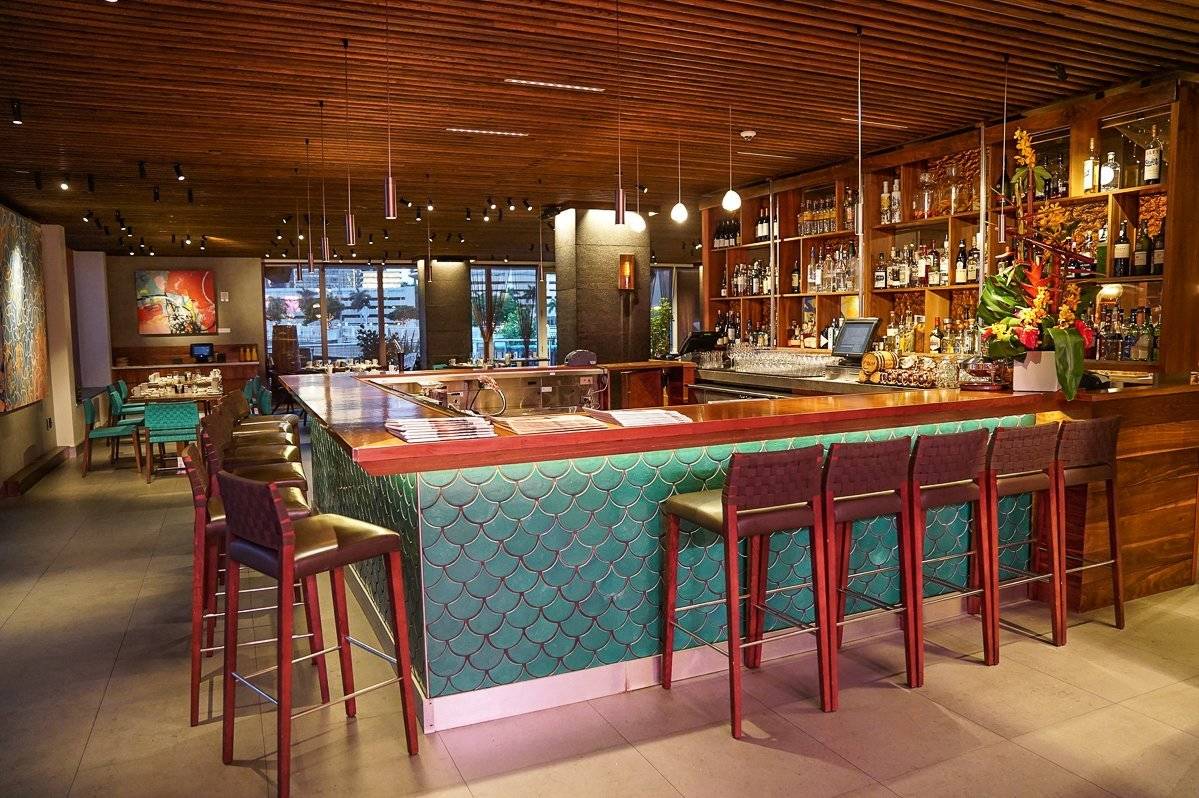 La Mar is the cevicheria in his global restaurant empire and is also the Mandarin Miami restaurant that serves three meals a day.
Diego Oka is La Mar's Executive Chef who started with an internship at Acurio's Astrid & Gaston, the restaurant in Lima that put him on the map and is considered one of the 50 best in the world.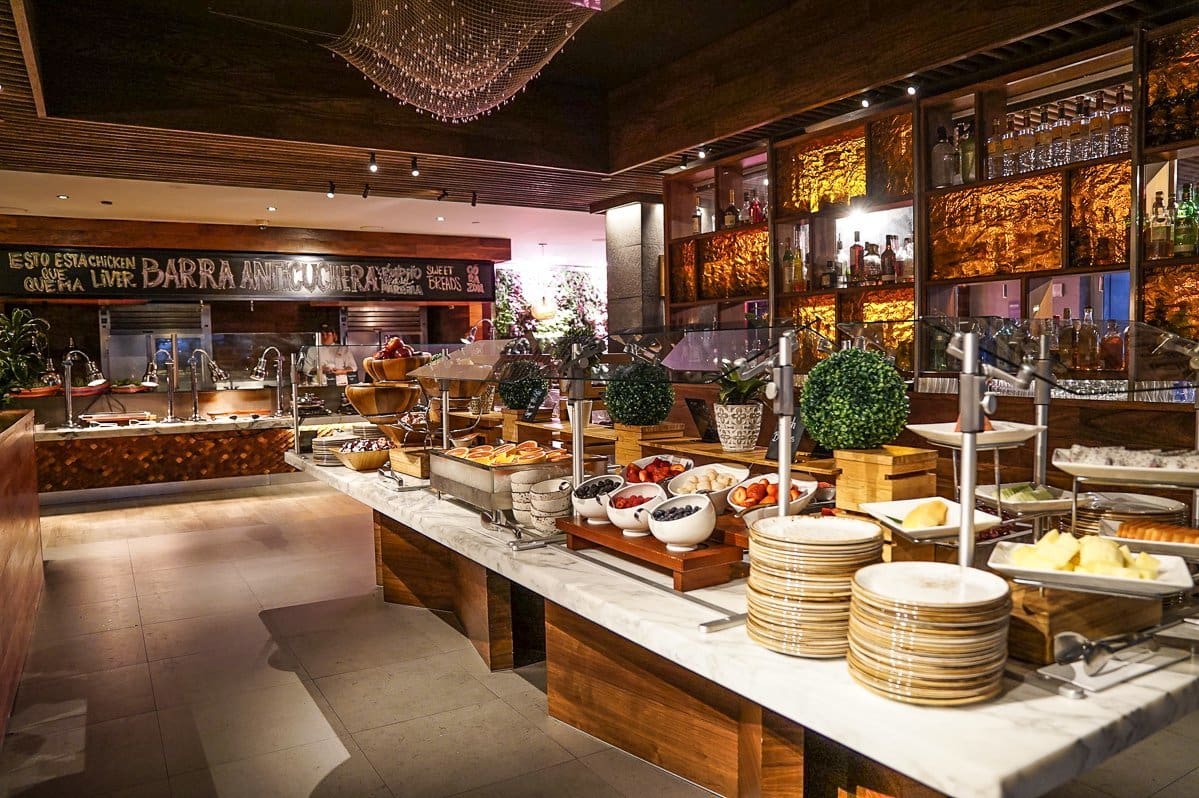 He walked over to the table and introduced himself and conversationally asked what my kids would like for dinner.
I was just holding my breath hoping they wouldn't blurt out "buttered pasta" to such an esteemed chef.
With only one (yay!) modification to her dish, my very selective daughter loved her entrée and ate nearly the whole thing. My son devoured his Peruvian style chicken. I adore those successful and far too rare family meals. Thank you, Chef Oka!
Our server encouraged us to try two different house specialty drinks that were non-alcoholic. One was a passion fruit concoction, and the other is a classic, Chicha Morada, a Peruvian corn-based drink spiced with lots of cinnamon. Each one was a hit with my kids.
La Mar's atmosphere is festive, dominated by the beautiful azure blue seats, with many large group tables with ample outside space for dining and lounging. I confess I spent much of my time while waiting for our food to determine how to incorporate this color into my home's palette: placemats, light fixture shades, or in a new rug?
Our meal was exceptional, with a focus on the menu's fish dishes. We starting with one of the house's "Classico" ceviches of fluke and the Crab Causa, assembled meticulously like a painter's palette.
The food was artfully presented, and we loved enjoying such a gastronomic meal while our children were happily eating along with us. No screens or crayons needed.
The standout was a salmon entrée in a Peruvian pepper curry coconut broth, broccolini, and crushed peanuts. The salmon retained seasoned, buttered edges from pan searing but was as tender in the middle as if it had been poached.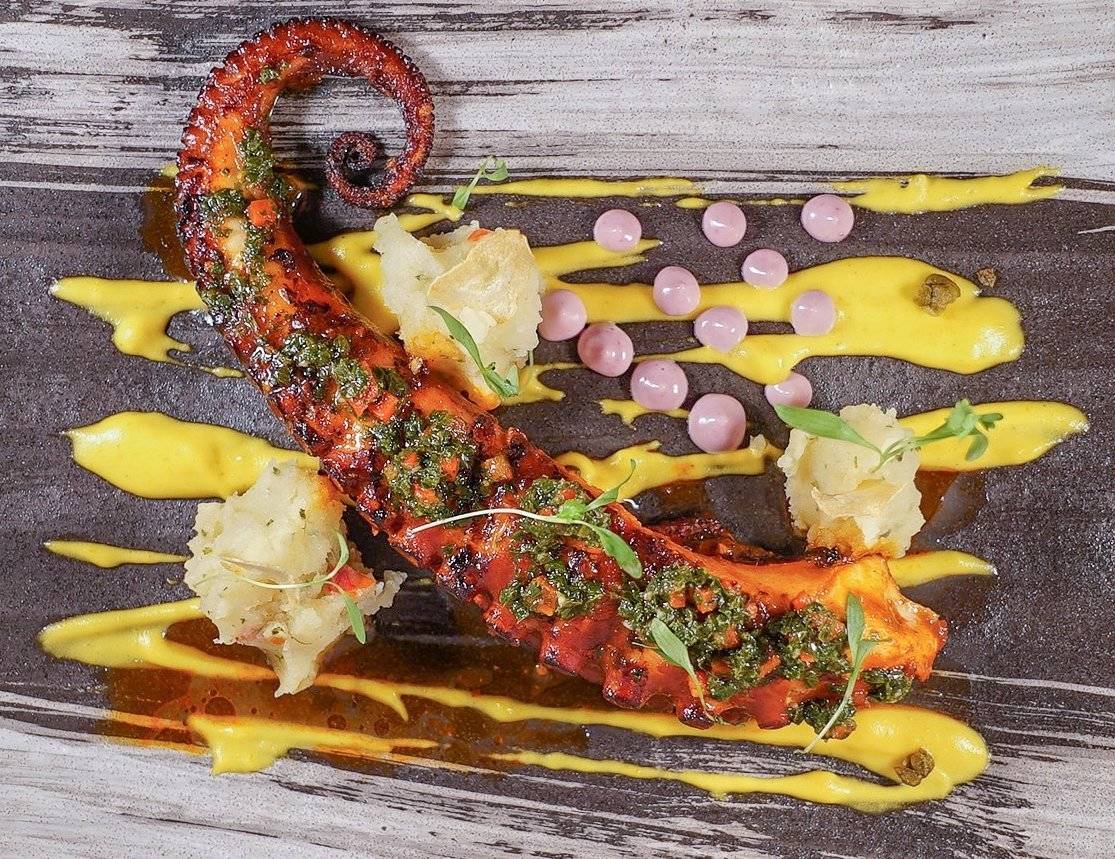 The Beso de Moza sounded very intriguing, with a chocolate and quinoa crust, but it couldn't hold a candle to the marscapone, meringue strawberry sensation that I can still taste. The simplest combinations created something exquisite, light, and flavorful.
And others must have agreed with me, because it is the dessert that La Mar put their logo on.
The Pérez Art Museum
& the Frost Science Museum
An advantage to the Brickell Key location is that the Mandarin Oriental Miami is near Museum Park, the site of both the Pérez Art and Frost Science Museum that overlooks Biscayne Bay.
We were just a few months shy of enjoying the Frost Science Museum, so we only visited the Pérez, which opened in 2013.
Like other great museum we have visited as a family (like the Mass MoCA most recently), we have to drag our kids in, but then we have to drag them out.
Pérez Art Museum
The Pérez offers wonderful family adventure bags called PAMM Family Packs that children receive (upon request) to explore the gallery spaces. Even more impressive is that the bags are broken into two age groups: young children under 6 and those older.
Filled with a variety of visual guides and toys, my kids were impressed. But the single most genius inclusion was a crowd counter challenging our kids to count the number of visitors in each gallery.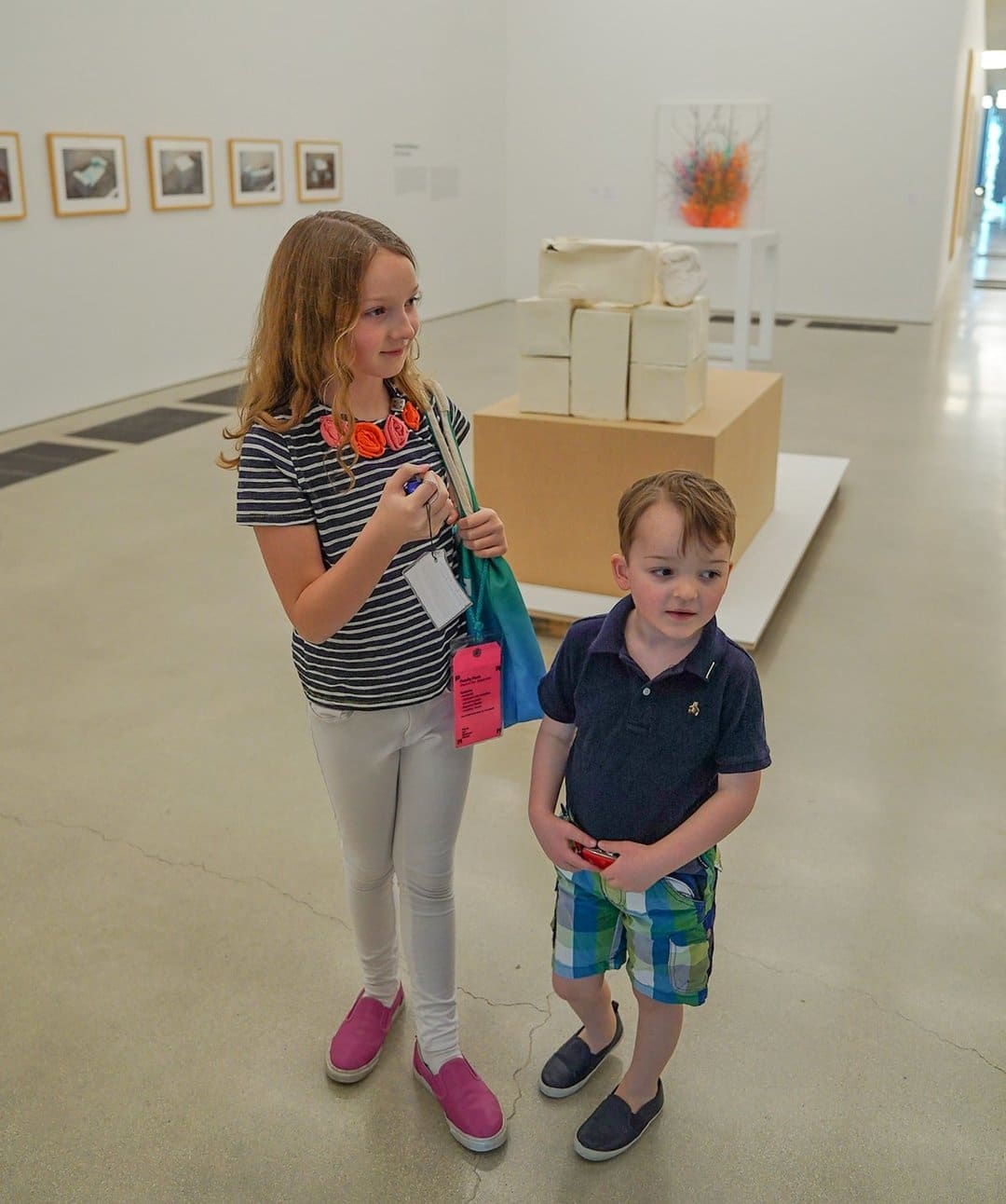 Most of the 20th and 21st Century art at the Pérez will engage children through scale, color, contrast, or movement. We had only allocated an hour and a half for our visit, and we felt very rushed.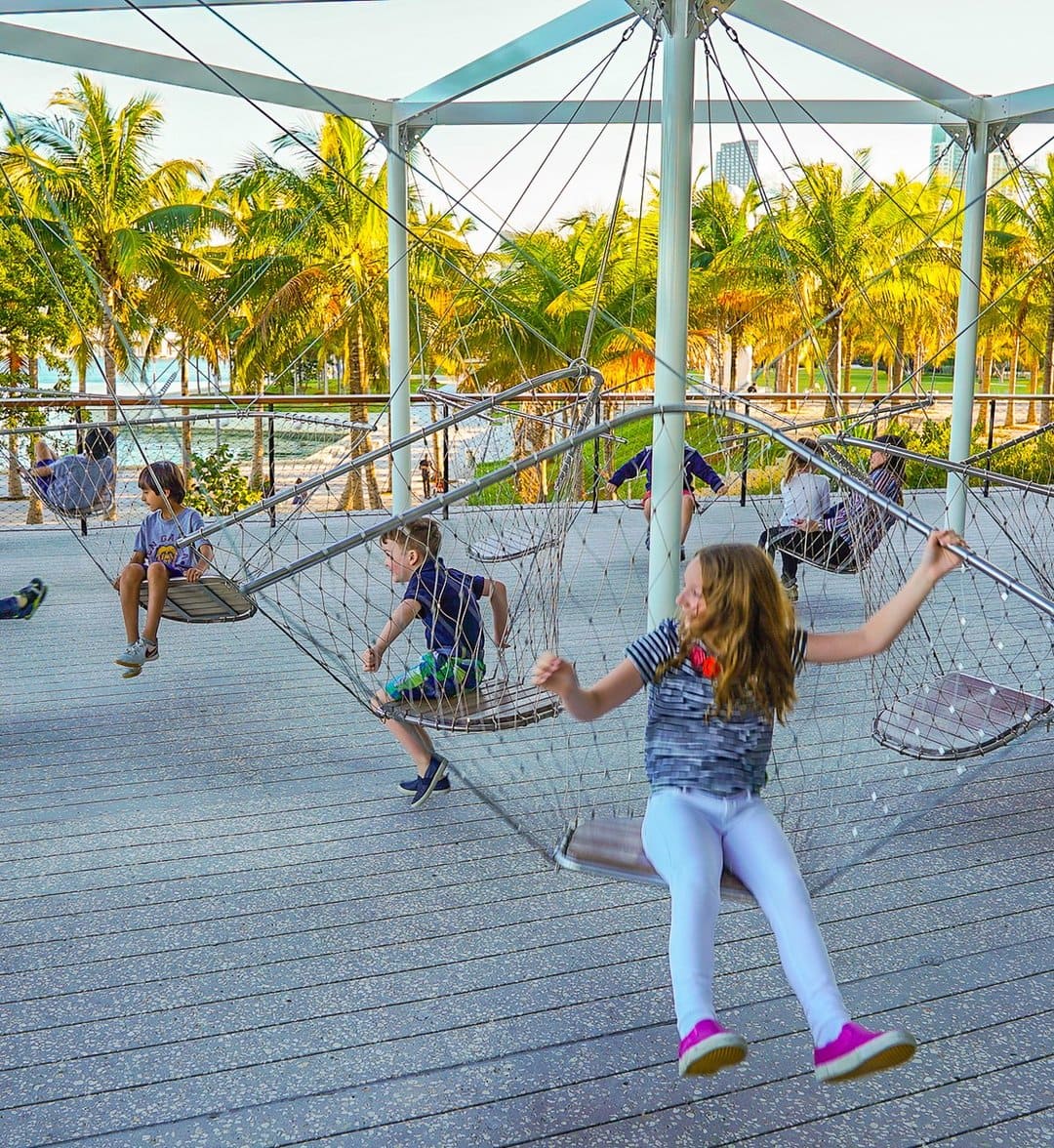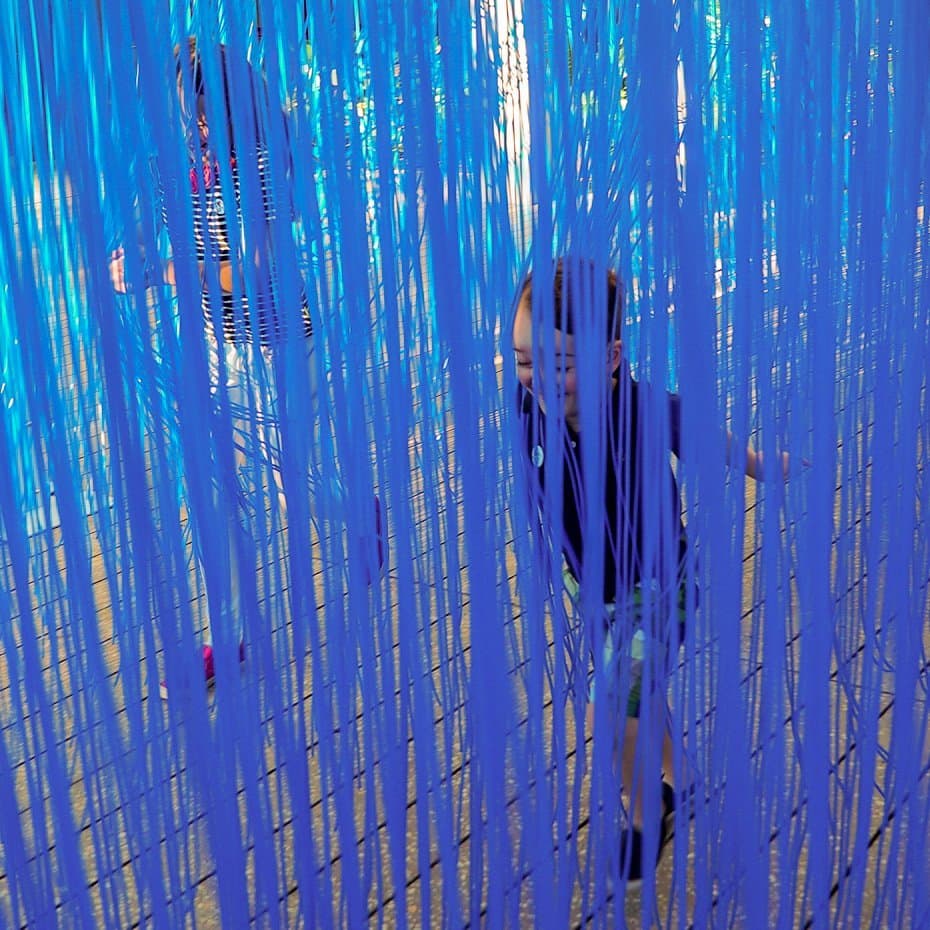 The outdoor installations offer swings and other interactive exhibits with views of Biscayne Bay, too, and it will always a must-do activity on any future Miami trips.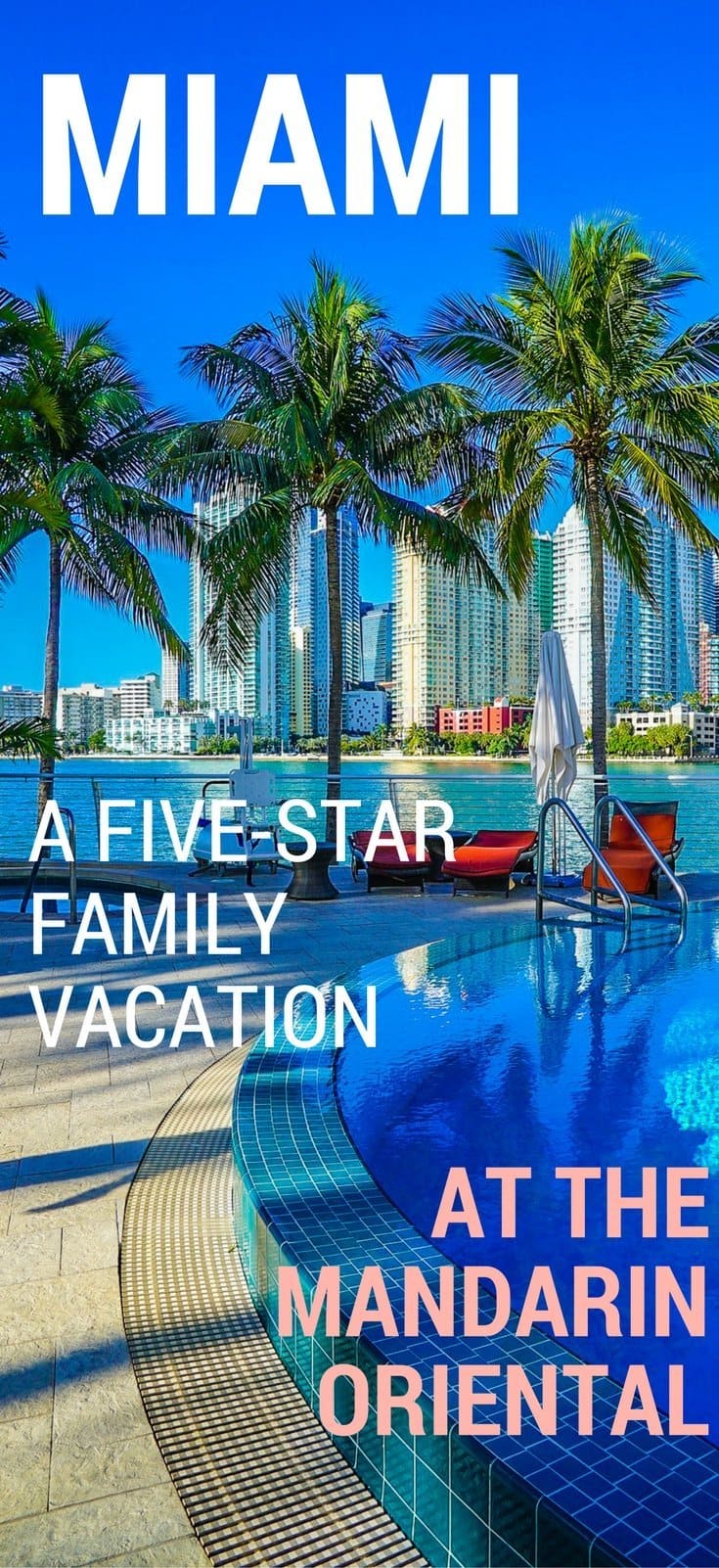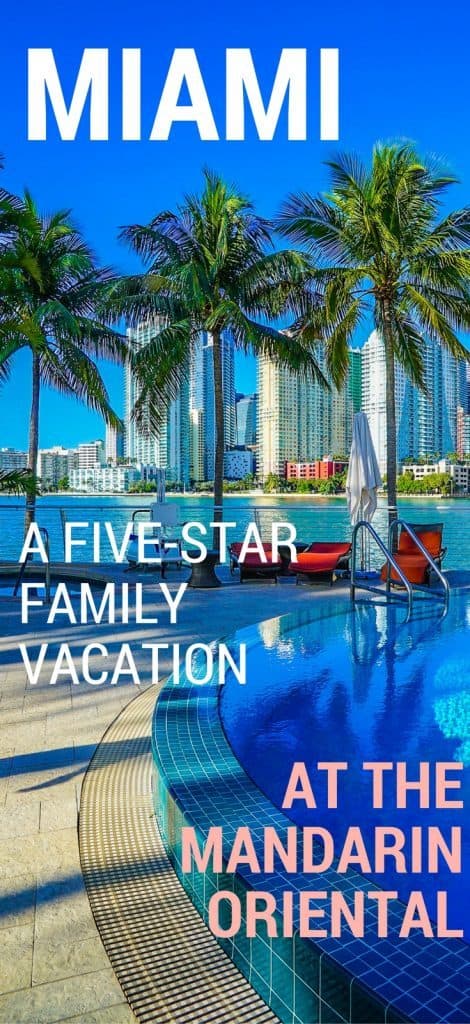 The Patricia and Phillip Frost Museum of Science
The Patricia and Phillip Frost Museum of Science will house both an Aquarium and Planetarium and offer laser shows and eco-tarium to teach about the Florida ecosystems of the oceans and the Everglades.
The Mandarin Oriental Miami will offer families specially created experiences at Museum Park. We can't wait to return to see Miami's newest museum for families and to explore the Wynwood District murals.
While many people still associate a Miami vacation with South Beach and nothing more, we love the Miami experience of food, art, and family friendly five-star service at the Mandarin Oriental.
The Mandarin Oriental has created a family escape package that offers suite accommodation and museum passes as well as frost-your-own cupcakes, effectively making more fans young and old.
For more ideas when planning a family vacation in Miami, check out what Luxe Recess mom and Coral Gables native Stephanie Ansin suggests for more restaurants, cultural attractions, and shopping ideas.
Although we were guests of the Mandarin Miami, these opinions are entirely my own.
Check your dates for rates at the Mandarin Oriental Miami.