Have you always dreamed of going to Asia? The food, sights, hotels, legendary service, world famous spas, and night markets?
If you're like most, you've put it on your to-do list for when the kids are a little older, but Asia is a fantastic place for family travel. Once I realized how easy it is to travel Asia with kids in tow, I have spent the last several years visiting as many places as we can. Here's my list of the best places to visit in Asia with kids right NOW.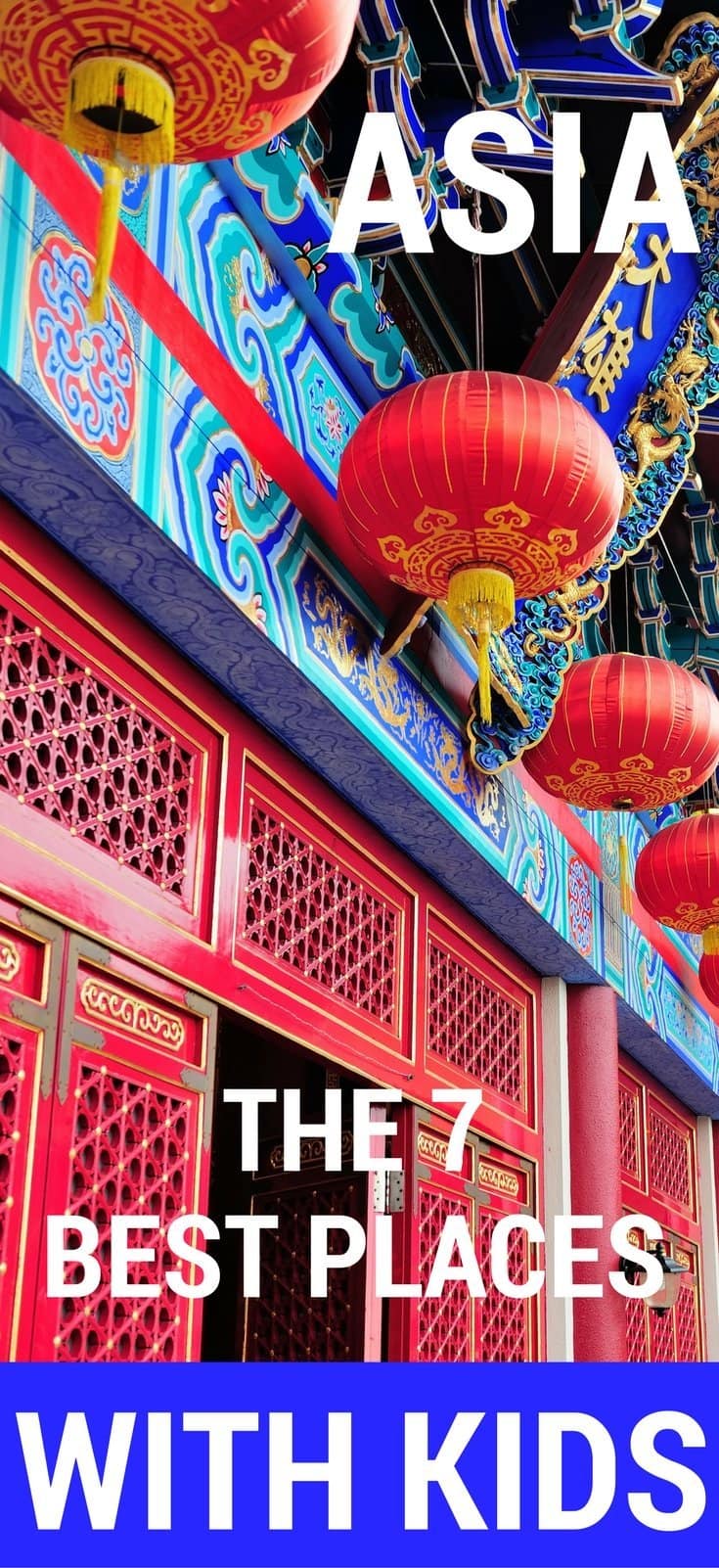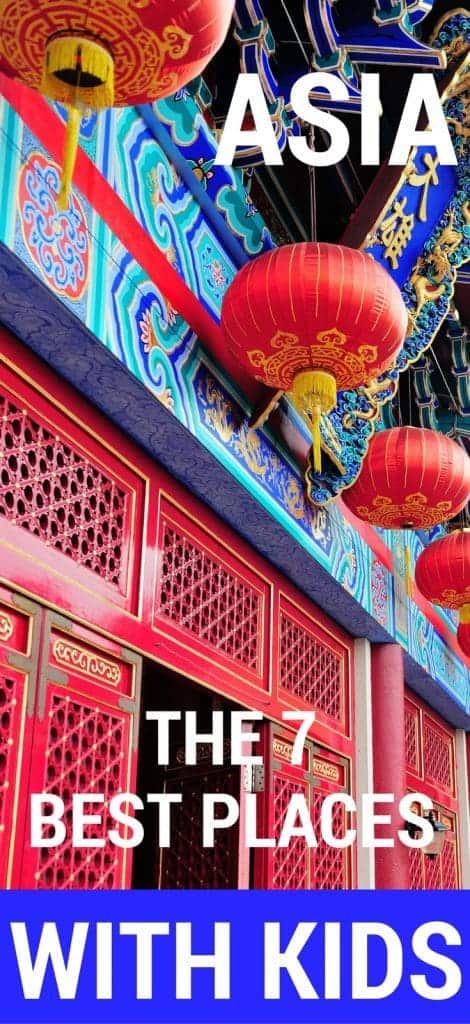 Many Asian cultures revere children and have the mentality that it's family first, so many families live intergenerationally; this leads to a more relaxed parenting style in the early years because there is rarely one caretaker. The stress level on mothers is significantly lower here.
Couple that with the fact that it's rather rude to raise your voice in public in many Asian countries, so many restaurants and hotels cater to children beautifully in a preemptive way to keep them content and quiet.
I've long joked that my kids know in Bali if they act up in a restaurant (a huge no-no in the US or in Europe) they are whisked off by a staff member and return with a milkshake or a sweet.
Asia boasts the most family friendly spa culture in the world. Most spas also offer a children's treatment menu complete with child sized robes and amenities. This includes the most humble of spas to the very top of the line luxury experience.
In Beijing, we popped into a hotel recommended foot spa, (approximately $5 USD for an hour foot rub) the staff delighted in making my 3-year-old daughter laugh because her feet were ticklish.
In Bali, our hotel created a customized massage for my 7-year-old son with his very own personalized sarong!
Basically, Asia is awesome for both adults and children. For the uninitiated, it can seem overwhelming but after 8 years of trekking through Asia with my family, I can honestly say that it's one of the best vacations we take as a family.
SINGAPORE
The easiest place to get your feet wet on a first family vacation to Asia is one of my favorite places, Singapore. We've made two family trips and my kids can't wait to return. It's super Western, and English is one of the four languages widely spoken.
Due to it's bevy of easy attractions, fantastic food and ease of getting around, Singapore is a child and adult paradise. It's also extremely clean, as there are very strict rules on food hygiene, littering, and even gum chewing.
There's a whole island devoted to amusements—Sentosa—dubbed as the Island of Fun. Between a Universal Studios, cable cars, the SEA aquarium, a pirate ship playground, and candy stores galore, you'll have a hard time seeing the rest of Singapore once the kids see this paradise. Sentosa is also home to a number of hotels. We recommend the Sentosa Shangri-La (Check your dates for rates).

Once you've dragged the kids away from Sentosa, the promise of a cable car ride back to the mainland should help, it's time to check out the rest of what Singapore has to offer.
Singapore boasts a world-class zoo, that is utterly amazing. We were blown away by the habitats, the exhibits and the feedings. I can also recommend the special Jungle Breakfast with wildlife— posing with a family of orangutans definitely made it on our holiday card one year!
If you feel like taking a spin, there's always the Singapore Flyer nearby, and the Marina Bay Sands complex which house a museum, a shopping mall, indoor boat rides and too many good restaurants.
Best Singapore Hotels For Families
After all of those attractions, you're going to need a good place to rest your weary head. Singapore has no shortage of five-star hotels – we've stayed at the Mandarin Oriental, Singapore (Check your dates for rates) as well as The Ritz-Carlton, Millenia Singapore (Check your dates for rates) with our children. Both have excellent spas and large pools.


Both of these hotels are with in walking distance to many other of Singapore's hot spots such as Gardens by the Bay — a fantastic nature park with restaurants in trees, a cloud forest, and a children's garden.
Basically, Singapore is a great first foray into Asia— it has something for everyone.
Hong Kong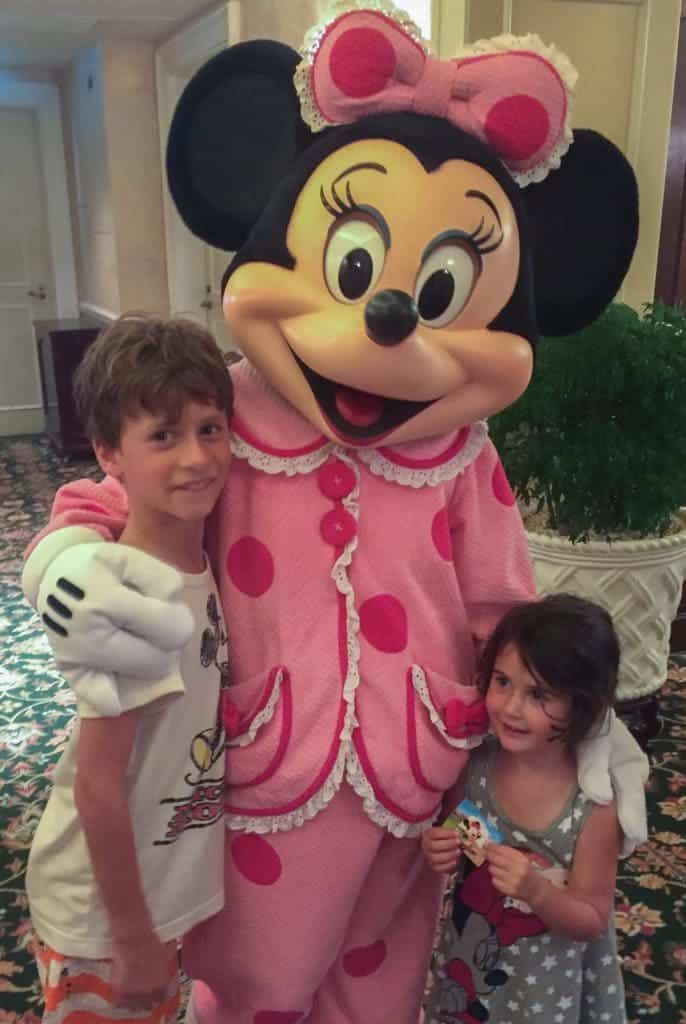 Hong Kong is a family favorite. The shopping is outstanding, my husband is still raving about some soup dumplings from our last trip, and—of course— my children are still obsessing over Hong Kong Disney.
Hong Kong is a myriad of Asian cultures and offers Americans that perfect blend between the exotic and familiar. Hong Kong attractions are more authentic if you want more of a real cultural immersion experience. Ride the 100-year-old Star Ferry between the two main islands, Hong Kong and Kowloon and see Hong Kong the way it was meant to be seen.
On the Kowloon side, grab an ice cream cone inside 1881 Heritage Place and then browse, or buy, from the myriad of luxury jewelry shops. Just after you've popped into Shanghai Tang, and treated yourself to their famous ginger lily room fragrance, it's time to shake it up a little and take your kids for character inspired dim sum before hitting the nearby bird and the fish markets.
Just a few blocks away from the modern and innovative, lies old world temples, markets, and treasures. We created a scavenger hunt for my kids as we toured the markets, and they loved finding their "treasures."
We ate in a few Michelin starred restaurants last summer and each one bent over backwards to make sure my children were well fed and enjoyed the experience. It's common for families to dine together in Hong Kong so there were no side eye glances either like there might be in Paris or New York. Some of our favorites were Lung King, Yan Toh Heen, Zuma, and Isola.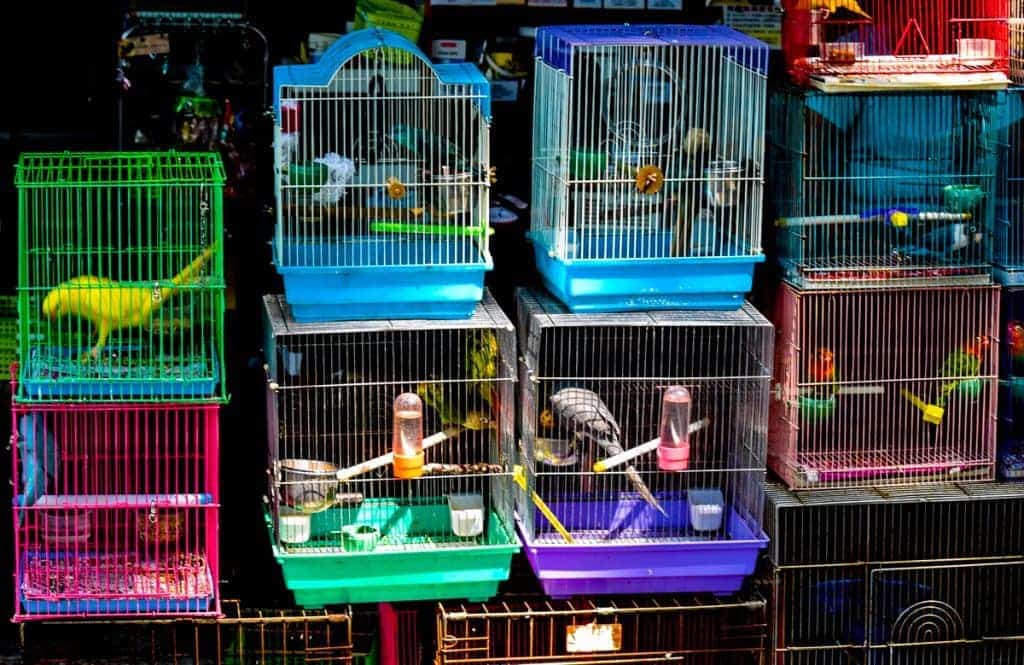 Hong Kong Luxury Hotels for Families
Hong Kong is a great mix between the new and the old with a plethora of five-star family hotels. Each hotel has unique character, and you really can't go wrong between the Grand Dame—The Peninsula— or the gleaming new comer, the Ritz Carlton. There are too many five-star restaurants to count, and many of them offer kids' menus.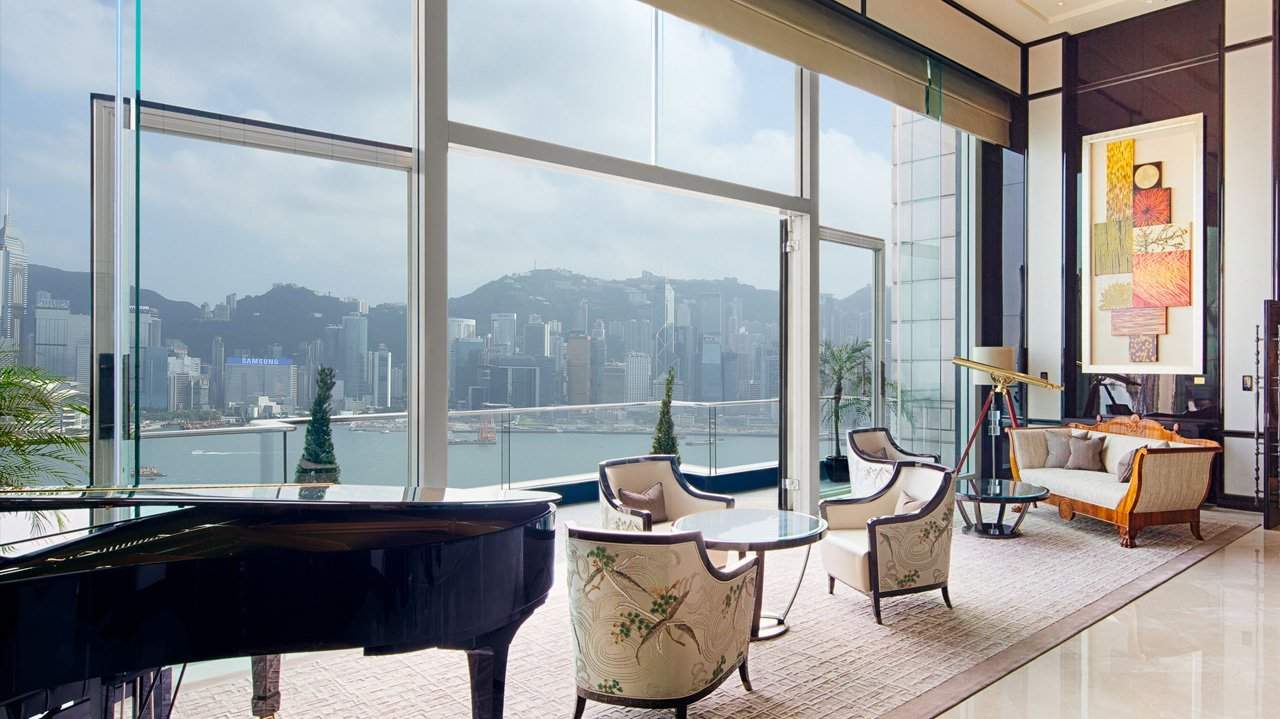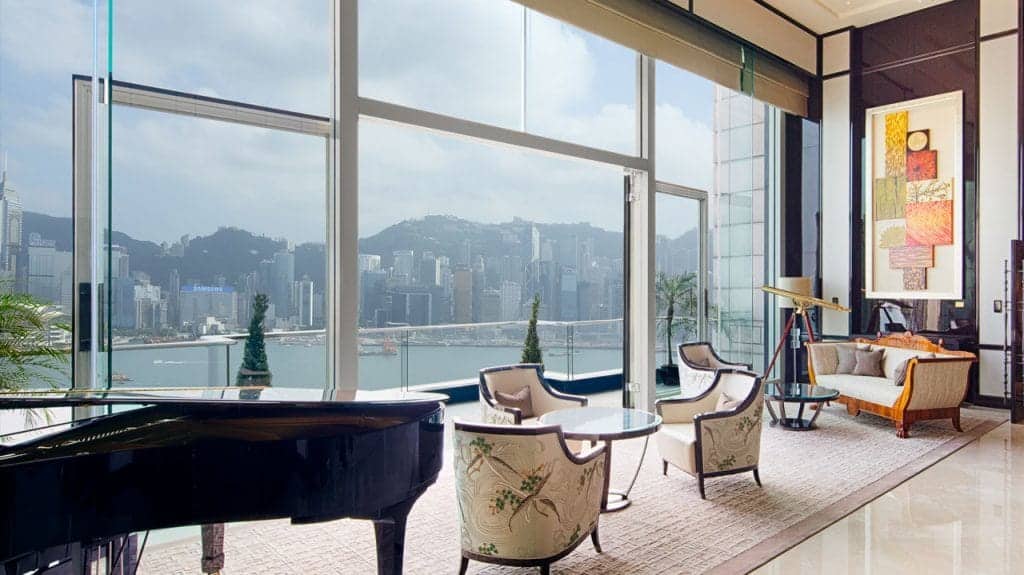 All in all, between its Disneyland Hong Kong, the gorgeous shopping, the old world treasure trove markets, and the myriad of amazing restaurants, Hong Kong is the perfect place for a family break.
Bangkok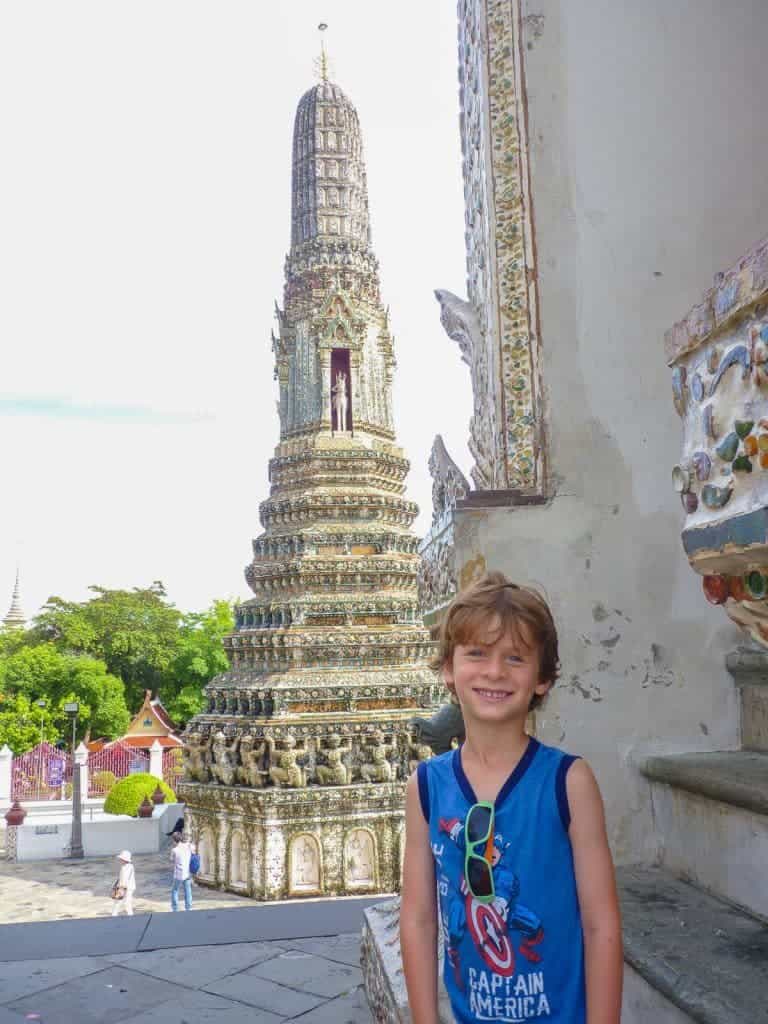 Bangkok is a whole new world. Sure, there are some gleaming sky scrapers and a thriving downtown, but Bangkok is other worldly. Stepping off the plane into the humid air and being surrounded by unknown sights and smells is seductive for even the youngest travelers.
Thailand is known as the Land of Smiles and within a few minutes of being whisked to your luxury hotel, you'll see why. Bangkok is another family favorite. My son took his first steps at the Peninsula Bangkok many years ago. The city truly combines what I love best as a traveler: fascinating new experiences and amazing hotels.
Bangkok is not as Western as many other Asian cities, and that's what makes it fabulous. Where else in the world can you have a Michelin starred meal and then tear thru back alleys in a tuk tuk passing golden temples back to your hotel?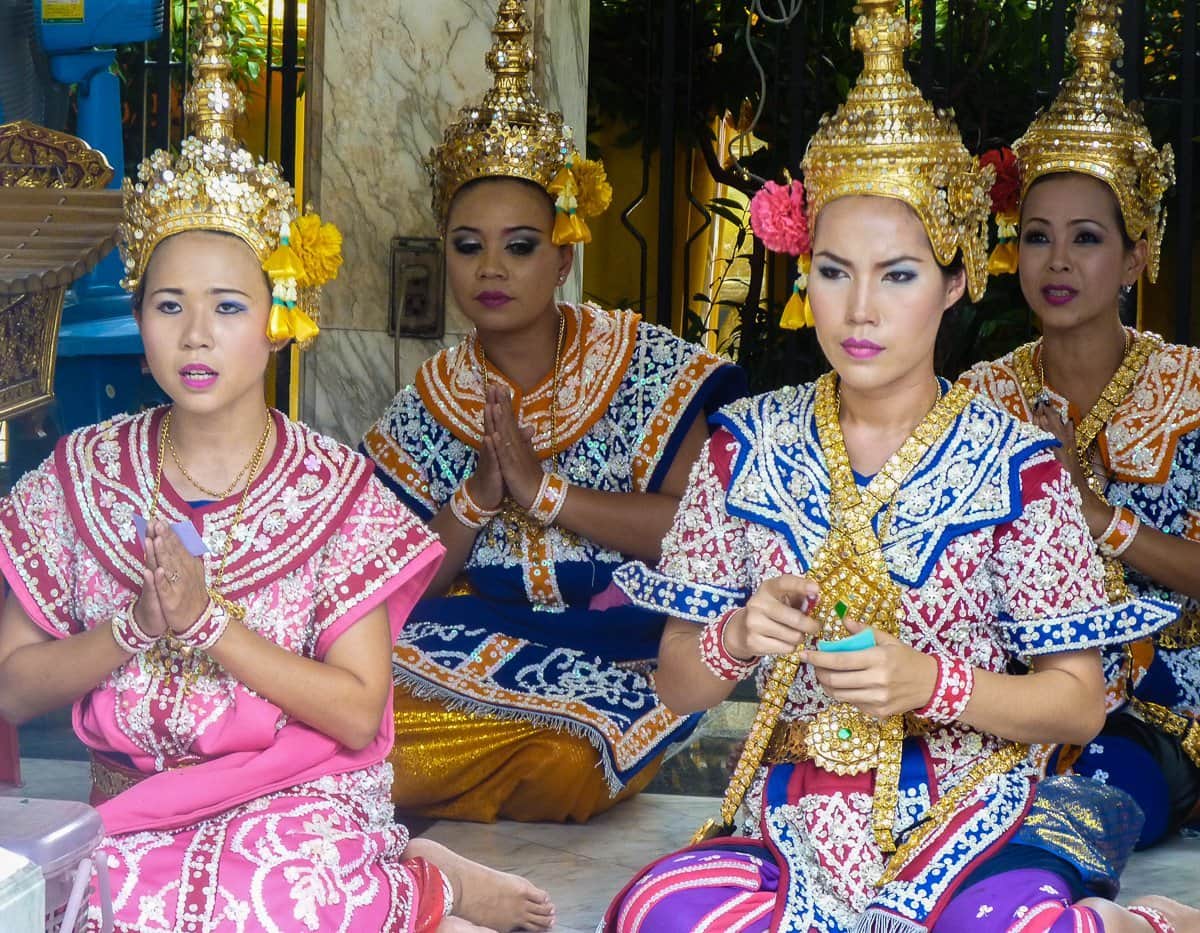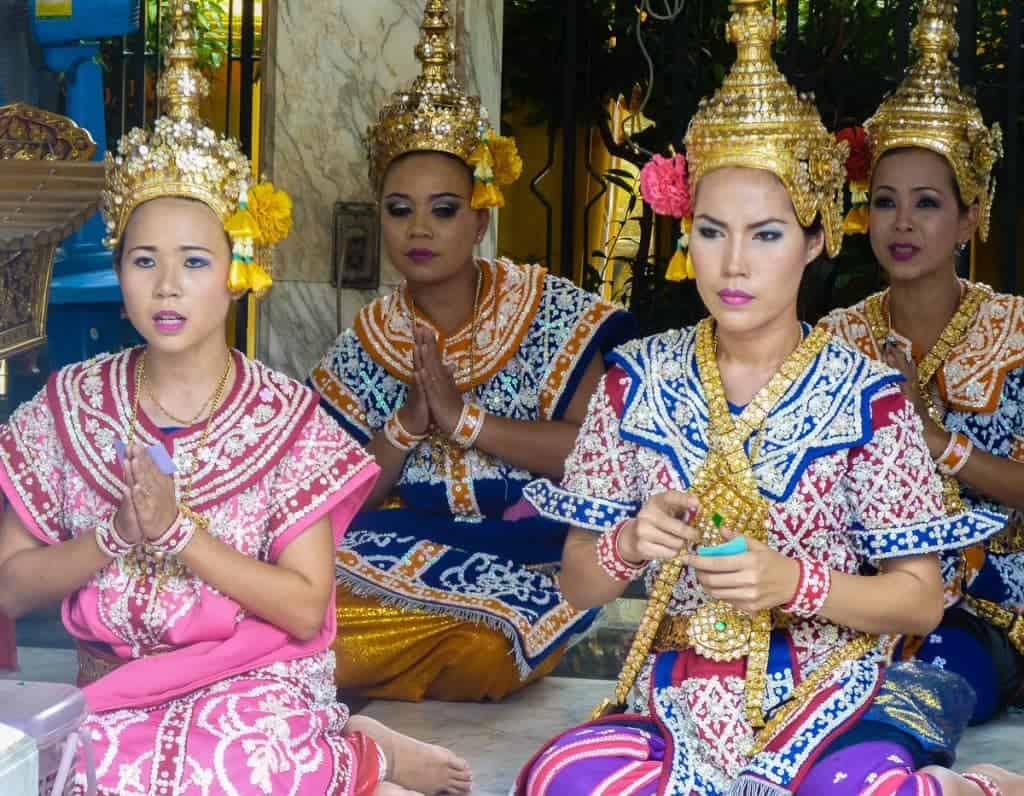 You can also take a tuk tuk tour of the city which has long been a highlight for my kids. They scream with delight as they roar through the old streets.
The temples and old alley ways of Bangkok are truly what make this city special. It's different, exotic and chaotic. You haven't lived until you've haggled for souvenirs at the Chatuchak Weekend Market, a market so big you need a map.
---
JOIN OUR FACEBOOK GROUP LUXE FAMILY TRIPS,
WHERE WELL TRAVELED PARENTS CAN ADVISE ONE ANOTHER
ON THE BEST PLACES TO STAY.
---
Take a klong tour through the old canals and dine atop the world at Sirocco, (made famous by the movie The Hangover 2), and it is absolutely fabulous.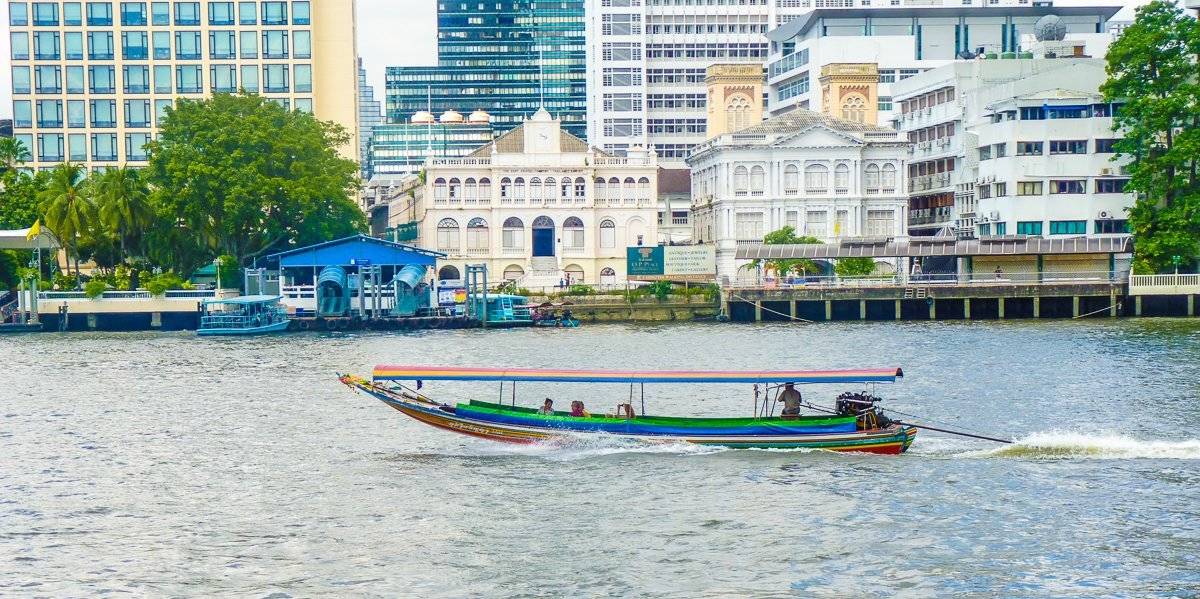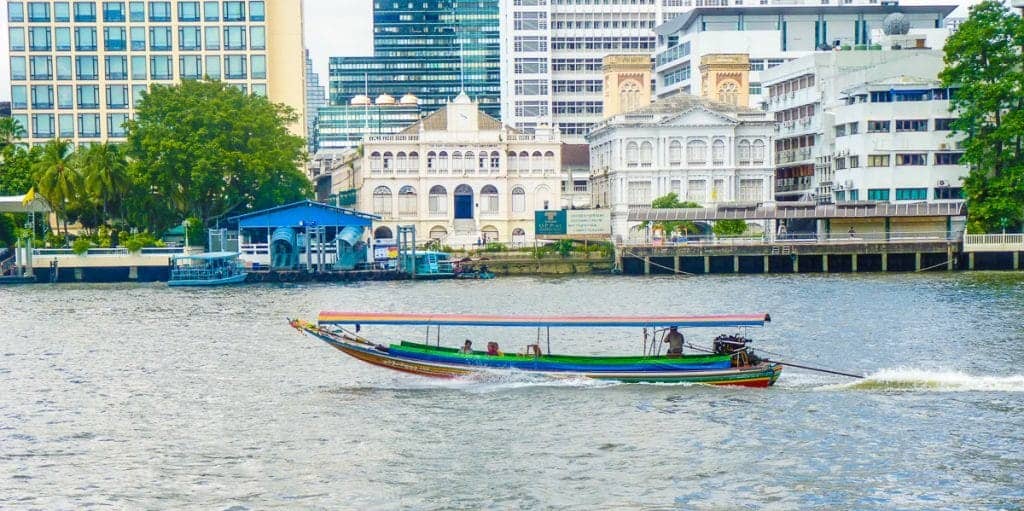 Best Bangkok Hotels with Kids
To experience the soul of Bangkok, treat yourself to one of the five star hotels on the Chao Phraya, the river that runs through the city. Both the Mandarin Oriental and The Peninsula have hotels here, though I prefer The Peninsula for its stunning pool, onsite babysitters, and private boat service. (Check your dates for rates at The Peninsula Bangkok and the Mandarin Oriental, Bangkok.)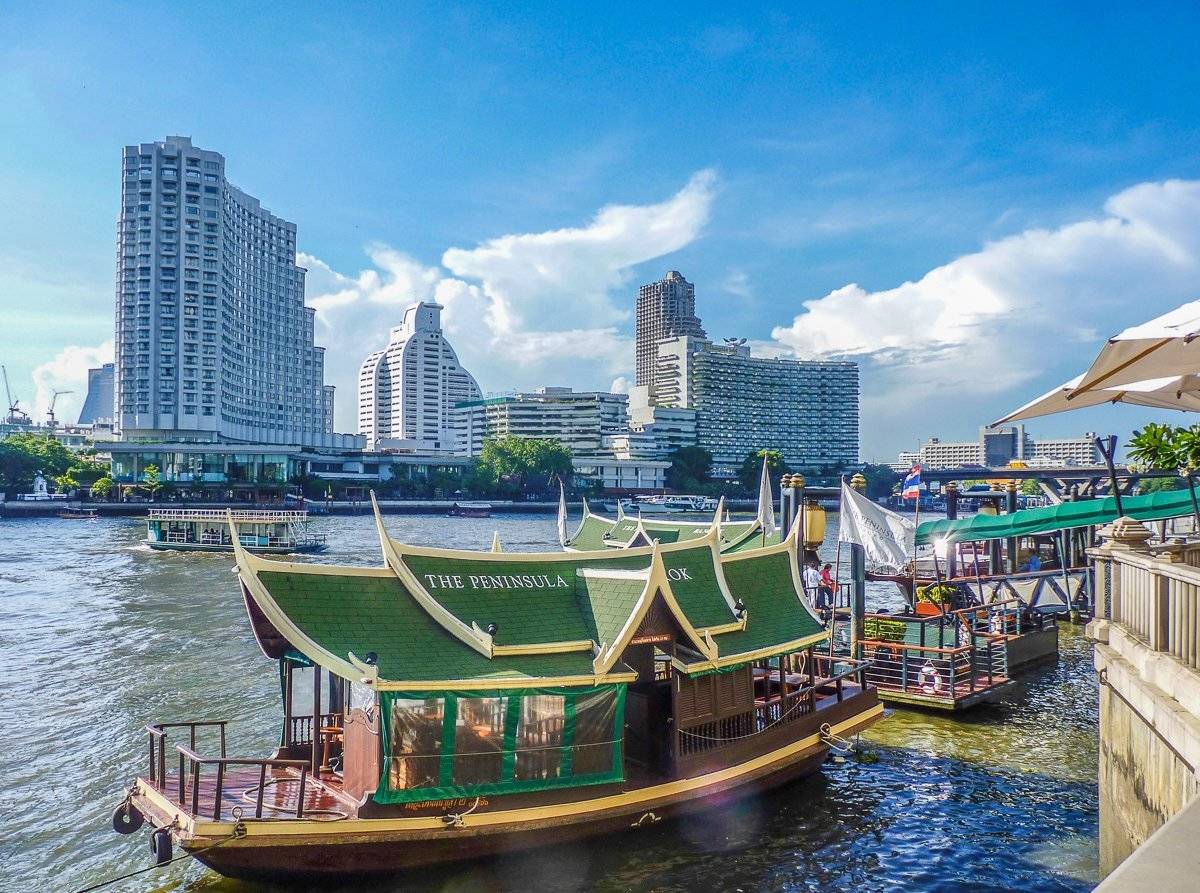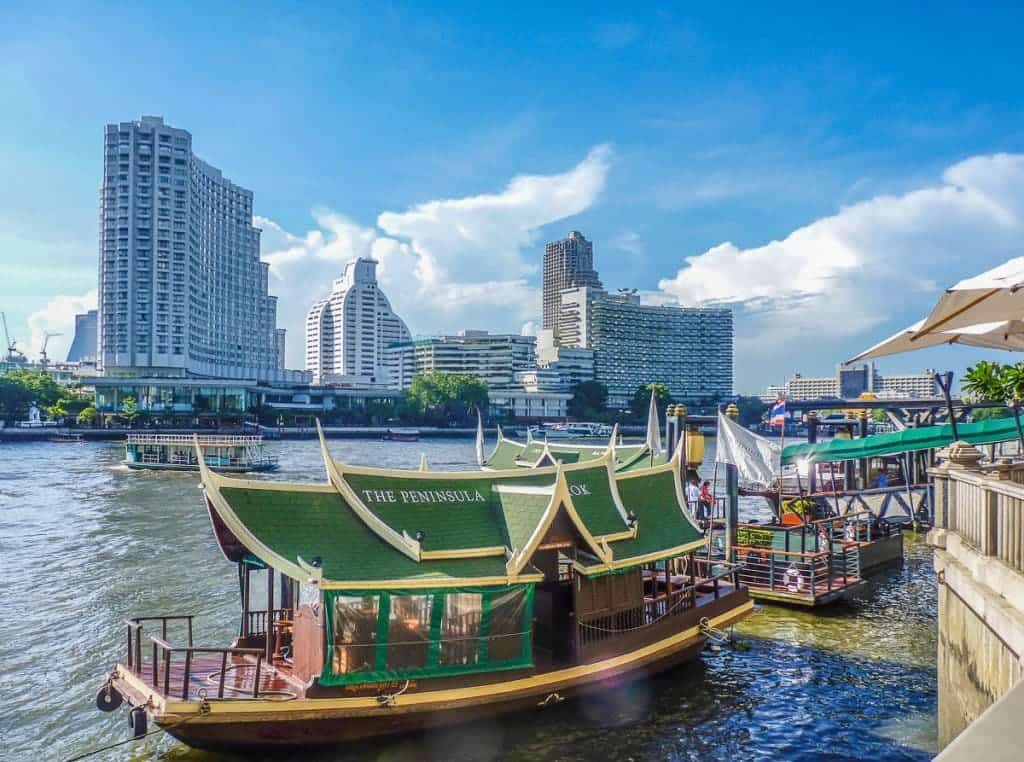 The Peninsula also hosts the Peninsula Academy which offers various classes in Thai Culture. My son took a private cooking class with the pastry chef, and we all enjoyed eating his homemade Thai treats.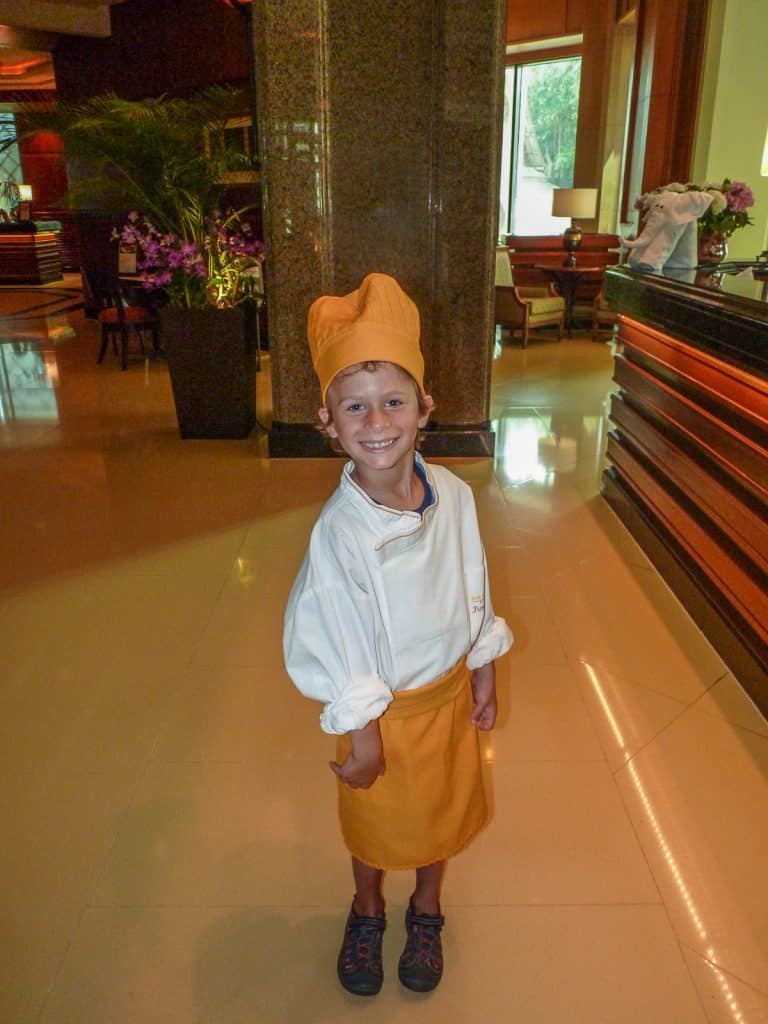 I recommend Bangkok for anyone who wants a taste of the exotic and unknown along with their out-of-this-world spa treatments, mouth-watering food, and five-star hotel heaven.
So, you've decided to visit Asia but have no interest in a big city. You're ready for a resort vacation and Asia knows luxury resorts like no one else. Where to go? Read on.
LANGKAWI
Malaysia is warm, welcoming and adoring of children!
Oh, Langkawi… pure sand beaches, swaying palm trees, hand crafted cocktail menus and my favorite words ever – complimentary kids clubs. Langkawi is a small Malaysian Island with some of the most beautiful beaches and resorts I've ever seen. It's off the beaten path still so there are no tourist herds descending upon it. It has true heritage charm, and it's super luxurious.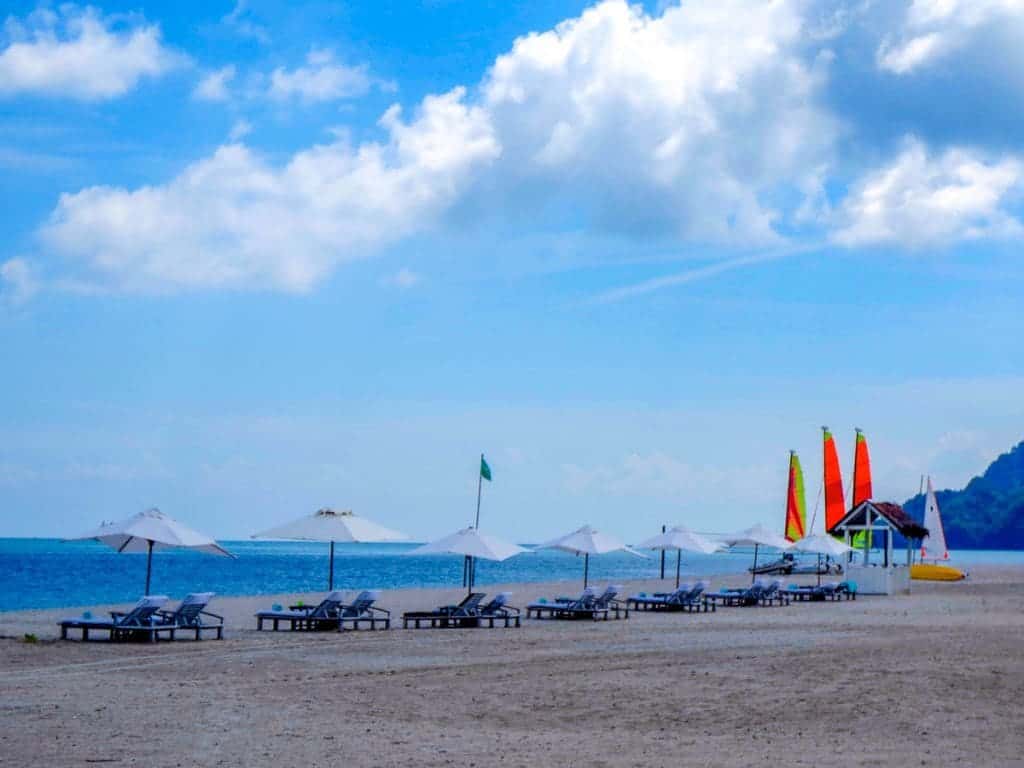 A few people have questioned the safety of traveling with my children to Malaysia, and I must say that while I had a few pre-trip apprehensions, I truly felt safe at every moment.
The island itself also offer some unspoiled beaches, a fantastic cable car ride with endless views, horseback riding lessons, and of course rice paddy walks. It's the perfect holiday for someone who wants to return with a tan and a tale of adventure.
All of the luxury hotels offer kids clubs and the activities range from mangrove tours to nature hikes. These are not your typical kids clubs, and that's why we liked Langkawi so much. You can get a true resort vacation while embracing a new cultural experience.
We chose to stay at the Four Seasons Langkawi (Check your dates for rates), and our beachfront villa was a small house replete with private plunge pool, full jacuzzi, and a few visiting monkeys! It was heaven.
Over the course of one week, we were treated to massages, monkey forests, creamy cocktails, cooking classes and eco tours. We left rested and well versed in Malaysian heritage and culture (and possible a few pounds heavier).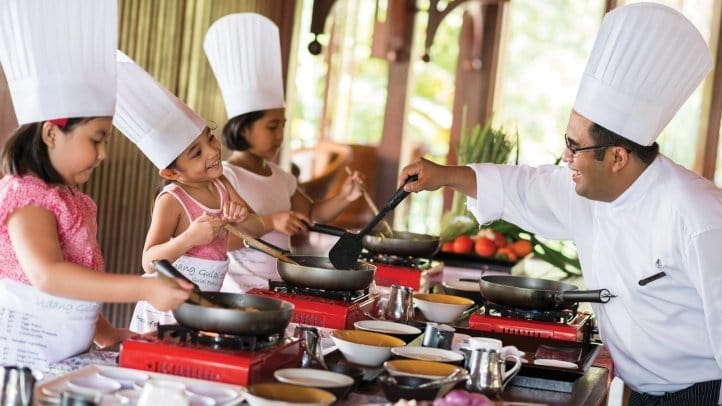 Chiang Mai
I love Chiang Mai for the same reason that I love Bangkok; it's luxurious, the shopping is amazing, and the hotels are exquisite.
Not often thought of a resort vacation, it's more of an urban retreat but foreign enough to dazzle even the most jaded traveler.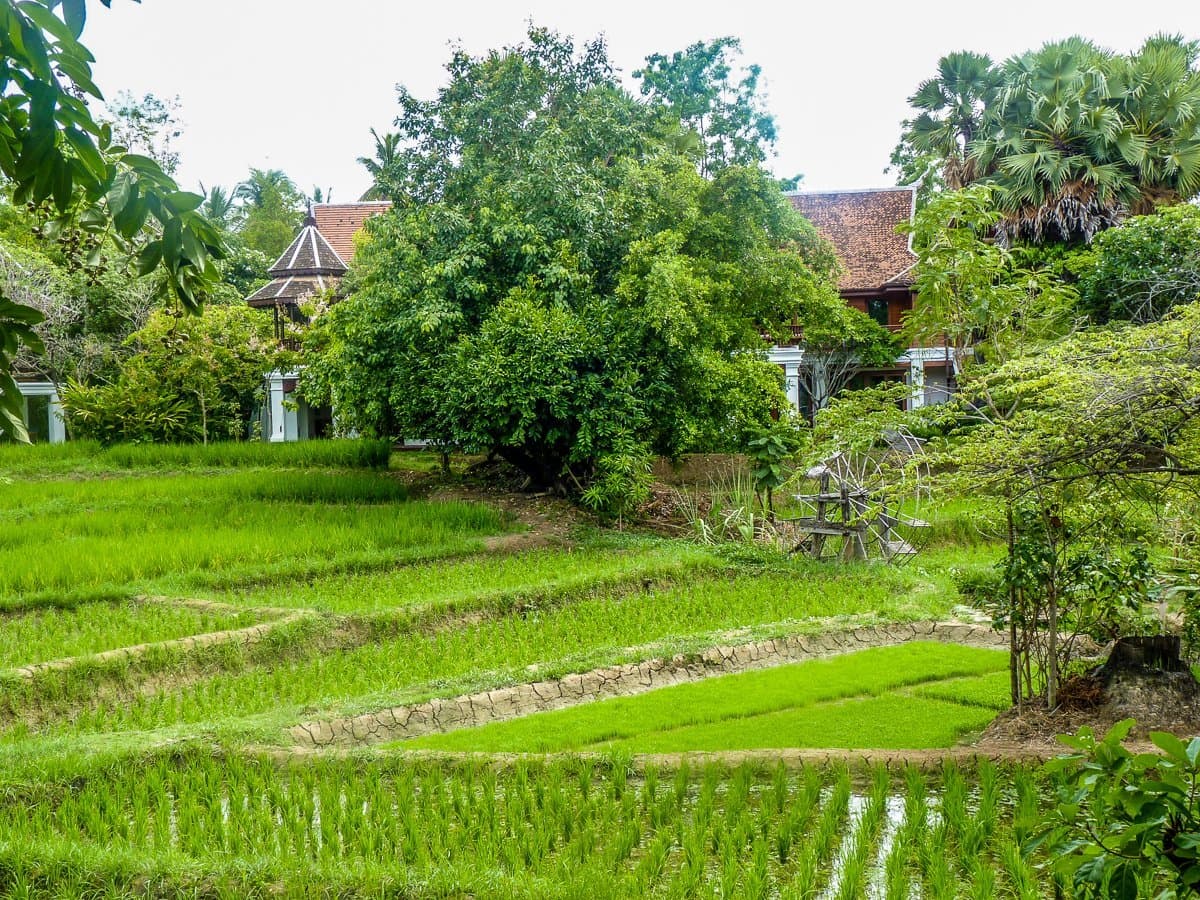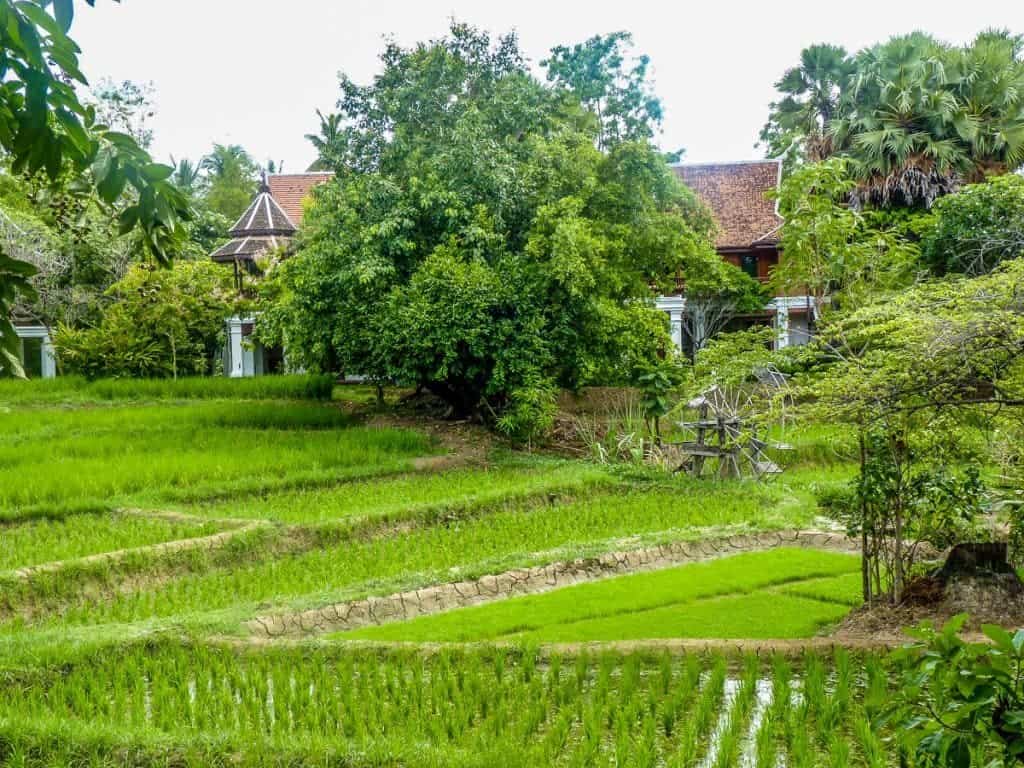 Things to do with Kids in Chiang Mai
Chiang Mai is a walkable city filled with boutiques nestled next to temples. My favorite store on the planet is Ginger – a lifestyle concept store that is exquisitely unique. There's a great restaurant on site too.
Also, take a wander through the Sunday night market filled with homemade crafts. My kids loved the kites and paper lanterns. Pop by the riverside Anantara Hotel and have the best Bloody Mary of your life.
Children can run around and feed the peacocks and the carp. And whatever you do – save a day for elephant riding at one of the numerous elephant camps surrounding Chiang Mai.
If you're a wanderer, a dreamer, a shopper and an explorer Chiang Mai will not disappoint.
Luxury hotels in Chiang Mai for families
Chiang Mai boasts two gorgeous resort hotels amidst rice paddies coupled with a bustling town, awesome night market and spas galore.
Both the Dhara Dhevi (A Legend property of Preferred Hotels) and the Four Seasons Resort Chiang Mai are destinations in their own right. Both are situated on rice paddies and each are home to some gorgeous villas with plunge pools.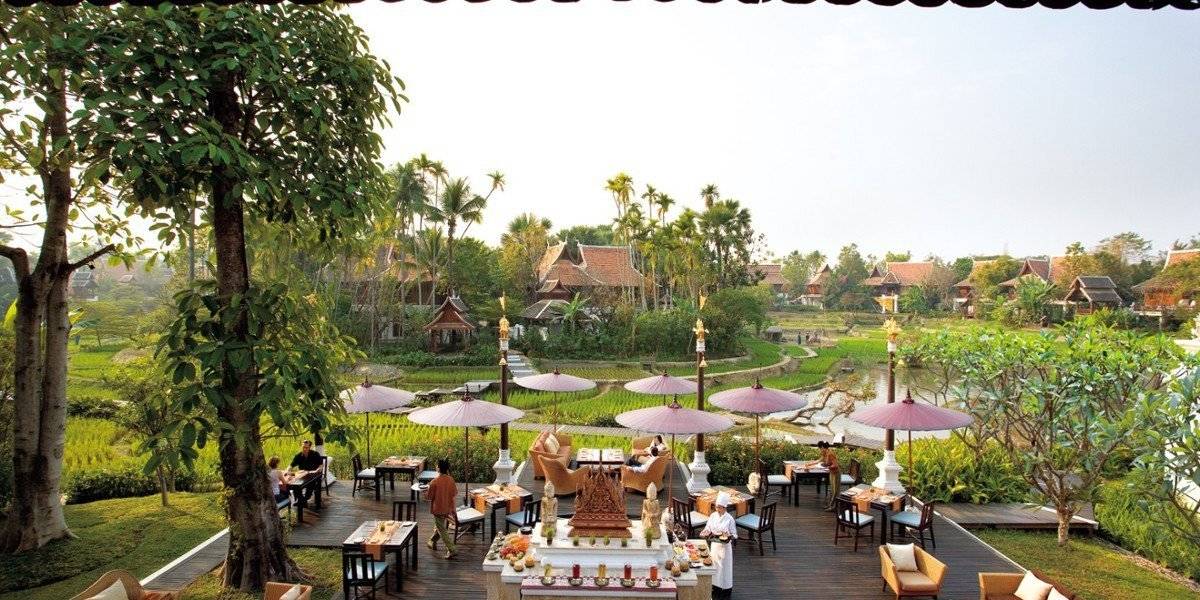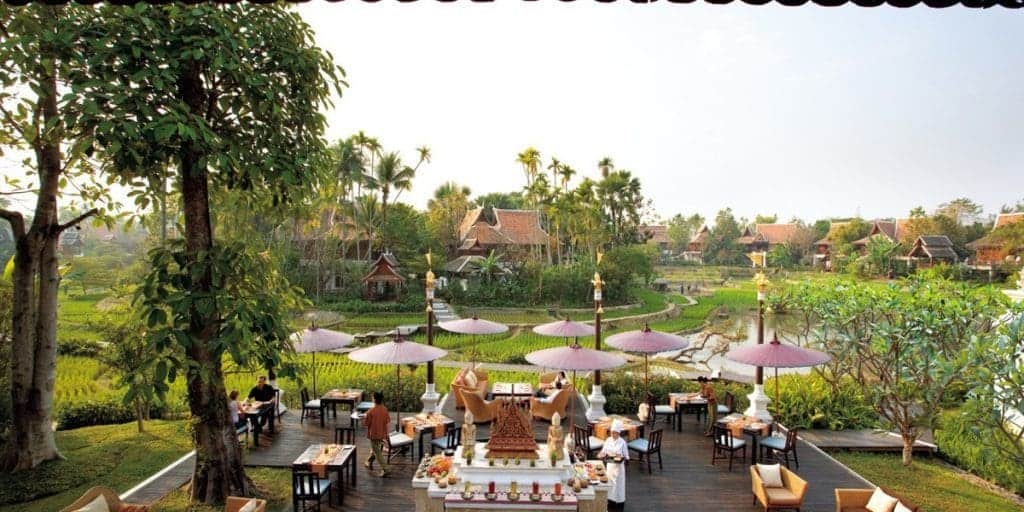 Of course, both have kids clubs filled with a myriad of activities that even at this age, I would love to do, too. Think zip lining, rice planting, horse-cart riding, and cooking classes.
Bali
Bali is the island of the gods, and once you've touched down in Bali, you know why; it's as close to heaven as you can ever get on this earth!
If it seems that in recent years Bali has become the place to be, it's because it is. Bali, quite simply has everything you'd ever want in as island wrapped up with a shiny smiley bow.
To start, the Balinese people adore children. The Balinese believe that the smaller the child, the closer they are to god, so it's a safe bet to say it's super child-friendly.
Children are welcome and expected everywhere – from the trendiest beach bars to the most luxurious resorts, and they are catered to with care. Every Sunday each restaurant tries to out-do one another with the most gorgeous brunches replete with kids' carnivals and complimentary child care. Are you sold yet?
Best Luxury Hotels for Families in Bali
There's no shortage of luxury hotels in Bali either, and you can decide between a jungle retreat, a rice paddy haven, or —of course— a beach vacation. To see the very best of Bali, I recommend a split stay to experience of few of its charms.
The Four Seasons has two contrasting properties here for a vacation, but both offer their signature complimentary kids clubs, The Four Seasons Resort Bali at Sayan, and the oceanfront Four Seasons Jimbaran Bay.
My home away from home is the InterContinental Bali Resort.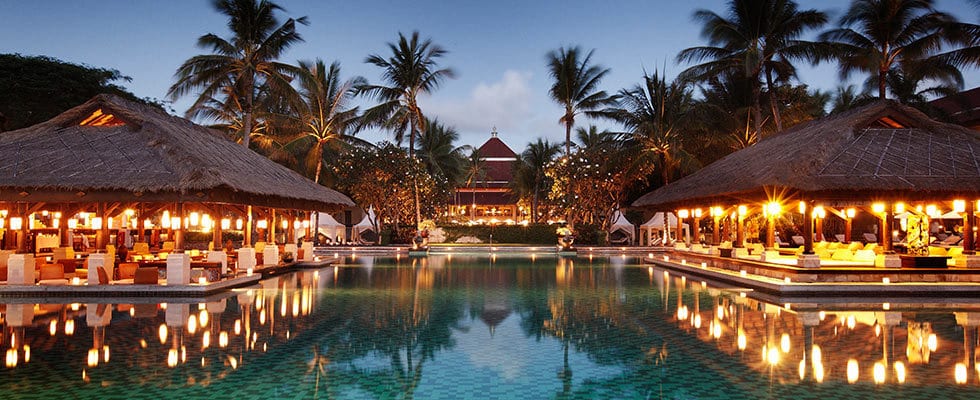 Bali is also home to some gorgeous restaurants and has a thriving art scene. I never have been anywhere else in the world where I can whitewater raft in the morning, spend a leisurely afternoon at a museum, and relax over a rice paddy for sunset cocktails. Exquisite.
Also exquisite is the Balinese Spa culture, a leading force influencing the spa experience worldwide. The spas are simply fantastic, and the treatments are designed to relax not only the body but the mind. No wonder the Balinese culture is so joyful!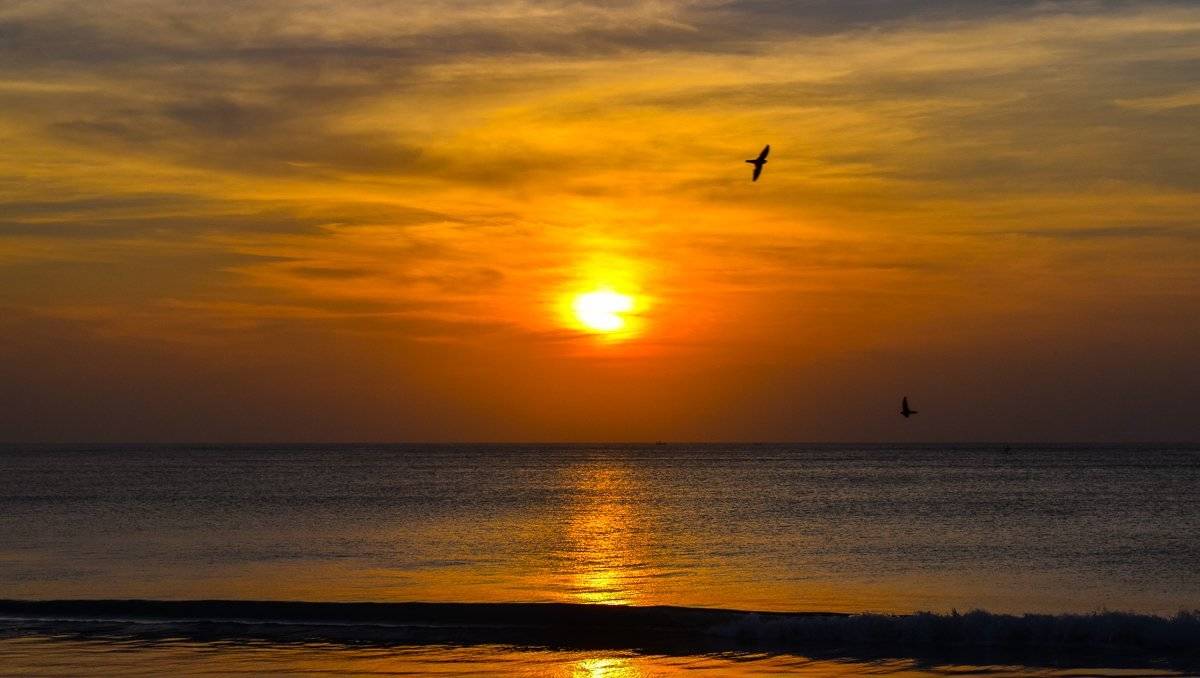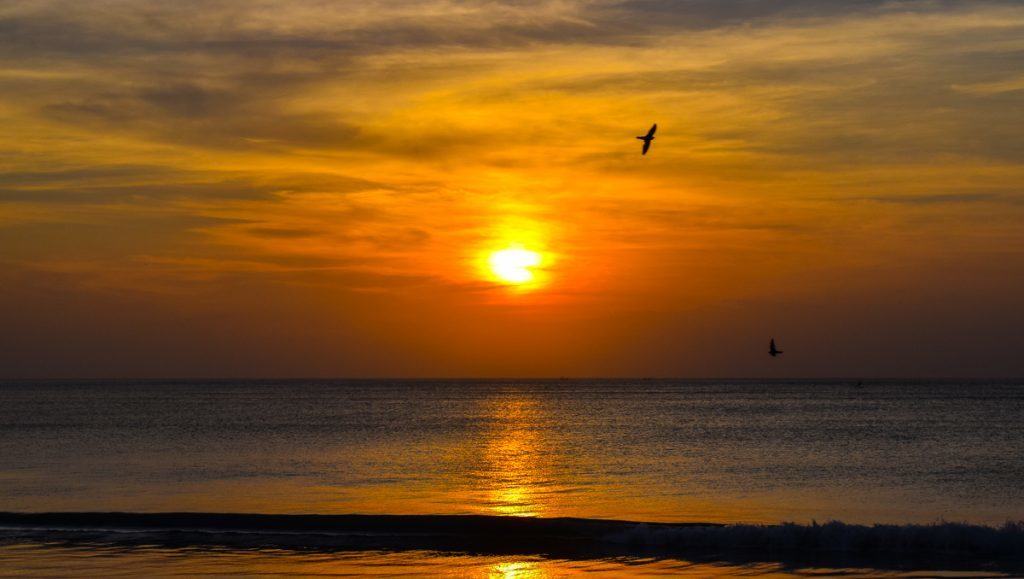 Peppered through-out the island are stunning restaurants, Michelin-star chefs, fantastic shopping, and of course some great attractions. The Bali Marine Safari Park is a family favorite.
What really makes Bali so special, though, is the chance to engage in the hospitality culture that is notable for such kindness, openness, and generosity.
A Bali vacation is like no other vacation in the world!
HOI AN
I know Vietnam doesn't often come to mind when thinking about a beach vacation, but Vietnam has some of the most fantastic beaches in the world. It's a little off the beaten path for travelers and seems like a crazy destination with kids, but that's why I like it.
Hoi An has actually been labeled by Forbes as one of the best beaches in the world and is a UNESCO heritage town filled with charming shops and better snacks.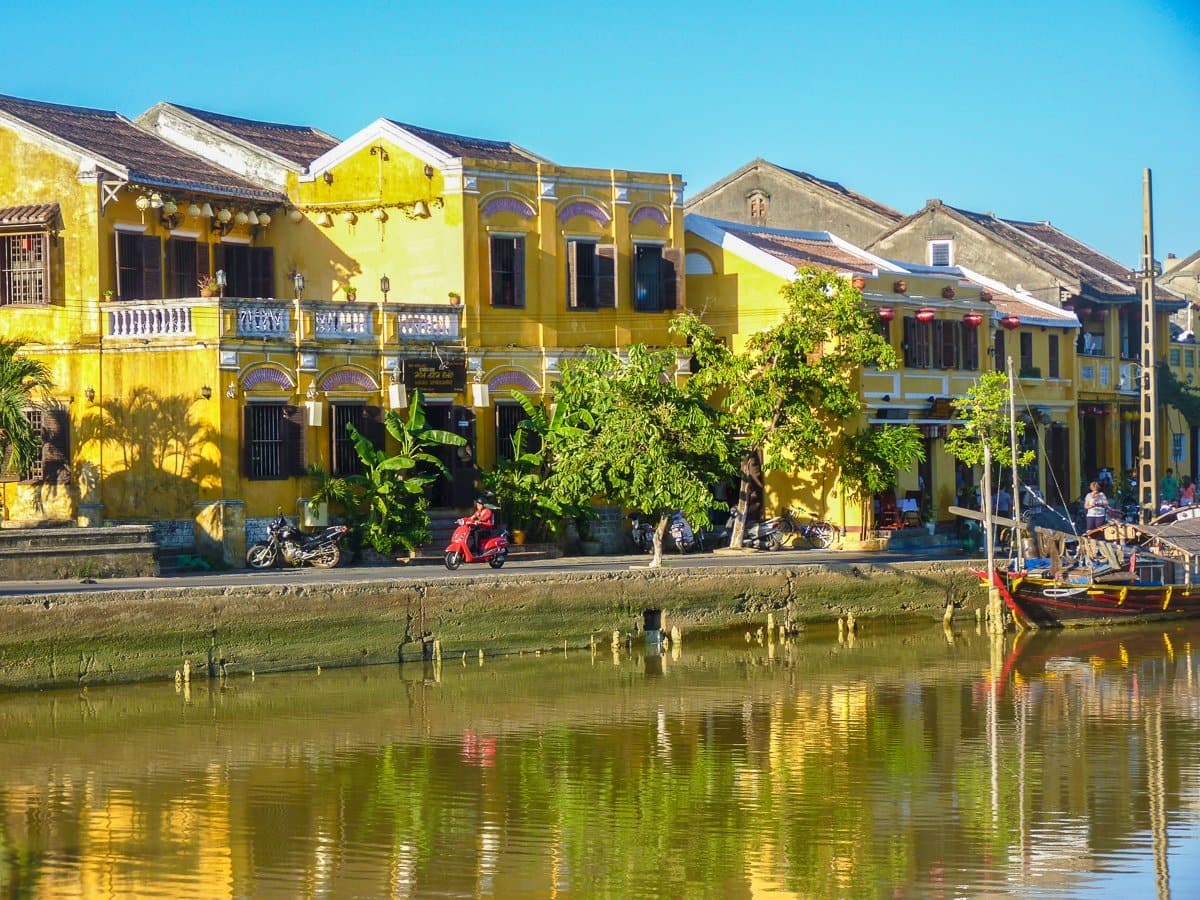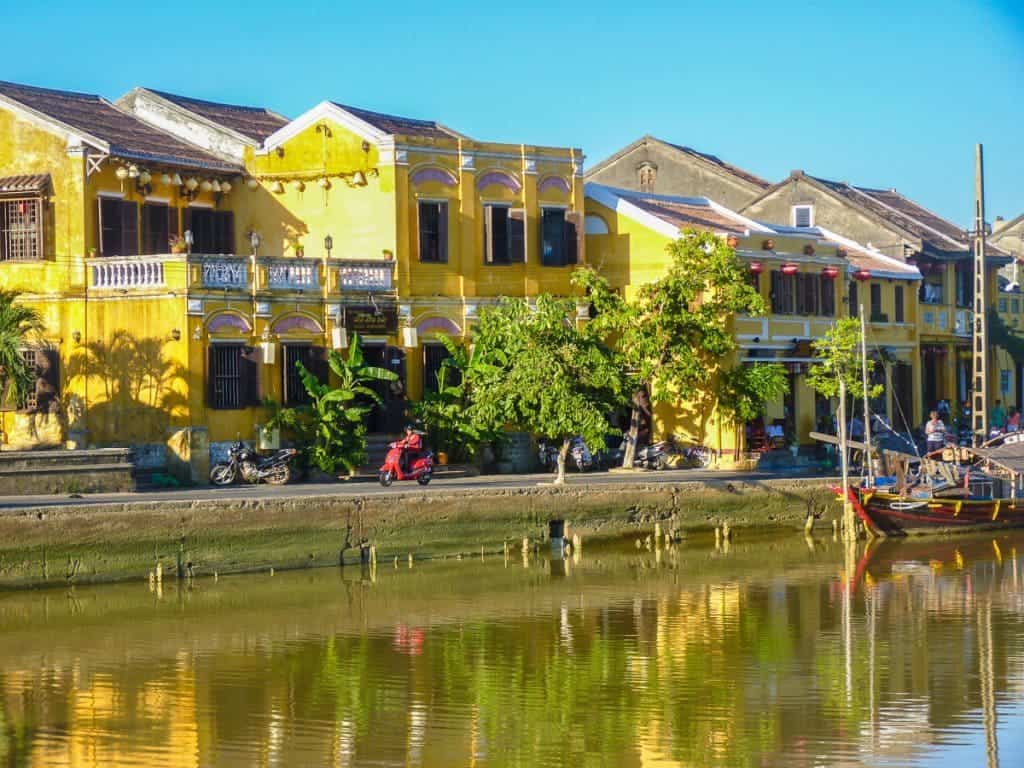 The village is picturesque with sloping roofs, colored lanterns, and fairy lights. The town is a pedestrian one, and you can see it within a day, though I think it would take a lifetime to take in all the exotic scents and sounds.
Tuk-tuks rule the roost here as do wandering chickens and happy children.
This part of the world is home to the Four Seasons Nam Hai, a resort so visually stunning it can the most seasoned Four Seasons regular impressed. I like this part of the world because it's so foreign-feeling compared to other destinations in Asia we visit.
If this is your first foray into Vietnam then your resort can arrange many excursions so that you can tour Vietnam at your own pace.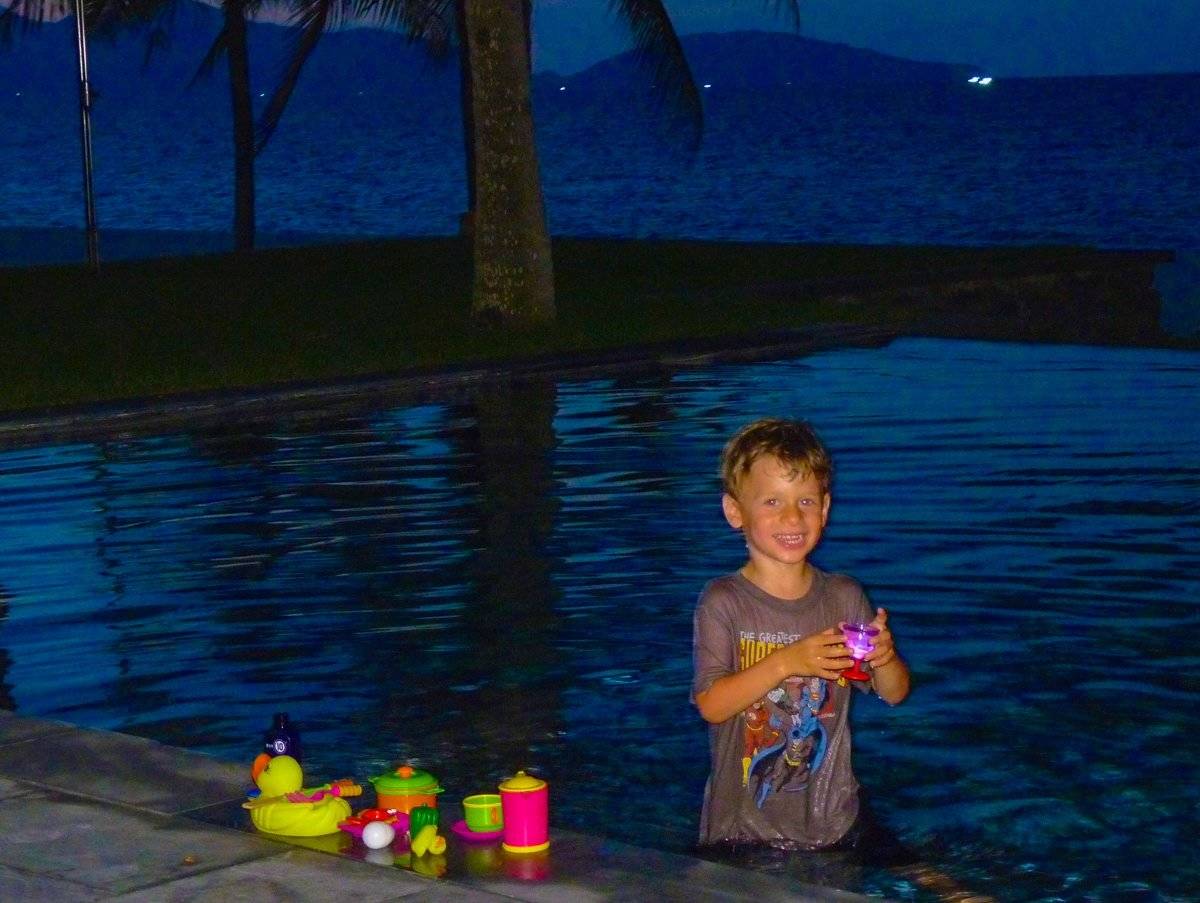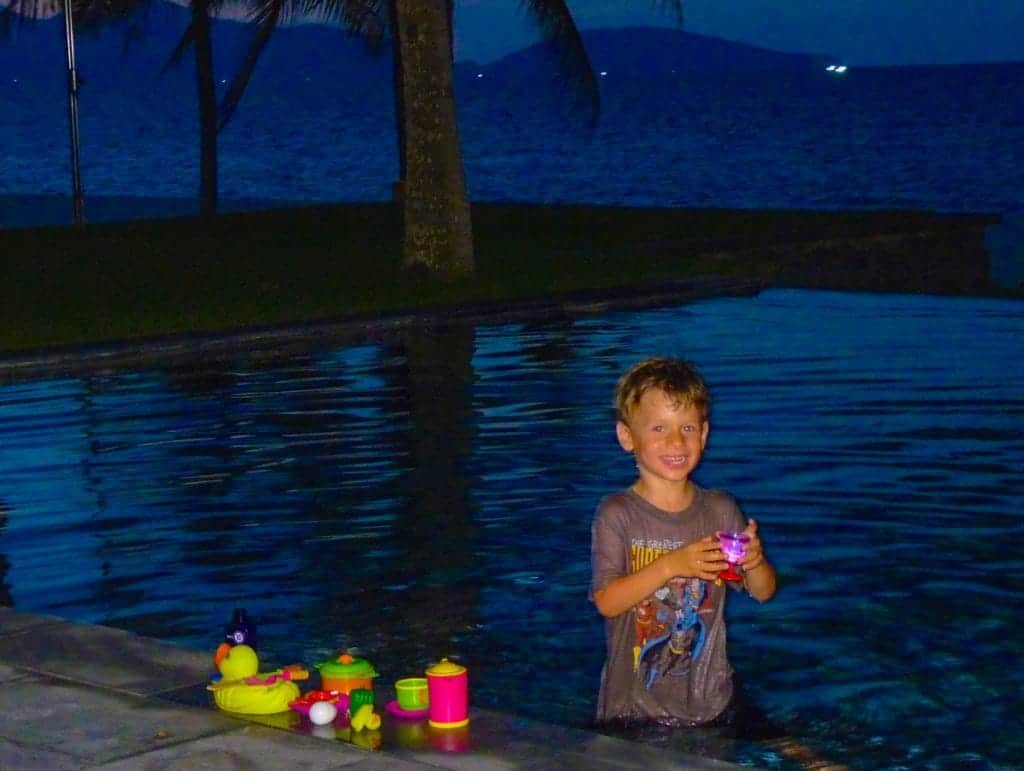 Children are welcome here, and one of the reasons I encourage you to travel with your kids here is because it really has an another world quality. It looks like nothing they know, and that's a good thing.
The food is fantastic and even the simplest of restaurants will cook a basic rice noodle dish for the pickiest of eaters.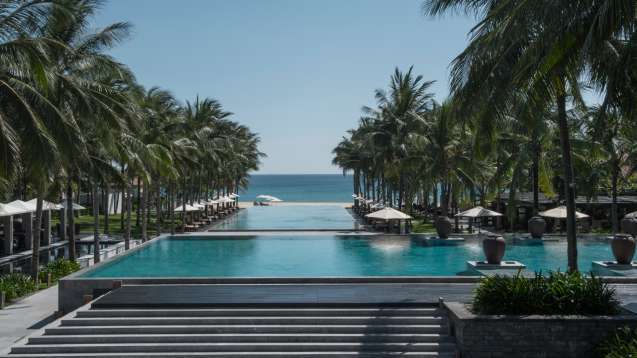 And the Vietnamese love to share their stories making this a very rich heritage destination when you engage with local hosts. My kids were treated like VIPs everywhere we went, and I cherish the memories of my son playing soccer with some local children in the street.
In order to get to Hoi An it's best to fly through Hanoi where you can treat yourself to the amazing Sofitel Metropole. The website does not do justice to this fine lady, this hotel was like taking a trip back in time.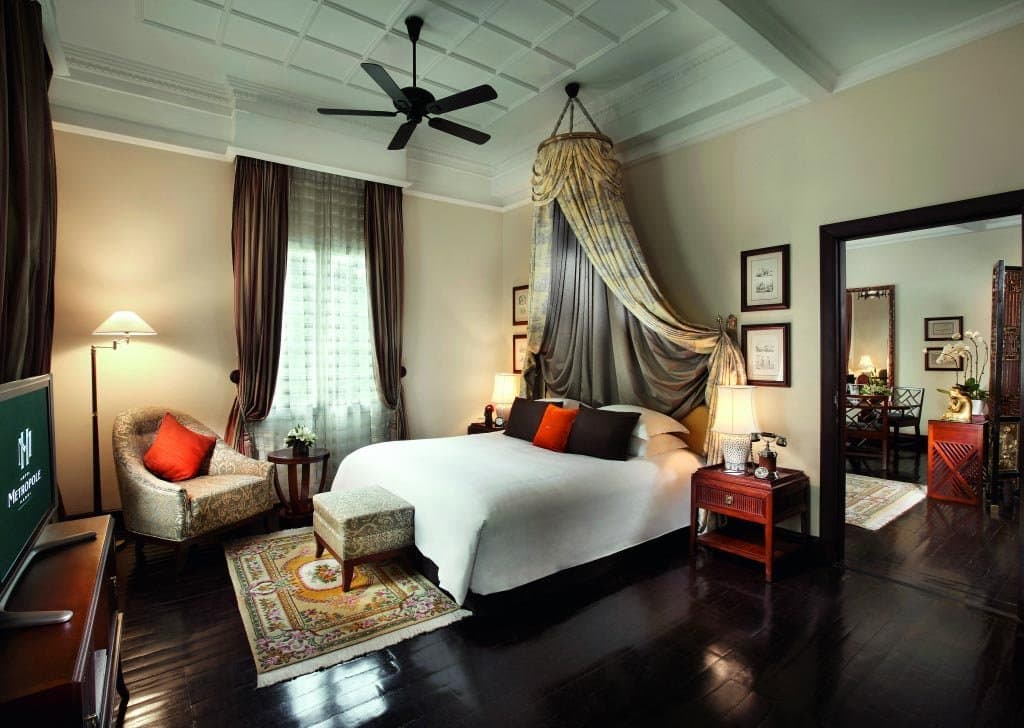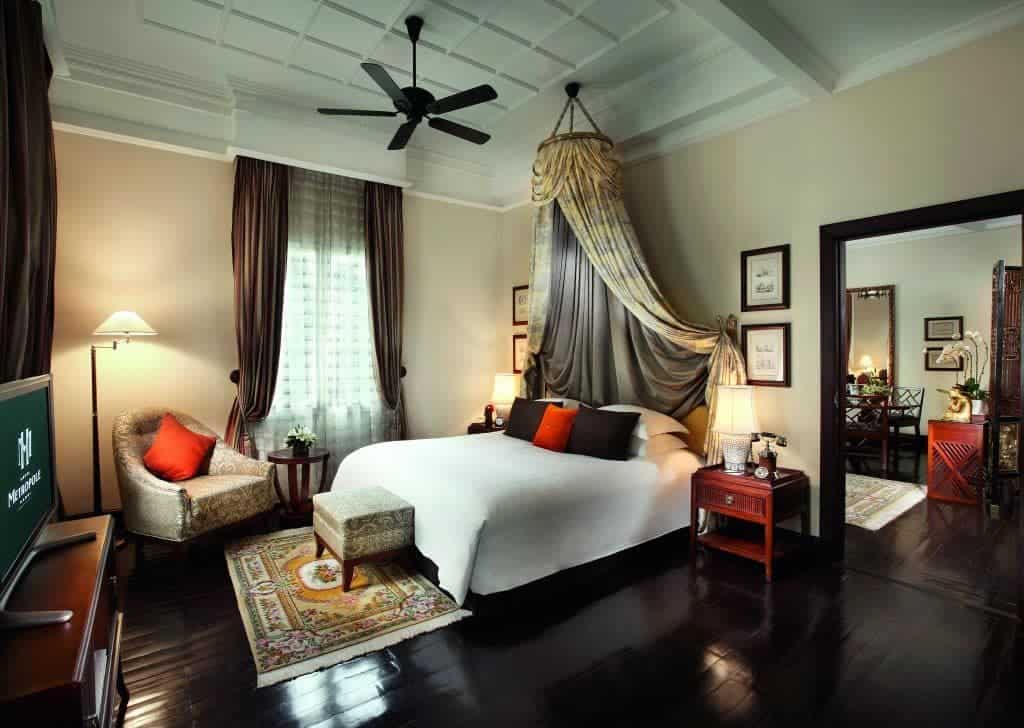 My kids adored the club lounge, the Hermès bubble baths, and the complimentary ice cream cones by the pool. It's well worth the stop-over.
Hoi An may be best for slightly older children, but we took my three-year-old. We were given handmade kites constantly, ate the creamiest, most memorable ice cream, and felt truly changed for having explored this part of the world.
So next time you're craving rice noodles, don't order in, book a flight!
Asia is truly a gorgeous exotic exciting playground with too many hotels, attractions and restaurants to ever list. It's extremely family friendly, and its rich histories and cultures combined with the passion for the new creates some unbelievable vacation experiences.
I hope you have enjoyed my list of the best places to visit in Asia.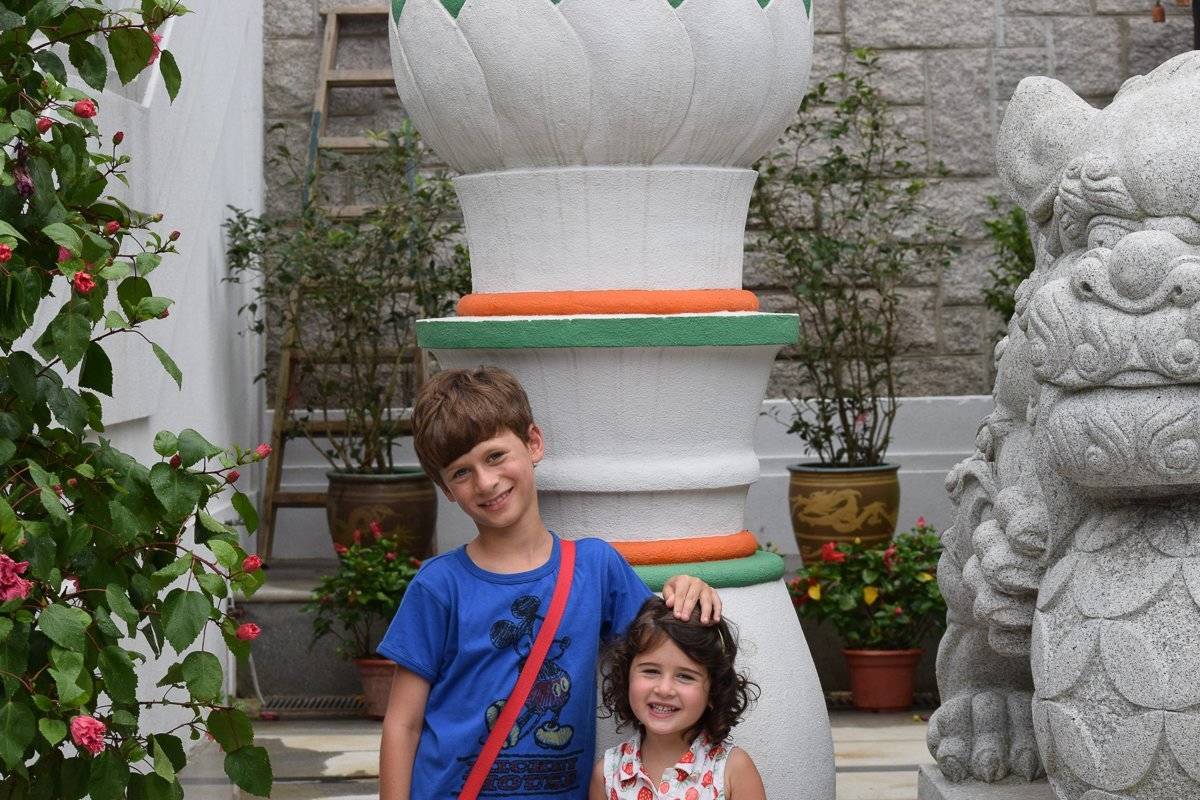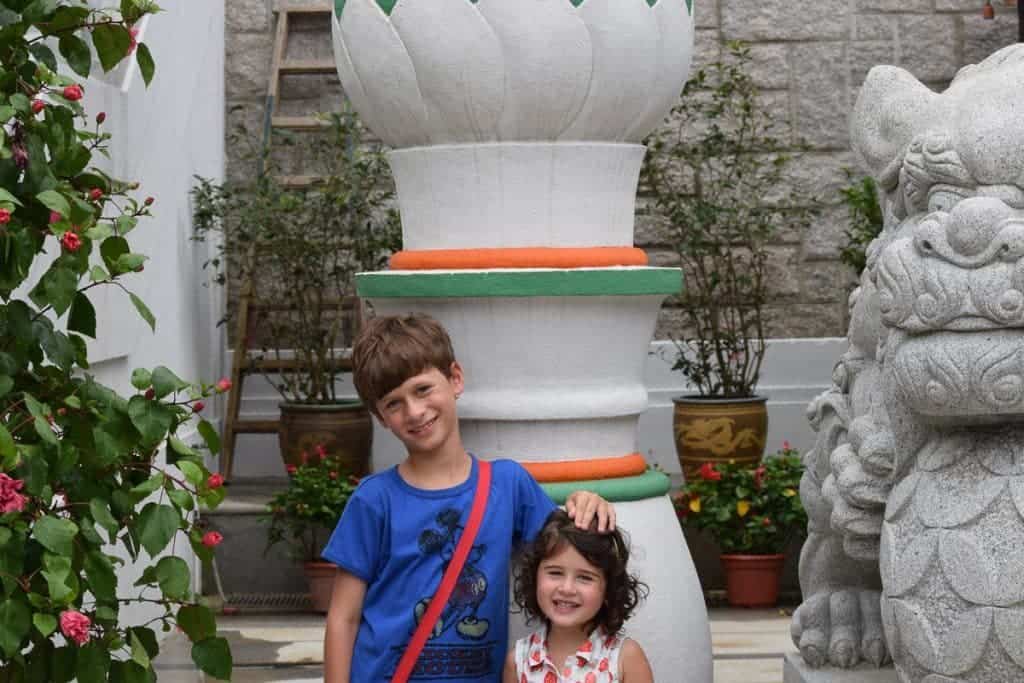 Where do you want to go next? Tell me in the comments!
Let me plan and book your Disney World vacation. As a Virtuoso travel advisor, I offer room upgrades and extra perks at the Four Seasons, Ritz Carlton, and Waldorf Astoria if you choose to stay offsite.
And I can still help with some pixie dust if you stay on Disney property, too. I can help you choose what to skip and where to splurge on the best restaurants and VIP experiences.