Always one of our favorite family destinations, it's hard to beat the Orlando area's great weather, dining, world-class resorts and of course, the visits with Mickey, Harry Potter, and the rest of the gang. It's a trip that always keeps us entertained, engaged, and most of all, very, very active.
An Orlando vacation is an amazing time, but it does beg the question: Was it relaxing?
Enter a tropical oasis in the heart of Orlando that promises to slow your family down and deliver the relaxation that every vacation should. Our Discovery Cove reviews reveal if this splurge was worth it.
Owned and operated by Sea World, Discovery Cove is a unique all-inclusive experience that is more like a massive, central Florida tropical resort than a theme park. Soft sandy beaches, an endless lazy river that floats through waterfalls, and even an exotic birds aviary are just part of the experience.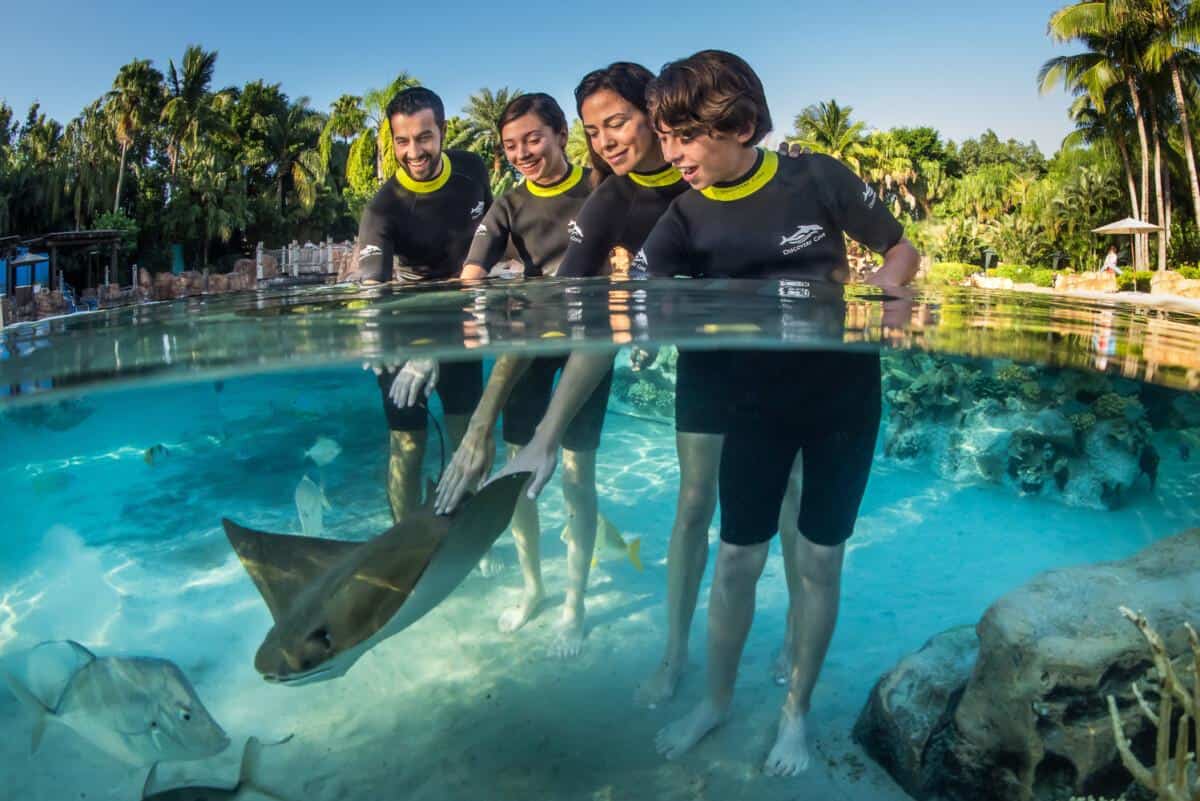 Animal encounters, like swims with bottlenose dolphins and sharks up the adventure factor, and snorkeling in a reef teeming with tropical fish and stingrays is a great time for the whole family. A trip to Discovery Cove is not only engaging, fun, and educational, but most of all, it's relaxing. And isn't that exactly what a vacation should be?
We've rounded up seven reasons why Discovery Cove is worth it for your next Orlando vacation.
1. Celebrate An All-Inclusive Vacation Day
Let's face it, Orlando vacations are expensive. Park tickets, plus the cost of transportation and lodging can add up fast, and that's before you've spent $4 on a bottled water or bought a $6 corn dog. At Discovery Cove, there is no additional cost as it's all included in one price for the entire day.
Food at Discovery Cove begins with a full breakfast (running the gamut from fresh fruit to sausage links and french toast sticks), followed by an extensive lunch buffet and endless snacks like pizza, soft serve, slushies, soft drinks, pretzels, and cookies. And for Mom and Dad, free beer and wine, or, the option to upgrade to a premium alcoholic drinks package that includes a full bar with tropical favorites.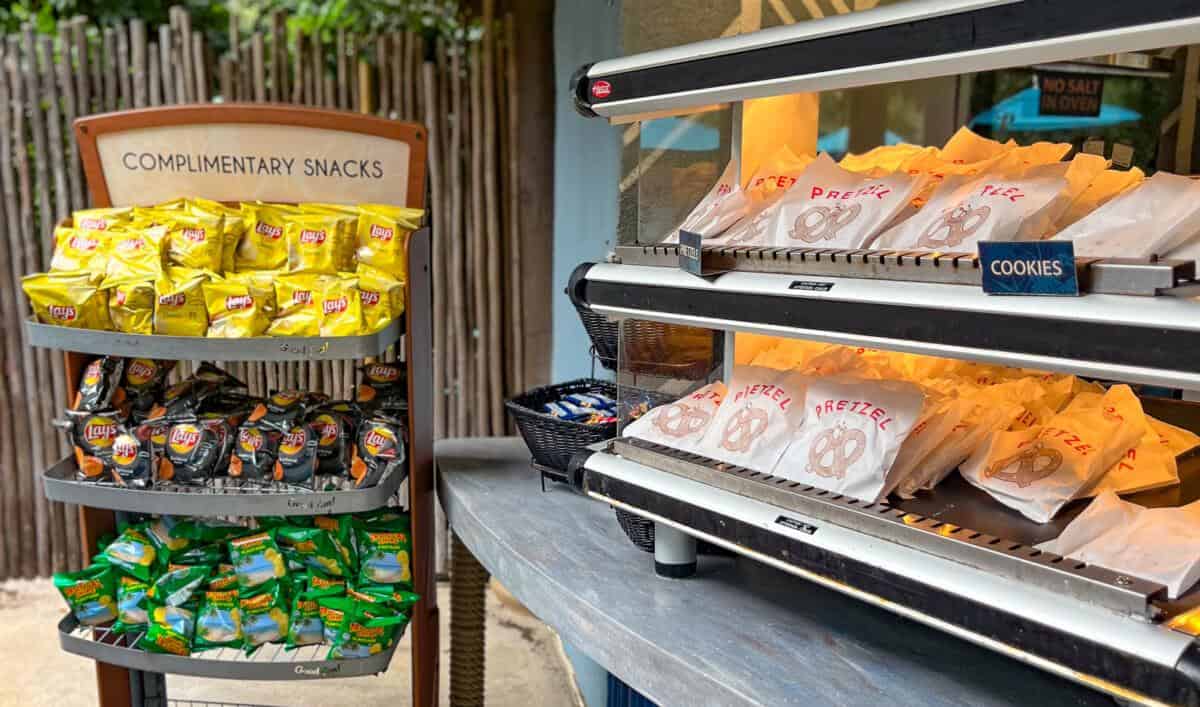 Family members are able to grab an ice cream, or go back for seconds or even thirds at lunch whenever they feel like it. It was incredibly convenient and all of us were able to indulge knowing in advance exactly what we'd spent. Discovery Cove also provides wet suits, life jackets, towels, sunscreen, floaties and snorkel gear, all at no extra cost.
JOIN OUR LUXURY HOTELS & RESORTS FOR FAMILIES,
A FACEBOOK GROUP FOR SEEKING ADVICE AND INSPIRATION
FOR THE BEST LUXURY FAMILY BREAKS.
2. Meet The Animals
Sharks, dolphins, marmosets, otters, and macaws are just a few of the animals you will see up close at Discovery Cove's unique experiences. Every morning starts with the "Flamingo Mingle" where the resident flamingos go for a stroll throughout the park.
We fed birds at the Explorer's Aviary, observed otters in their habitat at Freshwater Oasis, and snorkeled for hours surrounded by tropical fish and massive sting rays and manta rays in The Grand Reef.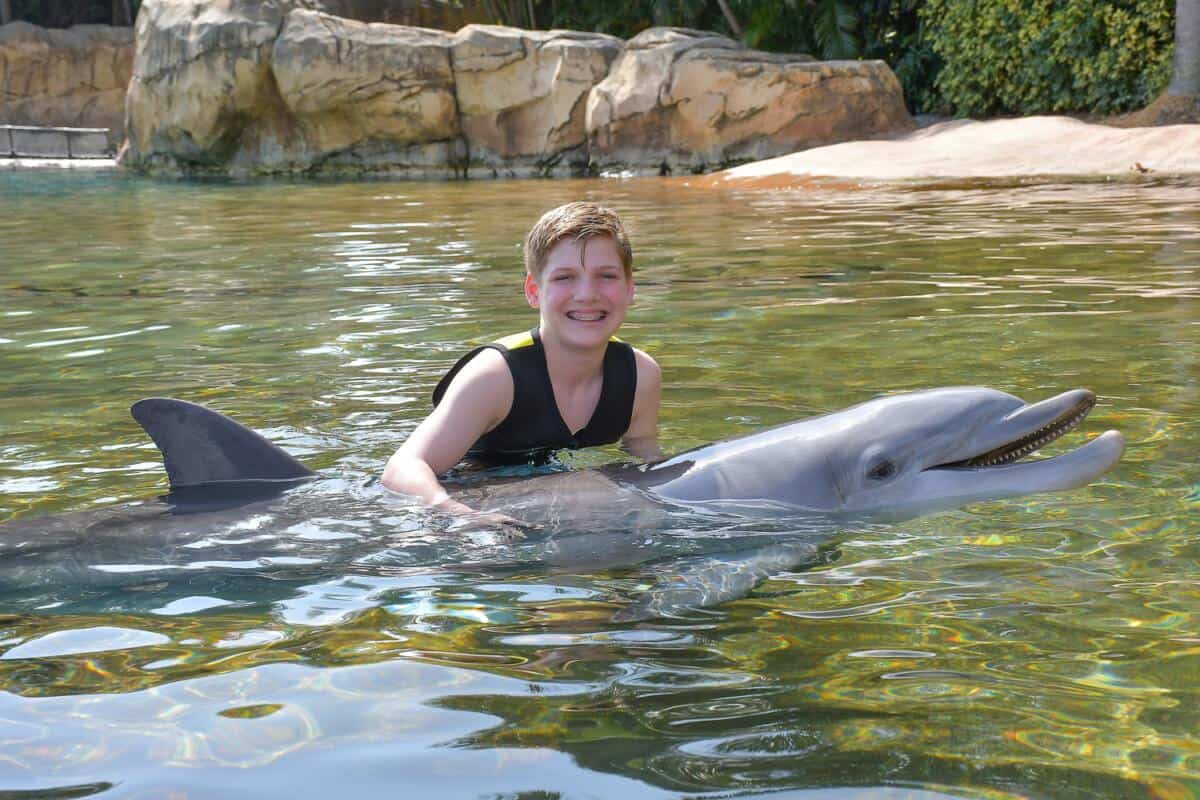 But it was our dolphin swim experience that was the highlight of our day at Discovery Cove. Our hour-long dolphin encounter with "Yoko" was intimate, educational, and so much fun. Each of us had one-on-one time with Yoko and even got to hold on tight as she rode us around the cove for an incredible dolphin experience!
3. Indulge In The Food
Theme park food doesn't always have the best reputation, but at Discovery Cove, the food choices are expansive and include a variety of healthy options.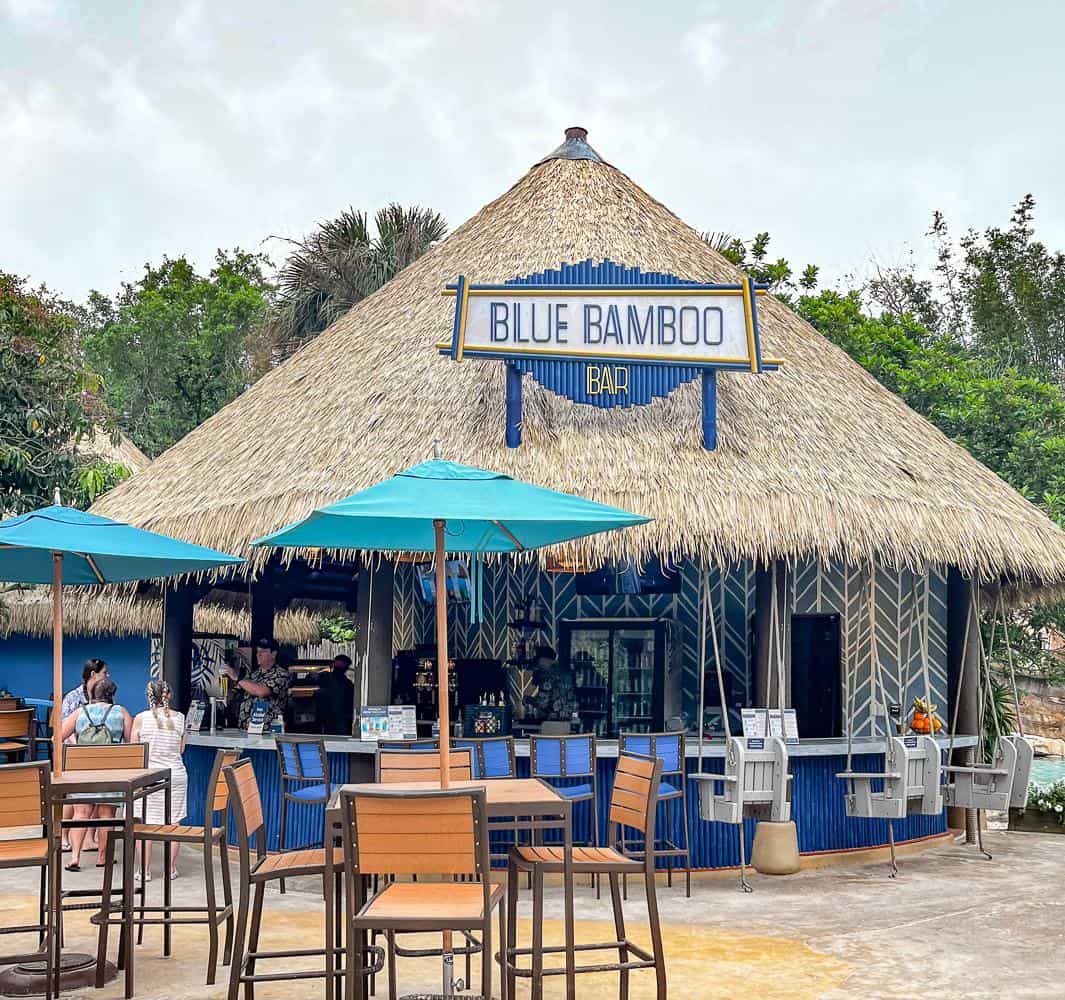 Grilled salmon, pork carnitas, Caribbean rice, and fruit and yogurt parfaits are just a few of the available unlimited food options at breakfast and lunch at the main restaurant, Laguna Grill. Jerk chicken wraps, ceviche, salads, and sandwiches are also on the menu as well as kid-friendly favorites like burgers, hot dogs, chicken tenders, and macaroni & cheese.
Breakfast is served from 7:30-10:30 and lunch from 10:30-3:30, so your family can eat at their leisure. In addition to full restaurant options, Hibiscus Hideaway is a casual spot serving BBQ chicken and margarita pizzas, as well as, soft serve ice cream, slushies, warm cookies, and soft pretzels throughout the day. Our day at Discovery Cove was delicious, indulgent and had some of the best food of our Orlando vacation. And did we mention it was all included?
4. Enjoy The Lack of Crowds
Discovery Cove is a VIP experience, and the park limits the number of visitors each day to create a serene environment for guests. The idea that a theme park would lack crowds was a novel concept, and until you see it, you won't believe it.
We visited on a weekend during high season at Spring Break and there were no lines anywhere. The pools were not crowded, and there were always plenty of seats at the bars and restaurants.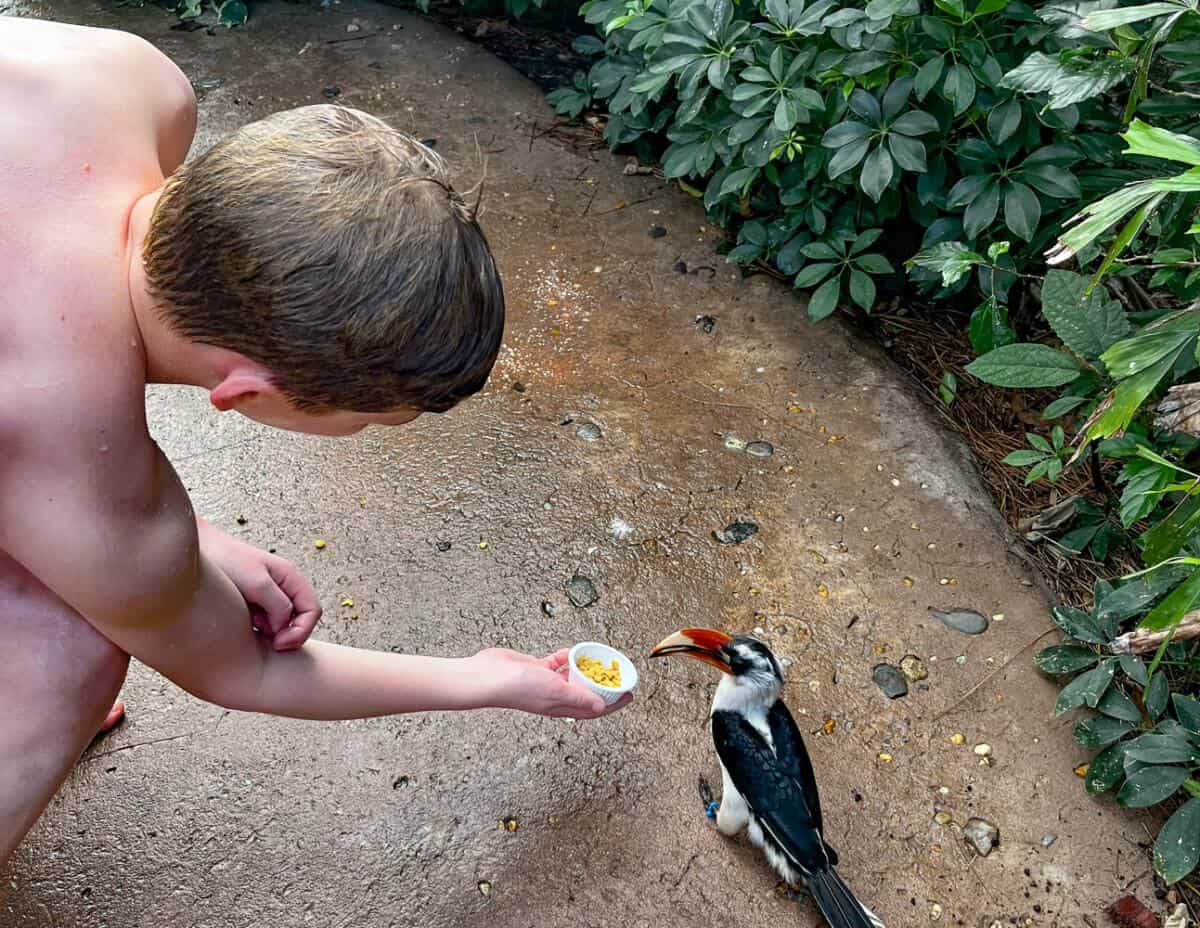 Though we were lucky enough to have a private cabana, it really wasn't necessary, as there are hundreds of lounge chairs and tucked-away seating areas for families, and we had plenty of space to spread out wherever we were in the park.
5. Embrace The Tropical Feel Without A Passport
A day at Discovery Cove starts in the soaring lobby, a thatched-roof building that is straight out of the South Seas. As you quickly complete your check-in, you emerge into a tropical paradise of lush plants, palm trees and winding pathways of canopied greenery.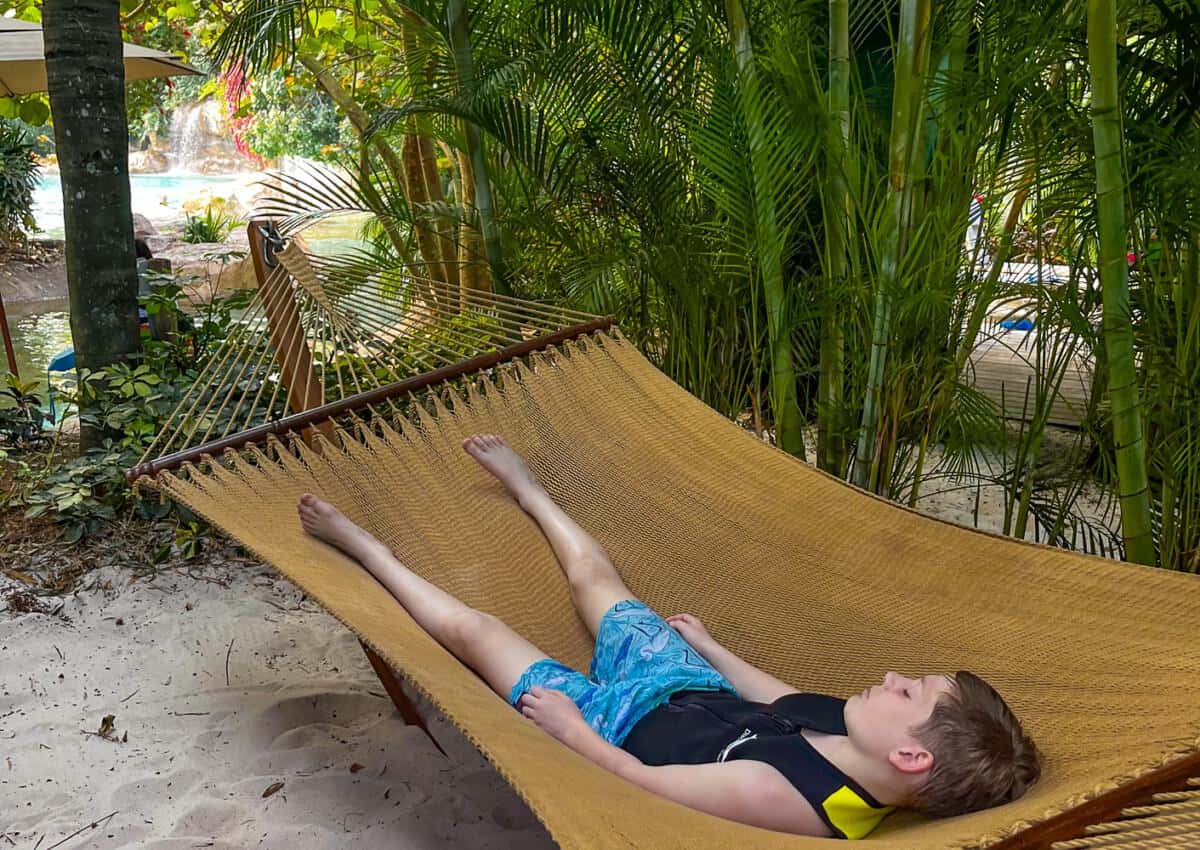 Reggae music is piped throughout the park, and you immediately feel as though you've been whisked away to the islands. There are hammocks throughout and multiple sandy beaches with zero-entry into the lazy river, waterfalls, and grottos of Serenity Bay.
Restaurant menus include Caribbean-inspired fare, and the two thatched-roof bars have a full menu of frozen tropical drinks. The vibe is pure island oasis, relaxed and stress-free.
6. Relax With The Service and Safety
One thing we noticed immediately at Discovery Cove was the amount of staffing. At a time when many parks are cutting back, Discovery Cove was teeming with help. From the cabana hosts to the friendly bartenders, each staff member was quick to assist in any way we needed, ensuring we never had to wait for anything, anywhere in the park. This allowed us to feel comfortable letting our teens freely roam the park.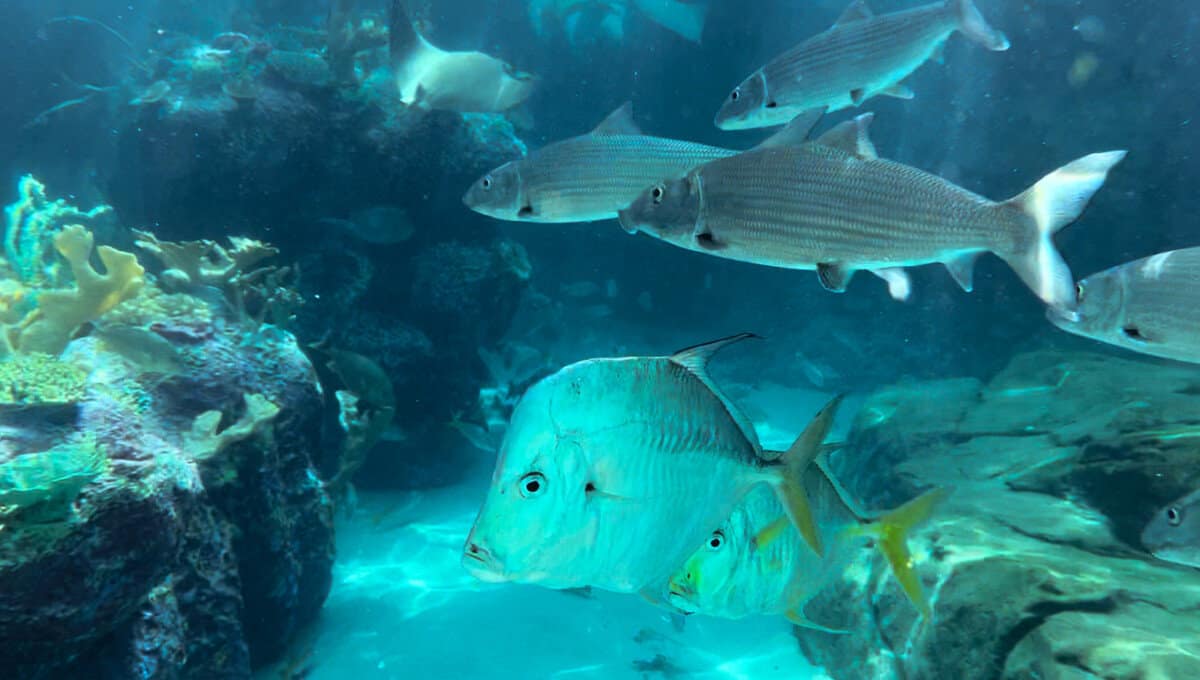 And I have never, in any park or resort, seen as many lifeguards as we saw at Discovery Cove. Every ten feet in the snorkeling reef or lazy river and pools, stood a lifeguard. In the grottos, under the waterfalls, were lifeguards submerged up to their waists in the shallow water; it was a great feeling knowing my kids were so closely watched as they swam and explored on their own.
7. So Is Discovery Cove Worth It?
There's no doubt that you're going to Discovery Cove to experience animal interactions and a tropical vibe, but what they don't tell you in the brochure is that you will experience a day of much-needed relaxation. Orlando vacations are BUSY, and it can be hard to slow down when there's so much to see and do!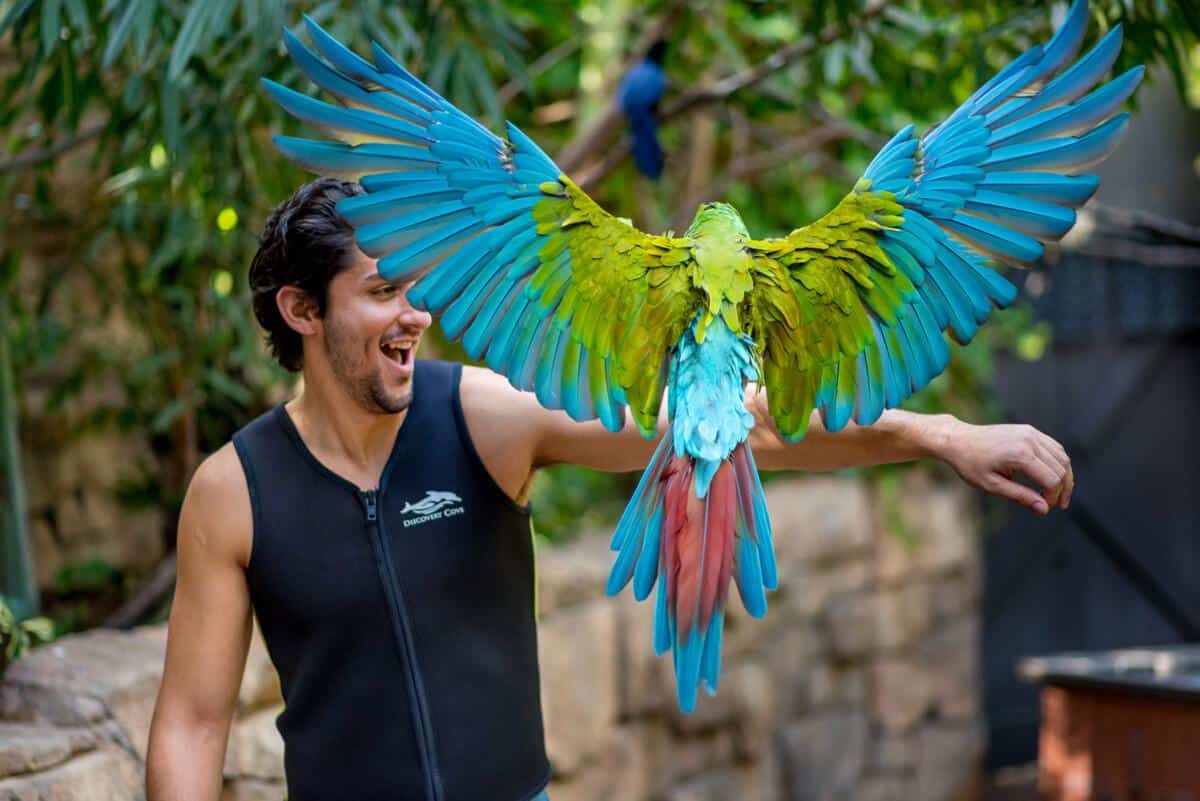 Our day at Discovery Cove came after two solid days of walking through other theme parks, enduring endless crowds and hours of waiting in the Florida sun. From the moment we walked through the doors of Discovery Cove, it became apparent our day was about to slow down in the best possible way.
Our first stop was a leisurely sit-down breakfast, followed by a lazy float on Wind-Away River, then we handled tropical birds, and had a personal dolphin interaction. Our afternoon was spent floating through grottos and waterfalls, watching otters and marmosets. As my husband and I sat at the bar sipping frozen drinks and our kids waved from the adjacent lazy river, we breathed a collective sigh of relief. Our family trip had finally become what it was supposed to be…a vacation.
Plan the Ultimate Orlando Vacation
Book your Discovery Cove package to include dolphin swims, cabanas, or premium beverage upgrades.
Whether you want to feel like a VIP at Discovery Cove, Disney, or Universal, Luxe Recess can help. In addition to being a luxury family travel magazine, Luxe Recess is also a Virtuoso member luxury travel agency. Learn more if you'd like us to plan the Ultimate Orlando vacation for you.
Katie was offered entry into Discovery Cove for the purposes of this review, but Luxe Recess had oversight on this article's content.