What child doesn't want to venture to the land of pasta, pizza, and gelato? Vacationing in Italy with kids can be easier than many other European countries.
I'm happy to share how you can make this Italy family vacation a luxe experience filled with postcard moments and must-do meals and activities.
On this trip, we focused on shorter stays in cities in central Italy easily accessible by train, one of our favorite ways to travel together. The Italian cities of Rome, Florence, and Venice are the top three "major cities" which Americans often visit (after London). Creating engaging itineraries takes little effort. The challenge will be narrowing down your list!
So, my family set out on another adventure of Italian history, architecture, art, and good food (with a high-carb diet of pasta and ice cream included, whenever possible). When planning a trip to Italy with kids the first time, I think it is easier to focus on the cities and towns with many planned family tours.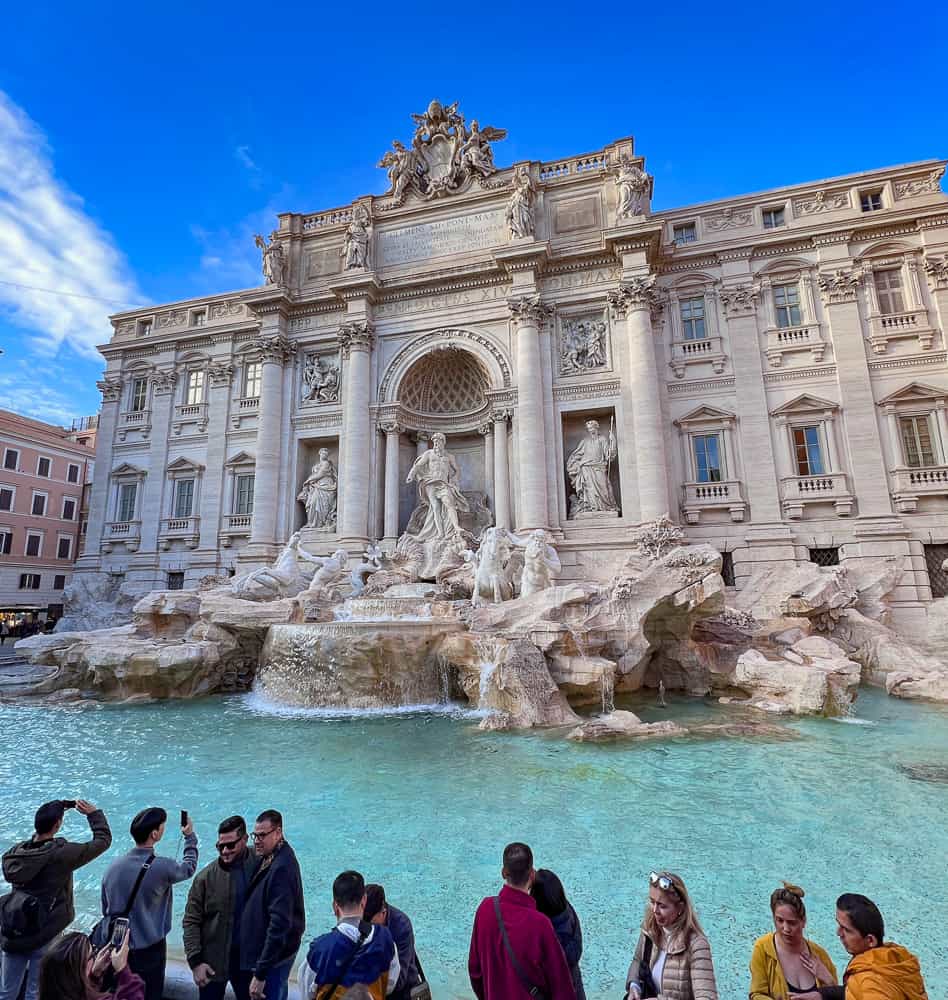 Rome with Kids
Rome is a major, bustling city so traveling with children is less about wandering its streets as it is visiting major destinations by car or taxi.
Top Things To Do In Rome With Kids
The Colosseum Tour
The Gladiator Experience
Tour by Tuk Tuk
Private family tour of the Vatican museums and Sistine Chapel
The Colosseum was an early stop for us, and as expected for one of Rome's main attractions, for thousands of others that morning, too. Guides leading private tours wandered through crowds, followed by customers who kept an eye on their local guide's metal pole (and identifying stuffed animal tied to its top).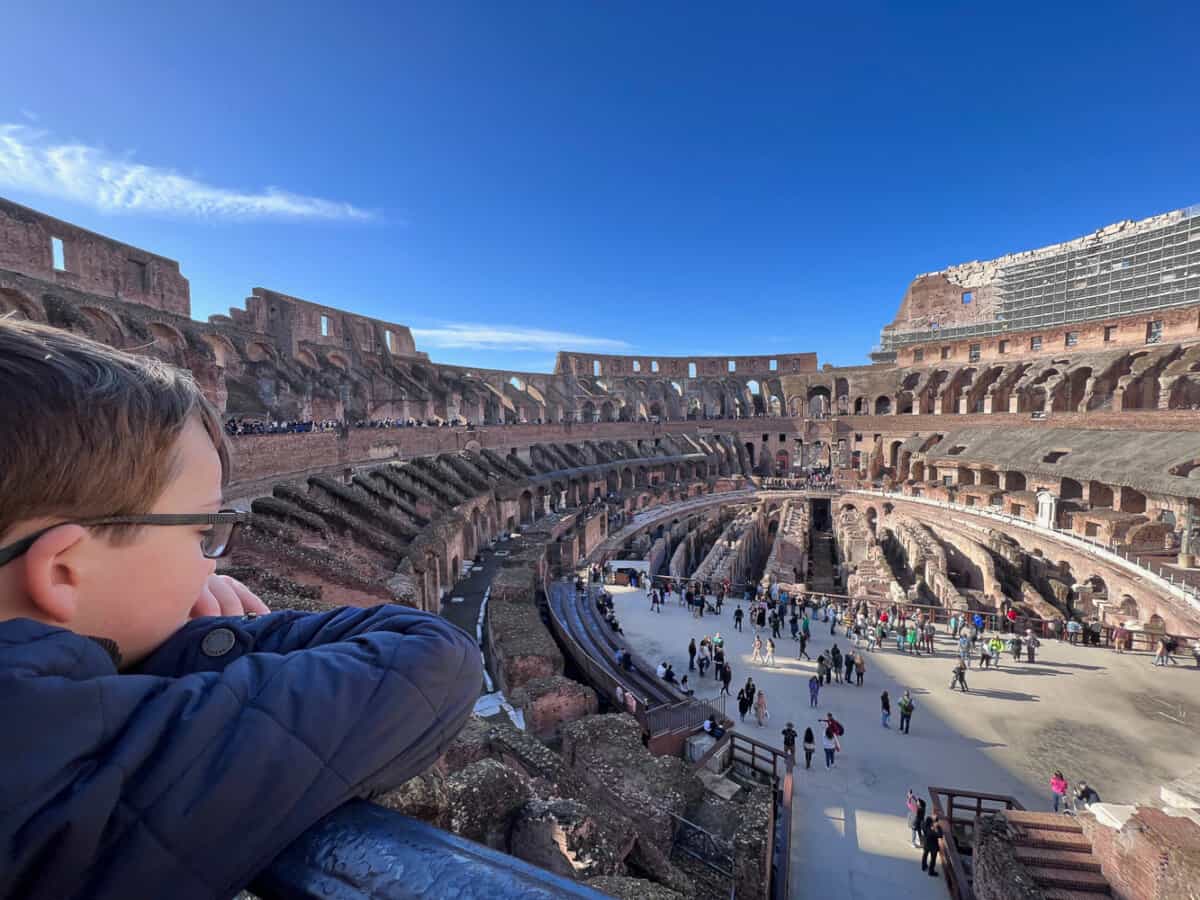 At the time of our visit, unfortunately, the crowds and chaotic energy surrounding this landmark of Italian culture were more akin to those at a modern sporting stadium than a lively Roman forum of the past; keep an eye on younger children and if you do have a tour scheduled, it is a good idea to have the cell phone of the tour guide leader. Even better, have your guide collect you at your hotel.
Tours will vary in length and we left our group tour early to walk alone on the same stairs as ancient Romans; our guide was very knowledgable but a bit too thorough when talking about the smallest details of life in this era. A lesson learned to book private tours, which we usually do.
Gruppo Storico Romano is a local Roman organization that runs its Gladiator School, a two-hour experience for children and adults (although small children under six are not allowed to use the wooden "weapons" near the program's end). Located on Ancient Via Appia, it is not far from the Colosseum and is best visited by taxi and not on foot.
The program commences with a tour of their gladiator museum followed by a visit to the "armory," a room showcasing weapons, armors and shields of ancient Rome. Guests are allowed to wear much of the room's contents and even swing a sword or two.
STOP!
JOIN OUR LUXURY HOTELS & RESORTS FOR FAMILIES,
A FACEBOOK GROUP FOR SEEKING ADVICE AND INSPIRATION
FOR THE BEST LUXURY FAMILY BREAKS.
The class then heads outdoors and, after a brief physical warm-up, participants receive instruction in sword play with a chance to take padded-sword swings at the shield of their "opponent." A little bit of history along with some vigorous outdoor activity, and all at at an organization that takes great pride in its combination of Roman history and good fun.
We have enjoyed Tuk Tuk tours in major cities in Europe as an easy way to quickly navigate busy streets and, when on a private tour, to afford a quick hop-on, hop-off series of stops at major destinations. It helps give a fun and playful welcome to the city. Rome has many Tuk Tuk options, including eco-friendly electric models, around notable Rome attractions like the Colosseum, Circus Maximus and the Roman Forum.
Additionally, families can enjoy private tours of the Vatican Museums, the Sistine Chapel and St. Peter's Basilica with morning bookings, in some instances, which can grant access prior to the general public. My kids are huge Percy Jackson fans. There are a few themed tours, but I ended up not choosing to book them. I had envisioned a fun tour that took us places like a scavenger hunt around areas, but the tour was limited to one museum, and I feared a high possibility of boredom.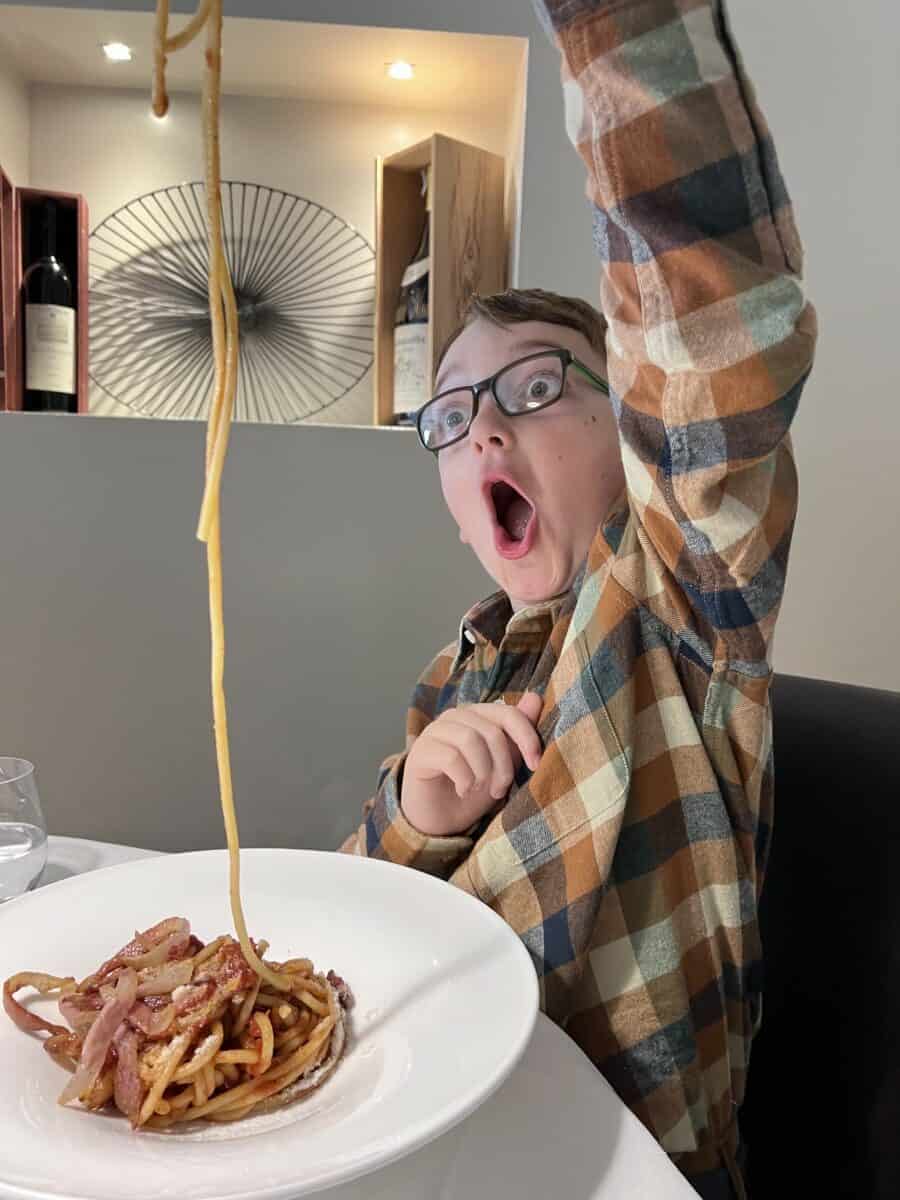 Memorable Meal: Ristorante Moma
We took lunch at Ristorante Moma, on the Via di S. Basilio, an unassuming restaurant that nonetheless is Michelin-starred and whose small dining area was filled by the time we left. What drew us here was the relatively bargain lunch menu for a one-starred restaurant.
I thought the meal was fine, but left me curious about its distinction. Highlights were the house made noodles for the spaghetti Amatriciana, well over a foot long.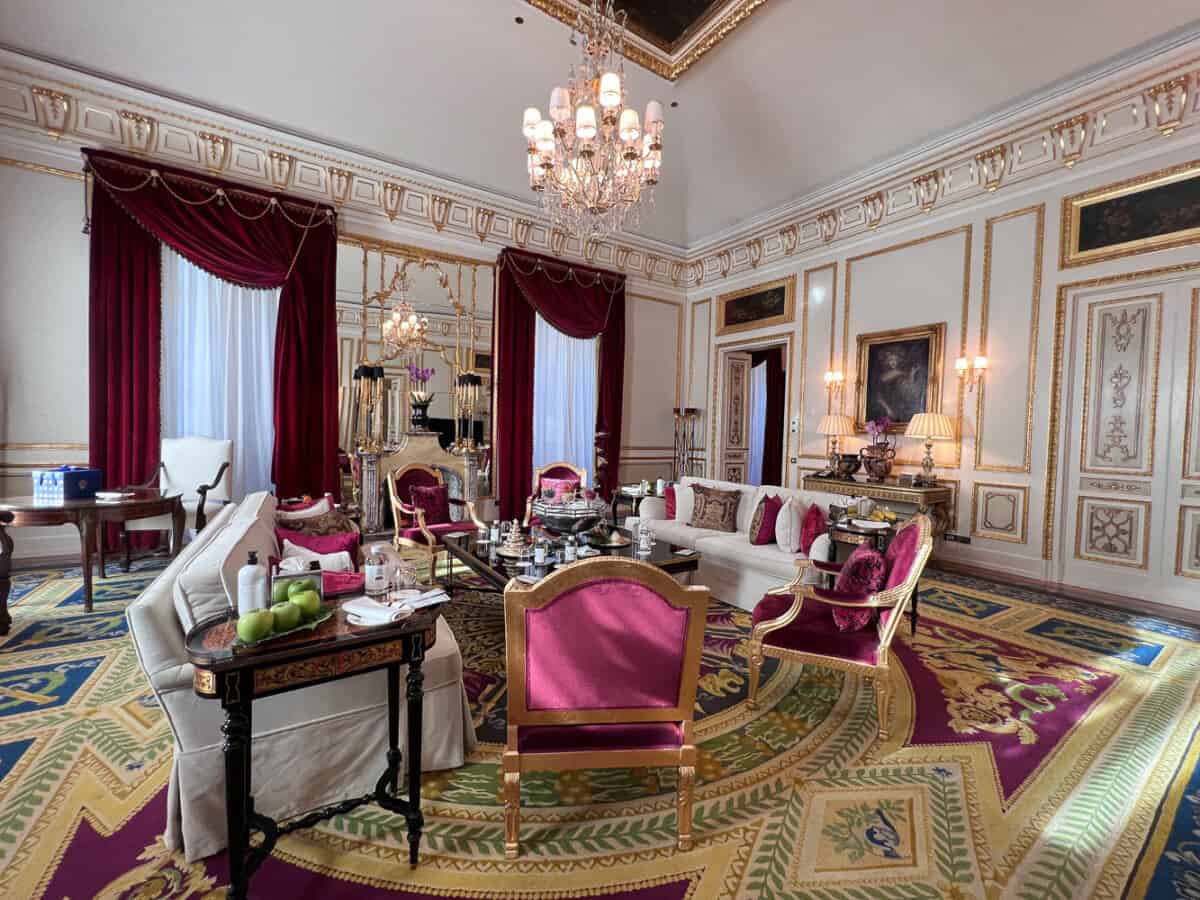 The St. Regis Rome Review
The St. Regis Rome was the true "hotel star" of our family trip to Italy. Located in the Eternal City's center, it is a ten to fifteen-minute walk from Termini train station, the city's main railway, and just over a half-hour drive from Leonardo da Vinci-Fiumicino Airport (FCO). Notable sites within a fifteen-minute walk include the Trevi Fountain and the Spanish Steps. In even closer proximity are the ancient Baths of Diocletian, and the Via Nazionale, a long roadway active with shops.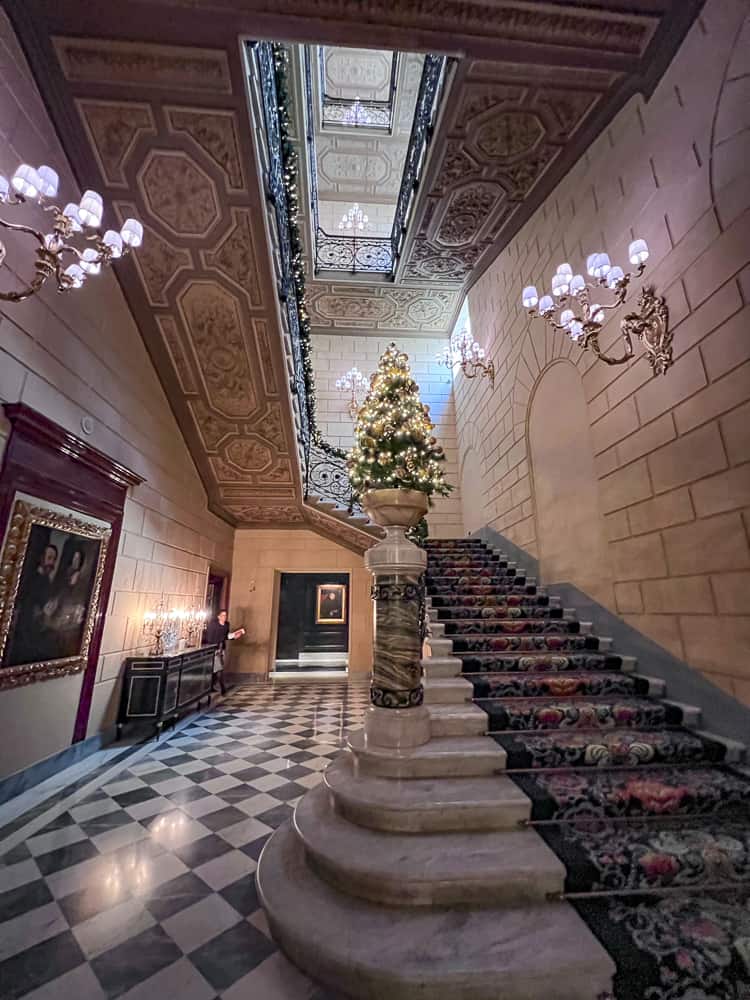 Opened in 1894 by the great Cesar Ritz (whose initials still adorn a functioning iron elevator from the hotel's original days), the property underwent a major renovation in 2018 including $45M spent on new interiors by noted design firm Pierre-Yves Rochon. The stunning lobby, library and all 29 suites and 132 guest rooms were included in the renovation, a tasteful reimagining that evokes a centuries-old palace with a now cool, more modern palette.
The lobby includes Lumen, the property's restaurant and bar, where the entire family enjoyed a fantastic weekend breakfast accompanied by a ten-piece string orchestra performing live. The natural acoustics of the room, marble floors and impossibly-high ceilings, made it a stunning experience, a true slice of the "dolce vita."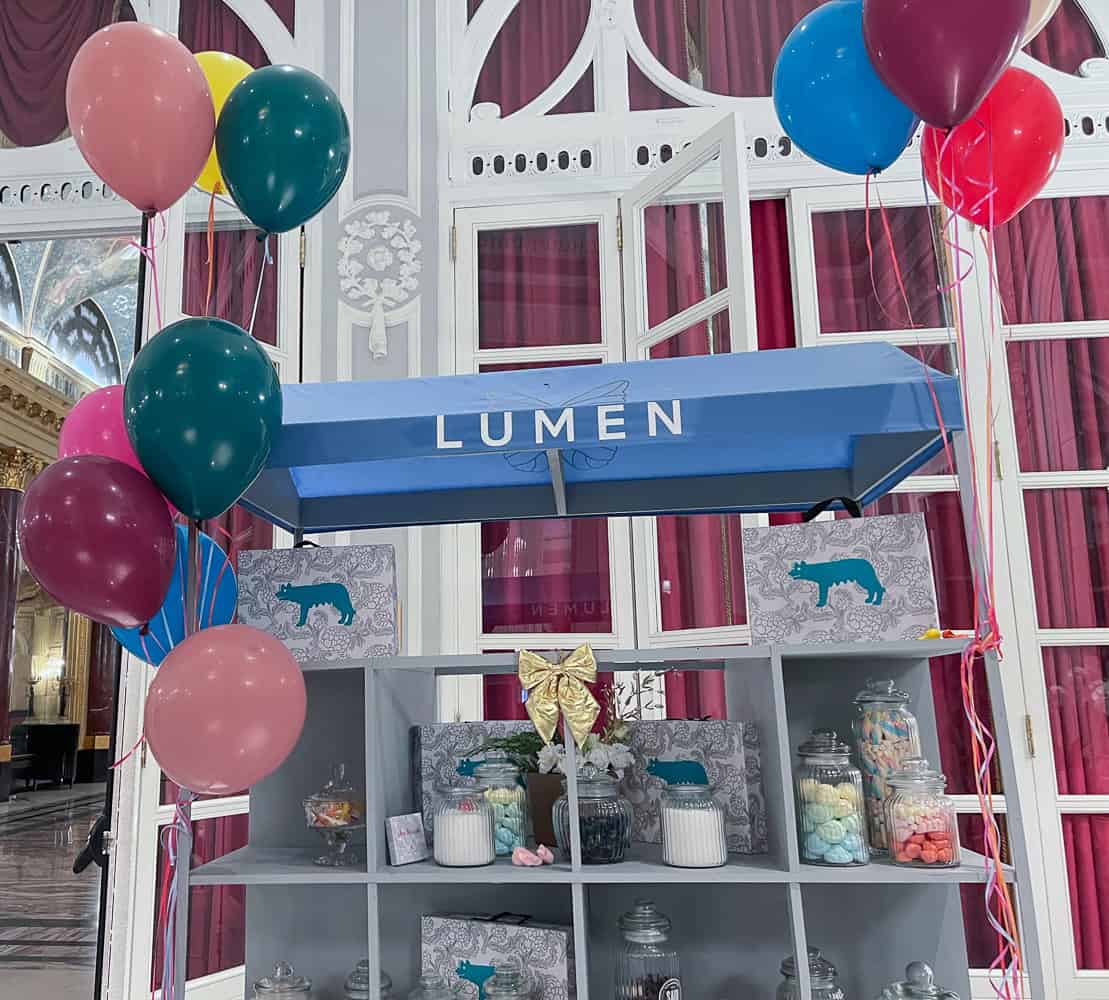 By nightfall, the atmosphere at Lumen shifts to dinner and cocktails. Lumen Garden provides all-day dining to guests and locals in an indoor/outdoor hybrid defined by the greenery climbing the height of the walls and plenty of natural light.
Rome was the first European city to site a St. Regis Hotel, and certain elements here remain true to the brand's culture (now nearly 120 years in length), including Afternoon Tea, held daily and beginning at 3:00.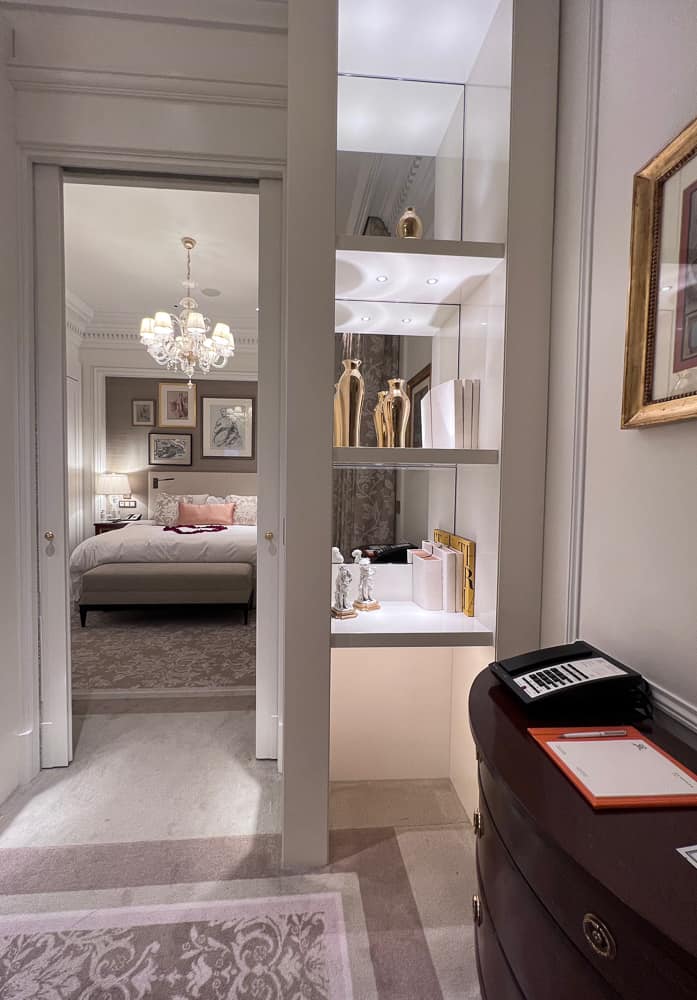 Guest hotel rooms range from Superior to Deluxe to the larger Imperial footprint with over two dozen suites available, as well. Though we did not spot any during our stay, the St. Regis Rome happens to welcome well-trained pets alongside their owners.
We stayed in adjacent, connecting rooms, beautiful in muted tones with an occasional dash of bright orange. Elegant and stylish, and far from stuffy, the room's look and feel was highlighted by tapestries, frescoes, and large picture windows.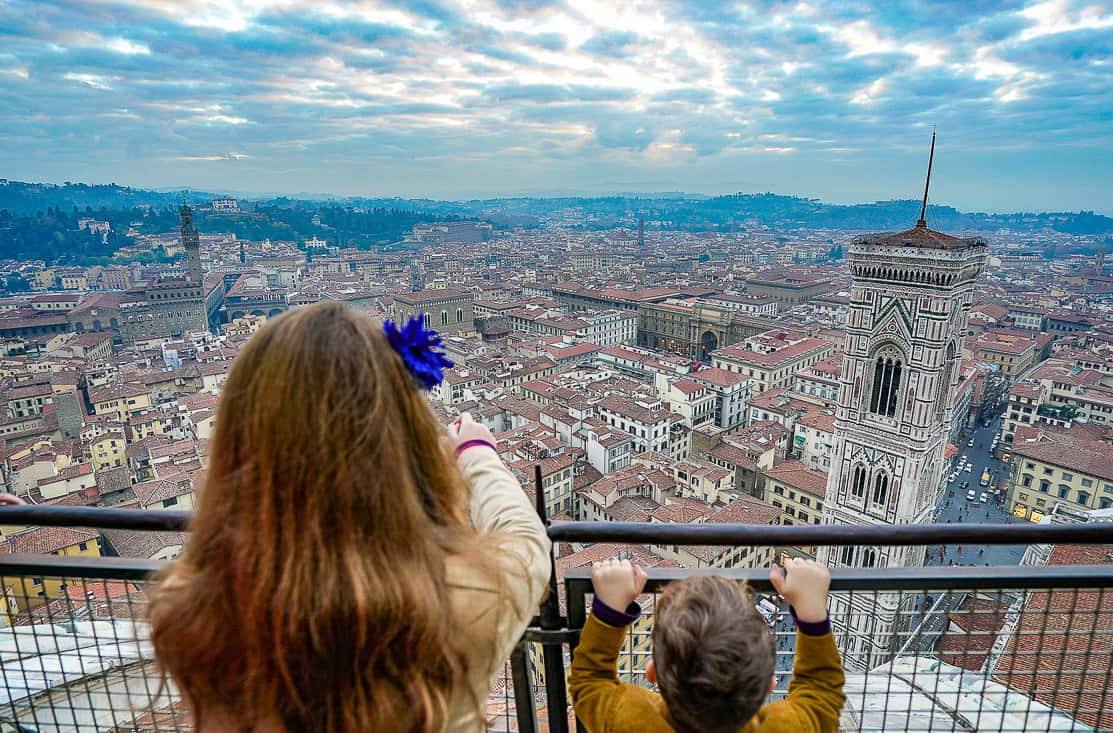 Florence With Kids
Florence offers so many family-friendly experiences, you can expect to be out of your room most of the stay exploring this stunning Italian city.
Top Things to Do In Florence With Kids:
The Carousel at the Piazza della Repubblica
Experiential Art/Museum Tour
Pizza/Pasta Making Class
An easy hands-on experience for all ages is an Italian cooking class. Families can find pizza, gelato, and pasta-making group classes for kids. A word of caution. We did a group class and one family disrupted everyone's experience and the ability to hear the instructor by deciding to ignore a crying three-year-old. Don't be that family. And it's a lesson for everyone else to book a private experience. You'll have more time to learn cooking techniques and your menu can be more varied.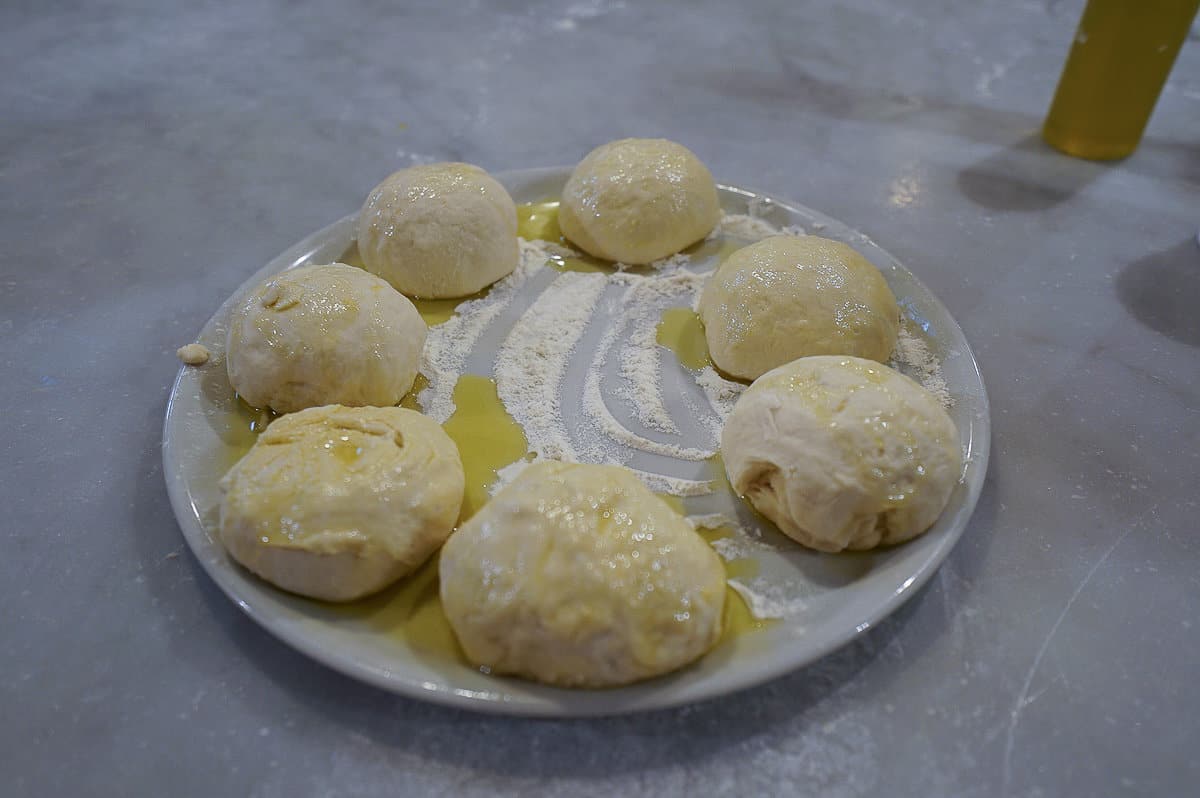 A must-visit stop for all family members is the beautiful carousel in Piazza della Repubblica, where even older kids will be willing to pose for a vacation photo, but there's so much more to see and do.
It's definitely worth having your private guide help you explore Florence's art treasure. And family guides can either fold in a scavenger hunt experience or a drawing lesson. We met our guide, Raffe, in the Piazza della Signoria and walked to the Galleria dell'Accademia to see wonderful examples of Italian art, including Michelangelo's David, and followed that with reserved tickets to climb the Duomo for some spectacular views of the city of Florence and its surroundings.
The climb to the top of the Duomo will be intense for people with claustrophobia as the stairs are cramped and visitor traffic runs both ways up and down the 463 steps. At times, the climb became a little unpleasant, and would not be recommended for young children, or older tourists, but the experience was, for us, worth it.
Our family was excited to meet Raffe again the following afternoon for a tour of the beautiful Uffizzi Gallery, and she led us through its halls stopping at key works by Botticelli, Fillipo Lippo, and Leonardo DaVinci. We had sampled our share of mediocre gelato and asked for one of the best places to change our luck, and she knew right where to take us.
Memorable Meals: The Best Gelato and Gluten-Free Pizza
More of a neighborhood shop, we finally enjoyed amazing gelato at Gelateria Dei Neri after many imposters set up for tourists. Their speciality is a house-made whipped cream that is wonderful, and I am not even a whipped cream fan.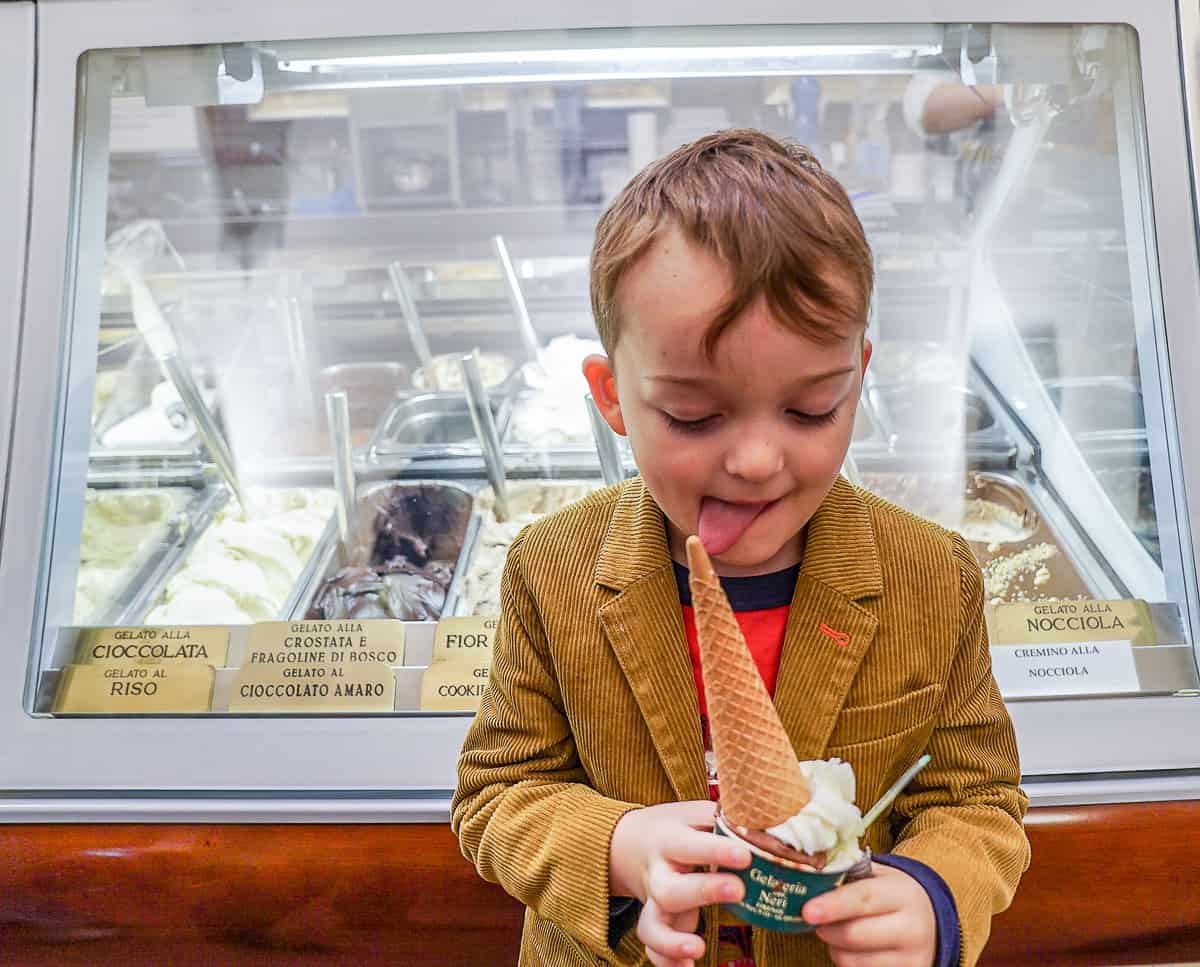 Another local establishment that earned our affection was Ciro & Sons on Via del Giglio which we found randomly by seeking out a gluten-free pie crust to satisfy my husband's allergy. A family-owned restaurant since 1948, our conversation with one of Ciro's boys led us to learn that he married an American with celiac. The gluten-free pizza was so superior to those back home, my husband insisted that we even return for a late-night encore the following day.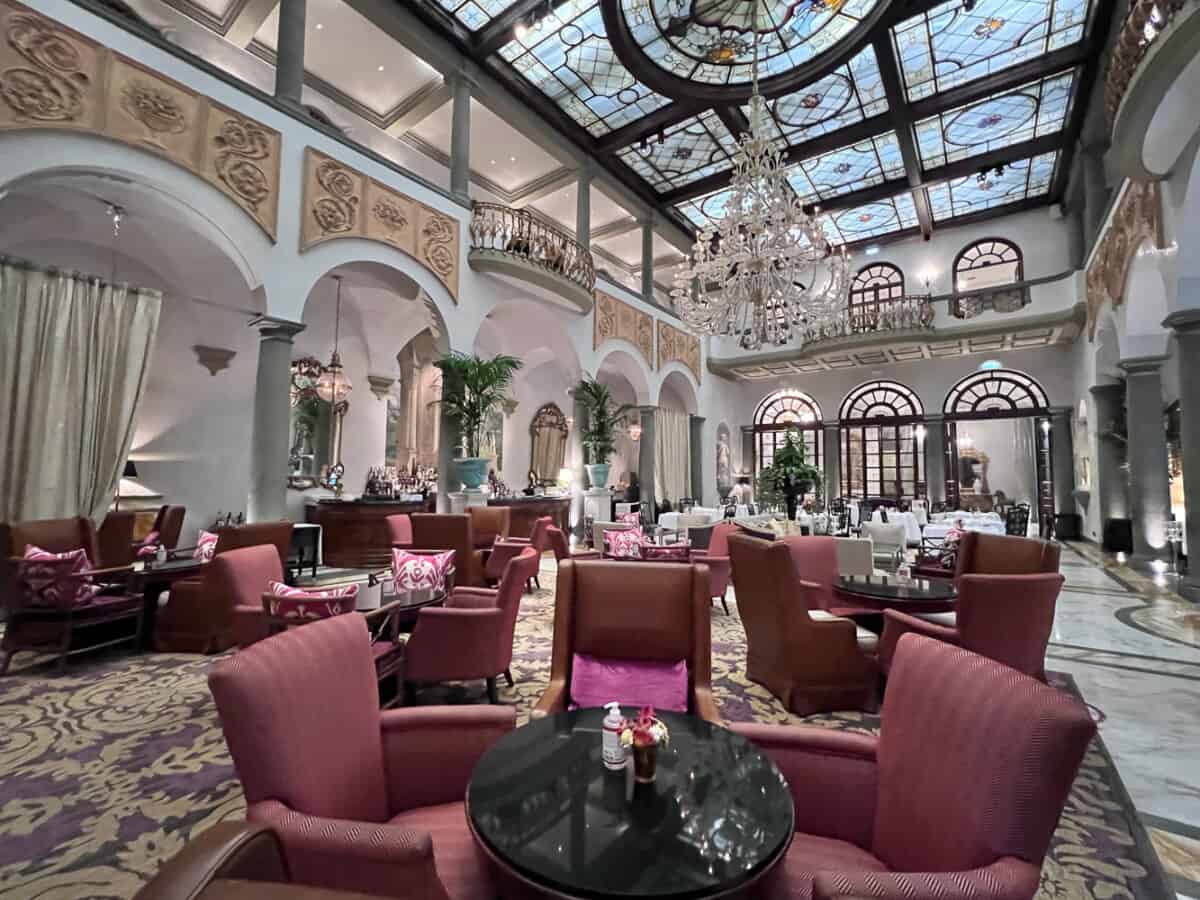 The St. Regis Florence Review
The St. Regis Florence sits along the Arno River, on Piazza Ognissanti, between the train station and the historic city center which made walking to our daily destinations from this central location very convenient. A taxi stand also used by guests of the neighboring Westin Excelsior allowed quick access to transport when our plans took us farther out of the city center.
Located in an historic palace, with a design as gilded and grand as one would expect from this heart of the Renaissance, brocade and colorful frescoes are everywhere you turn.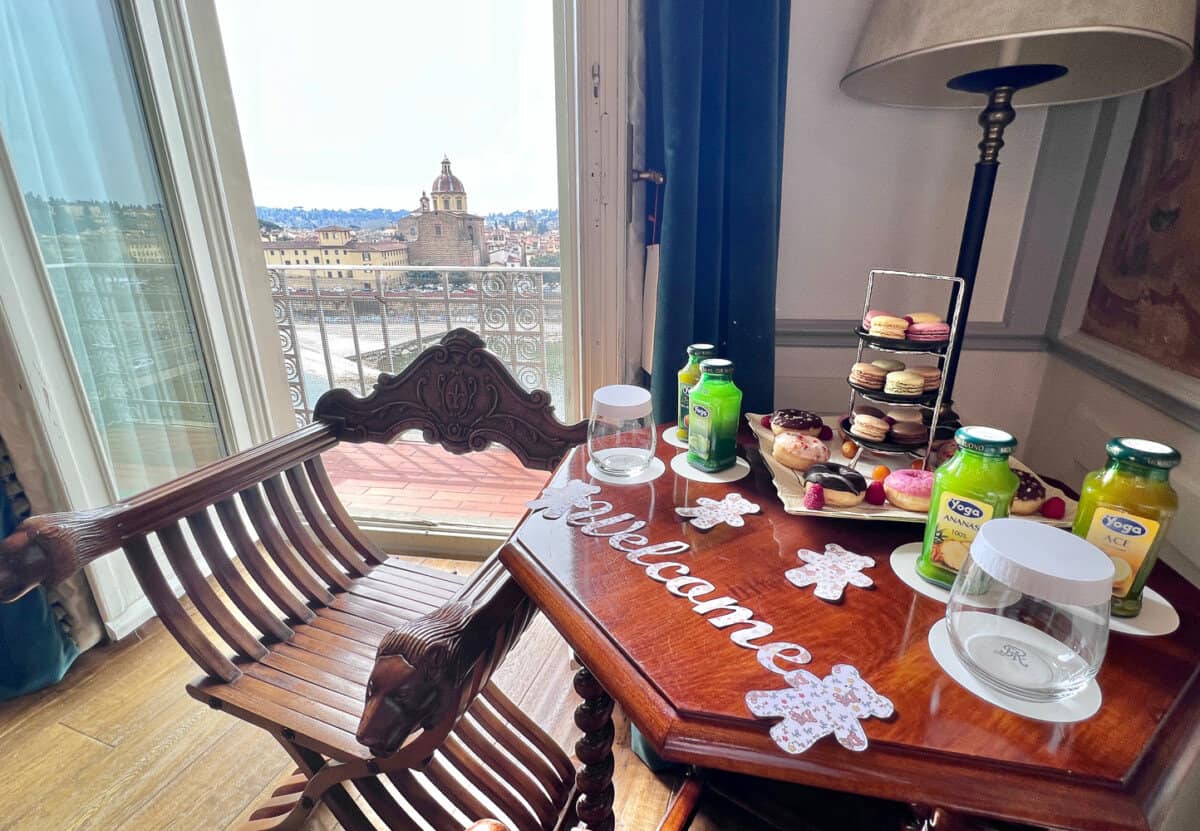 Lunch and dinner are served at the property's Winter Garden Restaurant. It's a spectacular setting with chandeliers and grand, vaulted ceilings accompanying a contemporary Tuscan menu.
The St Regis Terrace offers lighter fare and drinks overlooking the Arno River; the Winter Garden Bar features two St. Regis staples, Afternoon Tea and their champagne sabering ritual, corks cut with a blade in a bit of theater.
Of the hotel's eighty guest rooms and nineteen suites, be sure to ask for one facing the Arno River for a spectacular view. Note that throughout the property, the maximum occupancy (including children) is just two people; certain Premium Deluxe rooms and suites can accommodate a third person, however, there is an additional daily charge of 100€. A single room or suite cannot accommodate four people.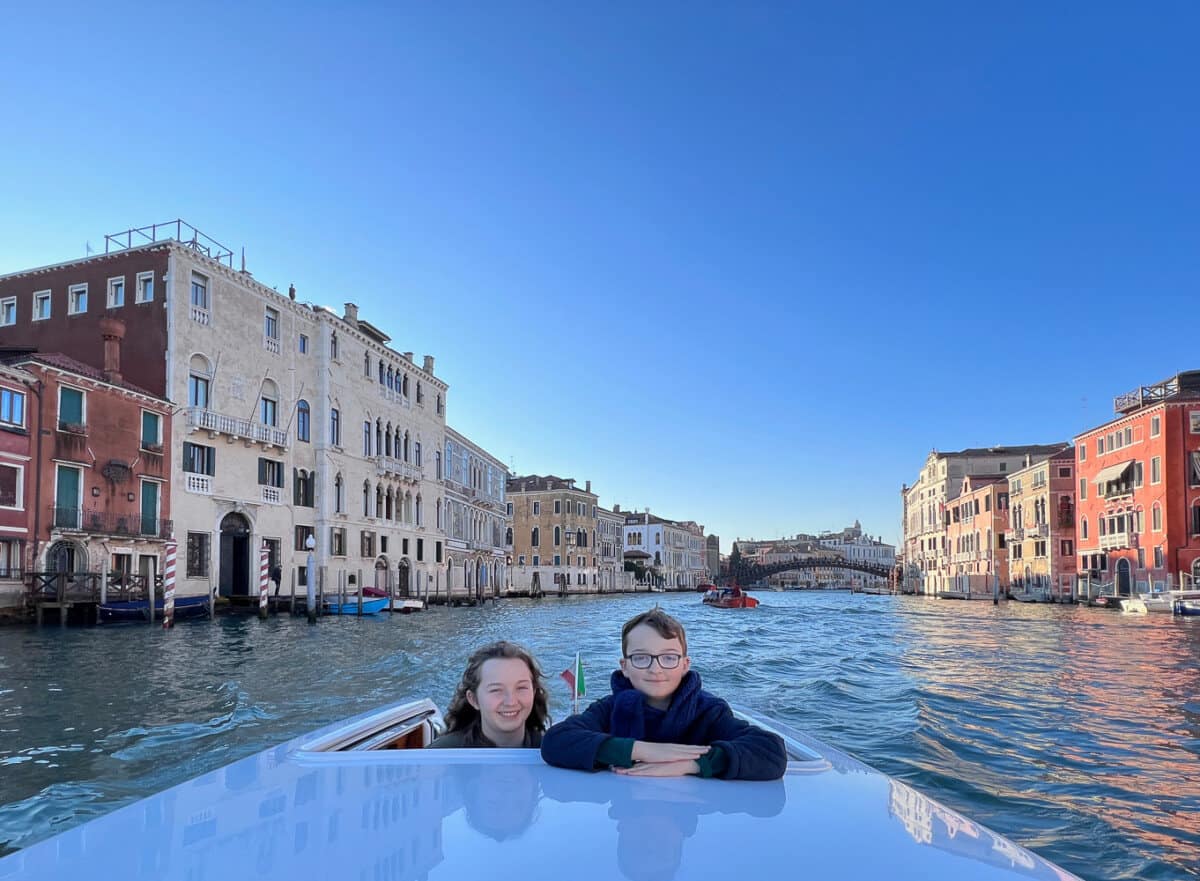 Venice with Kids
Top Things to Do In Venice With Kids:
Mask Making
Watercolor Class
Venice by Motor Boat or Gondola
Musical concert
Our introduction to Venice was fantastic as we took a convenient water taxi just a short walk from the station following our approx. four-hour train ride from Rome. Our kids loved seeing the city for the first time via the canals – a truly new experience for them – and one so unique in the world. (The fact that Venice featured prominently in a recent Spider-Man film didn't hurt either.)
We were close to Piazza San Marco (St. Mark's Square) and popular tourist stops such as the Bridge of Sighs, as well as, the several dozen high-end boutiques (including Gucci, Chanel, Cartier, Tiffany) that line Calle XXII Marzo.
To our taste, however, the true charm of Venice is the more interior of the city, where the tourist traffic slows and you can wander narrow streets, crossing canals with the help of a paper map. One of the charming things about Venice is that your explorations can be truly child-led. There are no cars to be of concern and kids will love leading the way; our personal walking tour was part treasure hunt, part family-friendly hike through centuries-old streets.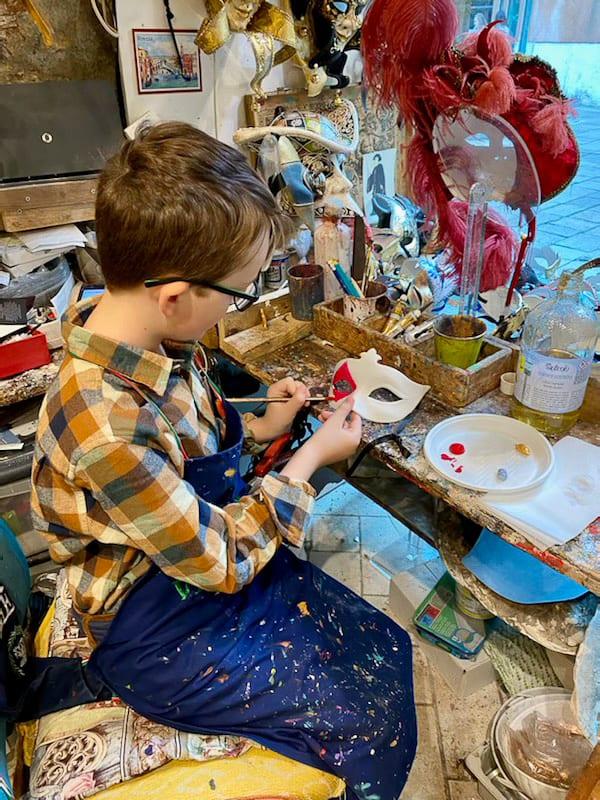 The concierge was helpful in guiding us to Giorgio & Nicolo, a father and son duo of expert mask makers, who lead individual classes inside their barely 100 square-foot jam-packed studio. Our son selected his unpainted mask, then a brush and paints, and with Giorgio as an occasional private guide, had a great time over the course of an hour.
Our daughter pursued a passion of hers, painting with watercolors, in this city that has famously welcomed the world's most-esteemed artists. One of the preeminent watercolor artists in Venice, Nicola Tenderini, who does spectacular interpretations of Venice's architecture out of his gallery near Gallerie dell'Accademia, offered suggestions as she painted a local scene.
This being Italy, music is a wonderful aspect of the culture, and the whole family took in a live performance, climbing three dozen steps inside a stunning church to hear a strings ensemble in full period dress (the musicians, not us). The repertoire was a fairly safe greatest-hits package but the energy of the community, from ticket takers to the musicians, was fantastic.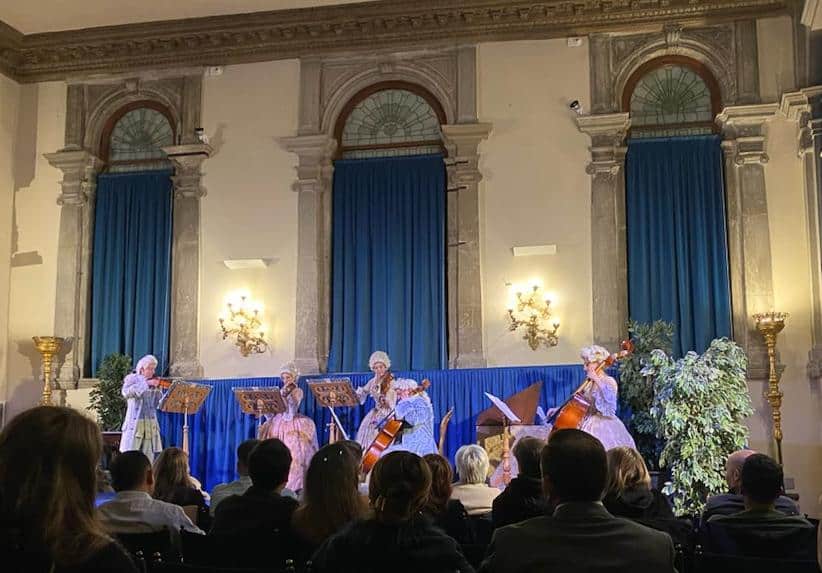 Other than the disgruntled complaints of two neighboring children, who fell asleep by intermission, it was a highlight of the trip. I imagine that such an event was just one of many throughout the city each night. Exiting the performance to walk back to the hotel through the alleyways of Venice only extended a great evening.
St. Regis Venice Review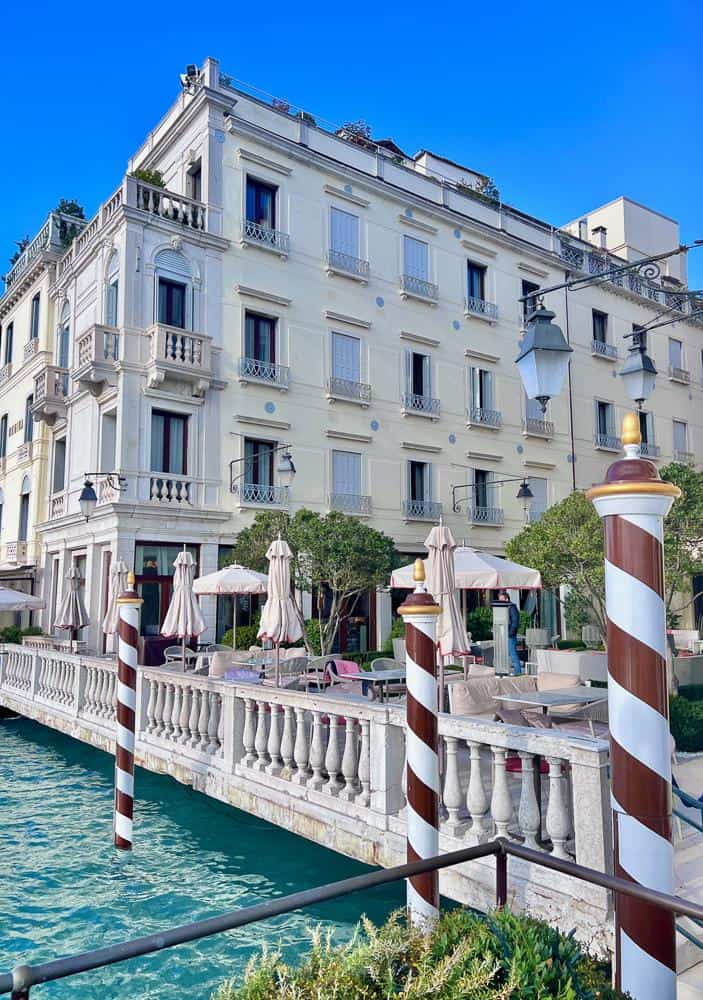 Our water taxi dropped us at the St. Regis (previously the Westin Europa Regina) and our recently-renovated suite was really two adjoining one bedrooms suites. We had a great view of the Grand Canal in these "Monet" suites where large reproductions of Claude Monet's Venice hung on the living room walls. We didn't stay long in our room, though.
Guests of the St. Regis have a lovely breakfast buffet overlooking the Grand Canal filled with sunlight in good weather. There's a lovely garden courtyard with equal views to the hotel's advantage. The hotel brought lovely welcome amenities for the children as the other properties had, but there is not much else to do on the property. Our concierge, as we mentioned, was particularly helpful and suggested many more appealing activities that we didn't have time to do.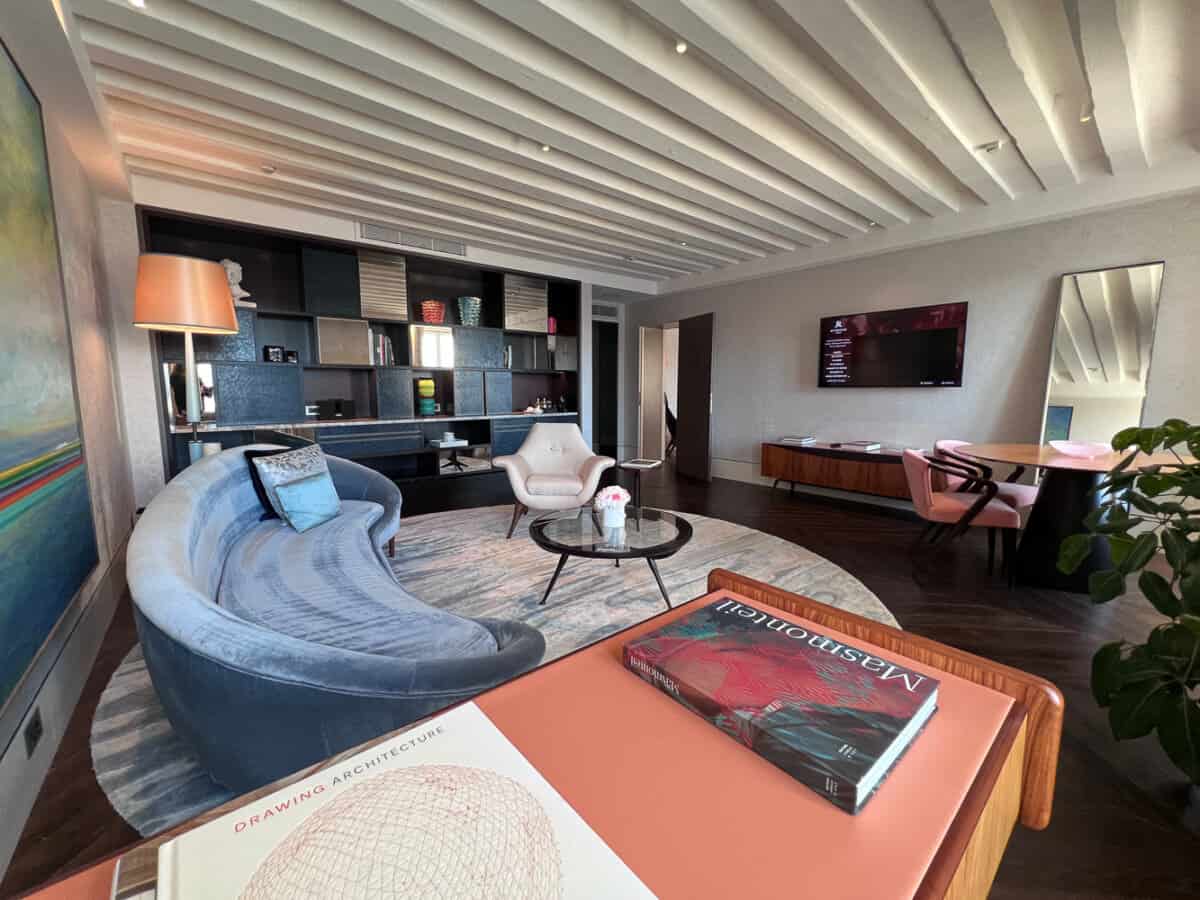 Most Memorable Meal: Wisteria, Venice
I've spent lots of time in Venice, and I usually have to stay in the city long enough to find the current good restaurants. I never would have expected our best meal to be in Venice.
There's nouvelle cuisine, and then there's Wisteria Ristorante, which opened in 2019, survived the Covid lockdown, and was awarded a Michelin star in 2021. Each of the eight courses was a show… a touch of restaurant as theater. A perfect meal for a foodie family filled with surprise and delight.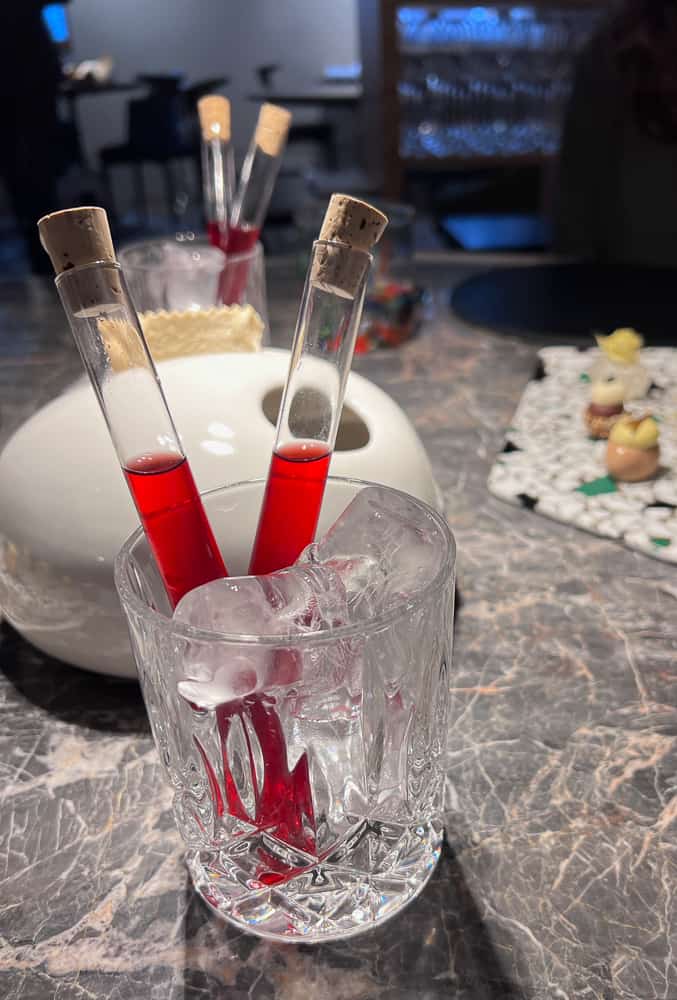 Brightly-colored drinks served in stoppered test tubes, or how about sashimi, accompanied by a turtle made of frozen broth that intentionally melted on a slanted bowl to provide a sauce.
There was great joy in sharing the creative and whimsical tasting menu drawn out over nearly two hours of small plates. We laughed about the only serious element of the meal, too… our waiters' commitment to the big reveal, four arms lifting four domed plate coverings simultaneously (one was more enthusiastic than the other and caught a few harsh stares from his colleague).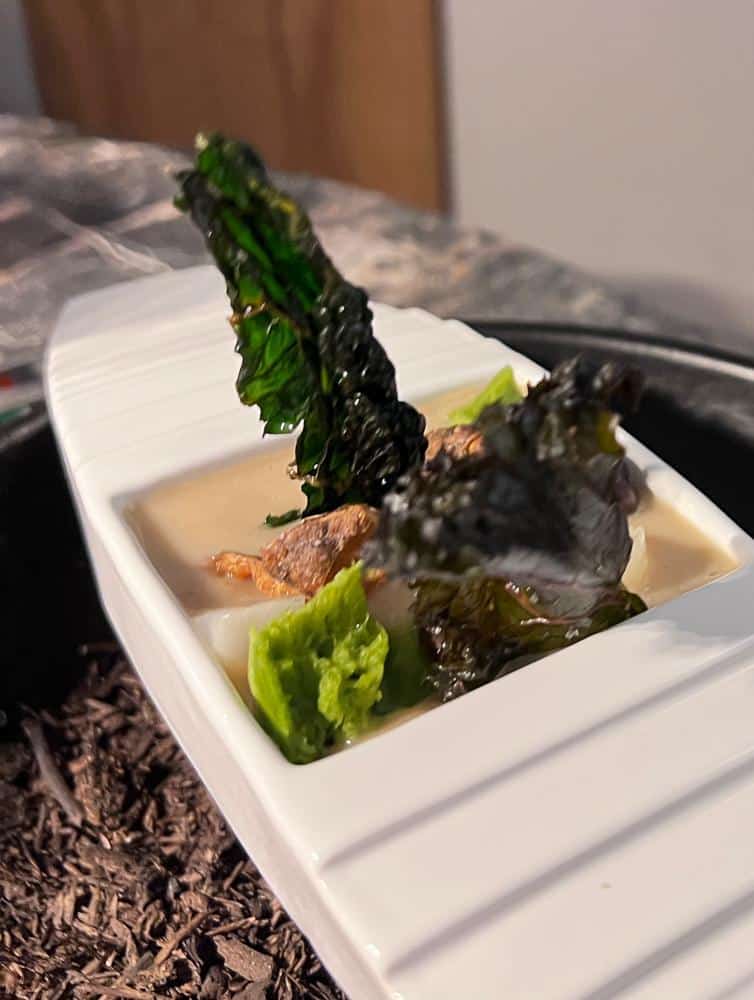 We've tried to encourage our kids to be adventurous eaters so how about delicious dishes that appeared to be served over a bed of mulch and twigs? Food and laughter are a lovely combination. Of course, there were phenomenal pastas that reminded you of who's country you were visiting. I'm sad I didn't take a picture of the 80's disco themed dessert.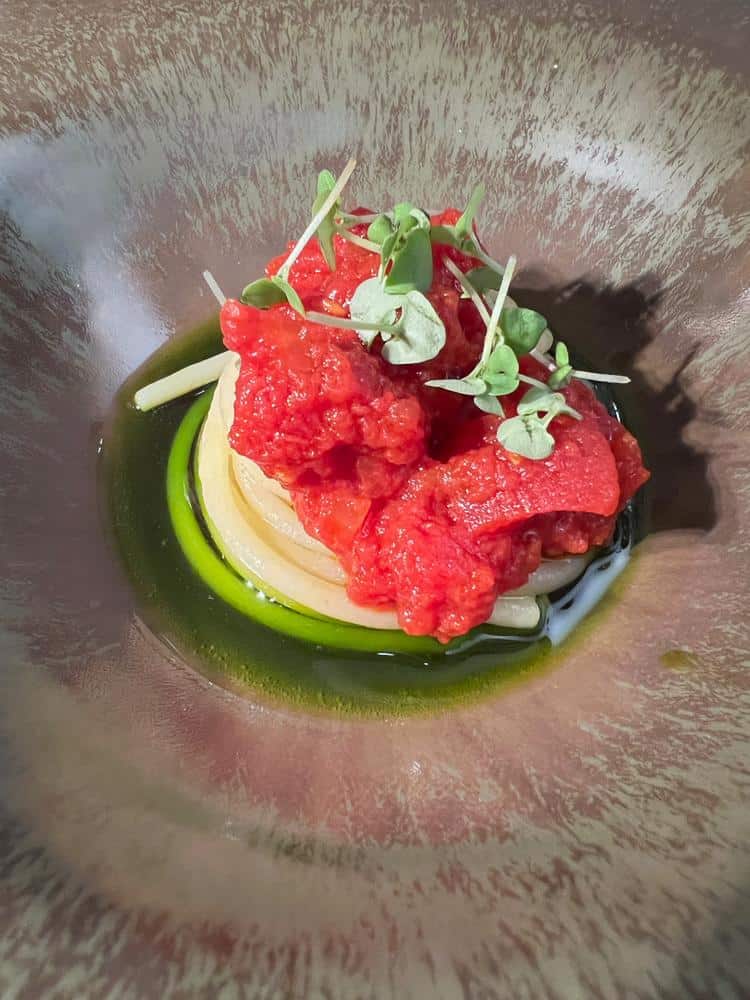 When is the best time to visit Italy with kids?
Adesso. Subito. Italy is a year round destination, and is agreeable even in winter months in most places. We love Italy in the spring and fall to avoid the peak crowds and high season prices in the summer. It's a particularly perfect destination near both Easter and Christmas holidays to enjoy the beautiful holiday treats that fill the store windows of local shops.
While many destinations along the coasts and main lakes might sell out months in advance due to the limitation of hotel inventory, the popular cities we list in this article will likely still have options even for a spontaneous family holiday.
Italy has incredible family travel experiences in every direction, from Sicily, Puglia, and the Amalfi Coast in southern Italy, to Cinque Terre, the Dolomites, Lake Garda or Lake Como in northern Italy. Beautiful beaches and the Mediterranean sea may call you, or you may choose to enjoy the mountain views from the Italian Alps.
How to start planning your Italy family vacation
Luxe Recess can assist you in planning an incredible trip to any Italian destination for four or twenty-four family members. There are so many options in this incredible destination. While I have travelled to Italy dozens of times, I work with on-the-ground partners who can provide all sorts of unique or private family experiences, too.