Realtors and interior designers often describe a house as having "good bones" when its historic architectural layout is fabulously timeless. The Biltmore Hotel in the Coral Gables section of Miami has great bones.
Designed by the same architects who designed The Breakers of Palm Beach, The Pierre and Sherry Netherland hotels and responsible for some needed nips and tucks to the Plaza and Waldorf-Astoria in New York, it is safe to set high expectations for a visually indulgent resort experience.
The Biltmore lobby is a magnificent historic masterpiece with soaring ceilings, painted wood beams in the Spanish style, columns and archways of a medieval European cathedral, and incredibly large gilded cages hosting families of finches in rainbow colors, whose melodic peeps can be heard when the harpist isn't playing for those having afternoon tea.
What the Biltmore lacks in sand and surf, it makes up in other ways.
From its opening in 1926 to the beginning of World War II, the Biltmore was a Jazz Age celebration of continuous galas and pool parties.
And the hotel boasts not just any pool. It is still one of the largest resort pools in the world, adorned by a colonnade of Greek goddesses to one side and tropical paradise cabanas on another.
The hotel staged many synchronized swimming and diving spectaculars in its Golden Age, and Hollywood filmed Esther Williams and her chorus of bathing capped beauties at the pool more than once. It is a sight to be seen. It is a a subject any photographer will want to capture at all hours of the day.
The Biltmore is a quirky resort for the Miami market. Guests should choose the Coral Gables location because it's more convenient to their Miami plans or Coconut Grove, because— like me— they have a passion for historic hotels, or because they're interested in more of an expansive country club-like resort with tennis, golf, swimming, and kids programming than the South Beach scene.
Rooms at the Biltmore Miami
Rooms at the Biltmore are simple, and probably the one area that differs from five-star hotels in Miami. The golden hued rooms offer ceramic tile floor and have the smaller bathrooms that come with historic properties.
The first room we had, although designated as a Junior Suite, worked fine for my son and me, but only had a king bed and armchairs.
When we returned with our whole family of four, we booked a two queen suite that worked very well. A pool-golf view room is worth it, so request one.
Biltmore Dining
Breakfast is served in the courtyard of the hotel. There's an interior buffet served in Fontana, but most guests take their breakfast outside in the loggia, easily one of the most spectacular settings to start one's day.
Be sure to view angles of this courtyard from the second story after your meal and pause to admire the ceramic tiles, the painted wood, and the original lantern fixtures. Although I've never been to Córdoba, Granada, or Seville in Spain, as a medievalist they've been on my bucket list for decades, and the Biltmore served as a delicious visual bite to tide me over a bit longer.
I found the presence of this building practically spiritual as if I were visiting a medieval cathedral, and its beauty literally brought a tear to my eye in appreciation.
Lunches are taken poolside at Cascade or at the 19th hole by the golf club. My son and I did not try the signature restaurant, Palme d'Or, one of Miami's most acclaimed and oldest French restaurants, but the elegant interior I saw indicated it was not an ideal family choice for chicken nuggets and fries, so we had dinner in our room with a delicious key lime pie to enjoy local Florida favorites.
The Biltmore Miami Afternoon Tea
The Biltmore afternoon tea is a Miami institution. I called Miami based Luxe Recess contributor Audra, and we gathered our littles, a few dolls, and our appetites for an elegant afternoon of trying to keep three children under 5  as content as the guests around us. Generous, indulgent portions made for substantial leftovers for days of refined sugar treats.
It is a must do for all high tea lovers visiting Miami.
Fitness & the Biltmore Spa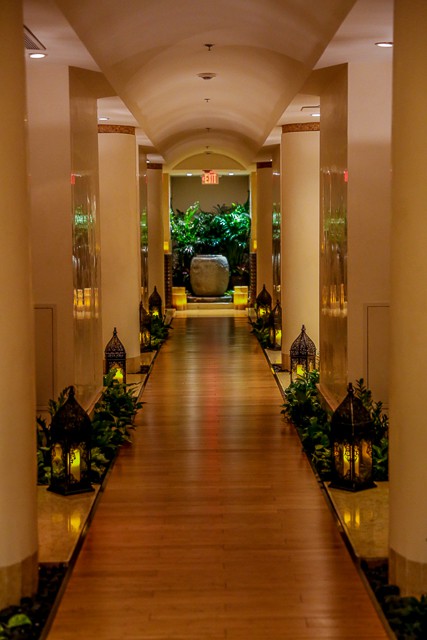 The fitness facilities are expansive at the Biltmore, as it serves as one of the most prestigious health clubs in its affluent Coral Gables neighborhood. There are several exercise classes offered daily in addition to golf and tennis clinics for all ages.
The Spa, on a high floor in the hotel, offers a tranquil escape with an array of options outside the standard like Reiki, acupuncture, Ayurveda, and Thai massage therapies.
The comprehensive menu of treatments makes up for its more causal lounge and wet areas compared to five-star spas in the area. But additionally, the Biltmore Spa offers value in that it is priced more like a day spa for its loyal, local clientele than a resort spa whose treatments all start between $200 and $300. Many of the facials and massages are under $200, making the Biltmore Spa an excellent value.
The Biltmore is one of Miami's most popular wedding locations, so its spa and salon are well suited for head-to-toe grooming and offers suites for groups. Barbour is the facial line of choice, and I enjoyed a signature Barbour treatment leaving my skin smooth and glowing.
The Biltmore Pool: a Miami Must
The Biltmore pool is in a league of its own. I had visited the resort fifteen years prior and the memories of its pool stayed vivid with me. Its historic and majestic feel isn't lost on children either, as I couldn't get my son out of the pool the whole visit.
He befriended a group of grandmother members taking a water exercise class because of their specialized pool noodles and water weights. Compared to many South Beach pools, the Biltmore's atmosphere is refreshingly unstuffy and welcoming to children.
Had we stayed longer on property, I would have loved to have enrolled my son in the children's golfing and tennis lessons, too.
The Biltmore cooking class offerings are extensive, and those visiting for the week in the summer should consider signing their kids up for the cooking camp from Monday through Friday.
On our final night after visiting friends in Coral Gables, we came back to find a live Cuban jazz band performing at the bar café at the pool. My son begged me for one last swim and having reached that true vacation state of mind, I said yes instead of no despite its late hour.
After we put on our swimsuits, we entered the warm water to a jazz guitar rendition of "Riders on the Storm" by the Doors that sounded leisurely and innocent compared to its original version.
My four-year-old son looked at me in his hammerhead shark adorned floating device with his arms outstretched, "Mommy, this is the part when we dance."
My Pavlovian response was to start that little mom jig that we all do when dancing with our kids and he said, "No Mommy, we must dance beautifully."
So he took my hands, and we danced a slow dance in the pool underneath the full moon at the Biltmore experiencing perfection in Miami. While our hands were gripped loosely, I was embracing every last second of his cuddly, toddler self with all of the strength I had.
Although we were guests of the Biltmore Hotel, these options are entirely my own.
Check your dates for rates at the Biltmore Miami.
For more ideas when planning a family vacation in Miami, check out what Luxe Recess mom and Miami native Stephanie Ansin suggests for more restaurants, attractions, and shopping.