You know those summer fantasies of white clapboard, billowing sails and Adirondack chairs? At the Inn at Perry Cabin, those fantasies become reality. Just 90 minutes from DC, The Inn at Perry Cabin on Maryland's Eastern Shore is a picture perfect waterfront resort that feels straight out of a movie, and that's probably because it is. As the setting for the movie "Wedding Crashers," the Inn at Perry Cabin is the quintessential coastal escape offering everything from sailing, golfing, great dining and small town charm.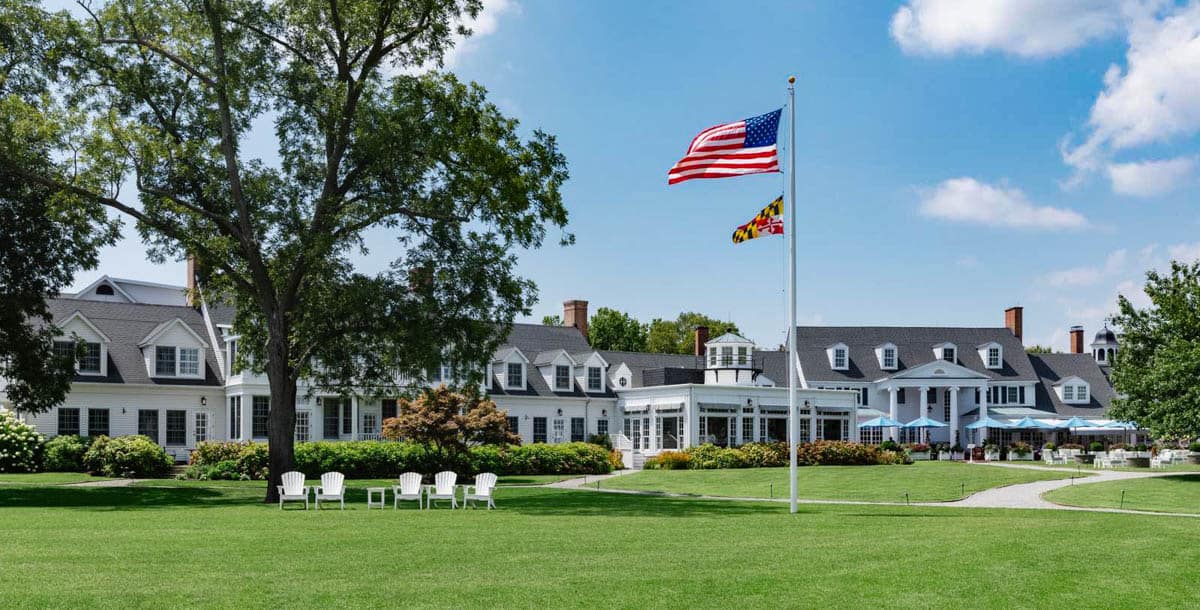 In "Wedding Crashers", there's a scene where Owen Wilson says, "True love is the soul's recognition of one's counterpoint in another." Ever feel like that about a hotel? That's how I feel about The Inn at Perry Cabin. I don't know if it's the blue and white décor, the bay breezes or the relaxed refinement, but for me, this resort was love at first sight.
I live only an hour from the Inn in Annapolis, also known as America's sailing capital, so nautical vibes are nothing new to our family. Boat shoes and crab cakes are a way of life, but even that hasn't jaded me for all that the Inn at Perry Cabin has to offer. We recently revisited this favorite spot, and it's just a perfect as I remember.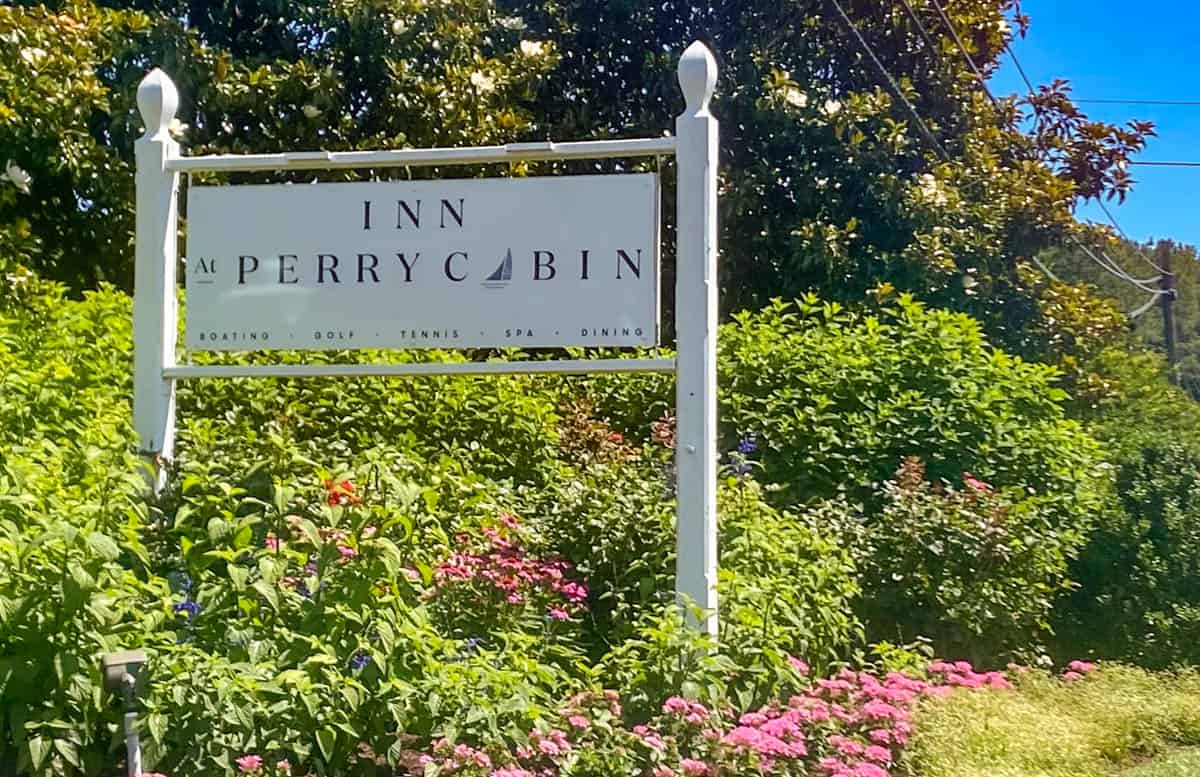 Where is the Inn At Perry Cabin?
Located just over ninety minutes from DC and Baltimore/Washington International airport, the Inn at Perry Cabin is on Maryland's Eastern shore. Driving from DC or BWI is direct route on major highways until you cross the Chesapeake Bay Bridge to the eastern side of Maryland's shore, where roads become quieter, winding through colonial-era small towns and farmland.
JOIN OUR LUXURY HOTELS & RESORTS FOR FAMILIES, A FACEBOOK GROUP FOR SEEKING ADVICE AND INSPIRATION FOR THE BEST LUXURY FAMILY BREAKS.
If you're coming from BWI or the DC area, you can opt for the ultimate arrival experience, the Inn's 'Skip the Bridge' package. Park your car in Annapolis and board the Inn's own Hinckley Talaria 55, The Five Star, for a 90-minute ride across the Chesapeake that includes white glove service and a champagne toast.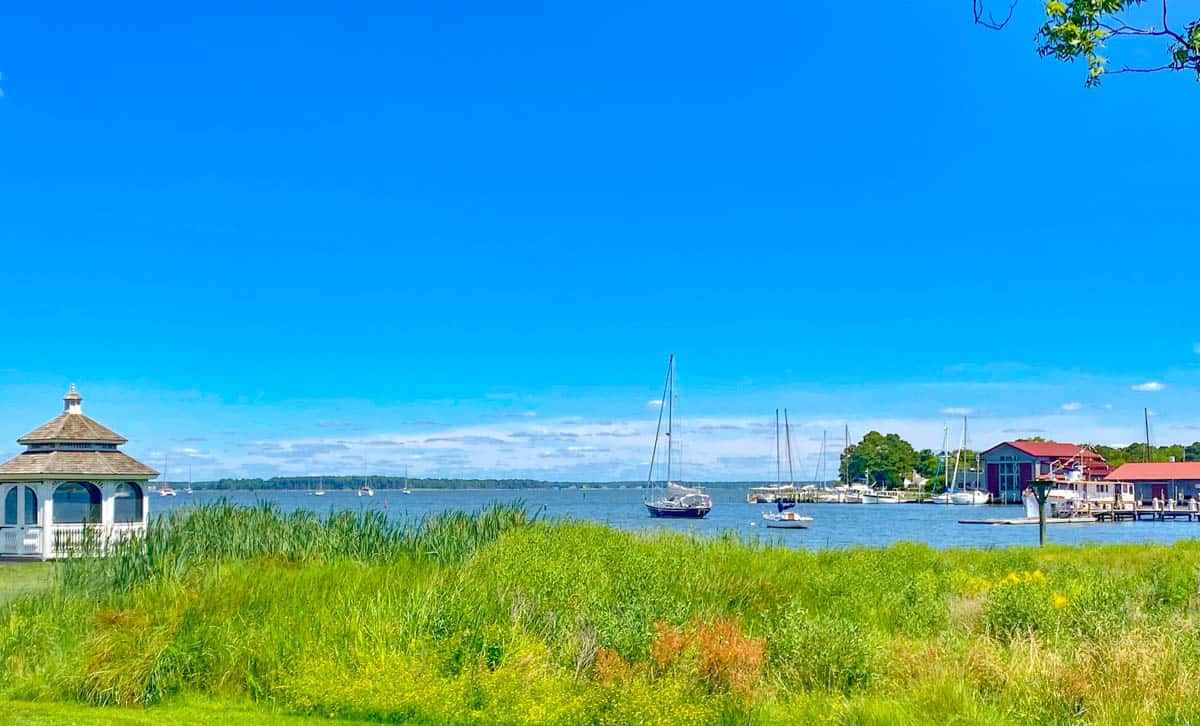 The Hamptons of the Chesapeake
St. Michaels is a quaint village located on the Miles River, which opens to the Chesapeake Bay. The town has its fair share of upscale boutiques and posh outposts, as well as a robust fine dining scene.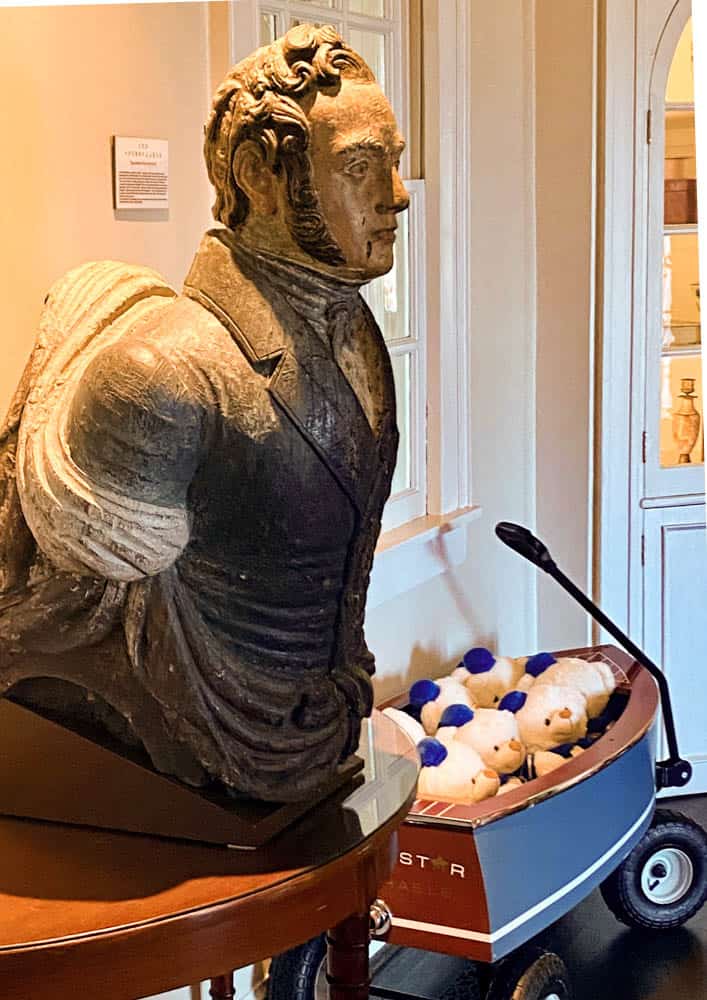 St. Michaels' population of 1000 swells during the warmer months when weekenders from DC, New York, and Philadelphia descend on the area. Once dubbed the 'Hamptons of the Chesapeake' by Forbes magazine, it's not unusual to spot politicians and lobbyists fresh from Capitol Hill unwinding at an outdoor table with a glass of rosé.
A quarter-mile from downtown St. Michaels lies the Inn at Perry Cabin, down a long driveway lined with manicured trees and lush gardens. The Inn's historic main building (dating back to the War of 1812) and outbuildings are set directly on the Miles River, with wide vistas and views reaching to the Chesapeake Bay.
The lobby is an understated mix of antiques and plush seating, with fresh flowers, a signature scent, and all the accoutrements that signal a five-star experience. Décor at the Inn, both in the public spaces and guest rooms, is understated, oozing an old money, preppy vibe that may not appeal to visitors looking for flash and flamboyance. Sailor stripes and straw hats are welcome. It's refined, but not formal.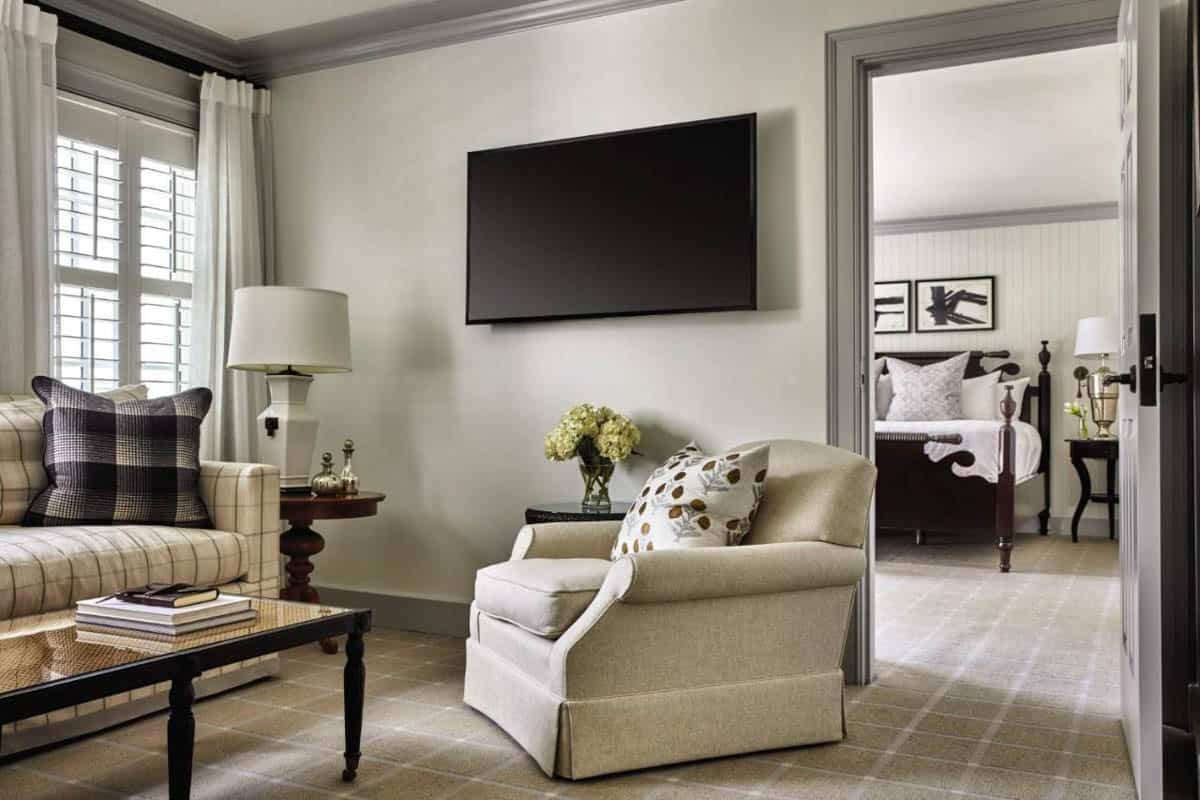 Rooms at the Inn
We checked into a deluxe water view room with spectacular views of the Miles River and a table and chairs for two on the small balcony. Rooms are decorated in a transitional style, with traditional elements like four poster spindle beds, mixed with a contemporary palate of pale blues and grays. Checked rugs, black and white nautical photography, and lush white bedding carries the coastal theme throughout without being kitschy.
Many rooms open to a first floor patio or small balcony. Suites feature a separate living room, private balcony or patio, fireplace and soaking tub. Superior double rooms can adjoin, and many suites can accommodate three to four guests comfortably. We prefer the rooms and suites in the main building, as some rooms can be a fair walking distance away from the lobby, Pub, and restaurant.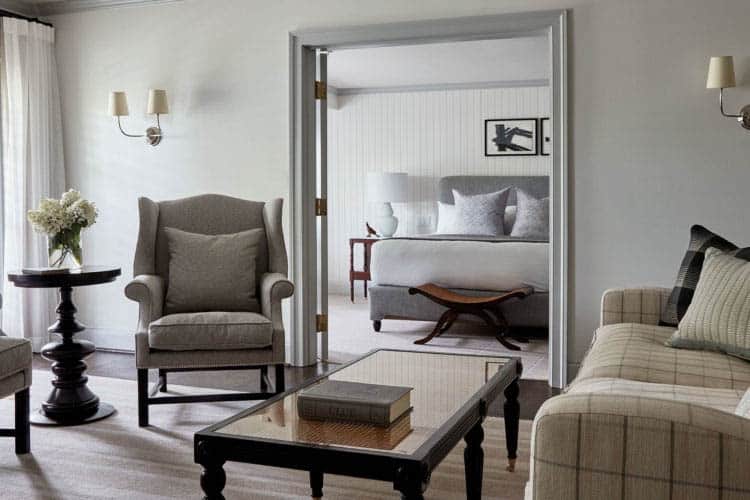 For Kid-Free Time
Garden tours with the Inn's horticulturalist are offered every Saturday morning and private tours are available by appointment. For golfers, the new Links at Perry Cabin is a Pete Dye designed 18-hole course just a short drive away and the Inn's lighted Har-Tru tennis courts offer open play, clinics or lessons with the resort's pro. The small spa, named Linden Spa, specializes in massage and body treatments.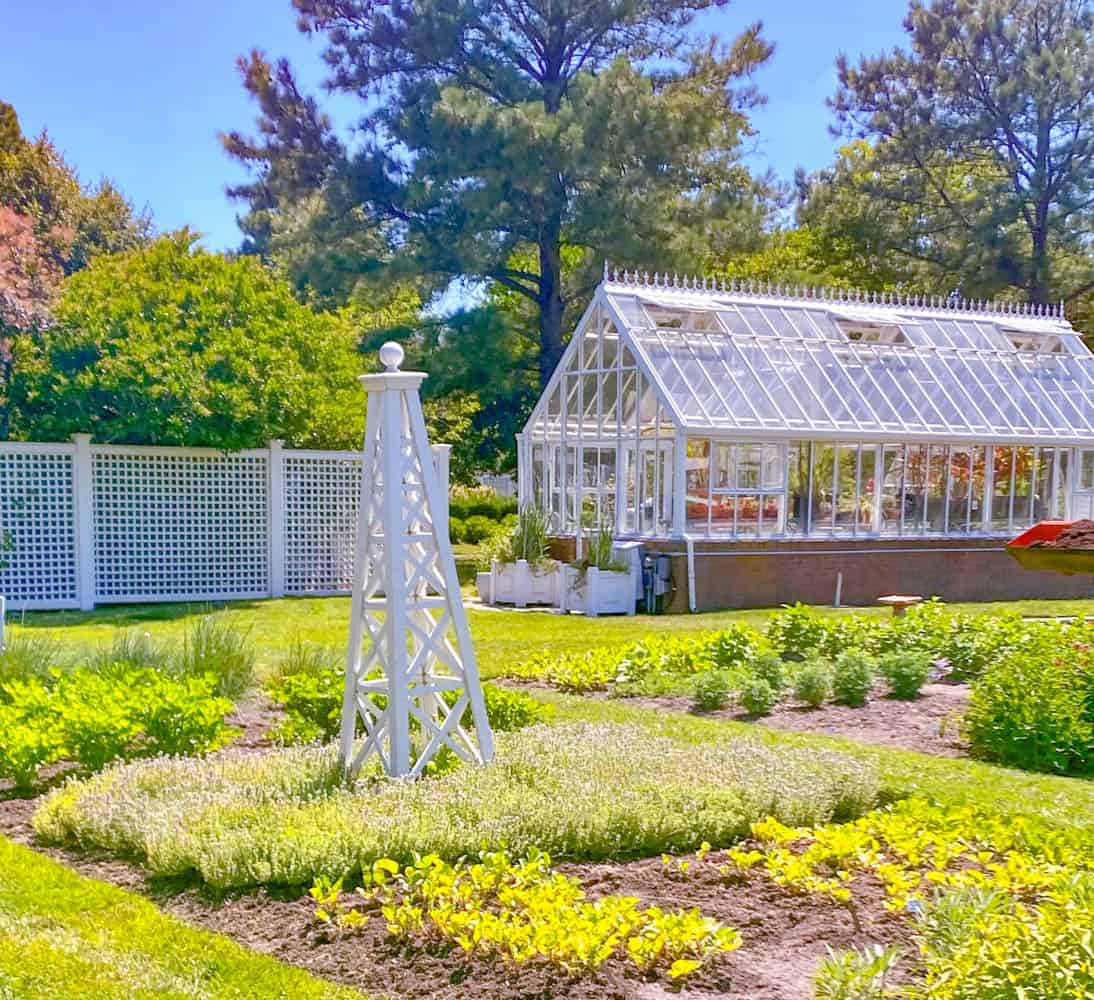 Inn at Perry Cabin Kid Fun
There's plenty to do at the Inn, but you won't find a playground, water park, or kids club on site. This is a low-key resort for families looking for a different type of water-oriented vacation that doesn't involve a beach. It's perfect for older kids and teens that want to learn about maritime history, water sports, or the natural bounty of the Chesapeake.
If nonstop activity is high on your family's vacation list, the Inn at Perry Cabin may disappoint. The resort's pool is simple and modest in size, but perfect for a few hours of cooling off after a morning spent exploring the resort and town.
One of our family's favorite pastimes when visiting the Inn is utilizing their fleet of complimentary bikes to ride the paved bike paths that meander through town and the surrounding marshland. We also love wandering through the 26 acres of waterfront gardens on the property, including an orchard, a clippings garden, and a greenhouse straight out of the English countryside.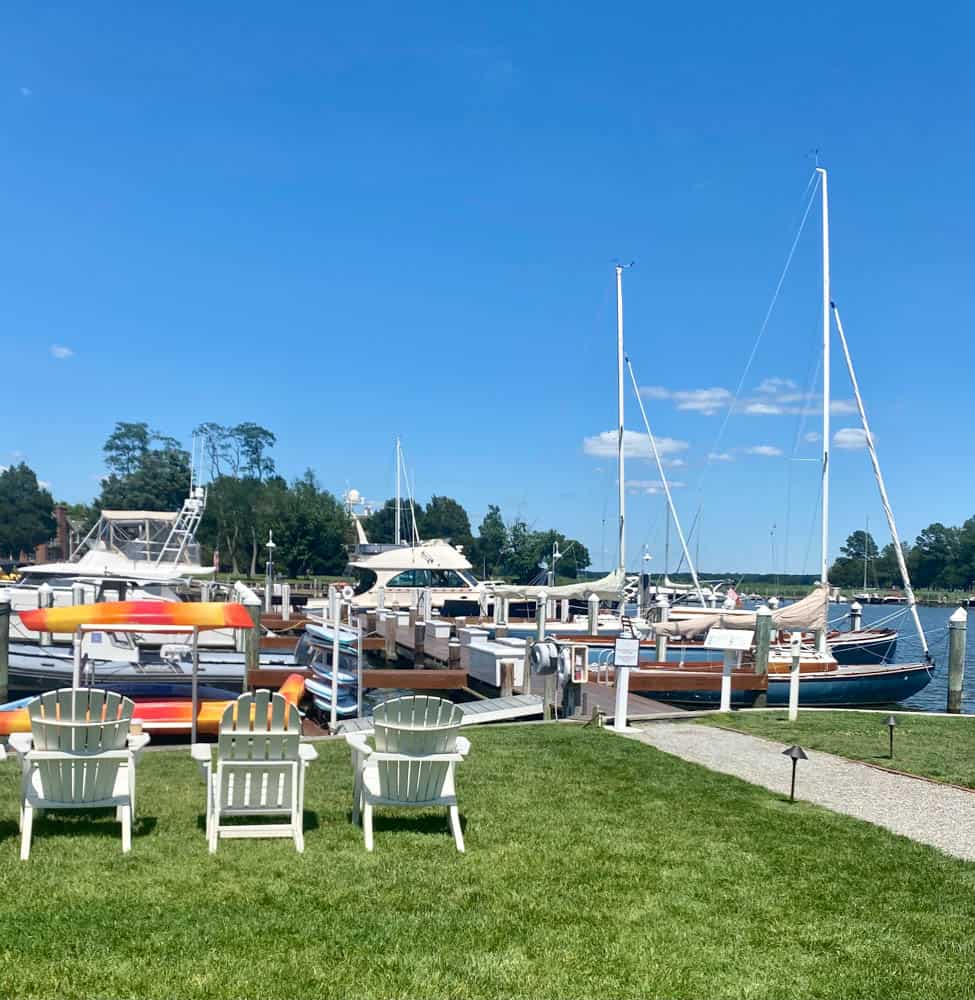 Water Activities
All of these activities are enough for keep a family busy for a few days, but the main attraction at the Inn at Perry Cabin remains the water, and the boating opportunities right on site.
Among boaters there's an age-old presumption based on whether one prefers power boating or sailing, with the former being associated with slick speed and fuel, and the latter a gentleman's sport that requires patience and a solidarity with wind and water.
Luckily at the Inn at Perry Cabin, you don't have to choose. You can do both in style, and neither requires any expertise. The Inn has its own fleet of power boats available for charters and the Inn's sailing academy offers courses for beginners as well as experienced sailors.
Because the Inn sits on a protected cove, the waters are also calm enough for stand up paddle boarding and kayaking, both of which are offered from the resort's docks.
Off property, the Chesapeake Bay Maritime Museum, adjacent to the Inn, is a great spot for families to learn about maritime history, oystering, and boat building. There's even a small lighthouse that you can explore. The Blackwater National Wildlife Refuge and the Underground Railroad National Historical Park are both under thirty minutes from the Inn and make great educational day trips.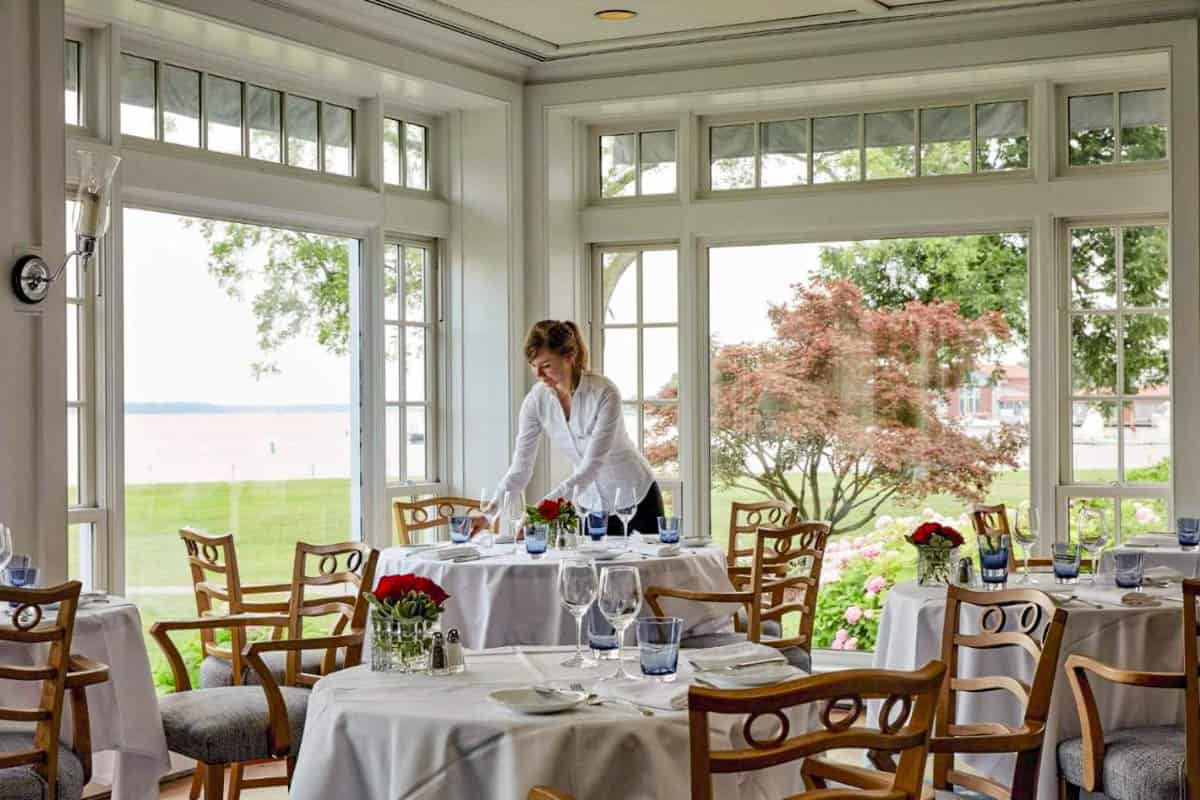 Inn at Perry Cabin Restaurants
Dining at the Inn focuses on locally-sourced produce and seafood is fresh off the boat. While New England has lobster and clams, Maryland is the heart and soul of America's crab and oyster country; sampling both is a must. After a pre-dinner cocktail at Purser Pub, we had a meal of crab cakes and bay scallops at Stars restaurant, while enjoying stunning water views from our table.
Post dinner we retreated to the waterfront firepits and listened to the soft lapping of the river current and low hum of the occasional boat returning from a day's sail. It was a tranquil end to a relaxing day.
A stay at the Inn at Perry Cabin reminds me of what I love so much about the Chesapeake Bay region: the water pursuits, small town charm, history and the freshest seafood I can eat. Although we always find plenty to do at this small resort, my favorite way to spend time is through old-fashioned pursuits: whiling away the afternoon in an Adirondack chair, biking into town for ice cream, or playing a game of croquet or bocce ball on the Inn's courts.
I've been lucky enough to stay at the Inn a few times, and it's hard to capture the sense of serenity I get from this place. It might be the crisp simplicity of the Inn's décor, the call of gulls overhead or the sight of billowing sails. Whatever it is, I'm always ready for a return visit.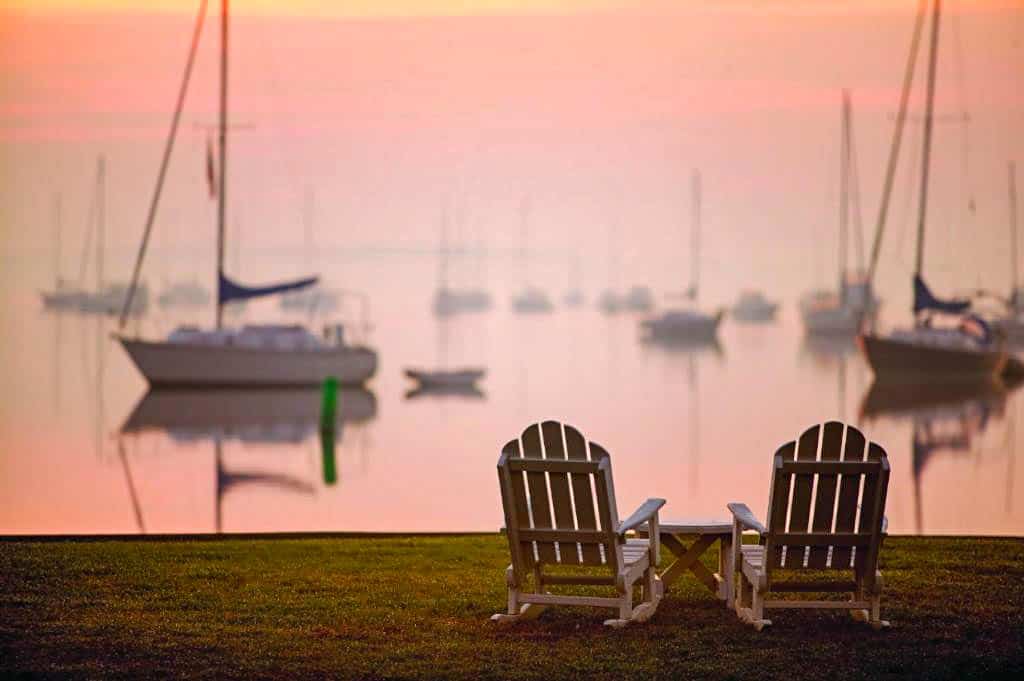 Luxe Recess can book your stay at the Inn at Perry Cabin with exclusive amenities.