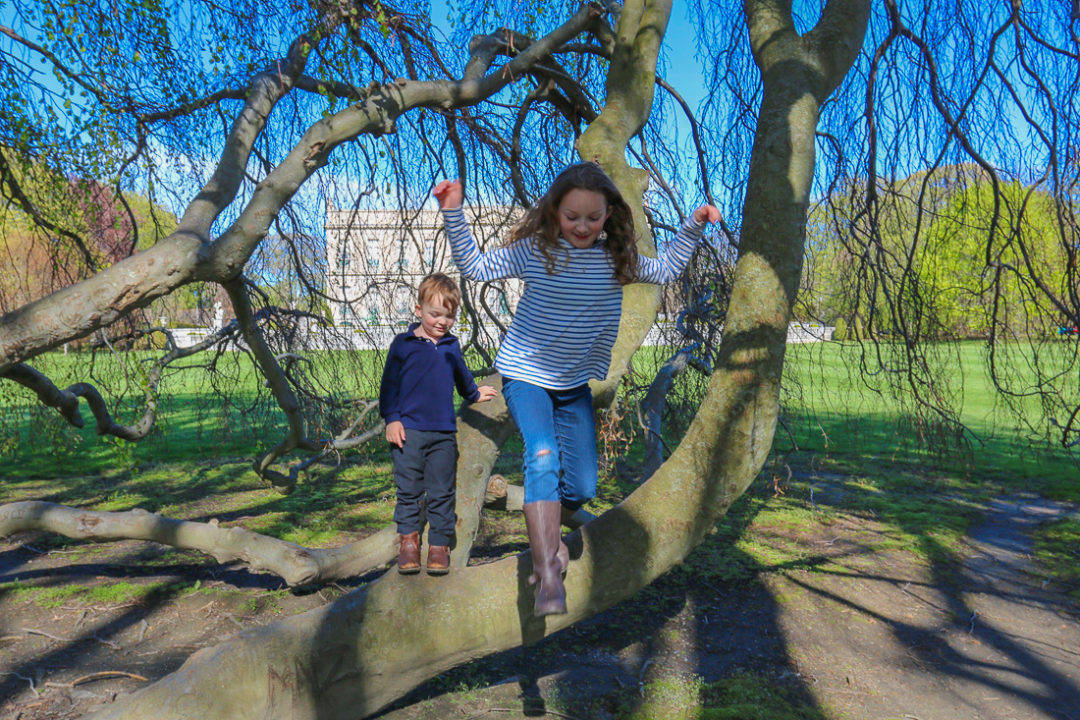 A family break to visit the Newport Mansions
What to do and Where to Stay
I've traveled to Newport so many times over the years, first as a young twenty-something enjoying the parties and bars and later to savor its history on multi-generational trips with my grandparetns. One of my passions has always been Gilded Age architecture, so, I have visited the Newport Mansions countless times. Yes, I'm one of those that cried when Downtown Abbey concluded.
My husband and I have tried a few times to take our children to Newport and enjoy it as a family vacation, but we have had a few strikeouts. But this May, we hit a home run and found that Newport is, in fact, as fantastic for families as it is for singles, couples, and grandmothers.
1) For crowd control, don't go from Memorial Day through September
Look, it is one of the most beautiful spots in New England in the summer, so I see why you are tempted. But with kids, go another time. Outside of the fact that the summer brings its highest hotel rates, Newport packs real crowds during its high season. The music, food, wine festival seasons bring crowds everywhere, as well as lines at everything from attractions to restaurants.
We have enjoyed Newport for the Christmas holidays and Easter, but May is now our solid favorite. The weather can vary from cold and cloudy to sunny, but everything was stunning regardless. Crowds were quiet at the hottest restaurants, and room rates were still at the shoulder seasons. We easily found street parking everywhere we went and had no waits at the most popular restaurants. October is probably wonderful, too.
2) Forget the indoor pool
So many families always search for an indoor pool at their hotels, but unless you are traveling to Newport in icy weather, there are many better options for your kids to get some energy out. There is, of course, the Cliff Walk, that passes many estates along the waterfront trail.
We love Brenton State Park along Ocean Drive. It's windy position makes it the kite-flying capital of the area, and in warm weather, there is even a truck that sells kites. But stepping out along the rocky shoreline and hopping from rock to rock, rain or shine, is a fantastic way to savor the salty sea air. You'll be drawn in closer and closer to the water until it splashes you by surprise.
3) Follow the Millennials at Mealtime
Newport hipsters have been multiplying at a frenzied rate over the last 10 years, bringing excellent new dining options among the more traditional tourist seafood spots. Diego's downtown on the water had always been so crowded, so we only got to try it this time on a Sunday afternoon at 2:45 walking right in.
I really know guacamole, and their house made guacamole and salsa were some of the best I've had in New England. I'm also a taco purist, so my fish tacos fell short in offering an authentic corn tortilla, onions, and cilantro. The overflowing flour tortillas were filled with fresh ingredients, however, and everyone else found their entrées perfectly prepared.
Everyone told us to go to Mission to try the burgers, hand-cut fries and hot dogs. It was the perfect casual family dinner on a Saturday night after our clothes have been sprayed with saltwater from our shoreline rock climbing. Patrons are given plastic toys with Star Wars names instead of buzzers to identify table orders.
The fries were, indeed, outstanding, with a perfect white fluffy inside and golden crunchy outside, and the burgers were also very good, cooked on the rarer side with butter crispy edges to the buns.
4) Make the Newport Mansions a family adventure
The Newport Mansions managed by the Preservation Society of Newport should be on everyone's bucket list. We have been members and visitors at every stage of parenting. Strollers are not permitted, so baby carriers are essential to bring. The tough ages to enjoy the summer cottages are when you have active toddlers until the age of five. If you have children that fall in the tough zone, do not underestimate how fun the grounds are to explore with them, however, so all is not lost.
By age five, children grasp the grandeur and scale of these homes and are intrigued. The homes that provide audio tours are the best choices for families, as families can tour at their own pace. These include The Elms, Marble House, The Breakers, and Rosecliff.
The Breakers offers a family audio tour that we tried with our ten and nearly five-year-old. Both listened to portions of it, but neither found it completely engaging. However, the Breakers offers an excellent store at the end of their tour with an impressively curated children's book and toy section.
We purchased two tween novels, The Kissimmee's Newport series, about a girl living during the Gilded Age, and my daughter loved it, so I know her next Newport trip will be even more interesting for her. It would be an excellent book to purchase in advance of your visit.
Houses to focus on with family appeal include Marble House for its waterfront tea room. The Breakers for its family audio tour and excellent children's section in the gift shop, and the Elms for its magnificent weeping beech trees.
My children breezed through the Elms, and I headed outside with them while my husband could enjoy the house at his own pace. Once inside the four beech trees that have grown together for more than a century, we had a wonderful time climbing, taking pictures, reading the carvings from previous visitors, and feeling like it was our own special hide out.
My daughter, who was, at first, grumpy about visiting a second house, admitted that she was so glad to have seen the Elms and its grounds and admitted that she was having a great time. We ventured into the marble garden structures where the acoustics were excellent. My husband, a trained classical singer but very reluctant performer, gave us an impromptu taste from the Barber of Seville. It was the most perfect Mother's Day I have ever had.
Rosecliff is the site of the Newport Egg Hunt at Easter, which is another favorite event, and the July family event at the Green Animals Topiary Garden is the Newport Mansions equivalent of a subdued carnival.
5) Find the perfect family accommodations
Newport is a tough hotel market for families. Many bed-and-breakfast options have a no-child policy, and innkeepers focus on romantic, childless vacationers and other demographic groups who are getting a lot more sleep than you are.
The Attwater turned out to be the perfect choice for us in ways I didn't expect. It is part of the Lark Hotel Group, which has a collection of small boutique hotels thought New England and California that all boast incredibly sophisticated design.
The Attwater opened in 2012 and is within steps of the Newport Art Museum and the International Tennis Hall of Fame one block from Bellevue Avenue. The location is ideal, and many stores, restaurants, and the waterfront area are within walking distance, so a car isn't critical.
The Attwater's more minimalist Elle Décor vibe is perfect for families, as there's not an antique in sight to break. Attwater is set up like a bed-and-breakfast but with style.
The daily breakfast offered a tapas style buffet of traditional and unpredictable: small plates of frittatas or omelets, seeded flatbread, various sweet and savory breads, granolas, oatmeals, fruits, cheeses and nuts. I found the food delicious, but to enjoy a more filling breakfast or brunch later, head to the Corner Café, Caleb & Broad, or Rosemary & Thyme.
My children grabbed the most delicious chocolate chip cookies at check in that were available every afternoon and enjoyed them on the rocking chairs in front of the hotel.
The King suites are perfect for families. Ours included ample space, a fridge, coffee maker, and a very comfortable sofa bed with an inflatable mattress built in. Rooms come with preprogrammed iPads and the televisions have Apple TV's. There is a small fitness studio in the basement of the annex building next door that included a rowing machine but no treadmill. Guests can arrange to have massage therapy as well.
The beds were exceptionally comfortable, but the window treatments are not the type that darken a room. If any members of your family are sensitive to light while sleeping, pack a few dark garbage bags and a roll of painter's tape to black out the room.
Actually one of the best features of the hotel was the free parking. The ease with which we could come and go and even find parking in town so easily was another huge reason to return off season to Newport. The Attwater's Instagram scavenger hunt rewards guests who venture to explore the area.
Other Newport RI Hotels for Families
Hotel Viking
We have stayed at the Hotel Viking many times, and it is the perfect place during the holidays. The Viking has an indoor pool in its basement and a playroom filled with toys and games. The afternoon tea is one of the more family friendly in town, too. The hotel throws many seasonal events for families, including a big Christmas event with Mr. and Mrs. Claus and the Grinch. It's Bellevue Avenue location is convenient to nearby shops and cafés, but parking is tough and valet is typically required.
The Grace Vanderbilt
The Grace Vanderbilt is an option offering spacious suites and duplexes for families who prioritize square footage. This side street location off of Thames Street means many things are an easy walk. The Grace Vanderbilt also offers seasonal family events like cookie decorating as well as an indoor and outdoor pool. It's more intimate, luxe, and expensive than the Hotel Viking.
Newport Beach Hotel and Suites
During one summer weekend, we planned a last minute trip when our old standbys were sold out. We tried the Newport Beach Hotel and Suites because it offered one bedrooms suites with kitchens and an indoor pool. Even better, the hotel lies across the street from Easton Beach. We stayed in the new building, and our room was comfortable. I've read that the historic building is not ideal. This is more of a glorified motel than a true hotel like the previous two, but we can't knock how easy it was for a vacation with four children.
For more information, consult with Discover Newport to plan your family break.
We were guests of the Newport Mansions and The Attwater, but these opinions are entirely my own.