The Banyan Tree Mayakoba gracefully fuses the Thai brand's style with local flavors for an exceptional five-star resort experience. It's not for those seeking a formulaic all-inclusive resort.
Where is Mayakoba and What is It?
The Mayakoba Resort lies a few minutes north of Playa del Carmen in Quintana Roo, Mexico, the area known as the Riviera Maya. It's an enclosed community of 1,600 acres with four different resorts (Rosewood, Fairmont, Andaz, and Banyan Tree) and exclusive residences. Mayakoba is built on cenotes, the underwater caves found throughout the Mayan Rivera shoreline. As a result, Mayakoba has many canals that meander through lush mangroves and freshwater lagoons. Most of it acres remain undeveloped.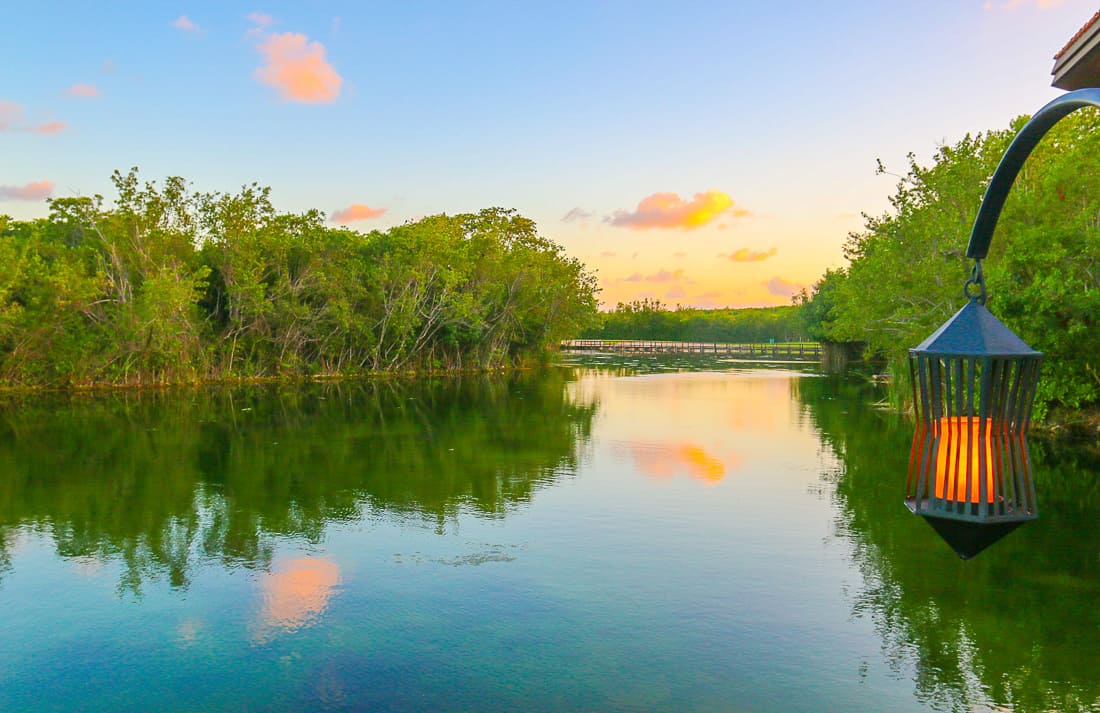 The ride from Cancun International Airport to the Mayakoba Resort is about 45 minutes. I saw one giant resort entrance after another. The entrance to Mayakoba was certainly distinctive— almost a modern, Las Vegas slick. Massive chrome lowercase letters spell mayakoba on a stone wall outside.
Mayakoba resort offers of you amenities that are shared by all for hotels like the golf course and he casual eating and shopping village called El Pueblito. But each resort has its own beach club, restaurants, and kids' clubs.
My stay was booked for the Banyan Tree Mayakoba, and I was thrilled to see what this Thai luxury hotel brand was like. It's a Legend property of Preferred Hotels, so I knew it would be unique and magical.
After the first security stop at the main gate, we drove on bumpy narrow stone roads to the Banyan Tree Resort. I was greeted by another security staff who alerted the front desk staff of my arrival.
This was a rare solo trip for me. I travel with my children 90% of the time, but I was eager to get some sun and vitamin D after a particularly long Boston winter.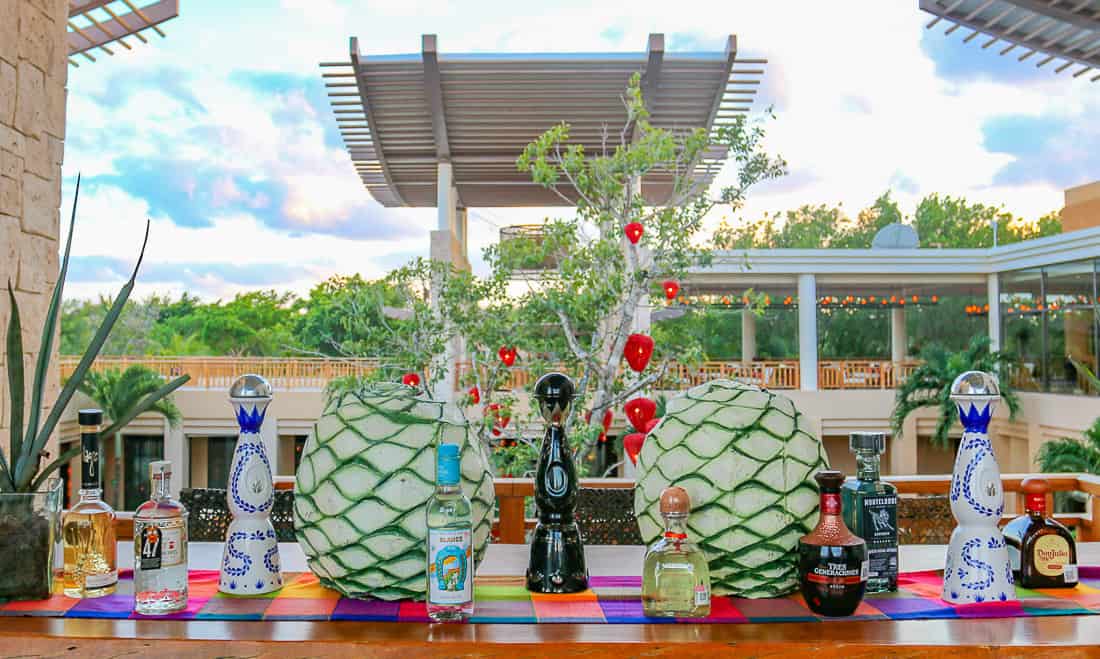 The guest experience
Guests enter into the soaring open lobby lulled by the mythical sight of a tree adorned with deep red lanterns that sway on its branches like magical giant cherries. Some homes have an outdoor living room. The Banyan Tree has an outdoor lobby.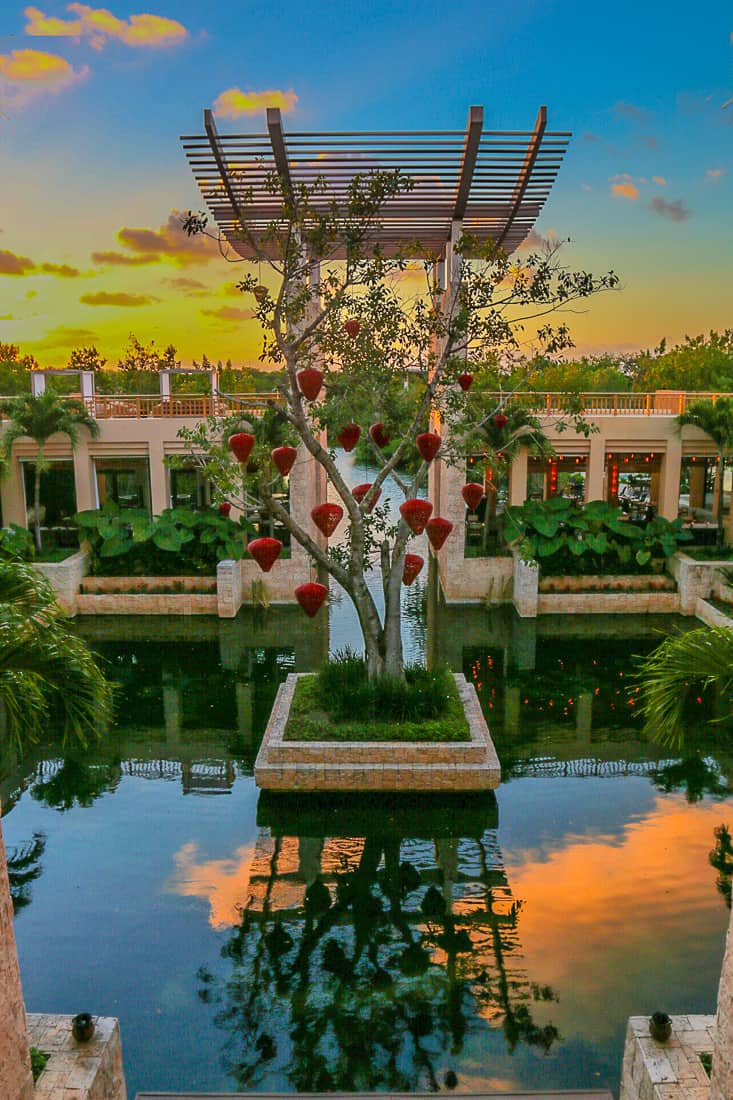 The atrium of this rectangular building is filled with water for the boat that shuttles guests to other stops within Mayakoba on a set schedule.
A greeter seated me in a lounge chair and served me a gorgeous welcome cocktail made of cucumber, honey, and mint and offered me a beaded bracelet adorned with a daisy-looking flower.
I'm told there's a monkey in the lobby, but I never saw it, to my disappointment. The hotel staff named hime Marcel after the character on the television show Friends.
I downloaded the Banyan Tree Mayakoba app on my phone right away and enjoyed the convenience of scheduling my housekeeping and turn down service each day around my own activities and meal reservations.
Fantasy seclusion in a pool villa
All guest accommodations at the Banyan Tree are private villas with their own pools.
When I was notified that my villa was ready, I walked past my complimentary bicycles with my villa number adorned on its basket to my door.
---
JOIN OUR LUXURY HOTELS & RESORTS FOR FAMILIES,
A FACEBOOK GROUP FOR SEEKING HELP AND INSPIRATION
FOR THE BEST LUXURY FAMILY BREAKS.
---
I pushed open the door to see the dark blue tiled pool and two-person lounger and stepped into my garden. I knew, of course, from the website that these accommodations would be exceptional, but I didn't expect what it would feel like to look at the hammock outside my bedroom's sliding glass doors, and hear so many different bird calls among the mangroves.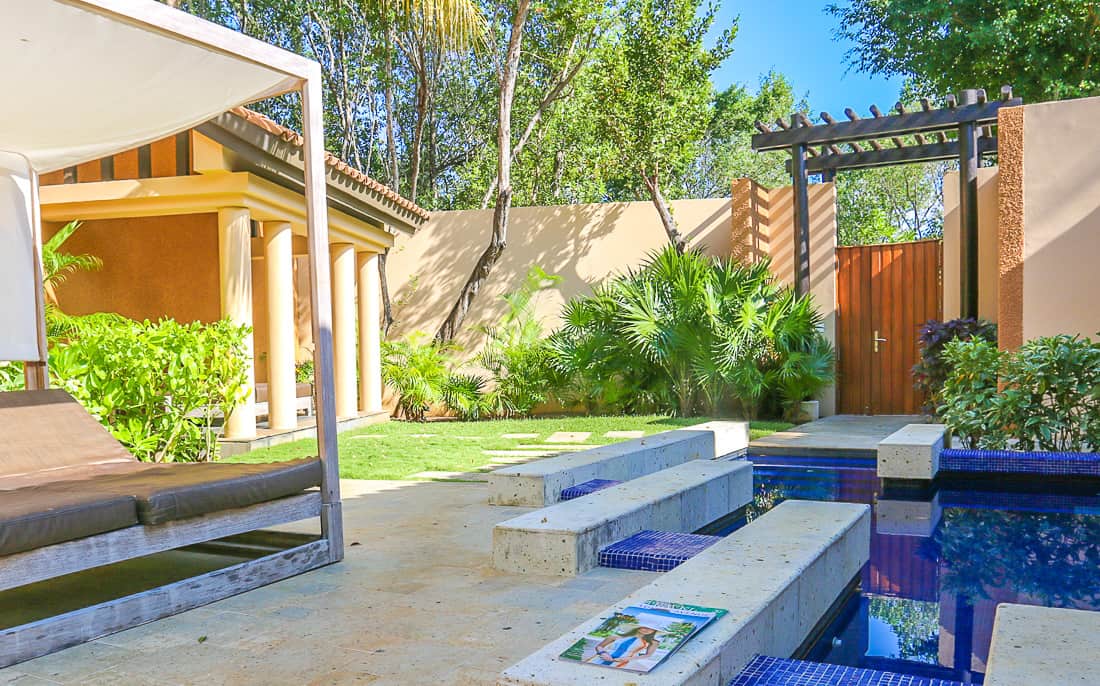 I'm usually full of energy when I check into a beautiful hotel because I'm so eager to explore, but this place had stopped me dead in my tracks. I stopped and listened. I think I took two hours to unpack and settle, something I would typically do in ten minutes.
Banyan Tree Villa Amenities
In addition to private plunge pools, lounge chairs, and outdoor dining areas, the villas open onto the canals winding through the mangroves. I only saw one boat during my stay that disrupted my complete privacy, but each villa's privacy will be different based on its location.
Sliding glass doors opened directly onto the side of the pool or to a patio with a hammock. My villa had two story ceilings since there was no room or deck above me. A massive Bose speaker was beside the bed, waiting to sync with my iPhone to play music.
Given this idyllic setting, I was ready to add a soundtrack to my sensory experience. I scanned my phone craving Chris Isaak's Baja Sessions album. Unfortunately, I had just gotten a new phone without any downloaded music but a children's nursery rhyme collection.
Truly luxe bathrooms
The bathroom was exceptional and atypical. The black and white ceramic sinks were used in all bathrooms resort wide, but the villas had a dual sink vanities placed in the island of the bathroom. This was elegant, but actually a little awkward to apply makeup.
There were four doors in the bathroom. The first two, a commode and shower weren't particularly interesting, but the third door led to a walk in closet that really showcased the Thai foundation of the Banyan Tree brand.
The brand's Thai style robes of black and white floral fabrics and black slippers I assume are at other locations in Bali, Koh Samui, and other Banyan Tree locations. A black and white beach bag and cosmetic case are there to borrow during a stay as well as black flip flops. A basket of insect repellants, a pair of ponchos, and a flashlight provided for unpredictable events.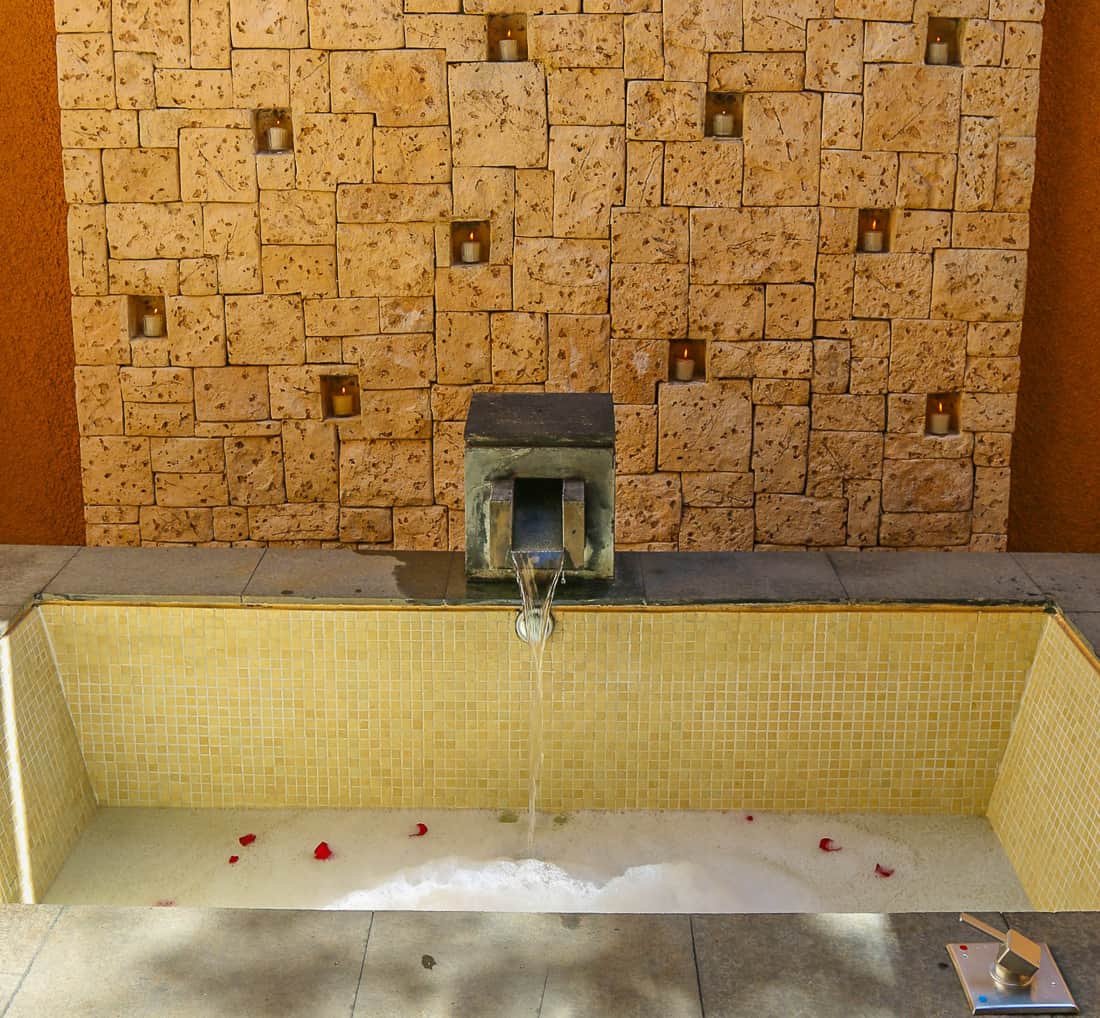 The fourth door in the bathroom was a double, sliding glass door that opened out onto a completely private atrium filled with a wall of candles and a cement and tile bathtub large enough for any family of four.
On the outside, I remained calm with a smile of delight for my resort hostess. On the inside I was throwing an imaginary football into the ground as if I had just scored the winning touchdown. Score for the restful mom break.
Banyan Tree Mayakoba offers a special bath menu to have your tub filled with various recipes for relaxation or romance. There are mixed Thai herb and therapeutic mud options with iced or hot teas or the romance route offers champagne, cocktails, oils, and Thai music. A upgrade from my Run DMC for romance. Prices start at $55.
Families can request a straightforward bubble bath for no charge to return to after dinner by letting housekeeping know a time. The baths take a while to fill. The outdoor bathtubs and living areas made these beautiful accommodations even more exceptional.
Choosing the Right Banyan Tree Villas for Families
Families traveling with children have a few different options at Banyan Tree Mayakoba. The entry level villa has a sofa that could be made up as a small daybed for a child out of the crib but under the age of seven.
The resort will bring in a rollaway, too, for older children, but the floor space will be compromised. The resort offers massive three-bedroom villas for families for everyone to have space for those willing to pay for it.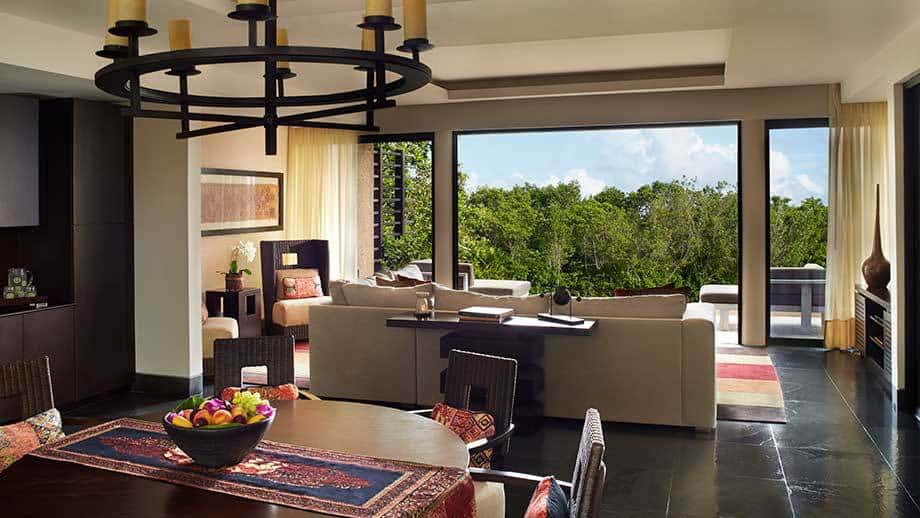 The two-bedroom villas are, strangely, not a good option for families with children. The second bedroom in these villas have their own entrances into the gardens and are not connected to the main bedroom. They are more like expanded living spaces for eating or watching television. They would only work for my family, for example, if my husband and I split and each took a child to the different bedrooms.
The Banyan Tree Mayakoba Beach Club
Swimming options abound at Banyan Tree, so not one pool was crowded. In addition to your own pool at your villa, there is a zero-entry pool at the main lobby building, another at the beach club, and the turquoise waters of the Riviera Maya.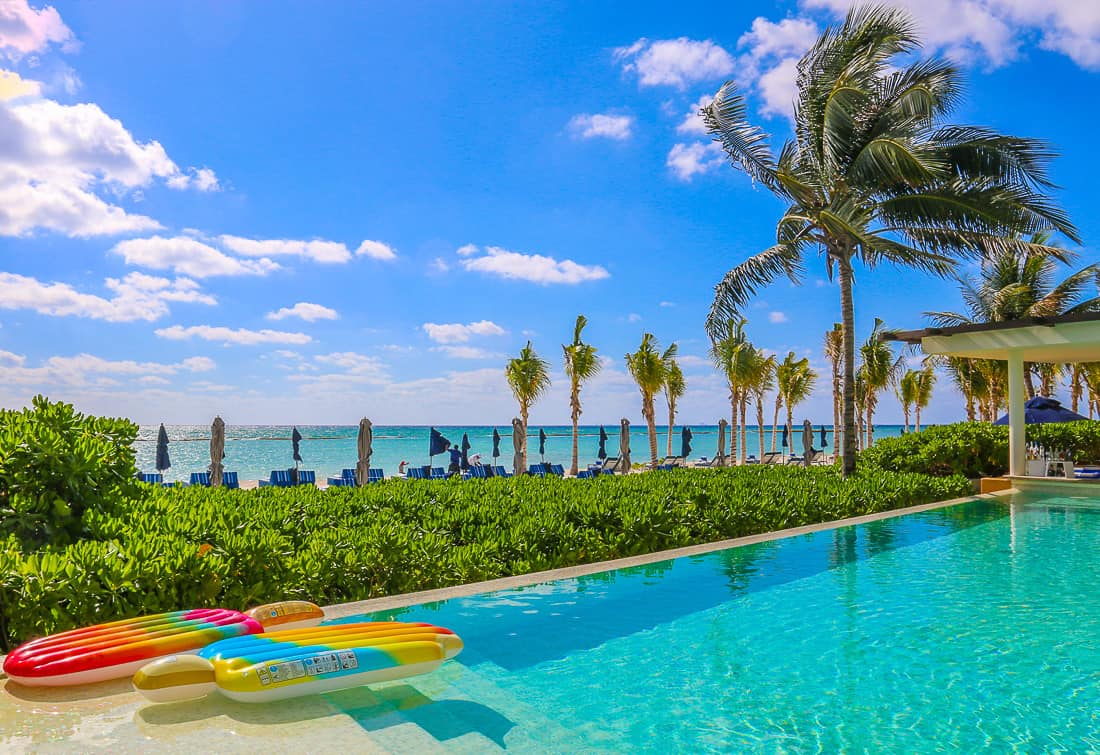 Guests at any of the four Mayakoba resorts take water or golf cart shuttles to their respective beach clubs, though each resort also offers premium beachfront accommodations, too. Those guests must shuttle back to the main buildings for spa and expanded dining options.
Rainbow and unicorn rafts floated in the two main pools, waiting for a child to ride them. I was so happy to see a young girl climb aboard the unicorn on my last day.
The beach club also offers a restaurant, Sands, and a kids club for children aged 5 through 12 with a schedule of activities and crafts parents can go to the spa or skinny dip in their villa pool.
Beach lovers can purchase fresh coconuts and have access to ample seating and sand toys. Those seeking "sexy beach drinks" are in luck, because Sands has a whole poolside menu called those very things.
A Noteworthy Breakfast Buffet
Even if you are a room service breakfast kind of family, you will start you day at the Oriente breakfast buffet in the main building. The breakfast buffet at Orient is really world class. It's one of the best buffets of any hotel I've been to— accommodating the healthiest or those with dietary restrictions to those looking for an ultimately decadent way to start the day.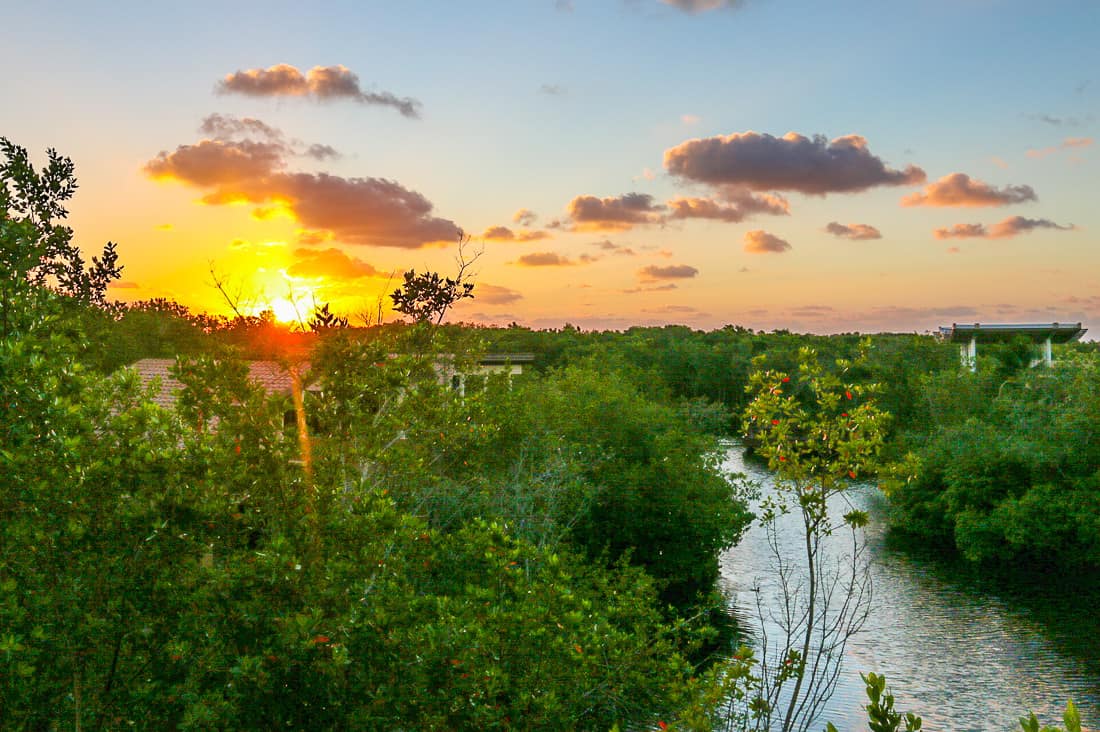 The buffet runs until 11AM, so most guests come on the later side and treat this meal more as brunch. No one wakes up too early here.
The first easy choice to make is inside or outside seating along the jade canals. A woman walks around the outdoor seating with a hawks on her arms as a natural method to remove the black bird population. These birds had loved to go after guests' food when they had gone for a second or third plate at the buffet.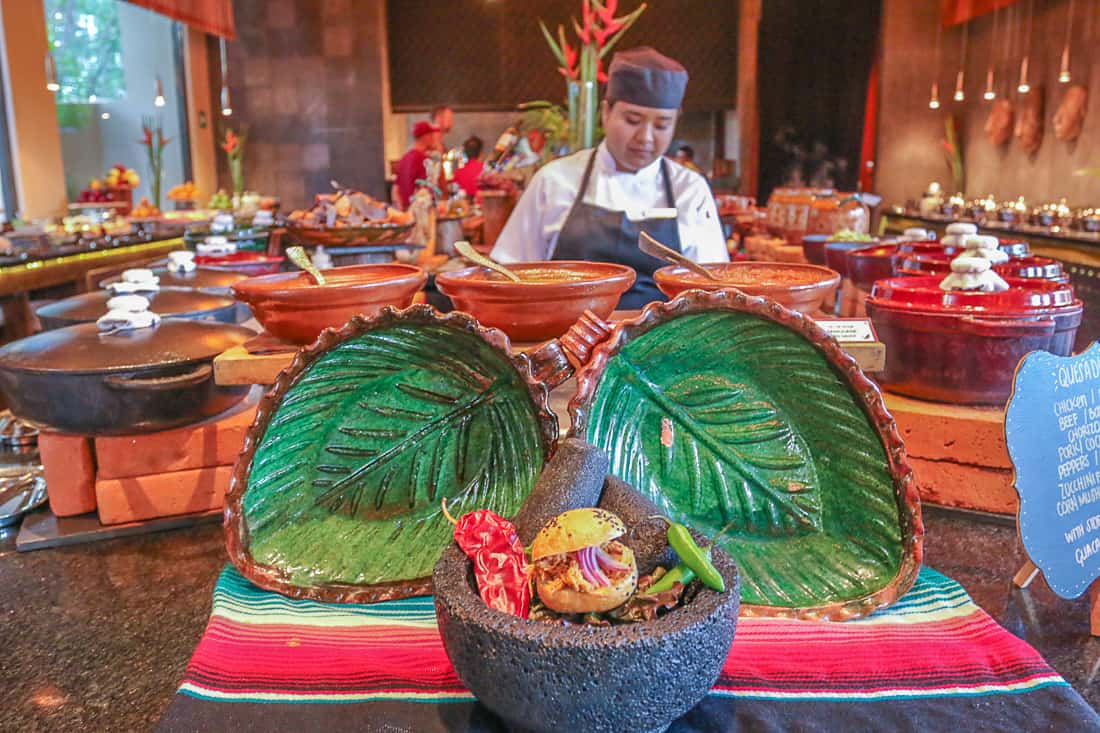 My table was filled with more than six glasses every morning. Almond milk lattes, fresh pressed juices of the day, and ceramic mugs of traditional Mexican coffee. Steeped with cinnamon, fruits, and sugars guests pour it with a label and drink it black. It is a must.
The resort's green juice is also exceptional: cucumber, honey, lime juice, cactus, and Chaya, a Mexican superfood often called tree spinach.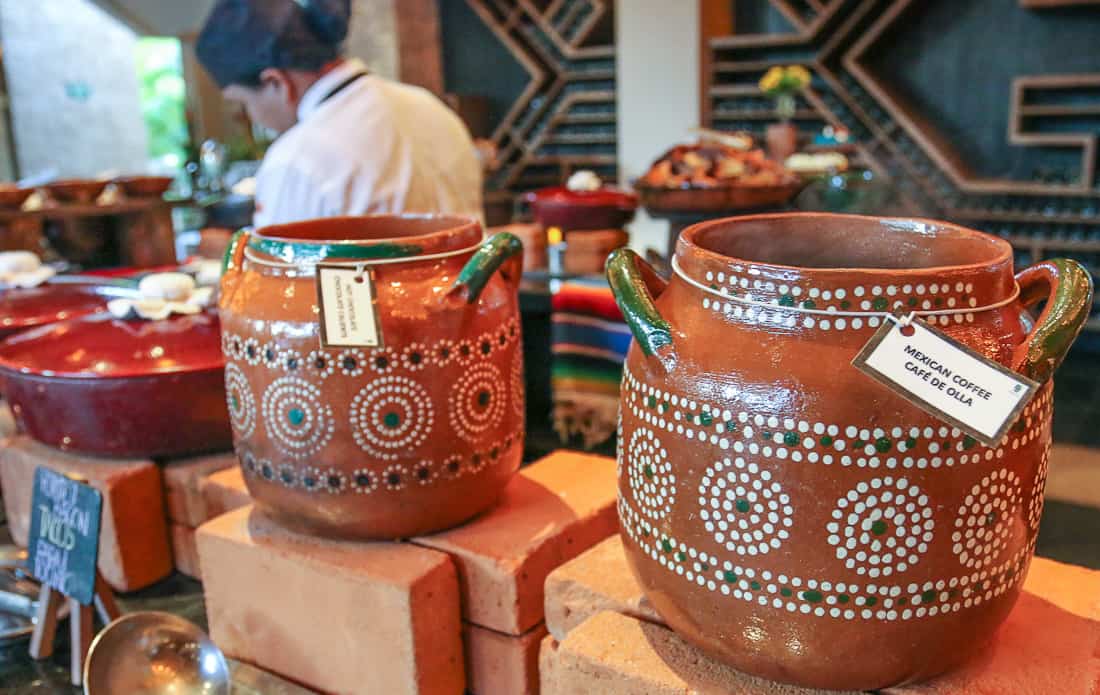 During high seasons around holidays, a children's buffet with kids' favorites (think CANDY) adds even more to a full buffet featuring traditional Mexican dishes made to order and American breakfast items. The homemade chocolate lace lollipops are tough to turn down.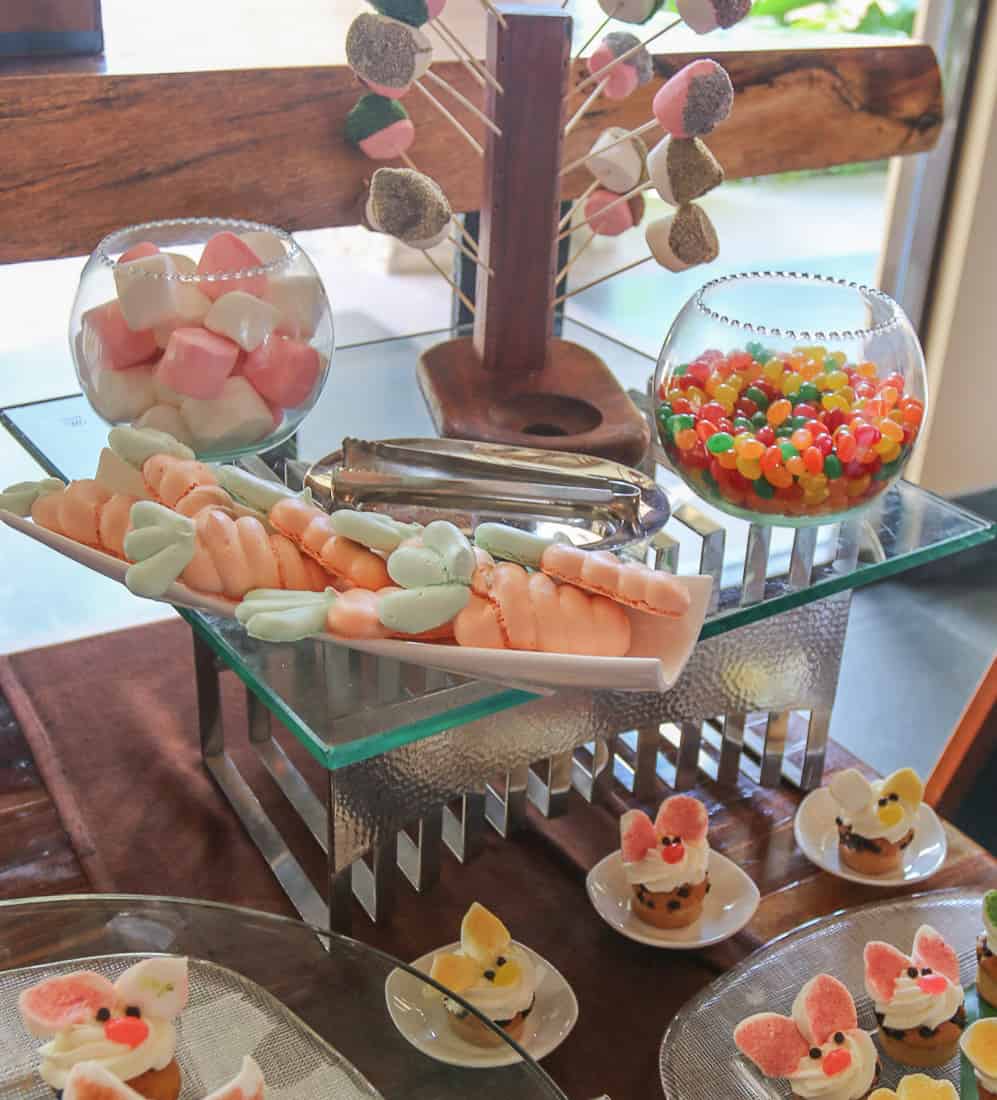 Restaurant Options at the Banyan Tree
Committed to providing guests lots of variety, the resort offers five different types of restaurants in their three restaurant spaces.
Saffron
The Banyan Tree's signature restaurant is the Thai Saffron, reflecting the brand's heritage. Some guests arrive by boat using the Mayakoba canals. The outdoor sitting area faces the larger canals and bridges on the property.
Service was exceptionally attentive, and the restaurant chef came out to introduce himself and ask if I had any dietary restrictions. The chef provided an amuse bouche of poached shrimp and diced mango and delicious sauces for the puffed rice crackers.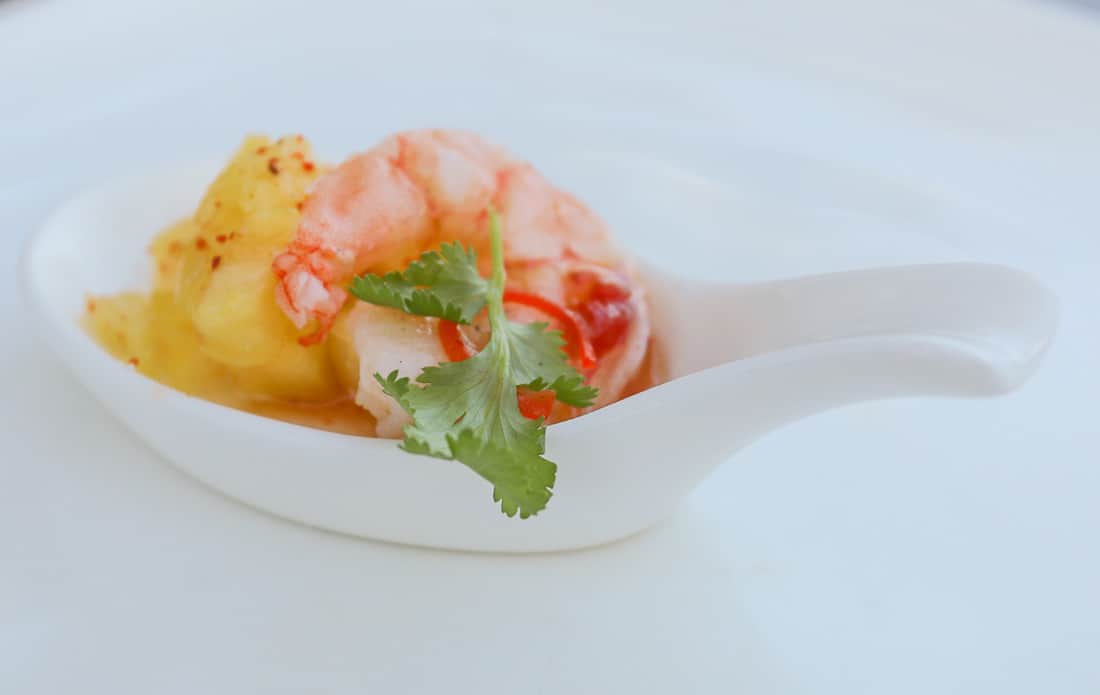 I asked what the most popular dishes were, but they matched our usual Thai delivery order at home. No Pad Thai and Penang Curry for me. I had a lovely salmon salad with arugula, red grapefruit sections, and grilled prawns with a tamarind sauce.
During the sunset hours, the clouds turned pink, and the greens of the mangroves and canal water provided a lovely atmosphere.
Pasta, Sushi, Tacos, and Steak
Had my kids been with me, we definitely would have tried the homemade pastas at Cello. I heard guests raving about on the golf cart shuttle to the beach. or the sushi that's available on certain nights. There's also Tomahawk Grill serving steaks in the seating areas near Oriente. The lobby lounge also serves a traditional Mexican menu at La Copa.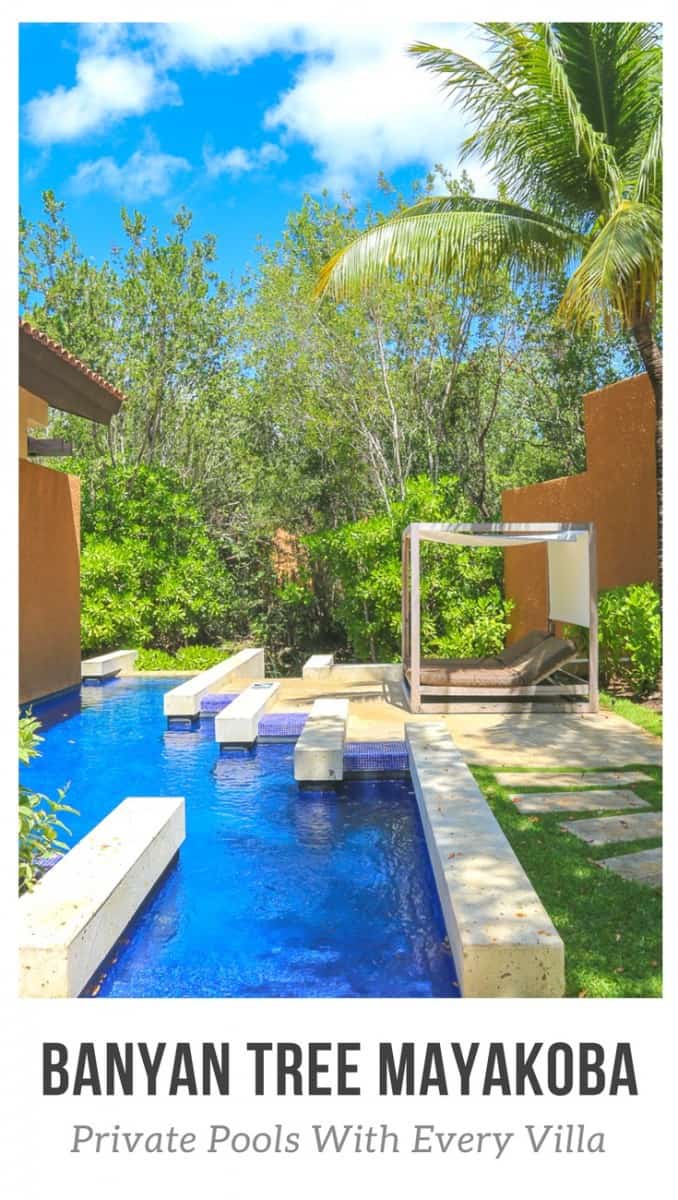 The resort ensures that guests who stay a week can rotate their evening meals without ever leaving property. Of course the three other resorts have restaurants, too, so it would take a very long stay to tire of the options.
Haab, a culinary evening of Mayan tradition
Because my children weren't with me, I had the opportunity to experience the cultural meal event at Banyan Tree Mayakoba called Haab. Haab is the term similar to a year in Mayan calendar dating back to 500 BC.
One part costume, two parts Mayan traditional cooking, three parts ritual, and four parts alcohol, the Haab experience isn't a great choice for families until your children are inclined to enjoy a multi-course meal. Those attending, all teens with me during my experience, were given their own nonalcoholic versions of each course's drink.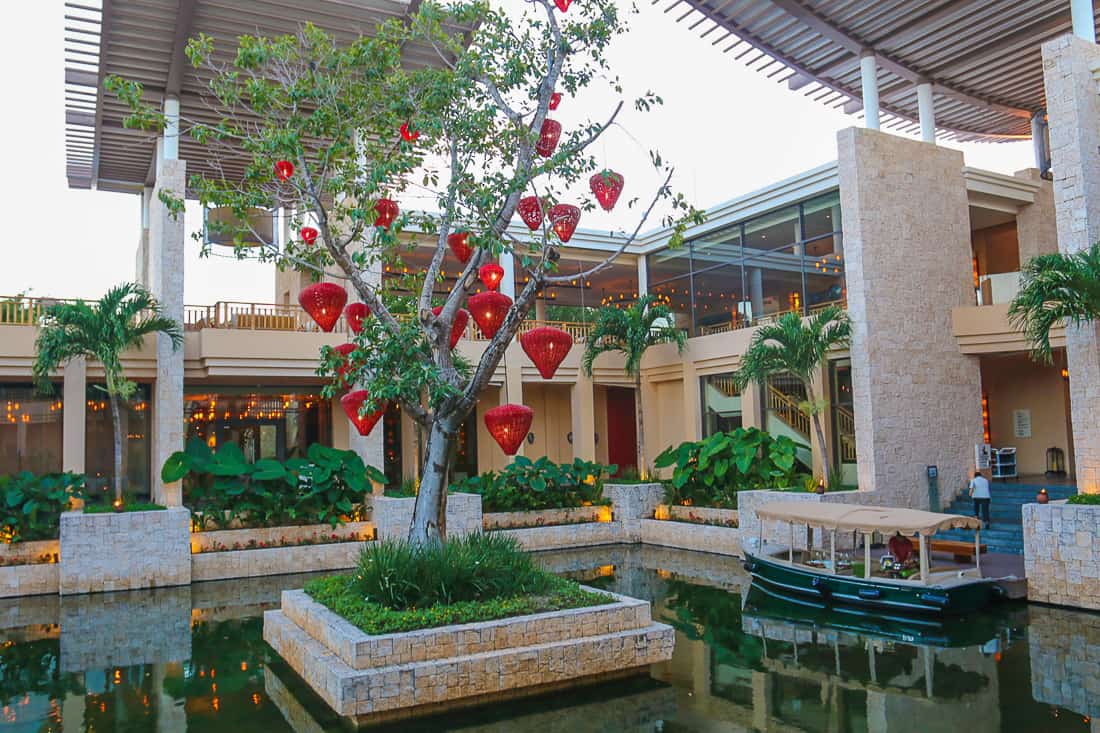 All resort guests and children can enjoy the beginning of the night taking place in the courtyard around the water in the main building. There's an evening host or emcee who walks guests through a purification and celebration ritual as costumed performers light the atrium torches.
From there, Haab guests walk to a special outdoor dining area reserved for this meal. Along the way, performers appear, sing, dance, holler and represent a journey into another realm.
Once we arrived, we received white face paint skillfully placed on our noses, cheeks, and foreheads to match the performers. The table was magnificent, covered in glasses, candles, and colorful decorative bottles of tequila.
A traditional pit oven located feet from the table cooked much of the meal. Inside the red brick covered circle was a whole pig and several other dishes cooking, some wrapped in banana leaves.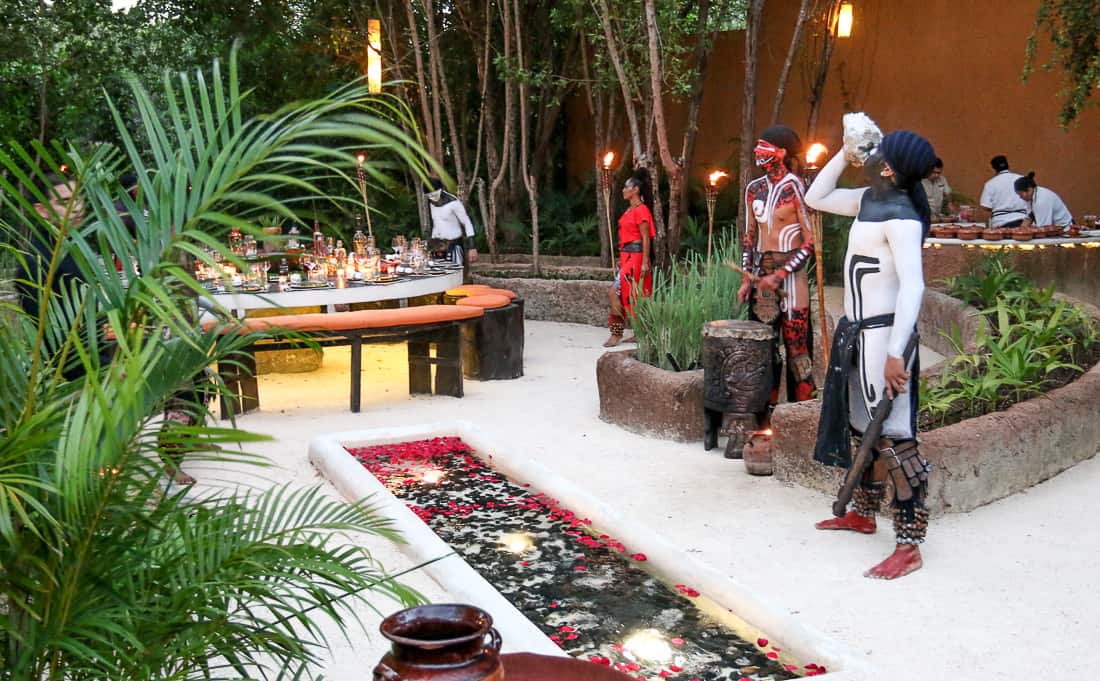 The meal began and ended with trios of assorted bites. In between, we dined on pork, baby chickens, tortilla soup, duck breast, and finally a coffee covered beef tenderloin (that was unbelievably tender and noteworthy).
The dancers continued performing throughout certain times of the meal. After dessert, our host seated us near a fire and gave us sabres for roasted marshmallows. The performers climbed up on the large circular table to end the night. Those loving the tequila continued to drink more with their new friends, while those with teens returned to their rooms.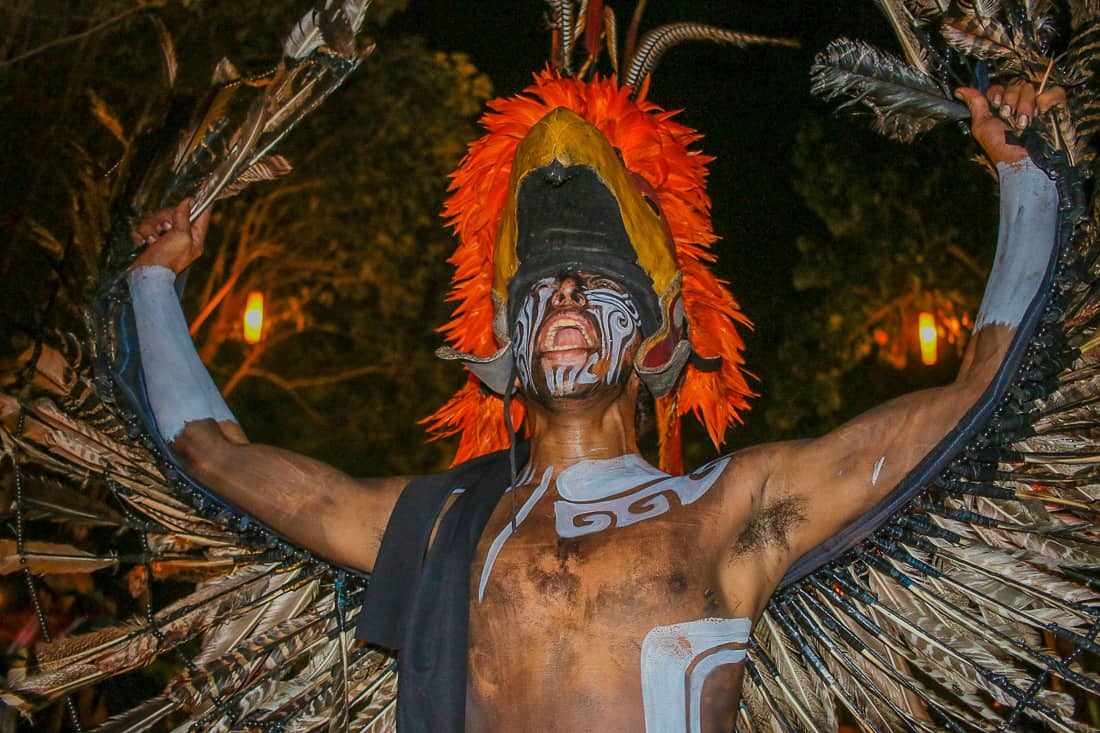 Eco-touring the Mayakoba Resort
Taking the resort shuttle for a loop was the best way to understand the eco-system of Mayakoba. Shuttles depart from Banyan Tree first and journey throughout the resort. A complete loop takes about 75 minutes.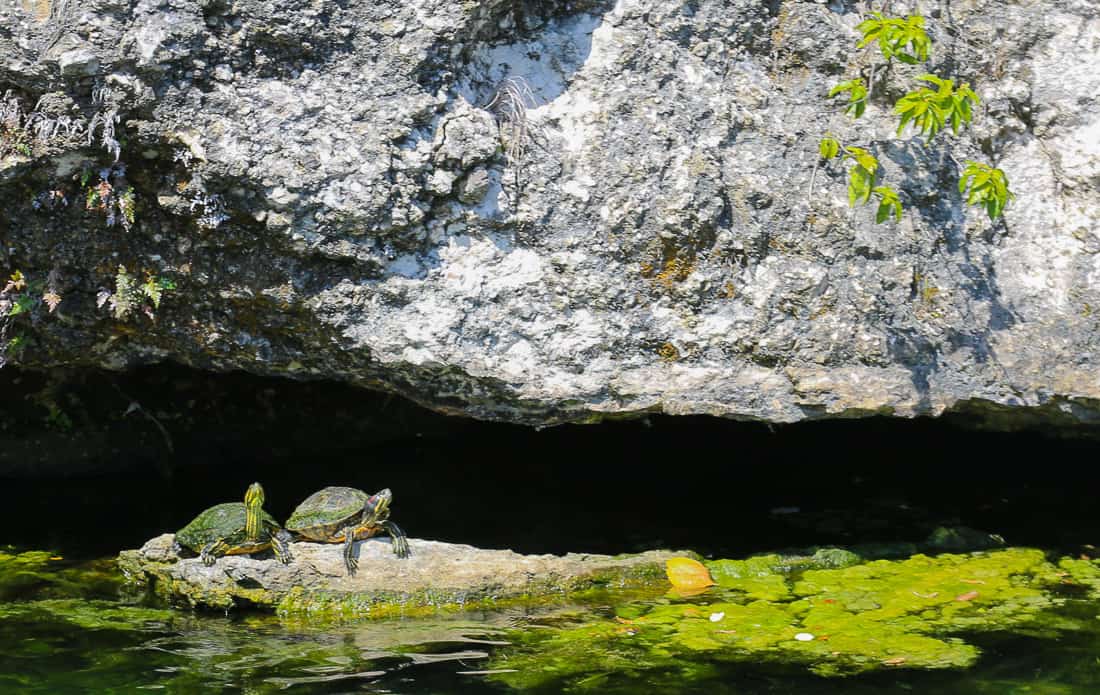 I enjoyed departing from Banyan Tree on this nature trail boat ride and getting off at the first beach club on the route (Rosewood's) and walking home along the beach—an easy, ten-minute walk.
We saw alligators, turtles, vast numbers of birds. A guide on the boat pointed out the wildlife and showed us our location on a map and ensured a comfortable ride.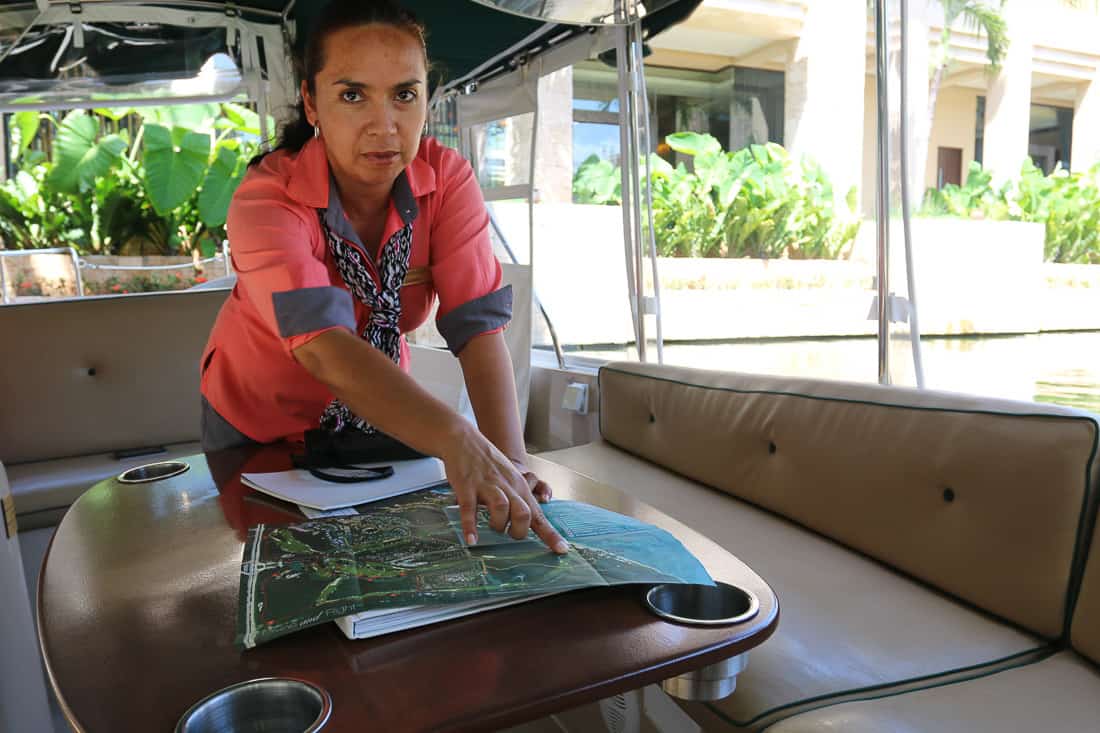 Banyan Tree Mayakoba Spa
My favorite way to experience Thai culture besides through cuisine is Thai spa and wellness. The Banyan Tree Spa doesn't have simple treatment rooms. Instead, services are performed in standalone villas, some facing the lagoons.
Taking Eastern cues, every treatment begins with a tea and foot washing ritual. I chose a hybrid massage therapy combining Thai stretching with deep Balinese pressure methods to great satisfaction.
Some villas are designed with space for Vichy shower treatments, and all of them are large enough to offer couples side by side massages. 
The intangible Souvenirs from Banyan Tree Mayakoba
My time at the Mayakoba resort was not enough. I long to return. I explored the other resorts, but what I loved about the Banyan Tree resort was its incredibly private villas and outdoor pool areas for families. These private spaces ensure the public resort spaces are never crowded. I'll be returning with my family because it is the epitome of our personal definition of luxury: few crowds (unlike the other Mayakoba resorts), exceptional design, attentive service, and an effortless way to connect with nature.
There are golf and tennis facilities shared by all four hotels that we might typically use, but I have a fantasy of us swimming in our pool, ordering room service, and recreating that brilliant first snow day of the season where everyone huddles in with excitement. This improved version will, however, include warmth and sunshine.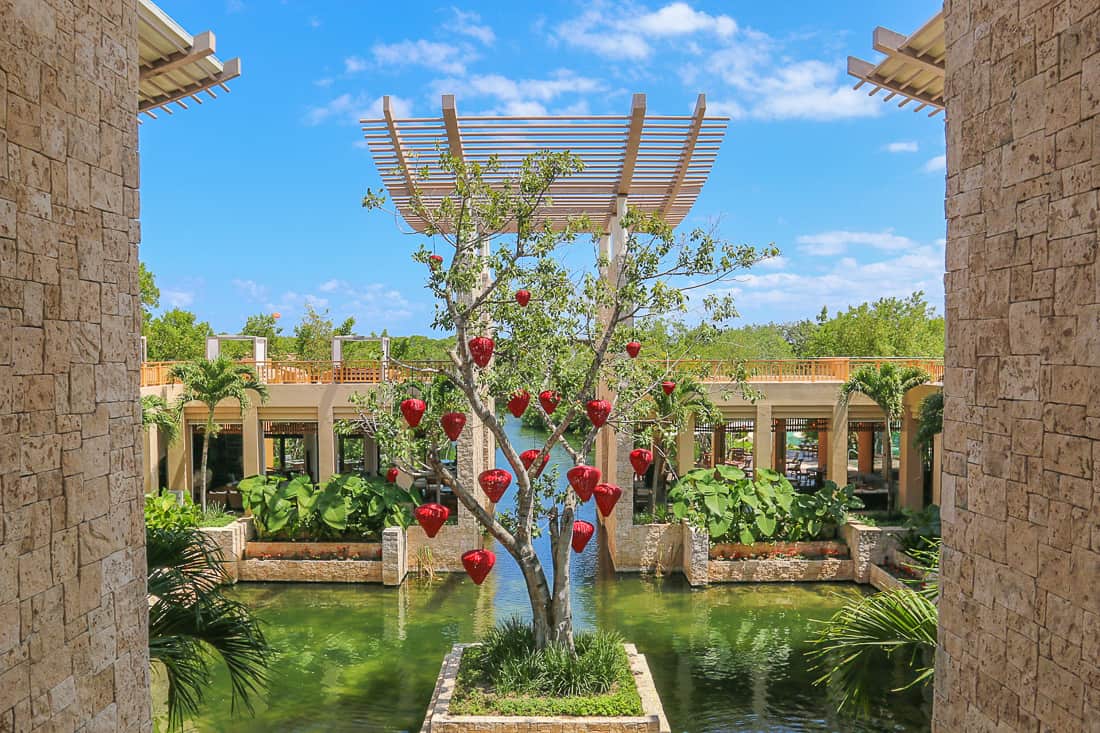 Although I was a guest of the Banyan Tree Mayakoba, these opinions are entirely my own.
HOW TO RECEIVE VIP AMENITIES AT THE BANYAN TREE MAYAKOBA
Luxe Recess has access to exclusive discounted rates, complimentary room upgrades, a $100 resort credit, free breakfasts, and personalized welcome amenities. Sure, you could book your trip on your own, but you'd miss out on hundreds of dollars in exclusive amenities, as well as personalized VIP treatment by the staff at the Banyan Tree.
As a luxury travel advisor, I help ensure your vacation goes off without a hitch. From the selection of the best cottages or rooms to the VIP welcome amenities, your trip to any of Mayakoba's four resorts will have those little extra moments of joy. Please book a consultative call to plan your vacation.