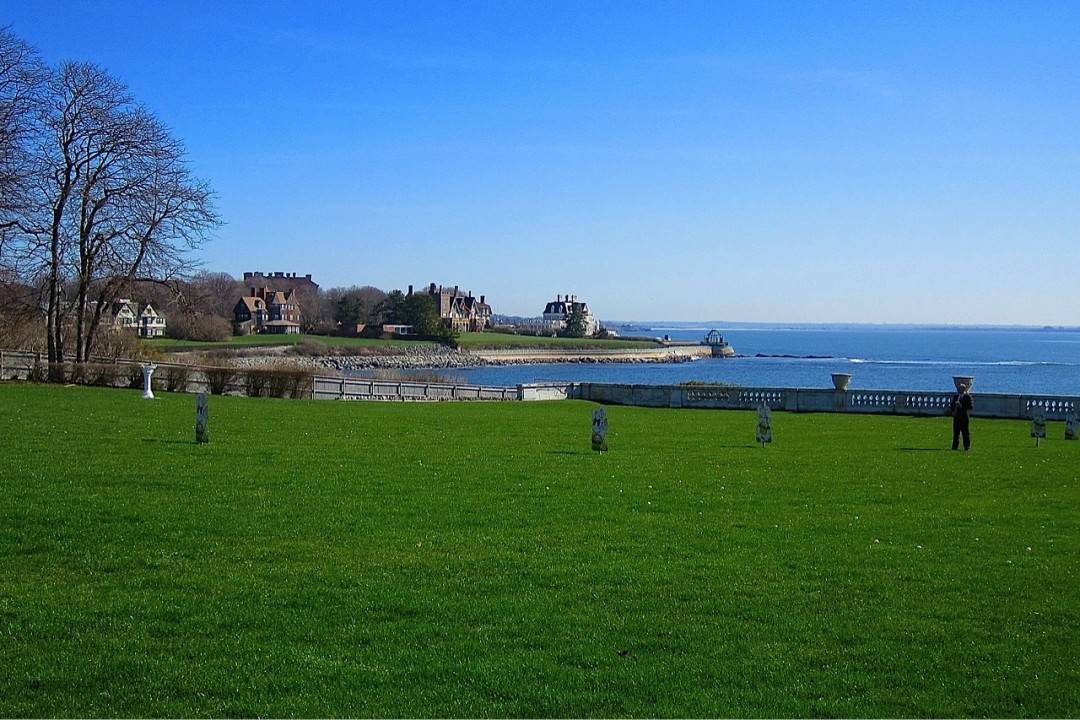 The Newport Egg Hunt
If you want to celebrate Easter and spring in style, head to Newport, Rhode Island with your little ones. On Saturday, April 4th, a massive Lindt Chocolate bunny holds court at the annual egg hunt at one of Newport's beautiful summer cottages, Rosecliff. The event begins at 10AM, rain or shine, and always sells out. Members of the Preservation Society of Newport County may purchase tickets beginning February 2nd, while non-members must wait until February 23rd.
Children are grouped by age and gather eggs on Rosecliff's lawn with sweeping views down to the rocky cliff walk. As with most egg hunts, the hours of planning and prepping are expended in about two minutes and fifteen seconds, and guests proceed inside Rosecliff for a brunch buffet.
We found the meal to be enjoyable in the ballroom where Robert Redford portrayed the Great Gatsby in 1974. Despite a bountiful spread, certain grownups were a little too determined to ensure they were getting their money's worth of breakfast staples, gripping their plates with white knuckles ready to push through crowds. I think these are the same parents who have allowed Easter egg hunts to evolve into a competitive sporting event, egging their children on to get the most and first.
It really is an exceptional event to celebrate spring's arrival, enjoy the incredible photo opportunies, and experience the Newport mansions with toddlers and preschoolers who are otherwise indifferent to Gilded Age architecture. Anything is fun with loads of chocolate bunnies, so grab a mimosa, and have a fabulous time.
Trinity Church in Newport is one of the oldest Episcopal churches in the country. For those interested, the 10AM service on Easter Sunday includes music from the Navy Brass Band.
The Newport Mansions do not allow strollers inside during tours, so we have always enjoyed staying outside to explore the gardens, or we have used fabric carriers to tour inside once they have napped. For other family fun, head to the waterfront. There are several shops, eateries, and many options for boat rides of various lengths throughout Newport Harbor. The Cliff Walk is wonderful to explore on foot, and it is worth doing by car as well. You will pass Brenton Point State Park on your way, a kite flyer's Mecca. If the weather is favorable, there is usually someone selling kites at the park.
Accommodations
Newport is not the most obvious destination for families, as it caters to couples on romantic weekend breaks and a lively summer festival scene. In the spring and winter, the best family choice is easily the Hotel Viking. If the Hotel Viking were a person, she would be the great aunt you loved to visit because she was warm, elegant and always had "just a little work done" every time you saw her.
The hotel has had many refurbishments over its 88 years as Newport's first grand hotel, but work on the entire property was never undertaken at one time. As a result, some aspects of the hotel feel much nicer than others. The most recent effort was the 2007 renovation of the guest rooms. We loved our room's whimsical design with so many different feminine patterns in vernal green, black, and white, I felt like we were sleeping in the pages of a Mackenzie-Childs summer catalog . There are more luxurious choices than the Viking in Newport, but the hotel's indoor pool and stroller-accessible location to shops and attractions give it an edge. The basement also has a small gym and a spa.
One Bellevue, the hotel's restaurant, offers a lovely afternoon tea that is perfect for children compared to the many antique and lace-filled tea rooms scattered in downtown Newport. My daughter and I were one of many girls and their mothers out for a special day. I was unable to photograph the excellent homemade truffles because we ate them too quickly.
We were hosted for tea by the Hotel Viking, yet my opinion on the experience is my own.
Shopping & Eating
From the hotel, it is easy to walk to some good shopping. Don't miss the Groovy Gator on Thames Street for playful and chic children's clothing. In addition to great designers like Morgan & Milo, Pink Chicken, and Tooby Doo, there are in-house creations that we loved. My daughter grabbed a cheery puffy chevron skirt and dress, and they became her favorite pieces. Closer to the hotel is a more traditional clothing and toy store, Mimi's for Kids, that carries staple brands like Tea Collection and Zutano and is better to buy for babies and toddlers.
If your kids are older you can eat out easily, Fluke Wine Bar & Kitchen and 22 Bowen's Wine Bar and Grill are excellent dinner choices within the hub of waterfront activity at Bowen's Wharf. If you are still in toddler territory, the Newport Hyatt's restaurants are a safe bet and welcome families where there are even seasonal story times and activities for children. For breakfast in town, we like the Corner Cafe on Broadway, as do locals, so expect a wait at peak times.
Newport has many activities for families throughout the year. We'll continue to inspire you to visit with future pieces, but check out Discover Newport's resourceful site to plan your own family break.