Romance and Family Fun at Langham Chicago
A winter break in Chicago? Well, it may not sound like the most obvious choice, unless you live in Boston, which I do. As Boston had been experiencing near record-breaking snow levels, Chicago felt balmy walking down its naked sidewalks.
My husband and I had some catching up to do. We were celebrating our 9th, 10th, and 11th wedding anniversaries. Couples with young children might understand how planned celebrations often fall apart at the last minute. We were determined to have as much of a romantic weekend as possible, knowing that we were a party of three. And I mean three in all that age's glory, as my  son's specialty is foiling romance or private conversations over 90 seconds.
Mies van der Rohe at the Langham Chicago
Our destination was the Langham Chicago, (check your dates for rates) which had just been voted the top hotel in the United States by the users of Trip Advisor. The hotel consists of fourteen floors of IBM Plaza, the landmark building that was the last project of legendary Mies van der Rohe.
I was very intrigued by the smaller sitting area in the ground floor lobby, and I am disappointed that I didn't photograph its beautiful marble sculpture. I have since learned that Chicago interior designer Dirk Lohan, the grandson of Mies van der Rohe, used family pieces to decorate this space.
From the moment we entered their front doors the hotel's very personable service felt exceptional. In addition to the bell staff, there are greeters, like at an Apple store, ready to steer guests to the second-floor lobby, restaurants, or spa.
A father of modern architecture, van der Rohe is known for one of my favorite sayings of design, "Less is more." I am not sure, however, what he would think of the Langham Chicago's stunning, sun-filled lobby on the second floor. With a tasteful rainbow of large glass droplets in metallic and marine blue suspended from the ceiling and river views from every direction, it's beautiful and an indulgent experience for the eyes.
The Downton Abbey Afternoon Tea
I looked around the crowded lobby to see women dressed in elegant period costume sunning themselves near the windows. They were there to enjoy the Downton Abbey Afternoon Tea at the Pavilion Lounge. The Langham's interior design alone would motivate many to dress as Lady Mary or the Earl of Crawley, but the Langham can also boast a pedigree that few can, as their London property was the first hotel to serve afternoon tea in 1865.
At check-in the concierge presented my son with an adorable cloth backpack, adorned with a teddy bear prince, foreshadowing the royal treatment he was about to receive. Inside was the signature pink Langham car, a gingham teddy bear and a teddy bear pin to wear. "Mommy this is for you, I think," he said, clueless to what a pin was.
The Club Level Experience at the Langham Chicago
Those staying on the club level get to be guests of a smaller, more exclusive hotel within a hotel. Many people enjoy club level for the food, but the Langham Club in Chicago is more than that. Run by the hotel's butlers, the Club experience at the Langham is extremely personalized. Carlos, the head butler, wants to know what you are celebrating, how old your kids are, and how he can make your stay exceptional. After answering a few questions, he and his team got to work. He asked if my son liked the film Frozen, and, of course, every three-year-old does. As his sofa bed was getting made during turn-down service, Carlos delivered a beautiful balloon bouquet, Olaf cupcakes, a cheese platter, and red wine for us. It was a perfect welcome to Chicago.
The Club Lounge on the top floor serves a full breakfast, afternoon tea, and evening hors d'oeuvres with wine and cocktails. I am a cupcake snob and don't enjoy most. But their mini Nutella cupcakes were probably some of the best I have ever tasted. They were so good, we went back for seconds just before they cleared them. My son ran; I walked briskly.
Suites at the Langham Chicago
The hotel suite's standout feature was its bathroom, gorgeous mink-colored marble with a cream marble centerpiece. Even my bath-hating son took three bubble baths during our two-night stay. Once Carlos and Daniel had confirmed we were awake the following morning, they delivered a morning anniversary treat, a glazed red velvet donut with a champagne candle from a local favorite named Glazed and Infused. Having spoken with my son the day before, Carlos learned he loves Mickey Mouse, so he brought sparkling water served in a flashing red Mickey Mouse glass and his own glazed donut. This was better than Disney World—for all of us!
The Children's Suite at the Langham Chicago
You'll wonder if the Langham Chicago has been peeking at your fantasy playroom design ideas from Pinterest or Houzz. Why can't every city hotel have a Children's Suite like theirs? Toys, activities, books, board games, even a large television to show a movie were spread around a room with rainbow rugs and kites hanging from the ceiling. The room is not staffed, so a family will usually be alone and can watch their kids play while reading the Sunday Chicago Tribune. Although we didn't ask, I am sure we could have had room service deliver us a snack or a pot of coffee to pass away a cold or rainy morning blissfully.
If that was not enough, the Langham also has a Cinema Suite. There are regularly scheduled movies on Friday and Saturday, and other showings can be made by request with advance notice. Carlos showed our son how to recline his seat, and Tommy brought us fresh popcorn for our screening of Finding Nemo. The definitive film of traumatized and anxious parents wasn't the most romantic option for our anniversary, but we sat in the back row holding hands. My other favorite quote by Mies van der Rohe is "God is in the details," and I think he would have gladly agreed that the Langham Chicago understood and celebrated his meaning.
Dining at the Langham Chicago
For more adult celebrations, there's Travelle, a David Rockwell-designed restaurant with an open kitchen. I had the restaurant's signature "Seacuterie"— a wonderful platter of octopus, taramasalata, olive tapenade, smoked whitefish and grilled sourdough bread. Separated from the restaurant by a glass wall filled with the wine collection is a lounge with live music that looked really appealing.
The Chuan Spa in the hotel was granted the 2015 Forbes Five Star Award for spas— and was the only spa in Chicago to receive it. Influenced by Traditional Chinese Medicine, the spa offers some novel experiences like a Himalayan Salt Sauna and heated, vibrating relaxation loungers. Even if you are a spa addict, there will be something new to try here. The pool area is beautiful and offers family changing rooms in addition to men's and women's locker areas (where children are not allowed). The health club has studio space for two daily classes, too.
The one thing I regret not trying is the ice cream and liquor menu in the Pavillion Lounge at night. Again, you may not think ice cream in the winter in Chicago is a great combination, but just to understand what some of their concoctions look like would make it worth ordering. The menu describes  "the Aviator" made with gin, Creme de Violette, Luxardo maraschino cherries, lemon sorbet, Burgundy cherry ice cream, violet ice cream, candied violet petals, Amarena cherries, candied lemon peel, and whipped cream. Would someone please photograph this for me?
If you have younger children, the Langham Chicago creates a whole new experience: a city resort. With the playroom, cinema, swimming pool, and numerous visits to the Club Lounge for snacks and treats, we wouldn't have cared if it was thirty degrees below zero outside. The Langham Chicago knows the best way to offer a romantic and memorable stay for parents is to wear out their little ones.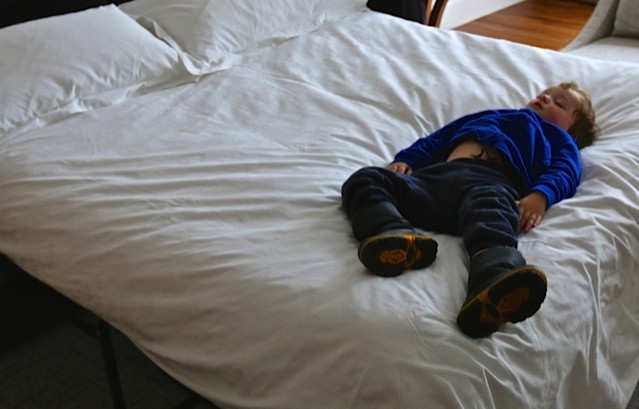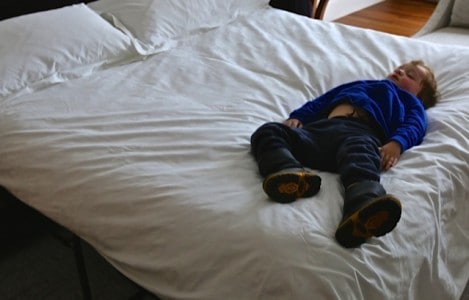 Although we were hosted by the Langham Chicago, the opinions expressed in this article are my own.
Check your travel dates for prices.