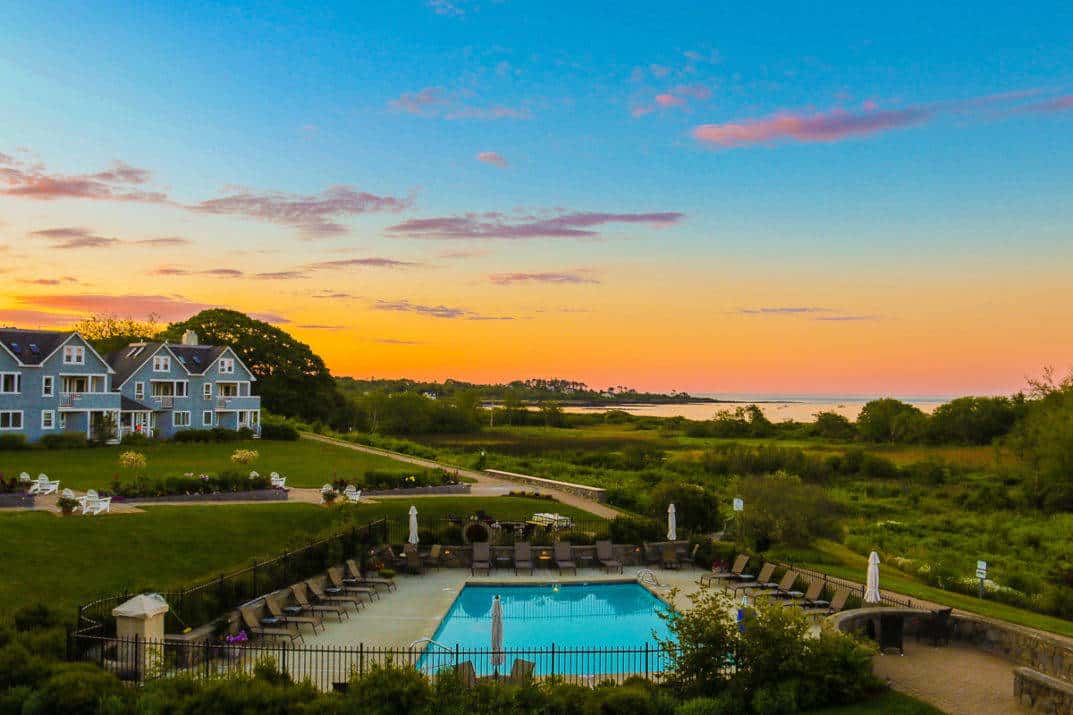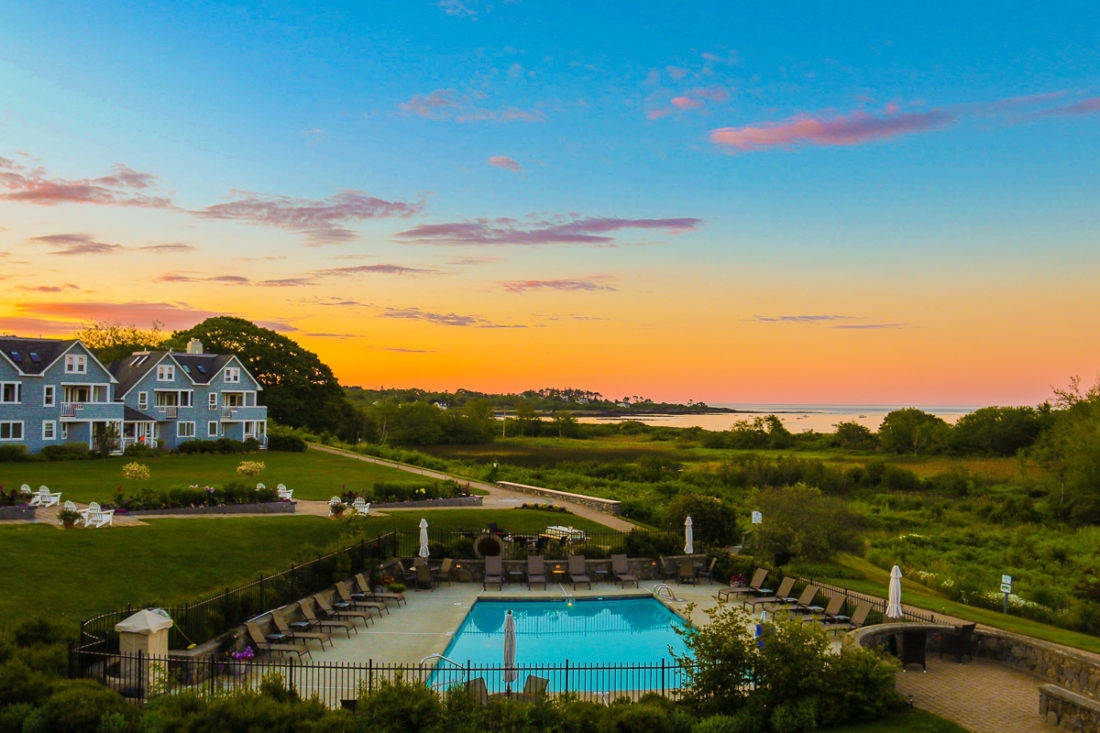 When I think back of all of the places we explored in New England this summer, I have a very deep soft spot for the Inn by the Sea, just south of Portland, Maine in an area called Cape Elizabeth.
I'd never been to Cape Elizabeth, which is a charming community filled with Maine summer residents and Portland commuters. The Inn by the Sea  is located next to a strawberry farm that was welcoming its first pick of the season, and its location on Crescent Beach is flawless. Southern Maine beaches are sandy, not rocky are peaceful and filled with birding opportunities.
I had a quick staycation with my two kids at the end of June the day after school got out. My goal was to kick off summer, slow down and connect with them after those final few meters to the end of the school year finish line that we finally cross—either limping or crawling.
I genuinely cherish the ability that travel has to connect us as a family on a deeper level without the distractions of our everyday lives. The Inn by the Sea, a Preferred Hotel, was a perfect destination.
By the Sea
The resort's building is a subtle U-shaped structure facing the direction of Crescent Beach. Framed by the building is a great lawn with a heated pool, a fire pit for nightly s'mores and live music, and games like croquet and beanbag tossing. In fine weather, the view from the restaurant's patio seating is captivating enough to be enjoyed all three meals at the same table.
And although the water is seen in the distance, one of the magical treats of the Inn by the Sea is the path that guests take to reach the water. What starts as a boardwalk along a wetlands area becomes a dirt path though a vernal, topiary-like forest.
What actually only takes about five minutes creates a magical and transformative experience. With each step, guests' blood pressure drops, breathing slows down, and senses awaken. Even my children enjoyed this path to the beach almost as much as the beach itself. It is scenery that children's literary classics are made of.
The beaches are peaceful and quiet, and fertile with birding opportunities. My children ran to birders who were photographing some Piping Plovers, an endangered species that had recently returned to Southern Maine. My daughter poked me at the hip; "Mom, that man's lens is much bigger than yours."
Although my children found the water cold at the very beginning of the summer, it didn't stop them from playing happily in the sand for hours on end during our weekend.
The resort provides children their own birding binoculars, balls, Frisbees, and other games as part of their beach service of chairs and umbrellas. Attendants carry gear for you.
During July and August, there are special weekly activities for children and families to do like nature hikes and family yoga, but there's not an actual kids' club. The resort has a babysitting service they can arrange for guests, too, for parents to escape to the spa or have dinner alone.
We were so lucky to be staying at the hotel on the first strawberry picking at neighboring Maxwell's Farm at the end of June. It is an incredible unplugged vacation day to have an breakfast with ocean views, walk on the beach, pick strawberries, swim, have lunch, repeat. My kids loved the nightly s'mores buffet, as well.
Family Rooms
Rooms at the Inn by the Sea are incredibly generous in size with many duplex lofts and suites. There are less than 100 rooms at the resort, so it's intimate. Our dual level suite was perfect for our family given that I was traveling with both children alone, with two queen beds in the upstairs bedroom and a sleeper sofa downstairs.
Some couples definitely prefer having a door they can close at night and those are also available on property; ask the hotel's reservation agent for specific assistance. There are two bedroom units as well as pet-friendly units for longer stays.
Our room included a kitchenette with microwave, refrigerator, and expansive bathroom that was at least 300 ft. My children asked for multiple bubble baths, an unusual request.
The scale of the bathroom inspired my children to want to play "day spa" so they set up a multi-sensory experience for me, sending me downstairs as my daughter prepped the bedroom and bathroom with soft music, low lights as they both squeezed every ounce of the hotel's lotion sample on my feet.
Their desire to pamper me was moving and so sweet. I credit the Inn by the Sea for putting me in such a delightful mood that my children thought I deserved such special attention. And while my four-year-old has yet to show any promise a reflexologist, I found his, "Mama, how did you like your treatment?" question to be one of my favorite summer memories from the trip.
Dining at Inn By The Sea
The on-site restaurant, Sea Glass, is a foodie destination in the area for a reason. Our meals were wonderful showcasing many local ingredients strawberries, tomatoes, and —of course—lobster. My children were always able to find healthy choices they liked, too.
Room service was interesting in that it presented meals in a unique bento box type of service that they use to facilitate carrying the meal trays. My children found that food that comes in its own trays simply tastes better. Who knew?
Spa and Wellness
Yoga classes are available out on the lawn many summer mornings, and I confess I enjoyed watching their sun salutations from my balcony in my robe with coffee in hand.
The Inn by the Sea has a spa on his bottom floor that offers excellent massages facials, and an adjacent fitness studio. The spa specializes in 90-minute ocean inspired treatments using products with sea ingredients. The gym facility is small but outfitted with a state of the art on demand video training system.
Really, really pet-friendly
The Inn by the Sea has taken pet-friendly to a different level.
The Inn is crazy about dogs. If your family has a dog this place may treat your fur baby so well that your kids will get jealous with their own welcome amenities.
The Inn by the Sea has a wonderful foster program with the Animal Refuge League of Greater Portland who sends dogs to live at the hotel until a guest adopts them. The guest dogs stay behind the front desk in and get walked outside collectively by the staff and guests who ask.
Many guests arrive with one dog and end up leaving with two, or those who live in the area frequently come to Sunday brunch knowing that there is a chance of coming home with the new family member. The Inn by the Sea has found nearly 100 homes for shelter dogs in this program.
My children took Otis a lovely little dog out on the lawn to play, and we were happy to learn that he was adopted by the end of the week.
If only I could convince the Inn By the Sea to adopt us.
Check your dates for rates.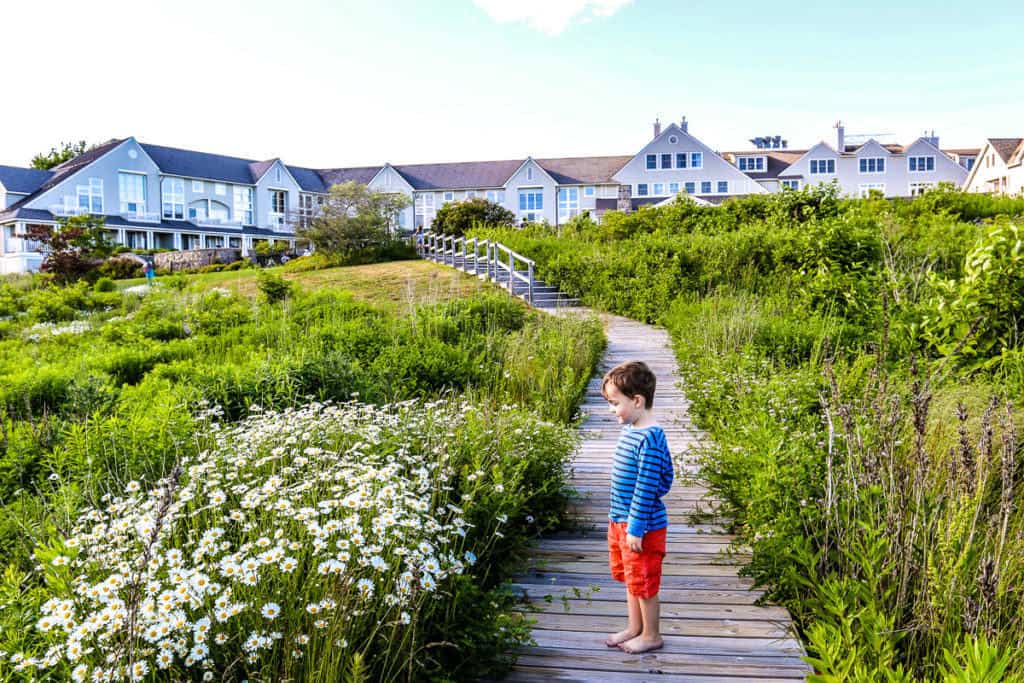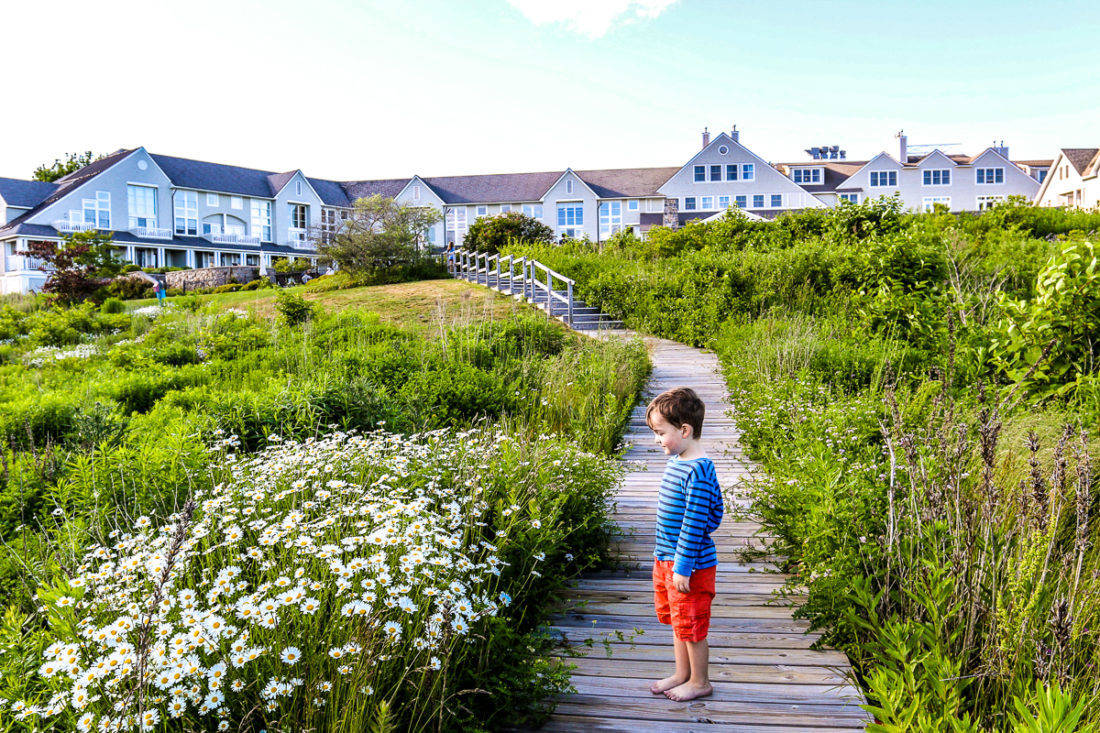 Although we were guests of the Inn by the Sea, these opinions are entirely my own.