Nostalgia. It's what we often crave in a beach vacation. Drippy ice cream cones and sandy feet remind us that summer is a state of mind. The American seaside vacation takes many forms—five-star suites at sprawling resorts, Carolina beach shacks or shingled inns on the coast of Maine.
But for a vacation that captures the pure nostalgia of an Americana beach vacation, combined with the utmost in luxury, nowhere on the East coast comes close to Ocean House in Watch Hill, Rhode Island. Fans of The Breakers in Palm Beach will feel right at home at the Ocean House.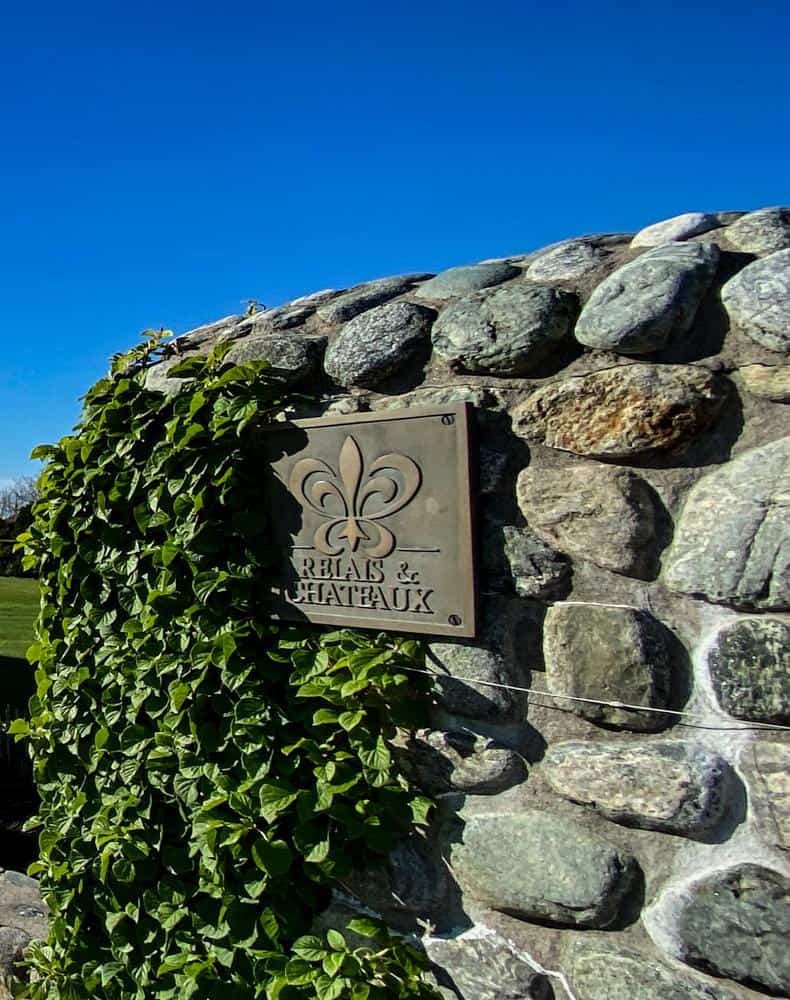 With Newport's extensive choices of iconic hotels, it's worth noting that Ocean House is the state's only Forbes Five-Star and AAA Five-Diamond hotel. With miles of rocky shoreline, the area boasts some of the most scenic coastline in New England. Taylor Swift—who could arguably summer anywhere—owns one of the cliffside mansions adjacent to Ocean House. The guard who paces the circle drive behind the gate will give her address away. Or maybe it is the unscalable mountain of rocks down to the shore along the back of the house? (I'm not saying I tried to climb them. Just to be clear.)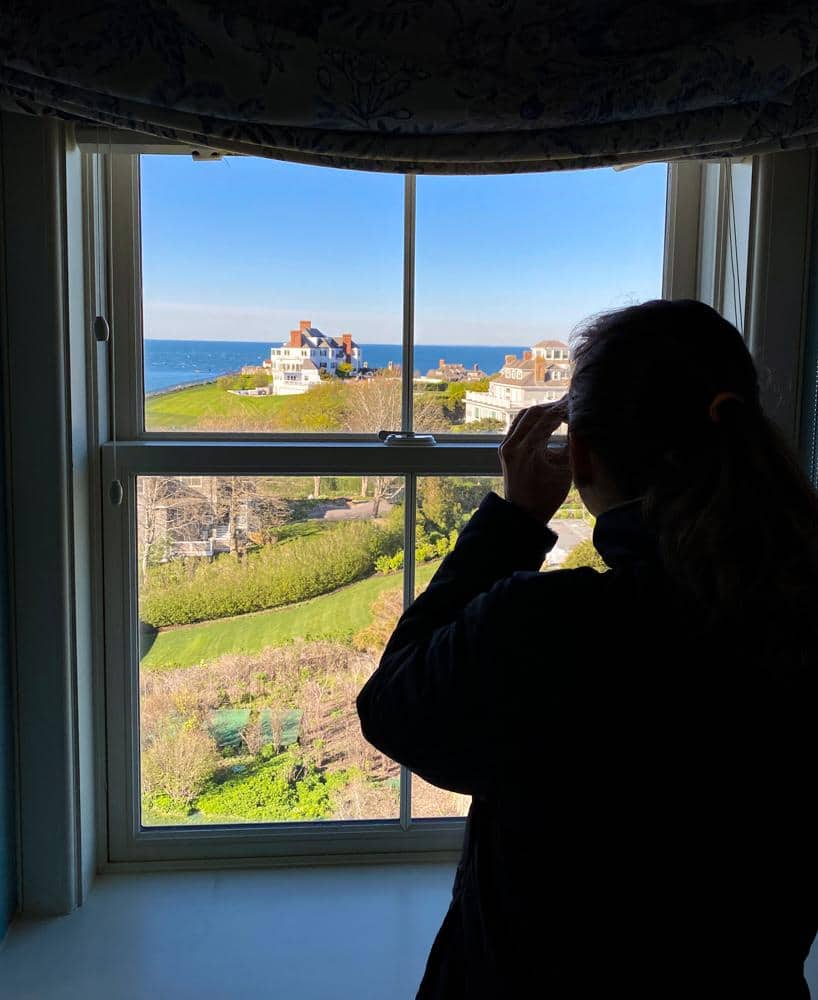 JOIN OUR LUXURY HOTELS & RESORTS FOR FAMILIES,
A FACEBOOK GROUP FOR SEEKING ADVICE AND INSPIRATION
FOR THE BEST LUXURY FAMILY BREAKS.
Where is Ocean House?
Forty miles southwest of Newport and open year round, Ocean House is perched on the bluffs of Watch Hill. Overlooking Block Island Sound and the eastern most tip of Long Island, many guest rooms have spectacular Atlantic views.
Ocean House's beachfront location is only forty minutes from the Providence airport. Two hours from the Boston airport, or three hours from New York City, it makes an easy starting point for a New England vacation. The hotel can arrange airport transfers from the Providence airport, or car rentals for exploring the greater Newport area. We loved making use of the house fleet of Mercedes, however, if you want to skip the rental car.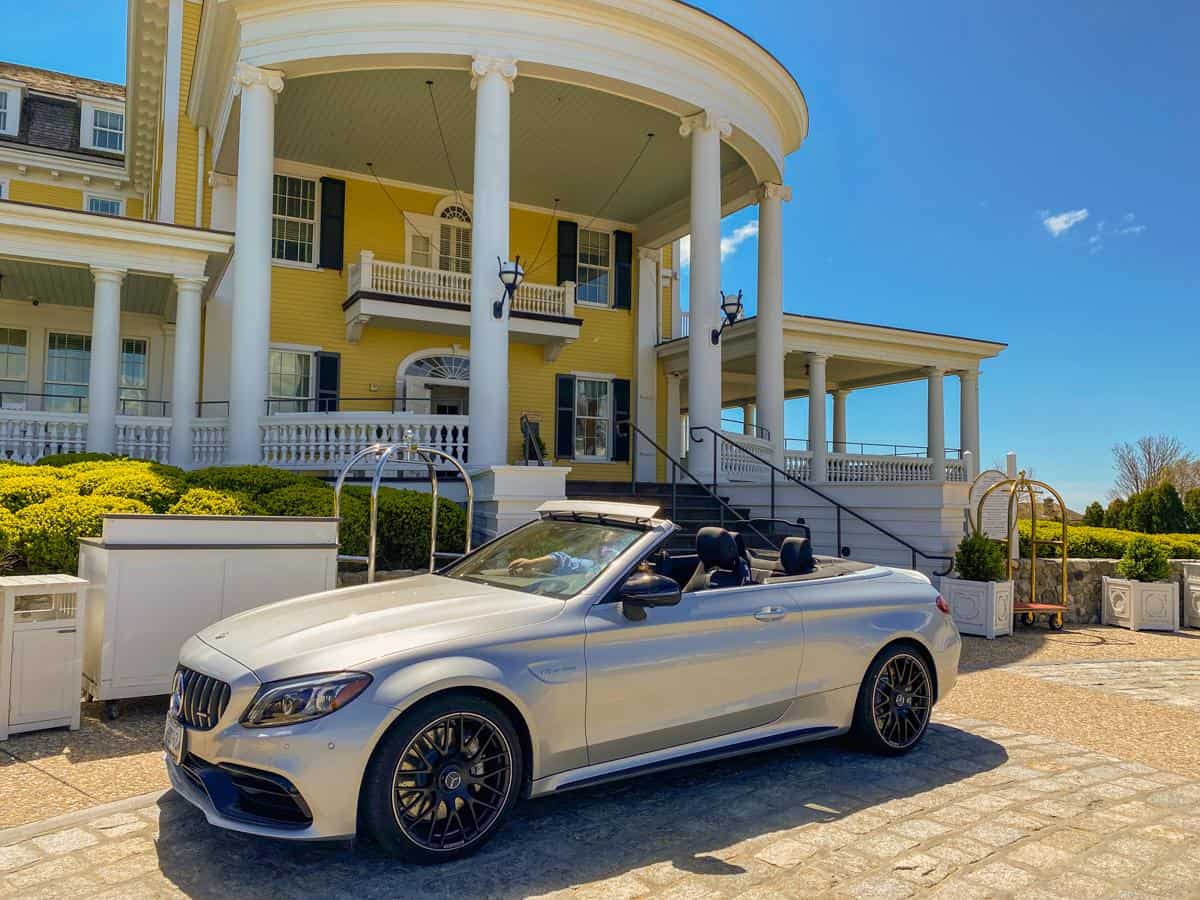 The area of Watch Hill is small but charming; known mostly for spectacular second and third homes. A downtown strip of a dozen stores and casual restaurants are ready for a browse. The highlight of downtown Watch Hill is the vintage flying horse carousel. It's vintage quality is complete with sticks to try and catch the rings.
Details of Design
The design details of Ocean House speak to the resort's commitment to history and craftsmanship. Originally built in 1868 just after the Civil War, Ocean House was a respite for wealthy city dwellers, welcoming families like the Astors and Vanderbilts with its sweeping vistas and immaculate championship croquet courts that remain in use for area enthusiasts.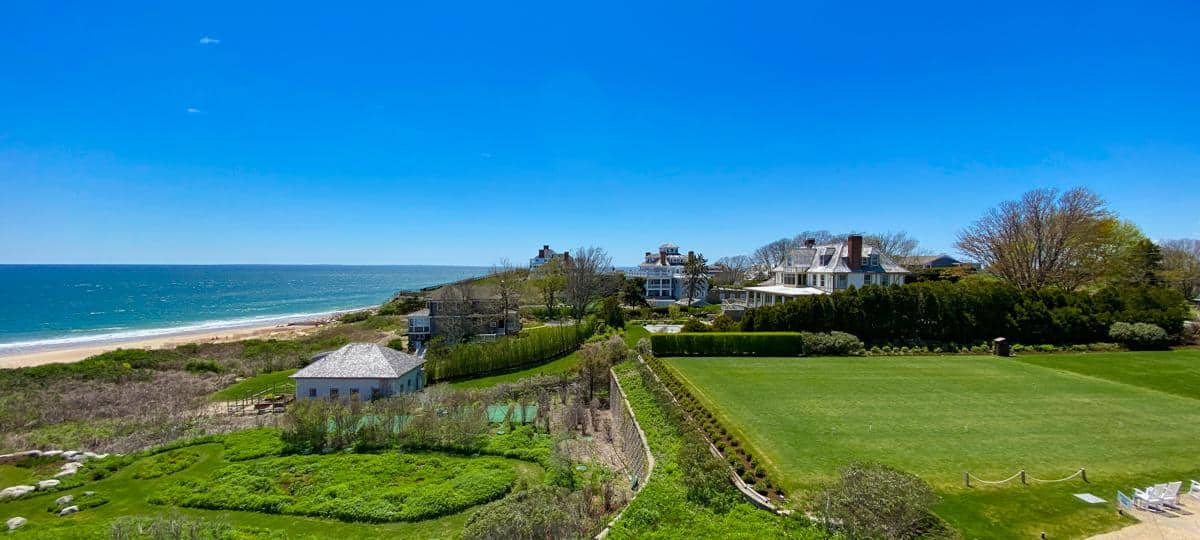 The hotel was a revered New England summer destination for more than a century until it fell into disrepair and finally closed. The original Ocean House building was demolished in 2004, but the new owners spared no expense in replicating the original grand Victorian hotel's structure, investing more than $140 million to rebuild it exactly as it once was and preserve it's timeless elegance. While staying, I never realized I was in a new building. I thought I was in an immaculately restored historic property.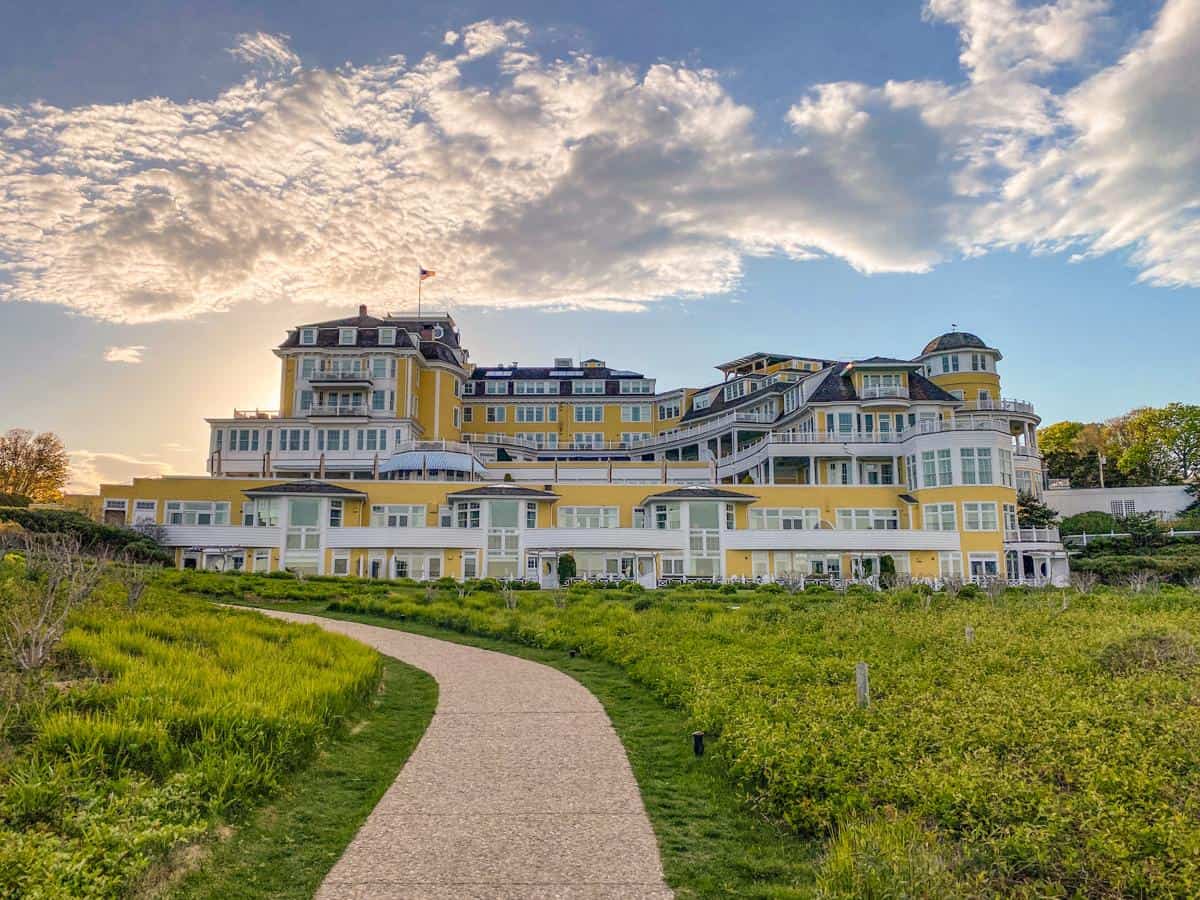 With the same yellow exterior, the lobby's stone fireplace, and even the same antique mail slots at the front desk, it's clear that the rebuild honors details from the original New England seaside resort while simultaneously adding modern amenities.
The Ocean House offers uncompromising service from the moment you arrive. The lobby is not large, but a peak at the upscale boutique or the guests sipping their cocktails on wrap-around verandahs gets one in vacation mode quickly. While settling into your room, a bar cart arrives with a choice of a complimentary glass of wine or a daily signature cocktail.
Ocean House Suites and Rooms
Options at Ocean House range from traditional hotel rooms to residential suites to rental homes. Hotel room décor is classic New England 20th-century décor in muted neutrals, blues, or yellows and with custom wood furnishings and coastal artwork in the forty-nine rooms and suites. Families would be best suited to book rooms in the Deluxe category or above, as Traditional rooms only sleep two. Deluxe waterfront suites are worth the extra cost, as many come with balconies and ocean views of the Atlantic.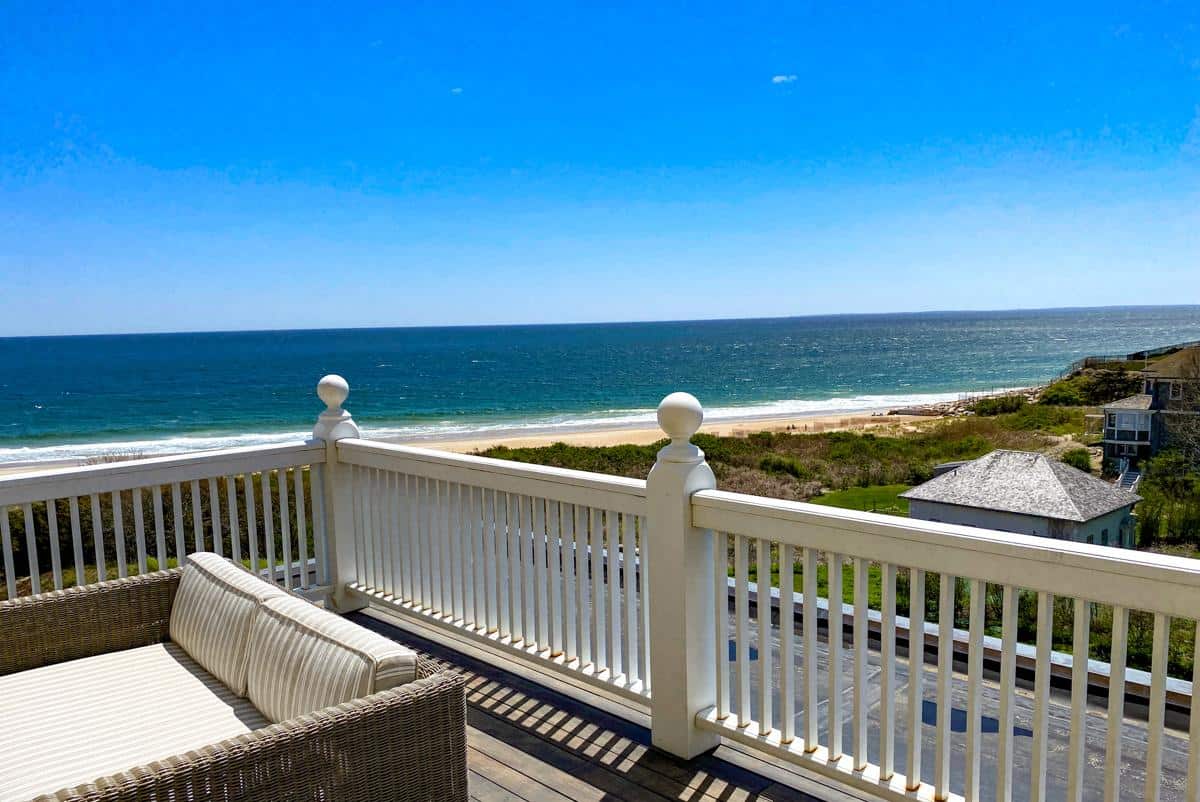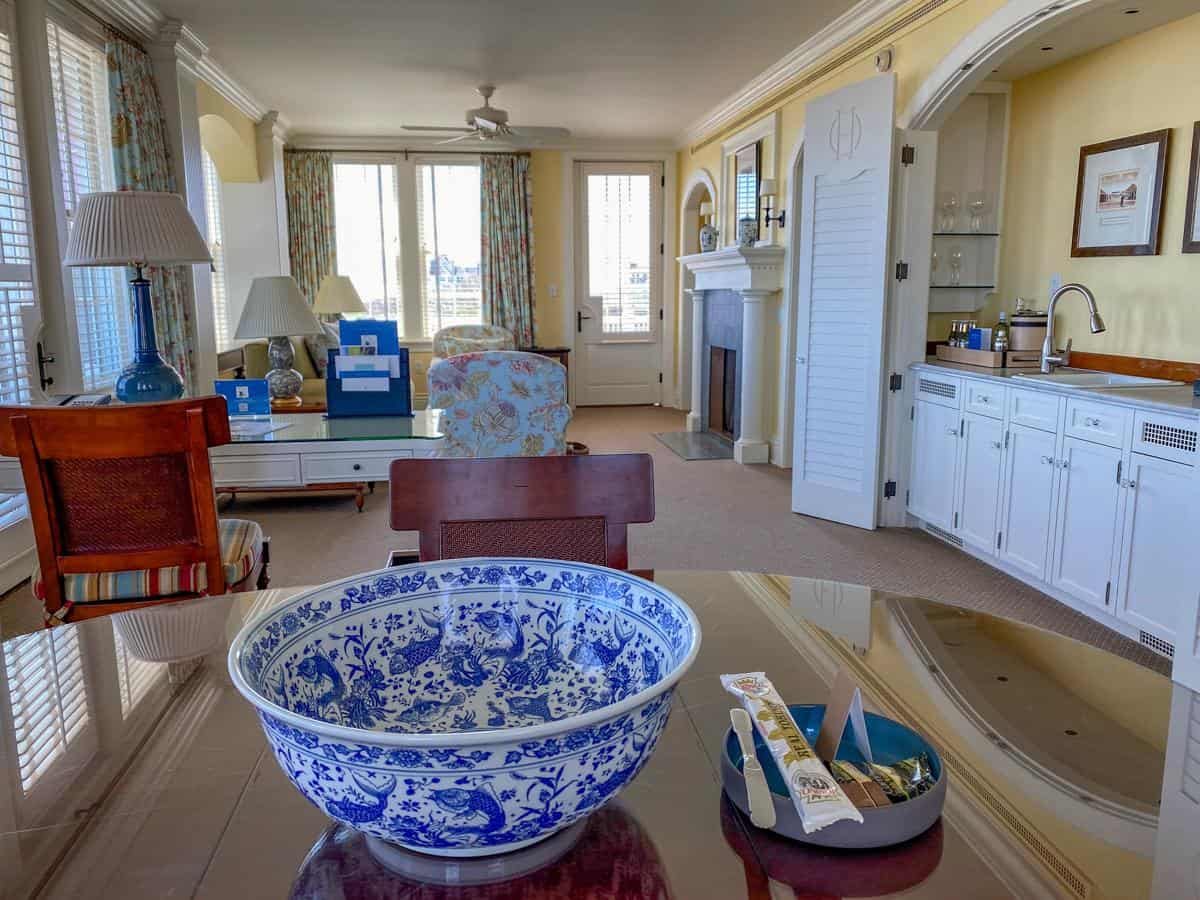 But the real fun begins when booking one of the twenty signature suites at Ocean House for the ultimate beach vacation in New England.
Ocean House Signature Suites
Signature suites are individually decorated and range from studios to three bedrooms. Every signature suite offers a private living and dining area. One of the most indulgent suites at the Ocean House is the Tower Suite, a four-story suite with spectacular sea views and a spiral staircase that leads to a widow's walk.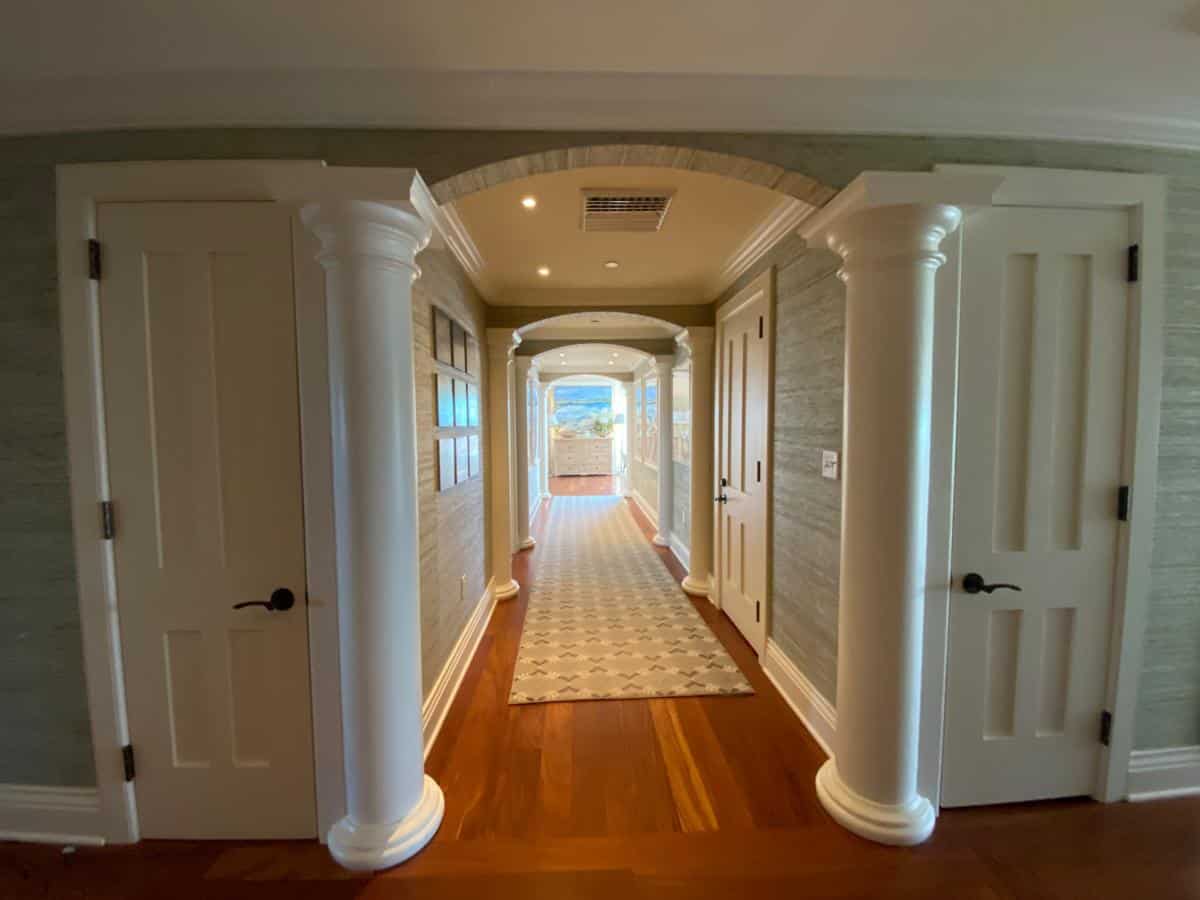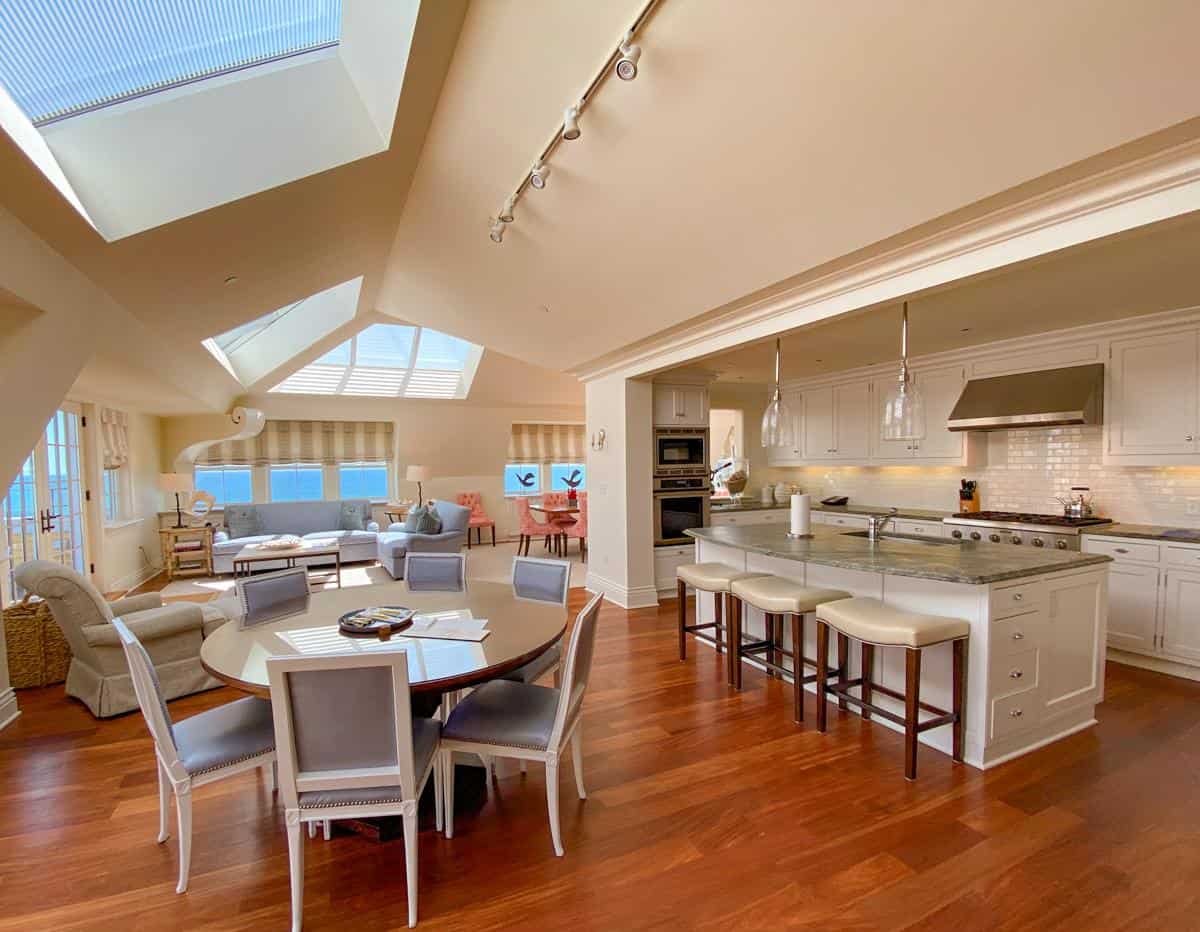 The Penthouse Suite has a self-playing piano inside and a three season room outside on its massive rooftop terrace to entertain your friends for a luncheon or poker night. There's also an outdoor kitchen and dining area and private hot tub.
There's a signature suite to fit every design style.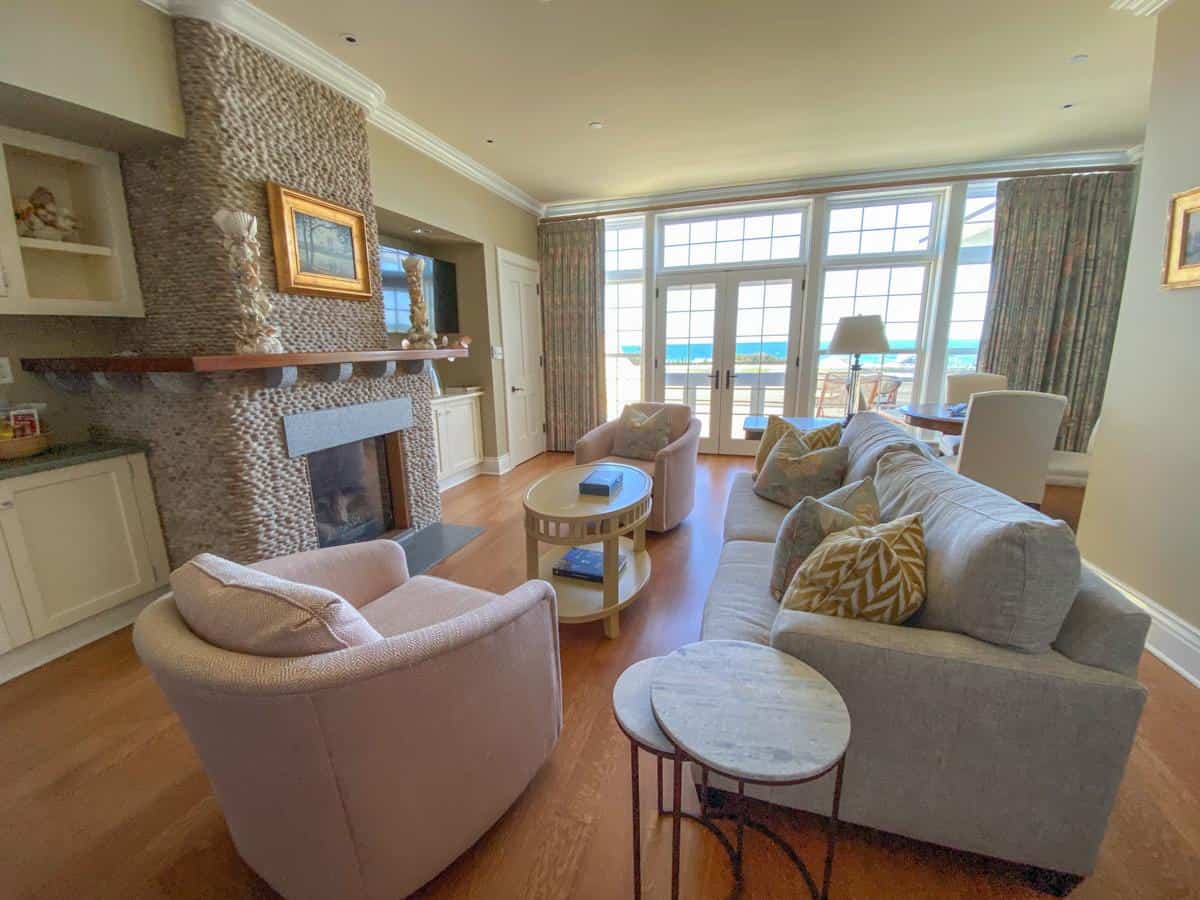 Families love the Dune Grass Suite for its two bedroom layout with a charming kids bunk room. Luxe Recess helps many families book these suites, but a word of warning. If you'd like to book one for a week in July or August, reach out to us the November prior to secure availability.
The nine standalone beach cottages range in size from two-bedroom bungalows to seven-bedroom homes, some with private terraces and pools. Cottages come with personalized concierge service, yet still have full access to the resort's amenities, as well as the amenities of the nearby Weekapaug Inn.
Ocean House Restaurants
Ocean House features the Forbes five-star Coast Restaurant for fine dining. Their fixed-price four-course menu sourced from local farms. For more casual meals, year-round options include The Bistro, a cozy brasserie serving steaks, burgers and French-inspired classics.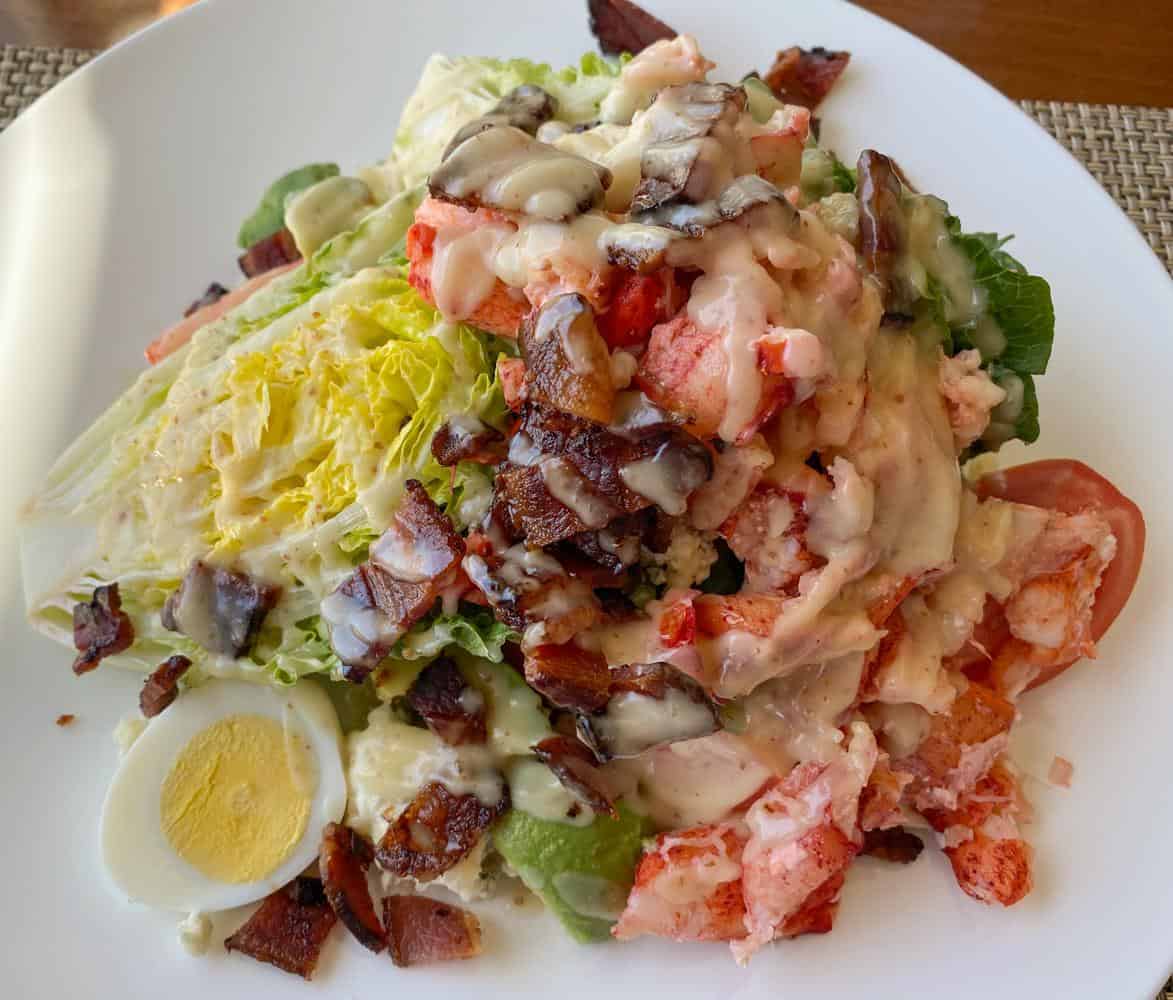 Guests staying in signature suites also have access to the members-only Club Room at The Bistro, a private dining room with wood-paneled walls, a fireplace, and an intimate outdoor veranda.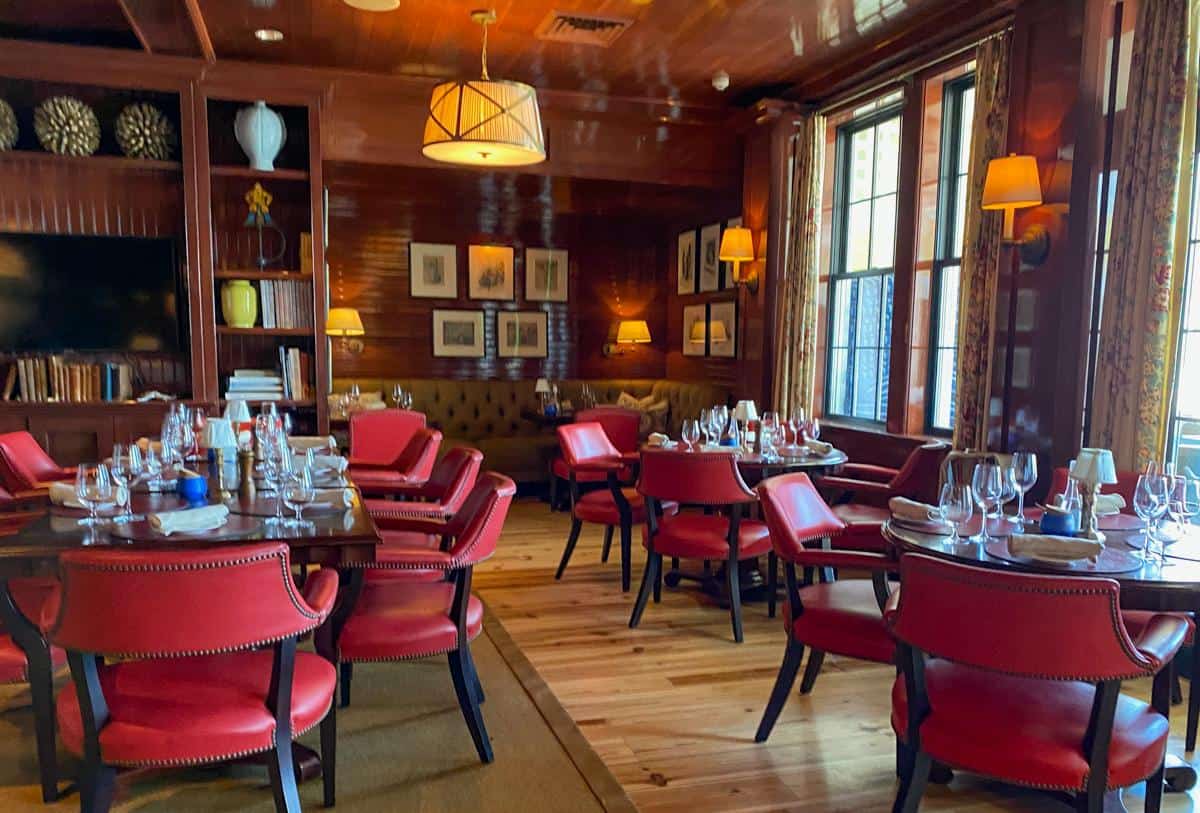 In the summer, the dining scene at Ocean House truly comes alive with a Friday night lobster boil on the beach, and pop-up dining experiences like Dalia by Danton Valle, a contemporary Mexican restaurant.
There is also a seasonal café, Below Deck, that serves ice cream, fountain drinks and gelato. The hotel's large Verandah restaurant transforms to a lively raw bar in the evenings and Dune Cottage, a beachfront restaurant on the sand, serves Mediterranean cuisine and summer staples like Lobster Cobb Salad and small plates.
There is such a variety of cuisine you're sure to find something scrumptious. The in room dining options are also excellent with a creative bento-style option from the culinary team.
Couples Recreation at Ocean House
The hotel's mission is to 'pay homage to New England's golden age of hospitality when guests could take tea on the veranda or sip champagne while playing croquet. It's not unusual to see guests strolling the lawn before dinner or reading fireside in the lobby during the off season.
This is a hotel and resort that takes refined relaxation seriously. Attentive service and curated experiences are the hotel's calling card. There are no clubs, karaoke bars or nightlife to speak of, but the tinkling of the lobby's live pianist accompanied by the rattle of a nearby cocktail shaker encourages guests that the main goal of an Ocean House break is to simply relax.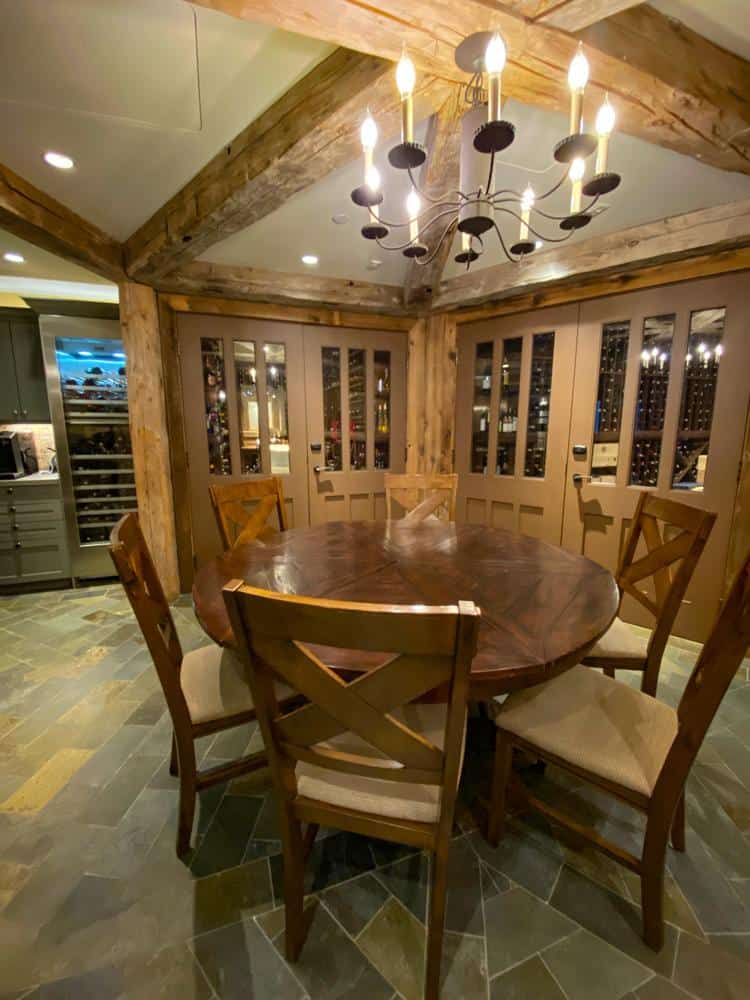 Ocean House maintains a rotating itinerary of activities during the summer season, including yoga, croquet lessons and art classes, but it's their culinary and wine programs that are most renowned.
A culinary experience might include a class on French cheeses or a private tasting and cellar tour with the hotel's sommelier. At the end of the night, unwind by the beachside fire pits or see a classic film in the screening room. For shopping, the lobby boutique offers a great selection of upscale children's clothing and toys for younger kids, and some exclusive brands in the adult section.
Bikes are available for exploring. Ocean House is also part of the Mercedes-Benz Hotel Program and boasts complimentary access to the resort's fleet of Mercedes. The convertibles, sedans, and SUVs are available on a first-come, first-served basis. We did a real estate scoping drive with the top down around Watch Hill and over to Ocean House's sister property, the Weekapaug Inn.
Family Activities
There are plenty of daily activities to keep guests of all ages busy.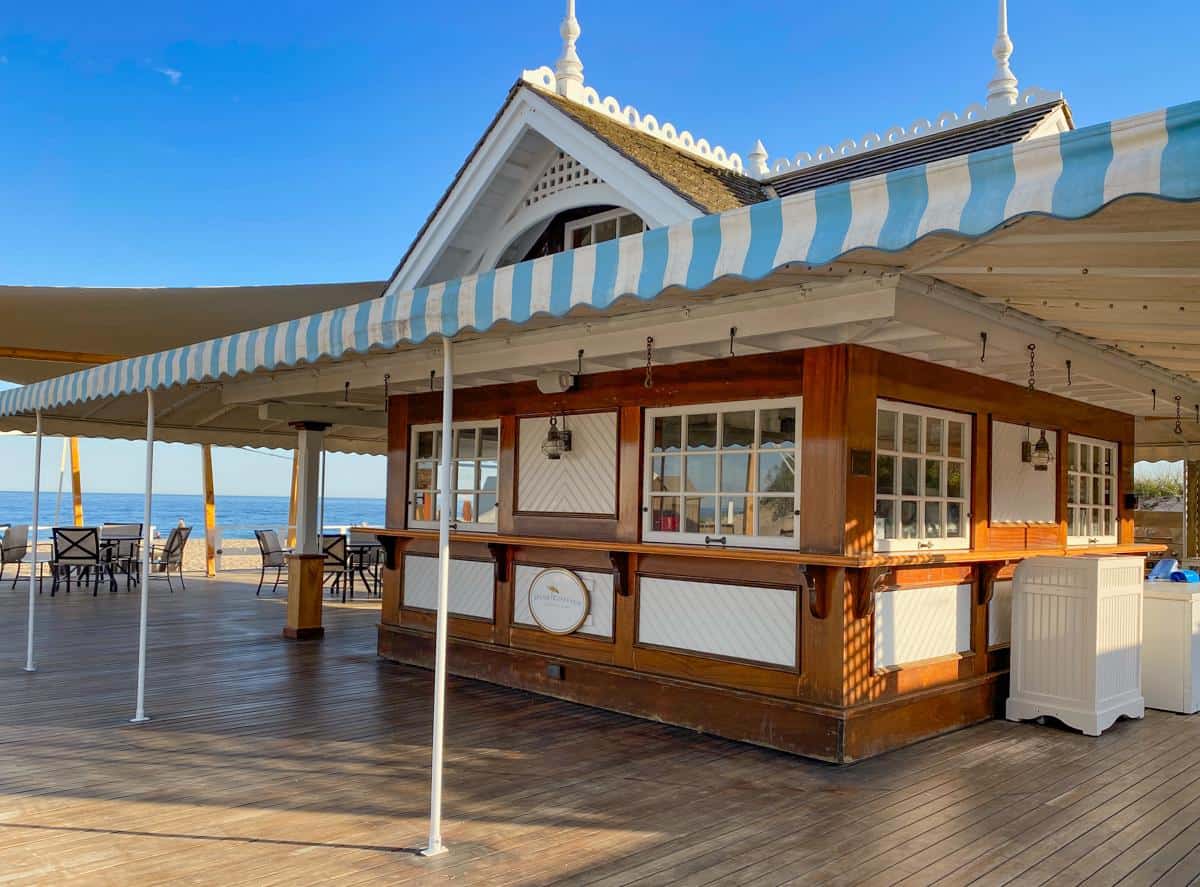 Boating enthusiasts have choices ranging from sailing lessons to excursions on the classic motor yacht, the Dandy. Surfing and stand-up paddleboarding lessons are available on the beach. Fishing charters, as well as on-shore fly fishing, are offered directly at the resort. Hotel guests have access to a local tennis club and the hotel has private racquetball courts in its basement.
During the summer, Ocean House offers a Sand Castles kids' program with morning and evening activity programming. Babysitting services are also available.
Even when the beach service is closed outside of summer, walks are still marvelous in sweaters and coats.
The Pool and Beach
The pool at Ocean House isn't a standout. In fact, it stands out because of how small it is. In the winter, the indoor pool is enclosed to be a long skinny lap pool. But in the summer, the doors open out onto a larger patio. This may entertain very young children, but most families will be spending their time at the white-sand beach.
The beach at Ocean House is spectacular and is the primary lure of the resort in the peak summer months. Long beach walks on vast stretches of sand beckon guests to linger and soak in the salty sea air.
The Weekapaug Inn
Guests of Ocean House also have access to amenities at the Weekapaug Inn (review coming soon!), a ten-minute drive away. Both properties have activities that rotate daily. Ocean House's activities tend to be more formal, such as afternoon teas and tastings. The Weekapaug Inn host a myriad of summer activities like nature walks with their on staff naturalist. A boat ride in their pond is a must. Our kids loved exploring the nearby shores by foot and by boat.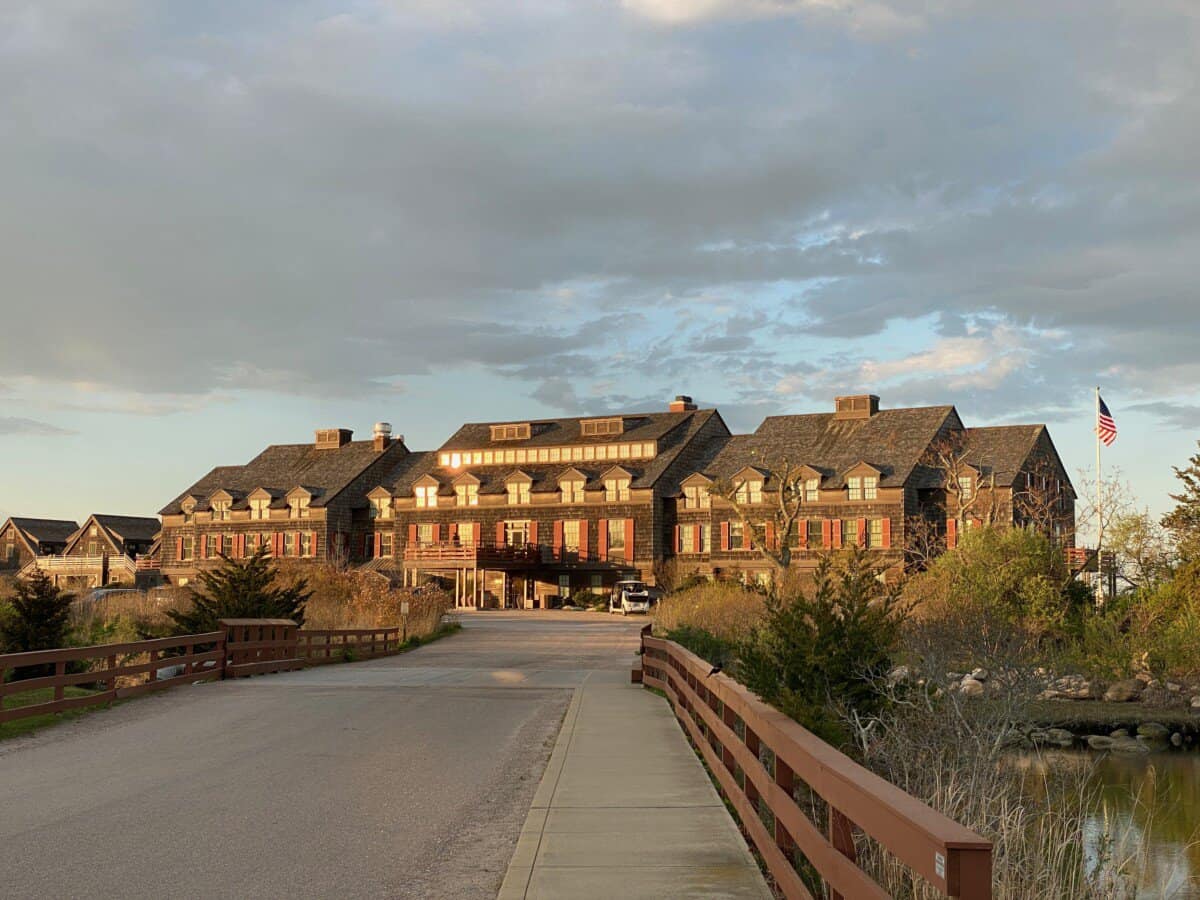 Something very important to note before booking. The Weekapaug Inn faces an enclosed pond connected to the Atlantic ocean but has no beach. The Weekapaug has an attractive full sized pool. The Ocean House lacks a proper pool but offers beach service. The pool and the beach are two amenities the resort guests do not share. So pool people may want to stay at the Weekapaug. While Weekapaug guests cannot enjoy beach service or cabanas at Ocean House, the beach is public for sand castle building.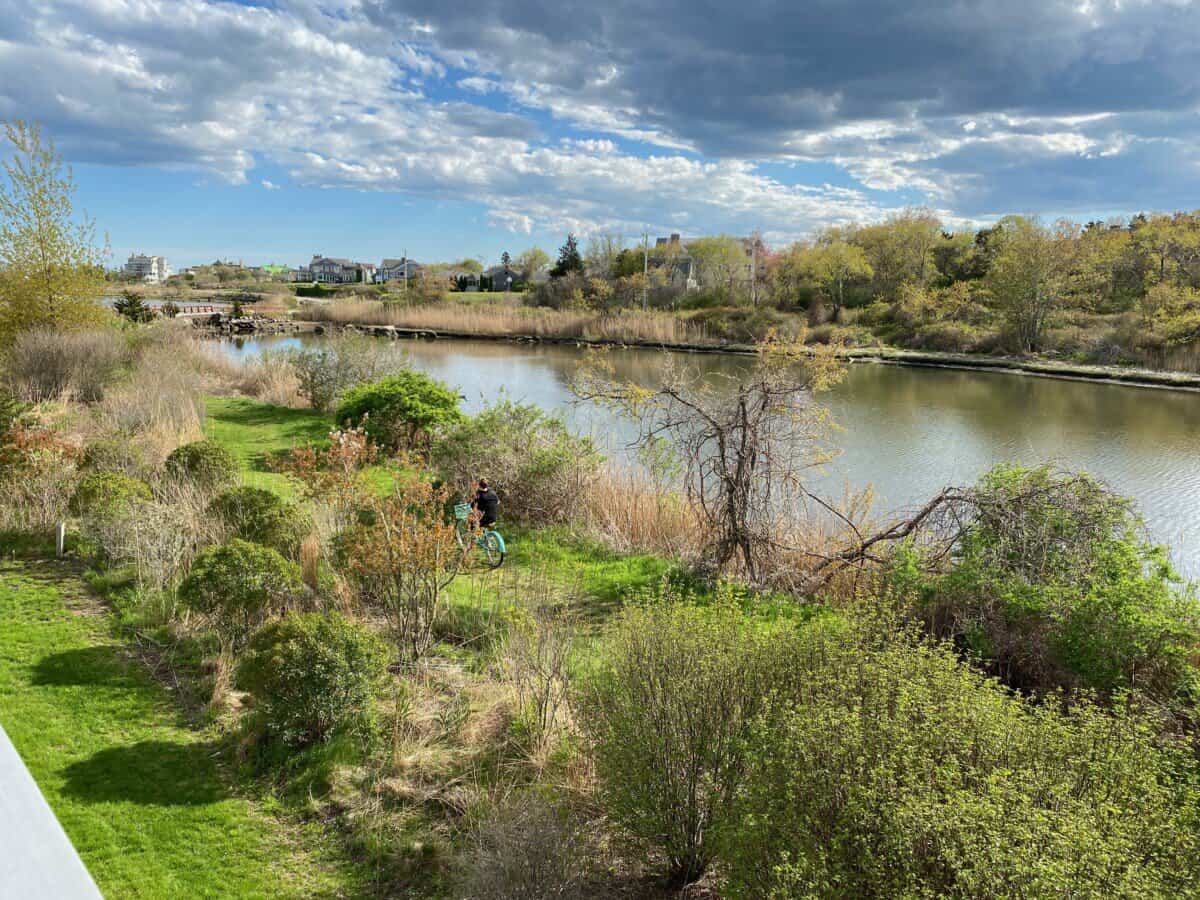 Old World Nostalgia, Modern Comforts
It's not easy for a hotel to earn the coveted multiple five-star status of Ocean House. Yet it is obvious why this hotel has such accolades. The extensive range of activities, restaurants, and the spectacular setting make it a rare destination.
Oozing a Gatsby-esque grandeur, Ocean House quite simply, feels like an invitation to another era. In fact, guests at this historic Rhode Island luxury hotel are given departure gifts that feel like favor bags from an exclusive weekend party you were lucky enough to attend.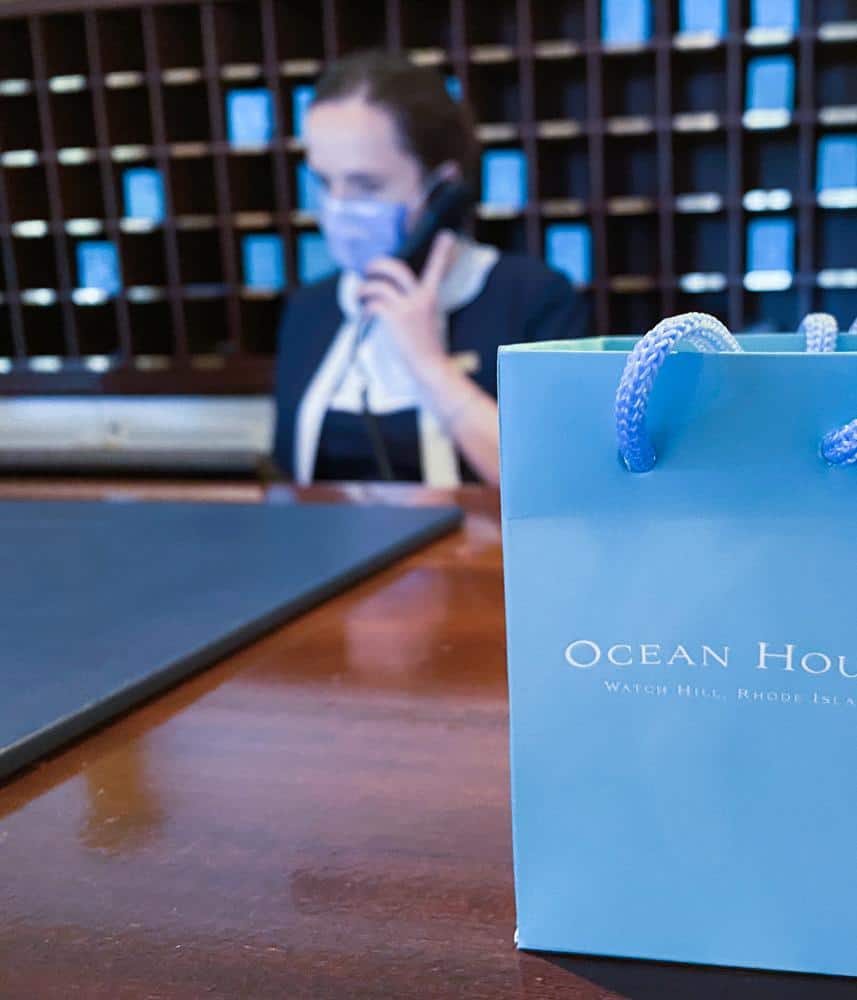 It's this attention to detail that makes the hotel so special. Ocean House's perfect blend of history, luxury, modern technology, and spectacular scenery offer not only a peek into how a beach vacation used to be, but how that nostalgia lives on, reminding today's families of how an iconic New England seaside resort vacation can be.
Booking a Vacation at Ocean House
Luxe Recess can pass along special perks to all clients from our Virtuoso agency. Enjoy daily breakfast for two adults, a resort credit, and an upgrade if available. I have seen many of the rooms and signature suites and can help you plan the ultimate triple five-star resort beach vacation. Reach out now!
Additional reporting by Katie Riley.