Luxury Family Travel to Washington DC
There are few hotels that can rival sleeping close to at the White House as well as the Hay Adams. Not only is the Hay Adams the closest hotel to the White House, it exceeds the President's residence in its hospitality and style. It has to, as it is practically the White House Annex where many past presidents have become part of the Hay Adams family.
We even watched Hilary Clinton walk past us in the lobby to film a 60 minutes interview during our 2015 visit.
The hotel is intimate, with less than 200 rooms, and it runs with commanding precision. This was as apparent to me in our easy check-in as it was with our far more complicated checkout. While collecting our bags and loading our car, the staff moved quickly and gracefully, only pausing to form a welcome line for about twenty seconds as they greeted Hilary Clinton, breezing past them with security detail in tow.
Its slogan, "Where nothing is overlooked but the White House," is apropos.
The Hay Adams History
The hotel occupies a plot where John Hay and Henry Adams were neighbors. The statesman and professor enjoyed a tight intellectual friendship, and, along with their wives, hosted the capital city's most robust salons in the latter half of the nineteenth century. The hotel maintains its legacy of intellectual conversation by offering an esteemed author series. It's worth checking to see if one of these events occurs during your stay.
Harry Wardman bought the land, razed the homes of Hay and Adams and built the current Italian Renaissance style building that became the Hay Adams Hotel in 1928.
JOIN OUR LUXURY HOTELS & RESORTS FOR FAMILIES,
A FACEBOOK GROUP FOR SEEKING ADVICE AND INSPIRATION
FOR THE BEST LUXURY FAMILY BREAKS.
The Hay Adams Family Suites
The rooms at the Hay Adams are appointed at a level that you don't often see in the US anymore; their room amenities are more like those of the most deluxe five-star European hotels. Every detail is there. Next to the shower hangs a Hay Adams ribbon-tied towel. Our non-working fireplace was filled with decorative white birch logs, and the very fancy electric hybrid toilet/bidet was modern and, um, refreshing.
The toile décor rooms in beige and ivory were calming and elegant. Etro is one of my favorite brands for home design, known for their bright, multicolored fabrics. I saw a bathroom full of hot pink and gold paisley bath amenities and giggled like a girl. Taking an Etro bubble bath in the Hay Adams while reading the Leading Hotels of the World catalog is undoubtedly my favorite convergence of brands this past year.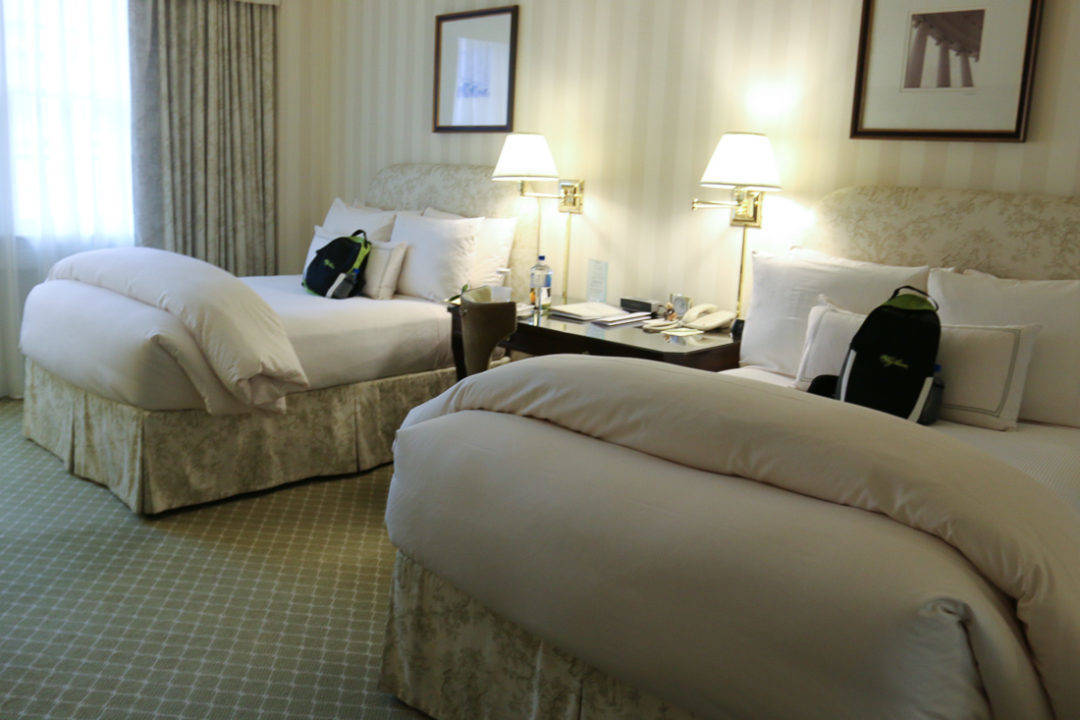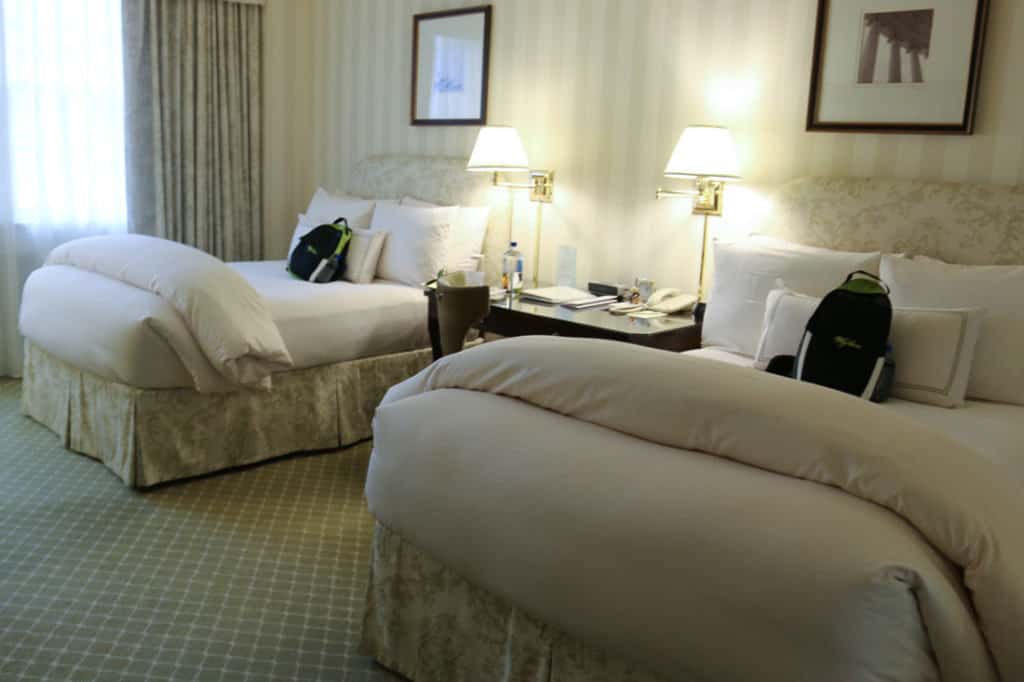 Our suite had a room with two doubles for the children and an adjoining king room for us. Their beds were adorned with Hay Adams-monogrammed backpacks, and inside were cookies, children's guides to Washington, as well as new Gap hats, scarves, and gloves for the cold front that swept through town right after days of unseasonably warm weather. A trolley pass and tickets to the Spy Museum are part of their family package, too, it being one of the few museums in Washington that charges admission.
The Hay Adams Family Package: Discover DC
Donning their new hats and gloves our kids strolled the sidewalks in front of us to the Spy Museum after stopping at District Taco for an easy, child-friendly lunch. I'd heard great things about Astro Donuts and Fried Chicken nearby, too, but we didn't feel so indulgent.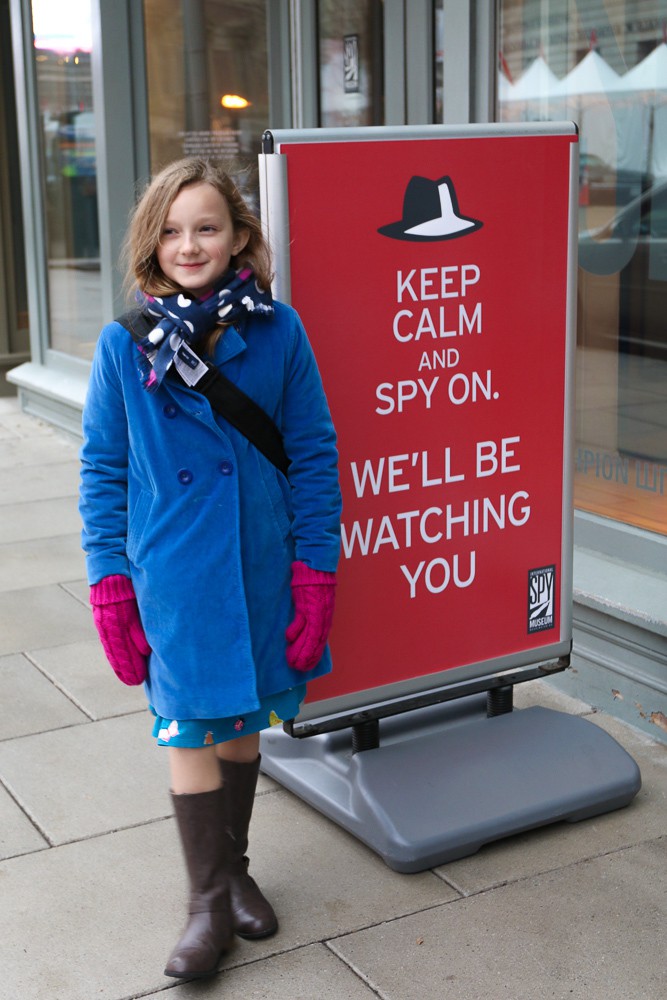 The Spy Museum was a hit with our family both for the adults and the children. Most Americans still associate spies and espionage with James Bond, and— fittingly— there is a large James Bond exhibit that takes up most of the museum that my husband and I both enjoyed.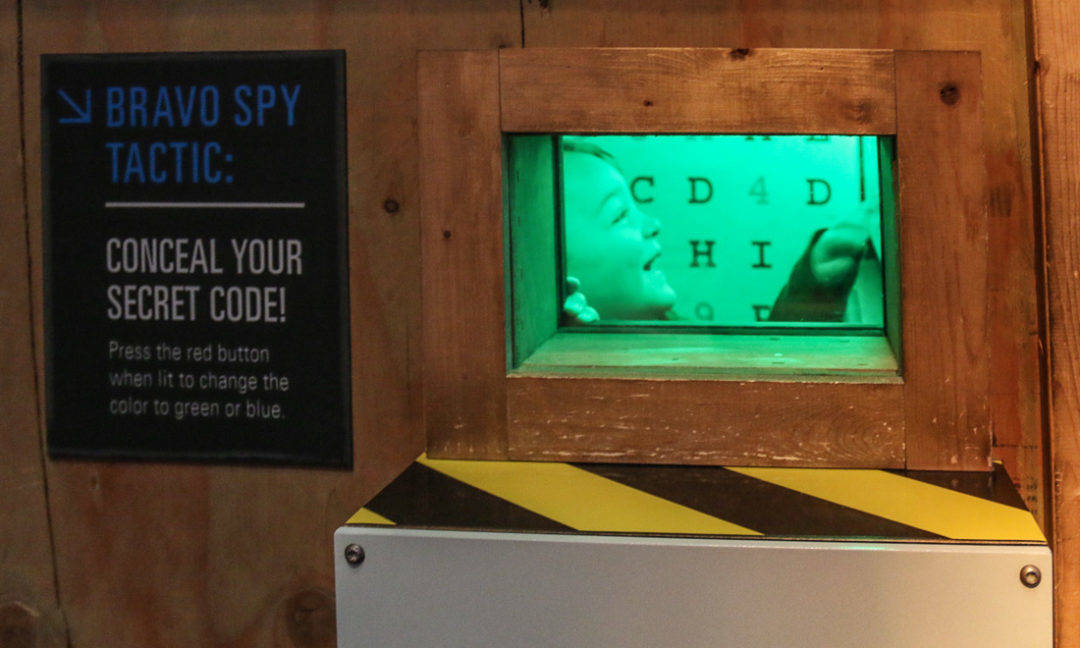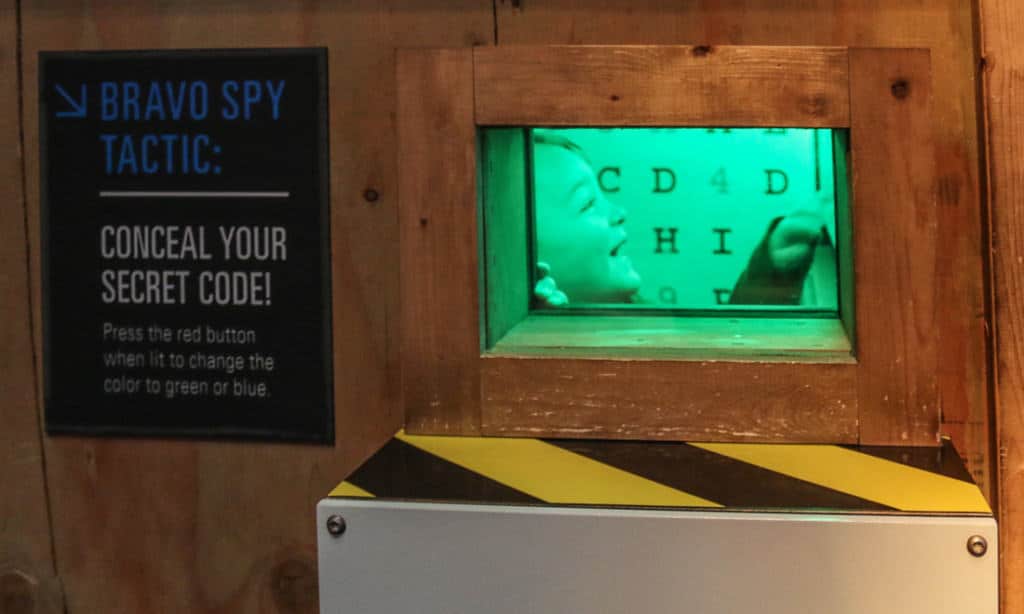 The exhibit featured the Goldfinger Aston Martin, Bond girl fashion, and a few interactive experiences testing one's own super spy abilities. My daughter hung from a bar as if she dangled from the Golden Gate Bridge with wind machines blowing on her face. Her timing of thirty-four seconds made me proud when she outlasted some teenaged boys. My four-year-old's efforts to detonate a bomb, however, failed miserably.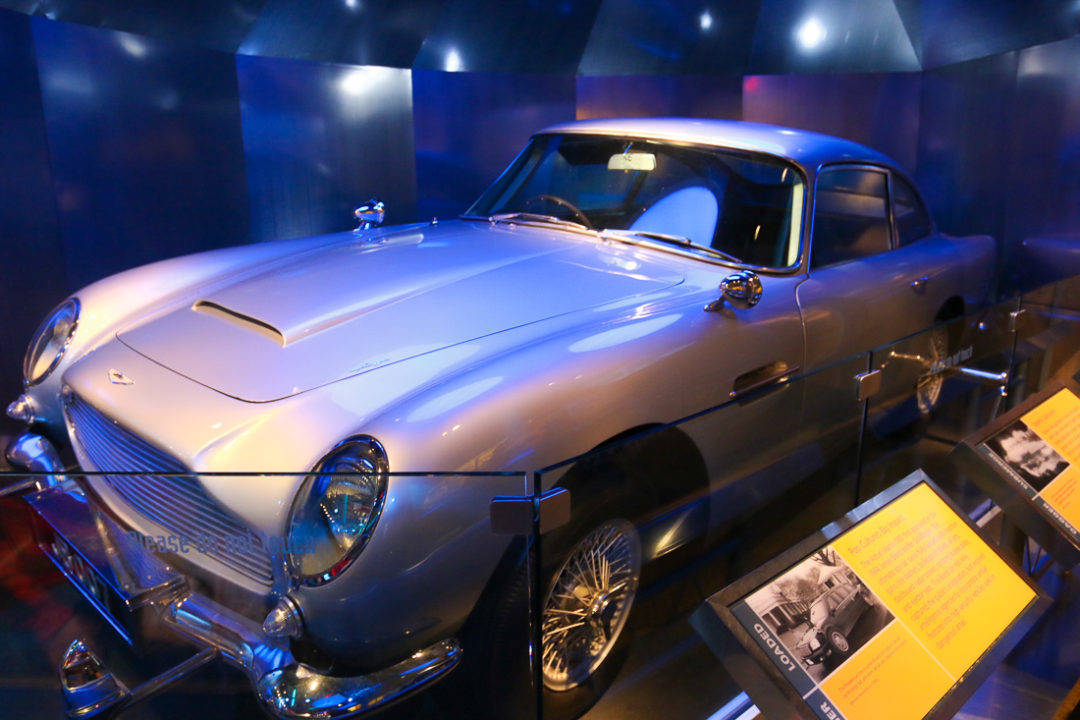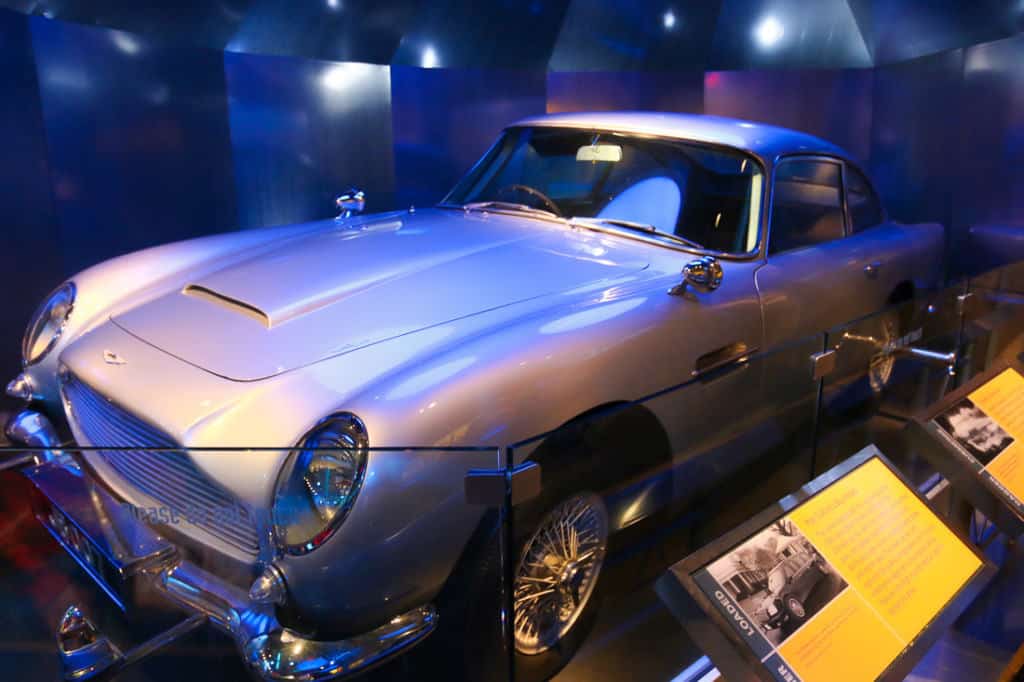 The most memorable exhibit, to me, was a series of interviews run on a continuous video of real life agents revealing their "James Bond" moments. Both female and male agents shared their most dramatic career highlights, and my daughter and I stayed for the full, fascinating presentation.
Lafayette Square and Jackson Place
Across from the hotel is Lafayette Square, and although it is no longer a zoo as it once was briefly, it offers some green space right next to the hotel for young walkers. For all ages, the White House Historical Association offers excellent exhibits.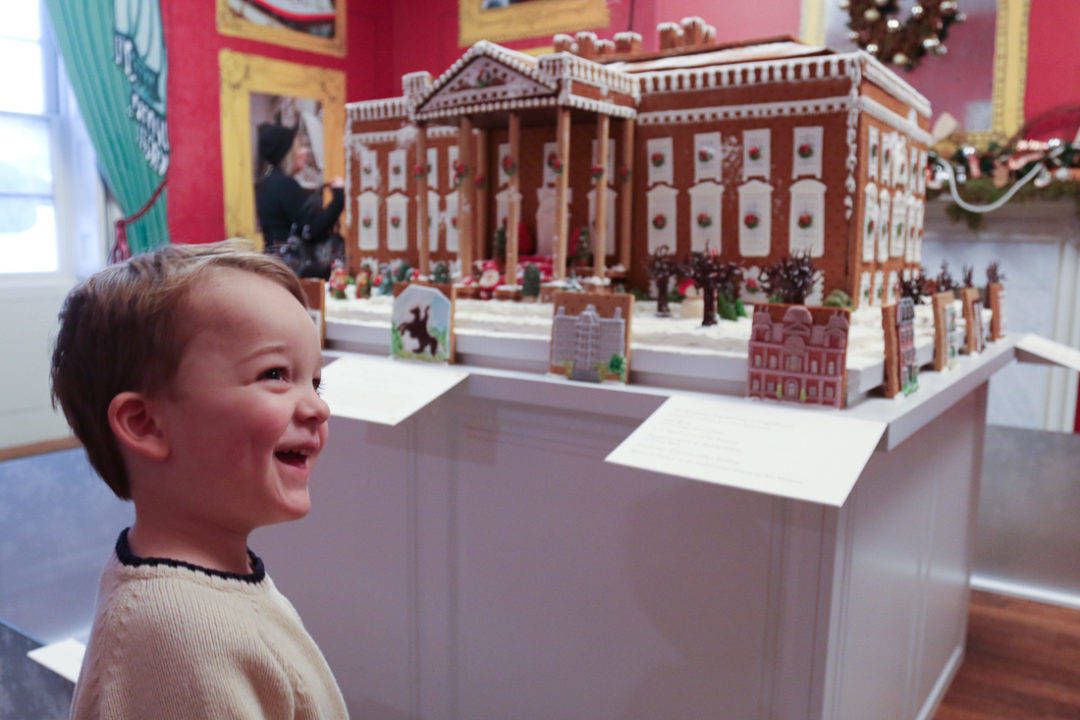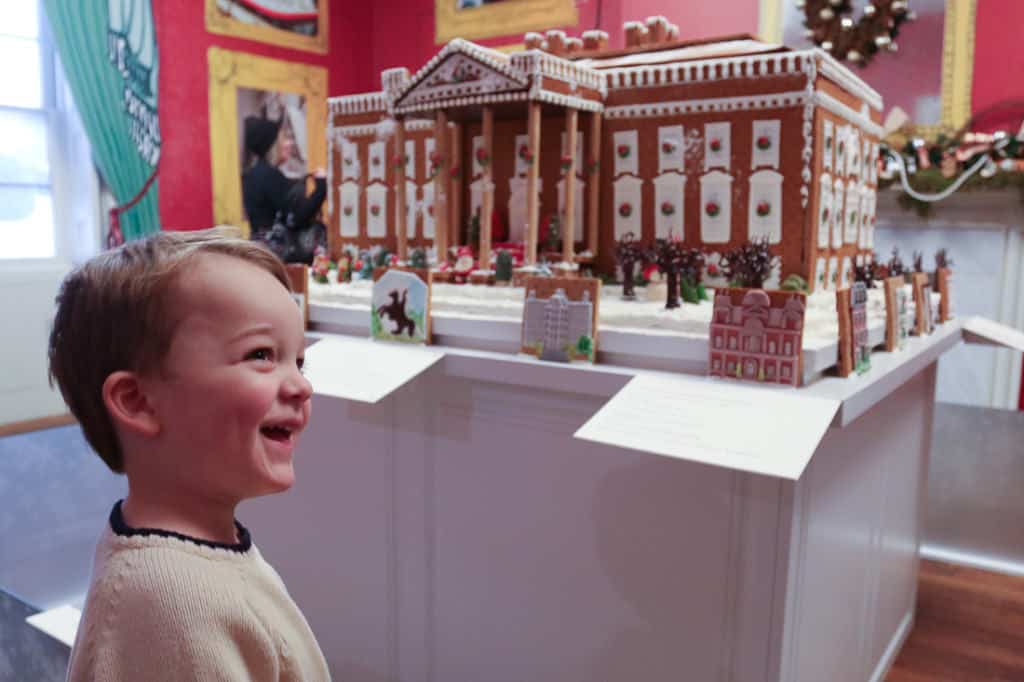 If you're lucky, you can view their incredible gingerbread White House during the holidays. There was a very clever Plexiglas-made moat around this massive creation; perhaps they knew my son was coming.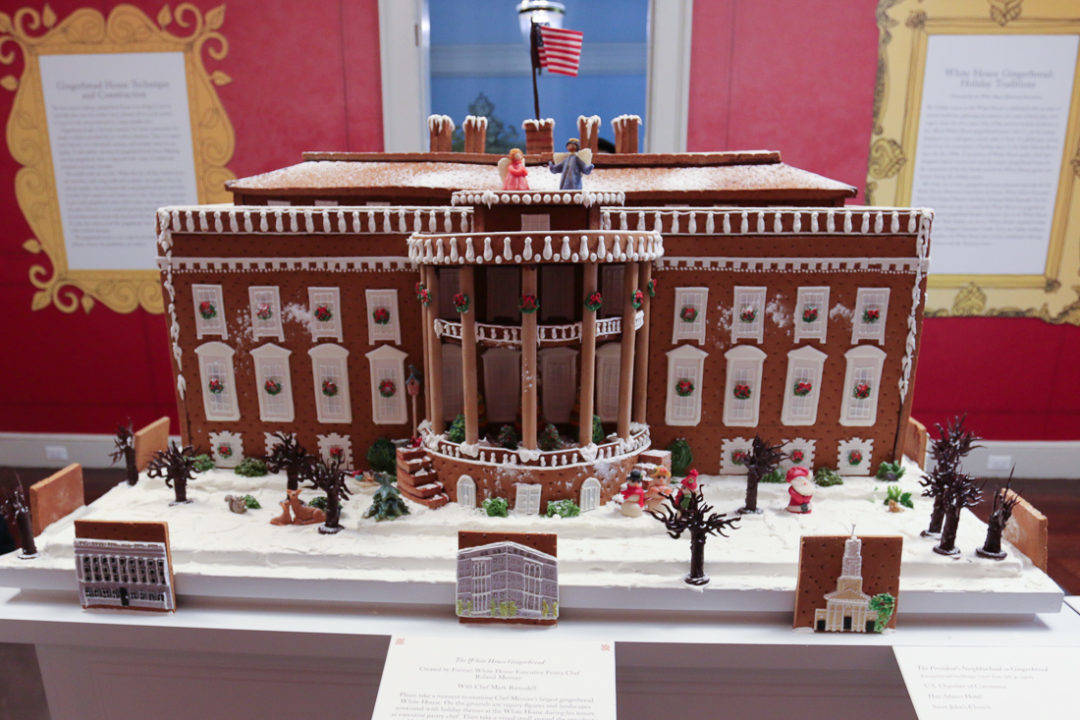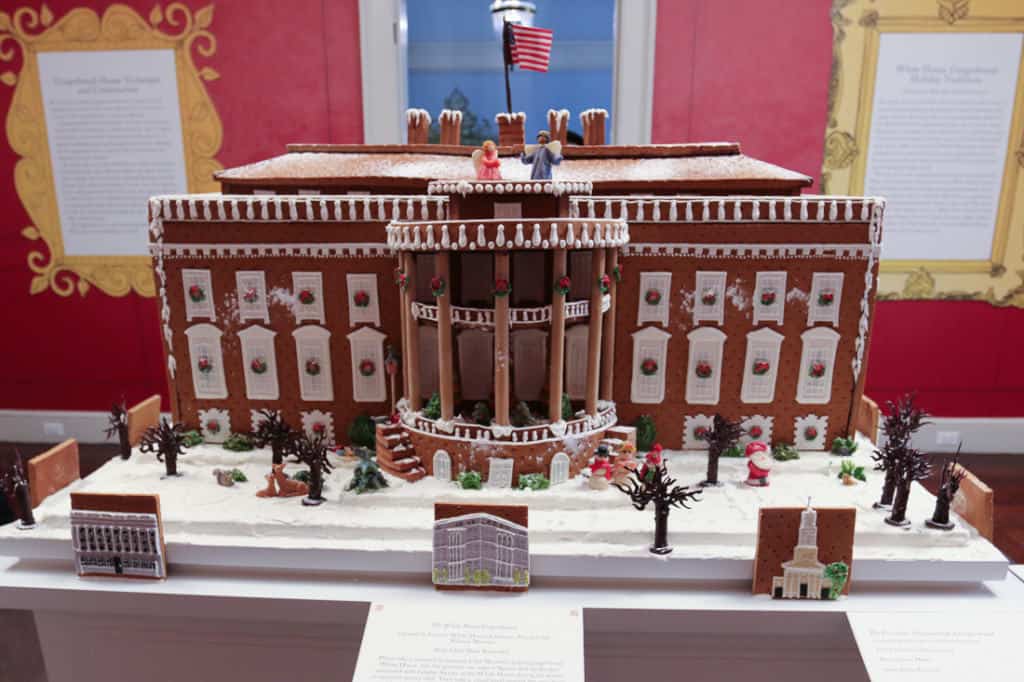 Marzipan or fondant replicas of all past White House pets left a big impression on our children, particularly because we learned of John Quincy Adams' pet alligator.
The Renwick Gallery
I can't emphasize this enough, run to the Renwick Gallery. It is the perfect family art museum in Washington. It is modern and breathtaking, and children can enjoy the few installations without feeling overwhelmed.
Part of the Smithsonian, the Renwick Gallery was recently refurbished and reopened in November 2015. It is less than a five-minute walk to the Hay Adams and free of charge. For parents with strollers, the entrance is on 17th Street through the basement (where you'll have to leave the stroller with security), so bring a baby carrier for use in the galleries. You and your children will enjoy talking about the "bug room" in the days that follow and likely for years to come.
Hay Adams Family Dining
People think of the grand Lafayette Dining Room as a place for powerbrokers to convene over a breakfast or lunch. It is, indeed, grand, but it's also the first time a waiter started a pillow fight with my son. The Hay Adams definitely has a playful side. Sunday's brunch had a bountiful display concluding with tantalizing desserts for my kids. I had a variation of Eggs Benedict where the Canadian bacon and English muffin were replaced with spinach and an all-meat crab cake. It was exceptional.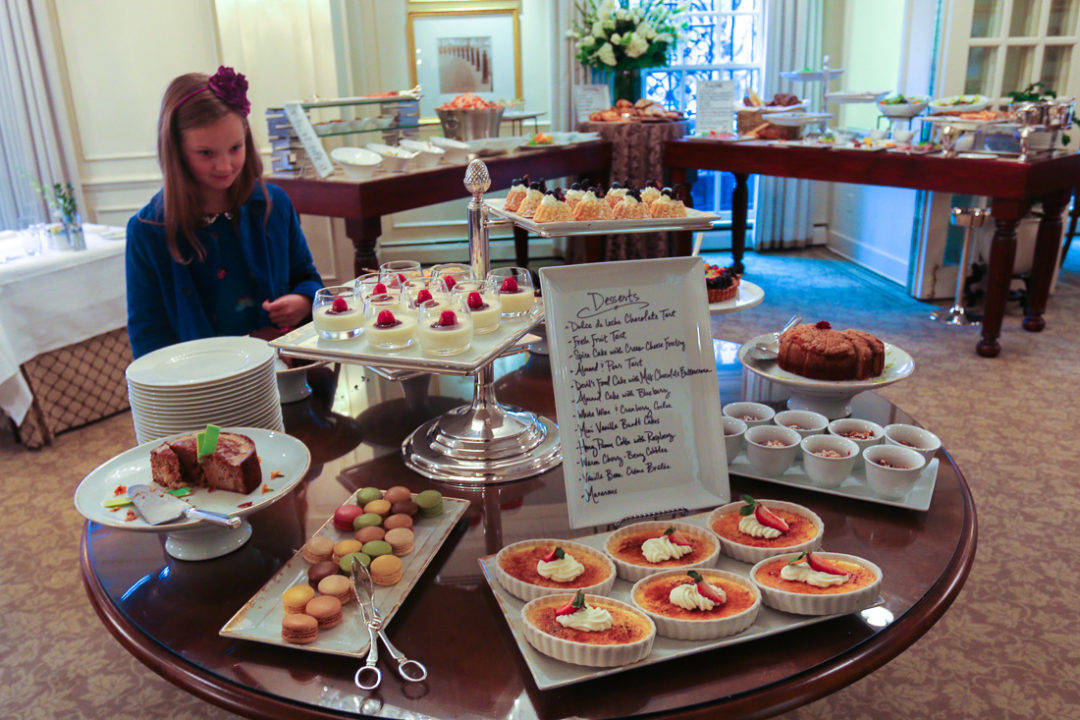 Room service provided well for a night in after our day of walking the cold, drizzly streets. The kitchen surprised my children with decorated cupcakes along with their vegetables and chicken fingers. We were so cozy and content that my husband and I watched Wreck-It Ralph with authentic smiles on our faces.
Off the Record is the hotel bar and lounge in the basement that is a very popular bar to meet for drinks after work. Take your older children for lunch to see its incredible collection of political satire by Art Wood, Matt Wuerker, and Richard Thompson.
Top of the Hay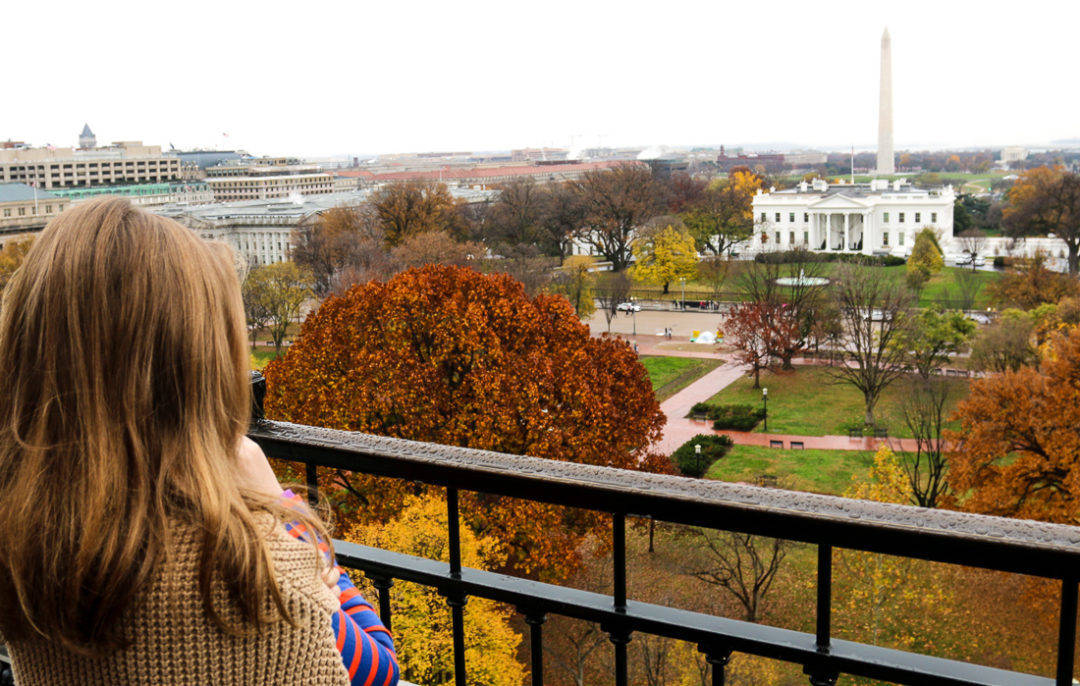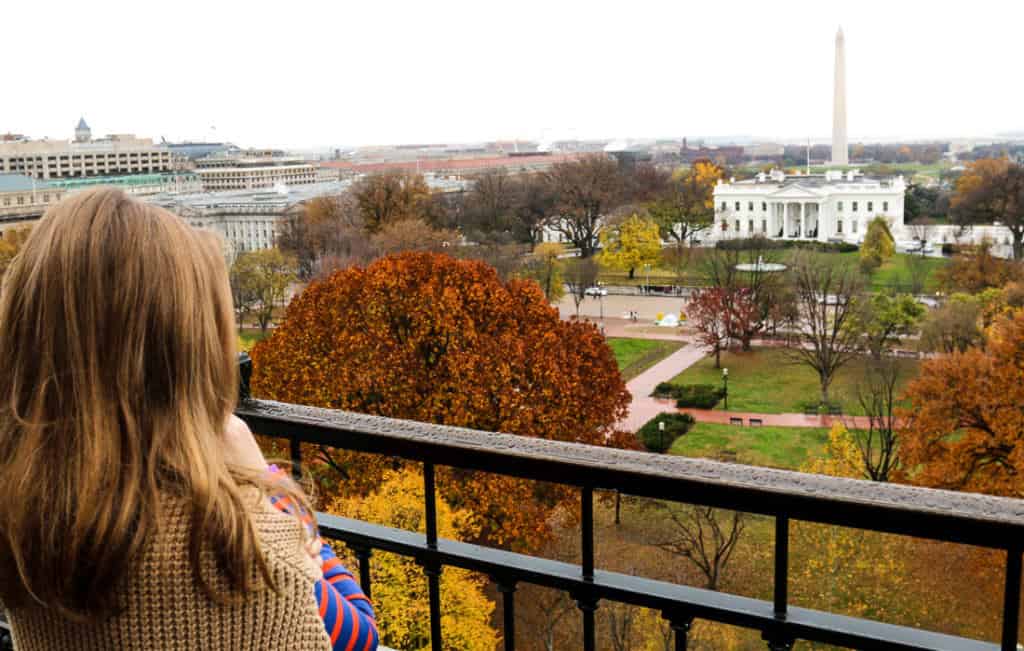 The Hay Adams is known among Washington powerbrokers for the most prestigious weddings and events in all of DC, treasured for its commanding view of the White House, the Washington Monument, and Lafayette Square. My daughter and I went upstairs to take photographs from the balcony as they set up for a television interview. The staff smiled and said they weren't allowed to say who was coming. We smiled as we saw Mrs. Clinton in the lobby a few hours later.
On our way out we were asked if my daughter wanted to see what pastry chef Josh Short was working on in the nearby kitchen. He was in the process of determining a design for hundreds of glazed White House cookies. I found it amusing that he was looking on Pinterest for inspiration, so it's not just me.
Hay Adams Amenities
The Hay Adams doesn't have a spa on site but offers a small fitness studio. The concierge is used to making spa, salon, and childcare arrangements for all of its guests.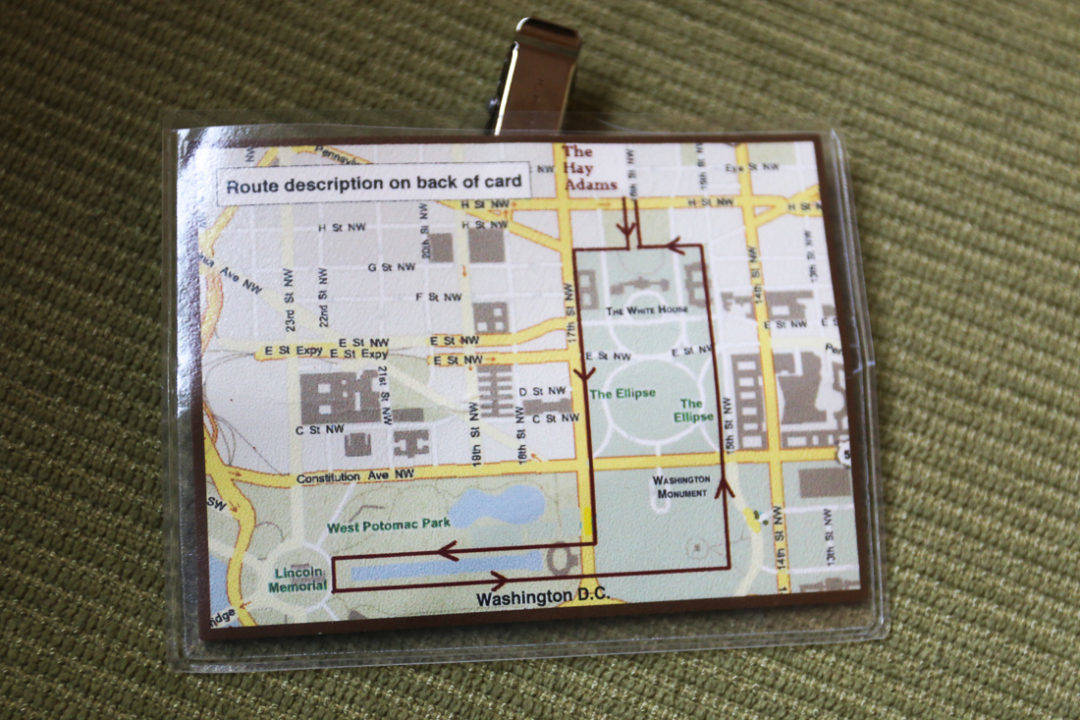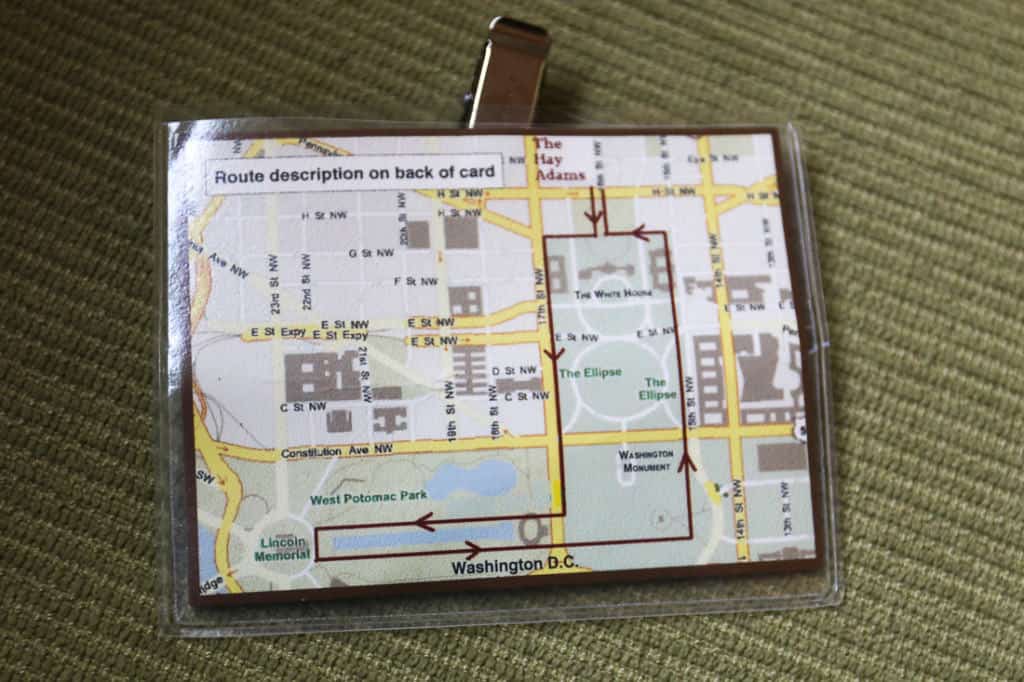 Other larger five-star properties in the city have excellent family and wellness amenities, but they will offer a more generic, big city experience. The Hay Adams is a timeless choice for those parents who will appreciate the elegance and history of the hotel, its center-of-the-world location for outings, and an opportunity to feel like a Washington insider, if only until checkout.
Although we were guests of the Hay Adams Hotel, these opinions are entirely my own.
---
Let me plan the perfect family break in DC!
Every family needs to experience the beauty and history of DC. Let's plan your trip together and make it one to remember!
I can offer my clients these Hay Adams amenities: room upgrades, free breakfasts, and $100 in food and beverage credits, adding up to hundreds in savings. You will also be recognized by the staff at Hay Adams as a VIP client and not just another reservation number!
The Hay Adams Hotel is an icon, but not the only icon in DC!