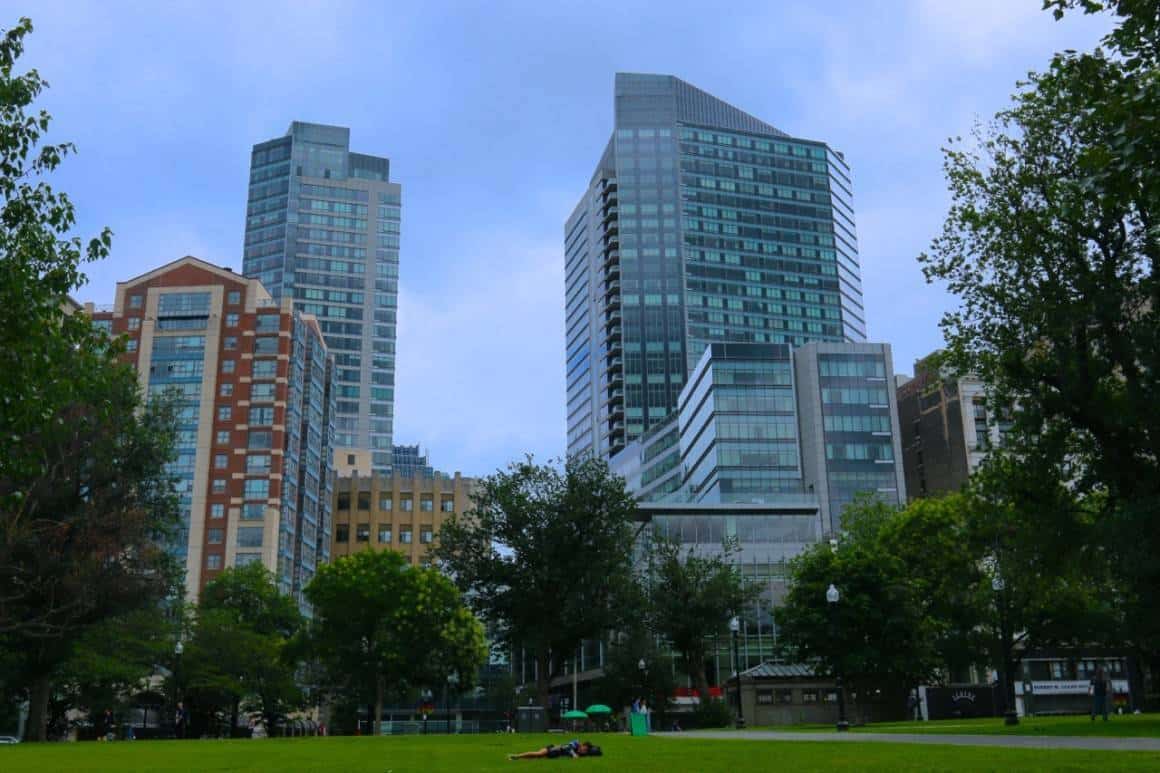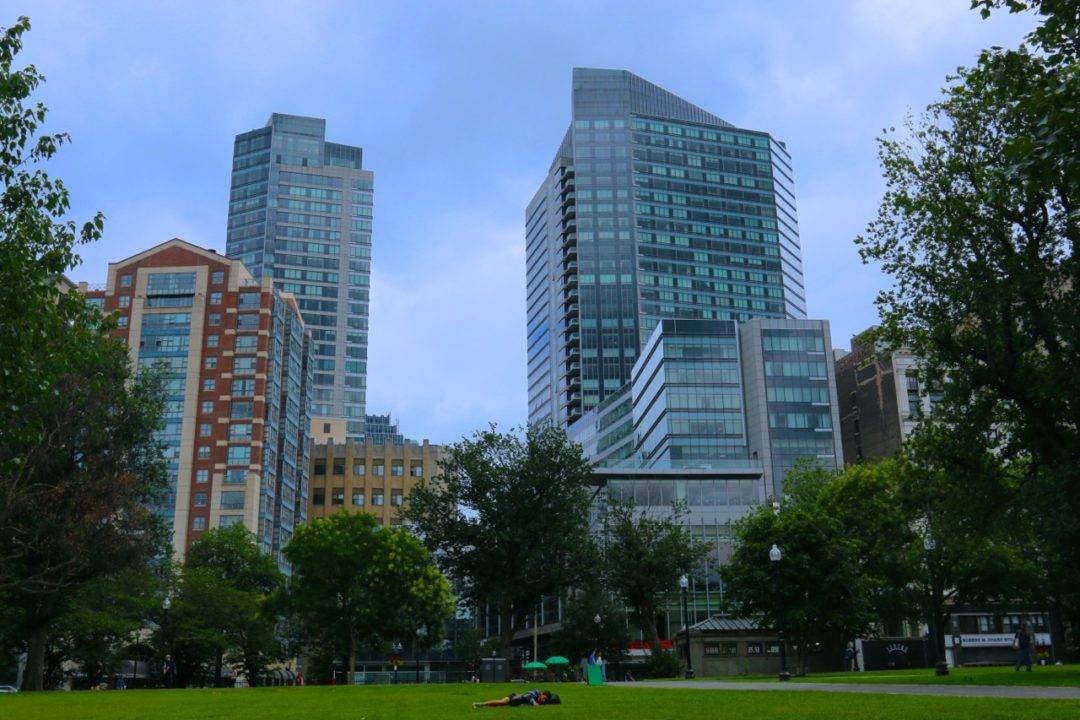 Luxury Family Travel to Boston
Ritz Kids at the Ritz Carlton Boston Common
The Ritz-Carlton Boston Common serves business travelers every comfort, but it also offers an excellent location and the Ritz-Carlton commitment to welcoming guests of all sizes. After arriving at the hotel for a family weekend, my kids received an elaborate Ritz Kids check-in experience that is more aptly described as a welcoming ceremony. We were lucky to have someone like Jarsell behind the desk because she's a natural with children. She pulled out a wagon of toys for my children to choose, and, as a kid at heart, she walked them through each toy's pluses and minuses of ownership. She asked my daughter to sign the children's hotel register, handed them sticker scavenger hunts for the hotel, and we were off to our room overlooking Boston Common and all of the Back Bay and Charles River.
The Ritz-Carlton is a great choice for those who have Marriott Rewards points to splurge for a suite as the standard rooms are tight for a family, and the Club Lounge is always a nice perk. Despite its convenient location, this building, owned by the Millennium Partners was once in a less than obvious choice for a five-star hotel and has been the one of the key catalysts for the rejuvenation of the Downtown Crossing neighborhood. Millennium Partners has strategically chosen other locations as city trailblazers in Miami, The Four Seasons Bricknell, and the Four Seasons San Francisco. As a Boston resident myself, it has been impressive seeing all of the new restaurants and high-rise apartments that have come to the neighborhood once the Ritz-Carlton paved the way for revitalization. Millenium Partners is building the tallest residential building in Boston, Millenium Tower, just a few blocks down the street that will dominate the skyline.
Ritz-Carlton Boston Holidays
The Ritz-Carlton is adjacent to Boston's theater district. For families, its proximity to the Boston Ballet's Nutcracker makes the hotel a great springboard for special holiday events like the Nutcracker breakfast with Mrs. Claus. Before my daughter was old enough to watch a performance, she was ready for her first Ritz-Carlton tea. The annual Sugar Plum Tea offers sandwiches and treats catered to children as well as a craft activity and visits from cast in costume, like the Sugar Plum Fairy, Clara, the giant teddy bear, and the Nutcracker himself.
Picnic in the Boston Common
For family fun the Ritz-Carlton Boston Common is adjacent to a large movie theater during disagreeable days, but when the weather is beautiful, it's hard to beat a day in the Common and Boston Public Garden. Boston Common was the first designated park in the country and contains a wonderful Tadpole playground adjacent to the Frog Pond. In the summer, it's a wading pool that may make some germaphobe moms queasy as they watch their children dunk their heads in it, so we have a to-the-legs-only rule. There are always balloon artists taking orders for swords or more elaborate creations, too, at well-positioned entrances.
There's a carousel nearby and many open spaces where you'll stroll past bubble-blowers and graduate students  with too much free time on their hands playing Quidditch. The Commonwealth Shakespeare Company offers free performances in July and August, a low-risk option to introduce your children to the Bard. The scenes are far more leisurely today on these same historic grounds that the British camped before heading to Concord and Lexington, where cows roamed and audiences watched public hangings.
The Artisan Bistro at the Ritz-Carlton Boston Common has a picnic basket option for couples, families —and even pets— to enjoy a day in the Back Bay. We chose to take into the Boston Public Garden. The hotel packed a beautiful and generous lunch of various sandwiches, fruit salads, crudités, brownies, and macaroons for us to enjoy. I asked them about a picnic blanket in the lobby, and the concierge returned with a feather duvet. It worked.
We passed two iconic Boston attractions in the Public Garden. First Make Way for Ducklings, the famous children's book by Robert McCloskey, is immortalized with lovely bronze sculptures of a mother leading her badling of ducklings into the ponds of the Public Garden. The mama duck is always occupied for pictures with local and visiting children.
If you're in the Boston Public Gardens during the warmer months from April to October is a very special Boston tradition that one must experience or, at least, see. The swan boats began in the 1870s by Robert Paget when he rowed paying passengers in his boat around the garden's pond.  In 1877, inspired by the popularity of Richard Wagner's Lohengrin, Paget used swans to cover the captain of new platform boats he designed that used bicycling pedals instead of rowing. It's impressive enough to learn that the Paget family still operate the swan boats, but it's an exceptional to learn that Robert died in his 40's, and his widow, Julia, and their four children worked to maintain his business at a time that women were not allowed to run businesses, at least the reputable kind. She required ongoing validation from local businessmen that she was competent to run a business.
Ritz-Carlton Boston Wellness
The Ritz-Carlton Boston Common offers a few unique amenities compared to other luxury hotels in downtown Boston. Within the building is the Equinox Sports Club and Spa, easily considered the leading sports clubs in town, running typically 18 fitness classes during the week. Hotel guests access the club through a back door where the hotel left a charming spread of towels, water, headphones, and apples before handing their guests over to the Equinox staff. In the club lobby, there is also a full-service salon and a sit-down and counter service restaurant called Blu that serves healthy meals and snacks for those post-workout.
Ritz-Carlton Touches
The Artisan Bistro and in-room dining offer children's menus and table activities, and the Club Lounge offers elegant snacking if you have access. The Avery Lounge was recently renovated and now has a very cozy, sexy lounge vibe that is perfect for a cup of cocoa if it's early in the day. Other holiday events include a hot cocoa bar on Saturday afternoons that is a great bribe to keep your kids in line for a day of shopping or museums, "Just keep it together one more store/gallery, and I'll take you to the Ritz Cocoa Bar."' It works every time.
 Although we were guests of the Ritz-Carlton Boston Common, these opinions are my own.