When you need a family vacation fairy
For years now—even before we had our kids—my husband and I have classified vacations into two categories: lounge and tour. And after two years involving a move, new house, new job, and multiple renovations—there was never a doubt we needed a lounge vacation. Of course, when you have an 8 and 5-year-old, short of leaving them home with Grandma or bringing along a nanny, what can parents do to try and turn off the stress and refuel? Call the vacation fairy? Well…
Three years ago, we visited the Reserve at Paradisus Palma Real in the Dominican Republic—taking advantage of its Family Concierge program. With Family Concierge at Paradisus, you receive preferential treatment at exclusive spaces on the property, priority reservations at restaurants, and various perks that appear when no one is watching. Most magical: You really do get a vacation fairy—a personal concierge who manages your entire stay.
Spoiled silly by the Paradisus Palma Real's luxe accommodations and Millie, our family concierge, we wanted to see what other Paradisus properties offer. We chose the Family Concierge at the Paradisus Playa del Carmen La Esmeralda, south of Cancun, Mexico. (Check your dates for rates)
After handing over our bags to the porter at La Esmeralda, a host wordlessly sped us through the striking central courtyard, past the turtle and koi ponds, past the Illy espresso bar, down the path beyond the pools, into the Family Concierge building, and, finally, to the Family Concierge check-in lounge.
---
JOIN OUR LUXURY HOTELS & RESORTS FOR FAMILIES,
A FACEBOOK GROUP FOR SEEKING HELP AND INSPIRATION
FOR THE BEST LUXURY FAMILY BREAKS.
---
An attendant welcomed us, tagged us with our hemp and wood resort bracelets, and gave us a cell phone—our direct link to our concierge for whatever request we might have, whenever we might have it. Although our travel and check-in were a bit of a whirlwind experience, the lounge vacation truly began once we met our Family Concierge, Regina.
Regina was the first to welcome our kids—asking their names, chatting with them directly, hinting at special treats she had in store. She walked us to our room, talking with us about what we wanted from this vacation and—as if waving her wand— finally gave us permission to shut down and reboot.
The family resort, La Esmeralda, and the adult-only resort, La Perla, are divided by a central, partially open-air mall that contain the restaurants, clubs, spa and fitness center. On La Esmeralda's side, marble walkways cut across tree-lined water features that house dozens of koi and turtles — an absolute fascination for the kids—creating a spa-like atmosphere.
We were fortunate to stay in a one-bedroom suite, and the bathroom and closet area were large enough for any mom to escape to for some quiet moments in the soaking tub. A mini-fridge comes stocked by your concierge to suit your specific tastes. Regina had already arranged for the kids' chocolate milk and juice, and replaced one brand of beer for my husband's preferred Mexican cerveza.
We asked for some cereal and milk for the kids, and she brought eight boxes of heck-it-IS-vacation Froot Loops. Regina had also left kid-sized robes and slippers and two resort backpacks. The bathrooms came stocked with supplies for kids too—insect repellent, suntan lotion, body wash, loofah, brush. When I misplaced our sunscreen, Regina supplied two more giant bottles. Regina fulfilled every request this generously, and with such an easy-going nature that I never felt awkward or demanding.
Sliding doors off both the living room and the bedroom led to a covered balcony with seating and a Jacuzzi tub. While I wouldn't have trotted out to the Jacuzzi in my birthday suit, it still felt peaceful and secluded enough for my morning coffee and late afternoon soak.
The Paradisus Playa del Carmen La Esmeralda offers a Kids Zone: a full roster of supervised activities —including meals—for kids aged 5 to 12 from 9 a.m. to 10:00 p.m. There are also separate, shorter schedules for 1-4 year olds, and teenagers. The 8 p.m. parties like the Pirate Party and Mini Disco won my kids over for staying up well past bedtime. And their enthusiasm for the mangrove tour and Mayan warrior face painting proved the clincher for us. No guilt as we sped off for some us-only R & R.
One of my favorite activities was the YHI Spa for Kids, a colorful space with a select menu of pint-sized services: mani-pedis, hair-braiding, and facials. When I asked to have services with my daughter, the resort's main Spa sent a cautionary message through Regina that it may not be as luxurious as their own services. But a little pampering with my little girl was worth it. She chose our colors—pink for her fingers and alternating shades of blue for her toes.
One of the true delights of Family Concierge service at both properties was the daily treat the Concierge coordinated for the kids. Regina did not disappoint: little decorated cupcakes and packs of M&Ms, a Mayan astrological chart (well-timed to accent our trip to Tulum), a balloon bubble bath and an in-room treasure hunt with several clues that led to hidden treasure under our pillows.
While the property does include a beach exclusively for Family Concierge guests, the surf—as well as the seaweed—made it unpleasant for my kids to swim. This is a pool resort. We spent the majority of our time at the Family Concierge pool, which is of modest size—just large enough for a 5-year old to navigate on pool noodle from one end to the other, to order his own chocolate shake at the swim-up bar.
For lunch, we enjoyed Olio, which during the day serves as a Family Concierge-only lunch spot, particularly enjoying the tacos and ceviche. As comfortable as we were at the Family Concierge pool, we couldn't always fight the allure of the main kids pool and its pirate ship and water slides. Our 5-year old was in seventh heaven, since he could touch the bottom and splash and climb with minimal supervision.
Overall, the quality and variety of the food was exceptionally high. We ate breakfast at the Naos buffet every morning and dinner in a different restaurant each of our five nights—reservations entirely coordinated by Regina. There were many adult-only restaurants and bars we never even tried.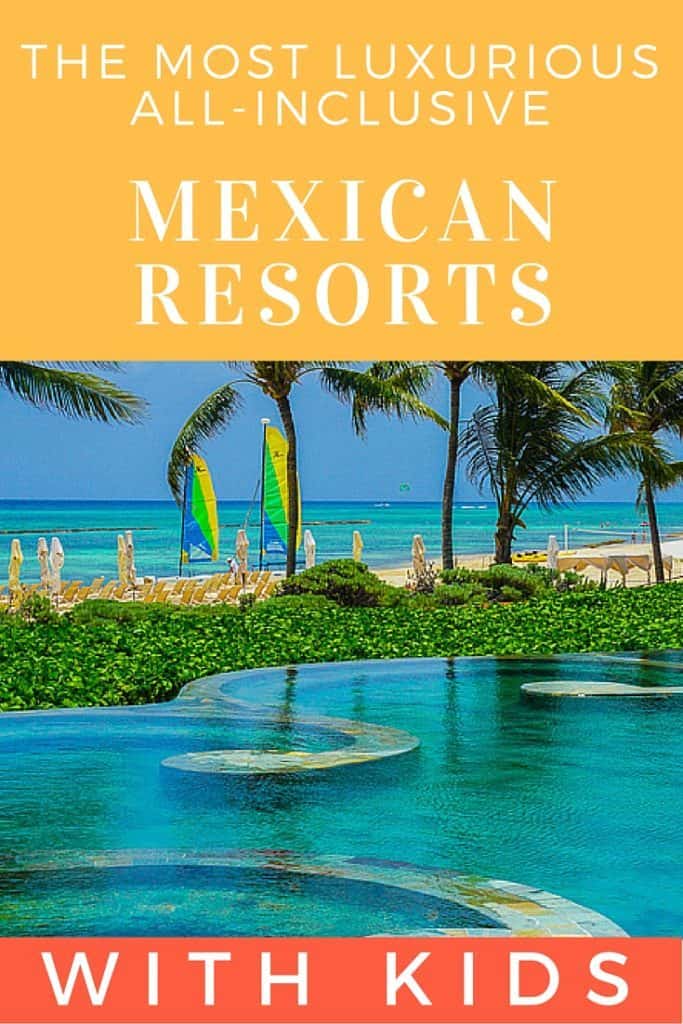 I particularly enjoyed Vento and its Mediterranean cuisine with hints of the Middle East. I started with a Moroccan Harissa soup with lamb, chickpeas, carrots, and zucchini, infused with ginger and cumin, and finished with one of the best desserts ever—a red fruit strudel with camembert cheese, anise honey and fennel. The kids ate well with no struggle.
Only one fallback meal of chicken fingers! Our daughter, the more adventurous of the two, tried and enjoyed fried rice for the first time. And, caught up in the excitement, she ate grasshoppers. GRASSHOPPERS. They're a genius addition to the Mole menu— giving guests an easy brag. They're not really that adventurous—more like someone added seasoned sunflower seeds to your guacamole.
There is also 24-hour room service, something we never felt the need to use but did note standard kid favorites, as well as a baby food of the day.
I did manage to balance all the good eats a little: making it to one of the daily Hatha yoga classes at YHI Moves. (The gym also offers Pilates, spinning, and Zumba classes.) In a serendipitously private class, my instructor Liz soon had me focused on my breathing and posture. I left feeling two inches taller. I grabbed a latte at the coffee bar, went back to our room and settled in for a private soak in our Jacuzzi and the bliss of staring off into space for thirty entirely uninterrupted minutes.
There are tour agencies at the resort to set up area excursions. We enjoyed a trip to Tulum. There was simply not enough time to enjoy what Paradisus calls its "Life Enriching Experiences," a weekly schedule of dance lessons, tastings, and cooking classes for grown-ups. On one of our last nights we enjoyed the evening air, sitting on the glowing chairs and swings outside the Gabi Club, then took in the Pre-Hispanic Show—an interpretation of ancient Mayan culture done in elaborate costumes and body paint, dance, drums, lights and conch shells.
Our last day happened to be Regina's day off, but she insisted that we could still call her on our concierge phone if anything should come up. Of course we never would have—nor needed to. Her stand-in took fine care of us. But just knowing our vacation fairy was always with us added to the magic of the Family Concierge service at the Paradisus Playa del Carmen La Esmeralda. I asked if the phone would work back in the States. I sure could use her powers at home.