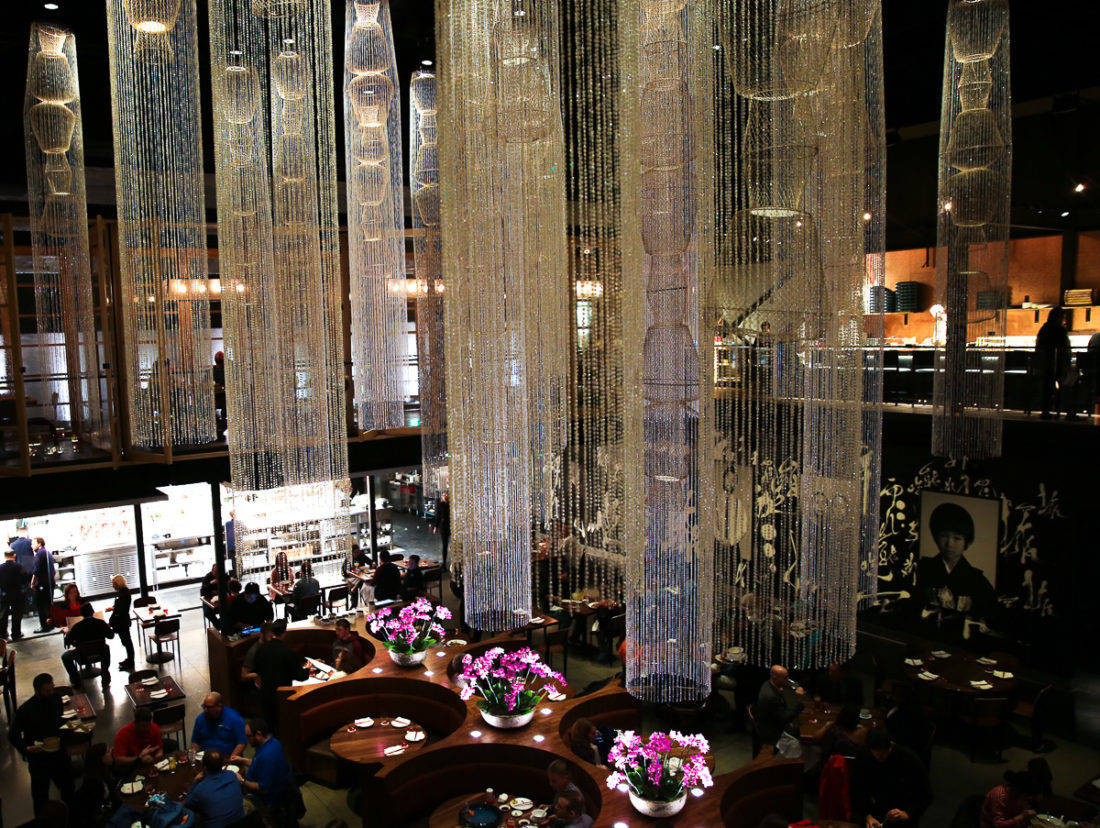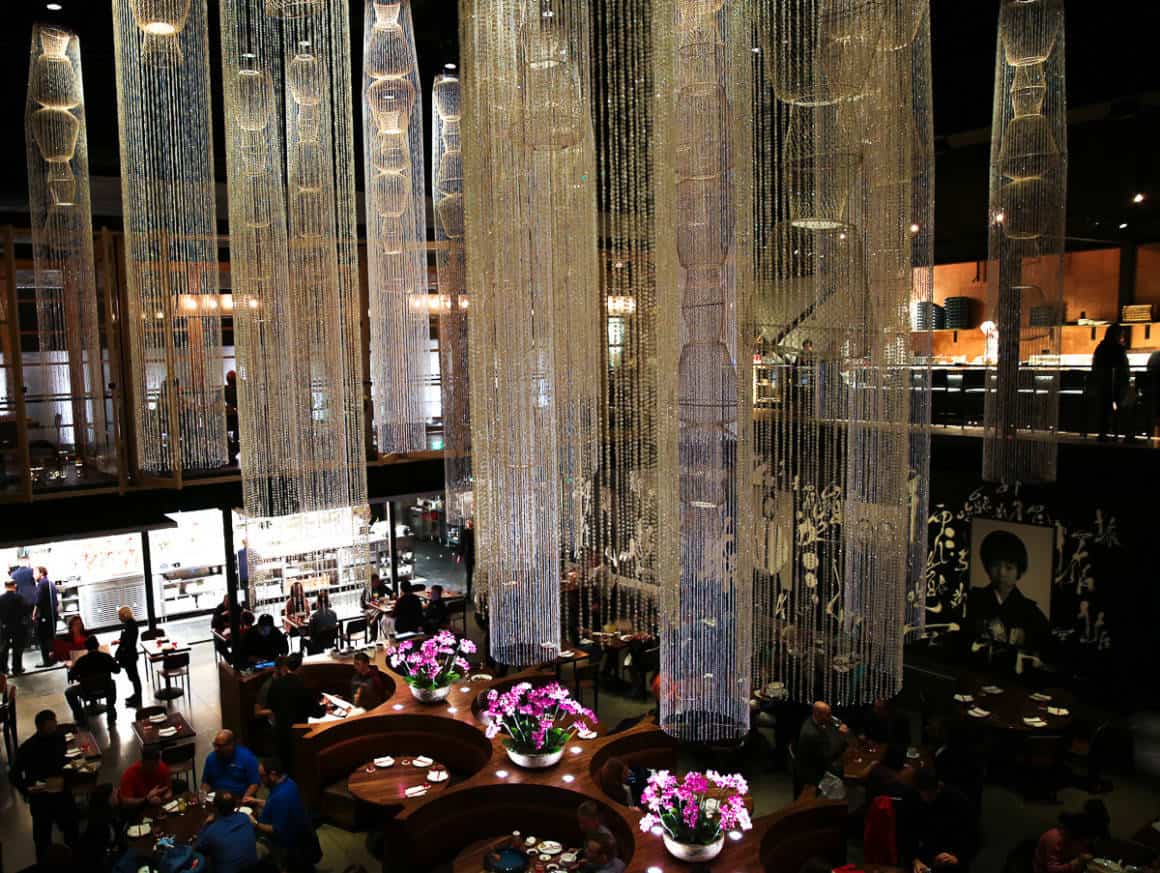 The Best Disney Springs Restaurants
Disney World dining either delights or disappoints based on what city you call home. If you live in a major metropolitan area with access to great restaurants like Chicago, New York, San Francisco, or Washington DC, it's hard to get excited about dining at Disney World, particularly when the city of Orlando has such a bursting restaurant scene for those willing to leave the Lake Buena Vista area.
But I appreciate that if you don't live in one of America's foodie cities, Disney World can be an exciting dining destination, and it is really trying to push to the next level as a culinary destination.
Disney Springs in where all of the food buzz is happening, with each new group of restaurants outperforming the last. Here are our favorites.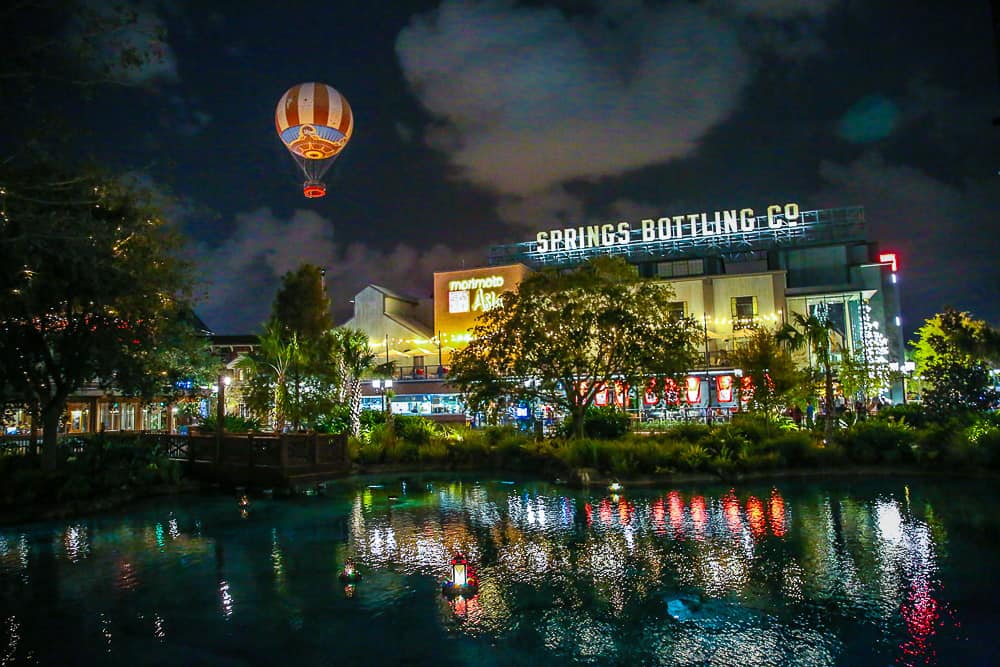 I'll never dispute the experiences Disney World offers for families, and I love how easy it is to take children to nearly all Disney World restaurants, but my family and I are always looking for that meal where we feel the inflated Disney World prices still offer value and quality worth its cost.
A Morimoto Asia Disney Springs Review
I never thought I would be excited to try a new restaurant while at Disney World, but I had hopes for Morimoto Asia Disney Springs to be a fun family night where the food might make us feel like we weren't eating in Lake Buena Vista. (Sorry, nobody goes to Disney World for the food.) With the marriage of Chef Morimoto and the Patina Group in this project, I figured we could safely have these expectations. The other Disney World restaurant the Patina Group operates, Via Napoli inside Epcot, is one of my favorites.
Let me say this. Go for drinks to see the spectacular design, which is definitely in a league of its own in Lake Buena Vista. The quieter sushi bar and lounge on the second floor is where to head on a night without children. The two-story dining room is anchored by dazzling chandeliers hovering over purple orchids. A large white sculptured bar connects the different dining spaces in an Escher-like way that challenges the three dimensions. We had a fantastic center booth where we could see the Peking duck hanging in the kitchen and enjoy Studio V's restaurant design directly above us.
---
---
As for food and service, we had a miserable experience. I think it is ideal to reserve judgment on a restaurant until you have had several dishes. I can only speak about our one meal and our server, and I would be willing to try it again, because it could only get better.
Our waiter was not great. He was young, inexperienced, and completely indifferent to the service role of his job. I like to ask servers what the house strengths and customer favorites are. "Pork buns."
"Uh, ok, is there anything else that you think is particularly strong or popular?"
"Pork buns." Now, in hindsight, I still don't know if he simply didn't give a damn, or, if indeed, pork buns would have been the only safe thing to order.
We asked for the gluten-free menu for my husband's allergy, and we ordered the Lobster Chow Fun to share.
I started with a calamari salad, and my husband enjoyed a house maki roll. The sushi was very good. My salad was a disaster. A beautifully seasoned mixture of greens, cucumber, and ginger perfectly balanced over a mass of tempura calamari that was as worthy as the worst Asian fast food at suburban American mall.  I just can't imagine the kitchen thinking the calamari I had was an example of tempura that they would have been proud to serve: doughy, tough, and flavorless. The dish would have been saved with grilled whole calamari instead.
---
---
The supposedly gluten-free lobster chow fun arrived. First, I don't think our server bothered to note our gluten-free request. The lobster was coated in something before being stir-fried, and there was so much heat in the dish from cayenne pepper, that every single flavor was masked. Our $50 entrée was not a hit. Luckily our family food allergies aren't life-threatening. I had always praised Disney World for handling special dietary needs well, and this was a dramatic fail to us.
The Morimoto children's menu earns points for creativity, but I am curious how practical it is. The panko-fried hamburger patty served over brown rice or the hot dogs in steamed buns with cucumber may be better bar food bites. My kids were happy with edamame, miso soup, lo mein, and vegetables.
We couldn't linger for dessert. I enjoyed my last view of the spectacular room on the way out. Until the kitchen adjusts, a safer bet is sticking with the sushi menu and keeping low food expectations. The spectacular interior and a few cocktails will easily compensate.
Frontera Cocina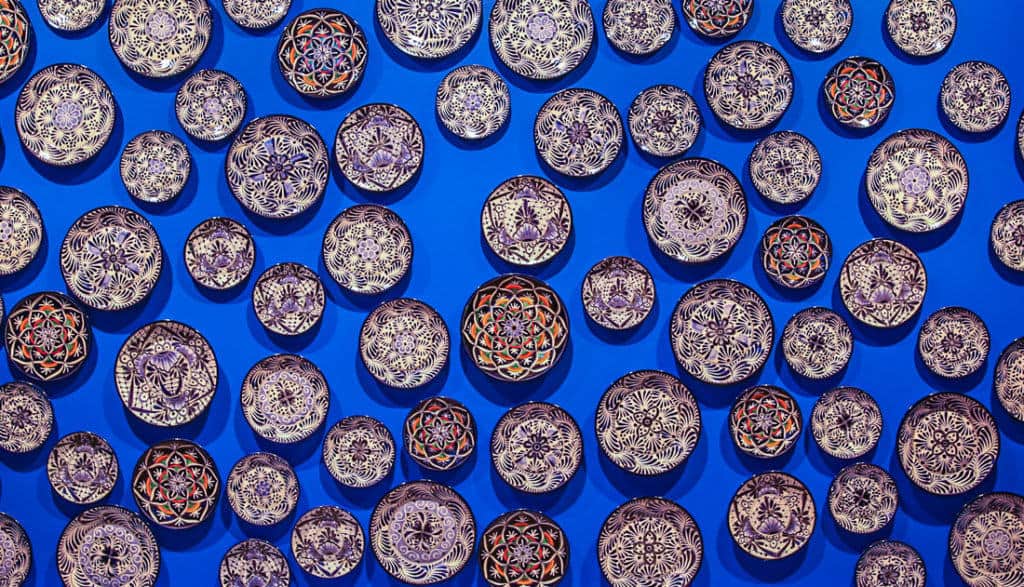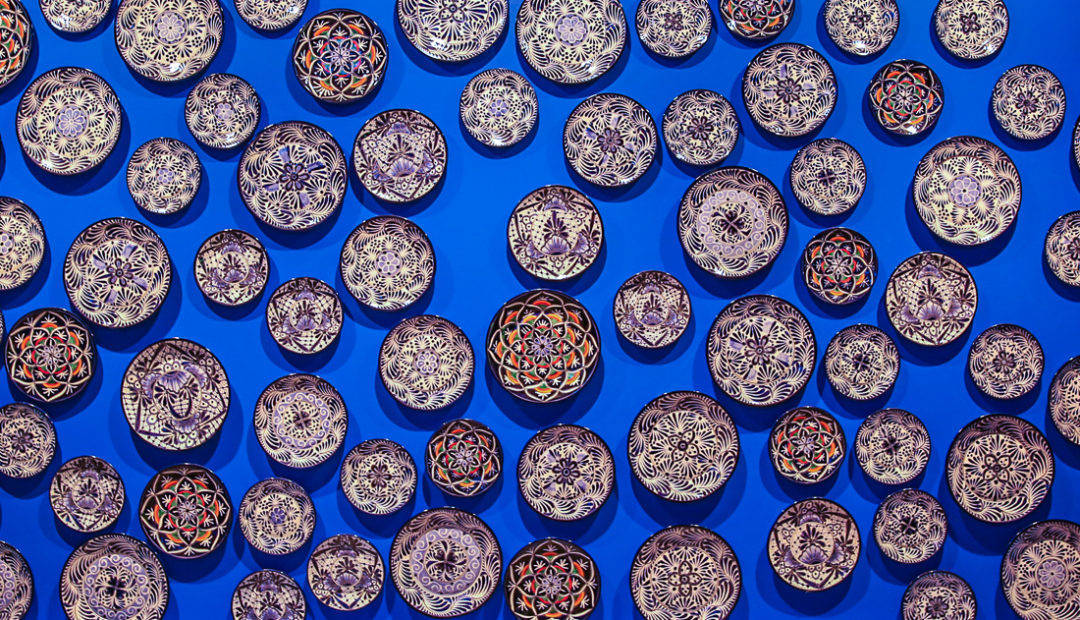 Anyone who has eaten in Chicago these last twenty years knows Rick Bayless and his contribution to high-end Mexican food. I'll never forget my first meal at Topolobampo about twenty years ago. I thought I had died and gone to heaven. The various Frontera Grill outposts, including the Chicago airports are solid foodie favorites. I am so happy to report that the Disney Springs Frontera Cocina doesn't disappoint.
The high ceilings, copper light installation, and festive design with backlit shelf after shelf of tequila is a fun night out. The menu contained many standbys that Rick Bayless' kitchens create. The ceviche-style shrimp and scallops with salsa verde and avocado chunks were served with warm, salty chips. The trio of chicken tostadas was excellent as an entrée or an appetizer to share.
I found that everything tasted delicious, and I loved the vibe in the restaurant that worked well for families, too. It is now my favorite place to eat in Disney Springs where I feel like it scores well on price, value, and quality.
---
Join the Luxury Disney World Facebook group if we can answer
your questions when planning your next Disney vacation.
---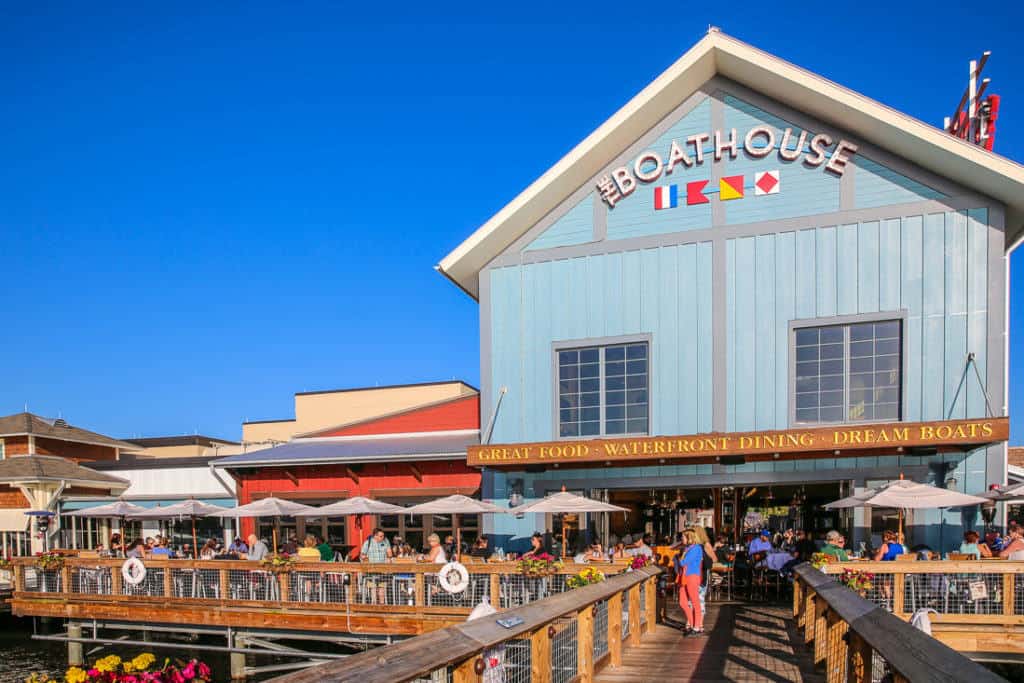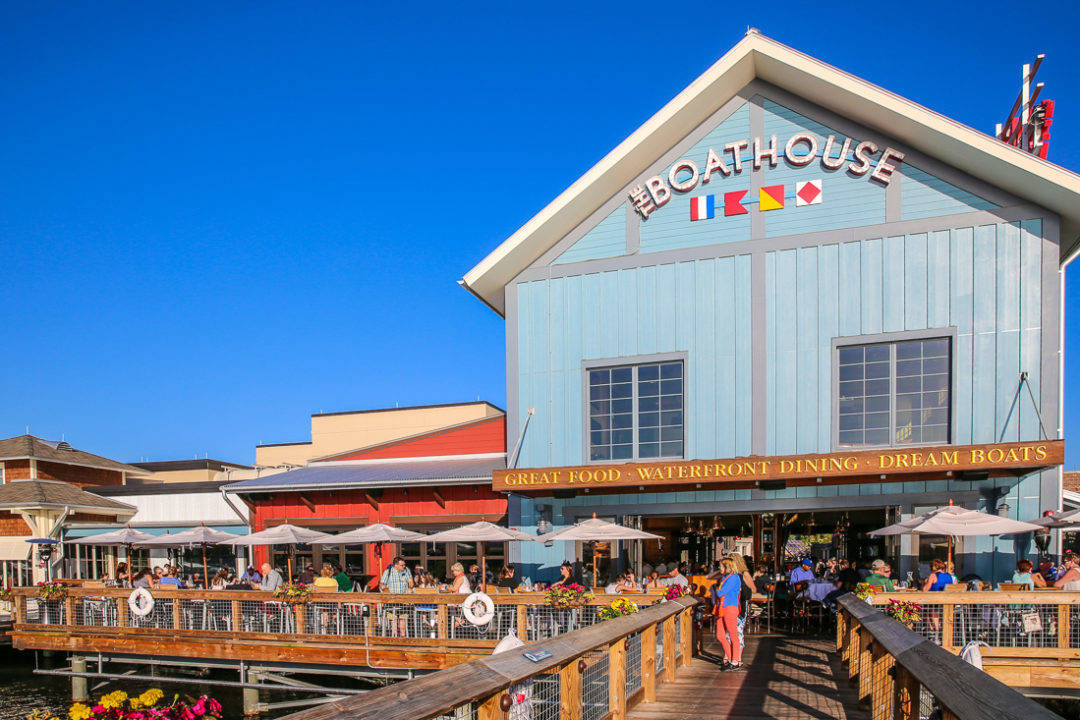 The Boathouse
I can't really talk about the Boathouse as a restaurant with great excitement. It's fine. There's nothing incredibly creative about the menu. It's that waterfront dining experience your in-laws love to take you to for an early Sunday dinner in any given beach town in Florida. The food is fine, but the boat offerings are why you should come.
The Boathouse has a marina packed with an eclectic assortment of a boat collector's dreams. They are fun to look at, but even better are the specialty rides the Boathouse offers. The one I am eager to try is the Venezia Champagne Cruise, inclusive of champagne and chocolate covered strawberries. It's certainly not the Grand Canal, but who doesn't love those beautiful Venetian water taxis.
The most family friendly option is the Amphicar collection for a memorable spin, driven by the Boathouse captains. Call ahead and ask for specific schedules in order to book your reservations when you make your dining reservations.
Paddlefish
Paddlefish is the most promising new restaurant yet, to me. While the Boathouse has a somewhat staid kind of feel favored by 70 year olds who frequent steak houses, Paddlefish is sleek and modern, and even a little romantic and hip.
The multi-level boat offers three levels of dining and lounging with water views.
We enjoyed the Crab Louis french fries to start. I was happy not to order the tableside lobster guacamole for $36 when I saw how little lobster meat was used in it at a nearby table, however.
I enjoyed an Ahi Poke, and my kids had delicious meals of well made burgers and green beans.
The top of the boat offers lounging and cocktail areas with penthouse views of Disney Springs with a more sophisticated feel. It's the first Disney Spring restaurant I would eagerly return.
STK Orlando
STK Orlando is a very weird choice for Disney Springs, and probably will prove to be the least successful of the new restaurants, but what do I know.
The interior space is dramatically black and purple with white accents. The black marbled bathrooms and black grasscloth wall paper is so dark, you will reach for what you assume is a sink and wash your hands as if your eyes are closed.
Although there are kids menus, this is one of the few places I felt apologetic about dining with my children, no matter how well behaved they were. The staff, though warm,  are still under the impression they are working somewhere way cooler than Disney Springs.
The menu was a modern steak house template, and my filet mignon with crab meat and Bernaise was adequate. My children ordered grilled chicken with broccolini but were served chicken coated in black pepper with asparagus. So they ate almost nothing.
One more irksome thing that happened was that we were brought their bread and we were told it was gluten free, when it was just the regular bread served at every table.
Since we have had similar indifference to our dietary requests at Marimota Asia, I caution you to ask to speak to the chef at Disney Springs restaurants, as they don't seem as strict with food allergy policies at the park and resort restaurants.
The Polite Pig
Even though it is a casual, counter service restaurant, the Polite Pig has serious local foodie roots. James and Julie Petrakis are the chef owners of The Ravenous Pig and Cask and Larder, both serious foodie destinations in Winter Park, north of downtown Orlando. Favorites are the massive pretzel, the mac'n cheese, and amazing vegetable sides. (Can you tell I am not a huge carnivore?)
The Best Disney Springs Desserts
Amorette's Pattiserie
This place is hard to leave empty-handed. Fusing elaborate French pastry traditions and the whimsy of Disney is a no-brainer, home run. The house specialties all assume the shape of mouse-ear hats, the half dome cakes and mousse, like the Mickey Mouse dome mousse pictured here, covered in a shiny red gelatin. The signature Amorette's cake contains several layers of cake in different flavors and is available in a small and standard size.
Gluten-free options include macaroons and mousse. Sparkling wines and champagnes are available here, too, to make it a dessert destination after the other restaurants.
The Ganachery Disney Springs
For all chocoholics, the new Disney Springs sweet shop the Ganachery offers various chocolate treats in an old apothecary theme. The result is so antiquated that it would almost work as a store in Daigon Alley. My daughter purchased every test tube of pearl chocolate candy: milk, dark, white, and caramel, and strawberry. I had my eye on the Star Wars bars near the cash register for gifts, but the majority of the merchandise was small batch, high-end chocolate in the cases. Traditional favorites like raspberry and passion fruit are mixed with more adventurous combos like mango-curry and matcha-yuzu.
Sprinkles Cupcakes
Sprinkles Cupcakes opened and offers their famous cupcake ATM. I found, on my second visit, really good cupcakes that were worth the splurge. Despite the novelty of the ATM, go inside and order where you have full access to their menu, including ice cream additions.
Goofy's Candy Company
For a true sugar rush, Goofy's Candy Company offers both bakery items and bulk candy. Their case is filled with adorable character inspired treats like cake pops and cupcakes, and candied apples. Giant Mickey and Minnie Rice Krispie treats bigger than a human head and chocolate dipped strawberries were great for those with gluten allergies.
Erin McKenna's Bakery NYC
For our family, eating the vegan, gluten-free baked goods from Erin McKenna's Baby Cakes was a ritual on past Disney World trips. The stand alone Erin McKenna's Bakery NYC in the Landing section of Disney Springs offers the same great donuts, dessert breads, and cupcakes. The bakery uses no refined sugar either, so if your family has allergies or an aversion to processed foods, this is a great outing for a treat. I watched my gluten-free husband grin and gobble two cookies while still ordering more.
Vivoli il Gelato
The Italiam tradition gelato place was what I was most excited to try. Granted, we have access to some of the best gelato in Boston (Morgan Morano, I am talking about you!), so after trying several flavors at Vivoli, I kept looking for real flavor, and never found one. that felt worth the caloric splurge. The texture was creamy, but the flavors were bland. Morgan Morano has ruined Boston with her bold flavors and small batch process she learned from her Sicilian mentor.
Nicholas Marks, the Disney Springs guitarist
Our last stop was the Lego store to enjoy their Lego sculptures around the store's interior and exterior.  As we walked back to the finally finished parking garage, we stopped to gawk at the incredible Spanish-gyspy style guitarist Nicholas Marks, who uses his own guitar to create a separate rhythm accompaniment with lightning fast hands. He made every other musician performing that night seem like the reject acts. When his performance left us with our jaws dropping, we found our recently purchased vegan donuts fit perfectly into our mouths.
If you have never been to Disney Springs before, it might be worth checking out once if 1) you live in a community without these kinds of commercial places to walk around 2) you are passionate Disney fans who like to buy Disney merchandise in the Marketplace, the resort's largest Disney store, or 3) you want to drink without the kids.
But there are other places within the Walt Disney Resort we would personally rather spend an evening with our kids, especially during a shorter trip, that are far more specific to Disney World: a walk around the grounds of the Art of Animation Resort to take photos of the incredible sculptures, visit the Boardwalk, hear the fabulous ragtime band in the Grand Floridian lobby, or watch the fireworks from the Polynesian Resort beach.
If you are planning on making a trip to the area and want to make Disney Springs the focus of an adult-only trip, I strongly suggest the B Resort (Check out our photo feature), which is an official Disney Springs hotel that is a generous walk away.
Although it offers plenty of family amenities, its sleek design and spa make it a perfect adult getaway, too.
I had a wonderful time exploring the new restaurants and offerings of Disney Springs with my family.
I'll keep updating this article with each new restaurant, because there are too many places to try in a week! Even Splitsville Orlando has food beyond your standard bowling alley fare.
Next on our list: Chef Art Smith's Homecomin'