Florence with kids is really all about gelato.
A Room With A View came out when I was thirteen years old. My best friends and I watched it on VHS tape dozens of times, and we quoted the film's brilliant wit doing our best impressions of Maggie Smith and Helena Bonham Carter.
Most of all we each longed to kiss a dashing young man in a field of poppies with Florence in the distance just like the scene central to the film's plot.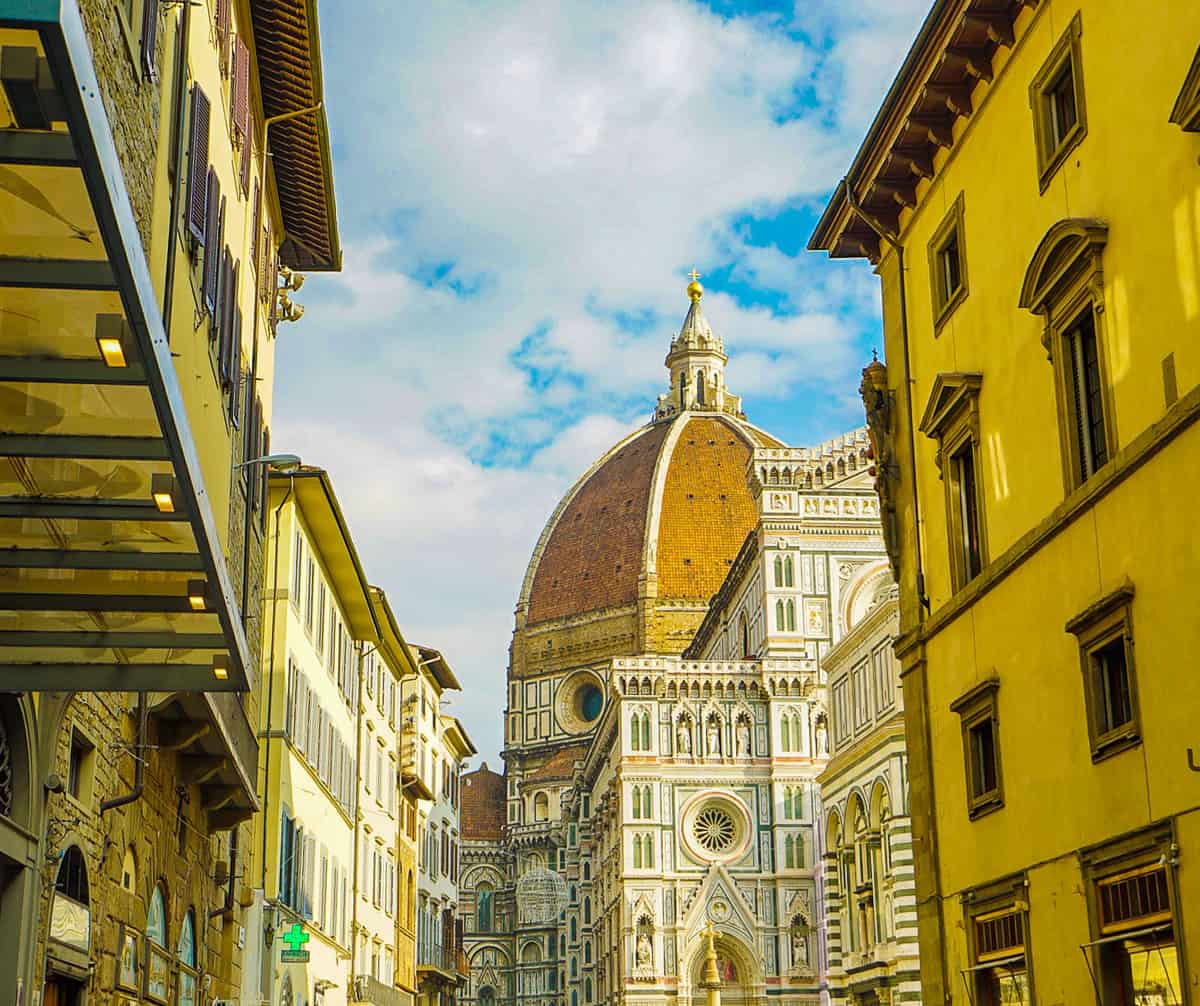 Taking kids to Florence on a family friendly vacation isn't quite the same romantic experience, but it can be almost as enjoyable. It is one of Europe's most beautiful cities, and its historic center is easy to navigate for families.
Every family will find the beautiful carousel in Piazza della Repubblica and capture a vacation photo, but there's so much more to see and do.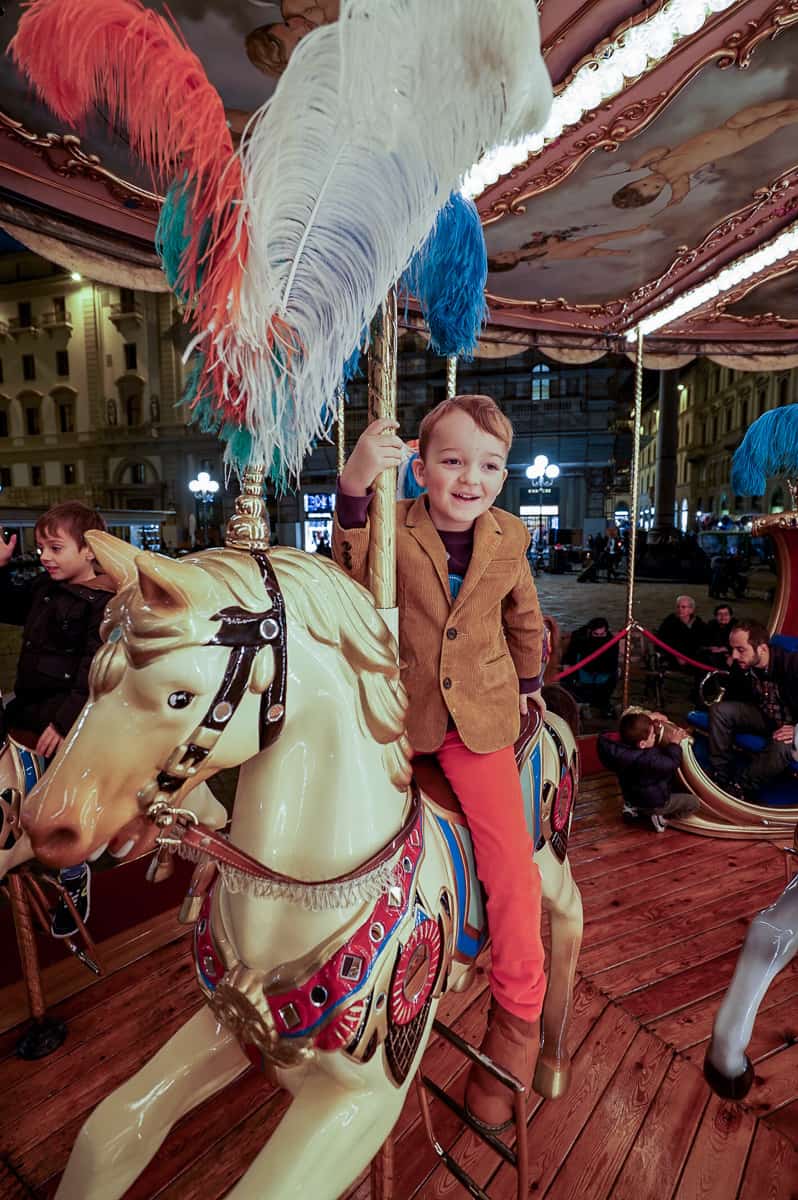 Making Florence Fun for Kids
Florence is filled with historical sites and tourists, and it doesn't really experience a slow season anymore. Crowds at the Florence museums like the Uffizi Gallery have only grown. I knew we would want to buy a skip the line museum ticket and any advanced reservations we could make.
To keep our trip enjoyable and low on stress, I knew I wanted to bring in local experts who could provide an immersive and educational tour of Florence we'd never have found on our own.
LivItaly Tours offer family-friendly private and group tours in most of Italy's most popular destinations.
Even though LivItaly's small walking tours are limited to approximately six people, we found it convenient to reserve a private tour so that we could customize our schedule according to our children's appetites, endurance, and attention span without disturbing other patrons.
LivItaly's Private Walking Tour
We met Raffe in the Piazza della Signoria. Half Italian and half American but raised in Italy, Raffe spent many summers not far from our home in the Boston area.
As an artist, art historian, and teacher, Raffe dove right into getting my children to see what was around them with a much deeper appreciation.
We made our way to Palazzo Vecchio to see a replica of Michelangelo's David. When Raffe took us on to Piazza del Duomo, and we knew it was time to give our kids a hot chocolate. They had walked several hours already, and we wanted to prevent any crumbling of spirits.
---
---
Raffe knew just the place for tea and hot chocolate and spent her time getting to know our kids. She was inquisitive and funny, wrapping my son around her finger. I had worried that he may have been too young for this type of travel at six, but with a guide like Raffe, it was no challenge at all.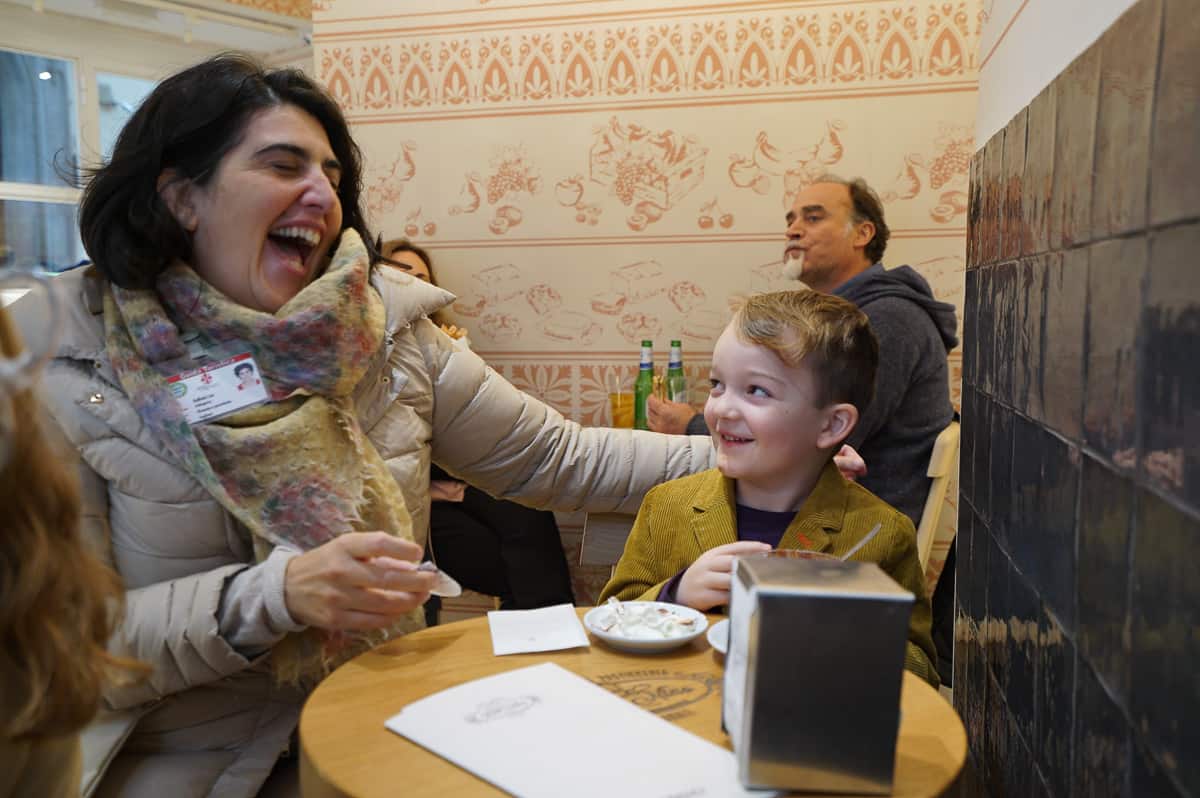 We proceeded to the Galleria dell'Accademia where Raffe whisked us through. Even though we only discussed the David, Raffe turned it into such a focused lesson. She made her presentation interactive and would involve my children's answers with every bit of information she shared.
After the Accademia, Raffe had reserved tickets for us to climb the Duomo for some spectacular views of the city of Florence and its surroundings. If I knew were to look, the poppy field from the famous scene in A Room With A View would be off in the distance.
The climb to the top of the Duomo would be intense for people with claustrophobia, as the stairs are cramped and visitor traffic runs both ways up and down the 463 steps. At times, the climb became a little unpleasant, but the experience was worth it.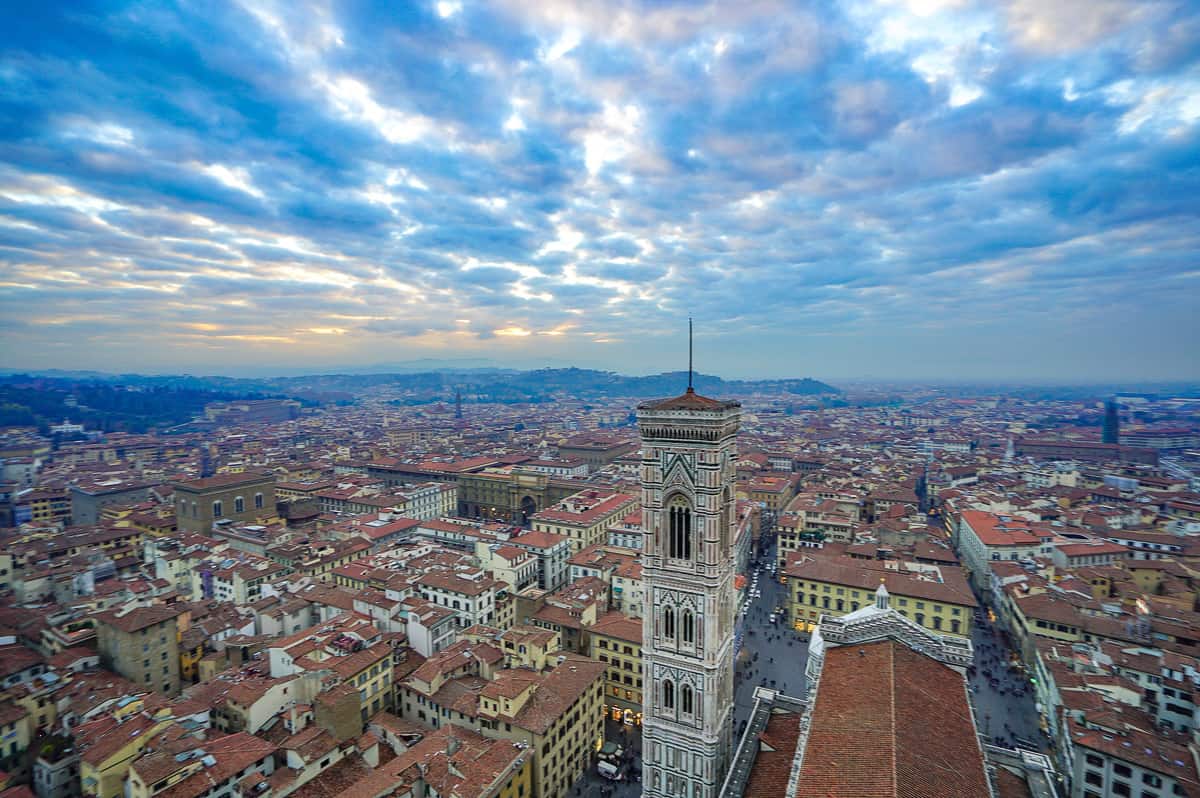 LivItaly's Private Uffizzi Tour
Our family was excited to meet Raffe again the following afternoon for a tour of the Uffizzi. We stopped in front of the Palazzo Vecchio, the primary government building under the Medici family.
She pointed out to us the Vasari Corridor that connects the Palazzo Vecchio to the Pitti Palace through the Uffizi. We wanted to take the corridor  from its unmarked door in the Uffizi, but we didn't have time.
Raffe came fully prepared for the children to lead them on an art scavenger hunt that tested their knowledge of facts she had shared with them.
She led them through galleries stopping at key works by Botticelli, Fillipo Lippo, and Leonardo DaVinci. I was charmed that my son decided to sit on the floor in the middle of the gallery for a little rest, and Raffe just squatted down next to him.
Graduating from the Uffizi Tour
We stopped to enjoy a great view of the Arno River from the museum at the end of our tour. Raffe presented incredibly thoughtful prizes for each child of art and guide books. They proved to be their favorite souvenirs from the trip. We really connected with Raffe and couldn't imagine as an enjoyable trip without her.
We had sampled our share of mediocre gelato and asked where we could go for the best, and she knew right where to take us. More of a neighborhood shop, we finally enjoyed amazing gelato at Gelateria Dei Neri. Their speciality is a house made whipped cream that is wonderful. I am not even a whipped cream fan.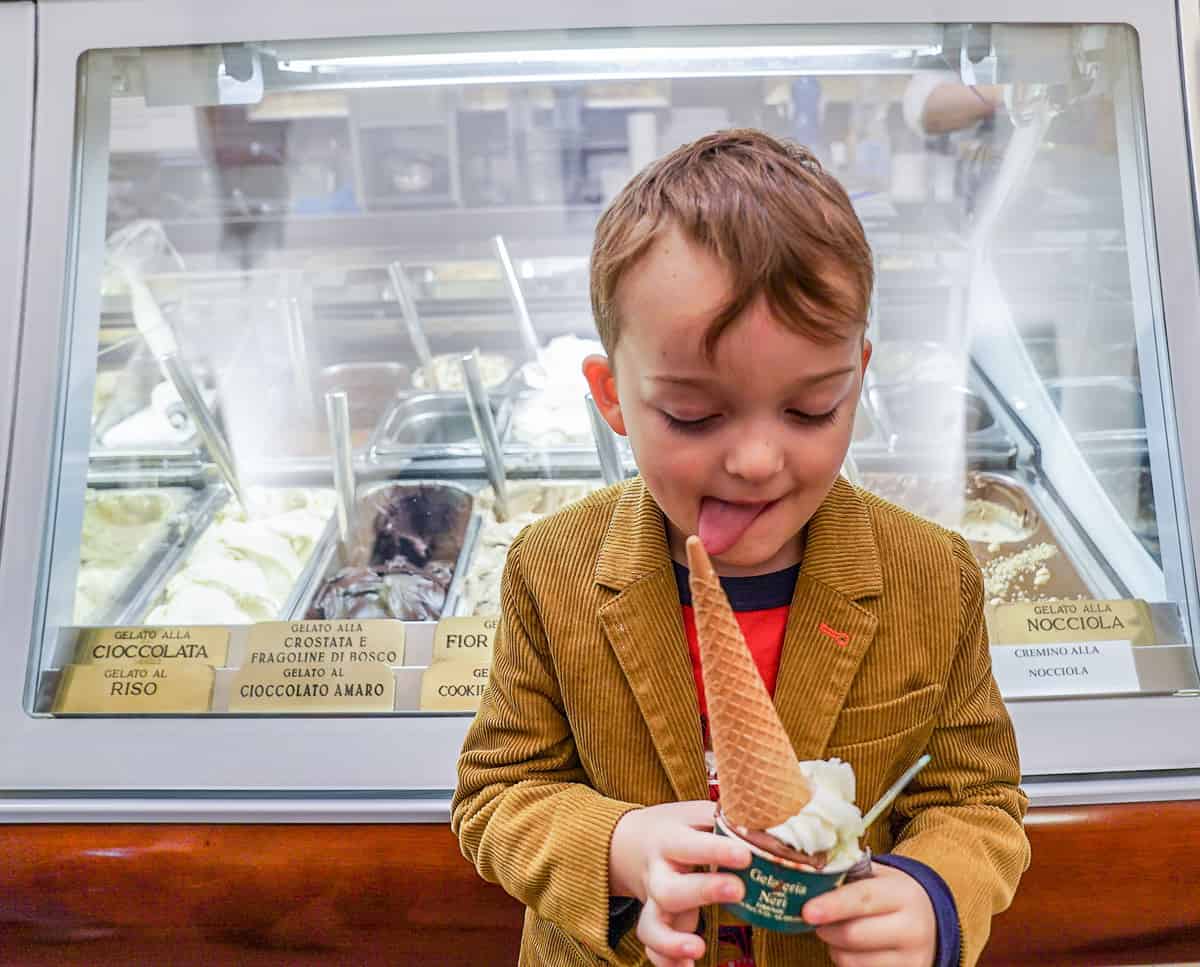 This was the first time we had booked a sightseeing tour, and I am sold that this is a great idea whether or not one is traveling with kids. I loved the ability to preserve my energies to enjoy what I was seeing. I didn't have to spend my mental energy on where to go next.
---
JOIN OUR FACEBOOK GROUP LUXE FAMILY TRIPS,
WHERE WELL TRAVELED PARENTS CAN ADVISE ONE ANOTHER ON THE BEST PLACES TO STAY.
---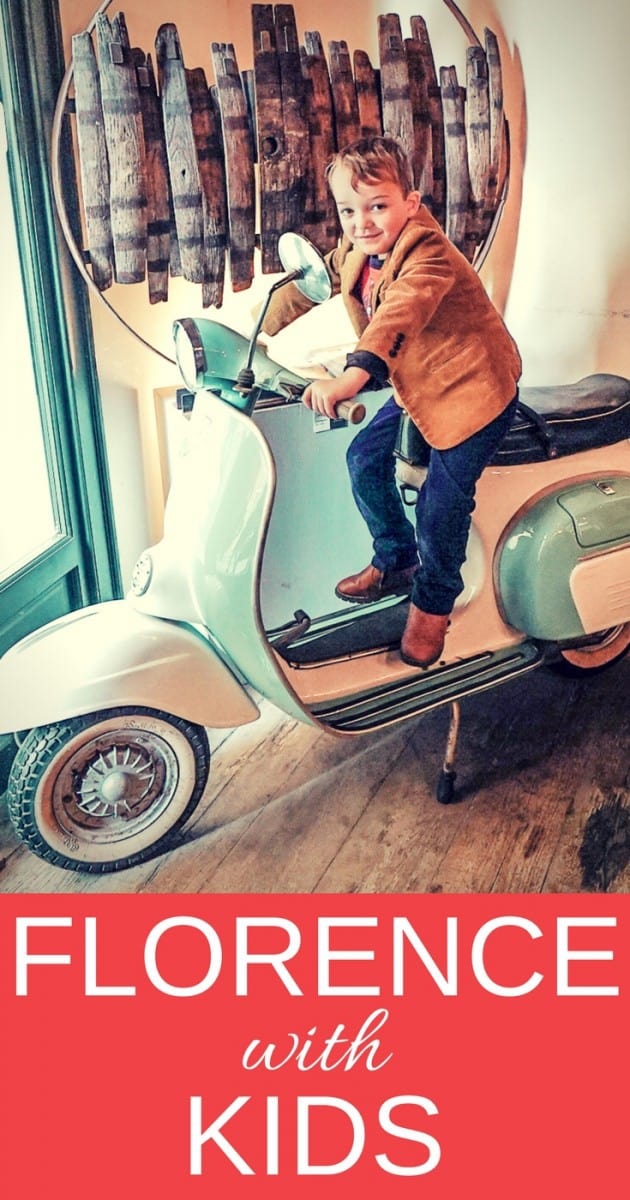 More family tour offerings from LivItaly Tours
A tour we opted not to book that I regret is a family drawing tour with Raffe. Now seeing what a passionate art teacher she is, I know it would be an incredible experience. Our trip was in the winter, so sitting in potentially cold or wet weather didn't sound as appealing.
Why book a private family tour over a group tour?
LivItaly also offers a private gelato making class, which I wish we had done. It involves a morning tour of the mercato centrale. We booked a pizza and gelato-making class through a competitor that wasn't private and didn't end well.
Several families convened to make pizza and gelato, but an unhappy two-year-old howled the entire class masking the instruction from the pizza and gelato makers.
The instructors didn't know how to respond to the situation.  Despite being part of a large multi-generational group, no parent or grandparent felt the need to take the unhappy toddler outside. 
This experience taught me to invest in private family experiences when possible. It taught me that LivItaly Tours and Raffe had spoiled us badly. We can't really imagine touring Italy any other way now.
On this trip we chose simple, spacious family rooms at the Hotel Grand Minerva. They offer a convenient location and a rooftop pool. Read our review.
LivItaly Tours provided tours in exchange for a review.