Sometimes a hotel suite just doesn't feel large enough. Sometimes you need bigger. Like a 6,000 square foot house.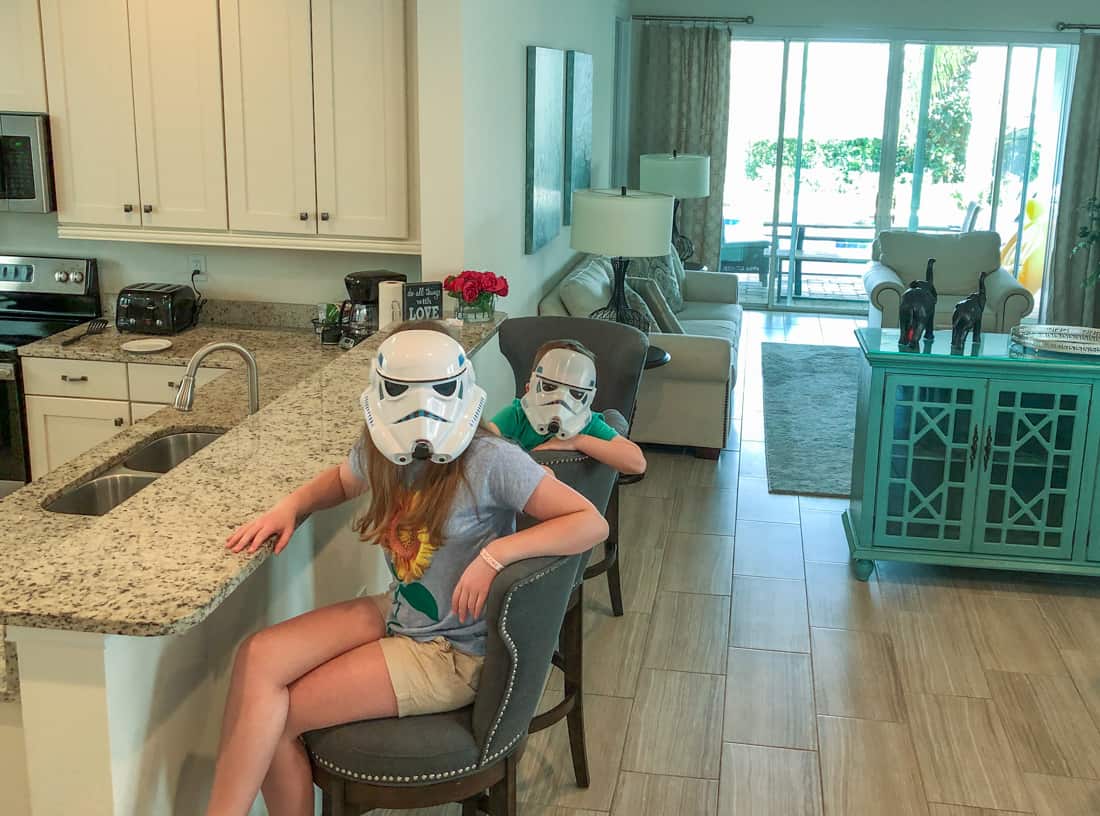 At Encore Resort, you can have it. Instead of condos or villas, everyone gets their own resort home and private pool.
Encore Resort has developed a unique guest experience where families can enjoy full vacation amenities while residing in their own home in this new resort community that opened in 2016.
Location
Encore Resort is in Reunion, Florida, which is part of Kissimmee— the epicenter of Orlando vacation home rentals southwest of the Walt Disney World resort. Nearby Reunion Resort, which came first, gave the name to this master planned community and is adjacent— but a completely different resort.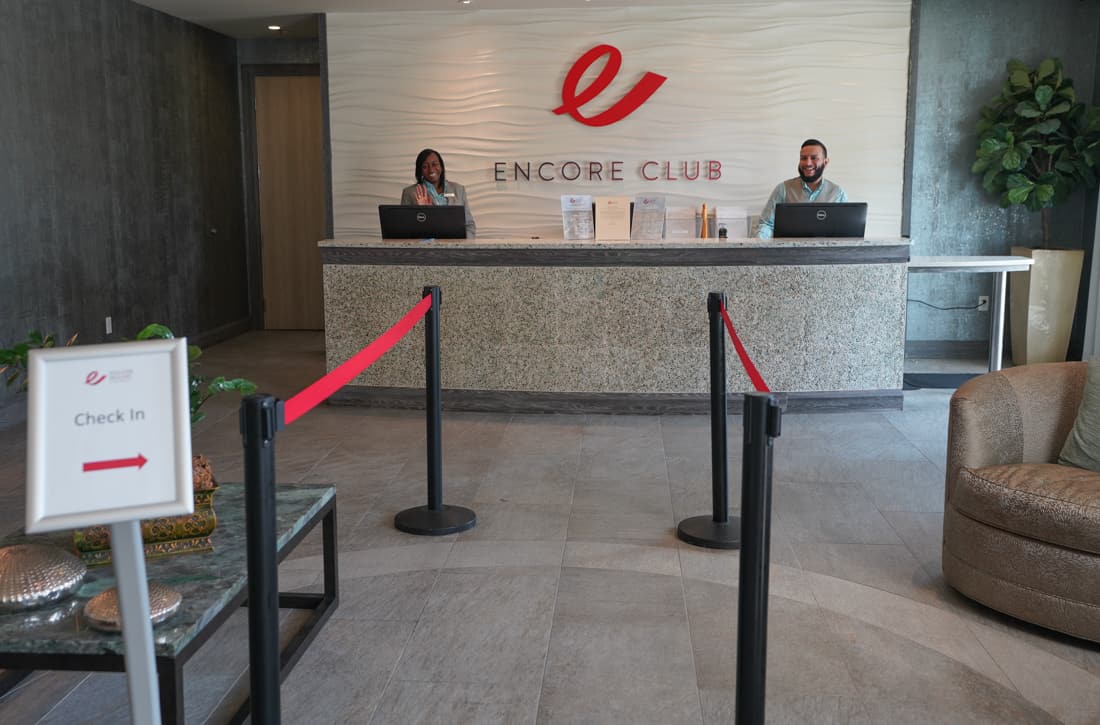 Orlando does not sanction short term rentals, so there are no vacation homes located in Orlando. Kissimmee, known as the vacation home capital of the world, offers 22,000 vacation homes to rent that are minutes from the various theme parks and attractions.
The drive to Disney's Animal Kingdom is just under twenty minutes and five miles from Walt Disney World Resort. Most points within the Walt Disney World resort take 20 to 25 minutes from Encore Resort. Universal Studios and the Wizarding World of Harry Potter is about 25-30 minutes away.
Encore has a Walmart, Super Target, and several Publix grocery stores nearby, one less than ten minutes away. There are grocery services in the area that can arrange delivery, too.
Booking Orlando Vacation Home Rentals With Encore Resort
Vacation homes at Encore Resort start at three bedrooms, so the smallest homes sleep eight. Each home includes free Wi-fi and a private pool. When booking your home, it feels a bit like choosing a rental car category to book. Homes start at $249, and the price incrementally creeps up for each additional bedroom.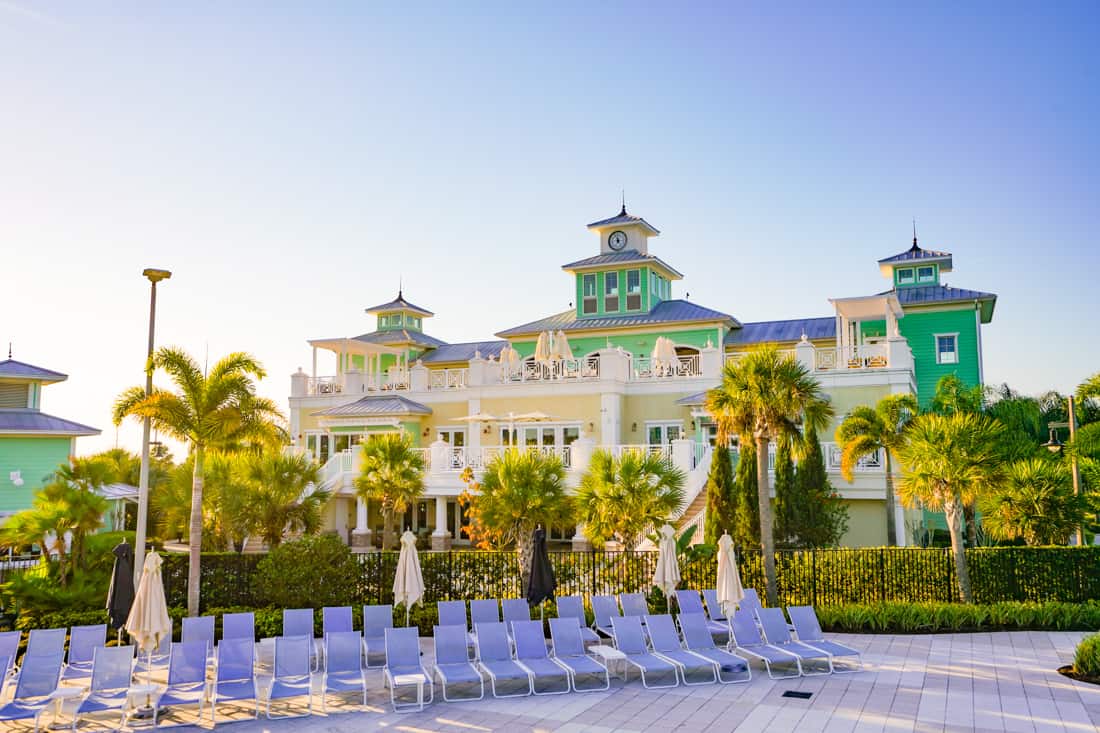 It is affordable to book a home with a few extra bedrooms beyond what you actually need to assign their own use: the fort-building room, the laundry-folding room, the napping room, etc.
Booking a vacation home in Orlando can get confusing pretty fast because there are so many vendors who are not the actual resort but are property management companies representing owners.
Why You Should Book Direct With Encore Resort
I suggest always booking Encore direct with the resort (321-888-3860) based on our own experiences. Once I tried a property management company who owned several units in a Las Vegas resort we had previously enjoyed. I saw the deal and grabbed it on a Kayak or Expedia search.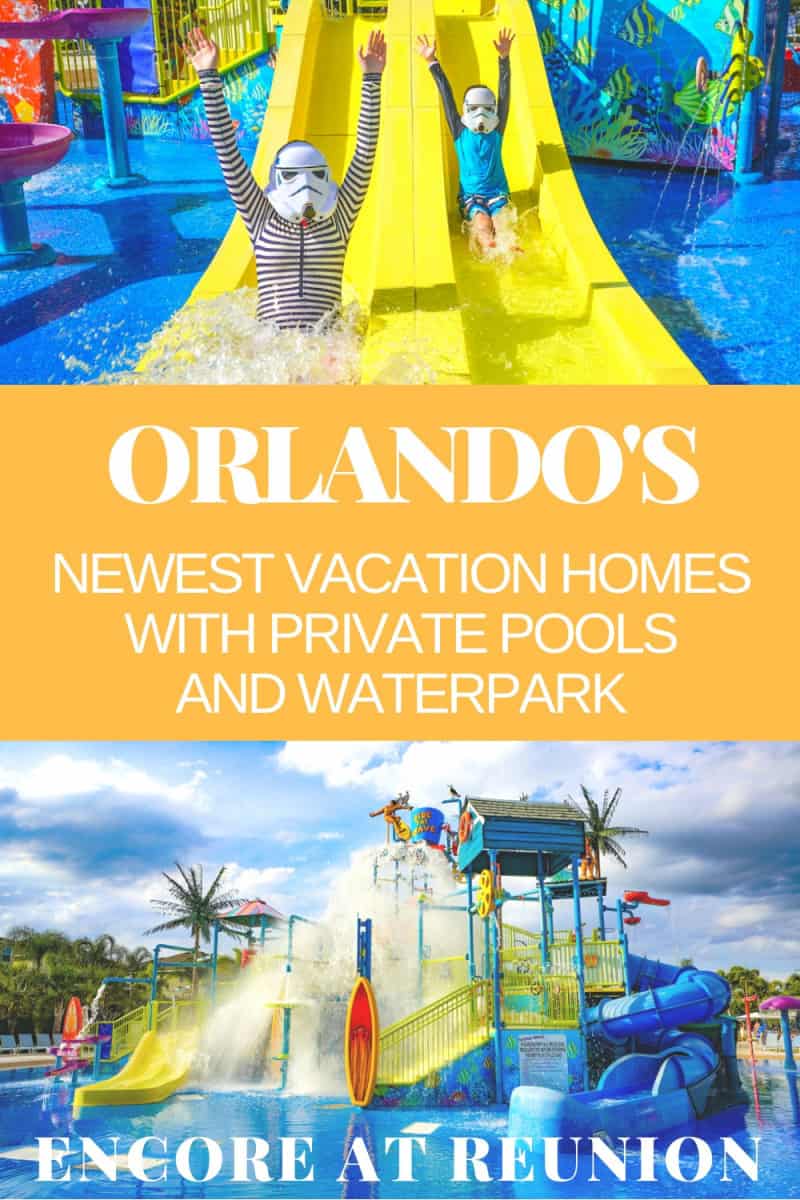 Once we got there, our room location was terrible and club music vibrated our suite all hours of the night. I called whom I had booked through, and their limited inventory meant they didn't have another suite to move me to. Had I booked direct, I would have had no problem getting a better suite for us in a quieter location.
---
Join the Luxury Disney World Facebook group if we can answer
your questions when planning your next Orlando vacation.
---
Encore Resort Vacation Homes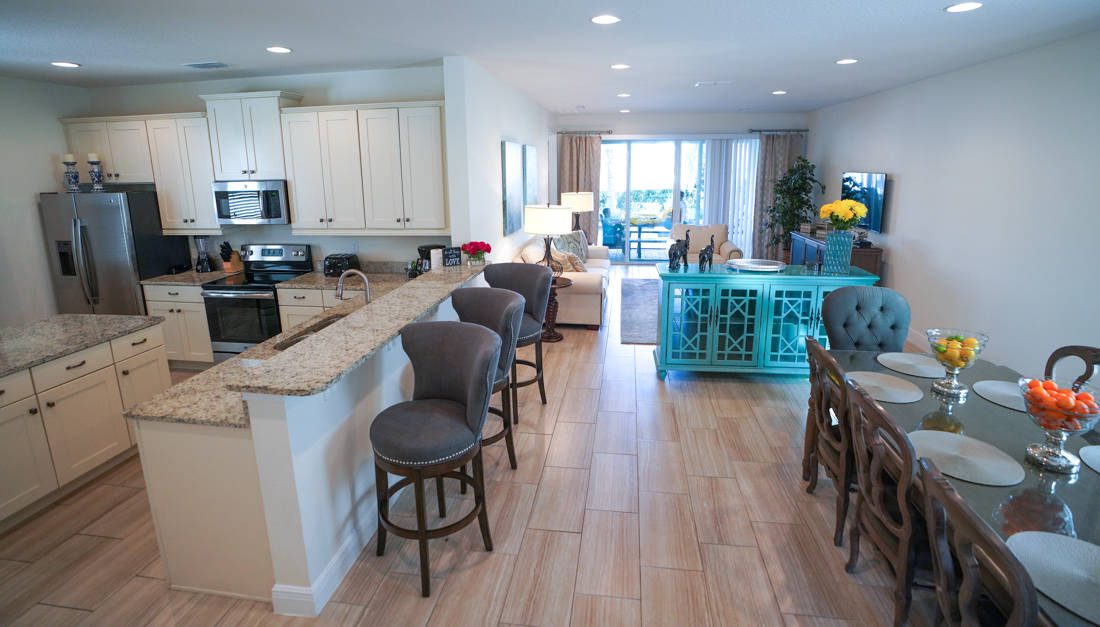 A staff member will personally escort you to your new home and give you a tour and cover all of the unit's special features and share the free Wi-Fi password.
Our home came with several bedrooms with kings or queens as well as one bedroom with twins the kids claimed, as it was off of the room with the giant television and sectional.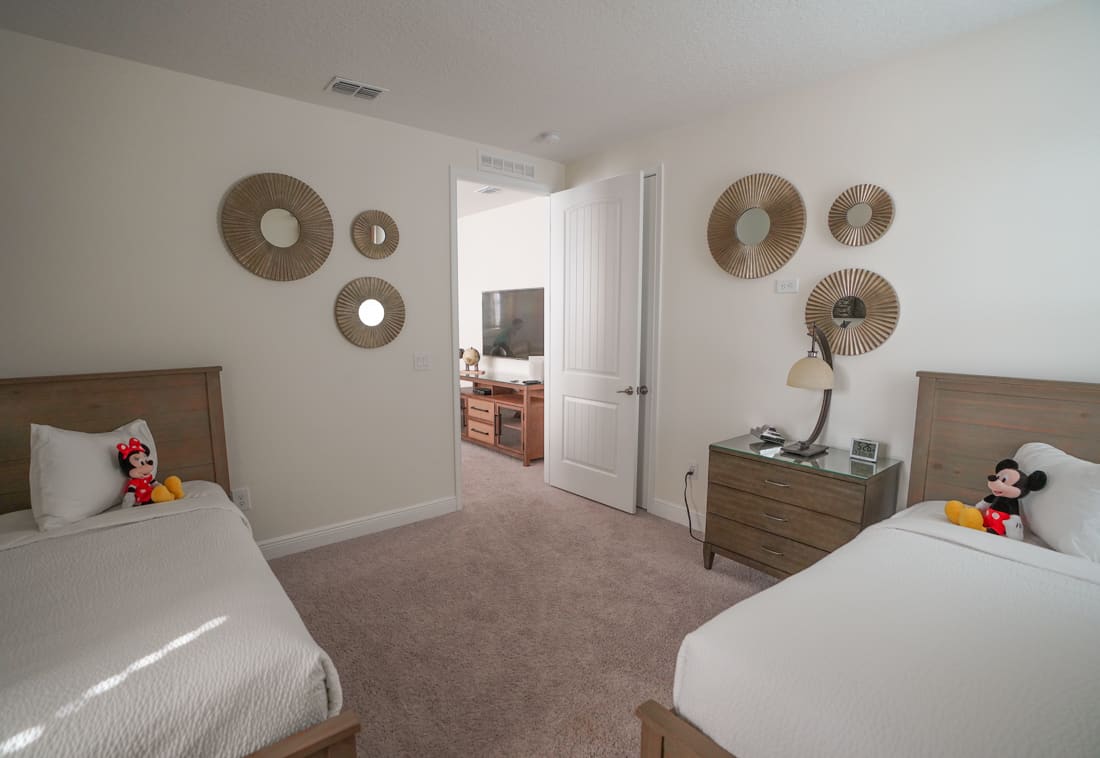 Larger homes at Encore do come with game rooms and movie theater rooms, but ours did not have one.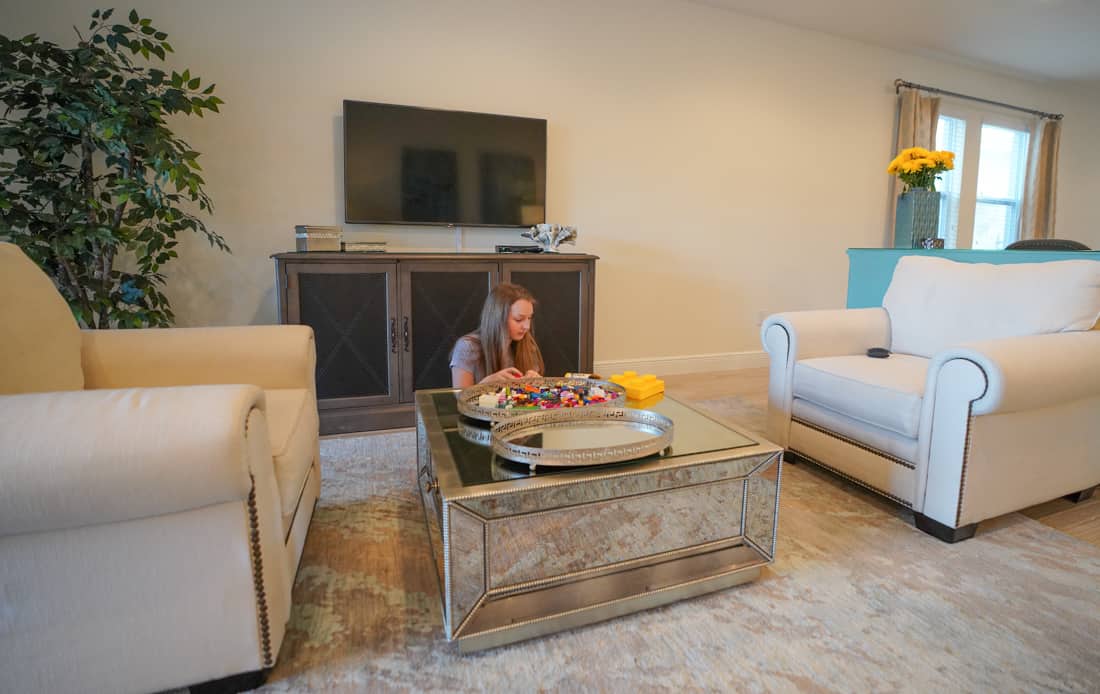 Homes come with pools, some smaller than others. Most also have a hot tub either attached or standalone. As a parenting tip, I recommend purchasing one of those large inflatable rafts in the shape of a cupcake or a flamingo or a rubber duck and a hand pump. Getting the rubber ducky float ready for use with a hand pump consumed a couple of hours of my kids' time while I could unpack and organize in peace.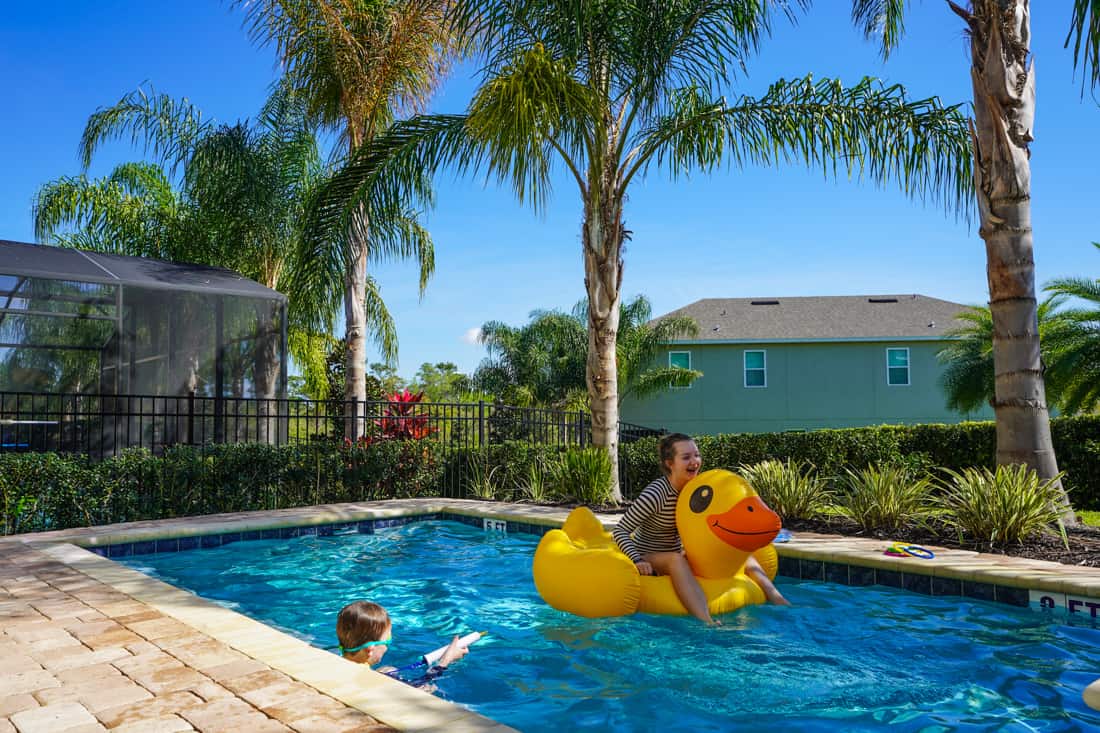 Pool heating is an additional fee, and it must be purchased for a minimum of three days for the cost of $180.
Children and the Swimming Pools
Baby alarms that prevent a young child from getting access to the pool may be new to guests. Guests must press buttons located high on the walls of both the inside and outside of the patio sliding glass doors. If not, a loud buzzing alarm alerts residents that the pool doors are open and young children could be outside without supervision.
Every home uses these alarms as mandated by Florida state law.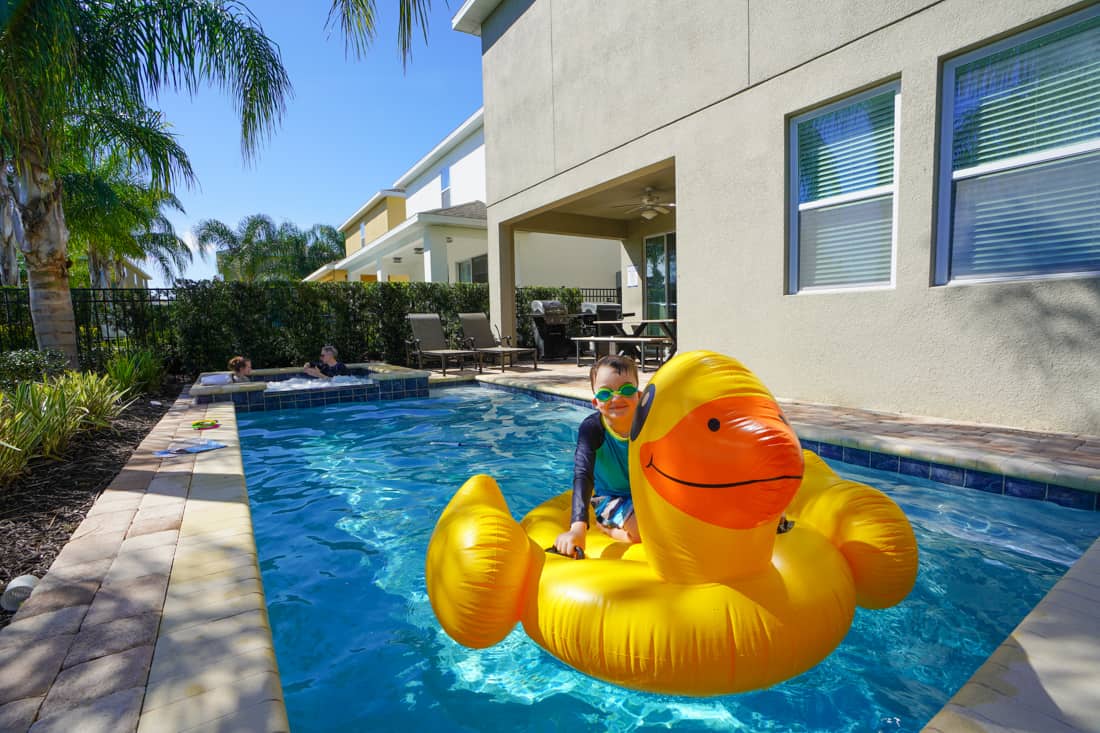 Security
Guest houses don't use keys. They're installed with keypad locks, and each family is given a unique code that is active only during the duration of their stay. It worked very well, and your kids will likely remember the code more easily than you will. There's additionally a gated entrance that is staffed by a guard the bulk of the day, and a gate that's accessed by key card after hours.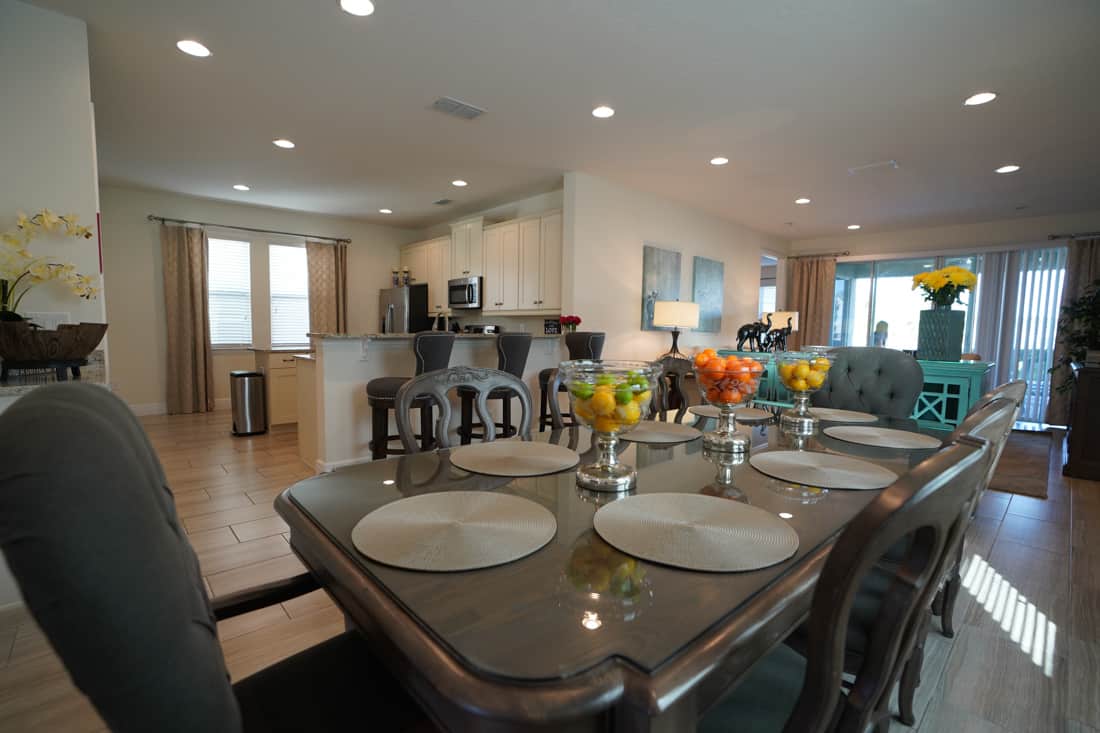 The Kitchens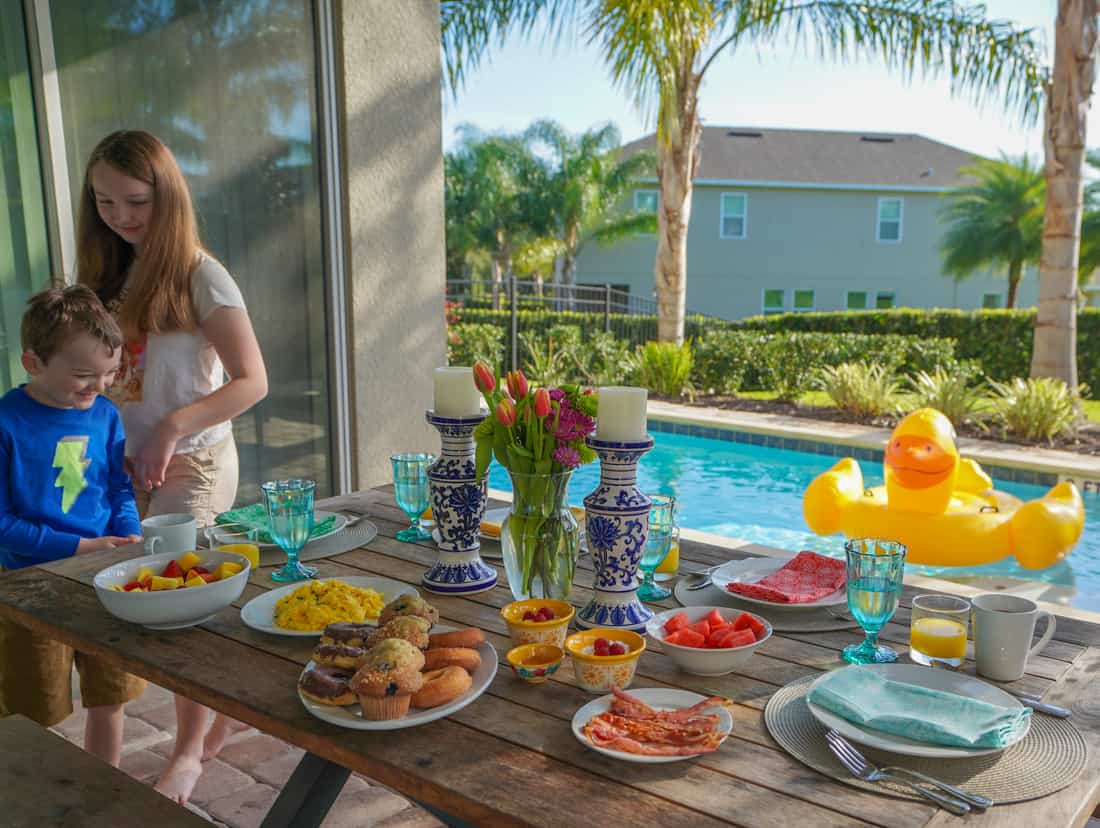 The kitchens were appointed thoroughly with many cooking tools and serving items. Our house provided both indoor dish ware and plastic dish ware (for meals outside).
You will find standard plastic utensils and inexpensive cooking knives, however. If you plan to do a lot of cooking, I suggest packing (in checked luggage!) a good chef's knife from home.
Resort Amenities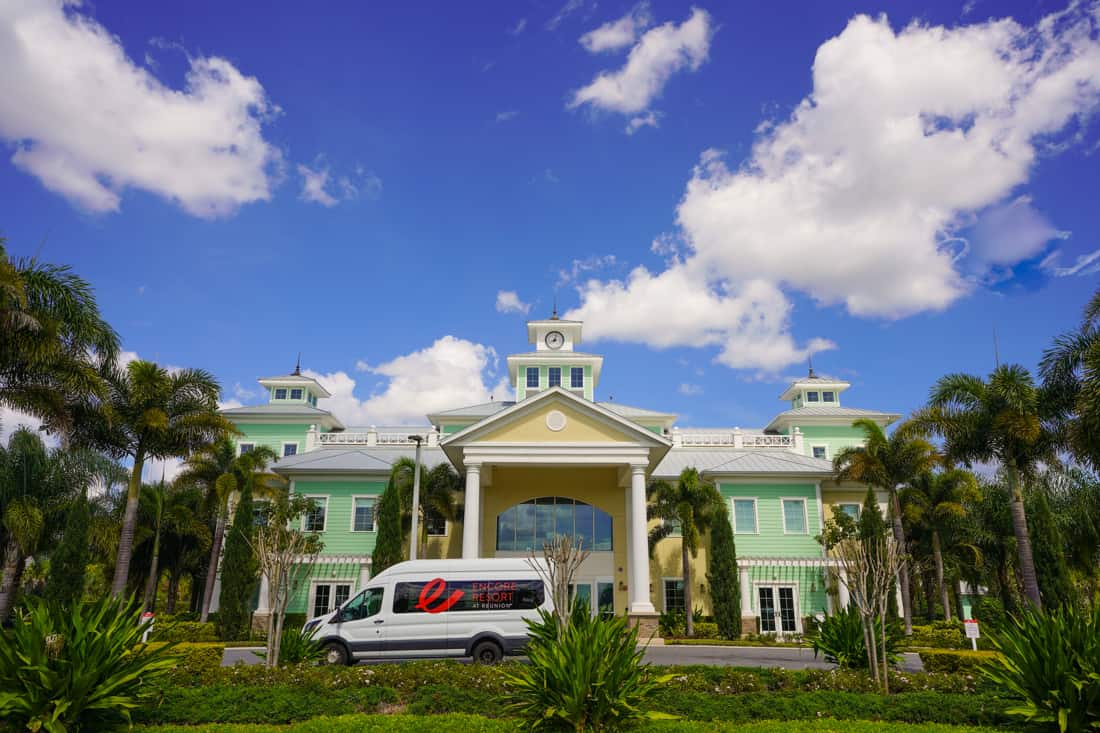 The heart of Encore Resort is its clubhouse. The clubhouse contains the front desk and concierge staff, a convenience market and café, and a bar and restaurant.
Guests check in at the front desk and wait for a staff person to personally escort the family to their home. It's still personal and staffed like a resort check in. Just prior to escorting you to your home, staff complete a thorough inspection, and this is the chance for the resort and guests to ensure everything is working or confirm any special requests.
Restaurants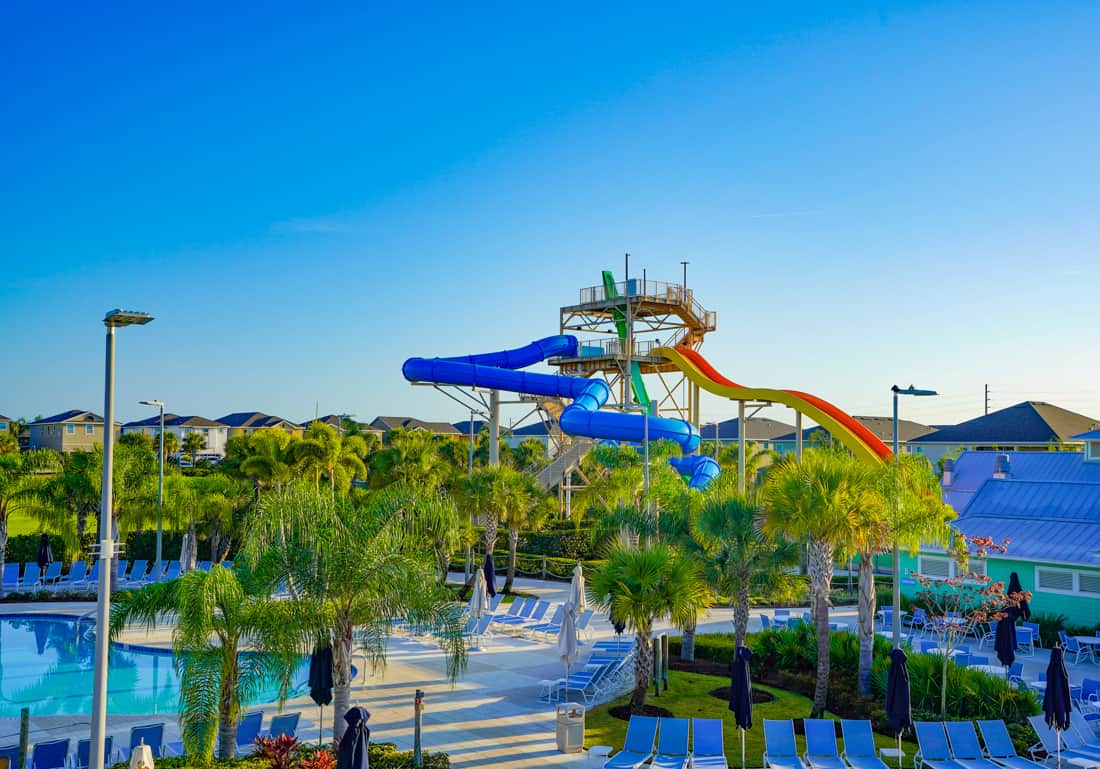 The second floor of the clubhouse is split between the Shark Lounge and Finns restaurant. There's additional outdoor seating along the patio with expansive views of the pool and water park areas. It's a great place to grab burgers in the shade. My son loved his burger. "This is better than Shake Shack," he said after a few bites.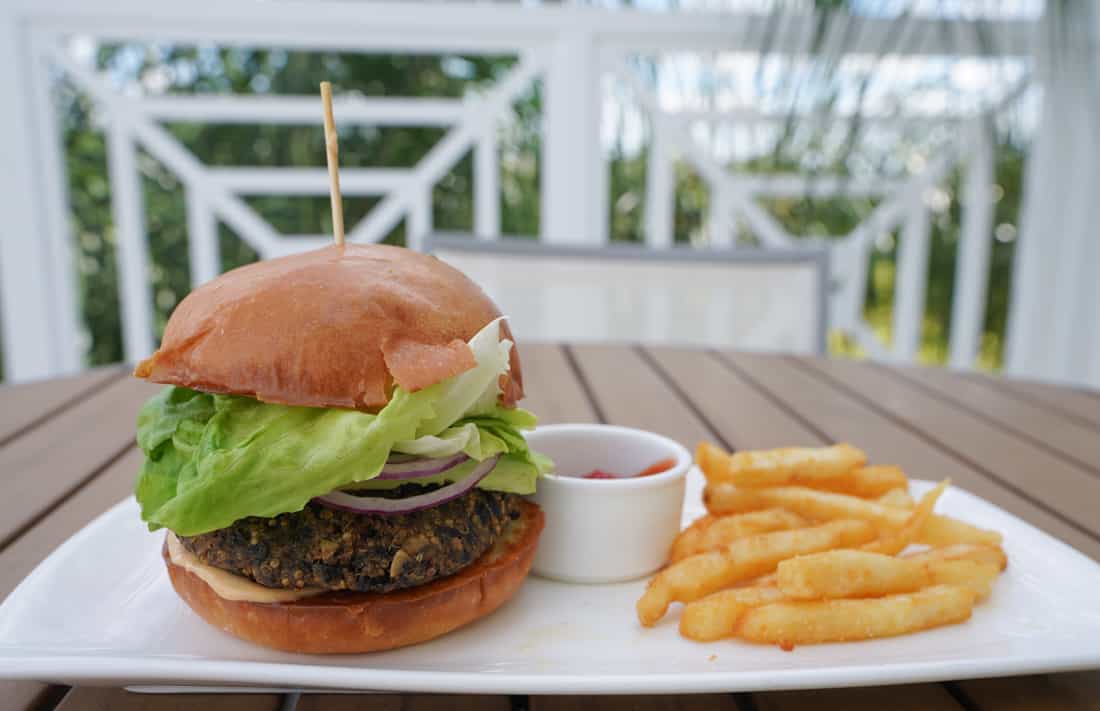 There are numerous drink and dinner specials posted throughout the month. Consult your Encore activity calendar the staff will send you in advance. You'll see live music, trivia nights, karaoke, and seasonal holiday buffet celebrations.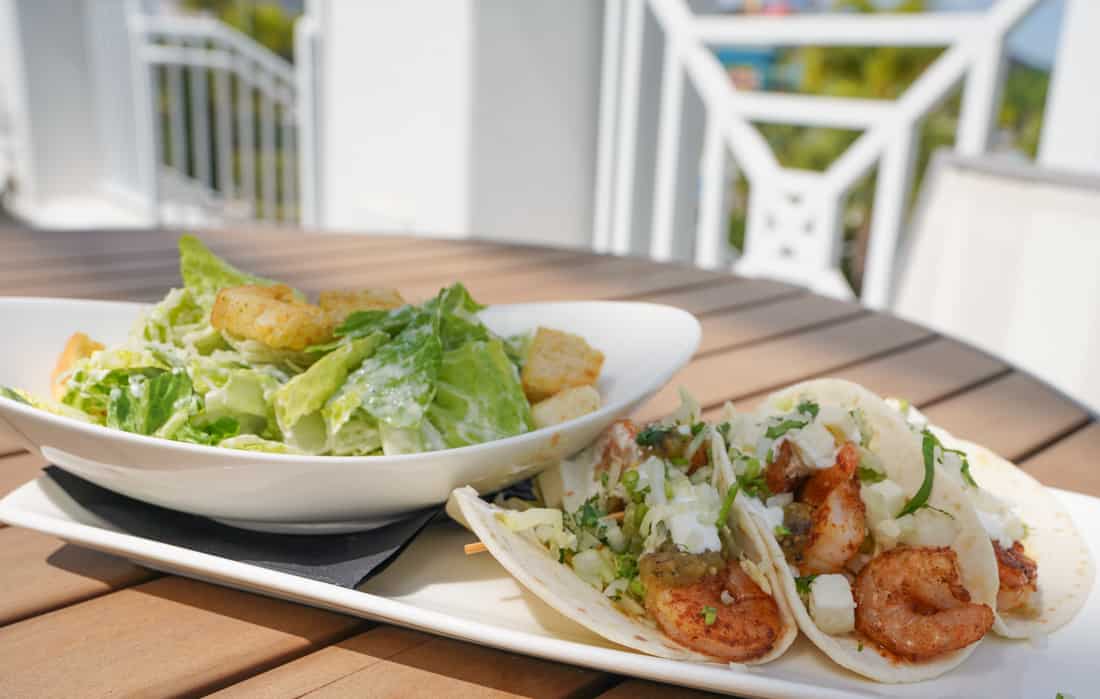 Encore staff figure out ways to celebrate every holiday in grand scale. I loved that families could order Easter baskets to their homes was an option for families, for example, in addition to egg hunts, a bunny hop 5K, and Easter buffet.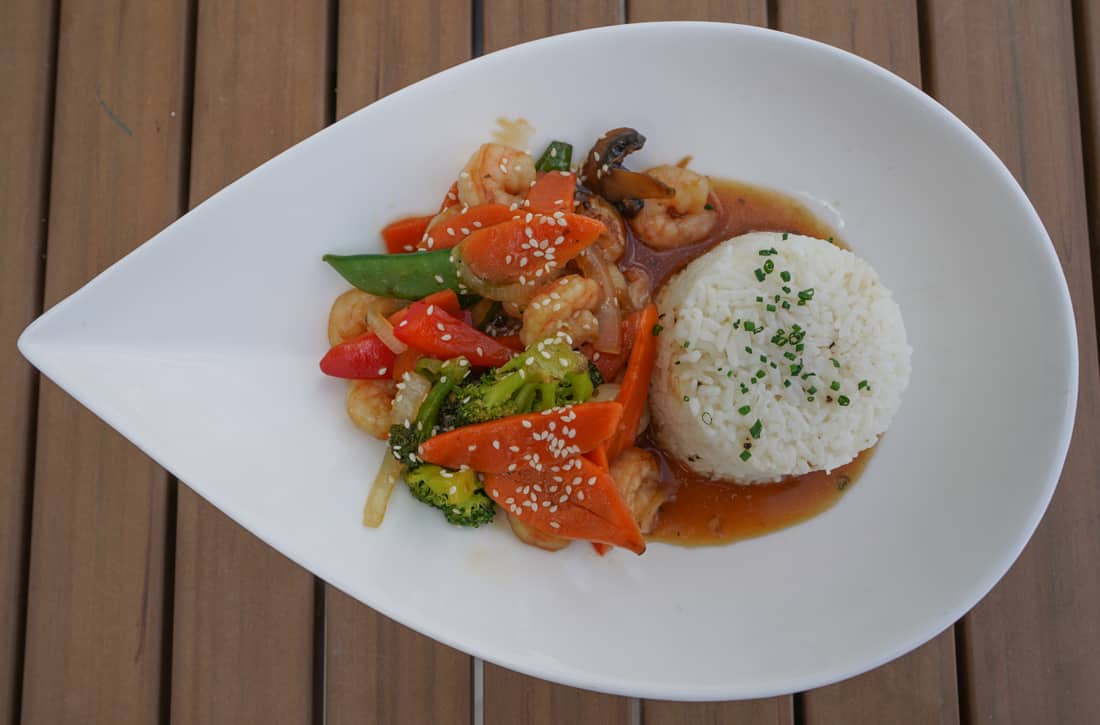 Kids' Clubs
Located within the clubhouse is the kids' club called the Hang Ten Hideaway (there's a surf theme throughout the family activities). An Encore staff member remains inside during 10AM to 6PM each day.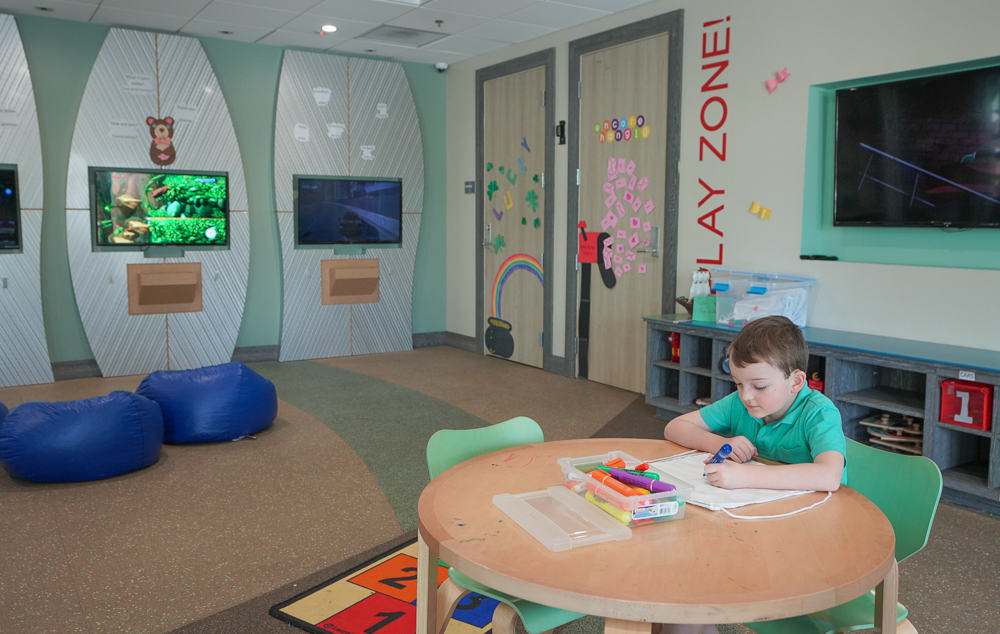 Parents have the flexibility of dropping off their children aged 5 through 13 on their own schedules. The cost is $10 per hour per child. Parents can also remain with their children while they enjoy crafts, games, or video games.
Theme Park Transportation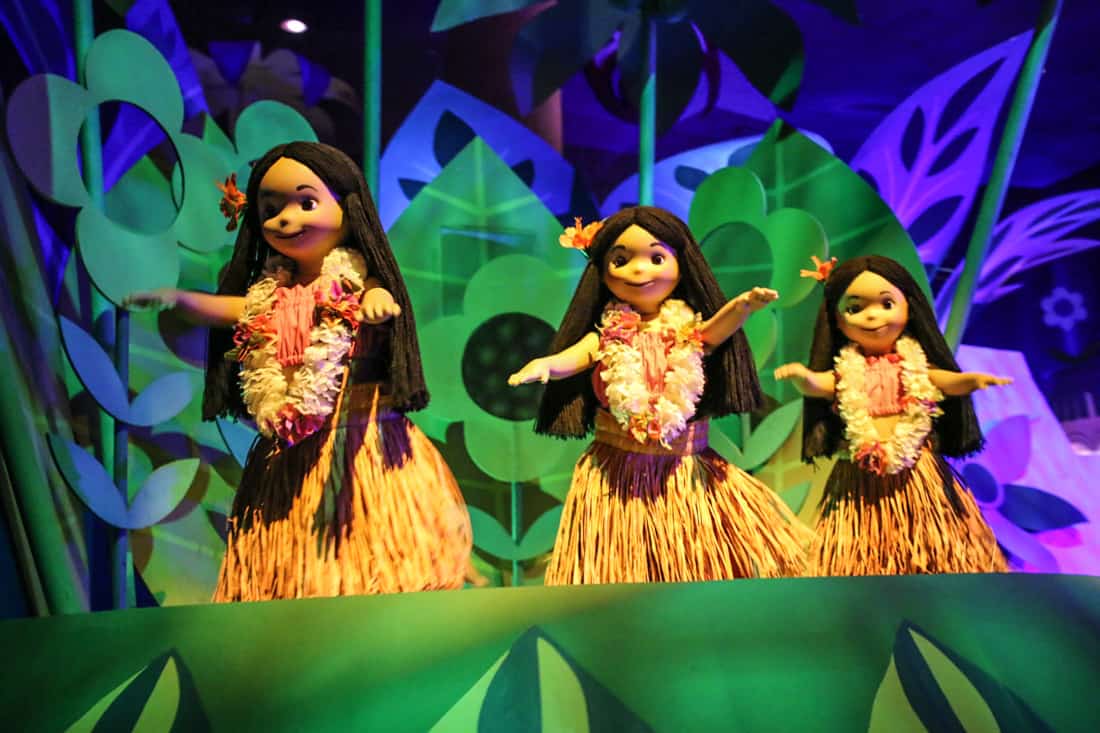 Encore Resort provides transportation to the area theme parks, Disney, Universal Studios, and Sea World. Reservations are required, and there's a schedule for each day's departures. The van can collect families from their vacation homes and bring them to the clubhouse before departure if they do not have a car.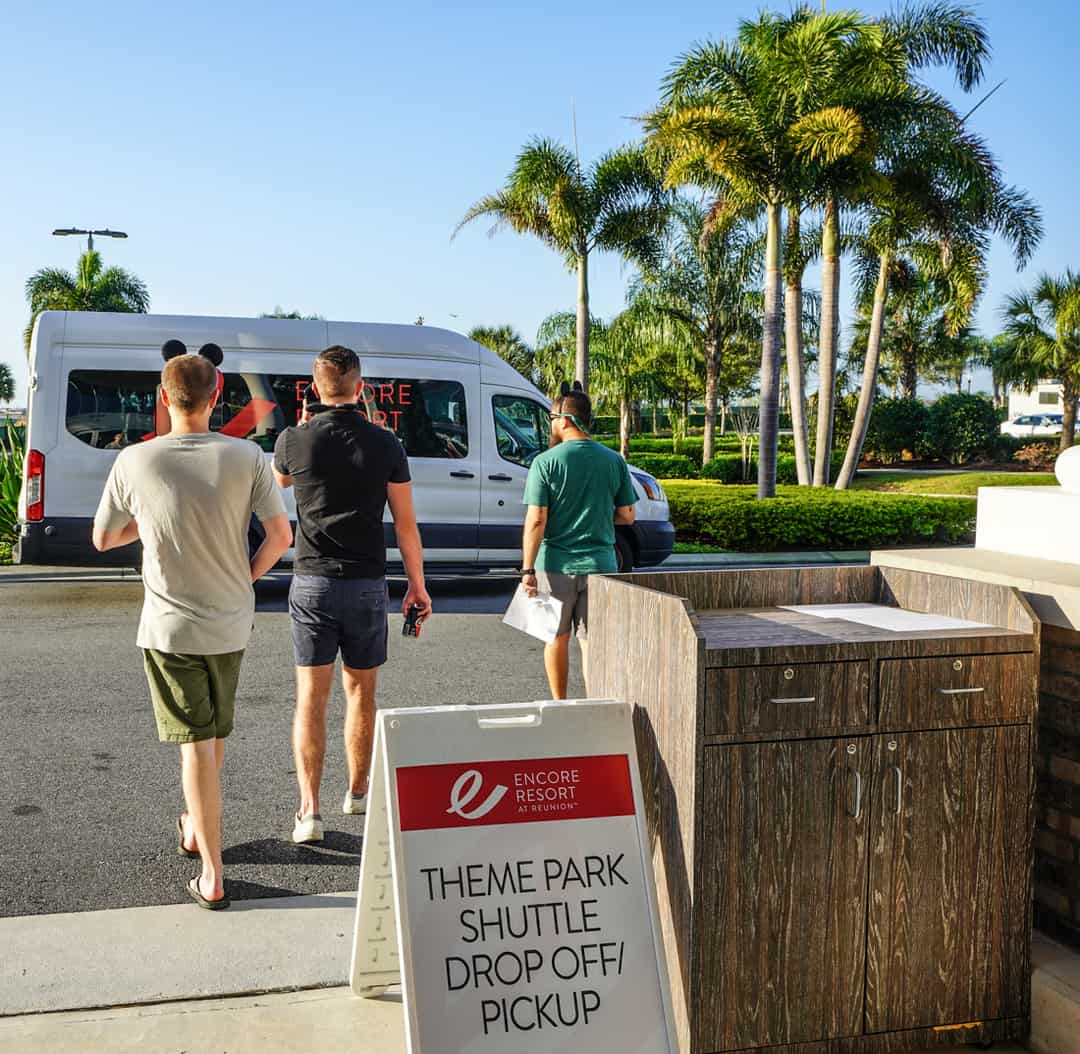 The concierge is also an authorized ticket seller for all the parks. (But please, dear Luxe Recess readers, please don't just decide to go to Disney World on the fly.)
The Encore Reunion Water Park & Pool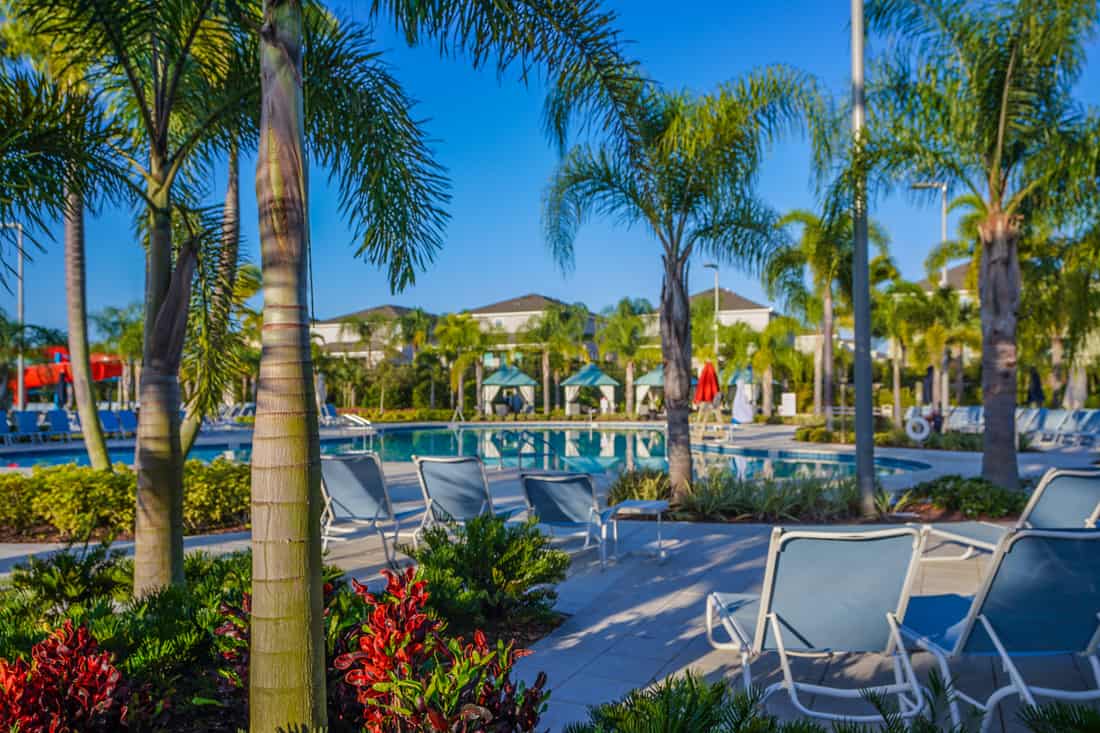 The water park and pool area are what your kids will embrace the most about the resort. The pool area is divided into three areas. There is a splash structure for younger children, a standard resort pool with cabanas, and waterslides.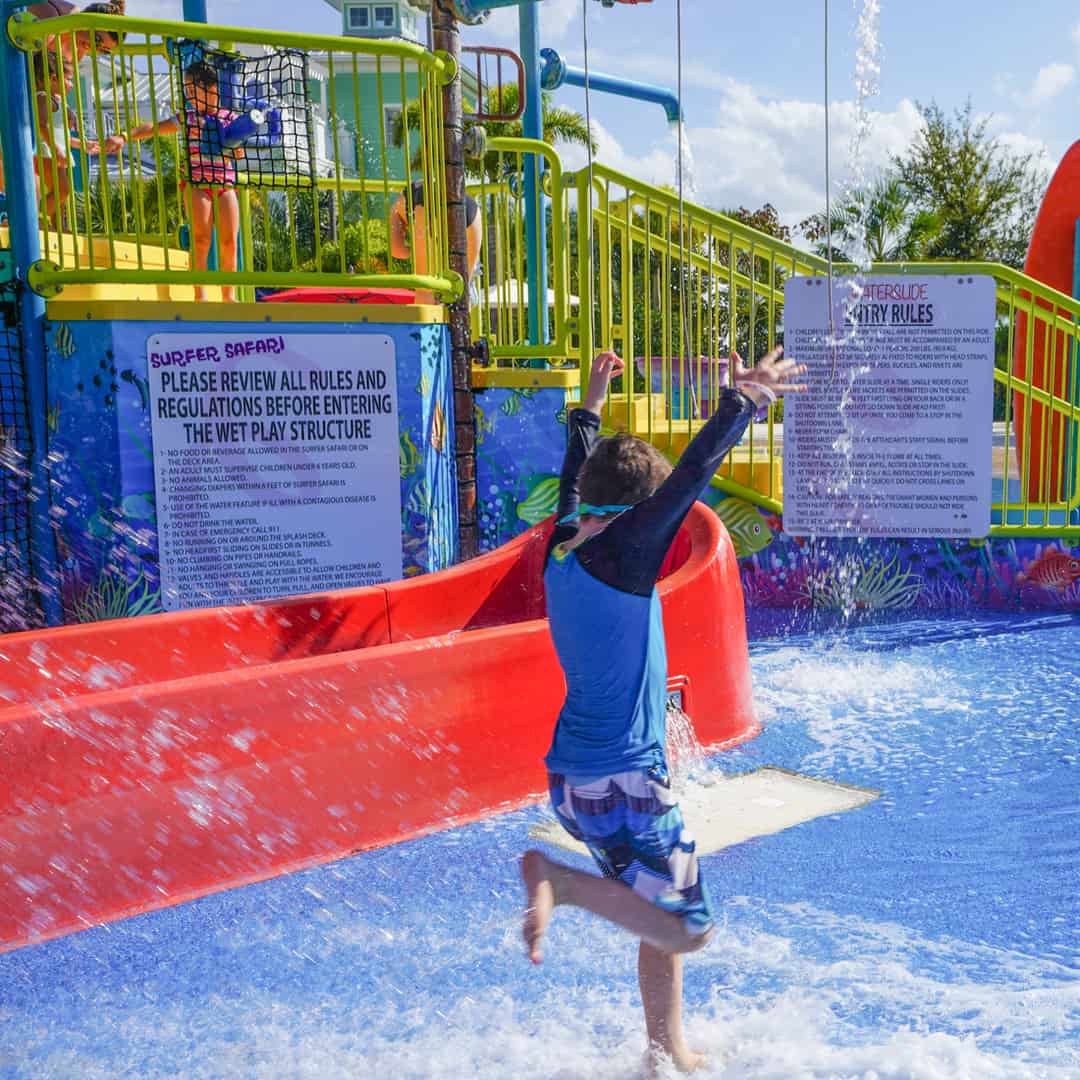 There are three large slides. The blue slide— one can go down in a single or double inner tube— is covered the whole way down. There's a green slide that drops immediately that guests ride going down on their backs.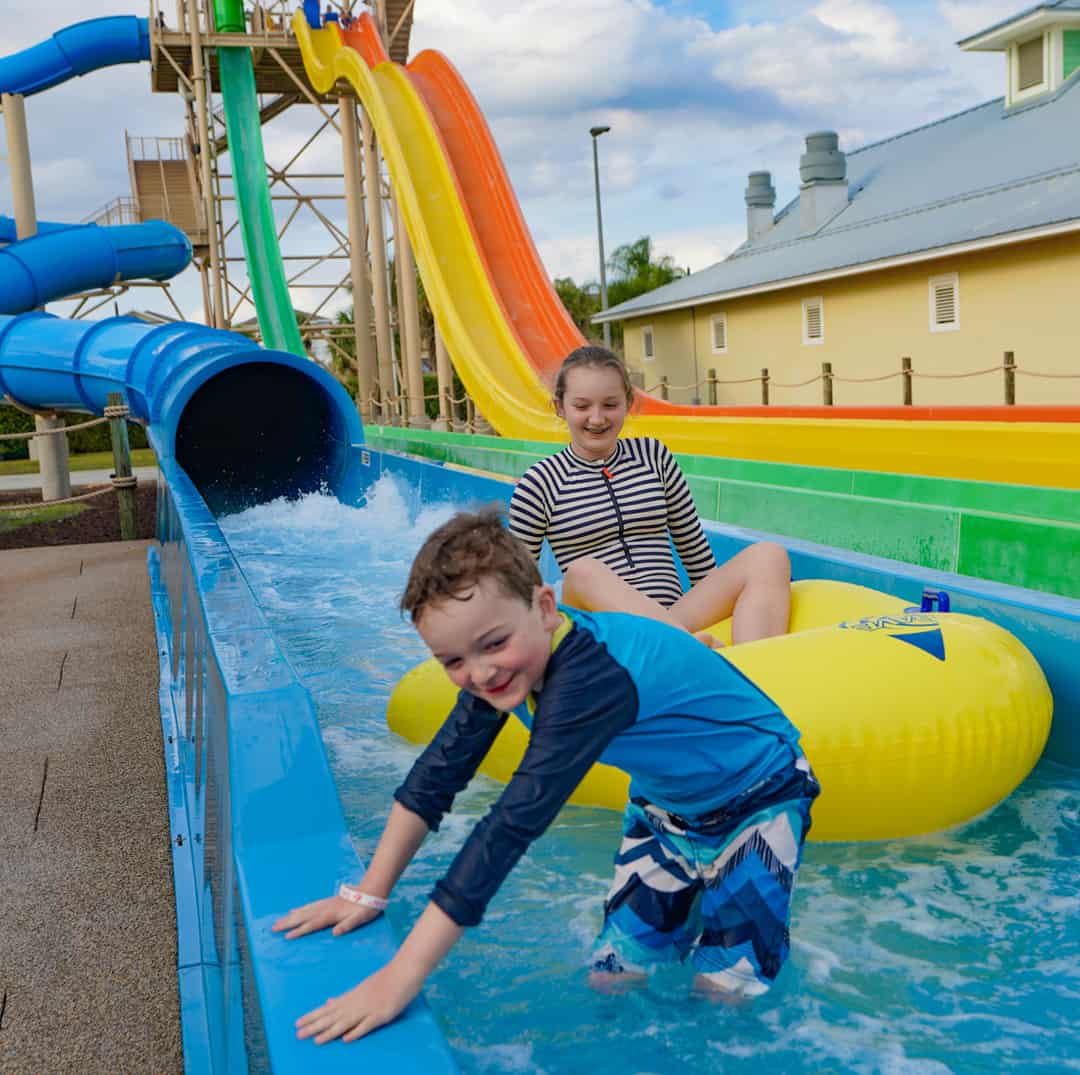 The most popular are the orange and yellow speed slides. Guests ride down face first on their stomachs on blue foam pads. A timer reveals who slid in the best time. Families gather around and enjoy watching the competition.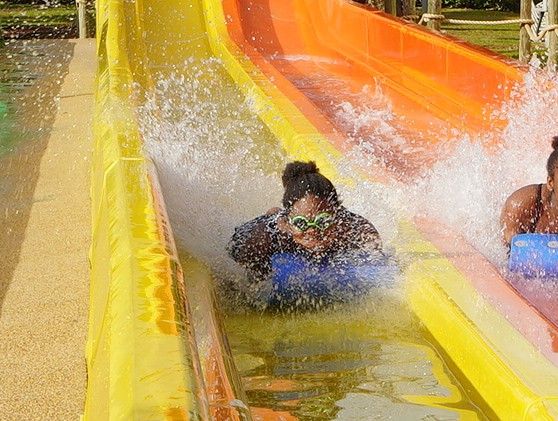 The pool area is bustling with families and larger groups who have rented the homes having fun. If you are looking for serene, the midweek days are quieter.
What to know about the Encore Pool area
Towels are a serious business. Guests use Encore Club cards to access towels at the clubhouse pool and return them. Otherwise you pay a fee of $35 per towel.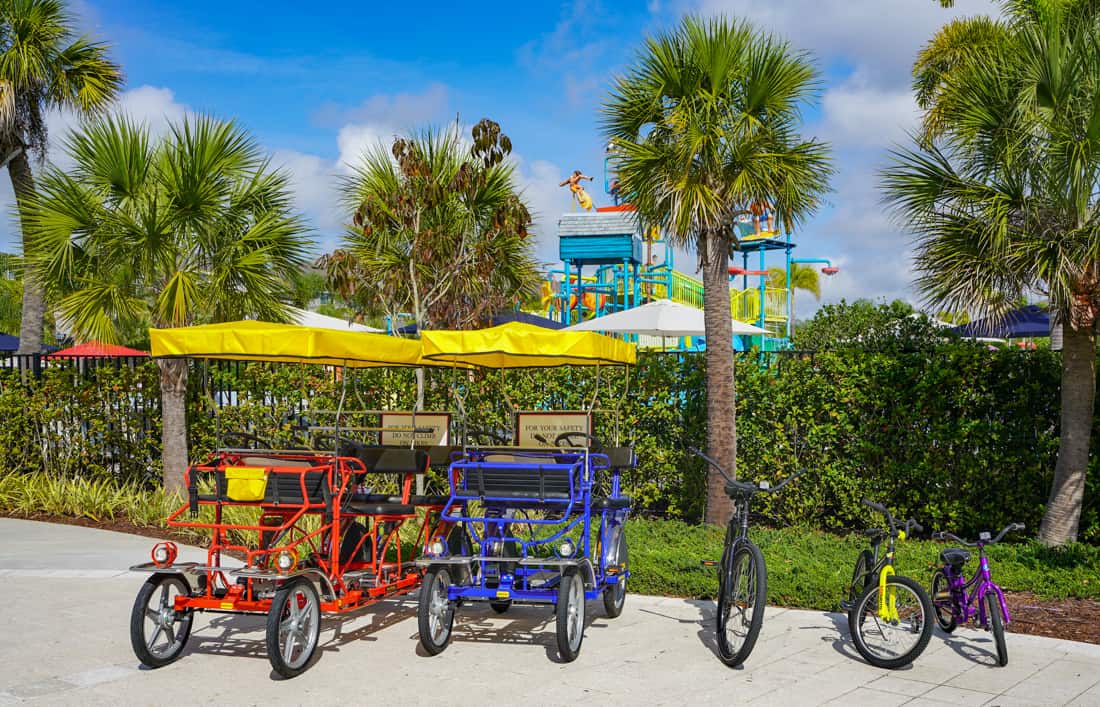 I really appreciated the large, cool shaded area provided by a giant triangular awning. I hadn't seen that at any of the area resorts, but it was genius. There's a snack bar that also serves cocktails.
There's an arcade adjacent to the pool area with ping-pong, air hockey, giant chess, and bean bag tosses nearby. Guests can rent bicycles and surreys, too.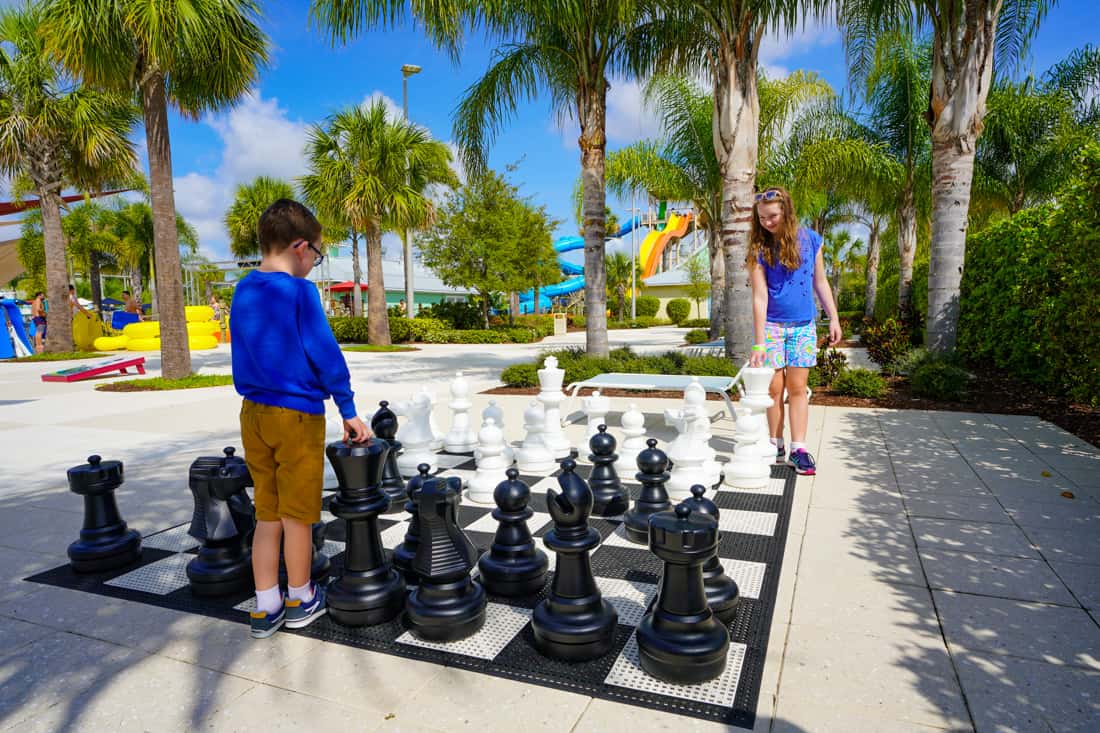 Sports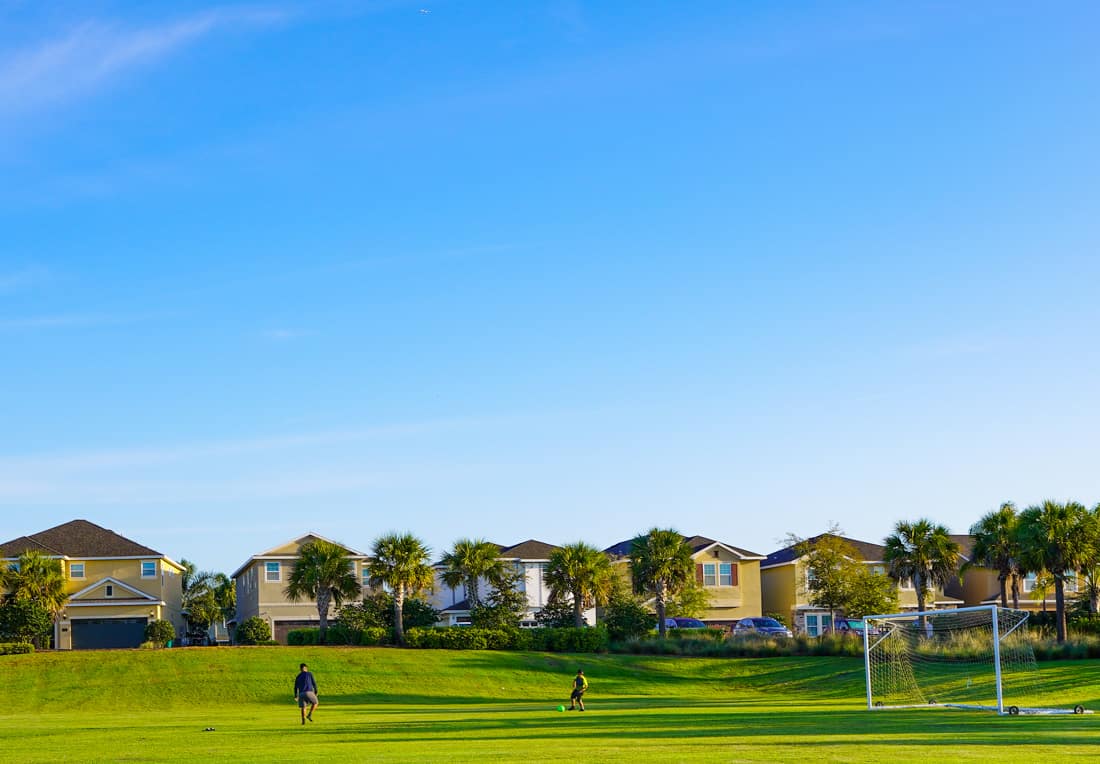 One thing I observed is how active guests were at the encore resort. There's a volleyball field, a soccer field, and basketball hoops. Families were enjoying every single sport facility whether it be a father and son kicking the ball around or more competitive games with large groups.
Encore Resort's In-House Dining
and Chef Experience
Encore Reunion offers room service, which is unique to this resort. Guests can order breakfast, lunch, or dinner, and staff will deliver food right to the home. This service is easy enough for a family of four, and guests can order in bulk quantity for a family of 24.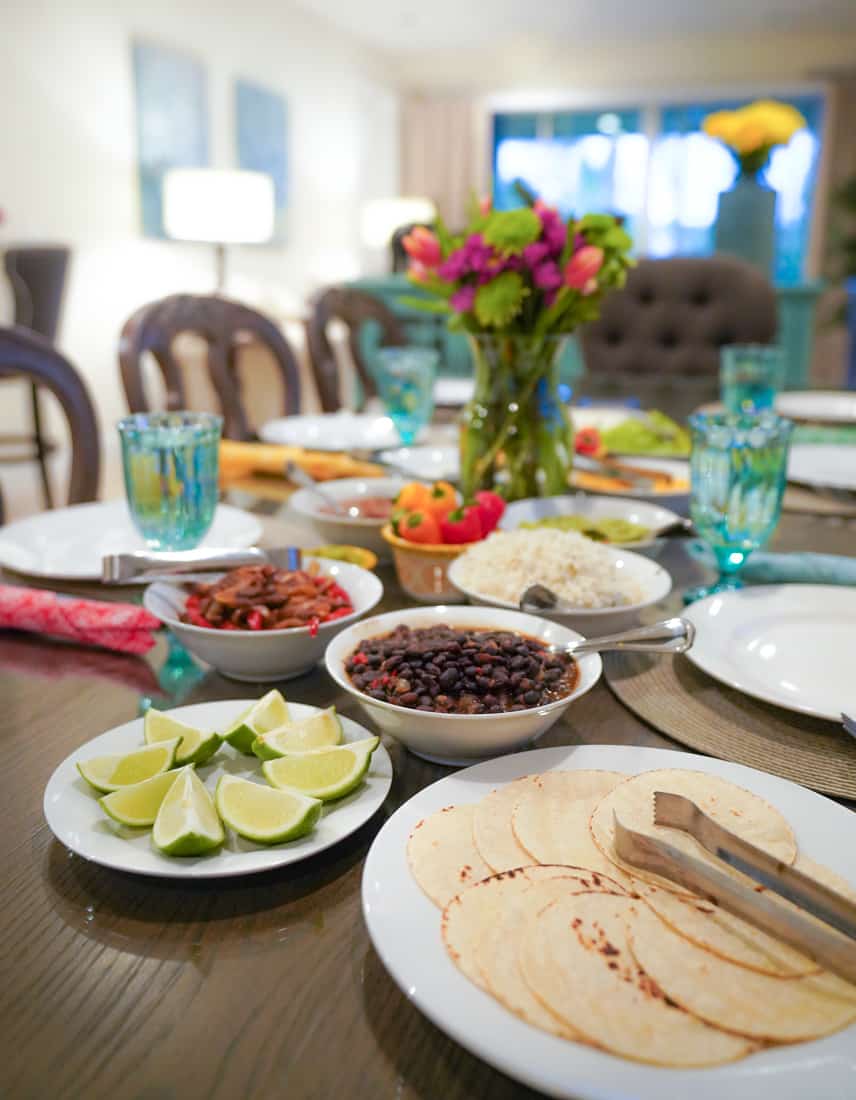 But every family should try the Encore Chef Experience, our favorite night of the vacation.
Brian, the chef, and Daniel, the server, show up with food, wine, waters, and prepare everything. We requested the fajita dinner and asked if our kids could help Brian prepare. My son stirred the black beans, and graduated to smashing avocado with his hands (wearing gloves) for the guacamole.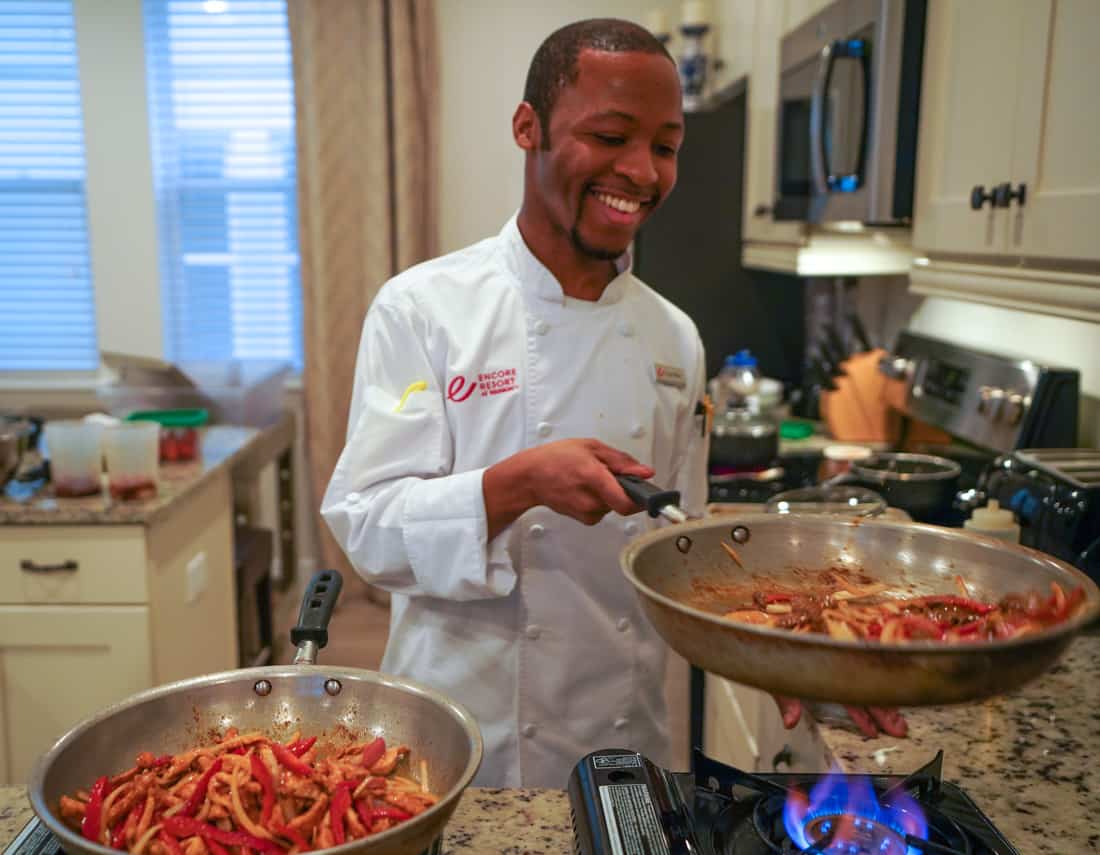 My daughter and I had fun setting a table for our Mexican feast with a few dollar items we had bought at the grocery store. We didn't know Daniel would arrive and do it for us. He redid out table, and it looked wonderful.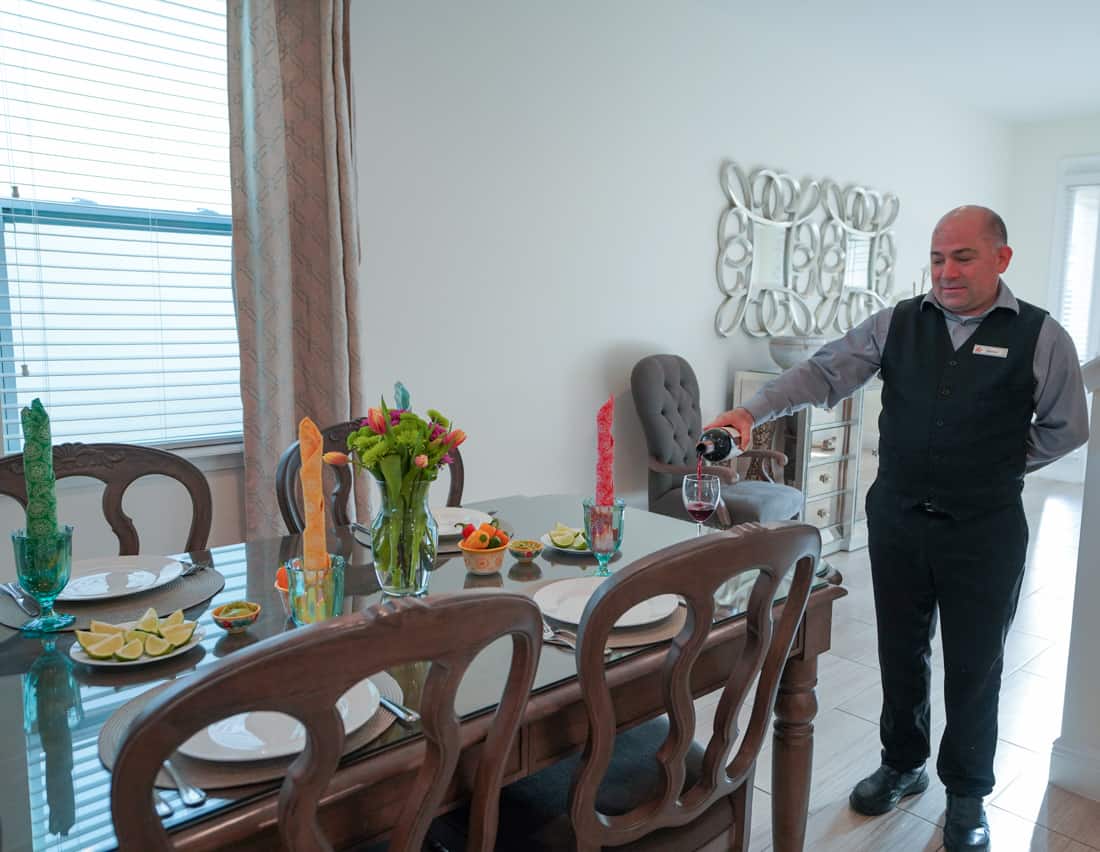 The fajita dinner was outstanding. Guests will have leftovers for the next meal or two after the chef experience, so arrange it on the first or second night of the vacation.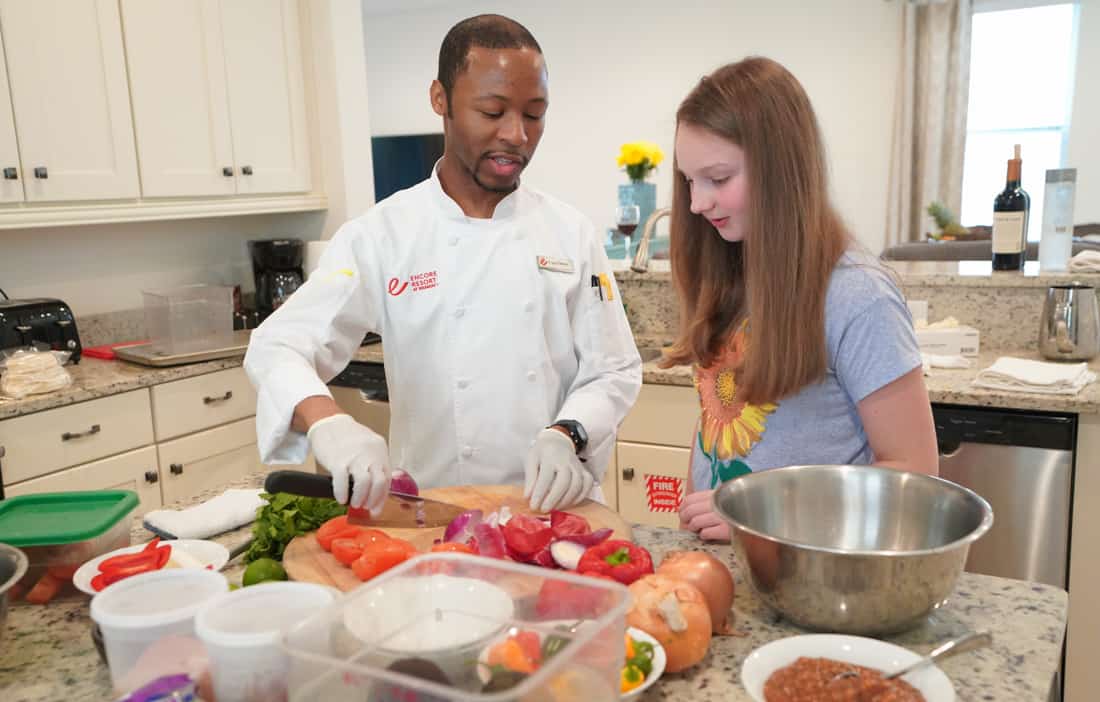 Because we were on our own as a family we interacted with Brain and Danial and enjoyed a cooking lesson and conversation. We had them join us for dinner. It was a perfect evening.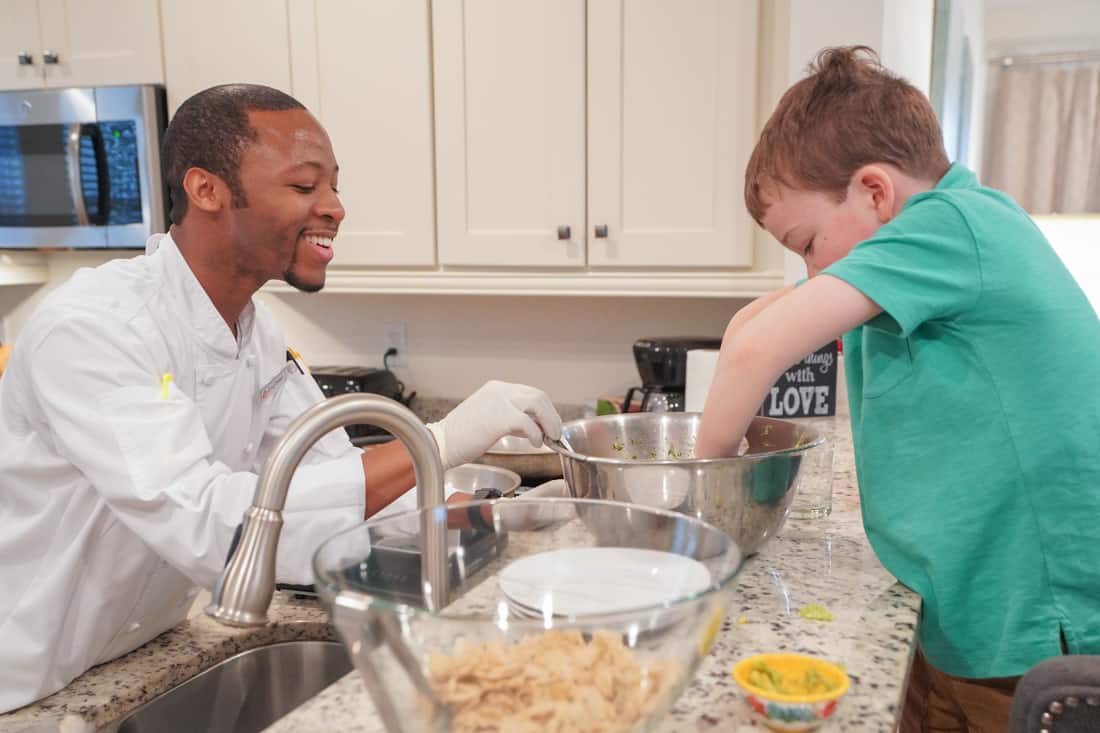 Vacation Over: Check Out Day is Work
Check out requires effort. You have to make sure that you put all the trash from all the trash cans in the garbage cans outside. Guests must turn the main thermostat to 78° and leave all the dishes in the dishwasher.
Encore has a check out policy that check out time is at 10 AM, and sometimes— if availability allows— they will extend it to 11 AM. If you need until 12 PM they will charge 25% of the days rate that your pay and after that, you will be charged an extra day.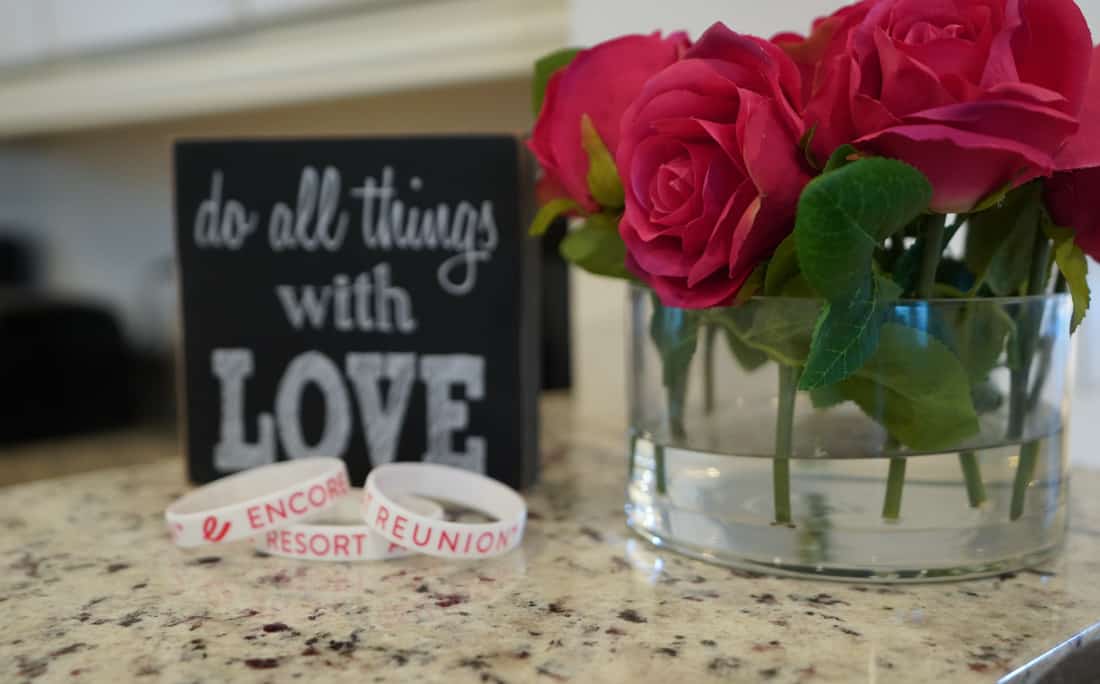 Don't save packing up until the last minute!
A mellow vacation beyond the theme parks awaits in Kissimmee
My family visits Disney World regularly, but this visit was about getting some vitamin D from the sun as a break from Boston's winter. Our goal at Encore was to slow down the pace, get outside, and move our bodies when we weren't enjoying our private pool and home.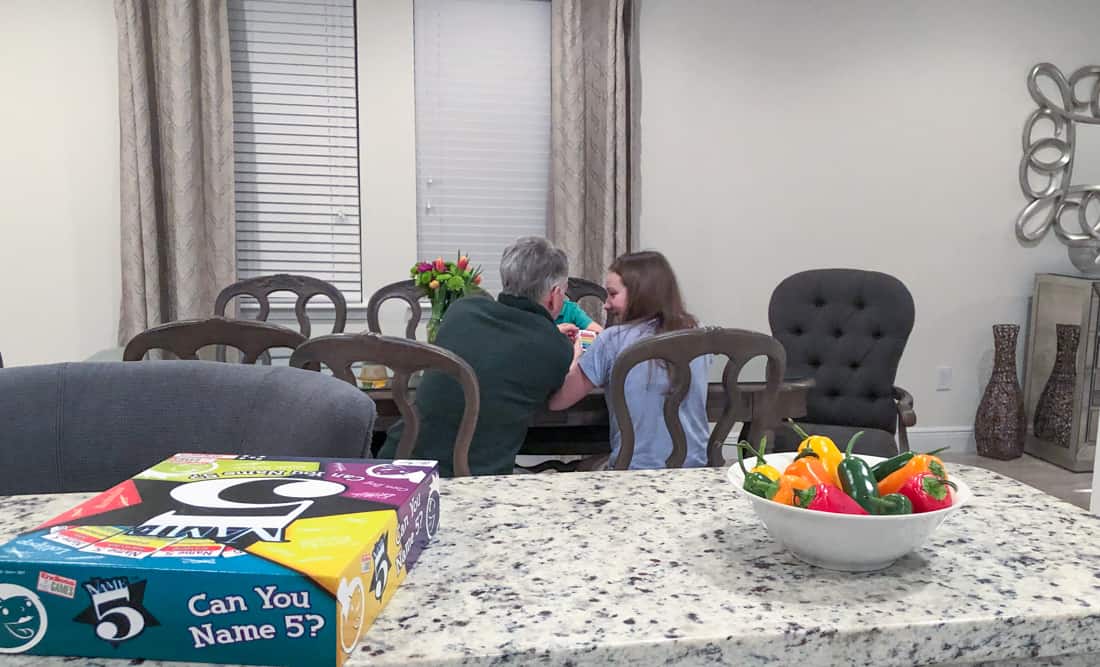 Encore Reunion is adjacent to many of the eco-tourism activities found in Kissimmee, and this was the trip to try them. We were invited to experience two things long on my bucket list by Experience Kissimmee.
The Bicycle Tour of Celebration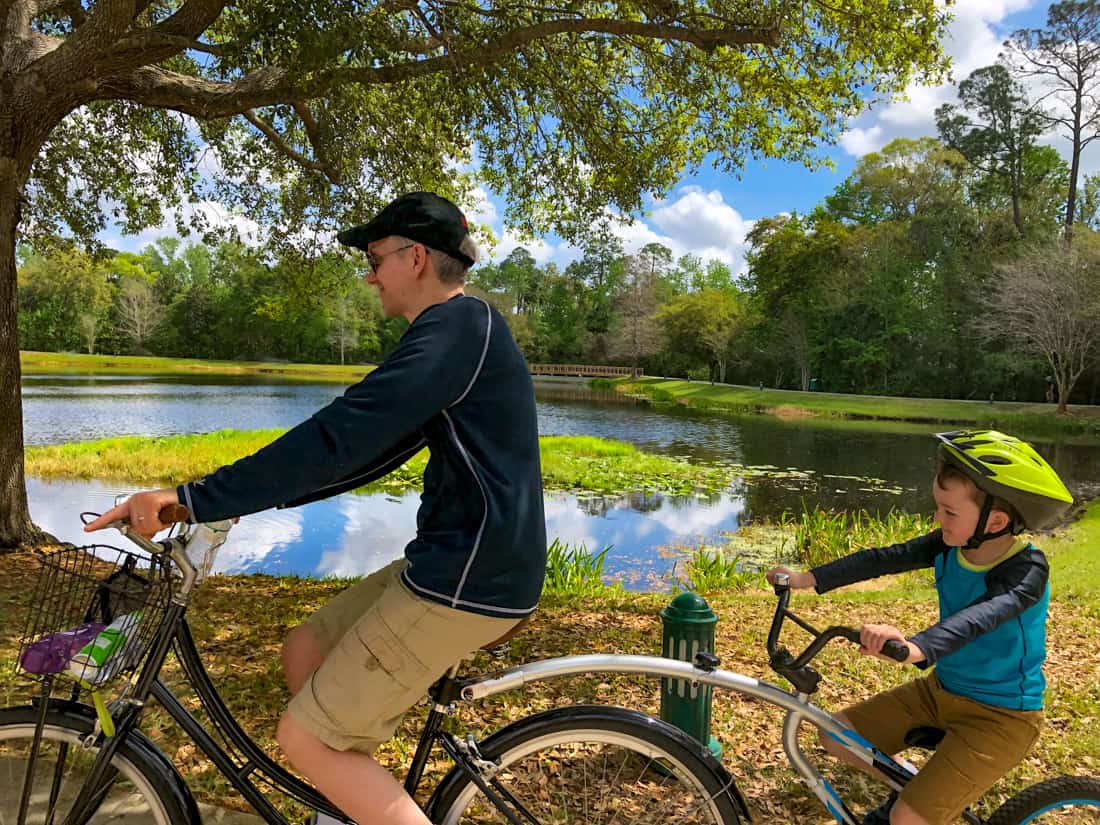 We had never seen Celebration, and we learned there are bike tours in addition to bike rentals. Celebration Bicycle Tours and Bike Rental is adjacent to the Grand Bohemian Hotel inside Celebration's town center.
Celebration, built by the Walt Disney Company, had a primary objective of preventing the land from being developed by a competitor company. Disney developed a planned living community that evokes a filtered view of American neighborhoods.
The tour was half in the nature reserves on boardwalk paths and the other half touring the various residents of the town, from mega McMansions built by Brazilian movie stars to entry level condos. Even if you don't find Celebration attractive as a place to view real restate, the story behind its development is entertaining enough.
We had several options for young cyclists including training wheels, tow carts, and seats. The hour and a half tour was not strenuous.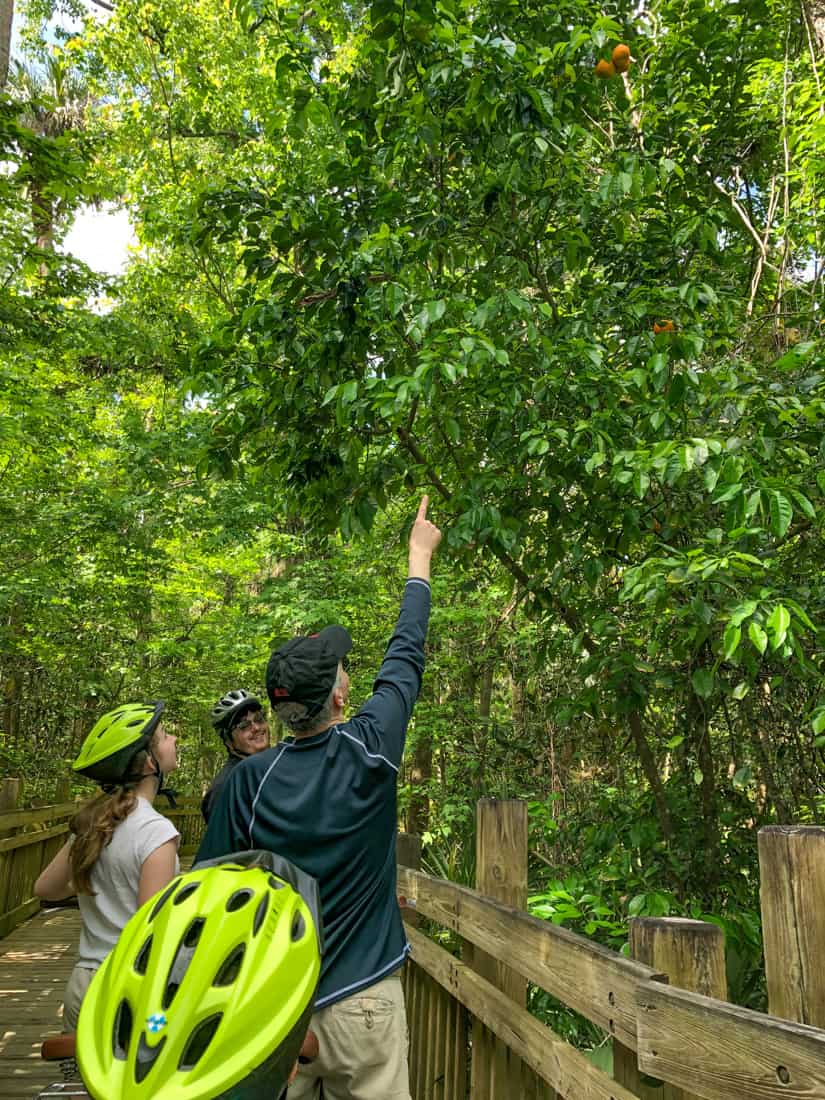 Celebration Bicycle Tours is a 17 minute drive from Encore Resort.
Orlando Hot Air Balloons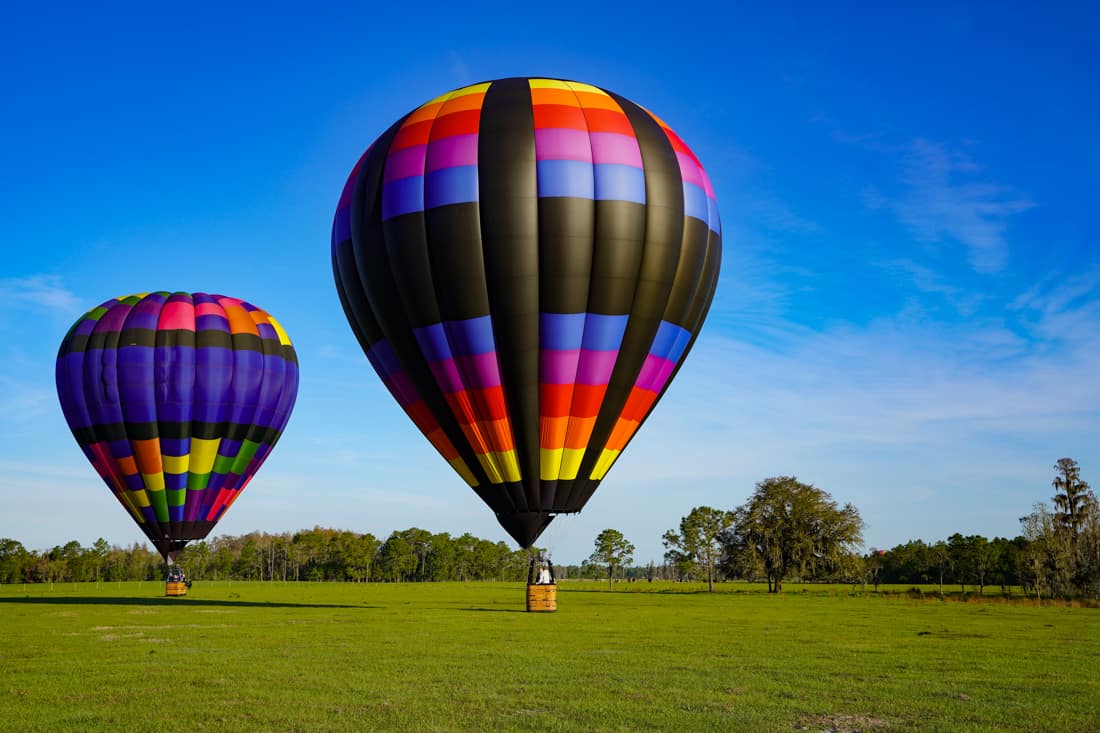 I had always wanted to experience Kissimmee from the air. My family wasn't up for the middle of the night alarm clock to make the sunrise lift off, so I went solo.
The basket we used could hold approximately twenty passengers. Satellite technology enables the ground crew to follow the balloons and meet them at select farms they commonly land it.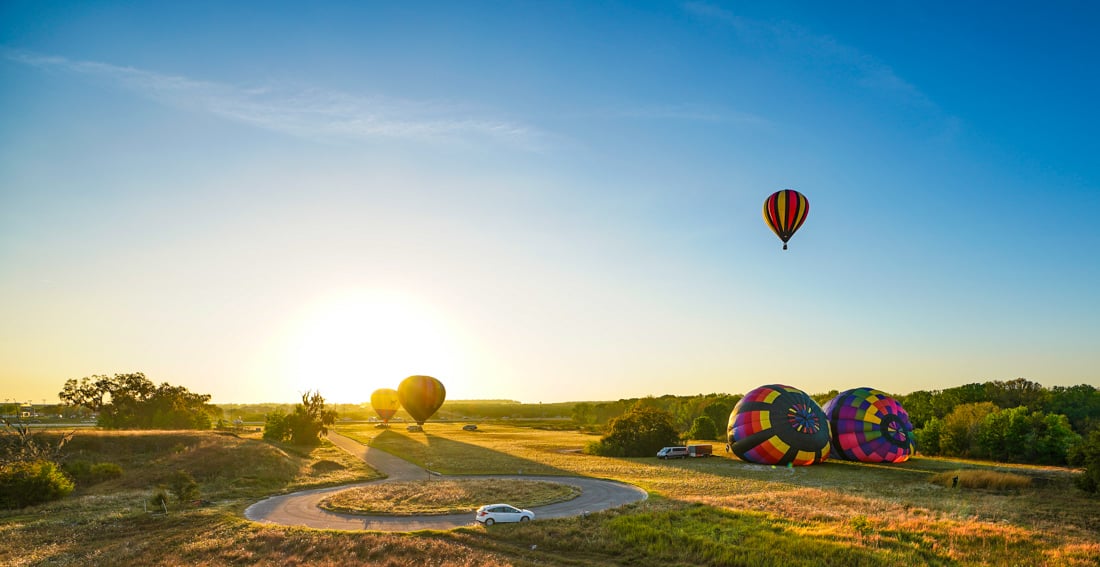 The wind while up in the balloon simply disappeared, and it was a surprisingly serene experience. Many rides don't happen, and organizers reschedule them if the wind conditions aren't just right.
We landed in a cow pasture where the cows had found us to be engaging entertainment. A mimosa toast celebrated our landing.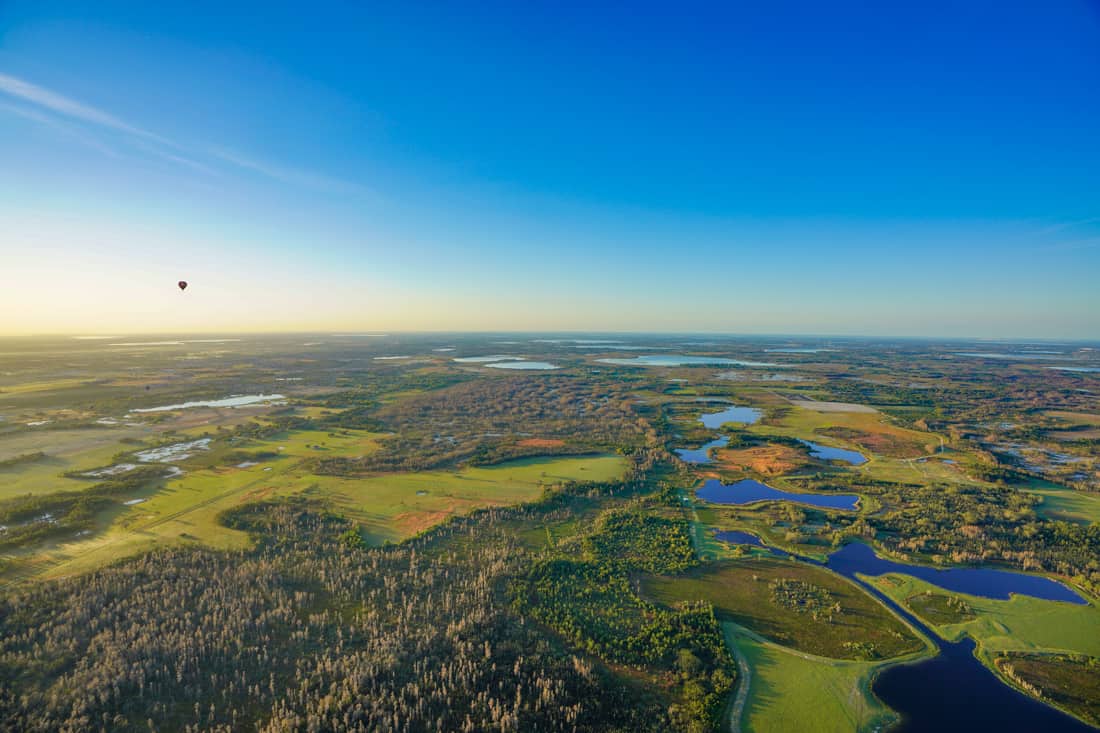 Our landing was a gentle as a cotton ball, but the second balloon in our group had a more dramatic landing that might have been frightening, so I wouldn't take children under ten or adults who couldn't handle the potential rough ride.
Orlando Balloon Rides in Davenport, Florida is a 17 minute drive from Encore Resort.
More activities on our list to try
Orlando Tree Trek Adventure Park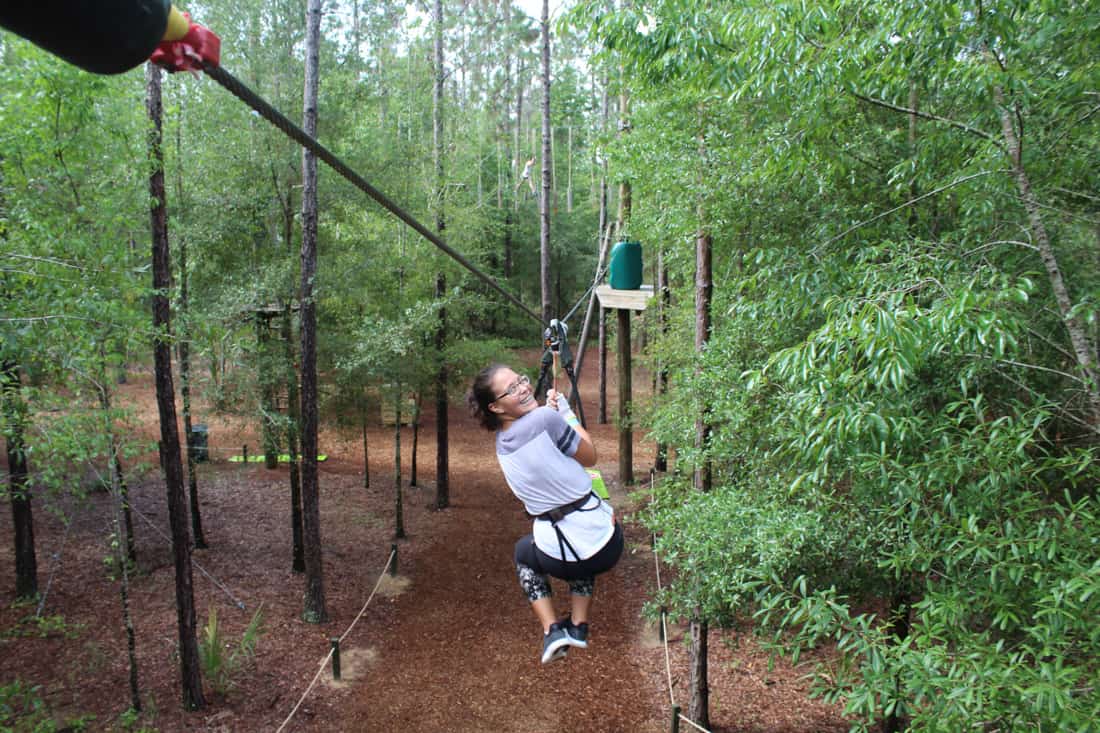 This Ariel challenge course has 97 options at every level from kid to advanced. It is located next door to Encore Reunion and is a great option to start the day (they open at 8am) before relaxing at the pool all afternoon.
Children must be a minimum of 7 years old and must be able to reach the tips of the fingers to a height of 4'7″ while keeping feet flat on the ground. Kids twelve and older can use the junior courses.
Orlando Tree Trek Adventure Park is a 6 minute drive from Encore Resort.
Safari Wilderness by Camel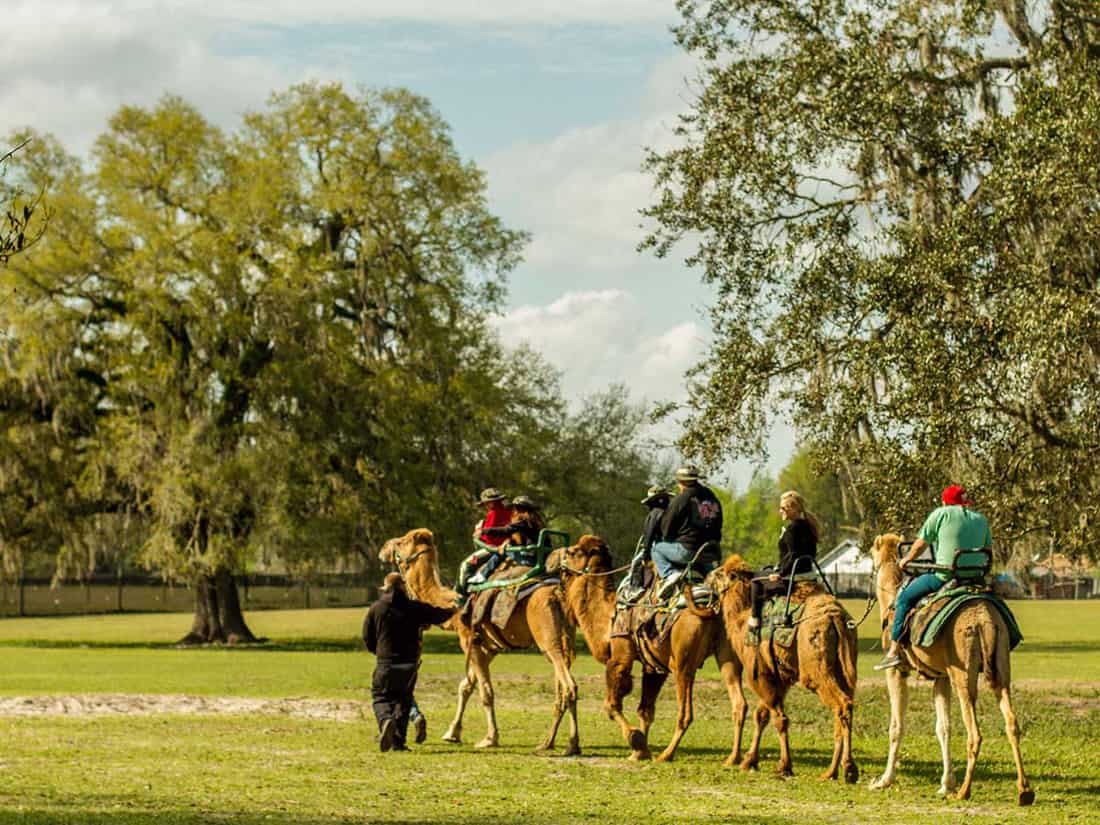 For something exotic, a few miles away in Lakeland, try the only camel back safari outside of Africa at the Safari Wilderness Ranch. Guests can choose a variety of ways to view wildlife. Safari by camel, horseback, kayak, or traditional vehicle.
There are additional animal interactions where kids can feed ring-tailed lemurs or a guinea pig colony.
Safari Wilderness Ranch is a 36 minute drive from Encore Resort.
We were guests of Encore Resort, Celebration Bike Tours, and Orlando Balloon Rides, but these opinions are entirely my own.
Call (321-888-3860) to check dates for rates at Encore Resort and to see which specific house and amenities you are seeking.