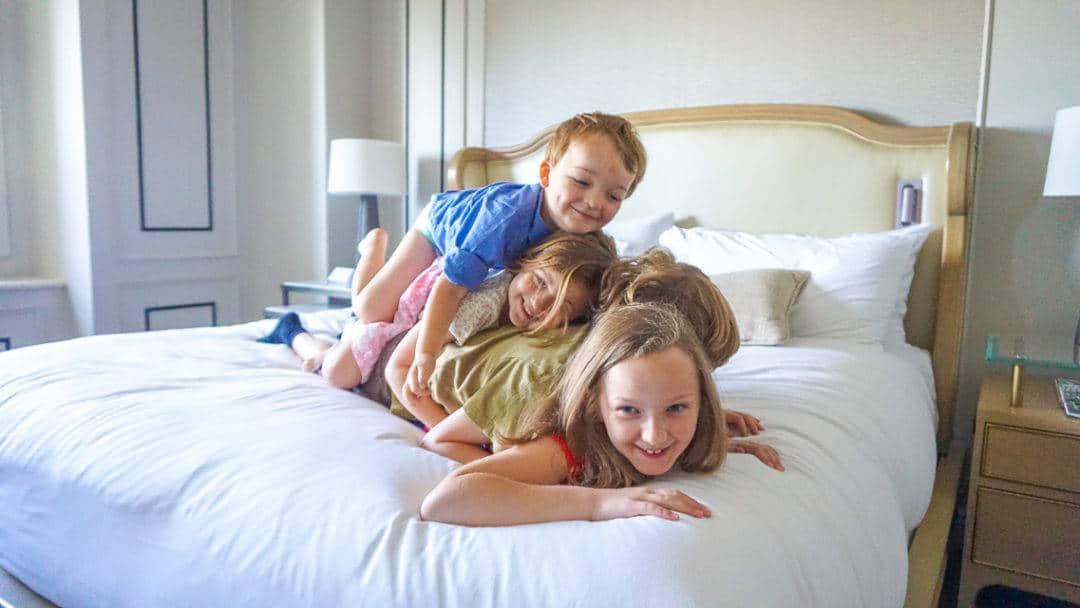 I think every mother or father has had that moment when they feel like they've been pranked for a reality show. It's inevitable that a family who travels will acquire some legendary parenting stories.
When just getting there is the battle
My friend Lovey had waited to fly with her little boys out of complete fear until she could no longer avoid it. When her sons were two and four, they finally booked their tickets on the absolute worst flights for parents with small children: the 7:30 a.m. business shuttle from Boston to Washington D.C.
I used to commute to Washington from Boston, and I can tell you that those shuttle flights between Boston, New York, and Washington are filled with the most entitled business travelers in the skies. They're all platinum fliers with tiny carry-ons for their day trips for board meetings, and they feel the airplane is an extension of their conference room.
Lovey and her sons, armed with numerous board books of PBS characters taking to the skies, reached the end of the jetway as her husband went ahead to install a car seat. Her two-year-old suddenly changed his mind when he heard a loud noise outside the plane's door.
He shrieked at the top of his voice, "NO!" as the flight attendant looked at her dumbfounded. Clawing her son's white knuckles from the door, she boarded the plane with all eyes on her…all business.
As every parenting fear of flying was coming true, she began to fasten her youngest, screaming child in his car seat when he let out a different cry. She knew what was coming, or coming up, and grabbed the air sickness bag to open it as her son's projectile vomit of his morning milk showered her.
Considering all of this happened before her seat belt was even fastened, Lovey still doesn't love flying.
---
Join Luxe Family Trips, a Facebook group for well traveled parents to advise one another on where to stay, eat, and play.
---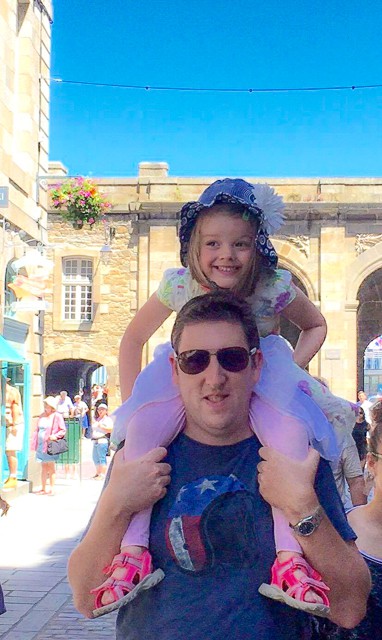 But don't jinx the good flights
I have flown so much with my kids since they were newborns that I have never feared the flying part. Some flights are just disastrous, but they eventually end. I got off of a six-hour flight with my children and thought "Oh that wasn't so bad," and I scooped my toddler up into my arms for a squeeze seconds before he vomited down my shirt, pants, and into my favorite wedge sandals before we left the gate. Yay.
Would it shock you to learn that checking into our hotel an hour later was my worst check-in experience in my traveling life? We were denied a suite we had paid for until we could procure our confirmation from a dead laptop in my days before a smartphone.
Planes, trains, and potties
Sarah and her Irish husband toured around St. Malo in Brittany for a few hours before catching a train to Paris with their young daughter. Warm from the summer sun, she asked if she could go on her daddy's shoulders once she got tired.
When their train's departure was minutes away, they noticed their daughter had fallen asleep on top of her father's shoulders. "I'm ready for the train," he said to Sarah. "It's so hot, Jay-sus, she's sweating buckets," he gasped.
Of course she wasn't sweating. They boarded their three-hour train ride to Paris. Sara, the traveling mom, had brought back-up clothes for her daughter. Her husband, however, had to sit in a urine-drenched shirt for the duration of the train ride to Paris amidst his fashionable travel companions.
When the best family vacations turn fast
My daughter and I flew in to the islands ahead of the grandparents and my husband when she was four years old. We intended to have the ultimate mommy and me vacation for a few days alone. We spend the days swimming at the pools, looking for lizards around the resort's green areas, and we dressed for a fancy night out.
After dinner, we went to an ice cream store where we met the sweet little boy from Winnipeg whom we played with earlier at the splash pool. Outside the ice cream parlor, a live band started playing tin drum sounds, and he asked my daughter to dance.
My daughter and I snuggled in for the night, I was startled by a horrible sound and woke up to see that my daughter had vomited all over me in the bed.
Just as I had stripped the sheets and cleaned myself, my daughter continued to vomit one time after another. Her little body was so exhausted she finally fell asleep and continued vomiting in her sleep and I thought to myself, "This how Janis Joplin died, isn't it?"
So I turned the night-light on and spend the next several hours watching my daughter ensuring that her face was turned to the side so that she wouldn't suffocate like Janis or Jimi Hendrix. I kept hearing Bobby McGhee play in my head on a hazy loop.
I was able to determine that my daughter had food poisoning from her ice cream because we had shared every other item she'd eaten that day. The ice cream in question was Boston Cream Pie, and with some internet research, I discovered egg was the culprit ingredient in which I had assumed had spoiled in its transport to the island.
I had to ask the hotel for spare sets of sheets and towels so many times that housekeeping finally delivered a stack that was at least 20 pounds of white linens.
The most humorous phone call I ever made to extend a late check out went like this: "I'm really sorry, but I'm hoping that we can stay in our room a few hours longer. My daughter has food poisoning and is in a state of constant vomiting, and I think that would be less than ideal for everyone if we were in the lobby."
Naturally they extended the check out a few hours.
She turned a corner a few hours later just before my husband knocked on the hotel room door. I was so excited after having not slept to have some back up finally.
I flung open the door to greet him, and I saw his body slammed against the door frame with his arm resting on the luggage handle. "Hey," he said, "I think I am coming down with something. Do you think the island has a doctor we can call?"
We're parents…the real road warriors
About once a year, we add another story to file in our "family vacations gone awry" folder. Though they aren't the most fun in the moment, they are the absolute BEST souvenirs.
When I was planning my wedding I read a book called the Conscious Bride, and it said that when we strive to plan something perfect, we hope to avoid anything that deviates from that vision because we're reminded of our lack of control. In reality, anything that does not go according to plan always becomes the cherished memories that makes it real, that makes it human, and that makes us OUR FAMILY.
Staying mindful in these moments allows me to walk from the gate to the baggage claim terminal with vomit down the front of my silk blouse and white jeans with a smile on my face.
Hey, family travel is not for the weak.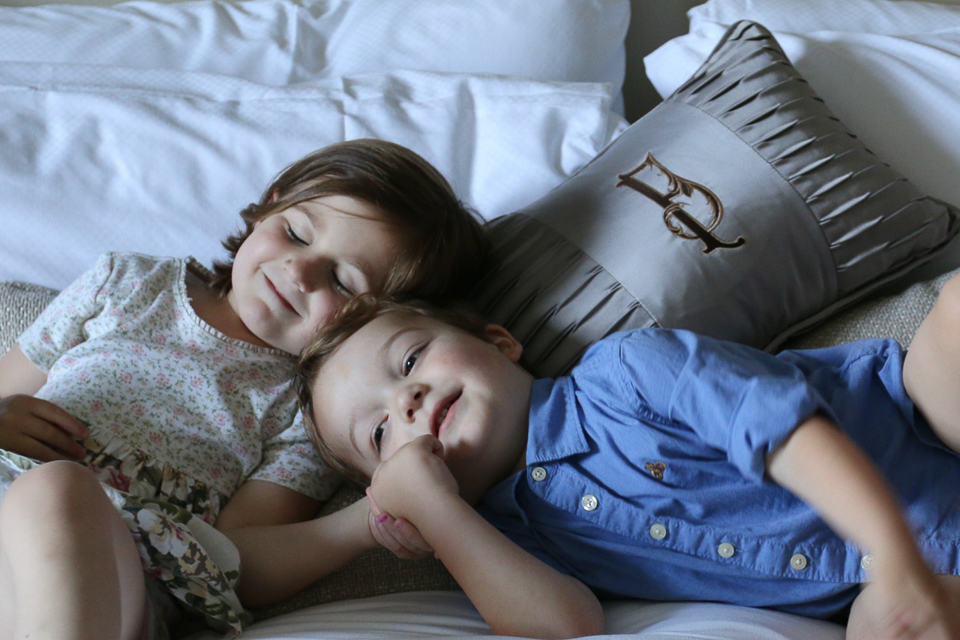 This post was sponsored by Preferred Hotels, but the content is our own.