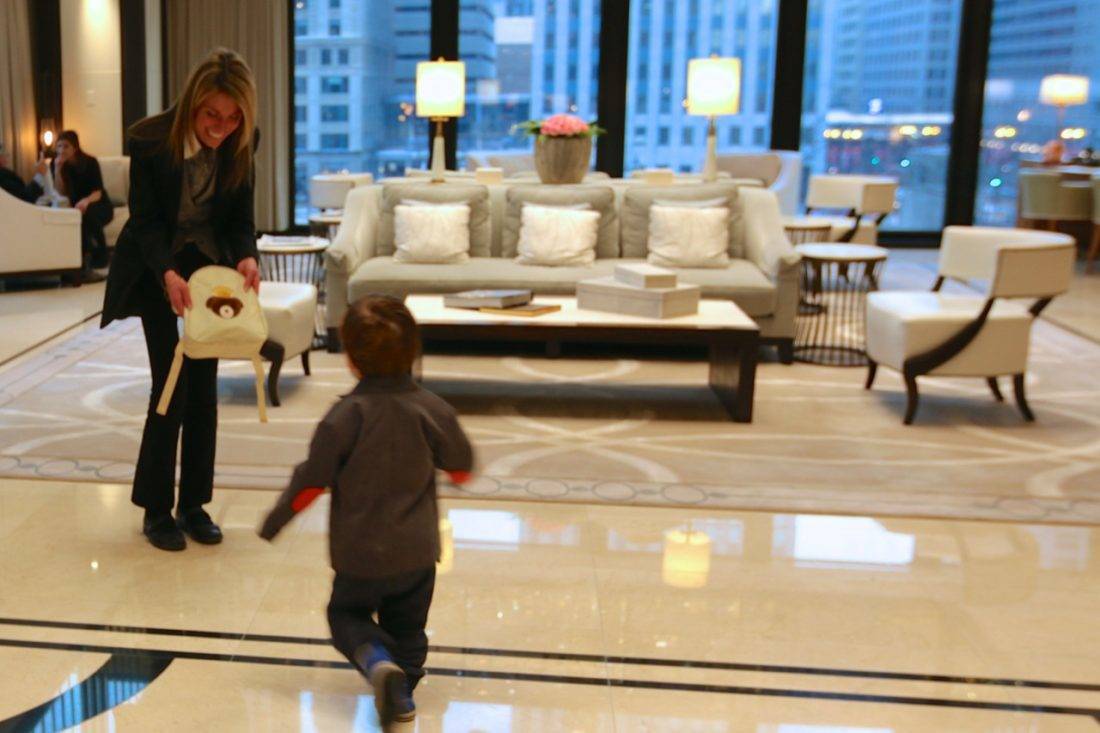 We celebrate our first anniversary and the incredible journeys we have been on this past year. All of the Luxe Recess contributors stayed in more than one hundred hotels this year on three continents. We reflected on some of the best city hotels for families, and we wanted to pay tribute to those properties that are doing what they do really, really well. We know this list is by no means exhaustive of the great city hotels in the world. Give us time. We'll get to them!
Best Kids' Club:
The Langham Chicago has a playroom called the Children's Suite. Ideally suited for those six and under, it is a great way to kill a few hours reading the paper while your children explore new toys and crafts in the cheerfully decorated playroom. The attentive club floor butlers will invite your family to the screening room via cupcake invitation to watch Frozen. After they demonstrate the reclining seats, Carlos, the head butler, and his staff will serve you popcorn and Perrier.
Best Kids Activities for Older Children:
The Ham Yard Hotel in London offers not only a movie theater but also the most stylish bowling alley you have ever seen, making this a great family destination no matter the weather outside.
Best Onsite Dining for families:
The Mandarin Oriental Boston made the best tasting omelet in memory, bursting with micro-minced vegetables. The new Bar Boulud was outstanding, too, where I was able to introduce the famous Daniel Boulud burgers to my kids. As a parent, I loved the fresh vegetables served with them because everyone gets tired of steamed broccoli.
Best Club Lounge:
The Fairmont Château Le Frontenac (review coming soon!) had the best industrial Nespresso machine I have tried that made incredible espressos and cappuccinos. So many times in my travels, the coffee machines are broken in the club, or the in-room machines don't work. Their new restaurant renovations blew me away, too. For a town not known for innovative hospitality design, the Fairmont is a stunner for any city's standards. Honorable mention: The Ritz-Carlton Buckhead Club Lounge attendants spoiled my kids rotten during our stay. They learned their names and had special treats waiting for them each time they passed, from a large collection of rubber ducks to cookies in the shape of tools for my son. My daughter took advantage of my son's deep nap to transform him into a stegosaurus with the shopping bag toting Ritz-Carlton rubber duckies she'd been given.
Best Suites for Families:
Langham Place New York, whose wood-paneled family suites are so tranquil and spacious that you'll tell the kids that the city can wait while you cocoon in serenity. Even though they are decked out with complete kitchens and washers and dryers, the five-star service will prevent you from cooking and cleaning if you don't want to.
Best Family Touches in Room:
The St. Regis New York welcomes children with robes and slippers, but the impressive part, to me, was the beautifully painted toddler step stool by the bathroom sink. The hotel butlers procured an exersaucer for my daughter when she was a baby on a prior trip. The St. Regis butler on duty  will bring your children cookies and milk with a phone call.
Best Welcome Treats:
The Langham Place New York has a family package called the Little Collector program that introduces children to art collecting and appreciation. This innovative collaboration yields the coolest swag we have seen including your child's (possibly) first work of art. Honorable mention: The InterContinental Boston offers chocolate Hood milk bottles as treats with views of the Boston's children museum and Hood milk bottle concession stand. The Four Seasons Los Angeles at Beverly Hills welcomes your boys with cars and girls with puppies, but both will adore the chocolate recreation of the Hollywood sign.
Best Spa for Parents wanting to recharge:
The Four Seasons St. Louis has an enormous spa that takes up the whole floor of the building that has both single sex and coed lounge areas overlooking the barges slowly easing down the Mississippi River. They offer many couple's treatments, too, but anyone who can book their premiere package, "The Royal Celebration of Love" with a straight face deserves a small discount in my opinion.
Best Hotel for a Diaper or wipes emergency:
The Boston Harbor Hotel won our hearts and loyalty with an entire basket of diapers and wipes travel sets while other hotels wanted to charge us $20 for a full package of diapers, or worse, told us to take a cab to the nearest drug store. And the robes monogrammed with the kids' names were certainly lovely, too.
Most Creative Children's Activities:
For a city hotel, the Mansion on Turtle Creek made the most of the warm Dallas weather by preparing their pool with toys, rafts, and a welcome note, delivering tiny ice cream flights to taste the kitchen's daily flavors, and offering a trail-mix making check-out treat.
What about you? What city hotels would you add to the list for Los Angeles? Seattle? Paris? London? Washington? Philadelphia? Rome? Hong Kong?
Coming soon: The Best Family Resorts.