I share with you the gear that took any amount of stress off flying with babies and getting them to grandma's house or the hotel. I was still a road warrior the first year of my daughter's life, and we traveled several times a month, often just the two of us. If you are waiting for your next flight lugging a huge car seat in a zippered pouch looking stressed, don't be surprised if I approach you and suggest the following to put a more relaxed smile on your face. 
Best car seats for travel with infants
The best car seats for travel if you have a baby who still uses an infant car seat is to use a car seat attached onto a stroller base, so that you can use the car seat as your stroller at your destination. Leave the stroller's seat at home. You can ensure that the car seat and stroller base will arrive with you if you gate check it, and it can't be lost or delayed with checked baggage. Some parents feel the need to place the infant car seat into a protective bag, but I personally think this is a waste. Items checked at the gate are hand carried to the cargo area and do not get beaten up like checked bags can. Be sure your car seat will work with a seat belt without its base and that you know how to secure it safely using a taxi's or rental car's seat belt. Traveling with an infant car seat base is unnecessary. If you visit grandparents often, buy a duplicate base to fit your car seat, but—on vacation—go without.
The Best Convertible Car Seats
When your baby outgrows the infant car seat, it complicates things a little, but don't fret. Purchase a convertible car seat exclusively for flying that is super light and inexpensive. Cosco makes the perfect flying car seat. I love this uni-sex Malibu Blue model for about $50 and under 10 pounds to carry.
We actually cruise around the airport with the car seat inserted into our stroller. We then secure the car seat to the stroller with the top latch strap, and then place our toddler in the car seat. Yes, this is "off-label" use, but my squirmy 3-year-old has never wiggled free. If he feels like walking or being carried, we pile all of our bags on top of the car seat (nestled inside the stroller) and push our things around the airport with ease.
Beyond the napping years
When napping on the plane is no longer the goal, your child will graduate to car-seat free air travel. Purchase a Cares Harness. This genius contraption creates a 5-point harness system that sides over the seat, while the airplane seat belt loops through it at the bottom. It is intended for children 22 to 44 pounds.
You have to be savvy about using it in that you have to involve the person sitting behind your child. Their seat tray must be down in order for you to slide it in the right place. Ideally, you have boarded the plane in pre-boarding first, and you install it before that person sits down. A word of caution: some flight attendants may not have seen this yet and might question it and its FAA approval, particularly if the person behind your child seems bothered by it. The harness comes with cards to show them it is FAA approved, as well as on a sewn-on label. Be sure to read our advice on flying as a mom to avoid a sticky situation.
Once you get there, if you have traveled without a car seat on the plane, you may still need a portable car seat for a rental car or taxi.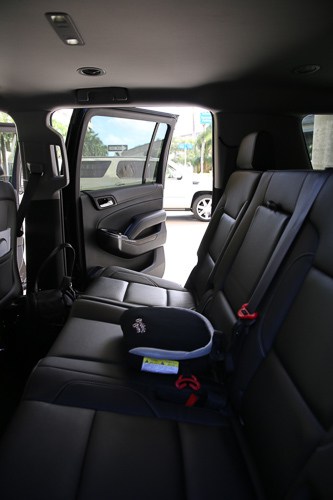 Best Big Kid Boosters for Travel
For children 30-60 pounds, we like the Ride Safer Car Seat Travel Vest for about $125. It works great as an extra car seat for carpooling at home, so it is a good investment. If you stick this in an outer pocket of your checked bags, you can find it quickly at baggage claim. Note that this will not work on the airplane, as it requires both a shoulder and lap belt for installation.
And if your child uses a simple booster seat at home with regular seat belt, we love the BubbleBum for 4 year olds at least 40 pounds. It inflates in seconds and takes up little space in your luggage when flying.
Because some of the most popular car seats with the highest safety ratings are often quite heavy, we really encourage you to invest in airplane options that can ease some of the more logistically challenging details of your trip.